If you have ever read an Elin Hilderbrand novel, you have likely daydreamed about visiting Nantucket and seeing first-hand the cedar-shingled beach cottages draped in roses and festooned with hydrangea blooms. While getting to the Grey Lady of the Sea, as Nantucket Island is often called, is relatively easy, paying for a vacation there can be another story.
It took me 21 years of living in New England to finally plan a weekend getaway to Nantucket and I wanted to do everything right. I needed to pack years of expectations into an idyllic 3 days in Nantucket. Luckily I have a friend that lives on the island part-time and another that visits every year with her family, so I was able to pull from their expertise and put together a lovely Nantucket itinerary that was perfect for our summer trip.
One of the things to keep in mind about planning a Nantucket weekend getaway is that during the high season most hotels will require a three-night stay. To minimize paid time off, it is ideal to pick a long weekend to visit Nantucket. When I noticed that the Fourth of July fell on a Monday this year, we decided to finally book a trip. In the end, we tacked on an extra night to enjoy a full three days in Nantucket, arriving on Friday evening and departing on Tuesday morning.
If you have been dreaming of a visit, keep reading for an easy-to-copy Nantucket itinerary.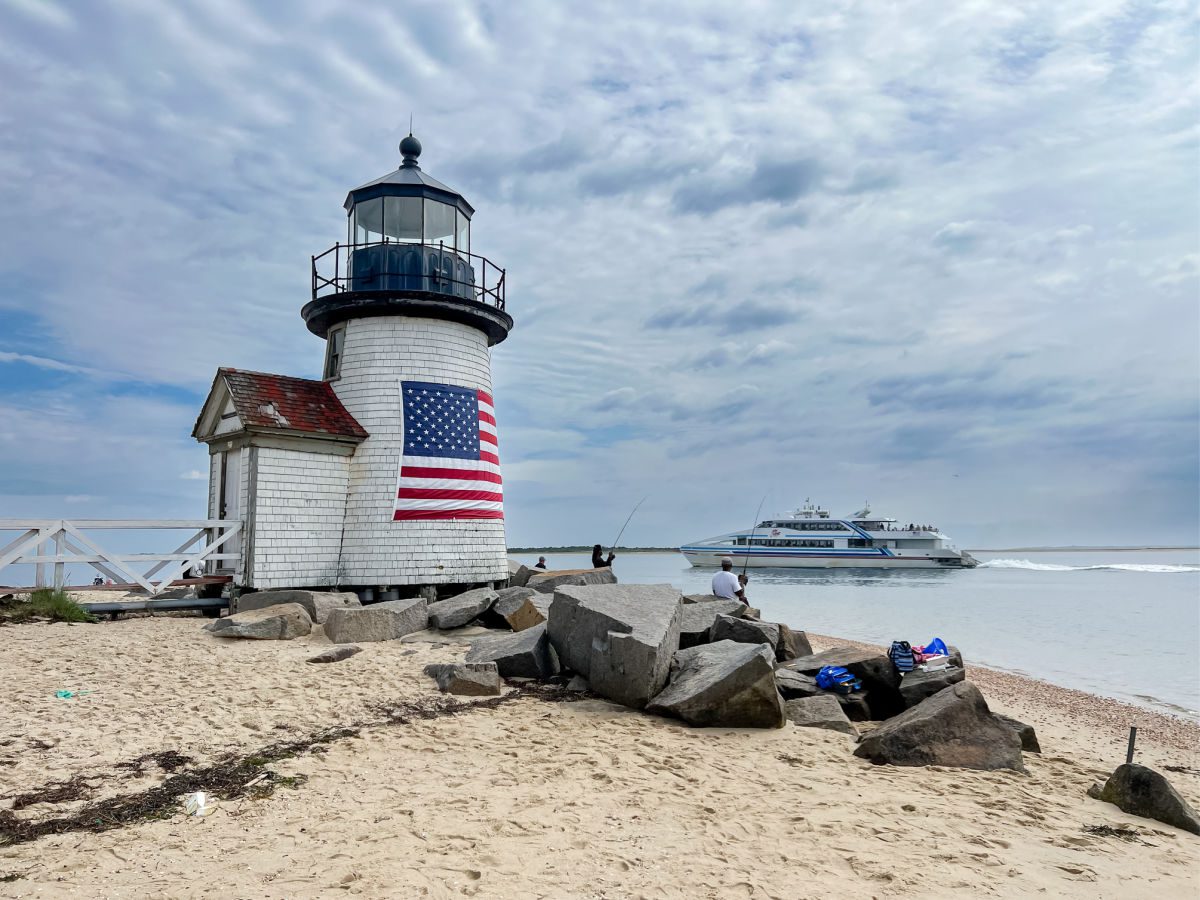 Getting to Nantucket
Nantucket is a small island 30 miles off the coast of Cape Cod in southeastern Massachusetts. Smaller than its neighbor Martha's Vineyard, Nantucket is only 14 miles long and 3.5 miles wide, making it easy to explore with just a weekend getaway. Getting to the island is relatively easy and it can make a perfect car-free getaway.
If you choose to fly, you can get direct flights to Nantucket (ACK) from Boston, Hyannis, Martha's Vineyard, Providence, and White Plains/Westchester, with seasonal flights from New York and Washington D.C.
However, if you live locally or within driving distance, a low-hassle way to get to Nantucket is via the ferry. You can catch a high-speed, passenger-only ferry to Nantucket town from New Bedford, MA (1 hour and 40 minutes), NYC/NJ (6-7 hours), Hyannis, MA, and Harwichport, MA (1 hour).
If you want to bring your car, you need to book ferry passage on the Steamship Authority ferry from Hyannis months in advance as they will sell out quickly once sales open for the season.
Getting Around Nantucket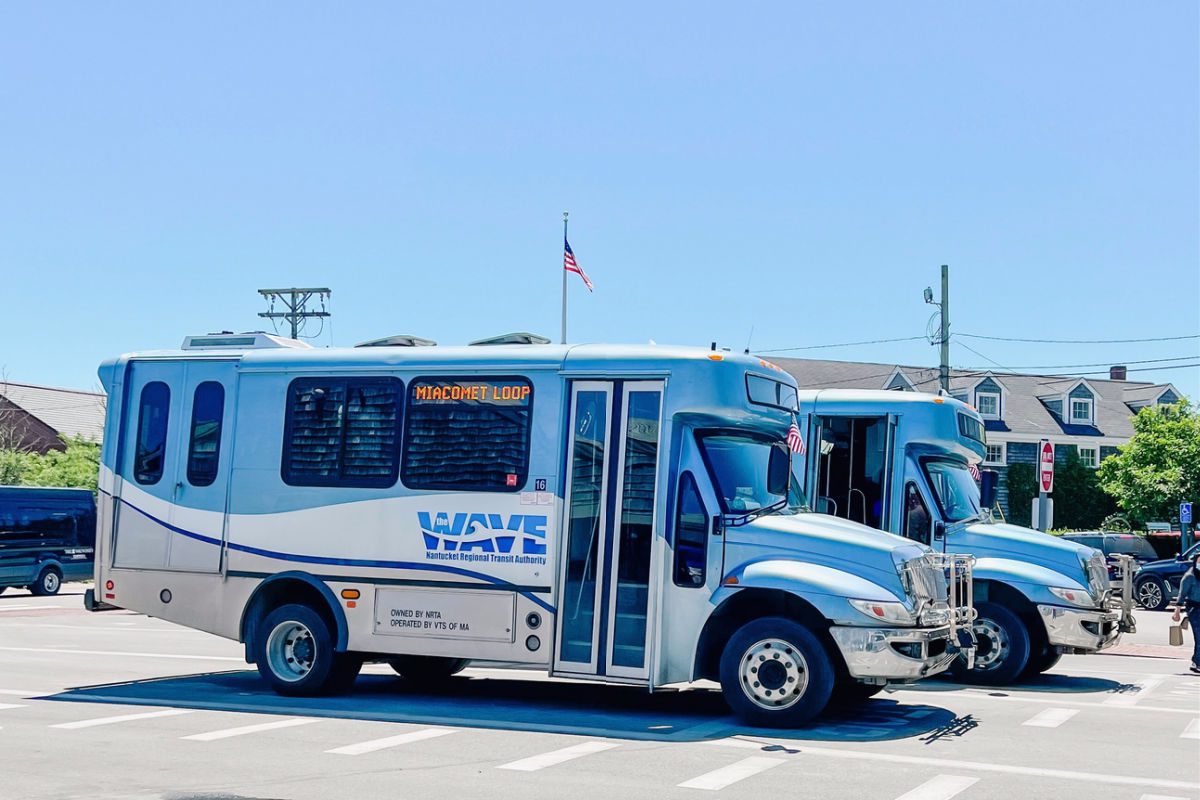 If you are visiting Nantucket for a weeklong vacation and renting a beach house, you will likely want to bring your car. However, if you are staying in town or near a bike bath or bus route, cars aren't really necessary. I found staying in town to be ideal for a weekend getaway as it was just a couple of minutes to walk to all the shops and restaurants and getting to the further off places was easy with bike rentals and shuttle service.
The Wave Shuttle provides an island-wide fixed bus route during the summer months to Madaket, Sconset (along three different routes), Surfside and Jetties beaches, Nantucket Memorial Airport, downtown Nantucket, and the Mid-Island area. Make sure you have cash on hand for fares, which run $2-3 per ride or $8 for a full-day pass. Just pick up a Wave schedule at the Visitors' Center in town or at the main bus station at the Greyhound Building in downtown.
Uber is also available on the island but you may experience long wait times and high prices due to demand. Also keep in mind that some areas of the island have limited cell service so calling an Uber could be challenging — we saw this happen to a few people as we were waiting to board the Wave.
Biking is also a popular option for getting around Nantucket. There are several bike rental companies right in town and 35 miles of bike paths to keep you safe on the road. If you would rather have a car, there are plenty of rental car options and you will see many rental Jeeps throughout your stay.
Summer Nantucket Itinerary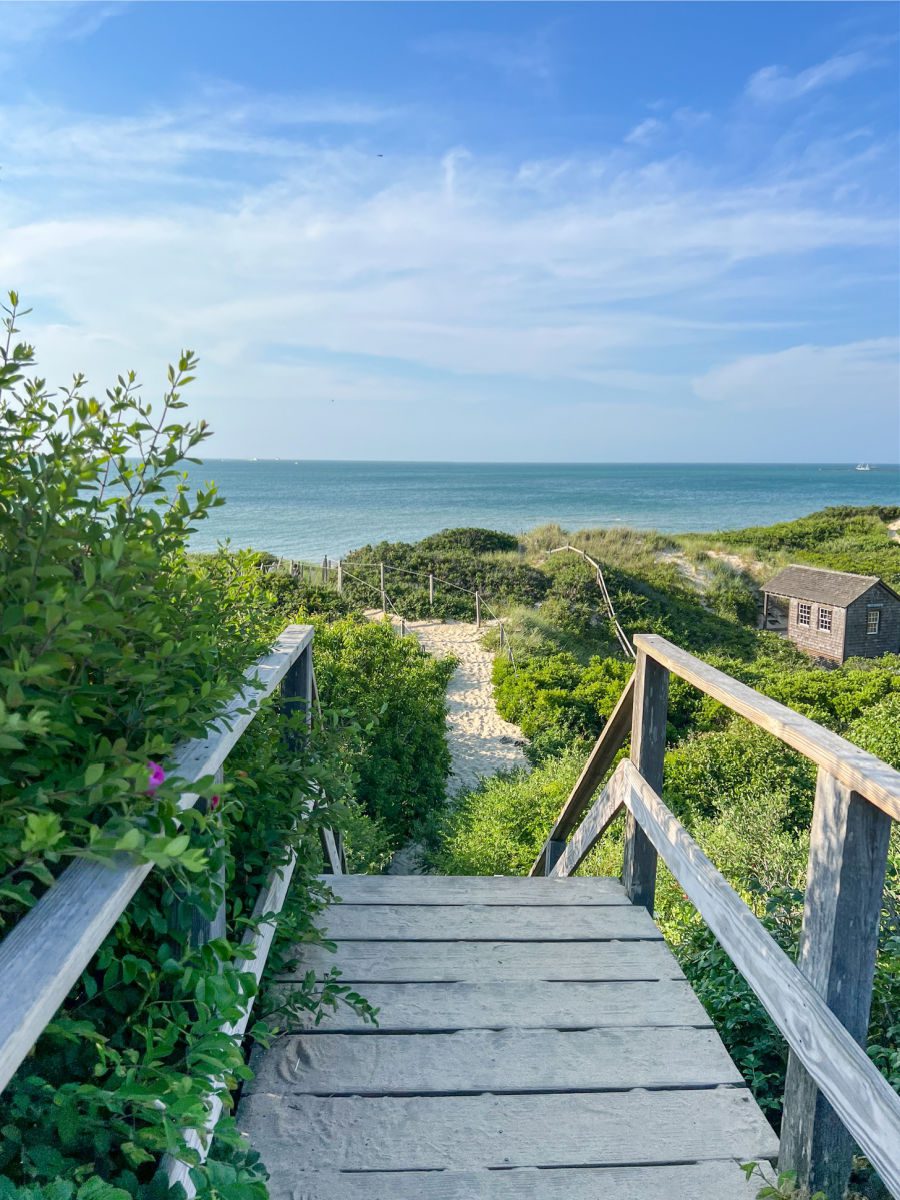 Three days on Nantucket will give you plenty of time to get a sense of the island and enjoy some of what makes it so special. I'm going to lay out your itinerary for three days on Nantucket over a long weekend (or mid-week trip for fewer crowds!)
Ideally you would arrive on Friday evening and after checking into your accommodations, head straight for the Sandbar at Jetties Beach for a Painkiller or other island drink to put yourself right into vacation mode. Between the live music, tables on the sand, and energetic bar, you will immediately leave the work week behind.
Nantucket Day One
If you are ready to jump right in, grab a picnic lunch at The Corner Table Café in town and pick up some rental bikes from Young's Bicycle Shop and hop on board to explore the island. There are plenty of day trip options, but I would recommend biking out to Siasconset (called Sconset by the locals).
This quaint former fishing village gives off total Nantucket vibes and exudes charm. It is about a seven to eight-mile ride, mostly along a paved bike path, to get to Sconset. You can lock up your bikes at the Sconset Market and pop in to get fresh baked goods, ice cream, or other goodies.
Since you will have worked up an appetite, you may want to head down to the beach and relax for a bit while you enjoy your picnic lunch. Keep in mind that this area is known to attract harbor seals, which, in turn, attract sharks, so keep an eye on any lifeguard warnings.
When we visited, a shark had been spotted just 15 feet from shore and swimming was closed for two hours. On the plus side, we got to see a few seals up close as they hung out by the surf break and kept popping up to take a peek at the beach.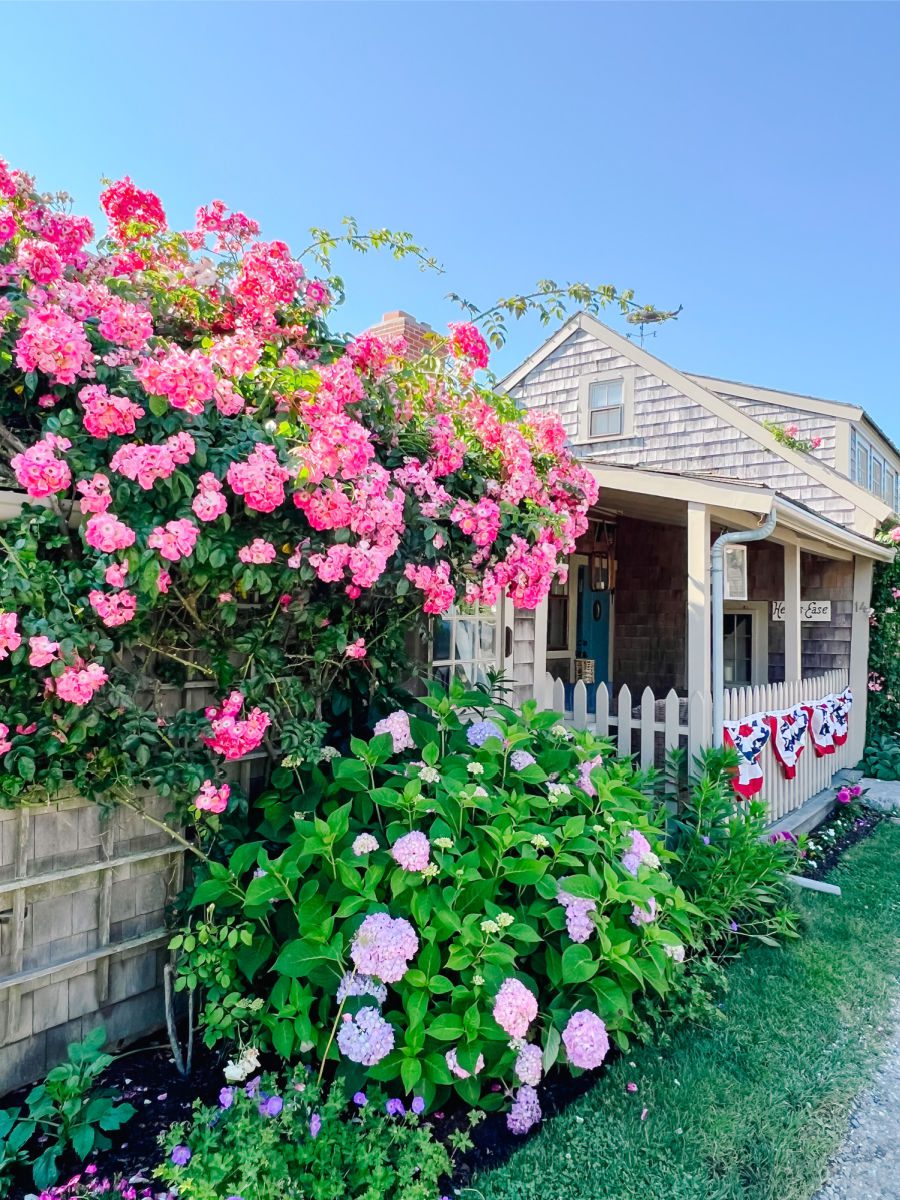 Once you have rested from the bike ride, I'd recommend a walk along the Sconset Bluff Walk. This is a two-mile out-and-back trail that follows the edge of the cliff bluffs and gives a beautiful view of both the beach and the backyards of the gorgeous houses that line this path.
After your walk, if you are ready to jump on the bikes again, it is a short ride up to Sankaty Lighthouse before you head back to town. And don't worry if you get back late, Young's has an after-hours drop off area. Maybe you can beat the long evening lines and grab an ice cream at The Juice Bar.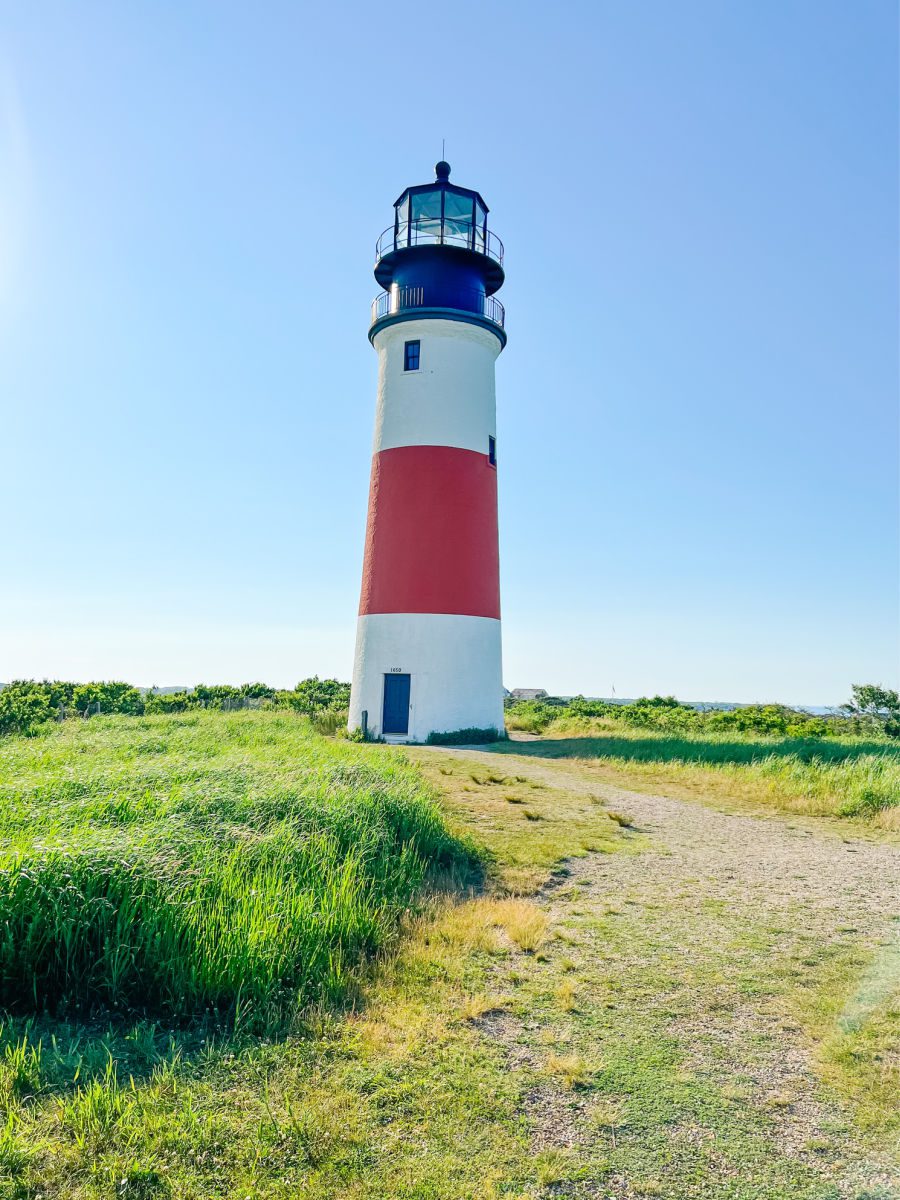 For dinner, take a walk into town and check out one of my recommended places to eat in Nantucket (see below.)
Nantucket Day Two
On your second day, it is time to head about and explore another part of the island. If it is a good beach day, either rent bikes or, if you are sore from the day before, jump on the Wave bus and head to one of the beaches on Nantucket's south coast.
Local surfers like Cisco Beach but we headed to the equally popular Surfside Beach. This was a short ride on the Wave bus and they have a pavilion with bathrooms, showers, and even a cafe serving up specialties like quinoa salad or poké, among other beach classics.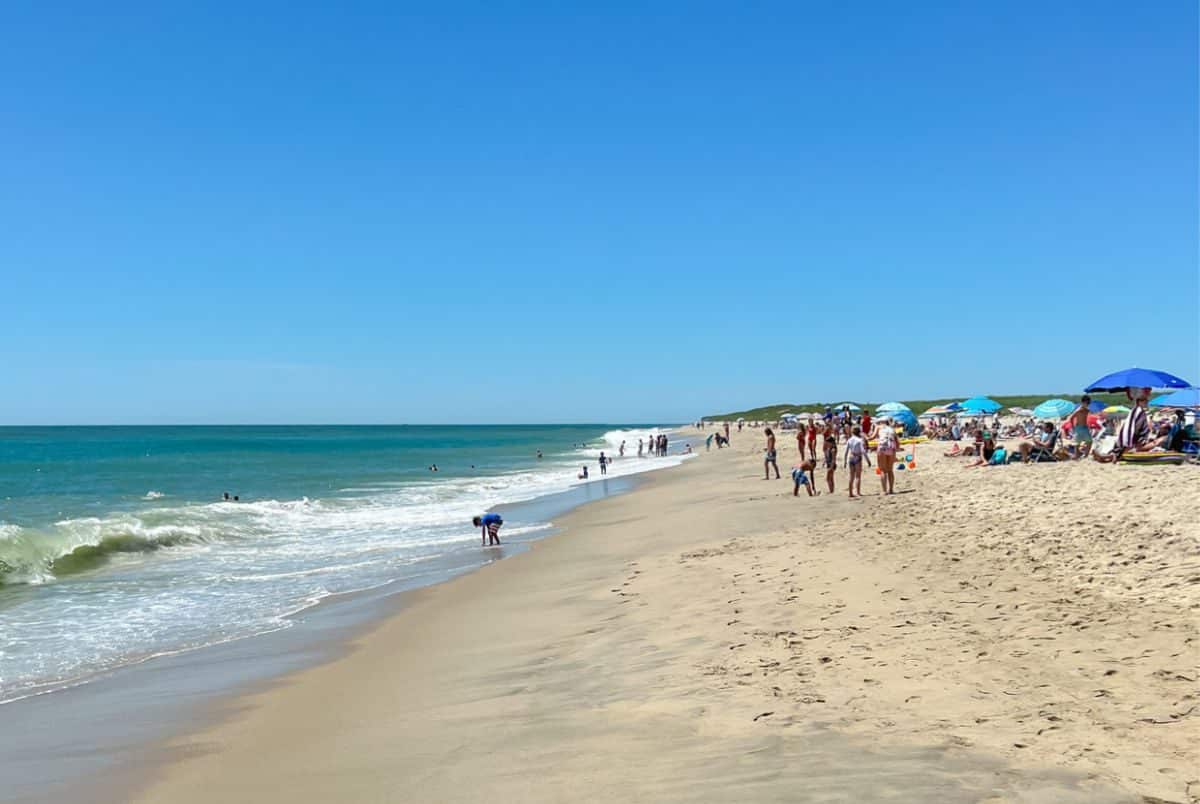 Surfside can get crowded but it also stretches for what feels like miles, giving you plenty of space to spread out. The waves are strong and good for surfing or body surfing, and you may even spot someone kite surfing if the wind is right.
When you have had your fill of surf and sand, stop at Cisco Brewers (you can hop a free shuttle from the visitor's center). Even if beer isn't your thing, you can enjoy an afternoon of live music and snacks from the many food trucks that gather outside.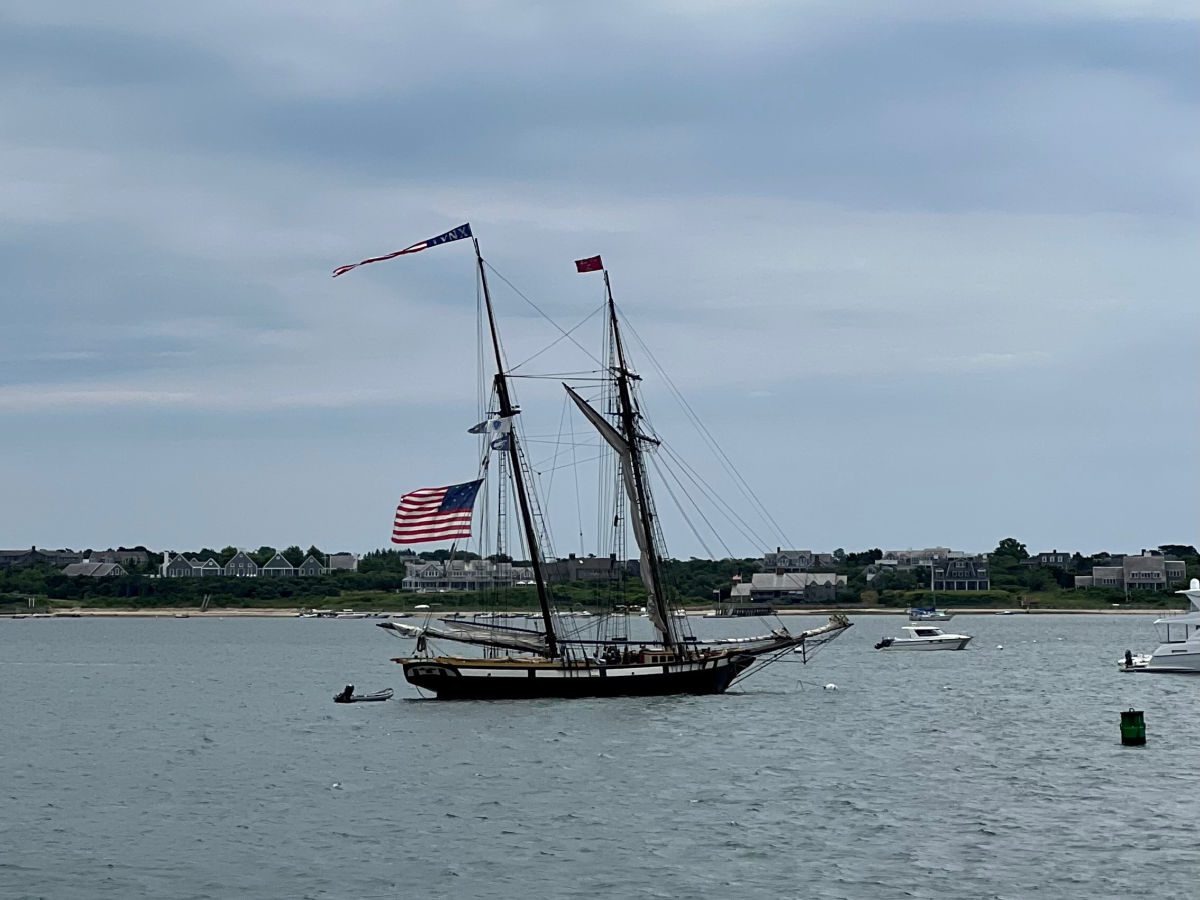 Just don't stay too long because if you can snag a reservation far enough in advance (a couple of weeks should do it), book a sunset sail on The Endeavor. If that doesn't work out, you can always take a morning or afternoon sail instead.
After a late dinner, you will be ready to hit the hay or try out some of Nantucket's nightlife at The Chicken Box, The Gaslight, or The Club Car. Honestly, my nightlife days are over so a nice walk around town after dinner is my idea of a good night.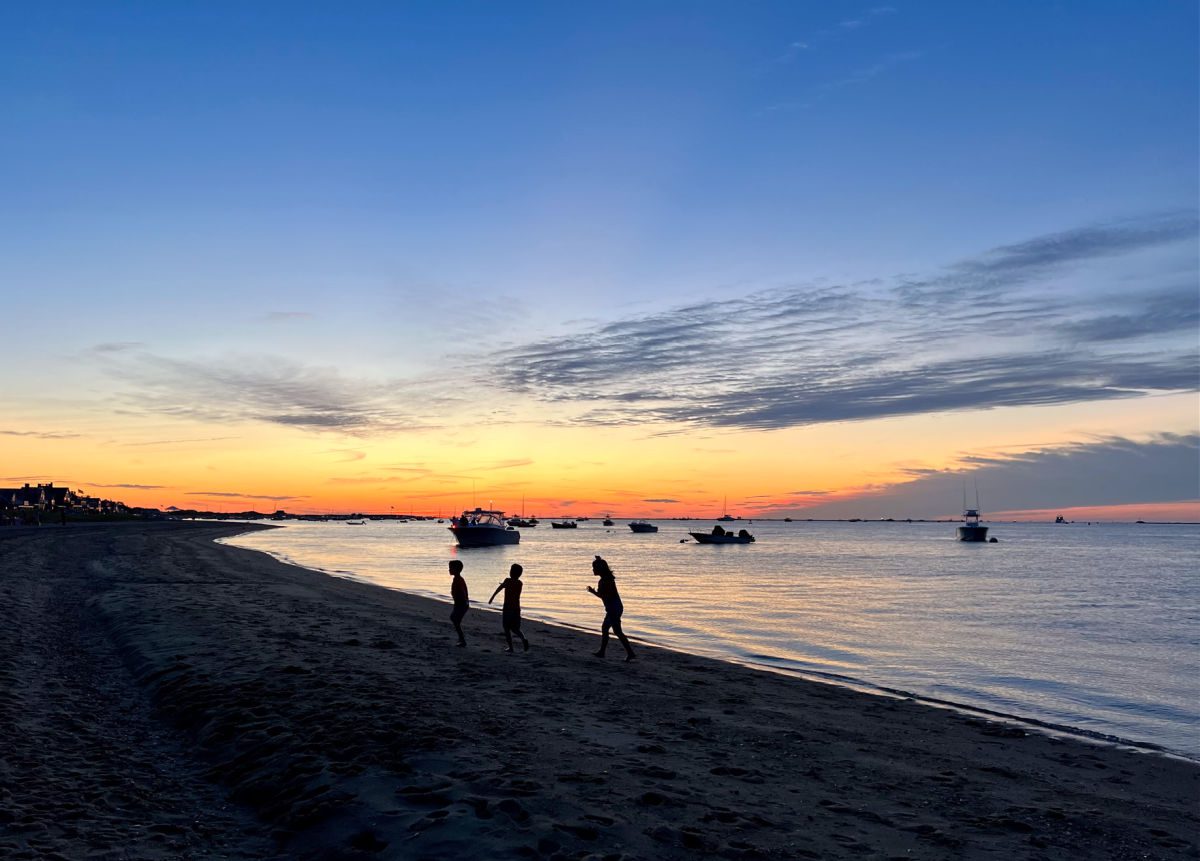 Nantucket Day Three
Unless you choose to book a fourth night like we did, chances are you will be leaving Nantucket on an afternoon or evening ferry. If that is the case, you may want to stick close to town for convenience.
I'd start the day with an early morning walk out to Brant Point Lighthouse for some photos and to watch the people fishing and the boats going by. Afterwards, walk over to Or, The Whale for a delicious Sunday brunch on their outdoor patio (although inside is perfectly lovely too!)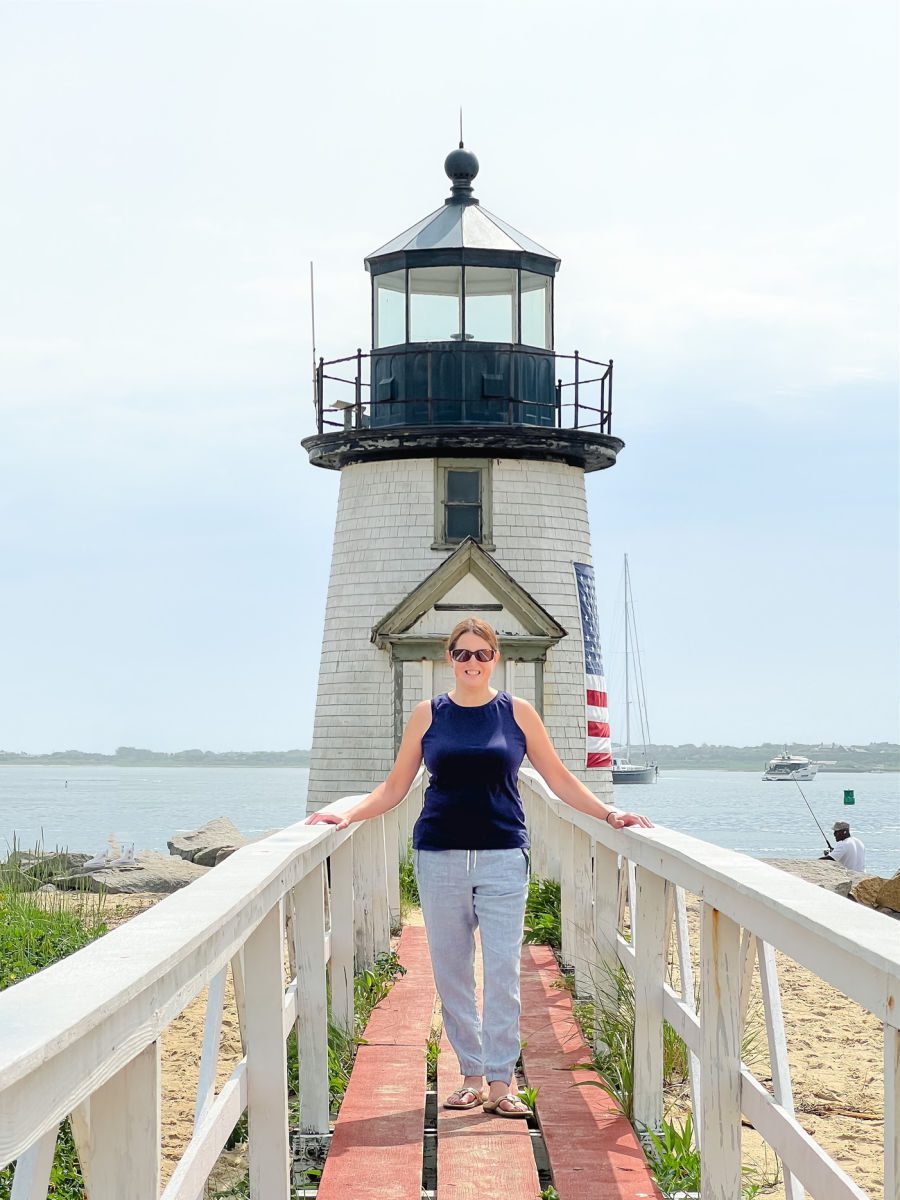 If you enjoy a history, I'd suggest a visit to the Nantucket Whaling Museum to get a little background on Nantucket's history. Then spend time browsing all the shops in town. If you want to pick up some clothing in Nantucket's famous "Nantucket Red" color, Murray's Toggery Shop is the place to go. You will also find stores from popular brands such as Lily Pulitzer, Vineyard Vines, Faherty, and more. Personally, I loved shopping the smaller boutiques such as Blue Beetle.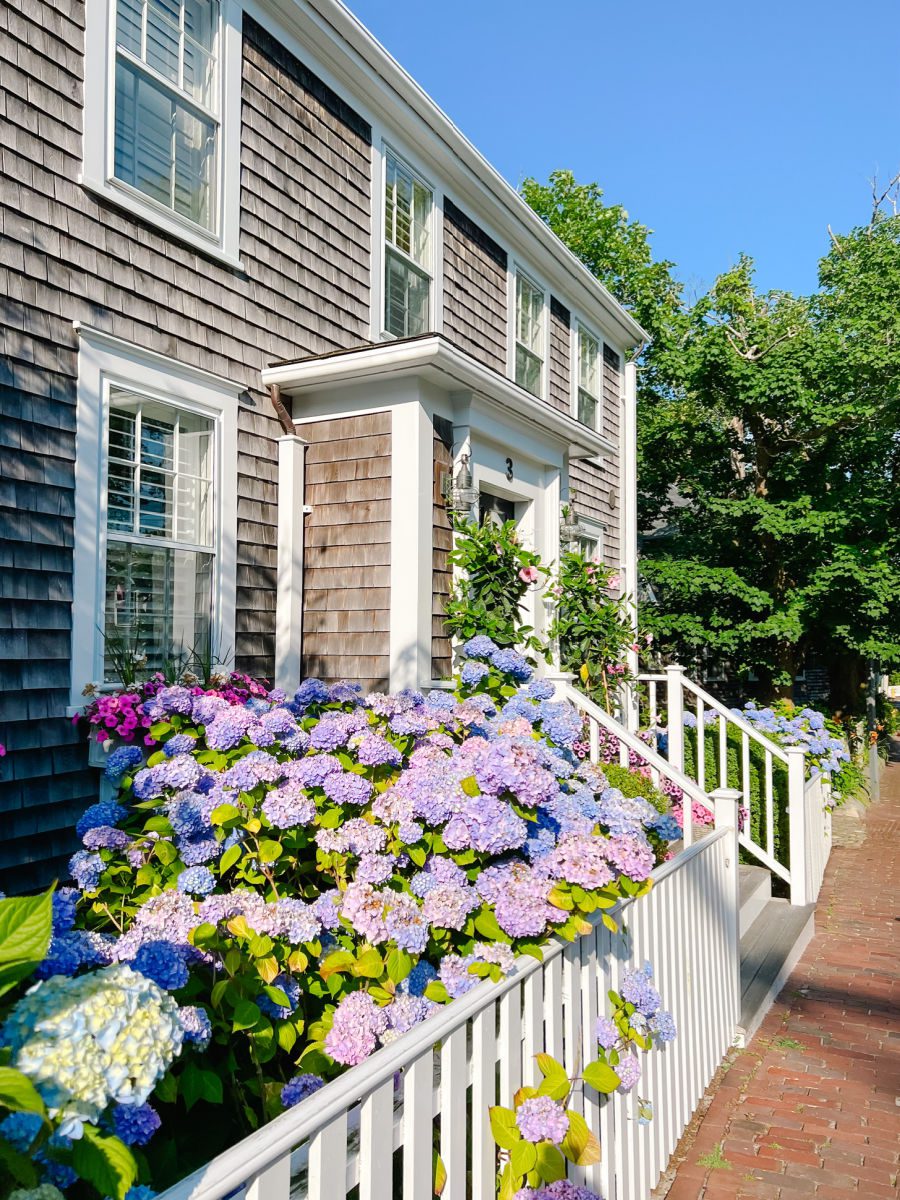 If you still have time to spare, have some drinks and a fresh seafood platter with a view at Cru Nantucket, or take a walk over to Steps Beach, which is about a 20 minute walk from the center of town.
Places to Eat on Nantucket
There is no shortage of excellent restaurants on Nantucket, after all, the island attracts the well-heeled city dwellers from Boston to New York with high expectations for fine dining. We had some hits and some misses on our visit, but here were our favorites, along with some recommendations that we didn't get a chance to try.
Just be sure to make reservations before you arrive (many restaurants open reservations either one month or two weeks in advance) or be prepared for a long wait when visiting during a busy weekend. We often saw tables still being seated after 9:30 pm. You also may want to buy a bottle of wine and have a pre-dinner drink in your hotel room because the bottle mark up is outrageous. Wherever you go, except to pay a premium on Nantucket.
Cru Nantucket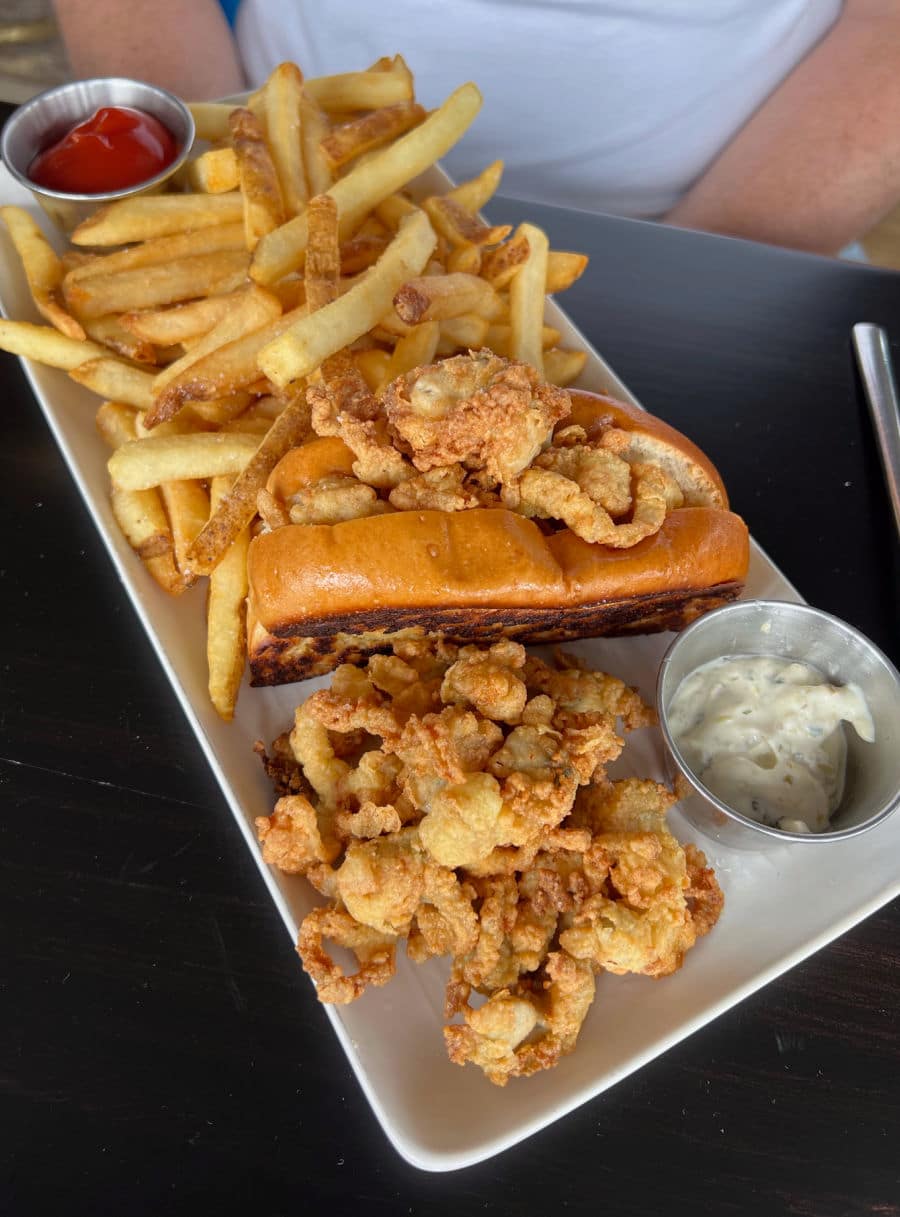 Cru Nantucket has a perfect location right at the end of Straight Wharf, with an excellent view of the harbor and the arriving ferries. When we visited it was raining, so the inside of the restaurant and bar were jam-packed for lunch, but by the time we left it was clearing up and people were enjoying the outdoor patio.
This was a perfect spot for celebrating our weekend away and we indulged in fresh oysters, a bottle of rosé, followed up with a delicious fried clam roll and spaghettini with littleneck clams. Everything we had was delicious and, despite the crowded environment, the service was top-notch, never missing a beat when we needed a refill.
Cru Nantucket is located at 1 Straight Wharf, Nantucket, MA 02554
Ventuno
Ventuno is an Italian restaurant featuring heavy influences from Northern Italy, especially on the wine menu, which has a robust selection of Piedmont wines. This was one of my husband's favorite meals of the trip and I agree that the burrata, tagliolini, and risotto with soft shell crab were all excellent. The only disappointment was the fried zucchini flowers, which needed a hotter oil to improve their crispiness.
Service was excellent at Ventuno and it was very lively, probably because the back bar is so popular.
Ventuno Restaurant is located at 21 Federal Street, Nantucket, MA 02554
Dune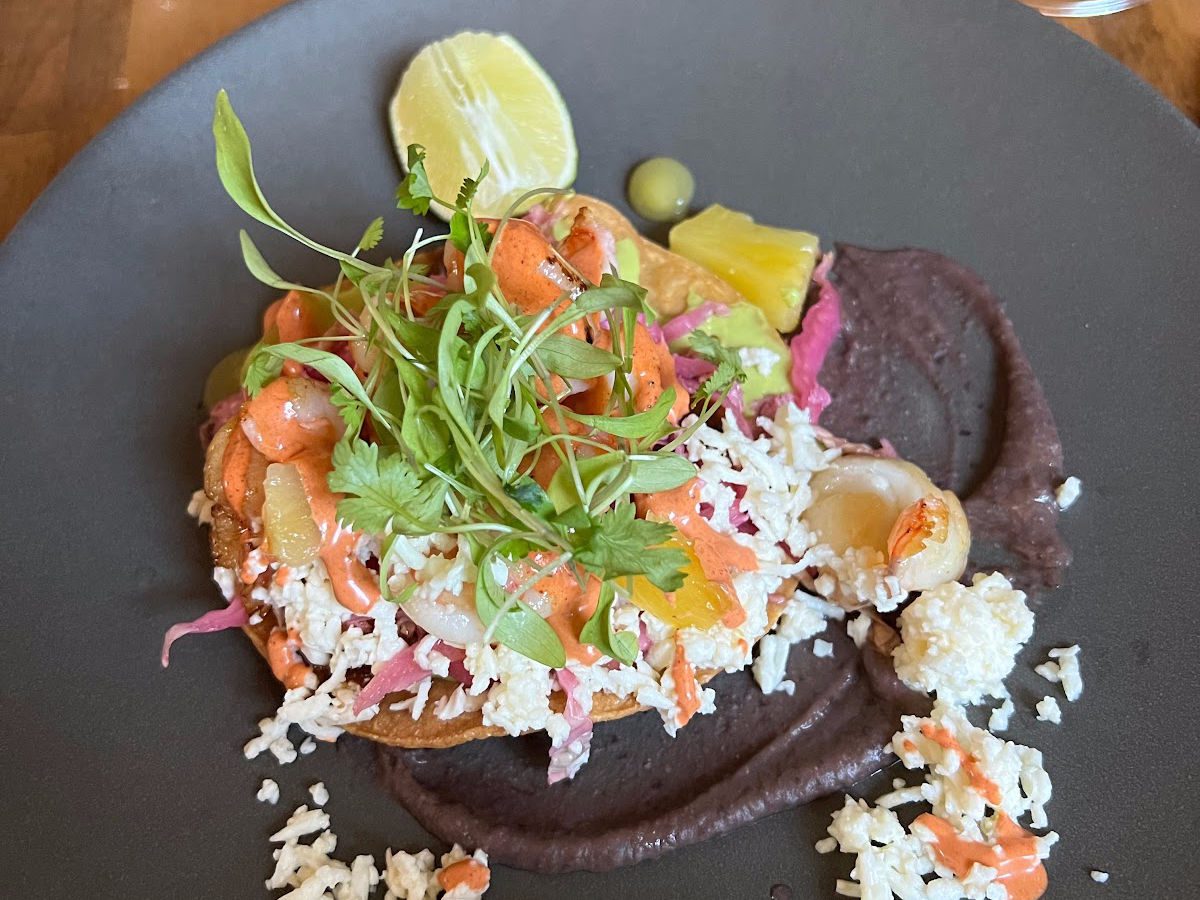 My favorite dinner of our trip was at Dune, which was mellower than either Ventuno or Cru, perhaps because we ate earlier in order to get to the beach to watch the July 4th fireworks. We ate inside in one of Dune's three dining rooms, but the restaurant also features a large patio.
The menu is New American with hints of southern and southeast Asian influences, and it is a tad more affordable than some others on this list. I absolutely loved the shrimp tostada and the tomato and watermelon salad with feta.
Dune is located at 20 Broad St, Nantucket, MA 02554
or, The Whale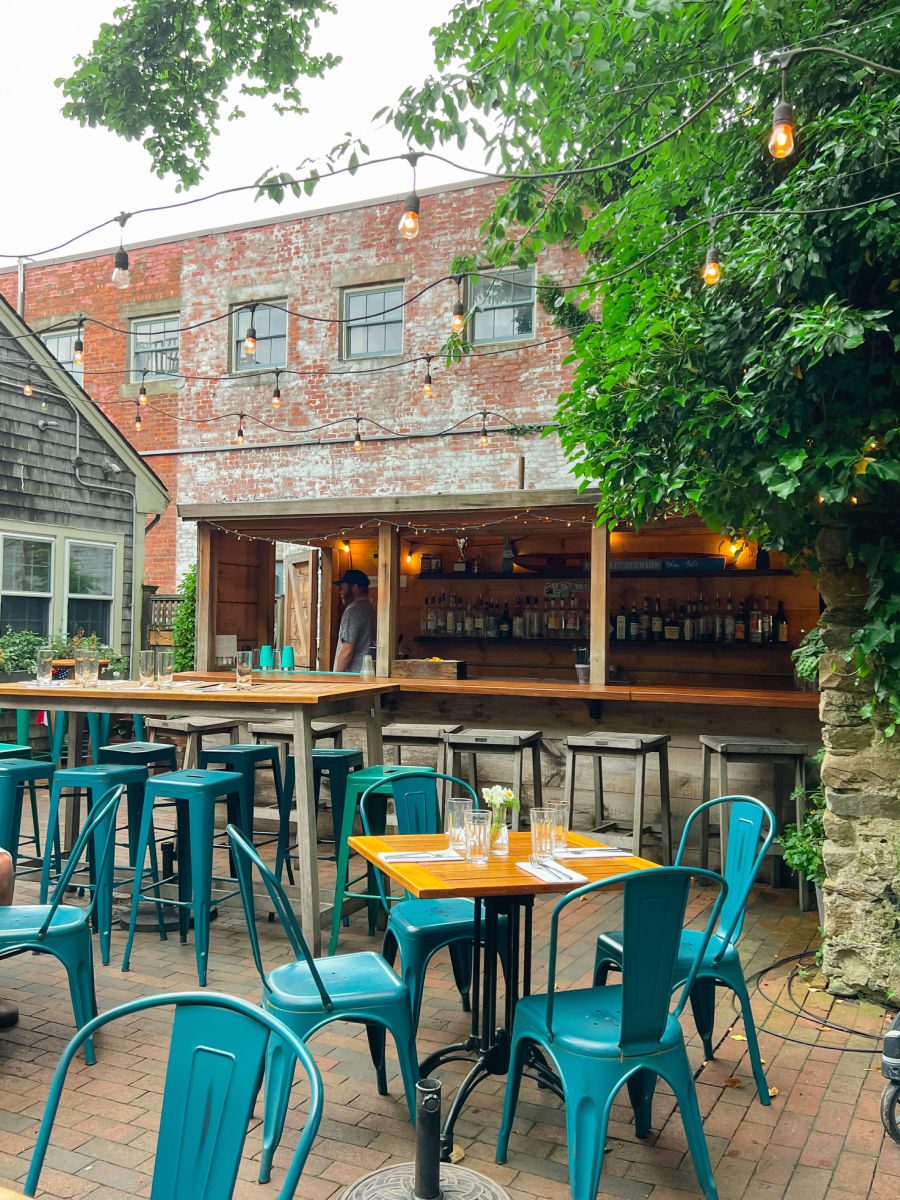 or, The Whale serves up lunch, dinner, and Sunday brunch and since we were tiring of the breakfast provided at our bed and breakfast, we decided to book a reservation for Sunday brunch. We were lucky enough to sit on the patio, although the inside is a chic beach-bistro style.
The brunch menu is an excellent mix of sweet and savory dishes, from those that are truly breakfast-focused to mains that are more filling. There are soups, starters, salads, sandwiches, toasts, and main dishes.
We picked the pimento toast (because why not, how often do you see pimento cheese in New England) and daily omelet. The food and service were fine, but the atmosphere was what we really enjoyed most.
or, The Whale is located at 38 Main St, Nantucket, MA 02554
Others that were recommended to me include Lola 41, Straight Wharf, Ships Inn, Le Languedoc, The Nautilus, and Millie's in Madaket. I would recommend skipping Brant Point Grill in the White Elephant and if you book a price fix menu at Company of the Cauldron, make sure you check when they post the daily menu in advance of the reservation cancellation deadline.
Where to Stay on Nantucket
If money is no object, than by all means book a stay at the luxurious White Elephant hotel. With its excellent location on Brant Point, loaner bikes, and high-touch service, I'm sure it is a treat. However, since $1,000+ a night for a basic room was not in my price range, I chose to stay at the Brass Lantern Inn instead.
We loved our stay at The Brass Lantern Inn. While not as posh, the welcome couldn't have been warmer — with freshly-baked cookies served up every afternoon at 5 pm, and the rooms were lovely. The Inn's location on N. Water Street was very convenient, with less than a 10-minute walk from our ferry and just a couple of minutes to the Whaling Museum, Visitors' Center, and many shops and restaurants.
The Inn offers seventeen guest-rooms with en-suite baths, and one and two-bedroom suites, which are perfect for small groups or families. There is a sitting room and library downstairs for relaxing and the Innkeepers kindly allow you to store your luggage if you have an afternoon ferry or if you arrive before check in.
Breakfast is pre-ordered each night and served up daily on trays that can be enjoyed in the dining room, on the spacious partially-covered patio, or in the comfort of your guest room. Continental breakfast consists of daily homemade pastries, fruit, yogurt, cereals, coffee, tea and juices. I was a little disappointed it wasn't the kind of B&B that serves up a gourmet hot breakfast, like the Inn at English Meadows in Kennebunkport, but what is provided is still quite plentiful.
I did splurge a little on the Wisteria room in the Garden Wing, which had a king bed and a sitting area with a sleeper sofa. It was nice to have that extra space to relax and enjoy some wine and cheese each night.
There are many historic inns and bed and breakfasts on Nantucket, as well as other hotels such as the Nantucket Inn or Harborview Nantucket. The Wauwinet is another luxury option, but its location on the eastern tip of Nantucket make it less-than-ideal for a weekend getaway unless you are bringing a car.
Tips for Visiting Nantucket
Here are a few things to keep in mind when planning a trip to Nantucket:
Start looking for car ferry reservations in January if you want to bring your car to the island
The weather is always cooler on the islands so be prepared to bring layers for cooler evenings and don't forget your rain gear!
Hotels often require a three-night minimum in the summer, especially on weekends
Vacation rentals may require a one-week stay in the summer
Nantucket is pricey so be sure to budget accordingly. Accommodations are high as well as food
Most hotels close for the winter
The ideal time to visit would be May – early October and the best weather will be June-August
Passenger ferries also sell out so be sure to make your reservations in advance
Pick where you want to eat and make dining reservations 2-4 weeks in advance if you are visiting for a summer weekend. Last minute walk ins may be available but be prepared to wait or eat at off-hours (early or late)
Make sure you have small bills to ride the Wave bus, almost everywhere else takes credit cards, including the beach cafe at Surfside Beach
You don't need advance reservations to rent bikes, there are plenty available
If you are visiting for July 4th weekend, town typically has a very lively celebration including a water fight with the fire department hoses — but those have been cancelled or tamed down due to the pandemic
If you have visited Nantucket, do you have other tips to add?