College move-in day is a much-anticipated rite of passage for college freshman. Having a good college packing list can make move in go more smoothly and help you ensure that they have what they need to be comfortable and safe.
When your son's college opens for the fall semester or quarter, your first year student will finally meet his future roommate for the first time and see his new home for the year. I've had the honor and pleasure of sending two of my three sons off to college so far, and we've learned a few things about the packing experience along the way, enabling me to put together a comprehensive college packing list for guys (and yes you can use this for girls too but they may have some additional needs that my boys didn't.)
Moving away to college and living in a residence hall instead of home is an exciting time but also a big adjustment for kids. In high school, your son may have gotten used to clean laundry just appearing and had no issue with using a new towel everyday. While adjusting to being on their own is hard, it will be a bit easier if they are well equipped with all the college essentials for guys (and don't expect that they have the first clue what those are!)
In this post we will cover what to put on your college packing list, what you don't need, how to get everything to campus, and provide a printable PDF to make it all easier.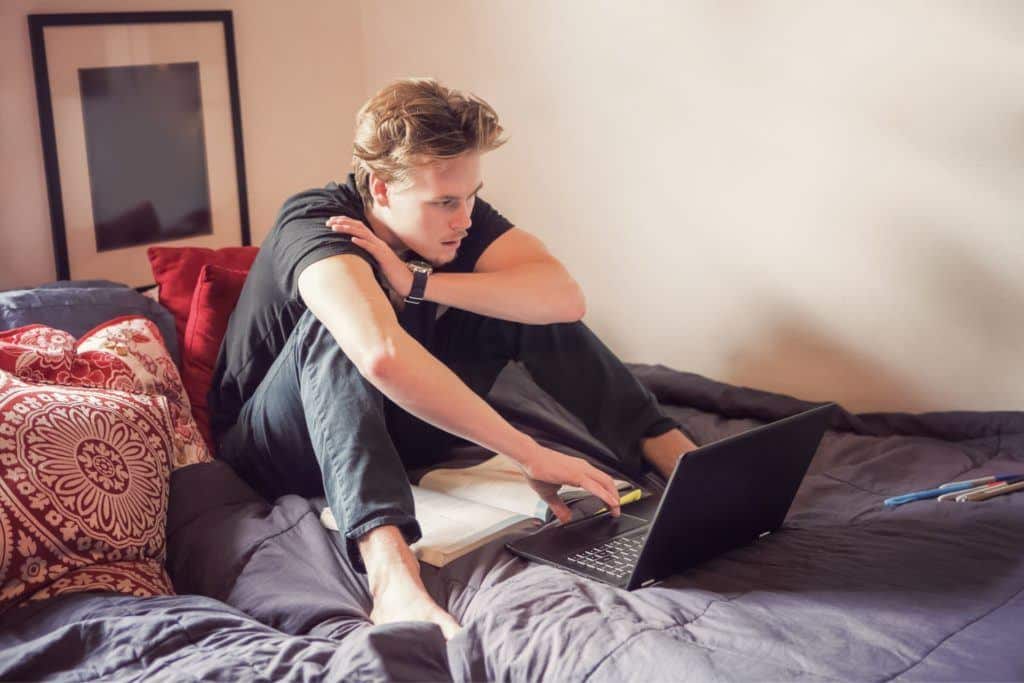 College Packing List for Guys
Note: This post contains affiliate links. If you click a link and make a purchase, I may receive a small commission at no cost to you.
Of course, needs and wants vary depending on the kid, but here are the dorm room essentials that you will DEFINITELY need. Don't forget to pack the following items on this ultimate college packing list.
If you are working with a tight budget (and with the cost of college these days who isn't?), try to purchase the basic things ahead of time when they are on sale. Definitely don't wait until the last minute because stores get very picked over and many items are on backorder.
Guys also tend to not leave a lot of time for the packing process, but getting everything on your dorm packing list into small spaces can be a challenge. But don't worry, if you do forget something you will want to take a quick trip to the local store before you leave them for the first time anyway.
Clothing
This category depends on the climate at your child's college, but in general, remember that they just need enough clothes to get them through to Thanksgiving break. Winter wear such as parkas, boots, and rainwear can probably wait until Thanksgiving break if they are planning on coming home at that time.
5-7+ pairs long pants
4-5+ pairs shorts
10+ t-shirts
at least 5 long-sleeve shirts or button-down shirts
all-purpose jacket
vest or fleece (or both)
sweatshirts and sweat pants (lounge wear)
underwear and socks
swimsuit
workout clothes
professional attire if they are an athlete or will be interviewing for internships or jobs
sleepwear
quarters if needed for laundry!
shoes, including flip-flops / shower shoes
Dorm Items
under-bed storage bins (on wheels makes transport easier)
XL twin, waterproof mattress pad or mattress topper. You may also want a tall bed wrap to hide the under bed storage.
bed lifts or bed risers (sometimes provided by the school)
portable fan (you will want one that oscilates and can either stand on a desk or clip to something to point at the bed)
extra-long twin sheets, pillowcases, and a comforter that fits twin XL mattresses found in the majority of dorms
pillows (more than one and maybe a body pillow or "husband" pillow for leaning on while working on the bed)
small electric kettle with auto shut-off
essential oil diffuser to get rid of odors (no candles allowed in most dorms)
a few cooking supplies if there's a communal kitchen (especially if they have a limited meal plan)
a simple coffee maker if needed, or a portable blender for smoothies (just double check school policies as not all allow small appliances)
two or more bath towels (look for towels with a loop for a hook for easy hanging, or buy quick dry towels that won't stink — these from Kohl's are also popular as are the lightweight camping towels)
hamper (the mesh bag kind seem the most popular with boys although if space always look for one on wheels if the laundry room is the building)
electrical power strip and surge protector with USB ports (plus zip ties for attaching this to the dorm room bed leg)
wall hangings, posters, or tapestries (they really go a long way to brighten things up the new living space)
fairy lights or string lights (guys like them too!)
small area rug
clothes hangers (more than you think you need, use the thin, save space hangers to fit more)
college-approved wall adhesive
Command adhesive hooks (make sure they are college-approved) for hanging towels, jackets, etc.
bulletin board or wipeable white board
small programmable safe to store money, valuables, and important documents like health insurance cards, vaccination cards, social security card, etc. (with batteries)
small dorm-size mini fridge (and small ice trays if they will fit)
over the dorm-fridge shelving (if space allows)
refillable water bottle
cleaning supplies like basic bathroom cleaners (if cleaning isn't provided) and a stick vacuum.
if there is space in the bathroom, a sponge caddy, toothbrush / razor holder, and a Command towel bar
a simple door stop to keep the door open and encourage socializing
Cool mist humidifier if your attending school in a dry environment (just check that this is ok with any roommates)
Some kids like having a padded headboard for their bed (you can use zip ties to attach it)
If they have a lofted or high bed, they may like a storage ottoman that they can also use as a footstool for getting in and out of bed
Bathroom and Personal Use
first aid supplies (I create my own kit of bandages and OTC medications and remedies in a shoebox including stomach, cough/cold, and pain meds, a thermometer, Neosporin, cortisone, Vaseline/Aquaphor, eye drops, cough drops/sore throat lozenges, allergy meds, powered Gatorade, melatonin, vitamin supplements, quick free ice packs, rapid test kits)
hand sanitizer (large pump for the room and smaller bottles for the back pack), face masks, sanitizing spray and wipes
tissues
sunscreen and bug spray (location dependent)
condoms (yep)
toiletries (pack liquids in 2 gallon ziploc bags to prevent messy leaks)
a shower caddy or shower tote to cart them back and forth to communal bathrooms
a collection of batteries and chargers
noise-cancelling headphones (my college students couldn't live without these)
small assortment of bowls, a plate, a few utensils, and coffee mugs/water bottles (even if they'll eat most meals in dining halls)
change/cash for bus fare, laundry, etc
outdoor gear and equipment (rain boots, climbing gear, ski/snowboard gear, paddling gear…if needed)
School Supplies
books for fall semester (take a trip to the school bookstore with your student and buy his first round of books…but make sure he's with you to see how much they cost!)
pads of paper/notebooks
scissors
Scotch tape and duct tape
binders (2-3 to start)
scientific calculator if needed
post-it notes, index cards, and other studying materials
laptop computer of your choice, plus a commuter-style backpack or bag
extra chargers and back up cords (in case they got lost or left somewhere it is best to have one to keep with him and one to be kept in the room)
a lock for said bag
a bike lock if using a bike
a desktop light for studying (if not provided with your desk)
desk organizer (especially if the desk doesn't have drawers!)
A few nice things to leave your kid with:
gift cards to campus market and coffee shops, neighboring restaurants (especially those that don't take swipes), and the local drug store for miscellaneous items they might need (or didn't get packed)
a pre-paid Uber credit
cash tucked into jacket pockets
a credit at the college bookstore for when he realizes he's out of highlighters or batteries
a stash of snack food and drinks
Travel Insurance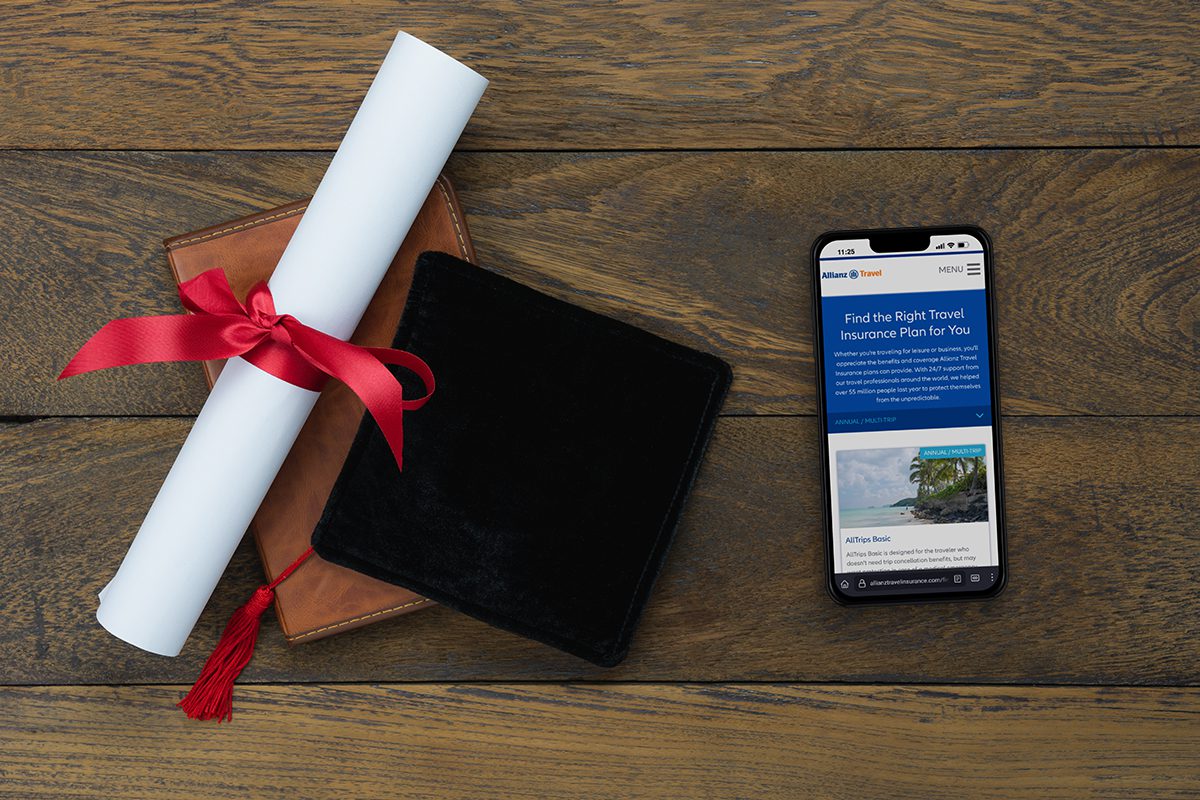 This content is sponsored by Allianz Partners (AGA Service Co.) and I have received financial compensation but all opinions expressed are my own.
If your college kid is flying to and from school, you will also want to add the gift of an annual travel insurance plan to the packing list. An annual travel insurance plan protects their trips all year long including flight cancellations, travel delays, and lost, delayed, or damaged baggage.
Before we sent our daughter off to college in Arizona, I made sure she was covered by an AllTrips Premier annual travel insurance plan from Allianz Travel. Allianz Travel has been our trusted travel insurance provider for years and the investment has paid off in multitudes. Not only do I know that her trips to school and back are protected, but since she is an inexperienced solo traveler, it gives us both peace of mind knowing that she has access to a 24-hour hotline for assistance on all sorts of travel emergencies.
Shop for the Allianz Travel Insurance policy that is right for you!
What you Definitely Don't Need
A professional dorm decorator. Seriously. Save your money for an important thing (to them), like a fancy espresso machine or a stereo system, or, in the case of my oldest son's first roommate, a deep fryer (yes, really).
My middle son's first roommate had his half of the room professionally decorated, and I promise you the look was ruined as soon as my son brought all his non-professionally curated stuff in. We find it humorous now, but at the time, we just felt sad for our son's lame 'look' (not that he cared!). If you really want to go that route, you can check out Dorm Decor.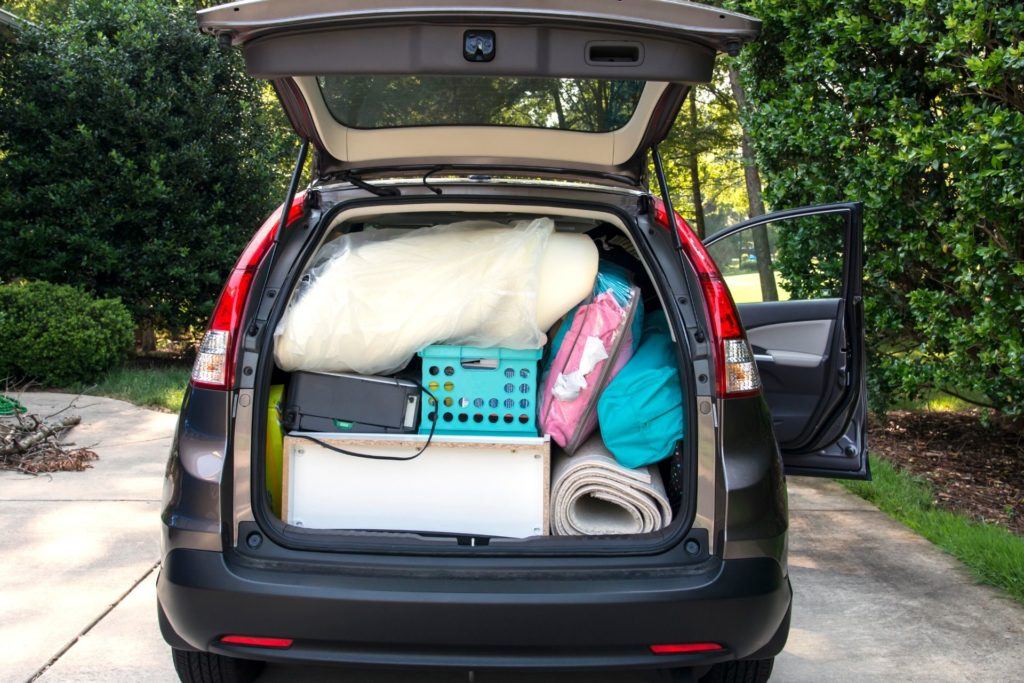 How to Get it to School
With a student going to college 3,000 miles away from home, we've had to dial in the packing and transportation game.
What we learned:
Pack at least one huge suitcase or duffel bag. With our Alaska Airlines card, we get two free checked bags for each passenger, which helps! Look into flying an airline you get perks on or fly an airline like Southwest that doesn't charge for checked bags. The blue Frakta IKEA bags are very popular with college students, but you can also get similar bags on Amazon. You can use a boot tray to serve a sturdy base in the duffel and put it in the bottom on the closet when you get to the dorm.
Then, leave that monster duffel with your student. This cumbersome bag is not the one he'll use for trips home during the school year, but it will prove invaluable when it's time to store his stuff in near-campus storage for the summer. Pick a bag or duffel that folds down flat or rolls up, store it under the dorm bed or on a shelf or at the top of his closet, and forget about it until May. They should also bring a carry on bag that they can use for shorter trips home or to go to conferences, sporting events, etc.
Purchase most of the essentials after you arrive. You can count on a very long and tiring shopping session in Target, and you'll need to make sure you rent a car that can accommodate all those bins and coat hangers. But at least you only need to haul it all a few miles to campus, instead of across the country or state.
If your college is large or in a small town that can't accommodate a barrage of freshmen descending on the sheets and towel aisles, pre-order the essentials before you arrive. Many big box stores (such as Bed Bath and Beyond) allow you to shop online and save your 'cart' to a particular store. Or you can be like us, and wing it, and end up with sheets and towels that don't match (I cared, my freshman didn't).
Ship college dorm essentials ahead of time to a storage locker or the school, if they allow it. Be sure to check the college website to see what shipping and storage options are available. I know some schools also offer packages to purchase through the school with all the college necessities for guys.
Shop college 'garage sales' for bulky and expensive items. Many move-in day festivities now include a campus-wide yard sale, during which unclaimed items left over from the summer are sold at bargain-basement prices. This is the place to pick up that mini-fridge, area rug, desk lamp, or wall tapestry for a song. Plus, you can shop with your new roommate and his or her family, which is bound to be a good icebreaker. (Hopefully, both kids want that lava lamp.)
If you are lucky enough to pack up the car and drive your son to school, you may want to invest in one of these folding platform carts to make it easier to bring everything in to the dorm. Also make sure to bring along some bungee cords, a rubber mallet for adjusting the bed, a flathead and Phillips screwdriver, scissors, a Sharpie, and garbage bags.
Bring along a rain tarp if it is expected to rain on move in day and don't forget to label everything with the dorm and room number in case the move in helpers take stuff to the wrong spot. When you arrive, clean the room first before bringing everything inside. Make the bed last in case you need it to place things on as you get organized (that way you won't get the comforter all dirty.)
Download the College Dorm Checklist List for Guys Printable
Print out this college packing list for guys when you (or your son) are shopping and packing what they will need for their first semester at school.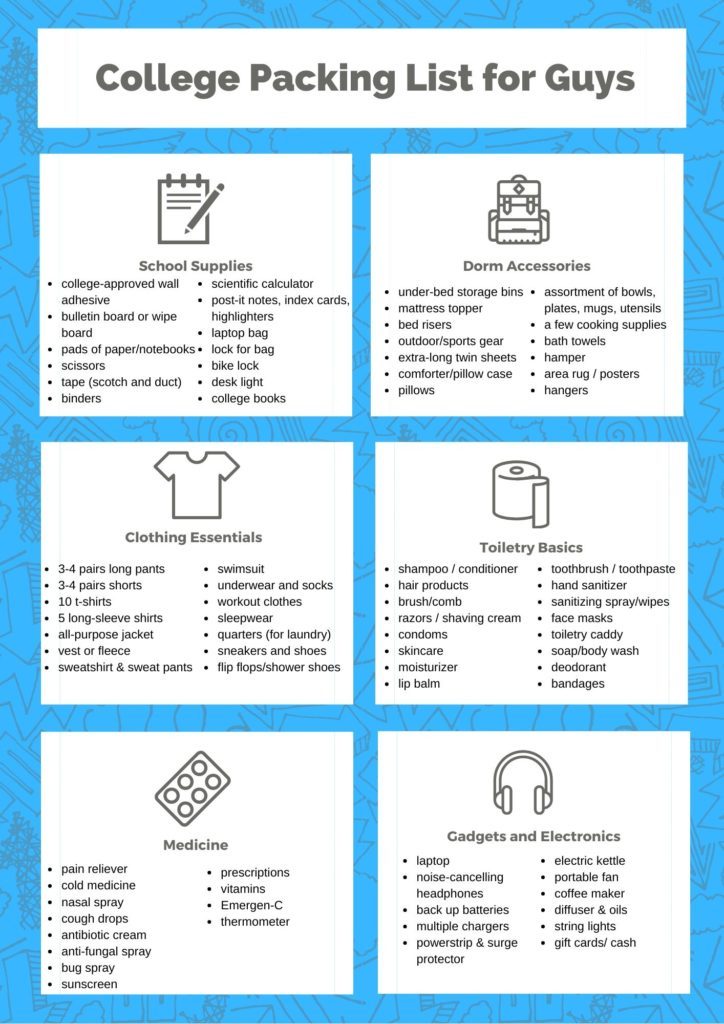 Good luck with the packing and move-in day experience! We hope this college packing list will help your college student adjust to dorm life and be prepared for their first day of college. To protect all of those investments, don't forget to purchase dorm insurance.
Don't forget to take some pictures of your son in his new room before you get kicked out!
For more info, be sure to read our tips on things your student needs to do before starting college. And, if you want to have access to your child's educational records or medical care, be sure to have him complete Power of Attorney forms before he leaves. I used Mama Bear Legal forms to make it easier and you can save 20% with my referral link.