College move-in day is a much anticipated rite of passage for the college freshman. Of course it is going to look a little different this year, even if your student's college is reopening for in-person or online classes. But given that students might be spending even more time in their dorm room — whether attending online classes or hanging out more since sports and other activities are cancelled, it is more important than ever to use a good college packing list to make sure they have what they need to be comfortable and safe.
When the college your son plans to attend opens for the fall 2020 semester or quarter, your kid will finally meet his future roommate and the space he'll call home for the year. I've had the honor and pleasure of sending two of my three sons off to college so far, and we've learned a few things about the packing experience along the way.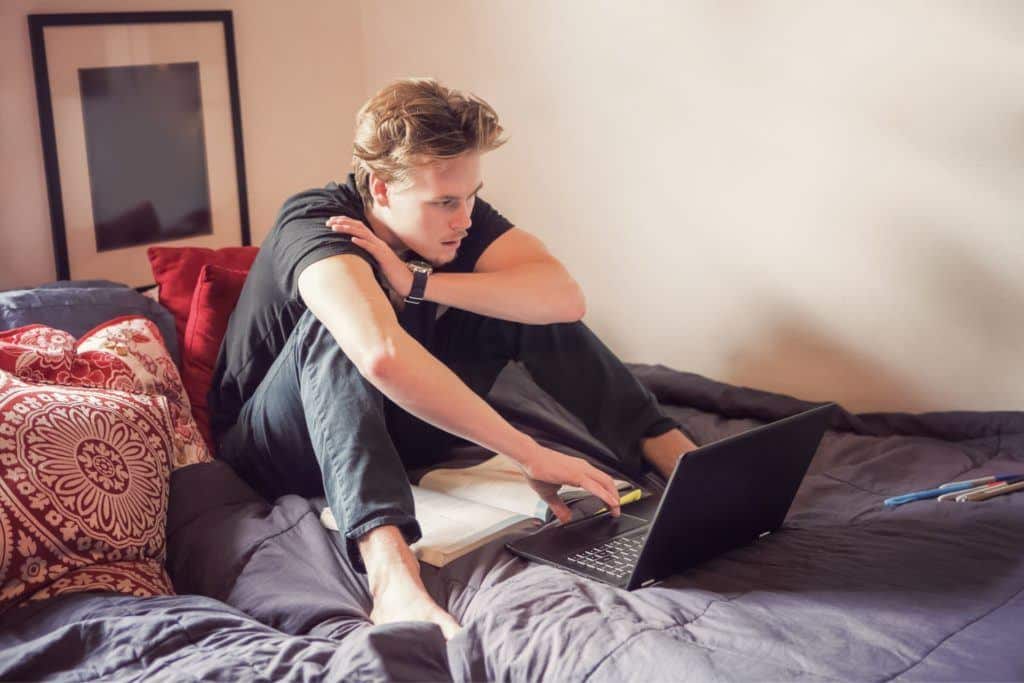 College Packing List for Guys
Of course, needs and wants vary depending on the kid, but here is what you will DEFINITELY need to pack.
Clothing
This category depends on the climate at your child's college, but in general, remember that winter wear such as parkas, boots, and rain wear can probably wait until Thanksgiving break, if their school will even be in session after Thanksgiving.
3-4+ pairs long pants
3-4+ pairs shorts
10 t-shirts
at least 5 long-sleeve shirts or button-down shirts
all-purpose jacket
vest or fleece (or both)
sweatshirts and sweat pants (lounge wear)
underwear and socks
swimsuit
workout clothes
sleepwear
quarters if needed for laundry!
shoes, including flip-flops for the shower
Dorm Room
under-bed storage bins
mattress topper
bed risers (sometimes provided by the school)
portable fan
extra-long twin sheets and comforter/pillow cases
pillows (more than one!)
electric kettle
diffuser (no candles allowed in most dorms)
a few cooking supplies if there's a communal kitchen
a simple coffee maker if needed
two bath towels (one will always be in the hamper)
hamper (the mesh bag kind seem the most popular with boys)
electrical strip and surge protector
wall hangings, posters, or tapestries (they really go a long way to brighten things up)
string lights (guys like them too!)
area rug
clothes hangers (more than you think you need)
college-approved wall adhesive
bulletin board or wipe board
Bathroom and Personal Use
first aid supplies (I create my own kit of bandages and OTC medications and remedies in a shoebox)
hand sanitizer (large pump for the room and smaller bottles for the back pack), face masks (disposable and reusable/washable as you don't want them wearing the same one all semester), sanitizing spray and wipes
condoms (yep)
toiletries and a way to cart them back and forth to communal bathrooms
a collection of batteries and chargers
noise-cancelling headphones (my college students couldn't live without these)
small assortment of bowls, a plate, a few utensils, and coffee mugs/water bottles (even if they'll eat most meals in dining halls)
change/cash for bus fare, laundry, etc
outdoor gear and equipment (climbing gear, ski/snowboard gear, paddling gear…if needed)
School Supplies
books for fall semester (take a trip to the school bookstore with your student and buy his first round of books…but make sure he's with you to see how much they cost!)
pads of paper/notebooks
scissors
tape (scotch and duct)
binders (2-3 to start)
scientific calculator if needed
post-it notes, index cards, and other studying materials
laptop computer of your choice, plus a commuter-style backpack or bag
a lock for said bag
a bike lock if using a bike
a desktop light for studying (if not provided with your desk)
A few nice things to leave your kid with:
gift cards to campus coffee shops
a pre-paid Uber credit
cash tucked into jacket pockets
a credit at the college bookstore for when he realizes he's out of highlighters or batteries
a stash of snack food and soda/La Croix
What you Definitely Don't Need
A professional dorm decorator. Seriously. Save your money for a fancy espresso machine or stereo system, or, in the case of my oldest son's first roommate, a deep fryer (yes, really).
My middle son's first roommate had his half of the room professionally decorated, and I promise you the look was ruined as soon as my son brought all his non-professionally curated stuff in. We find it humorous now, but at the time, we just felt sad for our son's lame 'look' (not that he cared!).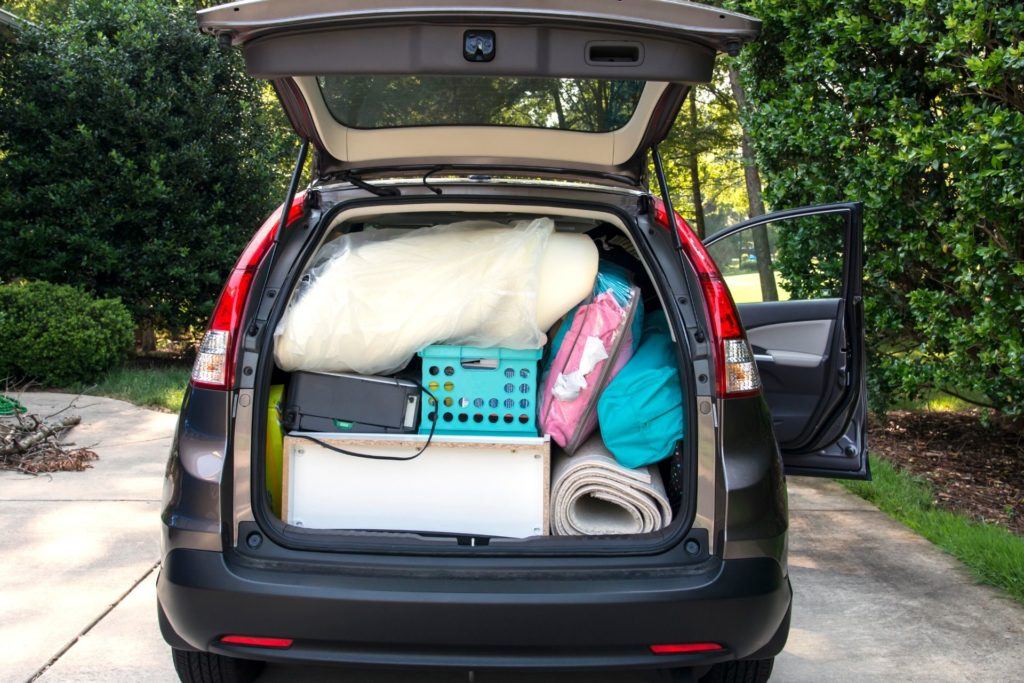 How to Get it to School
With a student going to college 3,000 miles away from home, we've had to dial in the packing and transportation game.
What we learned:
Pack at least one huge suitcase or duffel. With our Alaska Airlines card, we get two free checked bags for each passenger, which helps…look into flying an airline you get perks on. Then, leave that monster duffel with your student. This cumbersome bag is not the one he'll use for trips home during the school year, but it will prove invaluable when it's time to store his stuff in on-campus storage for the summer. Pick a bag or duffel that folds down flat or rolls up, store it on a shelf or at the top of his closet, and forget about it until May.
Purchase most of the essentials after you arrive. You can count on a very long and tiring shopping session in Target, and you'll need to make sure you rent a car that can accommodate all those bins and coat hangers. But at least you only need to haul it all a few miles to campus, instead of across the country or state.
If your college is large or in a small town that can't accommodate a barrage of freshman descending on the sheets and towel aisles, pre-order the essentials before you arrive. Many big box stores allow you to shop online and save your 'cart' to a particular store. Or you can be like us, and wing it, and end up with sheets and towels that don't match (I cared, my freshman didn't).
Shop college 'garage sales' for the bulky and expensive items. Many move-in day festivities now include a campus-wide yard sale, during which unclaimed items left over from the summer are sold at bargain basement prices. This is the place to pick up that mini-fridge, area rug, desk lamp, or wall tapestry for a song. Plus, you can shop with your new roommate and his or her family, which is bound to be a good icebreaker. (Hopefully both kids want that lava lamp.)
Download the College Packing List for Guys Printable
Print out this college packing list for guys when you (or your son) are shopping and packing what they will need for their first semester at school.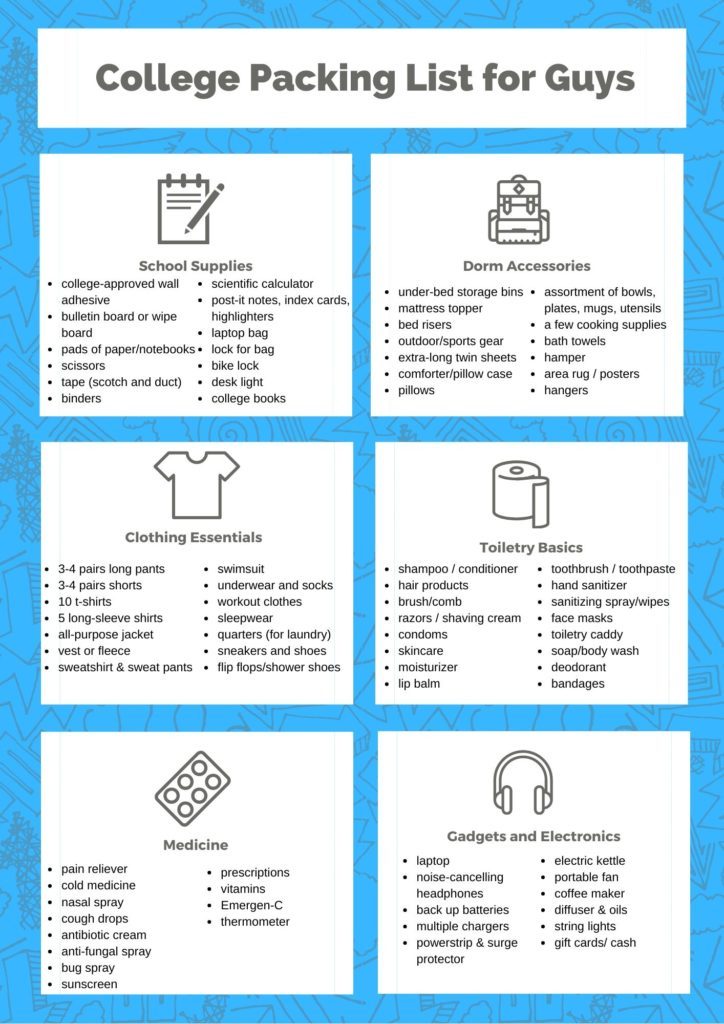 Good luck with the packing and move-in day experience! We hope colleges are able to open safely in the fall and kids can enjoy on-campus living.