One of the nice things about being a nearly-empty nester, or at least having a teen with a social life, means that when they are busy, the parents can get a little guilt-free getaway. This year a Boston Model United Nations conference was conveniently timed for early February, so while our high school sophomore was occupied, we planned a little pre-Valentine's Day romantic getaway to Newport, Rhode Island.
Even though Newport is only an hour away, it is just far enough to put the worries of home in the rearview mirror for a day or two for a quick getaway. Equally accessible from those coming up from New York City or down from Boston, Newport can be a popular, and often expensive, getaway in the summer, so an off-season visit can be ideal. Just keep in mind that Newport's popularity as a wedding destination can still impact hotel availability and pricing on the weekends.
Planning a Newport Rhode Island Romantic Getaway
The first thing to figure out when planning a Newport Rhode Island romantic getaway is where to stay. There are so many options from small historic bed and breakfasts to luxury boutique hotels and large resort properties.
Romantic Hotels in Newport
Note: This post contains affiliate links. If you click a link and make a purchase, I may receive a small commission at no cost to you. All opinions are my own based on my personal experience with these products.
In the summer we have stayed on the water at the Newport Marriott, but for this trip, we were looking for more romantic accommodations. Newport has its share of romantic hotels, including two of my favorites The Chanler at Cliff Walk and the Castle Hill Inn. Those two luxury hotels are especially good selections in the summer when you can enjoy the outdoors.
However, in the winter, I prefer somewhere that is in town, making it easy to walk to restaurants and shops. While I've greatly enjoyed previous stays at The Hotel Viking, this time we tried something new and picked The Vanderbilt.
The Vanderbilt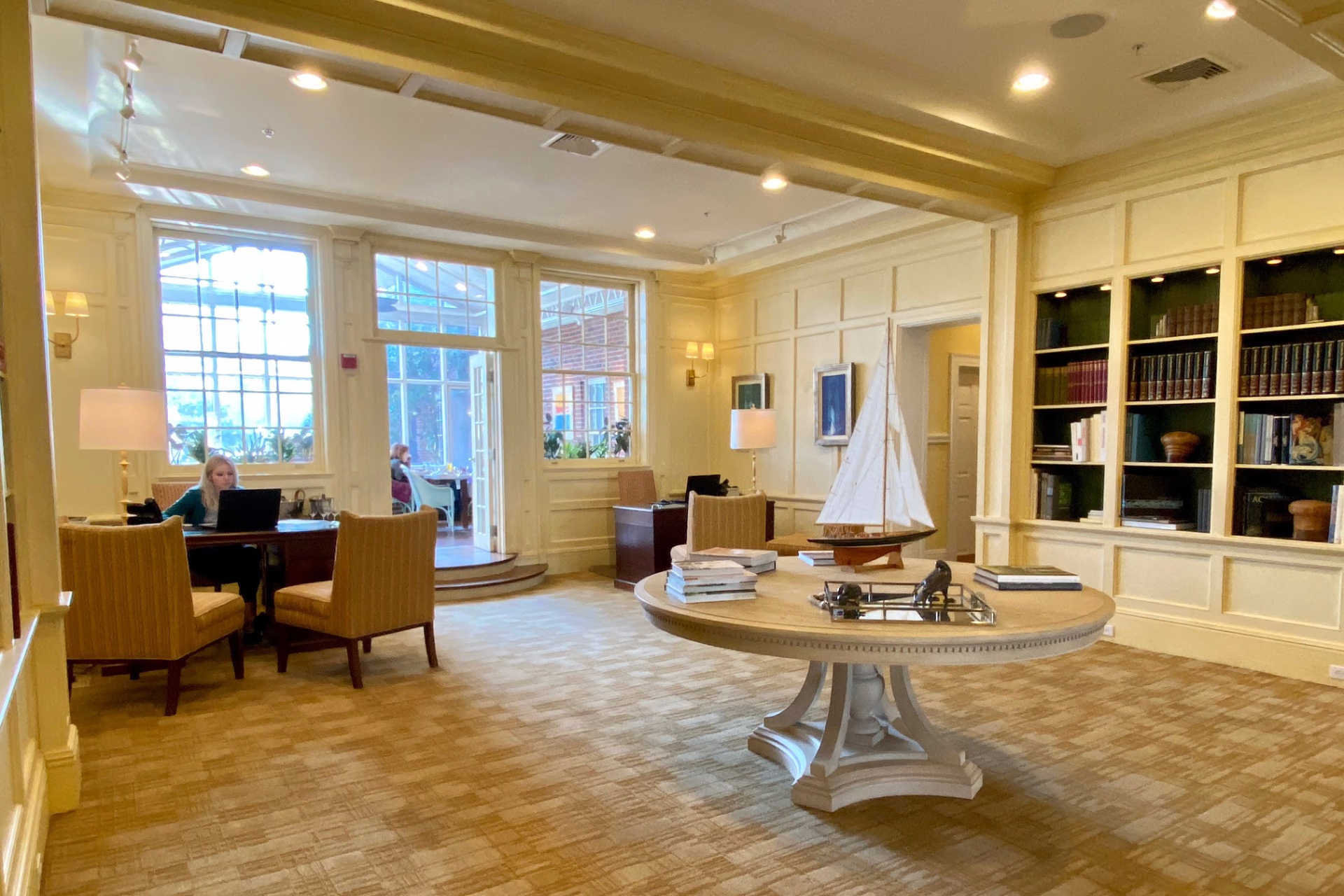 The Vanderbilt, an Auberge Collection Hotel, was just what we were looking for on this trip. This boutique luxury property offers on-site dining, and in-house spa, and a selection of rooms and suites in a vintage Newport Mansion. Just a short walk to the center of town, it ticks all the boxes for a winter or summer stay.
Upon arrival we were greeted with a welcome drink and received the good news of a suite upgrade to a Captain's Loft Suite, with over 500 square feet of living space and a loft bedroom with a king-size bed and one-and-a-half baths. The room decor isn't as plush as some five-star properties but the price offered a great value for the experience.
Dining at The Vanderbilt
On a cold winter's night in February, it was a great joy to dress for dinner and only need to venture as far as the cozy dining room downstairs at the Vanderbilt Grill. Given a prime table in front of the wood-burning fire, we were thrilled to find a three-course, $30 prix fixe menu on offer, making it easier to splurge on a fantastic bottle of wine.
After a delicious meal with attentive service (don't miss the Brussels sprouts!), we "retired" to one of the cozy rooms off the lobby to finish our wine by another carefully-tended fire. So many times the hotel we pick is truly a place to sleep, but with the Vanderbilt we made sure to enjoy the experience and a little relaxation — without leaving the hotel.
Done with our wine, we finished the night with a friendly competition of pool in the billiards room. The only downside after polishing off the bottle of wine was waking up to the sun streaming through the overhead skylight in the morning.
The Vanderbilt Spa
This weekend getaway was all about relaxation, so we booked two massages the following day at the in-house spa. After changing in our respective locker rooms, we relaxed for a bit in the sauna and sat by the indoor heated pool before heading in for our treatments.
An afternoon at the spa was a perfect way to end our stay before heading home. Next time, we will also make use of the complimentary Tesla charging station!
Things to do in Newport Rhode Island on a Romantic Getaway
Options are a little more limited if you are visiting Newport in the winter, but there are still things to do inside, even if you don't want to chill at the spa. These include:
If you are visiting during the summer, you will have even more options including:
Go sight sailing
Ride the Rail Explorers
Go for a bike ride
Take a helicopter ride
Hit the beach
Where to Eat in Newport
There are plenty of dining options in Newport if you choose to leave the hotel. Some of my favorites include:
Breakfast: Corner Cafe — just get there early or prepare to line up and wait
Lunch: Scratch Kitchen (amazing grilled cheese options), Diego's (great Mexican), Midtown Oyster Bar (ask to sit outside on one of their two decks), and of course, The Black Pearl for chowder
Dinner: Whitehorse Tavern (great in the winter by the fire), The Spiced Pear (for a fine dining/special occasion experience)
Drinks: The Rooftop bar at the Vanderbilt (open seasonally), the Lawn at Castle Hill Inn
Newport really makes a perfect romantic getaway destination at any time of the year and we were very happy with our pick of The Vanderbilt this time around.
Do you have a favorite "go to" romantic getaway destination?