Washington, DC is a great weekend getaway destination for museum and monument hopping. However, it is also a great college city, home to several prestigious universities and lots of quirky, college-student friendly neighborhoods.
If you're planning a Washington DC college tour to Georgetown University, George Washington University, American University, George Mason University, Howard University, or the University of Maryland-College Park with your teens, or if you're visiting them after they've started attending, consider some of the following suggestions to make the most of a quick trip to the nation's capital.
Where to Stay on Washington DC College Tour
Getting around in DC is quite manageable, but it is a bigger city than a lot of people expect. Picking a well-situated place to stay can make or break a short stay. If you are in DC to tour schools and you are looking to tour more than one, a hotel between Georgetown and GW is probably your best bet.
Staying somewhere halfway between the two schools makes visiting either very doable. Also, since this halfway point would be somewhere around Foggy Bottom or Dupont, you will have easy access to the Metro and other DC public transportation if you are interested in visiting other schools like American, GMU, or UMD, that are all further removed from the city center.
The award-winning Fairfax at Embassy Row is a beautiful, old hotel just off of Dupont Circle that actually has been known to offer very reasonable rates. Depending on how far in advance and for what time of year you book, it's very possible that you'll find a cheap steal at this gem!
The red line at the Dupont Circle Metro station is just a few minutes walk from the hotel, providing easy access to MARC and Amtrak at Union Station, American University, and Catholic University, as well as to UMD-College Park and Howard via Gallery Place-Chinatown.
Another great option near Dupont and definitely an option worth looking into at busier times of the year is the Washington Hilton. The sheer number of accommodations means that rooms rarely sell out. While still very close to Dupont Circle, Adams Morgan, a fun neighborhood with delicious, reasonable dining options is only a quick walk.
Closer to Foggy Bottom is the Fairmont West End, another convenient choice for families looking to visit more than one DC school. In addition to being located almost exactly between Georgetown and GW, it's also just about three blocks north of the Foggy Bottom Metro station, home to the orange, blue, and silver lines. This allows for easy access to GMU, Reagan National Airport, and Dulles International Airport.
If you're interested in just touring one school or if you're visiting for a parent's weekend, it might make more sense for you to stay in the neighborhood of the specific school, or even in the school's conference center hotel, if there is one. The Georgetown University Hotel and Conference Center, for example, can be a convenient option if you are on a tight schedule and you only need to visit Georgetown.
Getting There and Around Washington DC
Amtrak offers convenient connections from Washington's Union Station to all major cities up the Northeast Corridor. Baltimore is just under 40 minutes away, Philadelphia is about 2 hours, New York is about 3.5 hours, and Boston is a little under 8 hours. Acela is pricey but can make for a faster journey to all of these destinations.
Amtrak also has services from Washington to cities in the Midwest and the Southeast, like Pittsburgh, Cleveland, Chicago, Richmond, Raleigh, Charlotte, and Atlanta, although services are slower and less frequent than the Northeast Corridor.
Flying is also an option. Reagan National Airport, a hub for American Airlines, is a quick Metro ride or rideshare trip from central locations in Washington and serves many destinations on the East Coast and in the Midwest. Flying to Reagan is really convenient for visiting most of the DC schools, but if you're flying from the West Coast, nonstop flights will be extremely limited.
Dulles International Airport, a hub for United Airlines, is a longer trip from DC but is also accessible by the Metro and by rideshare. Baltimore/Washington International Airport (BWI) is a little farther from DC than Dulles and Reagan, but is known to offer some really affordable flights on carriers like Southwest. Getting to BWI really isn't too much of a hassle either. MARC (the Maryland-DC commuter rail) and Amtrak both service the airport from Union Station in Washington (about a 30 minute trip).
As for getting around in DC, public transportation works well enough if you aren't interested in driving. The Washington Metro is clean and easy-to-use, as are buses like the DC Circulator.
Rideshares are also readily available anywhere in DC, which can be useful in a pinch if you happen to be short on time. Using DC's public transportation, though, is a great way to save money if you're on a budget. Also, don't forget to walk! Washington is so beautiful, and simply opting to walk from point A to point B is a great way to also take in the sights.
What to Do and Where to Eat By Neighborhood and School
DC has top-notch dining locations, so be sure to factor this into your college tour plans. It's best to pick neighborhoods to visit and to dine in based on what school(s) you are looking to visit. If you are planning a DC college tour, I wouldn't recommend trying to visit more than two schools in a day. And if you want to get a good sense of the DC food scene, I'd recommend building a Washington DC food tour into your schedule.
It's also important to be savvy about visiting neighborhoods that are close to one another— for example, if you want to visit Georgetown and GW in a particular weekend, try limiting yourself to Foggy Bottom, Dupont, and Georgetown for sightseeing and eating to minimize commute times.
Where to Eat in Dupont Between Georgetown and GW
Dupont is a great place to walk around and take in the views of all of the embassies that line the leafy side streets of Embassy Row. You probably won't be able to enter any of them, but just looking at the beautiful architecture from the outside can make for a nice way to spend a free morning or afternoon. If you're into impressionist art, the Phillips Collection is a nice little museum to explore.
Dupont offers plenty of great dining options— there are lots of healthy chains like CAVA, Roti, Sweetgreen, Nooshi, and Chopt, if you need something quick and affordable. Donburi would also do the trick if you're looking for Japanese.
If you're interested in something midrange, newly-opened Anju offers great Korean banchan (hors d'oeuvres) and entrees, and Turkish restaurant Agora can make for a great choice for brunch. Sushi Taro is Michelin-starred and has great omakase sushi. Dupont also has lots of nice Italian and American restaurants like Pizzeria Paradiso and Sette Osteria if those are more your speed.
Where to Eat in Adams Morgan Near American
Nearby Adams Morgan is closer to American University and is very much oriented towards college students. There isn't much in the way of sightseeing here, but the stunning Washington National Cathedral and its great views aren't too far away.
People tend to go to Adams Morgan for the amazing, yet affordable, dining options, like Sakuramen, a well-known ramen place among Washingtonians. The Korean restaurant Bul and Zenebech, which has been consistently rated one of the best places to go for DC's world famous Ethiopian food, are also commonly recommended.
Where to Eat in Foggy Bottom/CCDC Near George Washington University
Foggy Bottom and Downtown are prime areas for sightseeing. The National Mall has great museums like the National Gallery, the National Museum of African American History and Culture (make sure to reserve tickets in advance), and the National Air and Space Museum. It's best to devote your time to just one museum to avoid sensory overload. Monuments are also a good option, like the Washington Memorial or the Lincoln Memorial.
Dining options in this part of DC are really varied, and the better ones tend to be pricey. If you're looking to splurge, Zaytinya by Jose Andres is an amazing Mediterranean restaurant (as are most of Chef Andres' restaurants). Reservations should be made well in advance.
Siroc's tasty pastas and antipasti are less pricey than anything at Zaytinya. Rasika is well-known for its Indian fusion, but an all-time favorite restaurant is Bindaas, an upscale Indian restaurant serving up flavorful snacks at a fairly reasonable price point. There are lots of classic American options in this area, too, like The Smith.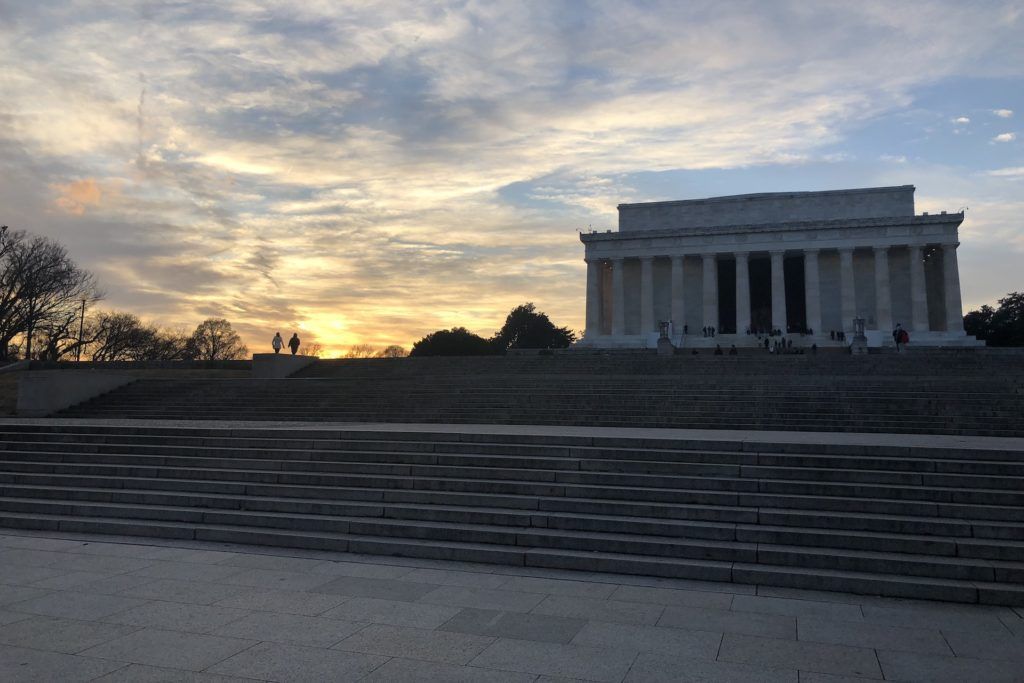 Where to Eat in Logan Circle and Columbia Heights Near Howard and Catholic University
Logan Circle up to Columbia Heights shares some similarities with Adams Morgan. A lot of national museums and memorials that aren't located on the Mall, like the African American Civil War Museum, are located around this area.
Possibly DC's most famous restaurant, Le Diplomate, has been serving up delicious French classics near Logan Circle for over a century. It's expensive but if you're looking for the ultimate place to have brunch in DC, nothing beats Le Dip (make sure you reserve way in advance). Columbia Heights has lots of lower to mid-range options, such as Thip Khao, which has amazing Laotian classics, including lots of steamed fish dishes. If you have a low spice tolerance, though, then you might want to reconsider!
Where to Eat Near GeorgetownGeorgetown is a beautiful neighborhood to walk around in. It's DC's oldest neighborhood, and it certainly feels that way with the cobblestones and quaint, brick townhouses. M Street and Wisconsin Avenue are good for fancy shopping, and the Georgetown Waterfront is nice anytime of year (there's even an ice-rink that stays open well into the early evening in winter). Dumbarton Oaks is the most recognized museum in the neighborhood.
Even though there's fancy shopping, Georgetown offers plenty of affordable dining options to cater to the students living in and around the area. Chaia has amazing vegetarian and vegan tacos, and Boulangerie Christophe is one of the best bakeries and cafes in DC. Bluestone Lane's avocado toast, South Block's acai bowls, and Falafel Inc's sandwiches and salads are all local favorites.
If you are looking for more formal dining, you are better off venturing into other neighborhoods in DC. If you are confined to Georgetown, though, Mai Thai is a staple Thai restaurant for parents visiting their children. Dyllan's Raw Bar and Grill has great oysters, and El Centro has pretty decent Mexican food. Kintaro is a cute, hole in the wall-type establishment with decent sushi. Laduree is a favorite option for brunch in Georgetown.
Planning your DC College Tour
A college tour of DC does not need to be stressful. Book accommodations furthest in advance, then focus on booking transportation to and from DC (although Amtrak is best to book as far in advance as possible).
Planning your days in advance helps, too. Center your trip around what school(s) you want to visit. Once you've figured that out, plan sightseeing and make restaurant reservations accordingly. If you are touring schools for college admissions, you will also want to make sure that your teen books a spot on an admissions tour several weeks in advance with their high school email address.
The prettiest time of year to visit DC is April when the cherry blossoms are in full bloom, but expect high travel and accommodation prices. If your teen wants to really get a good feel of a school they're interested in attending, then it might be best to visit at a time when school is in session. Otherwise, Washington DC is a great city to visit any time of the year.