"You had me at wine hotel," I told Rachel, the expert travel planner and wine aficionado at EPIC Travel, a boutique travel agency that creates custom itineraries with bespoke experiences in Portugal and Morocco. We were reviewing the details of my girls' trip to Portugal and deciding where to stay in the Alentejo wine region of the country.
Since I love exploring new regions through its food and wine, I was all in when EPIC suggested staying at a few wine hotels in Portugal. In the States, we mostly know Portuguese wine for its Port or Vinho Verde varietals, but the more time you spend in Portugal, the more you learn about its diverse and prolific wine regions. You will find wine hotels in Portugal throughout the country, from rustic Quintas in the Douro, to sprawling wine estates in Alentejo, and boutique winemakers in the Algarve.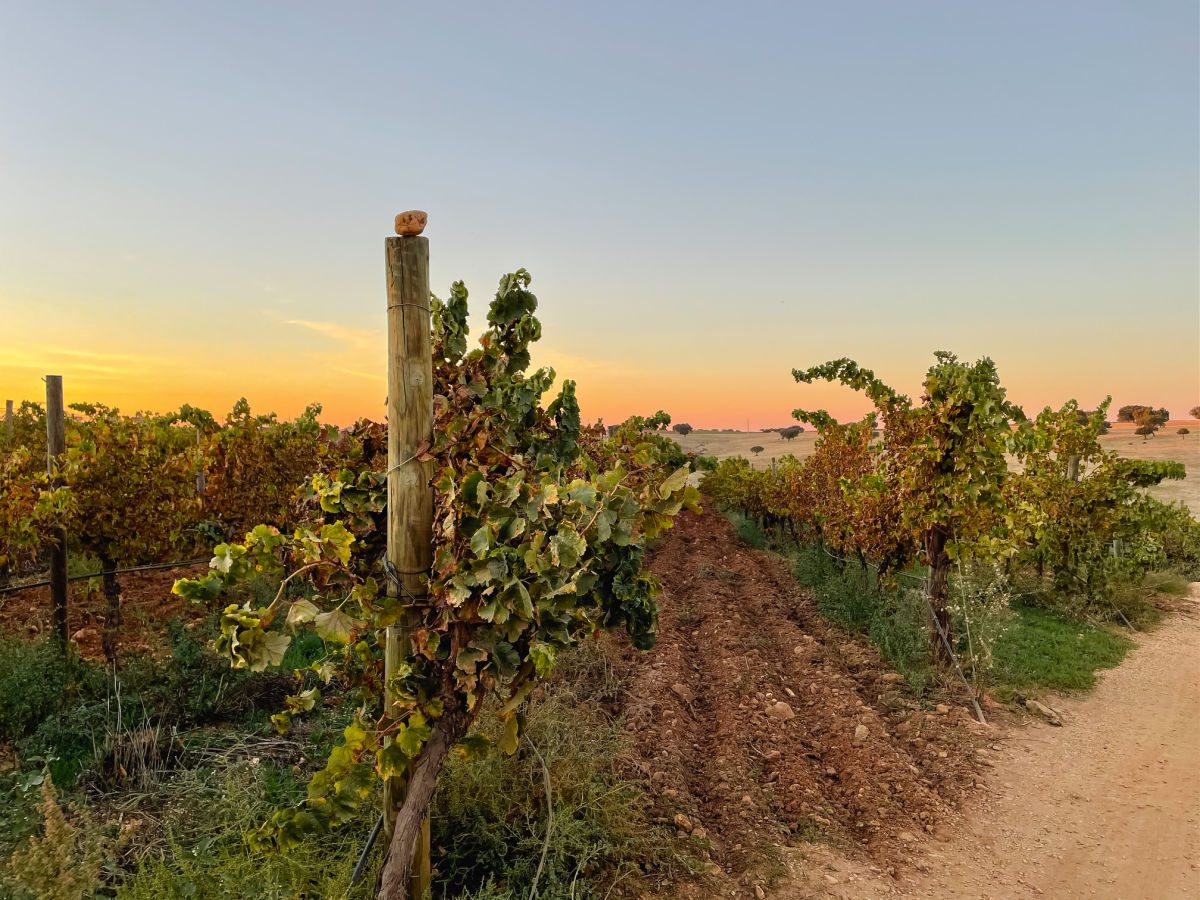 Wine Hotels in Portugal
After staying at over a dozen hotels on multiple trips to Portugal, these are a few of the best wine hotels in Portugal that I've had a chance to experience. If you are planning a trip to Portugal, reach out to EPIC to help you plan an amazing trip and find the best hotels (wine hotels, luxury hotels, or boutique hotels). Mention you heard about them on YourTimetoFly and receive a free VIP welcome gift on arrival. Our stay was partially sponsored by EPIC Travel, but all opinions are my own and I am grateful for the opportunity to explore and share more of Portugal.
Six Senses Douro Valley
We can't talk about wine hotels in Portugal without starting in the Douro Valley. Home to Port wine, the Douro Wine Region Valley is the oldest demarcated wine region in the world. The Douro River has carved a deep valley into the schist mountains and over the centuries winemakers have created terraced vineyards to expose the vines to the rays of the sun. This UNESCO Heritage-protected wine region is one of the most popular in Portugal and, while you will find many Quintas, or farms/vineyards, that offer accommodations, if you are looking for luxury, look no further than the Six Senses Douro Valley.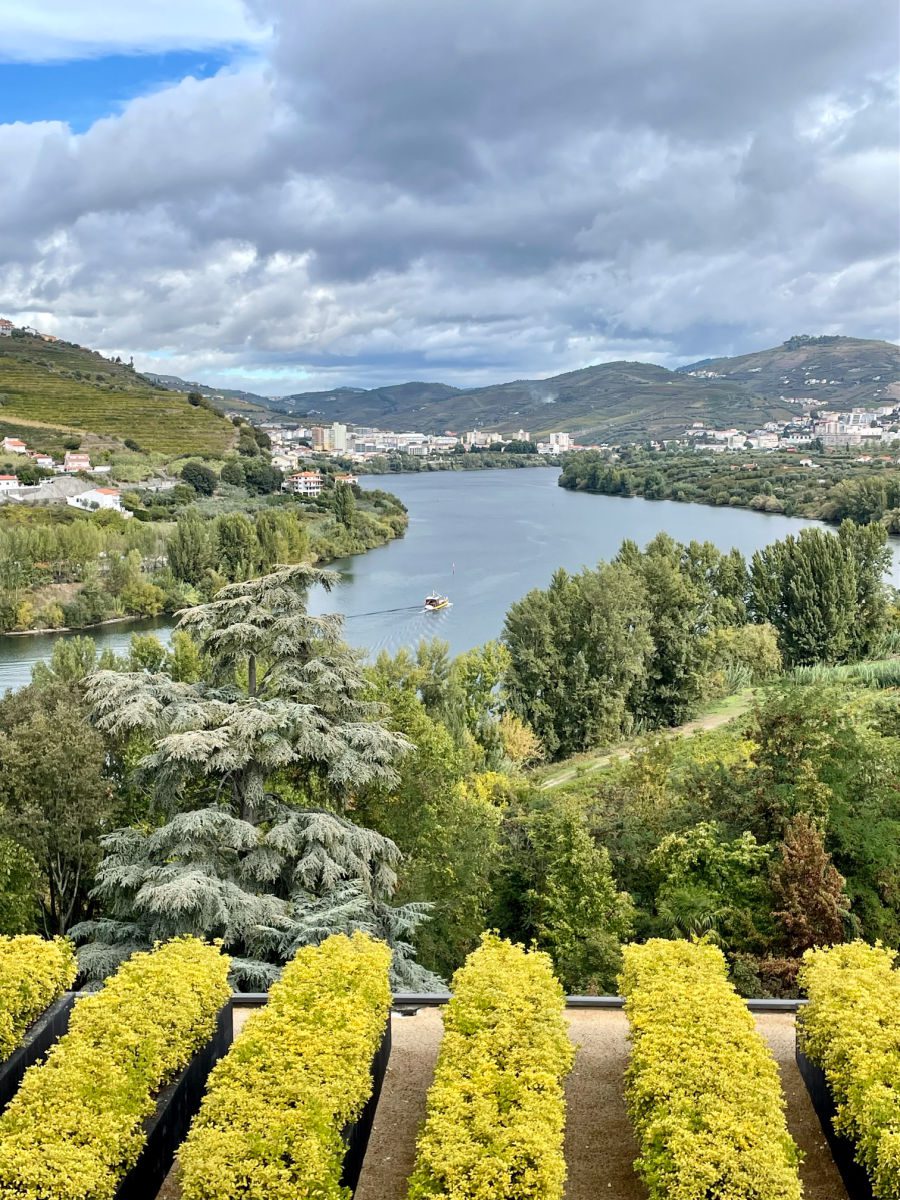 This 19th-century manor home has been refurbished and expanded into a luxury property with 60 guest accommodations, including bedrooms with panoramic Douro valley views and spacious suites with floor-to-ceiling windows, private balconies, and wooden bridges leading to secret gardens.
Located in Samodães, and not far off the main highway, the Six Senses is in a good location for exploring the Douro Valley by car. Located on a bend in the river, you can awake to views of the terraced vineyards with a town in the background, and enjoy walks in the 10-acre protected woodland on the property.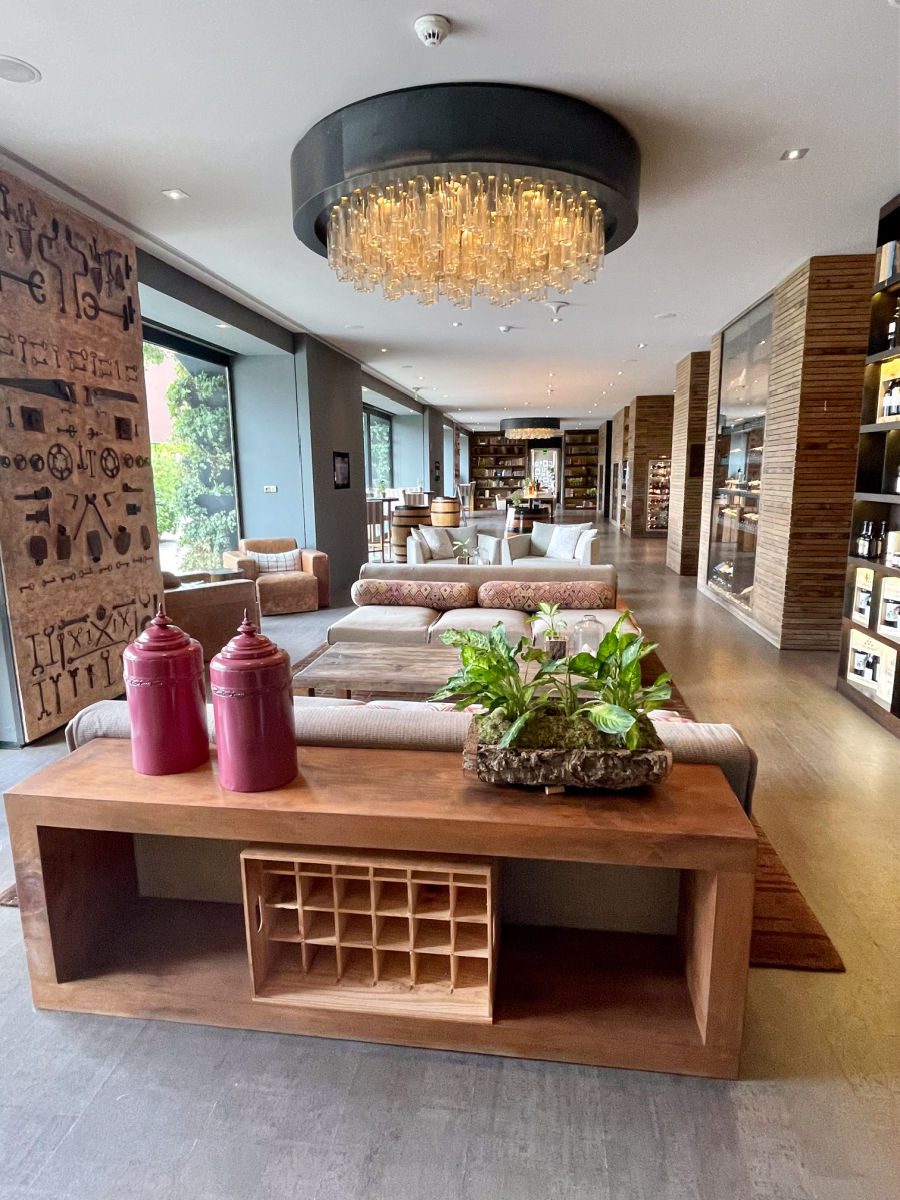 For wine enthusiasts, there are many wine-related activities including wine and dine river cruises, interactive oenology courses, visits to nearby wineries, and even, during harvest, the chance to stomp grapes! There are many other food and wine activities offered on-site including an alchemy bar workshop, cooking classes, or a Chef's Table dinner. Other activities include e-bike tours, tree climbing, mountain biking, kayaking, paddleboarding, tile painting, and workshops such as pickling at the Earth Lab.
Beyond wine tasting, you can also discover the nearby medieval town of Lamego, with its centuries-old palaces and Cistercian monasteries, which is just a 30-minute drive from the resort. When you want to relax, the 23,700 square foot Six Senses Spa offers 10 treatment rooms, a heated indoor pool with water jets, and a refreshment bar. The spa also includes a gym with the latest exercise equipment and a large outdoor yoga deck.
Check rates and reviews for the Six Senses Douro Valley
Torre de Palma Wine Hotel, Alentejo
The hot, dry Alentejo region covers approximately a third of the country and is known for its cork and wine. With over 250 grape varietals in Portugal, many Portuguese wines are blends. The Alentejo region is known for both whites and reds, with red blends featuring a mix of Aragonez (Tempranillo), Alicante Bouschet, Touriga Nacional, Alfrocheiro, Castelão, Trincadeira, Moreto, Tinta Grossa, and Tinta Caiada.
In the heart of the Alto Alentejo, near the village of Vaiamonte, you will find the historic Torre de Palma Wine Hotel. Dating back to 1338, the remains of the ancient house were restored in 2014 to embody the current Torre de Palma Wine Hotel, a member of Design Hotels group. Inspired by the old traditional lifestyle of the prominent Basilii family (former inhabitants of the nearby Torre de Palma Roman ruins) and Alentejo customs, the Torre de Palma offers a range of unique and individually decorated rooms and suites.
The centerpiece of the hotel is the fortress and tower, which makes an excellent spot for taking in one of Alentejo's famous sunsets. The rooms and suites surround the courtyard, located in former stables and outbuildings. The renovation of the hotel also brought back old activities such as wine production, olive oil, and the breeding of horses. We stayed in a spacious junior suite, offering a large sitting area with a dining table, daybed, and sitting area with an adjoining bedroom.
On property, you can relax at the pool, walk through the vineyards, or enjoy either a horse-drawn carriage ride or horseback riding. Nearby, you can pay a visit to ancient Roman ruins. However, the primary draw is the wine. Torre de Palma has an impressive wine tasting room and winemaking operation, offering tours, tastings, and wine blending classes.
What goes with wine better than fine dining? Palma Restaurant at the Torre de Palma features the local cuisine of Michelin star chef Miguel Laffan. The hotel will also arrange a beautiful Alentejo picnic underneath the trees for a relaxing and traditional afternoon activity.
Check rates and reviews for the Torre de Palma Wine Hotel
Evora Farm Hotel & Spa, Alentejo
While I didn't have a chance to stay at the Evora Farm Hotel near the popular town of Evora in Alentejo, we did have a wonderful picnic lunch and toured the property. I was so impressed with the family-friendly atmosphere, which still felt sophisticated and chic. This would be a perfect spot for a family with young children that still wanted to enjoy a wine hotel experience.
The hotel is located on the Herdade do Perdiganito, an 11-hectare estate featuring footpaths and meadows that stretch all the way to the stream at the Monte Novo Dam, within the estate's boundaries. The contemporary architecture is quite a surprise given the name of the hotel, featuring wood and the typical Alentejo blue and white decor using organic and artisanal materials.
The Evora Farm Hotel offers 56 rooms and five villas, all of which have an open-air balconies or terraces and the villas have a balcony and private pool. Some rooms are even outfitted with family-friendly bunkbeds in addition to the double bed.
Newly opened in 2021, the Evora Farm Hotel has two outdoor pools in the summer, and in winter, the heated pool in the spa keeps you warm and cozy. The hotel has a beautiful indoor/outdoor restaurant and bar, À Terra Restaurant; an educational farm; an organic vegetable garden; and the orchard and an array of spaces and services designed to ensure you experience the freedom, nature, and memories of the real Alentejo.
Check rates and reviews for the Evora Farm Hotel
São Lourenço do Barrocal, Alentejo
São Lourenço do Barrocal has earned the Conde Nast Traveler Reader's Award for Top Hotel in Spain and Portugal for 2021 and it is easy to see why. This Leading Hotels of the World and Virtuoso property offers comfortable luxury in an authentic setting. Located near the town of Monsaraz, this property has a rich history of being in the same family for over 200 years.
Visiting the estate is a true voyage through time from the Iron and Bronze Age through the Roman and Moorish occupation to recent times. In only a five-minute walk, you can visit some of the ancient megaliths nearby. Visitors also enjoy biking and hiking through the Alentejo countryside.
On property, guests can enjoy estate tours, wine tasting, horseback riding, birding, archeological visits, garden visits, and family-friendly treasure hunts. In addition to relaxing at the spa or outdoor pools, the hotel can also arrange hot air balloon rides, star gazing experiences with an astronomer, sky diving, boat tours, and more.
São Lourenço do Barrocal has a 200-year history of winemaking, and currently dedicates 15 hectares of the property to its vineyard. Grapes are hand-picked, stomped, fermented in concrete, and then aged in French oak barrels and clay amphorae. Wine tastings and visits to the winery are held every day and require prior appointment. You can also take a short walk or bike ride through the estate's vineyards, framed by the castle of Monsaraz.
The hotel has a wide selection of spacious and luxuriously-appointed rooms and cottages, decorated in a contemporary and minimalist style that utilizes local textiles and materials. A sumptuous breakfast is served in the restaurant each morning, with afternoon tea each afternoon. Guests can also enjoy seasonal dining outside under the stars at the grill restaurant for a more casual option.
Check rates and reviews for São Lourenço do Barrocal
Herdade da Malhadinha Nova, Alentejo
This Relais & Chateaux property is unlike other wine hotels in Portugal. Spread out between six uniquely different buildings on this 450-hectare wine estate, Herdade da Malhadinha Nova blends into the magnificent landscape, offering authenticity with high-touch service and luxurious surroundings.
For a traditional stay, book one of the seven rooms or three suites at the Monte da Peceguina country house. This original structure features smaller and more rustic rooms with the charm of a small inn. The country house includes two swimming pools, a spa, living room, library, wine bar, and outdoor spaces. However, couples may prefer the adults-only Casa das Pedras, with four exclusive contemporary suites with individual terraces and private pools.
If you are visiting with a large group, consider booking a block of spacious suites at the Casa do Ancoradouro, which features an outdoor pool and public living spaces. Even if you don't have a car, the hotel will shuttle you to and from your lodgings to the main buildings in one of the property's Land Rovers.
This is one wine hotel that offers a full complement of on-site activities (although many come with an additional fee.) These daily activities can include: archery, quad bike rides, horseback riding, fishing, running and workout classes, hikes, tennis, mountain biking, guided walks, wine tasting courses, cooking workshops, family treasure hunts, painting, jeep tours, carriage rides, riding lessons, star gazing, pottery, canoeing, bird watching, hot air balloon rides, gourmet picnics, and so much more.
Of course at Herdade da Malhadinha Nova, the wine is front and center. To appreciate the estate wine, you can enjoy guided wine tastings, tours of the wine cellar, blind wine tastings, wine gastronomy tastings, and other courses and workshops.
The restaurant is driven by the work of consultant and renowned Michelin-starred chef Joachim Koerper, owner of restaurant Eleven in Lisbon, and the resident chef, Rodrigo Madeira e Vitalina Santos, a cook with vast knowledge of traditional Alentejo recipes. Inspired by the local regional cuisine, all of the food is created with the organic produce grown on the estate – from the fields, vineyard, olive grove, and pastures. You really can't miss sampling the estate honey and the delicious Late Harvest dessert wine.
Check rates and reviews for Herdade da Malhadinha Nova
Morgado do Quintão, Lagoa, Algarve
If you prefer a self-catering, authentic winery experience, take a look at the Morgado do Quintão in the Algarve. While not on the scenic coastline, this wine hotel is just a short drive to the dramatic cliffs and seaside villages. This landmark vineyard offers a rustic, but idyllic farm stay experience.
Morgado do Quintão was founded in the early 1800s by the Count of Silves, and still remains in the same family. The family's old houses and caretaker's lodgings have been renovated for quiet, countryside farm stays. The centerpiece of the property is a 2,000-year-old olive tree, which provides the shade for when the winery hosts its farmer's table events.
We stayed in the Bouganvilla cottage, which features three bedrooms, a full farm kitchen, a dining area, and a living room. Out back, there is a private pool and a patio to relax and enjoy the beautiful weather. Guests can also choose the four-bedroom main house or the three-bedroom Gatehouse or Amêndoa cottages.
This peaceful setting is ideal for families or groups that want to balance exploration of the Algarve coast with time to relax in a vineyard setting. On the estate, you can enjoy wine tasting, or nearby the hosts can arrange for gastronomy tours, local markets, wellness and massage services, or natural experiences.
Check rates and reviews for Morgado do Quintão
Need more help?
For more information about Portugal, also check out my articles on: