Porto has everything you would look for in a girlfriend getaway or couple's trip destination. Situated on the northern coast of Portugal and known for the production of Port wine, this small city has a compact and historic city center with countless side streets to explore and hills to climb. The Douro River, which runs alongside the city, separating downtown from Vila Nova de Gaia, is lined with restaurants and cafes offering outdoor dining and magnificent views.
The history is rich, the food scene is on point, the architecture is Instagram-worthy, and there are even museums dedicated to chocolate and rosé wine. A fully-European city where Portuguese culture is strong but English is widely spoken, there are plenty of things to do in Porto on a girl's trip. Porto is also easy to get to from the USA, making it a potential long weekend or weeklong trip possibility for Europeans and Americans. If you are visiting with your family, my friend Kirsten has some good suggestions on what to do in Porto with kids.
Things to do in Porto
I was lucky enough to visit Porto with two good friends this past October, our first girlfriend getaway together since the world shut down. It was really an ideal way to jump back into travel, especially given the high vaccination rates in Portugal and the protocols they have in place. As travel writers, our trip was hosted by EPIC Travel and Tap Airlines to allow us to discover and write about this amazing destination. All opinions are our own.
EPIC Travel is a boutique travel agency focused on developing custom itineraries for clients visiting Portugal or Morocco. With in-country travel planners, the company has the pulse on the local culture and can match clients with the ideal hotels, guides, drivers, and activities. An EPIC itinerary is full of adventure and unique experiences you wouldn't find from your typical travel agent or group tour.
If you want to plan your own trip to Portugal, be sure to let EPIC Travel know that you read about it on YourTimetoFly and you will receive a special VIP Welcome Gift on your trip as a thank you!
Ride a Tram Car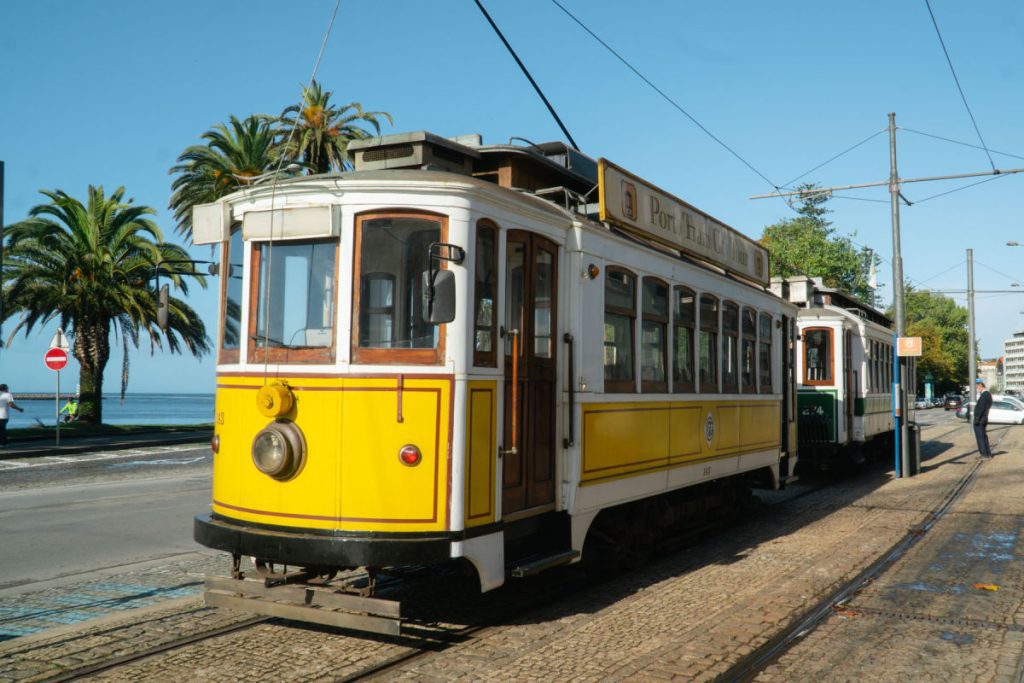 Just like in Lisbon, tourists use the tram cars in Porto not just as a way to get from place to place, but as a way to explore the city in a fun way that utilizes these classic tram cars. There are three main tram lines you can use:
Line 1: Infante-Passeio Alegre (runs from 9:30am – 6pm)
Line 18: Massarelos-Carmo (runs from 9:15am – 7pm)
Line 22: Carmo-Guindais Batalha (runs from 10am – 7pm)
There are also tram tours that you can sign up for to explore the city. It is also very easy to get around the city using the Porto Metro. Of course, the best way sounds like what EPIC Travel can arrange — on a private tram car with a personal chef preparing a gourmet meal along the way!
Take a Guided Tour
One of the best ways to get to know a city is through a guided tour. Not only can you learn about the history and culture of the city, but you get to discover places you may not have found on your own, get tips from your guide on other places to check out, and figure out what spots you want to return to when you have free time.
EPIC set us up on a walking tour with Marcel from Explore Sideways, which offers food, wine, adventure, and cultural tours in destinations worldwide. On our tour, we visited the Igreja de São Francisco (Church of St. Francisco), of the Franciscan order, which is famous for its gold-dust interior and the crypts. We walked through the narrow streets of the historic city center, took in the view from various viewpoints, visited the outside of the main cathedral, walked through the São Bento train station, and saw many of the historic spots in the city.
Visit the Livraria Lello Bookstore
One of the most popular spots to visit in Porto is the Livraria Lello bookstore. Harry Potter fans won't want to miss this fantastical bookstore. While it is rumored to be J.K. Rowling's inspiration for the dramatic staircases in the Harry Potter books and movies, Rowling never actually visited the shop, despite living in Porto for a while.
But anyone that loves books and architecture will want to take a peek inside. Because it is such a popular tourist attraction, you actually need to purchase tickets for 5 euro to visit. Of course, you will still need to queue in a long line to get in (up to an hour at busy times!) I think it is well worth spending a little extra (15.90 euro) to get the priority entrance that allows you to skip the line and entitles you to one of their special imprint English-language books for free.
Climb Torre Dos Clérigos
The Clérgios church and its tower is one of the most recognizable monuments in Porto. It was built between 1735 and 1748 in a baroque style. Today, you can visit the church (for free) and the tower (for a fee). For a great view of Porto, climb the 200+ steps of the tower and see its 49 bells.
Take Photos in front of Porto's Tiled Walls
If you have seen any photos from Portugal, I'm sure you have seen many of the beautiful tiled homes and buildings creating a colorful backdrop to the city. In Porto, you can find some truly iconic blue and white-tiled murals that depict scenes from Porto's history.
A couple of wonderful spots to see examples of these tiles (and take some Instagram-worthy photos in front of them) are the Igreja do Carmo and the São Bento train station.
Walk Across the Dom Luís I Bridge
The Dom Luís I Bridge connects downtown historic Porto with Vila Nova de Gaia and offers beautiful views of the city and up and down the Douro River. It is well worth the walk across the bridge (because you are going to want to visit Vila Nova de Gaia or Gaia anyway) for the view alone. This double-decker iron bridge was built in the late 1800s and stretches 172 meters (564 ft) at a height of 44.6 meters (146 ft).
The top level is reserved for train traffic and a pedestrian walkway. From the bridge you can see the cathedral, the original city walls, the boat traffic below, and the red-tiled rooftops of the city.
Eat at an Outdoor Cafe on the River
All along the river you will find restaurants and cafes that offer outdoor patios and terraces. A big part of life in Porto is enjoying a meal or a glass of Port while watching the world go by. In the summer, try Porto's version of the spritz — club soda or tonic with white Port over ice and a twist of orange.
Eat a Francesinha Sandwich
The Francesinha sandwich was created in Porto at A Regaleira and is a Portuguese take on the French croque monsieur. You will see it advertised all over Porto, but A Regaleira serves up the original. If you ask any local, they will tell you their favorite spot, although most will groan and ask if you really want to eat such a heavy meal.
The sandwich is made up of steak or roast meat, sausage or linguica, and smothered in cheese and a rich beer and spiced tomato sauce. It is best to share with friends and even if you don't fall in love, it is always fun to say you have tried the local specialty.
Take a Port & Chocolate Pairing Workshop
The World of Wine (WOW) is Porto's latest tourist attraction, which opened in 2020 across the river in Vila Nova de Gaia. WOW currently offers seven different museum experiences and twelve restaurants in one large entertainment complex. One of these experiences is The Chocolate Story, which covers the history of chocolate and explains the details of the cacao harvesting and chocolate-making process.
In addition, they offer chocolate workshops (and an awesome chocolate shop!). You can even personalize your chocolate or use the interactive displays to discover your ideal chocolate pairings. One of the fun activities to do for chocolate (and wine) lovers is the Chocolate and Port Wine pairing workshop. This one-hour workshop walks through tasting various dark, milk, and white chocolate samples, along with a selection of vintage, traditional, and white Port wines.
Visit the Pink Palace Rosé Museum at WOW
It is hard to argue that a city with a museum dedicated to rosé wine isn't a fabulous destination for a girls' trip! The Pink Palace at WOW immerses visitors in the world of rosé wine. With plenty of photo spots throughout, this museum is an Instagram paradise for capturing memories from your trip. The experience also includes a tasting of five different rosé wines including Quinta do Vale do Bragão Rosé, AIX Gran Vin de Provence Rosé, Mateus Rosé, Vértice Rosé Bruto and Croft Pink Rosé Port.
Go Port Tasting at Taylor's
If you think Port is just something your grandparents drink after a holiday meal, think again! There is a lot more to port — including white port and even rosé port — and a perfect way to learn more about Port wine is with a tour and tasting at one of the most well-known names in port, Taylor's.
You can take a tour of Taylor Fladgate's Cellar in Porto. Either book a private tour in advance or just sign up for a group tour when you arrive. The tour will include a tasting of two ports — Chip Dry – Extra Dry White and Late Bottled Vintage (LBV).
Enjoy Sunset with a View
Porto is known for some beautiful sunsets. Unfortunately, it was a bit cloudy when we visited so we didn't get to see the full magic, but there are plenty of great spots to catch a sunset in Porto including the terrace at WOW, Clerigos Tower, the square in front of the cathedral, and Dom Luis I bridge. But my choice would be to enjoy a cocktail at one of the beach bar/cafes that you can find along the coast between downtown Porto and the Foz neighborhood.
See a Fado Show
If you haven't seen a classical Portuguese Fado show yet, then this is a must-do for a trip to Porto. Fado is the sad, somewhat mournful music typically performed by a singer accompanied by a guitarist. There are many restaurants and bars that specialize in Fado including Galerias de Paris, Casa de Guitarra, Taberna Real do Fado, and O Fado.
e-Bike Along the River
An e-bike tour is a great way to see a little bit more of Porto. Most guided tours will follow along the river, popping into some hidden gems in the city and crossing over to Vila Nova de Gaia. And the nice thing is the e-bike makes it easier to climb the hills of Porto, making for a fun and easy ride.
Go for a Run Along the Coast
Porto is a very active city and if your group likes to stay fit, or just work off some of that wine and chocolate there are wonderful running or walking paths along the riverside. Pair that with some stair climbing and you are going to hit your step goals on this trip!
If you stay in Foz, you will see plenty of runners taking an early morning jog along the coast on the beautiful running path.
Take Surfing Lessons
Surfing may not be the first thing you think of when you think about visiting a European city, but with its location on the Atlantic, Porto is also a great surfing destination. You can take surfing lessons in the nearby town of Matosinhos, located just north of Porto and not far from the Foz neighborhood.
Go Bridge Climbing
If you are the adventurous type, try something different with your group and climb the Arrábida Bridge for a true bonding experience. At one point, this was the largest concrete arch in the world and today, it is the only one in Europe that is open to visitors.
You will climb 262 stairs to the center of the arch, 65 meters above the river. Don't worry, you are safely harnessed in! From the top you will see vast views of Porto & the Douro River estuary before descending back the way you came.
Take a Day Trip Wine Tasting Tour to Porto
Of course, you shouldn't visit Porto without also spending some time in the Douro River Valley. Famous for its UNESCO heritage-protected landscape of terraced vineyards, you may want to stay a few days (see more about that coming soon!) But at a minimum, plan a day trip to go wine and port tasting in the Douro. We had a great experience with Miguel from Lab Portugal Tours.
Want the short version? Check out our Things to do in Porto web story.
Where to Stay in Porto
There are plenty of options on where to stay in Porto on a girl's trip, but we absolutely loved our stay at Vila Foz Hotel and Spa. The food, service, and spa were all top notch. While the location isn't in the city center, it is perfect for pairing a little downtime at the spa or on the coast, with time spent exploring Porto. Plus, the hotel can arrange transfers to downtown via Uber.
Make sure you check out my full review of the Vila Foz Hotel and Spa!