I first flirted with hiking in my 20s. My boyfriend had just broken up with me and I was lonely and bored; looking for some reason to get out of my apartment on the weekends. So I took a few hikes that were really more tourist attractions then true hikes (you know, the kind you easily can do in sneakers or flip flops.) But before I knew it, the romance was back on, I was moving into Manhattan, and hiking was put on the back burner.
Fast forward quite a few years and our family hikes typically involved some sort of short loop at a national park, generally avoiding heights since my husband (yup, that guy that had broken up with me) is acrophobic. But then I hit my mid-40s and I was craving more of a challenge. I wanted to do "real hiking."
I planned a girls' hiking trip to Maine with my best friend and soon become hooked on this sport. I said it then and I'll say it now, there is something so satisfying about a good hike. For some, getting sweaty at CrossFit does it for them. But for me, it is climbing a mountain. The feeling you get after putting in the hard work to arrive at the summit, viewpoint, waterfall, or whatever your destination, and every dirty, sweaty step was worth it.
And I don't know what it is about hiking but I see more solo women on the trail than I do men hiking alone. Maybe we just love being in control of this part of our journey? Maybe it is the solitude? Maybe we really need the reinforcement that goes along with arriving home sweaty, dirty, sore, and satisfied to know that we are STRONG?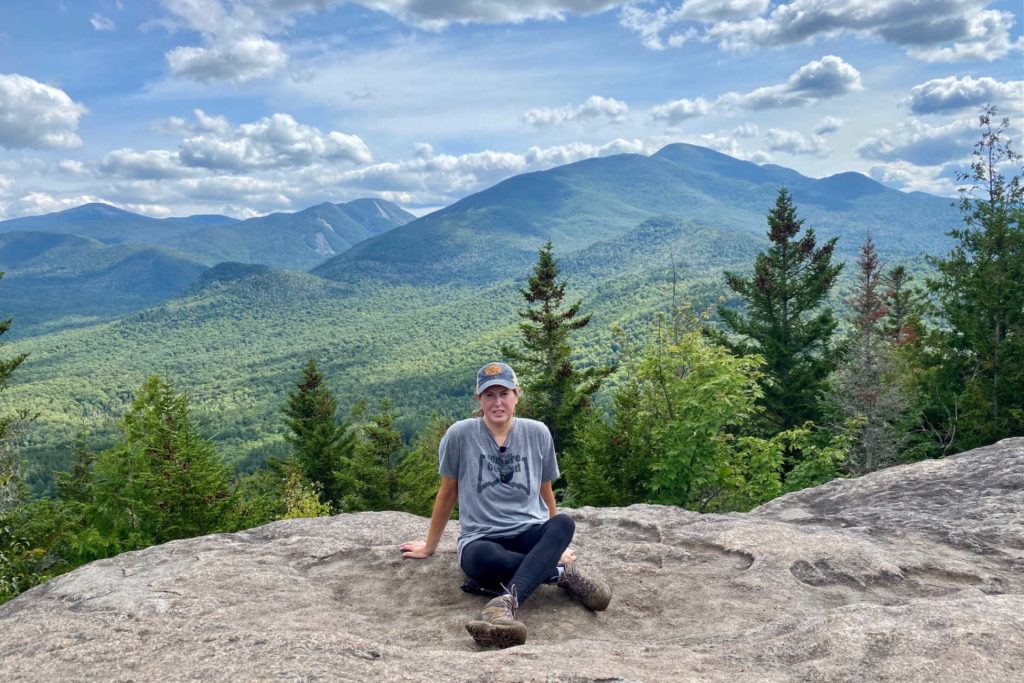 Hiking Tips for Women Over 40
So if you are new to hiking, don't be intimidated by all the awesome young women out there on the trail. There absolutely IS a place for you, and you too can get that deep satisfaction and sense of accomplishment that comes with a strenuous hike. Here are some hiking tips for women to get you started.
Invest in some good gear. I'll put some of my recommendations below but I hope that by this stage of life you realize that good gear, like a good face cream, can make a big difference. For example, I could go on for hours about how life changing using trekking poles can be for hiking — especially on those aging knees!!
Download the AllTrails app and start looking for hikes in your area. You probably want to start with the "Easy" hikes and work your way up to Moderate. Just keep in mind that the app tends to be used by experienced hikers and the reviews are slanted as such. What is an "easy climb" for some may feel like Everest to you. You can also stop into local outfitter shops to get recommendations or check the tourism board website for the destination you are visiting. Facebook Groups can be another great source for recommendations.
Pay attention to the details. When deciding on a hike, be sure to look for the TOTAL mileage; whether or not the trail is out and back (or up and down!) or a loop; how long reviewers said it took them to complete; any tips the reviewers give about parking, where to find the trailhead, bugs, or trail conditions; and total ELEVATION gain. Trust me, a 6-mile hike with 1,500 feet of elevation gain is way different than a 6-mile walk around your neighborhood.
Check trail conditions and weather before you head out. A little rain can be refreshing. A thunderstorm, not so much. And keep in mind that recent rain is going to make the trail muddy, slippery, and probably buggy.
Find a hiking buddy. It is amazing what a bonding experience hiking can be. You have time for conversation without distractions, you support each other, and you get through it together. Plus, you may feel more comfortable knowing that there are two of you in case someone gets hurt or you need help. Of course, it helps to find someone that has a similar level of energy and stamina to be able to keep pace with each other.
Don't be afraid to hike alone. The hiking community is generally very friendly and helpful. For safety concerns, you may want to pick slightly busier trails and always let someone know where you are going. If there is cell coverage, let a loved one know when you start out, how long it should take, and when you return.
Sign the register! If the trail you are hiking has a register at the trailhead, be sure to sign in when you start and sign out when you finish. If something did happen, at least someone knows to come looking for you! It is also a good way to get a sense of how busy the trail is on that particular day.
Leave no trace. I'll get into what to pack in a bit, but make sure you familiarize yourself with the Leave No Trace principles. Basically you want to carry out anything you bring in, respect the trails, wildlife and other hikers, and leave what you find (no collecting/foraging unless stated otherwise.)
Don't skimp on safety. Remember that when you head out into nature, we share the space with the wildlife that lives there. If you are hiking in the early morning or evening, you may be more likely to encounter wildlife. Trust me, staring into the eyes of an elk in the middle of the night is frightening. If you are hiking in a state or national park, check with the rangers to see what has been spotted recently and where. If bears are a danger, always hike with bear spray readily accessible. If you are heading into the backcountry or very far from cell service on a less-frequented trail, you may want to invest in a GPS tracker and security device.
Early bird gets the worm. I still hate mornings with the passion of a teenager but if you want to avoid crowds and find parking, especially on popular trails known for limited parking at the trailhead, you have to get up early. In popular hiking spots in the Canadian Rockies and the Adirondacks, you have to be at some trails before 6am to find a parking spot. The alternative is to go in the late afternoon when people are starting to clear out and head back home for dinner.
Bring more water than you need. Sure you may be able to get through a walk or run with just a small bottle of water, but strenuous hiking usually means you are going to need way more water than you think you are going to use. I always bring one insulated bottle to stick in the pocket on the outside of my pack and another, larger bottle in my pack. Or, if there is a water source, I bring my Lifestraw bottle as a back up so I know I can purify water when needed.
Be prepared! I'm going to get into what to pack below but the idea is to be prepared for hunger, thirst, rain, bugs, blisters…you name it. Of course it all depends on the length and location of your hike, but pack like a Boy Scout.
What to Pack for a Day Hike
Note: This post contains affiliate links. If you click a link and make a purchase, I may receive a small commission at no cost to you.
It is better to be over prepared than under prepared. Get ready to hit the trails with these things in your day pack:
Trekking poles — I have two sets from Black Diamond and I love the ones with the cork handles to absorb sweat and that collapse small to fit in a back pack
2 full, reusable, insulated (or with a filtration system) water bottles
Light raincoat or poncho
Hat (if you aren't wearing one)
Sunglasses
Trail snacks or lunch
Bug spray
Bug net with bug repellant and small carrying pack to wear over your hat if the bugs get bad — who cares how you look, those suckers will drive you insane!
Tissues (can also substitute for toilet paper just make sure to not leave it behind!)
Ziploc or garbage bag for trash/refuse
Moleskin pads for blisters
Back up phone battery pack and cord
Extra layer (hiking shirt, flannel shirt, fleece, etc)
Bandaids & antibiotic cream
Headlamp (I like one that has a flashing strobe in case of rescue and a red light setting for star gazing) — this is a "just in case" for most day hikes
Matches or lighter
Multipurpose tool (like a Swiss Army knife)
Compass & offline downloaded map or paper trail map (at least take a photo of the trail map sign before heading out)
Bandana, buff or face mask
Hand sanitizer
Sunscreen and lip balm with SPF
Optional: personal locator beacon or GPS
Optional: camera, binoculars, journal & pen, field guide, mini tripod/selfie stick with Bluetooth remote for photos at the summit
Hiking Attire for Women
Outdoor clothing companies still have a ways to go when it comes to making hiking attire for women of all shapes and sizes. However, after much experimentation, I have a few brands that usually deliver for me including Columbia, LL Bean, North Face, and REI.
Day Packs
I've searched high and low, trying different day pack styles and brands to finally land on one that I love and that is the Gregory Maya 16. It is a 16-liter pack that holds everything I listed above in my "what to pack section." But there are a few features that really make this one a winner. I found this to be the perfect size for a day hike.
Adjustable straps so you can change the height of the strap that goes across your chest to find the most comfortable fit
The waist and chest straps to take the pressure of my back
The pockets at my waist for easy-access storage for my phone and bug spray
Two water bottle pockets that fit reusable water bottles
A stretchy front pocket with a bungy cord for more easy access to a raincoat, light layer, etc.
Soft-padded back that isn't too stiff (like North Face backpacks can be)
Trekking Poles
As I mentioned above, using trekking poles to hike was truly a game-changer for me. Using them as leverage when taking big steps up, helping with balance, securing footing, and have them to bear some of your weight on the way down really helps the old knees. My first set of Black Diamond collapsible poles with cork grips for sweat absorption were great, but they were really tough to fit into a full-size suitcase for travel.
This year I bought this new set that folds up small enough to fit in a backpack and they are exactly what I was looking for. Now we have two sets to divide between the three of us or loan to friends.
Hiking Pants for Women
I know a lot of women wear running tights or exercise leggings when hiking and those can work fine, especially when they have pockets on the legs — but I find that they make me so sweaty I want to rip them off by the time I've finished the hike. Personally I prefer hiking pants (with pockets) that have plenty of give in the waist, crotch, and knee for flexibility. Some of my favorites include:
Columbia's Outdoor Anytime boot cut pants — just keep in mind that Columbia runs a bit small so I usually size up one size. Some of their pants can be a bit short in the crotch (I also have this problem with Kuhl) but these are really comfortable.
North Face Aphrodite 2.0 pants — these are some of my favorite pants for hiking and travel because they are lightweight, comfortable, casual, and have pockets. I own them in three colors and have even bought them for my daughter.
North Face Paramount Hybrid Hi-Rise Tight — if you prefer a tighter fit, I also love these tights from North Face with zippered pockets and a good stretchy fit.
Hiking Shirts for Women
When it comes to hiking shirts for women, I like breathable fabric that can wick sweat. I'm also a believer in layers, even in the summer. A lightweight hiking shirt over a t-shirt can save the day when walking through branches on tight trails, as well as protect from sun or bugs. In cooler temperatures, a flannel shirt is handy, especially the zip-up shirt that also serves as a light jacket from LL Bean. Some of my favorite hiking shirts include:
Hiking Boots
There are tons of great hiking boots out there but I've been fortunate to have used the same pair from Merrell for many years. They are very similar to the Moab 2 mid waterproof boots available today. I would definitely recommend getting at least the mid-size for ankle support and waterproof for crossing streams, etc. Their grip has helped keep me on my feet on many slippery surfaces.
Hiking Socks
The thing to remember about hiking socks is that you don't want cotton, which absorb your sweat and make your feet cold, stinky, or slippery. Look for wool or synthetic blends. My husband and many others swear by Darn Tough socks (made in Vermont!) I don't have a particular brand but I use synthetics since I'm allergic to wool.
So tell me, what is your favorite hiking attire for women? Also, if you are interested in joining a women's hiking trip in the future, make sure you sign up for our newsletter and join our Facebook Group.