Standing in the middle of a pasture, my back and feet aching from walking 12 miles already that day, I found myself taking a deep breath and squeezing back tears of frustration as I spied the "No Trespassing" sign on the gate up ahead. "Well where the F am I supposed to go," I said aloud to the cows and sheep nearby. I was three days into my eight-day journey along the Hadrian's Wall Path in Northern England and until that moment, I thought I was just minutes away from my lodging for the night.
Since the animals didn't provide an answer, I swallowed my frustration and dug a little deeper, reminding myself that I was a savvy traveler and that part of taking a solo trip is figuring things out on my own. I hopped over a wall to the adjacent road and sat down on a bench to contemplate my options — do I follow the road or backtrack on the path to see where I went wrong? Pulling out my guidebook, I was determined to find the path, if only I could figure out where I was supposed to cross the train tracks and exactly what the author meant by following the path "half-left."
Retracing my steps to the last known signpost, I made a few more wrong turns but eventually spied the correct path (which was not what I would have called a half-left.) By the time I checked into my inn for the evening, I felt like a modern-day explorer, "discovering" a path that many before have already trod, but with a sense of accomplishment as if I was the first.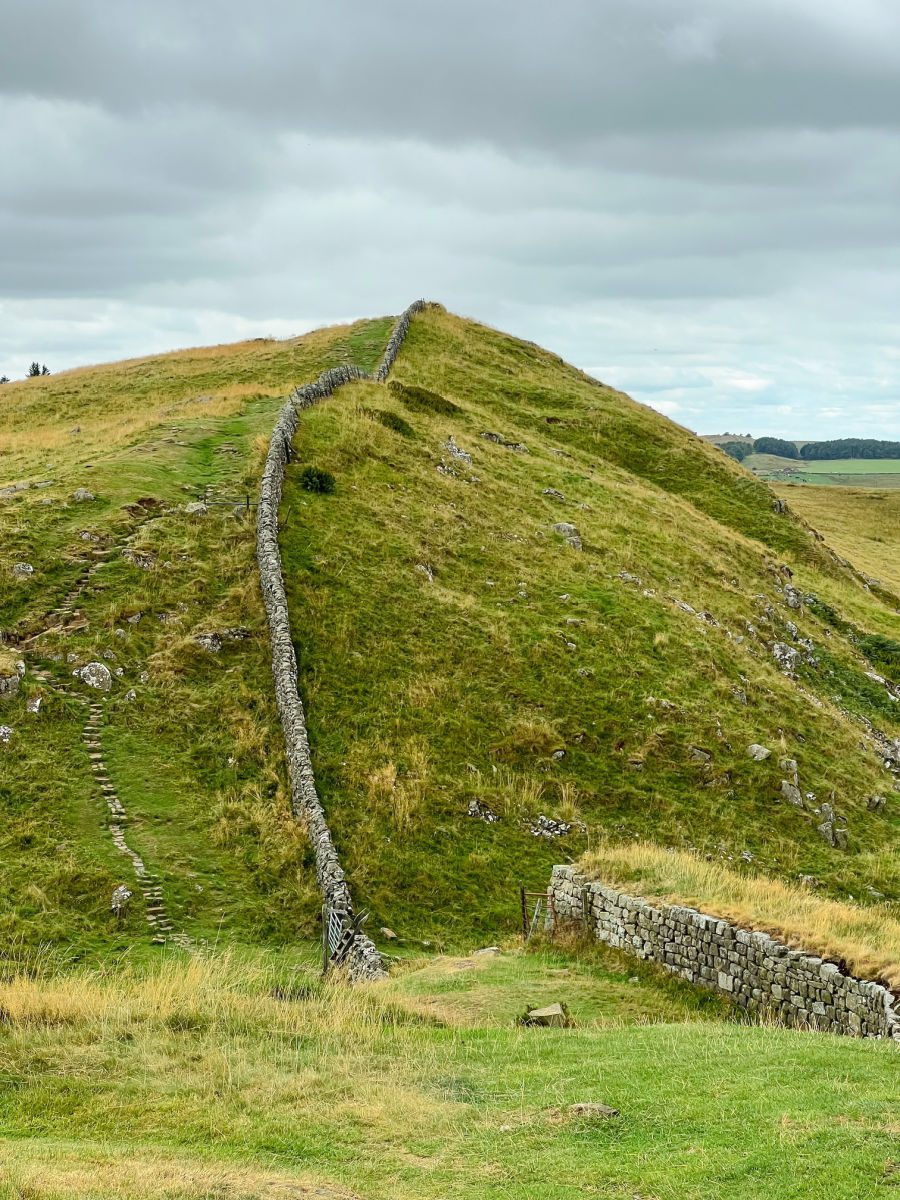 My journey along the Hadrian's Wall Path replicated my journey into my midlife, with a few mistakes and wrong turns that offer the opportunity to grow and prove to myself who I am and what I'm made of. Perhaps taking this journey at 52 is a bit optimistic to call it midlife, but I'm still in a transition period as a new empty-nester where I'm trying to figure out my next act.
I first considered taking this trip in 2020 when I turned 50, but those plans were put on hold, perhaps for the better. Rescheduling my walking holiday until just after dropping off my only child at college was actually a better choice and a very good distraction.
I thought for sure that my hours spent walking along Hadrian's Wall would be filled with deep thoughts and tearful moments of missing my daughter. In reality, I spent eight days completely present without distractions and barely looking at my phone except to check mileage or directions. I can't describe how peaceful that feels.
The deep thoughts were kept buried and I didn't think through solutions to any problems or come up with a life plan. Instead, I soaked in the sights, sounds, and smells of the British countryside. I stayed alert to make sure I stayed on the right path and focused on my journey, feeling my body get stronger and my self-confidence build, day-by-day.
At a time when my body does not feel familiar and I have a daily struggle to understand and appreciate my physical self, the feeling of accomplishment that was my reward for a cross-country walk did wonders for my mental health. By the end of the week, my legs moved as if of their own volition, my back was stronger from hours spent each day carrying a pack, and I was confident in my ability to navigate both rural trails and life's next obstacles.
There was something extremely satisfying about saying, "I did the whole thing and I did it by myself." Whether you undertake a walking holiday with a group, friend, partner, or solo, there are some factors to consider first.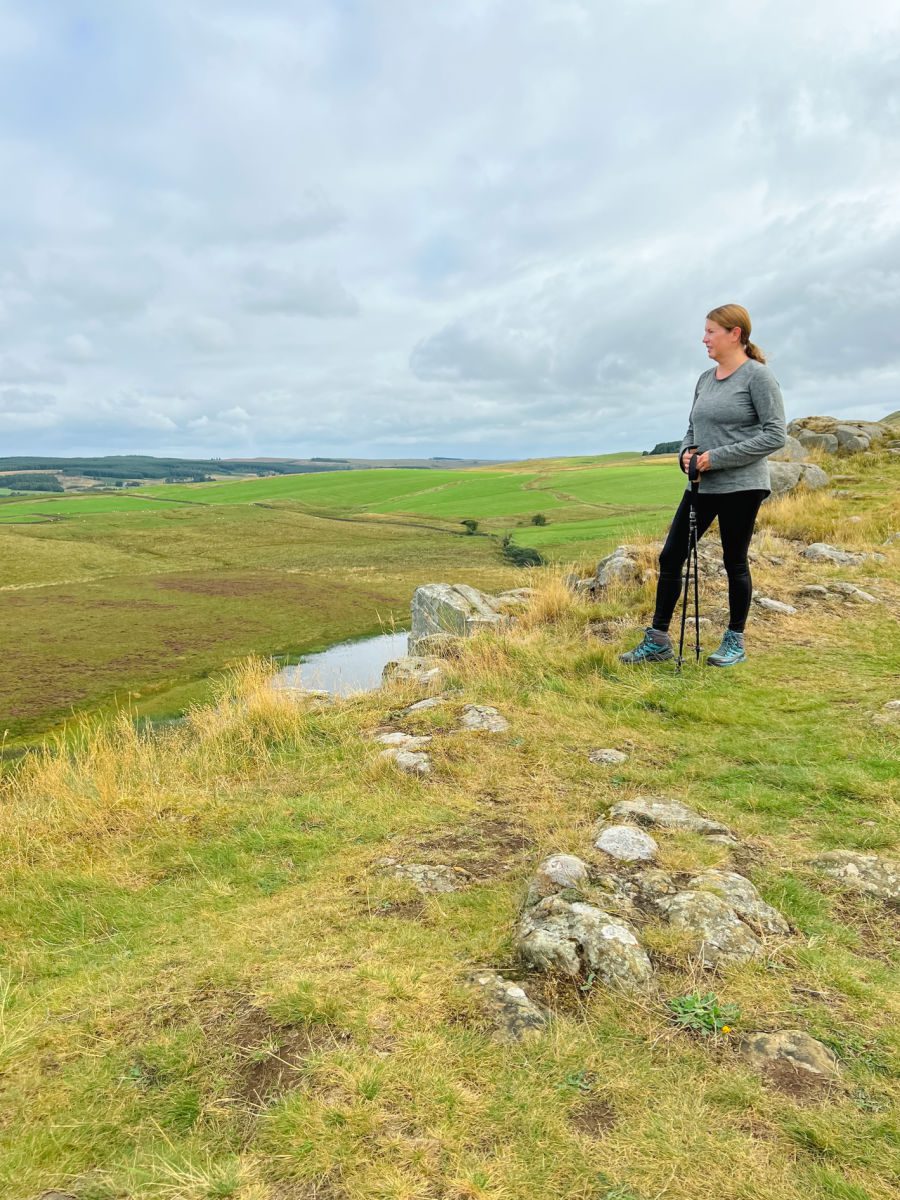 Things to Consider When Planning a Walking Holiday
In the United States, walking holidays tend to be the domain of backpackers taking thru-hikes along famous paths such as the Pacific Crest Trail or the Appalachian Trail. In Spain and Portugal, backpackers similarly make their way along the path of prior religious pilgrimages, staying in hostels along the way. But the United Kingdom has really perfected the walking holiday in my mind, with walkers staying in a series of inns or bed and breakfasts along the path, and the luggage transferred from place to place.
Not that you can't camp along many of England's 2,500 miles of National Trails. And you can also enjoy this style of walking holiday in other countries across the globe. But since reading a book with a storyline that incorporated a walking holiday in England was what first put this style of travel on my radar, that is where I started.
Here are a few things to think about before booking a walking holiday:
How many days do you have for your walking holiday?
How many miles/kilometers can you walk each day?
Are you looking for an easy, fairly flat walk or looking for something more moderate to strenuous? Remember: walking every day for a series of days is different than covering that distance just once.
Do you want to incorporate a rest day in the middle of your walk or include days before or after your walk to explore the area?
When can you travel and what are the weather conditions in the region you are considering?
What temperatures and weather conditions are you comfortable with? Keep in mind, southern Europe can be extremely hot in the summer, while the U.K. might be rainy (or hot.)
Do you want to take a self-guided walk or join a group tour?
Do you want to plan everything yourself or would you like a company to make arrangements for you?
Do you want to camp, stay in hostels, or do you prefer inns, bed and breakfasts, or luxury hotels?
There are many travel companies that specialize in walking holidays. Some focus on specific regions or walks, like Hadrian's Wall Path, and others offer a wide variety of walking trips in different locations. These companies typically will work with you to create an itinerary based on the number of days and distance you want to travel. They will book accommodations, arrange for baggage transfers, make recommendations for meals, and provide a walk pack with a detailed itinerary, guidebook, and maps.
While you can certainly arrange a walking trip on your own, I found the simplicity of booking through a walking holiday company made everything more manageable, especially during a busy season with limited hotel availability. After doing a lot of research, I selected Celtic Trails, a member of the Adventure Travel Trade Association, because they offered the flexibility and services that I was looking for in terms of my itinerary preferences and direction of travel.
What is Hadrian's Wall Path?
Hadrian's Wall Path runs 84 miles from coast to coast in Northern England, from Bowness-on-Solway to Wallsend. It was named a National Trail in 2003 and is popular for walking holidays and day hikes primarily because of its history and scenic middle section. The path runs along the remnants of Hadrian's Wall, a UNESCO World Heritage Site and ancient Roman wall built by Emperor Hadrian starting in 122 A.D. and taking an estimated 10 years to build.
Hadrian was a Roman Emperor who desired to protect the lands of Roman Britannia from the unconquered Caledonia to the north, in what is now Scotland. The Wall utilizes natural barriers, such as rocky crags, to reinforce its position. Today, the wall is rarely higher than a traditional stone wall that separates farm fields but you can still see the remains of highly-fortified forts, signal towers, and milecastles along the path.
A walk along Hadrian's Wall Path is also a walk in the footsteps of history. But what really attracted me was the end-to-end nature of the walk. I was looking for that sense of accomplishment that comes with completing a journey and walking from one side of the country to the other held great appeal.
This walk is popular because Hadrian's Wall is such a famous landmark, but also because it is rated as a fairly easy walk. But don't be fooled into thinking that means this is a flat and easy trail. Large portions of the 84-mile path certainly are flat and many miles are also paved, but that scenic middle section that appears in so many pictures includes most of the path's 7,821 feet in elevation gain with hill after hill along the crags.
Before you decide whether or not you want to walk Hadrian's Wall Path, be sure to read my full article about things you should know before walking Hadrian's Wall Path.
My 8-Day Journey on Hadrian's Wall Path
Note: This post contains affiliate links. If you click a link and make a purchase, I may receive a small commission at no cost to you. All opinions are my own based on my personal experience with these products.
If you are considering walking Hadrian's Wall Path, here is what you can expect on a nine-night, eight-day itinerary walking west to east from Bowness-on-Solway to Wallsend.
Arrival Day
The day before starting my walk I flew from the US to London Heathrow, because it was cheaper to fly into London than to get a flight into Manchester, Newcastle, or even Edinburgh. From Heathrow, I took the Heathrow Express train to Paddington Station, then hopped on the Tube using the Circle Line. From Euston Square, it was a five-minute walk to Euston Station, where I was able to catch the Avanti West Coast Railway to Carlisle.
The train ride from Euston to Carlisle is just under four hours. Here is a pro tip: if you book a first-class ticket, you can use the Avanti First Class lounge upstairs in Euston Station, which is a good way to spend time while waiting for your train, especially after an overnight flight. The lounge offers complimentary food and drink, WiFi, and relaxing seating options.
After arriving in Carlisle, I checked into my accommodations at the Warwick Lodge, which was a 10-minute walk from the Carlisle Train Station. Since check-in wasn't until 4 pm and there wasn't an opportunity to drop off my bag, I had arranged to take a train that arrived just before check-in. However, if you stay in a hotel that offers an earlier check-in or bag drop, you may want to take the afternoon to explore Carlisle's historic downtown, including either the Carlisle Cathedral or the Carlisle Castle, so you don't take too long of a detour during your walk through Carlisle.
My room at the Warwick Lodge was lovely, with a queen bed and a small but en-suite bathroom. This bed and breakfast is only a five-minute walk to many restaurants on a leafy, tree-lined street. Breakfast was a hearty meal consisting of all the traditional English breakfast items such as eggs, toast, English bacon, black pudding, mushrooms, tomatoes, cereals, and tea. I would note that if you stay at the Warwick Lodge, bring earplugs in case you have a street-facing room and need to open the windows to let in the cool evening air. I used my trusty Bose Sleep Buds and they blocked all the street noise.
It was recommended to make dinner reservations in advance on evenings I would be eating in town, especially since I was walking during the busy season. On the first night, I had a lovely dinner at the stylish Penny Blue in the Halston Hotel, which was only a 5-10 minute walk from my accommodations.
Pro tip: make sure to hydrate upon arrival so that you replenish what was lost during travel and start off on the right foot! Sadly this can also mean limiting your alcohol intake during your walk. It is a good idea to bring along some hydration tablets or Liquid IV.
Day One: Bowness-on-Solway to Kirkandrews-on-Eden
Since there were limited accommodations in the small village of Bowness-on-Solway, I stayed in Carlisle for the first two nights, and Celtic Trails arranged for a taxi to take me from Warwick Lodge to the start of the trail on the morning of the first day and pick me up once I arrived in Kirkandrews-on-Eden in the afternoon. Alternatively, I probably could have walked all the way to Carlisle but it was smart to start off slow with an easy 9.8-mile walk. For transfers, I called Paul from P&J Travel (+44 7979 922819), who was lovely and full of good advice on things to see along the way.
I was warned that there were limited options for food along this route, but I took my chances that the Greyhound Inn would be open and didn't request a packed lunch the evening before.
The beginning of the trail is somewhat inconspicuous. Down a small lane off the main road, you will find a gazebo that marks the start of the trail with a small sign. If you have purchased a Hadrian's Wall Passport (or were provided one by your walking tour company as I was), there is a small stamping station located at the start of the trail.
During my walk, the tide was out along the Solway Flats, and I was tickled that I could see Scotland on the other side of the waterway. After walking through town, the path hugs the road before making some turns into some fields and through a few small villages. While this first section of the path is flat, easy, and even scenic in many parts, there aren't a lot of services. There is a toilet (donation requested) and an honor shed with snacks in Drumburgh and a shop at the Glendale Holiday Park.
I really found this first day to be one of the most enjoyable, despite seeing no trace of the famous wall. An easy walk through delightful villages and the charming English countryside is an ideal introduction to what awaits over the next week.
The section that many dread is the long, straight Easton Marsh. These few miles might be a bit dull looking toward the horizon, but the cute sheep along the path and cows in the distance added novelty, which soon became commonplace throughout the walk.
In Burgh-by-Sands, I took a tiny detour to check out St. Michael's Church and graveyard but sadly the inside was closed. That's ok because soon I came to The Greyhound Inn, and I was ready to rest my feet and use the loo again. The Greyhound Inn had been closed for a bit but now this traditional pub is under new management and reopened, although the food options were quite limited when I visited. It is a cozy and popular spot with walkers (who were mostly traveling in the other direction), and I had my first opportunity to converse with fellow walkers and get some insight into what was ahead.
After a bacon roll, a Coca-Cola, and some crisps to replenish my salt and give me a sugar rush, I continued on to Kirkandrews-on-Eden. After arriving in the small town of Beaumont, I called my driver to alert him to my pending arrival before heading through some fields to finish my day.
Paul dropped me back at the Warwick Lodge for my second night, where I was happy to slip on my recovery slides, take a shower, rest for a bit, then head out to dinner in town at La Mezzaluna. Dinner was fine for an English-style Italian restaurant, but I also would have been perfectly happy with some Piri-Piri chicken from Nandos around the corner.
Pro tip: be sure to check the tide schedules along Bowness-on-Solway as the tidal marsh floods during high tide during certain times of the year and impacts the path. This was not a problem in late August.
Day 2: Kirkandrews-on-Eden to Irthington
The second day of the walk was one of my hardest, partially for avoidable reasons. I didn't sleep well due to lingering jet lag and I had wine with dinner, leaving me very dehydrated. Day two was also the longest scheduled walk of my trip, at 12.5 miles, which I made even longer with detours in Carlisle. Plus, I walked right past one of the gates I needed to turn into at the beginning of my walk and it took quite a while to realize it.
This was also the day I realized I should have been taking my training walks with a day pack because halfway through the day I had to start wearing my backpack on my front or switching it from shoulder to shoulder because my core and lower back were out of shape.
That said, day two also offered up some great off-path sites in Carlisle, which added a sightseeing element to my trip. The day started off in fields and quickly moved to paved paths as I got closer to Carlisle — walking past football pitches and through parks. I also learned that paved paths hurt the feet more than fields.
In Carlisle, I made the choice to take a slight detour to tour Carlisle Castle. Carlisle Castle has dominated the city for nine centuries and was a working fortress until within living memory. For a time, Mary, Queen of Scots, was held prisoner in Carlisle Castle. Today, you can view some of the rooms and walk along the castle walls. You can also visit Cumbria's Museum of Military Life. Don't linger too long though because there is a lot of ground to cover.
Since I was hungry and didn't request a packed lunch, knowing that I would be walking through Carlisle, I walked over to the Carlisle Cathedral. Many people recommend also visiting the Tullie House Museum across from Carlisle Castle but I didn't want to take too much time in town. I do think that the Carlisle Cathedral is a very worthwhile detour off-path. Built in the 1100s, this is quite a well-preserved gem with gorgeous stained glass windows and a star-studded ceiling set on a blue background.
Instead of walking further into town to find food, I decided to eat at the courtyard cafe at the Cathedral and I'm glad that I did. It was a lovely setting with soup, sandwiches, and other entrees. I had a chicken, apple, brie, and cranberry compote sandwich that was delicious and much nicer than the toasties or jacket potatoes found elsewhere.
To be honest, the second part of my walk from Carlisle to Irthington felt a bit endless. I retraced my steps back to The Sands Centre (a concert venue) to look for my next passport stamping station but was unsuccessful as the Centre is currently undergoing construction. Then I encountered a temporary path closure due to repaving, but unlike other sections of the path, an alternative diversion was not marked. I should have just crossed the River Eden and followed the path along the northern bank but instead, I forged my way through fields down to the Memorial Bridge in Rickerby Park and crossed the river there to regain the path.
I began to wish I hadn't taken such a long break in Carlisle as I followed the paved paths along the river and by the time I got to Crosby-on-Eden I was delighted to see The Stags Inn was open as I was in desperate need of a bathroom. After another Coca-Cola and crisps — my go-to quick energy snack since I'd not thought of bringing hydration tablets — I was back on the road to finish off my day.
A few more miles along fields brought me to the small town of Irthington, where I was able to meet my host for the evening to get a ride to the Oakwood Park Hotel in Brampton. This lovely country estate was one of the most elegant accommodations I had over the course of my walk. This mid-Victorian home offers bed and breakfast accommodations, along with a robust dinner menu for guests. I greatly enjoyed the country atmosphere.
Pro tip: If you plan on visiting a few sights along the trip, including the Roman Forts along the path, it will probably be a good investment to purchase an English Heritage Membership. This will provide entrance to Carlisle Castle, Lanercost Priory, Birdoswald Fort, Chester Fort, and others.
Day 3: Irthington to Gilsland
Day three was one of my favorites if we could erase the last 45 minutes spent tramping through fields to hit dead end after dead end, as explained in my intro, before finally finding the right path.
Since my walk on day three was only predicted to be nine miles, I decided early on that I would take a detour to see the Lanercost Priory. Not only would that give a much-needed bathroom break, but it would also be a nice location for lunch at the Lanercost Priory Tearoom (and I was right — the spicy chicken gyro sandwich was delicious.)
This Augustinian church built in the 13th century has seen a lot of troubled history, including frequent attacks during the Anglo-Scottish Wars, including one by Robert the Bruce. Lanercost Priory also housed King Edward I for some months while he was recovering from illness. The church itself wasn't as impressive as Carlisle Cathedral, but the preserved Cloisters were impressive and the towering, crumbling arches give off major Harry Potter owlery vibes.
Once back on the path, I began to get my first glimpses of Hadrian's Wall and as the path began to rise over hills, there were sweeping views of the beautiful quilt-like latticework of fields on either side. I passed the landmarks of Hare Hill, the tallest section of the wall, followed by outlines and low ruins of various signal towers and turrets before reaching the first fort of my journey.
Birdoswald Roman Fort has small but informative exhibits inside the visitor center to describe who Hadrian was and why he wanted to build the wall. The family-friendly exhibits and interactive activities also include a video that shows what the wall would have looked like during its height.
I was lucky enough to visit on the weekend when there were also special "Roman Days" happening, which included people dressed as Roman soldiers, blacksmiths, cooks, and other Army support personnel. Kids could dress up and even try some activities.
The fort itself is mostly an outline in ancient stones, however, this is where you will find the best-preserved excavated Roman Gate. It is well worth a visit! You will also find a small cafe, toilet, shop, and a place to stamp your Hadrian's Wall Path Passport.
The last few miles continued without incident along the remains of the wall until I arrived in Gilsland. Once crossing the road to the carpark, the path seemed well marked but I needed to hang a left after a farmhouse and I just missed it, as the well-trod path through the grass seemed to continue straight.
Eventually, I found my way to the Samson Inn for the night. While this location was my least favorite accommodation, it did provide the novelty of sleeping in a room above a pub. Unfortunately, the room was quite basic and the staff overworked and stressed. Dinner in the pub was frankly terrible and scared me off of trying another hamburger in England more than Mad Cow disease.
Pro tip: I would highly recommend bringing trekking poles on your walk and on day three I started to need them for the very beginning of the hills. My favorite at my Black Diamond FLZ poles that fold up small enough to fit in a backpack.
Day 4: Gilsland to Once-Brewed
If day two was my longest day, day four was certainly my most frustrating, but also one of the most beautiful of the trip. Everything started off just fine, with a lovely walk past a few farmhouses and a sharp right turn onto the road. Further up, the signpost indicated to turn left to Thirwall Castle and turn right onto Pennine Way. Neither direction said Hadrian's Wall, but since my guidebook said that at this point Hadrian's Wall Path merged with Pennine Way along the golf course, I turned right onto the Pennine Way path.
At the top of the hill, I saw a golf course and another walker was coming up behind me, so I felt that I was on the right path. We walked together looking for signs and taking comfort in seeing the white acorn symbol that indicates a National Trail. But once we reached the main road, we knew something had gone wrong.
Luckily this former Royal British Army Paratrooper knew how to read a map and compass and together we decided to ditch the path and make our way along the roads to what was clearly the next major stop on the trail, the Carvoran Army Museum. It was a long and frustrating detour and I was very glad to not go through that alone.
The Carvoran Army Museum is really the only lunch stop along the path this day, but we arrived there too early to eat, even with the long detour, so I really should have requested a packed lunch. Luckily I always carry snacks and plenty of water. After a brief rest and bathroom break at the Walltown Quarry car park, I separated from my companion and continued on my way somewhat trepidatiously seeing the hills that were up ahead.
The thrill of the scenery that had first captivated me and drew me to Hadrian's Wall Path soon died off after each summit gave a view of another hill along the crags. The Romans used nature's natural defenses to fortify the wall and make it more impenetrable.
The beauty of this area is hard to capture, but if you look closely at the photos you can see the people and get a sense of the scale of the crags. Sure, it wasn't like climbing the Dolomites but it was more than I expected on this "easy" path through Northern England.
But don't let my whinging deter you. While the climb was hard and somewhat deserted and I walked in fear of losing my way once again, I knew all I had to do was keep following the wall. Stopping to catch my breath provided ample opportunities to soak in the view.
After encountering some cows who weren't too happy about me crossing their path, I circumnavigated a field to sit among the sheep on the ruins of Great Chester's Fort to eat my snacks and energy chews. Amazed that an ancient altar was the site of my picnic in what seemed to be in the middle of someone's farm, I recaptured my joy of embarking on this adventure.
Once I started climbing the Cawfield and Windshields Crags, the path became more populated with day hikers enjoying a lovely day off. Somewhere along this section, I also encountered a Roman soldier, or at least a history enthusiast who spends his days off dressed like a gladiator and talking to visitors about Roman history.
After reaching the Steel Rigg car park, I turned right to head a half-mile into the town of Once Brewed, for my overnight stay at the Twice Brewed Inn and brewery. I wish that I had more energy at this point because Twice Brewed has a lovely lawn set up for beer tasting and a terrific pub and restaurant (where I had dinner.) Next door is the National Landscape Discovery Center (also known as The Sill), which has exhibits about the area's landscape and history. This is also where you will find a hostel.
Further on, I could have walked to the Vindolanda fort, which someone I met later in the trip told me he really enjoyed, but I was DONE walking for the day as I'm sure I added many miles to the original eight planned for the day, on top of climbing about 130 floors worth of hills.
Pro tip: If you stay at Twice Brewed, request a room with a bathtub. Trust me that soak feels heavenly after a day of hiking!
Day 5: Steel Rigg to Chester's Fort
I naively thought that most of the crags were behind me when I started out on my fifth day, but I was wrong. That didn't deter me as I was beginning to feel the strength of my own body and appreciate the effort that I was putting in.
The views along the Highshield Crags and Whin Sill were some of the most beautiful on the entire path. This section was also the busiest, which only meant that I saw enough people to capture the scale of the hills in a photo, certainly not enough to be considered "crowded." Although it was nice to find a walking companion for a good portion of the morning.
In addition to the gorgeous views of Crag Lough and Sycamore Gap, the highlight of this section is the Roman Fort at Housesteads. This is the best-preserved fort along the wall and there is currently also a special art exhibit that creates a bit of a funhouse version of a Roman fort, although that is currently only running until October 2022.
The only disappointment here was the limited food offered in the gift shop (basically coffee and ice cream novelty treats) or a proper toilet (although there are two port-a-loos out back.) This is another day when I should have requested a packed lunch, but dined on my protein bars and energy chews instead. The fort is well worth a visit, especially if you have purchased an English Heritage site membership, plus it is another spot to stamp your passport.
After descending from the crags, the path begins to follow the Vallum, or Roman ditch that followed the wall as another defense mechanism. Next, I reached the somewhat disappointing Brocolitia Fort and Mithras Temple. With names like that, I expected a bit more than some stones with very few interpretative panels. I did take a short break to sit on a log in the Brocolitia car park and buy a muffin and drink from the coffee truck that parks there.
Soon I walked through the charming town of Chollerford to Chester's Fort, my pick-up spot where I was to meet my accommodation hosts. Chester's Fort is supposed to be one of the best along the path, but unfortunately, it was near closing when I arrived after walking 12 miles that day and I had just enough time to use the loo and wait in the car park for my ride. My accommodations that night were at the darling Simonburn Tea Room and B&B.
Simonburn Tea Room has become popular in the area around the charming tiny hamlet of Simonburn. They also have four rooms available on a bed and breakfast basis and provide home-cooked dinners for guests (be sure to save room for dessert of course!) My room was charming, with a tranquil view of the lovely gardens, and the hosts (and their dogs) couldn't have been more gracious. I spent a lovely evening conversing with fellow travelers and guests.
Pro tip: this day will provide the least access to toilet facilities. If you need to use the shrubbery, be sure to follow the guidelines to leave no trace and come prepared with tissues, sanitizers, ziplock, or whatever you might need.
Day 6: Chester's Fort to Wallhouses
Day six turned out to be the easiest walk of the trip. While I expected to walk for 11.5 miles, it ended up being a bit less as my hosts at the Simonburn Tea Room dropped me off at the crossroads in Chollerford instead of at Chester's Fort — saving me about half a mile or so.
This section of the path is also back on flat ground, yet still crossing through the easier-on-the-feet fields and pastures, including a bit of a storm-related detour through the woods. Starting out around 9:30 am, which was typical throughout the trip, I arrived at the Errington Coffee House just in time for lunch and a bathroom break. This popular spot serves up soup, quiche, sandwiches, coffee, and tea. I didn't save room for dessert, but the "pudding" menu was a bounty of choices for those that needed a sugar rush.
At lunch I ran into someone I had met while walking the previous day and we spent the rest of the afternoon keeping each other company as we followed the straight line of the path. We parted ways at the Robin Hood Inn when he continued on to Heddon-on-Wall and I waited for a taxi transfer to my accommodations in Corbridge for the evening.
Part of me wished that I was walking a bit further that day, but it was nice to have time in the afternoon to relax a bit. Plus, it had started to rain lightly as I waited at the Robin Hood Inn for my ride so it was nice to stay warm and dry. While Corbridge is a fair distance off the path (requiring a taxi transfer), history enthusiasts may prefer to stay here and include a visit to the Corbridge Roman Museum.
That evening I stayed at the Fellcroft Bed & Breakfast in Corbridge. This two-room bed and breakfast is like staying at your friendly aunt's house and the hostess Tove made me feel right at home. Since she was heading out to dinner with a friend, she kindly dropped me off in town and I had a dinner of delicious fish and chips at the Black Bull pub. This classic pub was a perfect cozy choice on a rainy day. I was then able to take a leisurely walk through town and back to the B&B.
Pro tip: the Robin Hood Inn is also a Hadrian's Wall Path Passport stamping station. While I didn't eat here, everyone leaving was raving about the food so this could also be a good late lunch/early dinner spot.
Day 7: Wallhouses to Newburn
Day seven started with a buzz of excitement, knowing that the last legs of my journey lie ahead. After getting dropped off back at the Robin Hood Inn and stamping my passport, I started on my 10.7-mile walk to the suburbs of Newcastle-on-Tyne. While much of this section of the trail follows the road, I didn't find the traffic noise to be disturbing. Part of me appreciated that it was a very straightforward trail to follow at this point!
My first stop was in the town of Heddon-on-Wall, where, even though I arrived just before its opening at noon, I decided to stop for lunch at the Three Tuns pub (surprisingly good nachos). I enjoyed the sunshine at a picnic table while waiting for the pub to open and once inside I chatted with a couple that I had passed earlier that morning.
From Heddon-on-Wall, I wound my way through town and down to the River Tyne. While following the river was pleasant and easy, it was also time to say goodbye to the wall itself, at least until I reached the very end of the path at Wallsend.
This was also the last day of following signs for Hadrian's Wall Path, as the path merges with the Wylam Waggonway, where it transitions to Hadrian's Way. This tree-lined section of the trail was popular with bikers and walkers/joggers and soon went through the Tyne Riverside Country Park.
This is where I made my stop for the night at The Keelman, just off the path. This pub and local brewery also serve as a bed and breakfast. While the food was generous and the beer was good, don't have high expectations of the accommodations. The rooms are in a separate building and are clearly popular with walkers heading in both directions. It was fine, just dated and very basic with a motel-like feel.
Pro tip: I would recommend pushing on a bit further and staying in Newcastle-upon-Tyne for the night so you have at least one night to experience the city and shorten your walk on the final day.
Day 8: Newburn to Wallsend (and on to Whitley Bay)
By the time my final day rolled around, I was feeling like a pro. My legs and back were stronger and my confidence was boosted. Let's face it, I was feeling a bit like a badass. But never underestimate how the last leg of a journey can always feel the longest.
What should have been 11 miles soon became closer to 15 with all my additional wandering. Hadrian's Wall Path officially ends at the Segedunum Roman Fort and Museum. However, to make it a true coast-to-coast experience, many people continue on (either on foot or by Metro) to South Shields on the coast of the North Sea. Instead, Celtic Trails had arranged for me to stay in the more scenic and touristy Whitley Bay on the coast.
Since I wasn't spending a night in Newcastle, I wanted to detour a bit off the path and explore the city, since it is such a popular tourist destination. I stopped for an early lunch at J.D. Wetherspoon Pub in Quayside. The Quayside District in the heart of Newcastle hugs the river and offers many places to eat and drink with views of the river and Newcastle's famous bridges.
After lunch I wandered through the historic district, stopping at Newcastle Castle, Black Gate, and the Cathedral. It was just a small taste of the city, but I didn't want to linger because I still had a ways to go to reach Wallsend, which ended up being even further than I thought.
Quayside in Newcastle was a delight with fun outdoor public spaces, beer gardens, and pubs. However, once you get past St. Peters Marina the path becomes a bit sketchier, following the river past warehouses, along graffiti-covered walls, and through patches of woods. This section of the path was very quiet, as anyone walking in the other direction had headed out long ago. It was also where I really started to feel the pain of "pounding the pavement" after walking so many miles on a paved path.
Needless to say, it was a big relief and joy to reach Segedunum Fort in Wallsend and to see that "I walked Hadrian's Wall Path" sign. The fort itself is somewhat unimpressive compared to what I'd seen along the way and I was so happy to finish that I didn't bother visiting. After taking pictures by the sign, I stopped at the Visitor Center to stamp my passport, use the bathroom, and buy my obligatory "I walked the edge of the empire" t-shirt.
While it would have been lovely to reach the end of the path and be greeted by friends and family, the "congratulations" from the staff at the Visitor Center sufficed. I took a moment to congratulate myself before walking a block over to the Metro station and hopping on board for the 10-minute ride to Whitley Bay.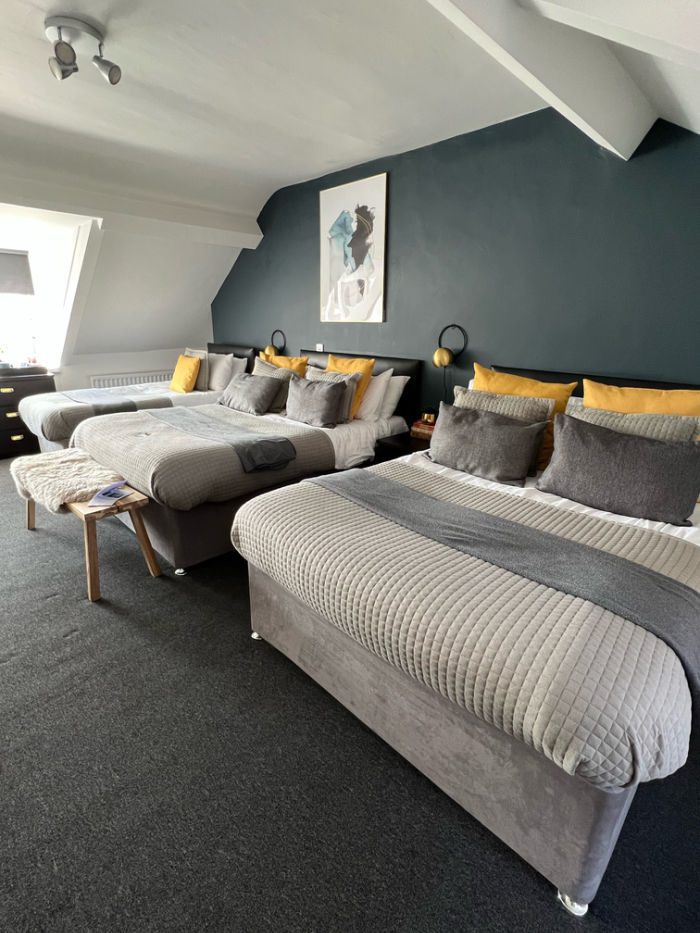 My accommodations that evening were at the lovely Metropolitan Guest House, the most stylish of all my accommodations along the way. Before checking in I walked over to Whitley Bay Beach and promenade to stick my toes in the North Sea. I was surprised to find such a beautiful, wide beach on the Northern coast of England.
My hosts at the Metropolitan Guest House were so welcoming and helpful, arranging a taxi transfer back to the Newcastle Train Station the following morning, so I didn't need to drag my luggage onto the Metro. My final dinner in England was also a pleasant surprise at Trenchers Whitley Bay. For a restaurant known for having been voted the Best Fish and Chips in England in years past, I expected something more casual than the elegant dining room in Spanish City with live piano music on Friday nights. I was able to enjoy my fish and scampi with a nice glass of wine and celebrate my accomplishment.
The following morning I headed back to Newcastle to catch the direct train up to Edinburgh, Scotland for a few days of fun exploration before flying home.
Pro tip: Newcastle is a popular spot for Hen and Stag parties (as noted by the guy in the giant blow-up penis costume out with friends in the middle of the day), so you may want to avoid staying on Friday or Saturday nights.
Tips for Walking Hadrian's Wall Path
I covered many of my tips in my things to know before walking Hadrian's Wall Path article, but if you aren't familiar with walking on National Trails in the United Kingdom, here are some tips that might help.
Know your Gates
When starting off, I confess that I sometimes needed a translator when reading the guidebook but I soon become more familiar with both the author's vernacular and the various types of gates I encountered on the trail. Here is a primer:
Kissing Gates – a double gate with a small section in between allowing just one person to pass through at a time. These typically aren't latched because the design prevents animals from crossing through.
Hand Gates – a standard farm gate with either a hook or pull lever to lock and unlock the gate. Always make sure the gate locks properly behind you to prevent animals from escaping.
Ladder Stiles – basically this is just a small step ladder up one side of a low wall and down the other side.
Step Stiles – these are typically steps built into the construction of the stone wall that juts out. These will typically have a post on top of the wall to hold onto for balance and to pull yourself up and over.
Watch out for Animals
On Hadrian's Wall Path (and many National Trails), you will encounter many farm animals along the path. Be sure to always close the gates behind you to avoid them escaping. The sheep will usually scurry away if you get too close, but sometimes the cows aren't too happy with you entering their space, especially if calves are involved. Heed the warning noises and don't cross between a mama and her baby. It is worth the extra mileage to take the long way around the field to avoid confrontations.
If cows are blocking a gate, I learned that you need to be loud and forceful in shooing them away to make your way through. I think they sense fear or hesitation as a dog would. The other thing to look out for are the rare signs that a bull is in the field. Keep your eyes peeled and keep your distance.
Finally, with all of those cows and sheep come plenty of cow pies. On my first day I did a dance trying to avoid every speck of manure but I soon learned it was futile and the best you can do is avoid anything that was too fresh. Make sure to bring shoe covers if you aren't wearing your hiking booth home. I also gave mine a good wash and wiped them clean with sanitizing wipes before returning home.
Pack Carefully
I'm going to write a full walking holiday packing list but make sure you give some thought to what you put in your day pack. At a minimum you will want:
Trekking poles
Rain gear
Snacks
Water hydration pack + water bottle
Hydration tablets
Tissues, wipes, sanitizer, and first aid
Maps, compass, GPS
Phone and backup battery charger
Sunglasses, sunscreen, and a hat
Moisturizer and lip balm (keep this handy!)
Small change for honor closets and toilets
Also, I cannot stress enough the importance of good, well-fitting footwear and hiking socks. I loved my La Sportiva waterproof hiking boots and could tell a BIG difference between the days I wore Darn Tough hiking socks and more generic hiking socks. I was also incredibly grateful each night to peel those boots and socks off and slide my feet into my Oofos recovery slides.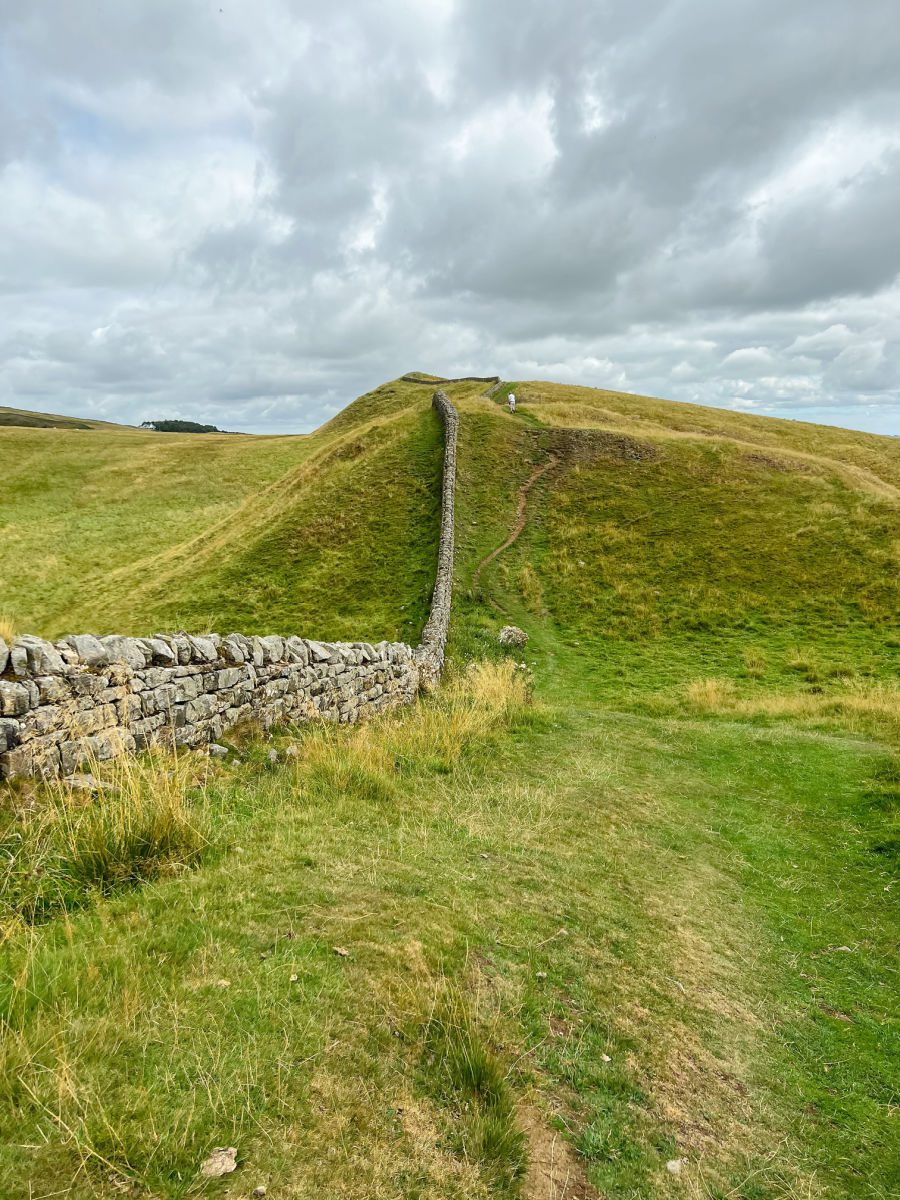 Carry Maps and a GPS
If you have read this far, you will see that I made my share of wrong turns along the path just by following the signposts or referring to my guidebook. And to be honest, the maps that come with the guidebook are so small that they aren't super helpful. I did carry my Garmin inReach (and should have used it more) in case of emergencies and occasionally used my phone to check Google Maps, which was not always good about showing the path but could help you find the next landmark or town. If you do use your phone, I would recommend keeping it on low battery mode when walking and only turning on the Maps app when necessary to preserve battery life.
Pay Attention
As you are walking it is easy to get lost in your own thoughts and miss a signpost pointing you in a new direction. I would encourage you to avoid using headphones/AirPods to listen to music or podcasts along the route and just stay present and in the moment without distractions.
Plot out your Meals and Bathroom Breaks
Each night I would read through my guidebook and itinerary about the upcoming walk section to familiarize myself with whatever services and attractions I might find along the way. This allowed me to strategize on where I was going to eat and when I might find the next bathroom.
I know regular hikers have no problem using the woods, but as a single walker without a lookout, walking through a lot of open fields, I didn't feel like this was a viable option most of the time. I would often go a bit off-path if it meant I could find a proper bathroom. I also had to limit my water intake early in the day, which wasn't great considering how much water I typically drink and how dehydrated I was during the first few days.
You will Always Walk Further than you Think
Whatever your itinerary says that you will walk each day, expect to always clock in more miles than expected. Whether it is exploring Roman Forts, taking detours, stopping into pubs, or walking to and from accommodations, the miles really add up.
There is also a big difference between walking 8-12 miles once and walking that far (or more!) every day for a week. Don't be surprised by the toll that can take on your body and feet (I still have a couple of bruised toenails a month later.)
I hope that this article gives you either the inspiration you need to plan a walking holiday or information that will be useful in planning and taking your own journey along Hadrian's Wall Path. If you do find it useful, please drop me a line — I'd love to know!