Wales may be known for its 641 castles, wide sand beaches, and the 870 miles of the Wales Coastal Path, but the real charm comes from its pretty villages. While Wales hasn't captured the worldwide imagination in the same way as nearby Scotland, this under-the-radar gem is filled with adorable villages and stunning scenery that make it well worth a visit (especially since finding affordable flights to the U.K. is pretty easy.)
Traveling around Wales you will find southern coastal towns trimmed with charming pastel-colored homes and northern villages lined with old stone buildings adorned with cheery flowerboxes. In Wales, there is even an Italianate-style village and the world's first "book town". If you are looking for charm, Wales has it in spades.
During my travels through Wales, I was captivated and charmed by all the little towns and took way too many photos of their colorful streets and historic buildings. Perhaps it is the "youthfulness" of my native United States and its lack of similar towns and architecture that made me find Wales so utterly charming.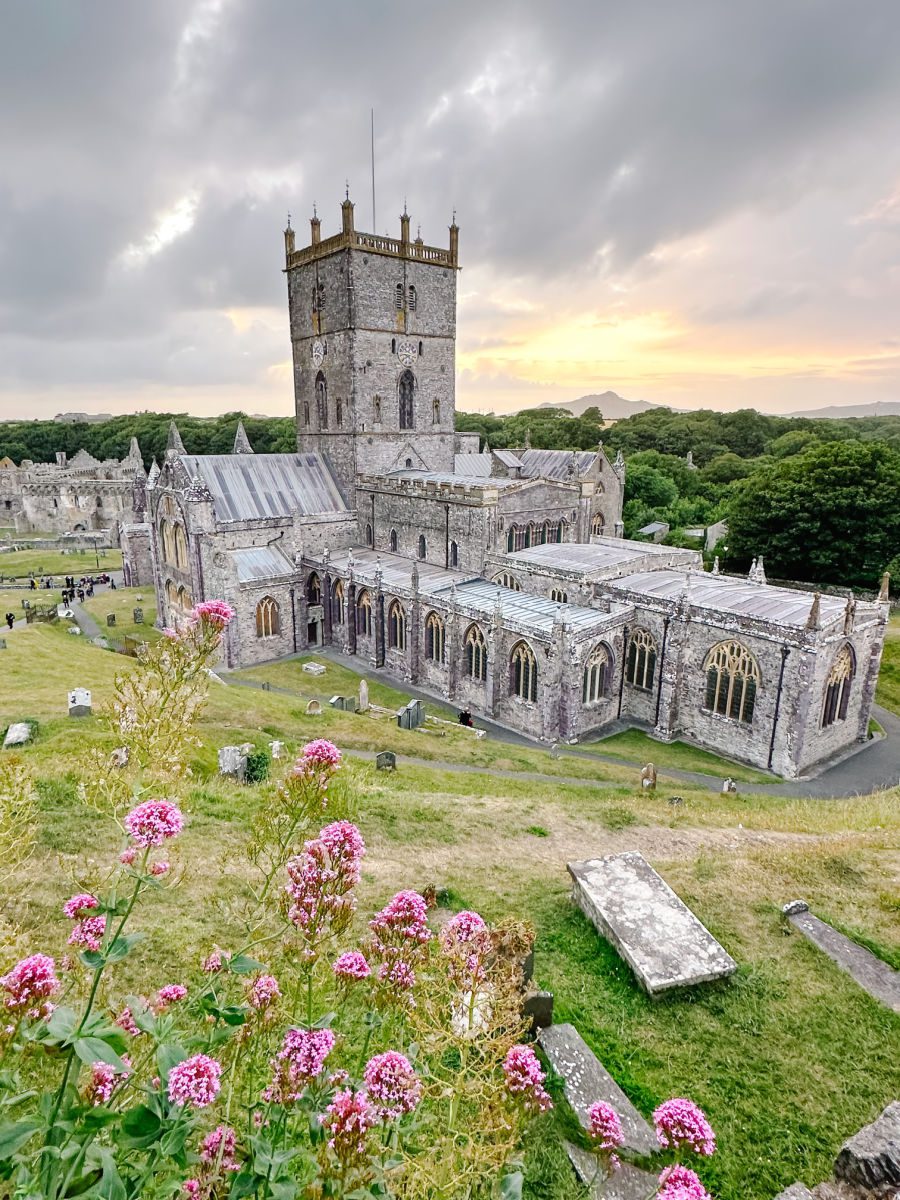 9 Prettiest Villages in Wales
If you are planning a Wales road trip, don't miss visiting these prettiest villages in Wales. I've ranked these cute towns in Wales based on my first impressions, but you can't go wrong with any on the list. These are scattered throughout Wales and you can see their location on the map below:
Note: This post contains affiliate links. If you click a link and make a purchase, I may receive a small commission at no cost to you. All opinions are my own based on my personal experience with these products.
Hay-on-Wye
Hay-on-Wye bills itself as the "World's First Book Town", so naturally it appeals to bibliophiles. But even those that don't love to read will appreciate the charming streets that are dotted with booksellers, boutiques, cafes, and, of course, a castle. Hay-on-Wye is located near the border with England, and only about one-and-a-half hours from the capital of Cardiff.
There are over 20 booksellers in town and some specialize in second-hand books or genres such as murder mysteries. A great time to visit is during the Saturday Market, which operates from early May to early October. Hay Castle also sponsors events, talks, and concerts throughout the year.
When you visit, be sure to stop into Richard Booth's Bookshop, with a large selection of secondhand and a well-curated display of new releases as well. Oil and Oak is a perfect spot to pick up a unique souvenir, with displays from over 40 local creatives, independent makers, creators, and artists. For lunch, the Cosy Cafe serves an excellent selection of savory or sweet crepes, along with locally-roasted coffee, juices, and an array of healthy bowls, all in a comfortable setting as the name suggests.
Where to stay: Baskerville Hall Hotel
Tenby
Tenby is a beautiful seaside town located about two hours west of Cardiff on the south Wales coast. It is surrounded by a medieval stone wall, but the pastel-painted Georgian townhouses overlooking the harbor make it warm and welcoming, full of coastal cheer. The town's sheltered harbor has made it an important site for centuries, but today it is a popular vacation town.
The wide, flat sand beaches with dramatic tidal changes attract swimmers and sunbathers. At the same time, history buffs can walk on the medieval walls and explore Palmerston Fort, located on the tidal St Catherine's Island. Families also enjoy seal-watching boat trips to Caldey Island, rib boat rides, and sunset cruises. Adventurers can take a hike along a section of the 186-mile Pembrokeshire Coast Path or a day spent on a fishing boat.
Downtown has many boutiques, restaurants, and a surprising number of ice cream shops. Just be sure to book your dinner reservations in advance and plan on eating on the early side. A few to consider are Plantagenet House, Billycan, and Tap and Tan at Tenby Brewing Company. Take a stroll down the colorful Sergeants Lane on your journey.
Where to stay: Imperial Hotel has an amazing location but is in desperate need of a complete renovation. For something more stylish and up-to-date, try the Broadmead Boutique B&B, which is just a short walk outside of the downtown area.
St. Davids
St. Davids is Britain's Smallest Town, with only 1,800 residents, and it is also one of the prettiest villages in Wales. Located in Pembrokeshire, St. Davids has been a pilgrimage location for centuries because of St. Davids Cathedral, home to the patron saint of Wales. It is said that back in the day, two pilgrimages to St. Davids equaled one to Rome. Given the number of visitors drawn to the impressive cathedral, you would expect the town to have grown to be much larger, but I'm glad it has stayed as small and charming as can be.
With its position on the Pembrokeshire Coast, this village is also perfect for walkers looking to explore a beautiful section of the Pembrokeshire Coast Path. The walk from Caerfai Beach to Porthclais Harbor takes about 45 minutes and brings you past the remains of St. Non's Chapel and Well, honoring the mother of St. David.
Another lovely walk is from Porthgain to Abereiddy Beach (or vice versa). The cliffs along this section are stunning and just before you reach Abereiddy Beach and the carpark, you can see the Blue Lagoon, a popular local swimming hole and coasteering location made from a former quarry. Before or after your walk, stop for lunch at The Sloop or The Shed in Porthgain.
Depending on when you visit, you can take a boat trip to Ramsey or other nearby islands to see puffins, gannets, porpoises, dolphins, and whales with Voyages of Discovery. Don't worry if you prefer to stay on land, there are many beautiful beaches nearby, including the wide stretch of Whitesands Beach. The sand is more yellow than white, but this flat, firm, and wide stretch of sand is perfect for a beach stroll or swim.
While in town, visit one of the historic pubs, such as The Bishops. For a more modern take on local cuisine, try St. David's Gin & Kitchen instead.
Where to stay: For a modern, full-service hotel, try the Twr Y Felin Hotel, located just a very short walk to town and the beach. For a longer stay, consider booking a vacation cottage instead.
Caernarfon
Caernarfon is located on the northwest coast, across from Anglesey Island. This small town of just under 10,000 people is best known for the Caernarfon Castle. The Castle is a medieval fortress that was built by Edward I in the 13th century and is one of the better castles to visit in Wales. It is set on the banks of the River Seiont and you can get great views of the castle from just across the river. Inside, you can visit the Royal Welch Fusiliers Regimental Museum and an exhibition about the Prince of Wales.
This is also just a cute town to explore with cheerful shopping streets and the colorful Caernarfon Harbor. You can even find the smallest bar in Wales in Caernarfon — you will soon find that the towns in Wales love to be known for the smallest/largest/longest of something! For the best views, take a boat tour with Menai Strait Cruises for views of the Caernarfon Castle, the Snowdonia mountain range, and the Isle of Anglesey.
A great day trip is to Anglesey Island for a walk on Traeth Llanddwyn (beach) and over to the lighthouse and Celtic cross on Llanddwyn Island — just watch out for the tide schedule so you don't get stuck out there!
Where to Stay: Plas Dinas Country House and its Gunroom Restaurant have both received numerous awards.
Conwy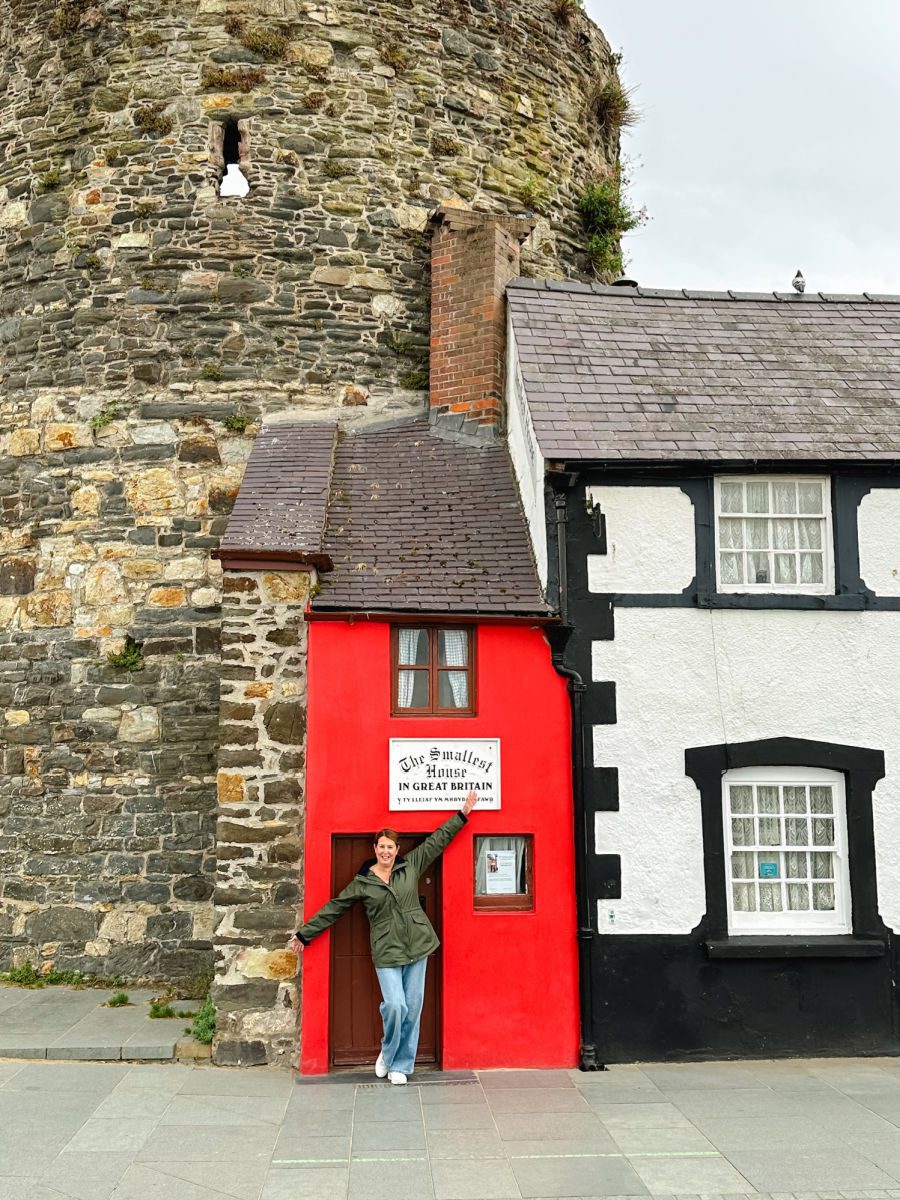 Conwy was a perfect introduction to Welsh culture on my recent girls' trip through Wales. This small town has everything you expect from a Welsh town. A castle, medieval walls, cute shops, a ridiculous number of bakeries (and wow do the Welsh love giant macaroons) and fish and chips shops, and, of course, a claim to fame. Conwy's notable attraction is the smallest house in Britain (see above). You can visit the inside during the day, but as you can imagine there isn't much to see, it is more about the photo opportunity outside.
A popular day trip destination, Conwy can get a bit sleepy at night, so be sure to book your dinner reservations in advance at the handful of restaurants, or stop into a pub or takeaway shop in the early evening. While in town, take a walk along the castle walls — just keep in mind that the hours are limited (about 10 am to 5:30 pm when we visited), as well as a stroll along the harbor.
I'd recommend at least one dinner at The Erskine Arms and order the homemade bread with honey butter. Boutique lovers will also enjoy the affordable and accessible fashions at Sage. Nearby, you can plan day trips to Snowdonia National Park and some of the other pretty villages on this list if you would rather set up a home base instead of hopping around. From Conwy Harbor, you can also take sightseeing boat tours to see wildlife and more of the coastline.
Where to Stay: The Erskine Arms has a fabulous location right in town and this small inn offers nicely appointed rooms and a great restaurant and bar.
Criccieth
Criccieth is a seaside town in Northwest Wales, on the southern side of the Llŷn Peninsula. It has the best of both worlds, with colorfully-painted houses, beautiful beaches, and also a Welsh-built castle. Known as the "Pearl of Wales on the Shores of Snowdonia", Criccieth offers easy access to Snowdonia National Park and many of the other towns including Caernarfon, Portmeirion, and Harlech (which may have made this list of prettiest villages in Wales if we had more time to explore it beyond the castle.)
The castle was built in the early 13th century by Llywelyn the Great, who ruled Wales for over 40 years. It was later captured by Edward I and then sacked by the Welsh in 1404. The remains aren't as impressive as some of the other castle towns on this list, but its position on a hill above the sea makes for a dramatic photo.
In town you can find a handful of pubs and cafes, as well as a cart serving hand-crafted gelato by the waterfront and it is home to the famous Cadwaladers ice cream. It is also a town where the majority of residents can still speak Welsh.
Where to Stay: Awel Mor offers great coastal views overlooking a rocky beach and is a short walk into the town center.
Beddgelert
Beddgelert is a picturesque village located in Snowdonia, making it a perfect stopping place for hikers, walkers, rock climbers, and adventurers. Like so many villages in the region, Beddgelert features charming stone-built buildings, showcasing the region's history of stone quarrying and mining.
This village is quite small, so it may be better for a quick stop and stroll, versus an overnight, unless you are looking for easy access to Snowdonia. While tiny, Beddgelert is quite beautiful with a handful of cute shops and artisan studios. If you are taking a road trip, it is also a good place to stretch your legs with a walk along the river.
Nearby, you can also book tickets on the Snowdonia Mountain Railway or spend a day enjoying the ziplines at Zip World Velocity (with the world's fastest zipline), the underground Zip World Caverns, and Zip World Titan, with the largest zip zone in Europe.
Where to Stay: Plas Tan y Graig Bed and Breakfast is located overlooking the rivers Colwyn and Glaslyn and is just a short walk from the local Welsh Highland Railway station.
Betws-y-Coed
Betws-y-Coed is located not far from Conwy and serves as the gateway to Snowdonia National Park. This village feels like a mountain town popular with hikers, offering plenty of outdoor gear shops and lines of millennials and Gen Z adventurers gathering in front of the pizza restaurant. This town is a stop on the railway and the station makes for a cute photo opportunity.
Nearby you will find hiking, ziplining, mountain biking, rock climbing, fishing, and the Snowdonia Mountain Railway.
Where to Stay: Royal Oak Hotel is located in town in a former coaching inn.
Portmeirion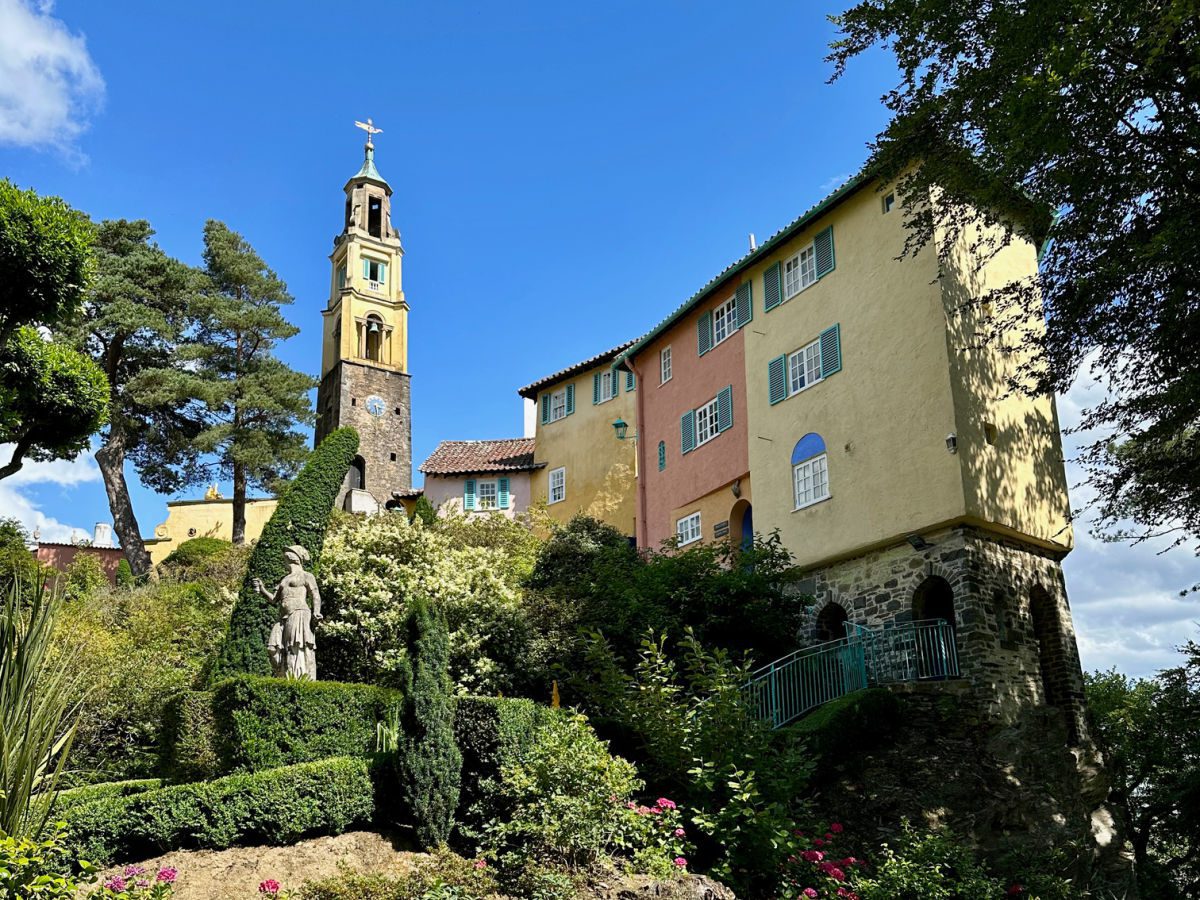 I hesitated on whether or not to include Portmeirion, as it isn't a traditional Welsh village. Yet, it is someplace so unique that it is worth a visit, even if it does require purchasing a day pass. But let me back up and explain how the Italianate town of Portmeirion came to be.
Portmeirion Village was built by Welsh architect Clough Williams-Ellis from 1925 to 1973 as a way to showcase different styles of architecture and highlight the art of architecture. While it is called an Italianate village, and parts of it certainly remind one of Portofino, Portmeirion is actually a mix of architectural styles. Williams-Ellis' main goal was to show how to enhance a naturally beautiful location through its thoughtful development.
Throughout the property, if you look closely or follow the self-guided tour, you will notice little tricks of the eye — from trompe-l'œil paintings to cleverly positioned archways and windows designed to capture your attention. Portmeirion is also known for its beautiful gardens. The site has a unique micro climate, keeping it warm enough for the hydrangeas that line the paths to bloom through November!
Access to Portmeirion does require a day pass, unless you are staying at the main hotel or one of the guest cottages on site. Tickets can be booked online for a specific time slot and cost £18 for an adult. The day pass provides access to the village, where you are welcome to browse at the shops, eat at the restaurants, or just explore the village architecture and gardens. It is honestly a bit odd to pay an entrance fee and it gives the village a bit of a Disneyland feel. So I'd only suggest going if you enjoy architecture and gardens, or are looking for something to do while in the area.
But it is quite pretty, and that is why I put it on the list.
Bonus:
Llanfairpwllgwyngyllgogerychwyrndrobwllllantysiliogogogoch
Yes, that is right. The town name is 58 letters long (51 in Welsh). There isn't much to see or do in Llanfairpwllgwyngyllgogerychwyrndrobwllllantysiliogogogoch, but with the longest name in the United Kingdom, people purposefully flock to it when visiting Conwy or Caernarfon just for the photo opportunity. Wonder how to pronounce it? I can't help you but I can tell you what it means: Saint Mary's Church in the hollow of the white hazel near a rapid whirlpool and the Church of St. Tysilio of the red cave.
The town was originally called Llanfair PG, but the longer name was bestowed in the 1850s to attract railway tourists. Therefore, it is only fitting to go and take a photo at the rail station.
Planning a Trip to the U.K.? Read More: