From the minute I stepped off the train for my 2 days in Edinburgh, Scotland and made my way through the misty rain toward my hotel, I knew I was going to love this charming "Athens of the North." I was immediately greeted by historic monuments, views of Edinburgh Castle towering over the city, and the lush greenery of Princes Street Gardens down below. Taking a deep breath to soak in the moment, I let the joy wash over me and my smile shine through. Edinburgh was exactly what I had hoped for and more.
Despite arriving on the heels of my 84-mile walk across England on the Hadrian's Wall Path, I was buzzing with excitement to set out and explore this city that I've dreamed of visiting for years. The city's positive vibes energized me through its enthusiastic street performers, lively pubs, outdoor beer gardens and wine terraces, and the people of so many nationalities filling the streets in that perfect "busy but not overcrowded" balance that is hard to strike these days in heavily-touristed cities.
I was traveling solo and felt energized to wander at will, explore whatever my heart desired, and follow a 2 day Edinburgh itinerary that was organized to hit all the highlights without feeling overly rigid. Of course, I did immediately call my husband, the Scotch lover in my family, to tell him we had to come back and "do" Edinburgh and Scotland together another time, because I knew one visit wouldn't be enough.
If you have also dreamed of a trip to Scotland, follow this full two day Edinburgh itinerary for suggestions on how to get to Edinburgh, how to get around Edinburgh, where to stay in Edinburgh, and a step-by-step 2 day Edinburgh itinerary — plus some recommendations on where to eat or have high tea!
If you are staying longer, you can check out this Scotland itinerary and other things to do in Edinburgh.
How to Get to Edinburgh, Scotland
To get to Edinburgh, Scotland from the United States, you can take a direct flight to Edinburgh Airport from several major cities, including New York, Boston, and Chicago. Airlines that offer direct flights from the United States to Edinburgh include Delta, American Airlines, and United. There are also several indirect flights available from other cities in the United States with connecting flights in cities such as London, Dublin, and Amsterdam. You may find that connecting in one of these cities is cheaper than a direct flight to Edinburgh from the USA.
To get to Edinburgh from England, you can take a direct flight from several major cities including London, Manchester, and Birmingham. Alternatively, you can also take the train from London King's Cross Station to Edinburgh Waverley Station, which takes around 4.5 hours. There are also trains available from other cities in England, including Manchester, Newcastle, and Glasgow. When I visited, I ended my walking holiday near Newcastle and was able to take an express train from Newcastle to Edinburgh in under one hour.
To get to Edinburgh from Europe, there are direct flights available from several cities including Amsterdam, Paris, and Dublin. Airlines that offer direct flights from Europe to Edinburgh include KLM, Air France, and Aer Lingus. There are also indirect flights available from other cities in Europe with connecting flights in cities such as London and Dublin.
Leaving Edinburgh to return to the USA, I ended up flying to London Heathrow and flying home to Boston from there, as it was much less expensive, although it did require me overnighting near the Heathrow Airport.
Pro tip: One important tip I learned was that Edinburgh Airport offers a fastTRACK security service, which allows you to skip the long general security line and go through a shorter queue (sort of like what we are used to in the USA with TSA Pre check.) This is a paid service and it also works for arrivals to access a shorter Passport Control queue. You can purchase fastTRACK online on the day of travel, but you need to use the estimated time you will be going through security and NOT the time of your flight. Just to note: I arrived a bit before the time I had booked because baggage check was very fast and easy, but they didn't make me wait or give me a hard time.
Edinburgh Airport is fairly small and easy to navigate. If you do have extra time at the airport, they offer three airport lounges including The Aspire, No1 and British Airways lounges. The Aspire is available to Priority Pass members (you get free Priority Pass membership as an AmEx Platinum cardholder.) When I went, the lounge was not at all crowded and offered great service and decent food.
Getting Around Edinburgh
There are several options for getting from Edinburgh Airport to the city center. One option is to take the tram, which runs from the airport to the city center every 7-8 minutes. The tram stops at several points in the city center, including St Andrew Square and Waverley Bridge, and the journey takes around 30 minutes. I found the tram to be extremely easy. It was only a 5 minute walk from my hotel to the closest tram stop, the ticket machine is easy to figure out, and the tram is simple and spacious from bringing your luggage on board.
Another option is to take the bus, with several different lines available depending on your destination in the city. The bus stop is located outside the airport terminal and tickets can be purchased from the driver or at a ticket machine.
Once you are in the city center, there are several options for getting around, including the bus, tram, and taxi. There are several bus and tram lines that cover different areas of the city and tickets can be purchased from the driver or at a ticket machine. Taxis can be hailed on the street or booked in advance, and Uber is also available in Edinburgh.
Of course, I found the easiest option was walking. Edinburgh is a relatively compact and small city, with most main attractions within a 20-30 minute walk of each other. Just keep in mind that the Old Town, which is home to many of the city's historic landmarks and tourist attractions, is quite hilly, and there are many cobblestone streets. Wearing comfortable walking shoes is important, but you will enjoy seeing the sights more by foot where you can really enjoy the architecture and vibe of the city.
Where to Stay in Edinburgh
Note: This post contains affiliate links. If you click a link and make a purchase, I may receive a small commission at no cost to you. All opinions are my own based on my personal experience with these products.
There are several great areas to stay in Edinburgh, depending on your preferences and the purpose of your visit. The Old Town, which is home to many of the city's historic landmarks and tourist attractions, is a popular choice for travelers looking to be in the heart of the action. Old Town is home to the Royal Mile, which is the main street that runs through the city and connects Edinburgh Castle and Holyrood Palace.
The New Town, which is home to many of the city's upscale shops and restaurants, as well as several parks and green spaces, is also popular. Other popular areas to stay in Edinburgh include the West End, which is home to the University of Edinburgh and has a more laid-back atmosphere, and the Southside, which is home to many of the city's cultural attractions and has a more bohemian vibe.
Personally, I chose to stay in New Town because it wasn't quite as busy and touristy as Old Town, but I was still within easy walking distance to everything that I wanted to see and plenty of great restaurants. I chose to stay at the Eden Locke Hotel, which is a stylish and modern hotel that has some "apart-hotel" suite options, with small kitchens and living/dining areas. The hotel is a short walk from Princes Street, which is the main shopping street in New Town, and is also close to several bus and tram lines, making it easy to get around the city.
I really loved my stay at the Eden Locke and the price was perfect compared to some of the very pricey hotels in the area. However, there are only two drawbacks. They do not have central air-conditioning so if you are visiting when it is hot, that is something to keep in mind. Even after opening the windows by suite on the ground floor was quite warm and they were kind enough to bring in a portable AC unit, which needs to have an exhaust hose that goes out the window. It was doable but still hard to get the sleeping area cool, even using a fan to blow the cooler air in.
Second, this area is popular on the weekends for those going out and having a good time. If you have the windows open, it might be a bit loud if you go to bed early or you are traveling with kids. It quieted down by midnight on Saturday so it didn't end up being a problem for me.
2 Days in Edinburgh Itinerary
This itinerary assumes that you have two fairly full days to spend in Edinburgh. I actually arrived around noon on my first day and stayed two nights, leaving around 3pm on my third day, although some of that day was spent catching up with a friend and having high tea. So you can easily squeeze the following into two days in Edinburgh.
If you want to spend more time in Scotland, get a 10+ day Scotland itinerary with over 40 detailed pages of day-by-day instructions, daily schedules, maps, and tips.
Walking Route from Google My Maps
Day 1: New Town, Dean's Village, and Old Town Highlights
Morning
If you are staying in New Town, start off by walking past Charlotte Square and over to St. Bernard's Well, situated in a park on the Waters of Leith river. This 18th-century Greco-Roman structure housed a well from a natural spring was thought to have medicinal healing properties.
Continue walking through the park along the river about five minutes until you arrive at Dean Village. It is hard to believe that this quaint little village is just minutes from the center of Edinburgh. You can take some beautiful photos upstream from the Bells Brae Bridge on the Dean Path and then follow the narrow Hawthornbank Lane as it curves around past the colorful homes.
Then cross over the Water of Leith Walkway into Dean Village Damside and wander through this small, quiet, residential village. It doesn't take long to explore but it is worth visiting for the beautiful photos if nothing else.
When you leave, walk uphill on Bells Brae back into New Town. If you are getting hungry for lunch, there are plenty of options on this side of George Street or the many pubs along Rose Street in New Town. A bit further, locals recommended I try Urban Angel, a cafe using locally-sourced ingredients for breakfast and lunch. Scotch lovers might also want to visit the Johnnie Walker Princes Street location for a Journey of Flavor Tour.
Afternoon
Next it is time to make your way over to Old Town. Walk along Princes Street and enter the Princes Street Gardens to see the Ross Fountain and beautiful views looking up at the Edinburgh Castle. If you then walk past the back of St. Cuthbert's, you can see the statue of Bum the Dog and take a stroll through the St. Cuthbert's Kirkyard (graveyard) for a look at the historic grave markers resting in the shadow of Edinburgh Castle.
Exit Princes Street Gardens by the church and walk uphill on King Stable's Road toward Old Town and Grassmarket Square. This lively square is surrounding by pubs and shops and often you will find a market featuring artisans and food vendors in the middle.
For a great view of Edinburgh Castle, walk up the stairs to the Vennel Viewpoint. I found the best photo spot is about two-thirds of the way up, but if you do continue on you will see the Flodden Wall, which is part of the wall built around the city in the 1500s to protect it from English invasion.
Grassmarket is a fun place to people watch and go shopping. If you are looking for elegant, high-quality Scottish woolens and cashmere, pop into Hawico. You will then want to take photos of the colorful shops and buildings on Bow Street that curves into Victoria Street. I expected all of the shops along Victoria Street to be super-cheesy and tourist traps but many of them actually carry nice quality goods. There are many places to buy authentic Harris Tweed products, including The Islander UK flagship store (I get SO MANY compliments on a purse that I bought here.)
You will definitely find a few kitschy places, like the Museum Context Harry Potter Souvenir Store or The Enchanted Gallery gift shop. For a view of Victoria Street from above, climb up one of staircases to the restaurants with balconies overlooking the street.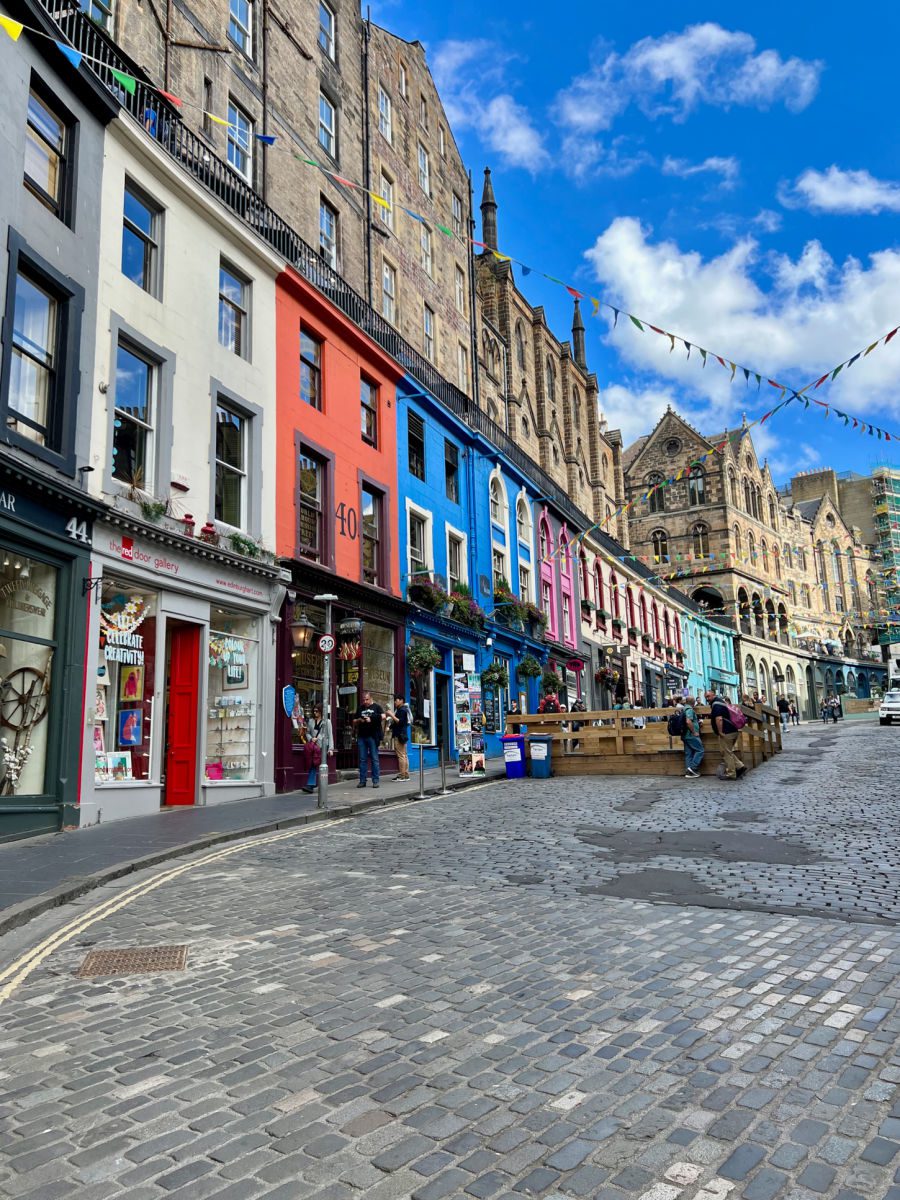 When you get to the top of Victoria Street, make a right and continue down to Greyfriar's Kirkyard. You will pass by the National Library of Scotland and the National Museum of Scotland, if you have extra time to stop in to either of these attractions (The National Museum is free).
Greyfriar's Kirkyard is a cemetery is known for its association with several notable figures, including the poet Robert Burns and the philosopher David Hume. When you enter the graveyard, stop and see the Greyfriars Bobby statue, which is dedicated to a loyal dog who is said to have guarded his owner's grave for 14 years. There are several interesting things to see at Greyfriar's Kirkyard, including the graves of notable figures such as William Smellie, a naturalist and editor, and John Macarthur, a pioneering criminologist.
J.K. Rowling, author of the Harry Potter series, has said that Greyfriar's Kirkyard as an inspiration for some of the names and characters in her books. In particular, she has said that the grave of Thomas Riddell, which is located in the cemetery, inspired the name of the character Lord Voldemort. She has also said that the tombstone of William McGonagall, a poet and performer, inspired the name of the character Professor McGonagall.
If you aren't completely tuckered out at that point, you could consider hiking up to the top of Arthur's Seat for magnificent pre-sunset views across the city. Located in Holyrood Park, this is a popular hiking hill for tourists and locals but it typically takes 1-2 hours to reach the summit. Since I had just finished walking across England, I decided I didn't need any more hiking. The five to ten miles I clocked just wandering around the city were plenty for me.
To reach the summit of Arthur's Seat, you can follow one of several marked trails that start from different points in the park. The trails range in difficulty from easy to moderate. Along the way, you will pass through a variety of landscapes, including grassy meadows, rocky cliffs, and wooded areas. At the top of the hill, you will be rewarded with panoramic views of Edinburgh and the surrounding countryside.
Otherwise, you can cut back to New Town past the train station and check out the Walter Scott Memorial along the way.
Evening
Edinburgh has a thriving restaurant scene, with the highest restaurant density in the United Kingdom — even more than London! The city is known for its seafood, but there are several restaurants that specialize in Scottish traditional dishes such as haggis, Cullen skink, and Arbroath smokies. There are also many international restaurants in the city, including Italian, Indian, and Chinese, as well as vegetarian and vegan options.
After days of eating in English pubs, I was happy to enjoy some international cuisines and stopped for Thai for lunch in New Town and lined up early for dinner at Dishoom, Bombay-inspired Indian cuisine that I first discovered in London. Dishoom doesn't take dinner reservations for parties under six so be prepared to wait, but trust me that the food is worth it — I'm obsessed with the black daal.
Edinburgh also has a vibrant nightlife scene. In addition to traditional pubs, there are many cocktail bars, especially in New Town. To be honest, the only thing I didn't love about Edinburgh were the number of drunken stag and hen parties that I ran across on Saturday evening. Luckily, by the time I emerged from Dishoom they seem to have all passed out and the city was a little quieter and Sunday evening was very peaceful. Some of the more popular cocktail bars in Edinburgh include Panda & Sons, which is known for its speakeasy-style atmosphere and creative cocktails, and the Bon Vivant, which is a popular destination for craft cocktails and fine dining. Right near my hotel, Slug & Lettuce, Candy Bar & Diner, and Tiger Lily were all hopping!
Harry Potter fans may want to consider signing up for a potions class at The Cauldron. These classes are typically held in a themed setting (with borrowed cloaks and wands) and you learn how to mix your own potions and cocktails in a fun environment.
Day 2: The Royal Mile
On your second day in Edinburgh, you will want to get an early start and wear comfortable shoes because it is time to explore the Royal Mile and all of its attractions. The Royal Mile runs from Edinburgh Castle to Holyrood Palace. It is named for its length, which is approximately one mile (1.6 kilometers), but it is also known for its rich history, cultural significance, and vibrant atmosphere.
The Royal Mile is home to many of the city's most famous landmarks and tourist attractions, including St. Giles' Cathedral, the Scottish Parliament, and the Museum of Edinburgh. It is also home to many shops, restaurants, and pubs, and it is a popular spot for street performers and musicians. Even if you only had one day in Edinburgh, the Royal Mile is the way to spend it.
Morning
I'd recommend starting off at the Edinburgh Castle and pre-booking timed entry tickets for the first entrance of the day. This will allow you time to explore without the throngs and pass by the crowds streaming in on your way out. The only downside is that you will miss the firing of the One O'clock Gun.
If you are going during the summer months, especially August, you may want to head straight to the Crown Jewels display as that is the only place you need to queue. Other highlights include the Great Hall, which was used for banquets and ceremonies, and the Royal Palace, which was used as the residence of the Scottish kings and queens. You can also visit the War Memorial and the National War Museum, which are located within the castle grounds and contain exhibits about the history of Scotland and its military.
Generally, I'd recommend booking a tour of the castle to get more out of the experience, but if you purchase the entry ticket with the audio guide, you can at least get a general history and overview of the castle and its different spaces. Plan on spending at least an hour on a self-guided visit to the Edinburgh Castle, but more if you are visiting the National War Museum.
Once you finish at the Castle, head down the Royal Mile. Your next stop will be at one of three attractions (or all three if you are ambitious.) One of the most popular attractions is the Scotch Whisky Experience. The experience includes a tour of the whisky-making process, as well as tastings and educational sessions led by whisky experts.
During the tour, you earn about the history of whisky-making in Scotland and the different regions that produce Scotch whisky and it concludes with a tasting of a variety of Scotch whiskies, during which you will learn about the different flavors and aromas of different whiskies and how to taste and appreciate them. Since I'm not a whisky fan, I skipped this one but if I return with my Scotch-appreciating husband, it will certainly be on our list.
Just across the street is the more family-friendly Camera Obscura. A camera obscura is a device that projects an image of the surrounding area onto a surface using lenses and mirrors. Visitors can tour the building and see the camera obscura in action, as well as explore a number of interactive exhibits about science and light. You need to pre-purchase timed-entry tickets in advance. I had actually purchased tickets to visit the Camera Obscura on the morning of my third day in Edinburgh, but ended up sleeping in and missing my appointment time so I'll have to hit that on a return trip as well.
One thing I did make time for as I started down the Royal Mile was a stop into the Tartan Weaving Mill and Exhibition. The lower floors are a commercial weaving mill and you can view the work in action from the factory shop. While the store does have plenty of your typical souvenirs, they also sell high-quality items, including the scarves, sweaters, hats, kilts, blankets, and more from wool woven on site. I found a great new raincoat and hat that were perfect for the misty and sometimes rainy weather in Edinburgh.
As you continue down Castlehill to Lawnmarket, be sure to take some of the side alleyways, called Closes (you will learn more about those later) to explore some of the historic streets and buildings in this area. There are also a number of decent shops along this stretch, mixed in with plenty of tourist shops.
If you have an interest, you can stop into The Writer's Museum, which celebrates the lives of three Scottish authors – Robert Burns, Sir Walter Scott, and Robert Louis Stevenson.
Your next stop along the Royal Mile should be at St. Giles Cathedral. You may have heard of St. Giles Cathedral as a resting spot and host to a service for Queen Elizabeth II when she passed. I actually visited Edinburgh just a few days before she passed away so it was quite surreal afterward to see the royal funeral services and procession in the areas I had just walked through.
St. Giles' Cathedral, is named for the patron saint of Edinburgh and is also known for its beautiful architecture and rich history, which dates back to the 12th century. The cathedral is a fine example of Gothic architecture and is worth a quick stroll through to see the Great East Window, which is one of the largest and most beautiful stained glass windows in the world, and the Thistle Chapel. If you have more time, you can also see the Tomb of the Unknown Warrior, the Mercat Cross, and other works of art.
Afternoon
After a busy morning, it is then time to relax for a bit and enjoy High Tea at The Colonades at the Signet Library. While pricey, the setting is stunning and a perfect fit to your day on the Royal Mile. While in Edinburgh, I also had high tea at Peacock Alley at the Waldorf Astoria hotel, but I will say that I enjoyed the food, tea, and atmosphere at The Colonades better so I thought it was worth the price for the experience (plus I just love high tea!)
Book a noon tea time to ensure you have plenty of time to arrive at your next destination for a tour of The Real Mary King's Close. (Don't worry, it is pretty much right across the street but you need to arrive 10 minutes before your tour time — I'd suggest booking a 2pm tour.) Everyone I asked said that if you take one tour in Edinburgh, it should be of The Real Mary King's Close. I'm not sure I would go that far as to say it is a must, but it was a cool experience to get to see a part of Edinburgh you simply could not get to on your own and learn a good deal of history along the way.
During the tour, you visit a series of underground streets and tenements that were built in the 17th century and are named after Mary King, a prominent member of the Edinburgh community. As the city was built up, these streets were covered and became underground. During the tour, you see it as it would have looked in the 17th century and get to learn about the daily lives of the people who lived and worked there. The rooms can get a bit stuffy so it isn't great for people who are claustrophobic or have mobility issues as there are a lot of stairs and uneven ground.
After the one-hour tour, you have about an hour to wander down the remainder of the Royal Mile to reach the Palace of Holyroodhouse before the last entry at 4:30 pm. You can purchase tickets in advance, but luckily they have a flexible entry time. Before you arrive, you can take a stroll along Cockburn Street and enjoy the many buskers and street performers you will encounter along the Royal Mile.
Holyroodhouse Palace is where King Charles will reside when he is in Edinburgh, and was a favorite residence of the late Queen Elizabeth. You can tour the palace (with the help of an audio guide) and see the State Apartments, which are a series of grand and ornate rooms that were used for official ceremonies and state occasions. I was surprised by how much you can see at Holyroodhouse, compared to similar tours of Kensington Palace. I was especially intrigued to see the bedroom where Mary, Queen of Scots was sleeping when she was abducted and carted off to England.
The palace is also home to the Holyrood Abbey, which is a ruined abbey that dates back to the 12th century, and is a beautiful example of Gothic architecture (closed for restoration when I visited). You can also walk through the lovely gardens and Holyrood Park, as well as visit the Royal Gallery, which displays a collection of paintings and other works of art, and the Queen's Gallery, which exhibits a range of temporary exhibitions.
Even though it is only the Royal Mile, you are probably going to be really tired by this point. However, if you can summon the energy, try to walk up Calton Road and through the New Calton Burial Ground to the Burns Monument, dedicated to Scotland's national bard Robert Burns.
From there, climb Calton Hill for one of the most famous lookouts in Edinburgh, with panoramic views over the city. The walk up takes about 20 minutes of a fairly steep climb. At the top, you will find the Nelson Monument (temporarily closed), which commemorates the victory and death of Lord Admiral Nelson at the Battle of Trafaglar. This is a great spot to see the sunset, although I'll admit that I didn't climb all the way up Calton Hill because I needed to get back to my hotel in time to shower and change for dinner (so book a later reservation!)
Evening
On my last night in Edinburgh, I had originally booked a table at Tiger Lily near my hotel, but the night before it was a huge bar scene and as a tired, solo traveler, that wasn't what I was in the mood for. Especially when that morning I saw a discarded high heel shoe left by the curb outside. It ended up that it would have been fine because it was perfectly quiet on Sunday night, but I had already rebooked at an Italian restaurant by St. Andrew's Square called Amarone.
Again, I was tired of British food and not eager to try haggis or other Scottish fare, so I went with an old favorite and found it quite good.
The next morning I did a little more exploring, along with some shopping along George Street (so much better than Princes Street in my opinion) before meeting a friend for tea and catching the tram to the airport. That little taste of Scotland was enough to make me crave a much longer trip that also includes the Scottish countryside, but I'll have to save that for another time.
Frequently Asked Questions
What is the best time to visit Edinburgh?
If you are looking to experience the city's cultural and festival scene, then the summer months of June to August are a great time to visit. During this time, Edinburgh is home to a range of festivals, including the Edinburgh Festival Fringe, which is the largest arts festival in the world, and the Royal Edinburgh Military Tattoo, which is a spectacular military parade and concert. However, the summer months are also the busiest time of year for tourism in Edinburgh, especially during August, so you will encounter large crowds, higher prices, and need to book your accommodations and tours in advance.

If you prefer a quieter and more relaxed experience, then the spring and fall months of April to May and September to October are a good time to visit. During these months, the city is generally less crowded, and the weather is generally pleasant, with mild temperatures and occasional rain showers. When I visited in early September, the city felt busy but not crowded and the weather was very pleasant, even during the times that it did rain.
Is two days in Edinburgh enough?
Yes, two days in Edinburgh is the perfect amount to see the city highlights. If you want to spend more time exploring museums, taking tours, or doing day trips, then I would recommend staying at least three to five days.
How long should you spend in Edinburgh?
Two days in Edinburgh is the ideal amount of time to see the main city highlights. If you want a more relaxed visit, that includes a few museums or specialty tours, then I would recommend at least three days or more. Many people choose to take day trips into the countryside from Edinburgh, but you are better off starting in Edinburgh and then staying elsewhere.