Wales is a tiny country, taking up about just as much space as the state of New Jersey. But for a small country, this part of the United Kingdom packs a big punch. And it isn't the sort of place where you can fly in for a quick visit to the capital city of Cardiff before moving on to London and think you have "done" Wales. To be honest, Cardiff isn't even the best part of Wales, it is more about the pretty villages and beautiful coastline. No, to experience Wales, you really need to plan a Wales road trip.
This summer, my friends and I planned a girls' trip to the United Kingdom, splitting our time between Scotland and Wales, with a quick stop in the Lakes District of England in between. While I was really looking forward to returning to Edinburgh and taking our Scotland road trip, I wasn't quite sure what to expect from Wales. But sometimes, the best travel experiences come when you aren't expecting them.
If you are looking for an under-rated travel destination that offers history, natural scenery, quaint towns, and oodles of charm, consider planning a Wales road trip. Not only is Wales much less crowded than places like Scotland or Ireland, but it is also affordable. Plus it makes for a great summer destination to avoid the sweltering heatwaves in southern Europe.
How Long Should you Spend in Wales?
Before visiting, I figured you could "do" Wales in just a couple of days. However, after spending a week in Wales and not fitting in everything that I wanted to do, I would recommend that you plan on at least a week to 10 days on a Wales road trip. I've created the Wales road trip itinerary below based on a one week trip, but have provided options for up to 10 days if you can stay longer and want to spend more time adventuring.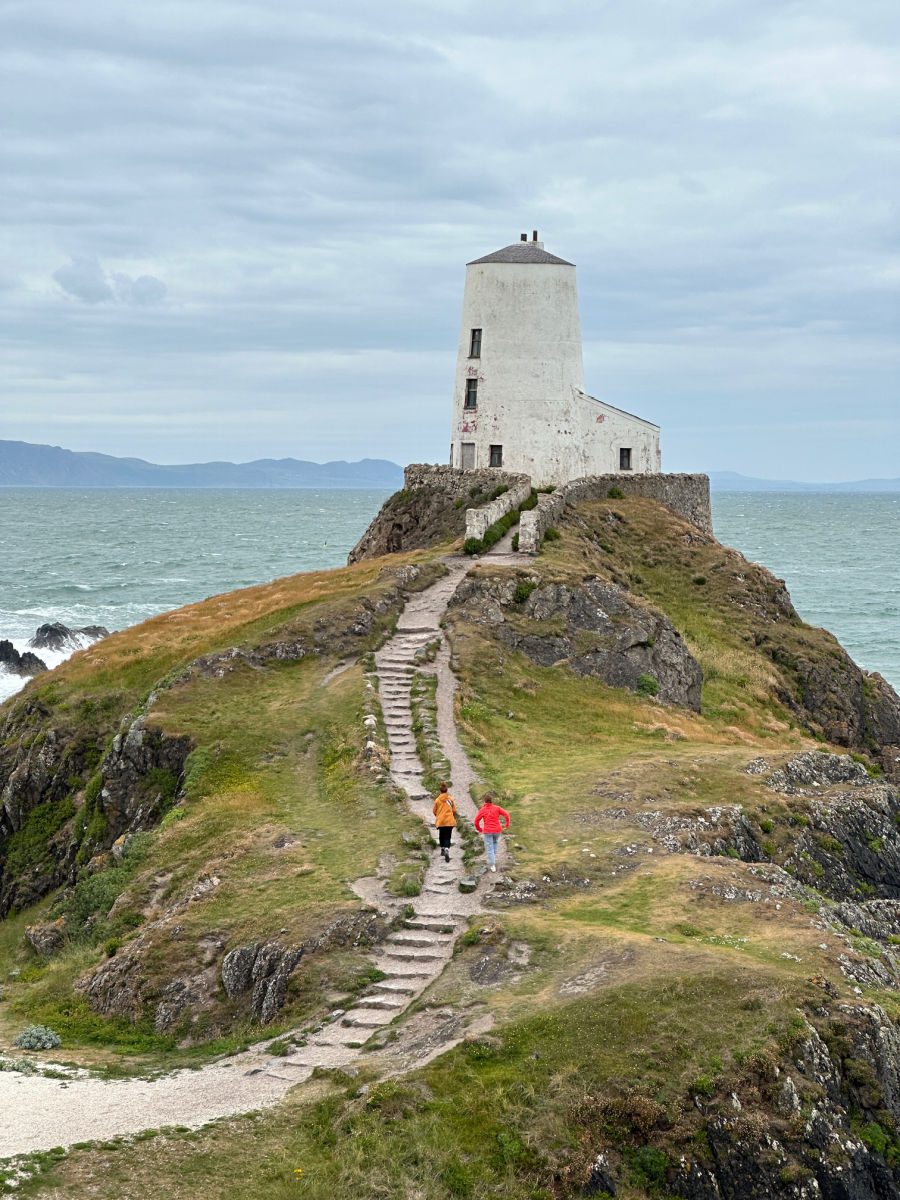 Wales Road Trip Route
Your Wales road trip route will depend on how long you have to spend and your interests. However, to provide a perfect overview of the best the country has to offer — from castles to villages to coastal towns to national parks — I've created a round trip route that starts in Cardiff and loops along the coast and back through the interior to finish up in Cardiff.
This is a little different than the route we took since we traveled from Scotland to start in North Wales and finish in Cardiff. Since Wales really deserves its own trip, I've designed this to be a stand alone road trip itinerary.
Wales road trip route:
Wales Road Trip Itinerary
Note: My accommodations in Wales and certain attractions were provided by Visit Wales. All opinions are my own.
I'll walk you through a day-by-day Wales road trip itinerary that includes the best destinations to visit in Wales and many of the popular things to do in Wales too. This itinerary is designed for one week in Wales, but I've shown how to easily extend your stay in certain destinations to see and do more, if you have the time.
This Wales road trip will cover:
2-3 nights in Cardiff
1-2 nights in Tenby
2 nights in St Davids
2-3 nights in Caernarfon or Conwy
Return to Cardiff with optional 1 night stay
Day 1: Arrival in Cardiff
On your arrival, the first place to go in Cardiff is to the Cardiff Castle. Why not start your trip to Wales with one of the most famous of the country's 641 castles? The history of Cardiff Castle goes back 2,000 years, as the original castle was built in the late 11th century by Norman invaders on top of a third-century Roman fort that was established in the late 50s A.D.
The Castle was passed through many noble families until in 1766, when it passed by marriage to the Bute family. By the 1860s, the 3rd Marquess of Bute was the richest man in the world due in large part to the family's coal exporting business. He built a Victorian Gothic revival mansion on the site and today, you can add a tour of the house rooms to your entry ticket and it is well worth the additional fee to see the decadence and splendor of the mansion.
When you are done exploring the castle (or before depending on when you arrive), I'd suggest afternoon tea at Barkers Tea Rooms in the High Street Arcade. This sweet tea room offers indoor or "outdoor" (in the covered arcade) seating and a very nice presentation for high tea. If that is not to your liking, High Street is lined with restaurants, bars, and indoor arcades with plenty of dining options. The Potted Pig is a local favorite.
Where to Stay: Hilton Cardiff is very centrally located, right near the castle, and would make a good home base for exploring the city. Search below for other options:
Day 2: Cardiff & Surrounding Area
On your second day in Cardiff, you have two primary options. First, you can stay around Cardiff or you can take a day trip into Brecon Beacons National Park for some outdoor adventure. The first is perfect for families and the second is ideal for anyone that loves spending time in nature. If you would like to do both, plan on spending an extra night in Cardiff (if you have the extra time.)
St. Fagan's National Museum of History, located just 15 minutes drive outside of the city center, is an open air museum featuring refurbished buildings from all over Wales, representing different eras of history dating back to the iron age. Many of these buildings have costumed interpreters or daily presentations. It is easy to spend at least half of a day exploring here and you can either pack a picnic or purchase lunch at one of the cafes on site.
Back in town, Mermaid Quay is located in Cardiff Bay, just a short 15 minute waterbus or train ride or 30 minute walk from the city center. Designed to resemble places like Baltimore Inner Harbor, Mermaid Quay offers plenty to entertain everyone. There are shops, restaurants, bars, and entertainment venues. You can ride a giant Ferris wheel, visit the Techniquest Science Museum, or take a boat tour of Cardiff Bay.
Another option downtown is to visit the world-class National Museum Cardiff, which has an excellent exhibit of Impressionist paintings or follow the Wales Coast Path past the Millennium Centre, a fantastic arts and cultural venue, the slate and glass Welsh Parliament Building, and the Principality Stadium with its sliding roof.
If you would rather get out in nature, Brecon Beacons National Park is only about one hour outside of Cardiff. This is a great spot for walking, hiking, mountain biking, horseback riding, and even water sports. Since it is challenging to figure out what to do in such a big area with just one day, you may want to consider taking a guided hike to the six waterfalls of Brecon Beacons, or a guided hike up Pen y Fan, the highest point in Southern Britain. If you really love adventure, there is even a gorge walking adventure tour in the park (although you will have more chances to do coasteering later in the trip!)
Day 3: Drive to Tenby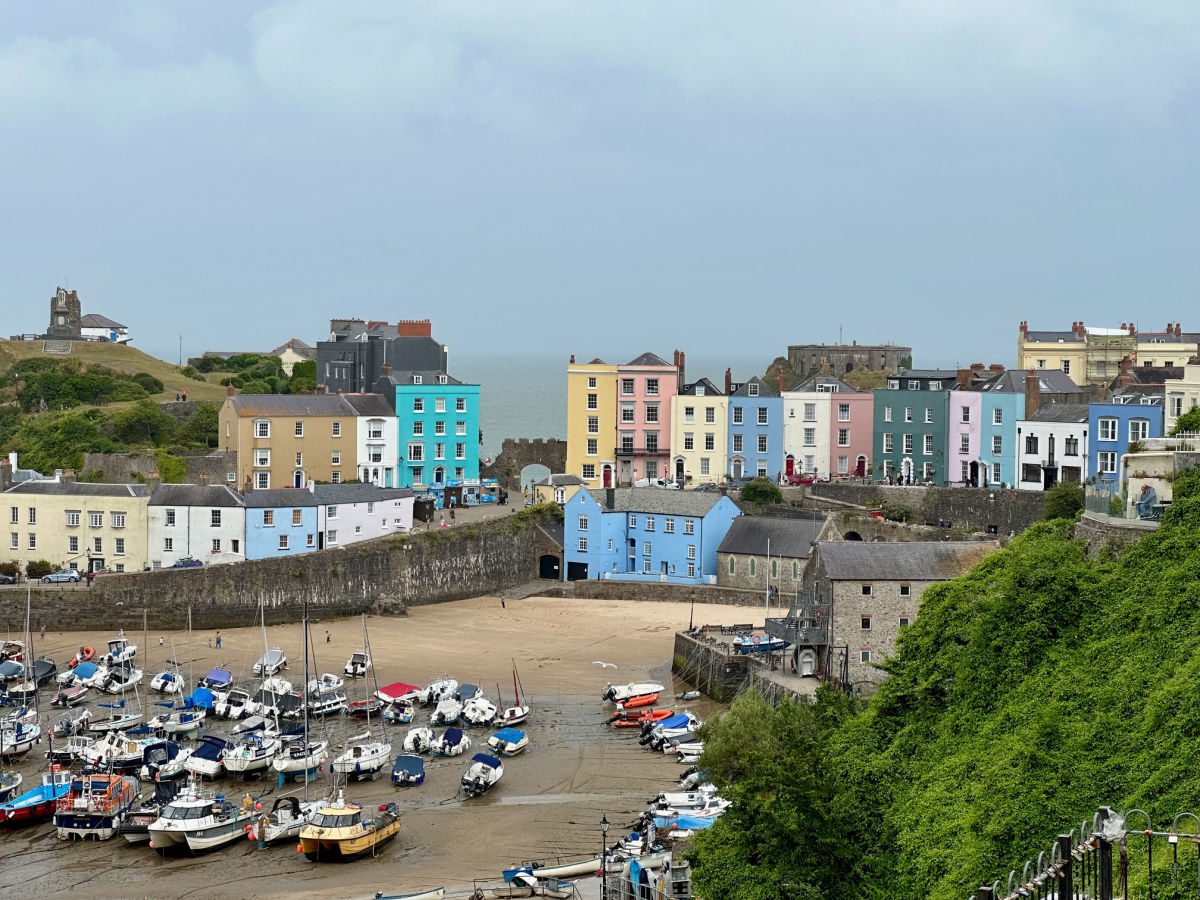 It is less than two hours drive from Cardiff to Tenby, but there are many things that you can stop and do along the way. One is the National Botanical Gardens of Wales, which features extensive outdoor gardens and the largest single-span glasshouse in the world. There are 500 acres of Nature Preserve to explore, along with a walking trail featuring hand-carved sculptures of the Gruffalo characters, and the British Birds of Prey Centre. The Botanical Gardens are close to the highway and just require a small detour along your route.
Another, more scenic option, is to spend the day exploring the Gower Peninsula, home to the Gower Area of Outstanding Beauty, which just sounds like something out of The Princess Bride. Gower Peninsula is home to 10 nature reserves, 24 Wildlife Trust reserves, 32 Sites of Special Scientific Interest and five Special Areas of Conservation, so yeah, there is a lot to explore! On top of that, Rhossili Bay on the Gower Peninsula has been voted among the top 10 beaches in the world.
The southern coast of the peninsula also consists of a series of beautiful, small, rocky or sandy bays like Langland and Three Cliffs Bay. The north side is also famous for the cockle-beds and the Salt Marsh Lamb of Penclawdd. Three Cliffs Bay is a nice place to stop for a short hike. There is a 2.5 mile walk along open stretches of sandy beaches with great views of Three Cliffs Bay. You can actually walk underneath the cliffs through an archway. There are stepping stones to cross the river on the Penmaen side of the bay with views of Pennard Castle.
Be sure to make your way to Tenby before sunset so that you can take some time exploring this colorful seaside town with its pastel-painted houses that just gleam in the sunlight. Tenby has been called the "Peoples Favourite Place" in Wales it's not hard to see why. The town is wedged between two massive sandy beaches and it has a castle and medieval town walls.
The wide sand beaches stretch out even farther at low tide, when the boats in the harbor sit askew on the sand. Like most classic coastal towns, Tenby has a wide selection of shops, restaurants, bars, and even more ice cream shops. For dinner, check out Plantagenet House (which even has a chimney you can sit in), Billycan, or Tap and tan at Tenby Brewing Company.
Where to Stay: We were hosted at the Imperial Hotel, which had a great location but is in desperate need of a complete renovation. For something a bit more up-to-date, try the Broadmead Boutique B&B, which is just a short walk outside of the downtown area. Search below for other options:
Additional Day in Tenby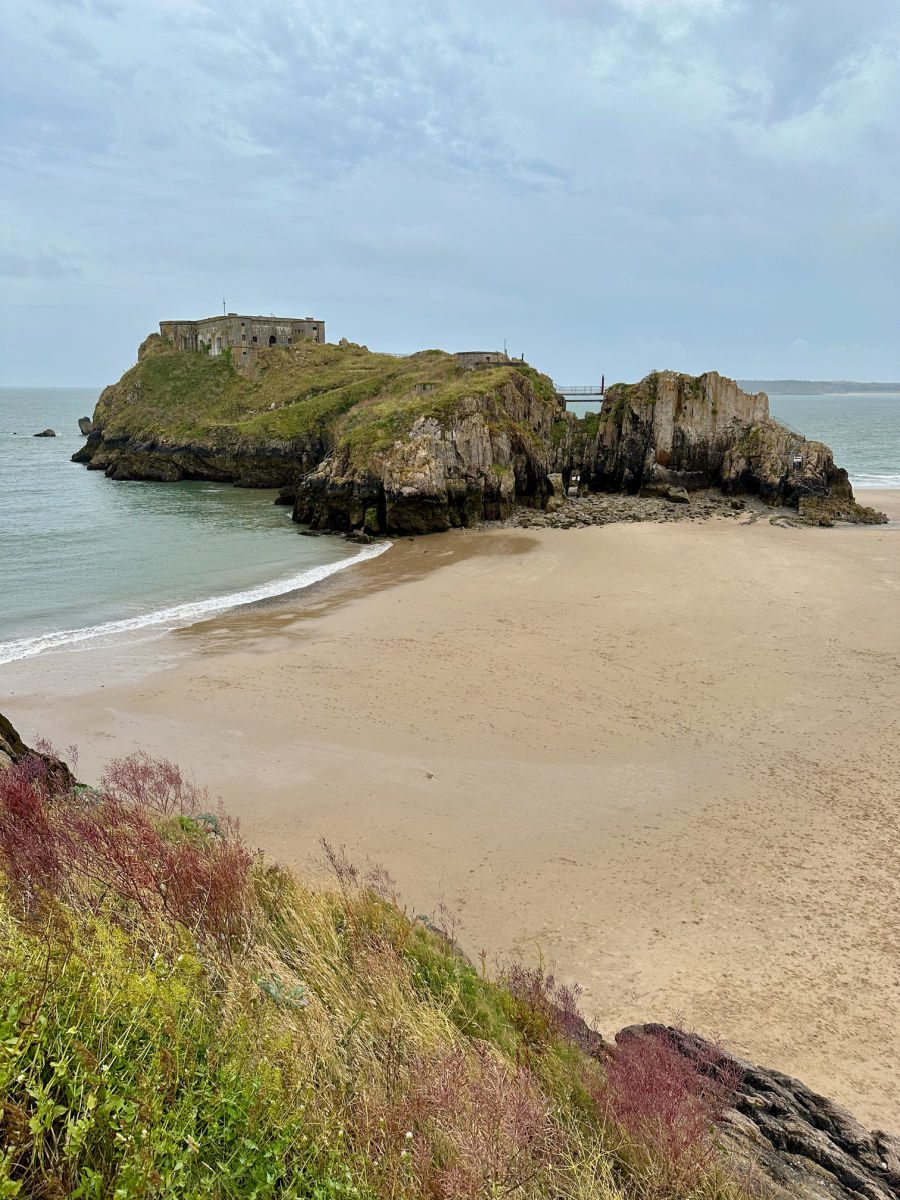 If you have the time to take a full day in Tenby, this is a great spot to relax and enjoy the seaside. Those wide sand beaches have the best sand for building sand castles and at low tide, you can walk over to St. Catherine's Island to explore Palmerston Fort. You can also take a day trip by boat to Caldey Island, located just off the coast. There are numerous boat tour options for seal-watching tours, rib boat rides, fishing charters, and sunset cruises.
Day 4: Drive to St Davids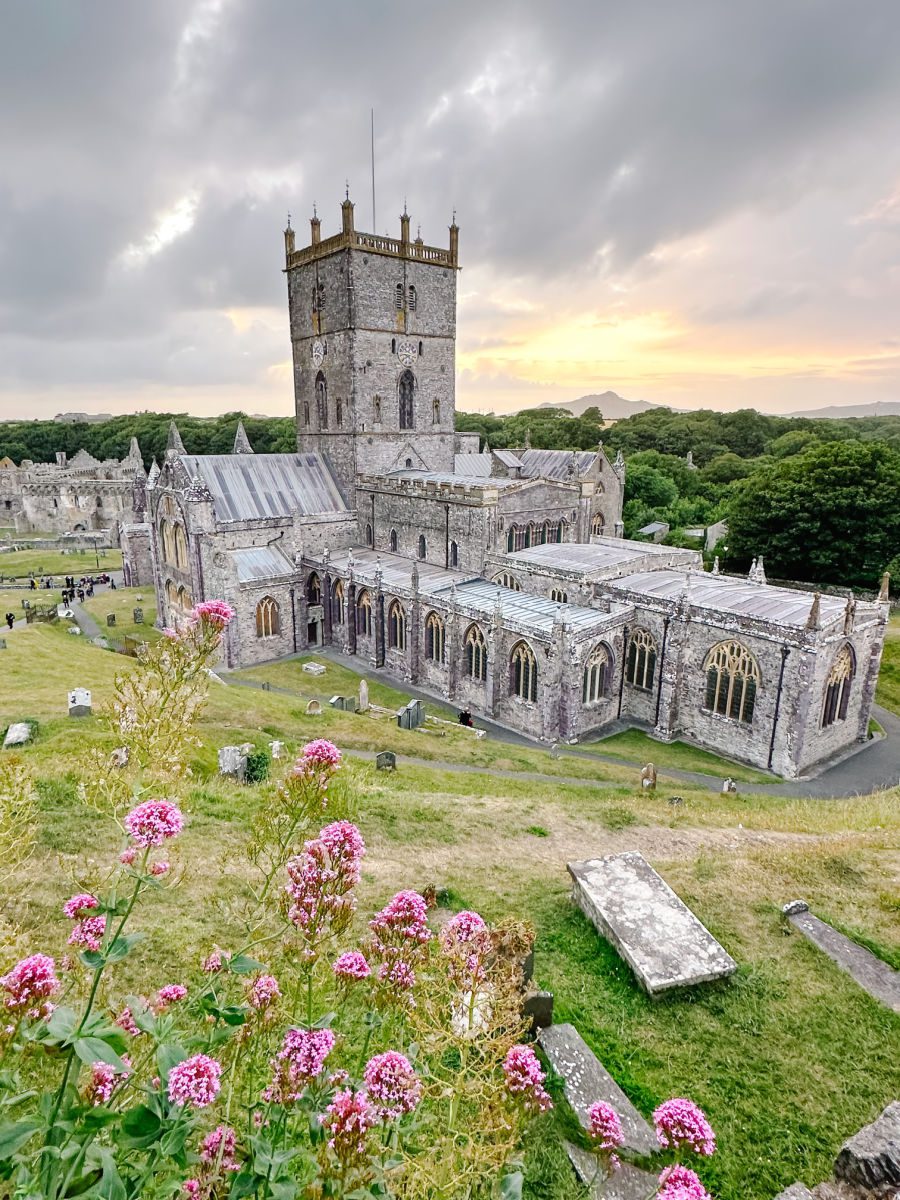 It only takes an hour to drive from Tenby to St Davids, but there are so many beautiful stops to make along the way on the Pembrokeshire Coast. Alternatively, if you don't feel like scenic walks, you can also stop in the town of Pembroke for a visit to Pembroke Castle. This castle is noteworthy because it is the birthplace of King Henry VII of England, the patriarch of the Tudor Dynasty that ruled until Queen Elizabeth I. There are great exhibits to visit and you can also take a walk along the castle walls, explore its many rooms, and climb the stairs to the Keep.
If you would prefer to visit sights along the coast, drive out to Stack Rocks Car Park and then walk over the cliffs along the Pembrokeshire Coast Path to Barafundle Bay, which was named by Conde Nast as one of the finest beaches in the world.
For a longer walk, continue to St. Govans Chapel. The hike from Stackpole Quay to St. Govans Chapel is five miles with four long flights of steps (173 in total), passing by Lily Ponds, which are rock formations covered in seabirds, Barafundle Beach, and St Govan's Chapel. This one room building dates back eight to 14 centuries. The path hugs the cliffs and the rugged rock formations that line this section of the coast. You will also often see seals in the water in this area.
Harry Potter fans may want to also stop at Freshwater West Beach, where Shell Cottage was built for the filming of Harry Potter and the Deathly Hallows, Parts 1 and 2. Although the cottage was taken down after filming, you can still walk in the footsteps of Harry, Hermione and Ron to see the fictional burial spot of Dobby the House Elf. Dobby is "buried" in the sand dunes on the northern end of the beach a short walk from the top car park. Sometimes his grave is marked with a simple stone and a few socks.
Plan to arrive in St Davids by sunset, where you can enjoy a beautiful view overlooking the St Davids Cathedral in town or from the top of Carn Llidi near Whitesands Beach. For dinner in town, the best spot is St Davids Gin & Kitchen, but you may also want to check out the local pubs such as The Bishops.
Where to Stay: We were hosted at the Twr Y Felin Hotel, located just a very short walk to town and the beach. This is a great option for those looking for a full-service hotel for a short stay. You may also consider a vacation cottage or find a local inn or bed and breakfast below:
Day 5: St Davids
St Davids is the smallest town in Britain, with only 1,800 full-time residents. But just like Wales, while St Davids is small, it is very charming and is a great home base for exploring the gorgeous Pembrokeshire coast. St. Davids is most well-known for being the birthplace of St David, the patron saint of Wales. It is hear that you will find the St Davids Cathedral, which is an architectural stunner and a complete surprise in a small town. The Cathedral continues to have religious significance, but centuries ago it was an important pilgrimage site, as two pilgrimages to St Davids was equal to one to Rome.
It would be easy to spend a full week in St Davids and spend your days enjoying the beaches and parts of the 186-mile Pembrokeshire Coastal Path, which is part of the longer Wales Coastal Path. Even with just one day in town, there are two sections of the path that you shouldn't miss. The first starts above Caerfai Beach, where you can join the path at the Caerfai campsite, which is just a short walk from the town center. From there, head east along the path to Porthclais Harbor. This section takes about 45 minutes and follows the cliff line around Caerfai Bay and St. Non's Bay.
The trail also takes you past the remains of St. Non's Chapel and Well. St. Non was the mother of St. David. The route finishes up in the charming harbor of Porthclais and from there, it is a short walk back into town.
Another excellent walk in this area is from Porthgain to Abereiddy, just a short drive outside of town. You can either have lunch first at either The Sloop or The Shed in Porthgain, or start in Abereiddy and have lunch in Porthgain before the return walk to Abereiddy as this is an out-and-back trip. This walk also takes about 45 minutes to one hour in each direction (depending on how many times you stop to take photos — which, trust me, will be a lot!)
Along the way you will see the beautiful rolling cliffs, dramatic rocks, and beautiful beaches. Both of these walks are relatively easy, with just a couple of steep sections. I'd still recommend wearing sneakers or hiking shoes/boots as the loose gravel on some of the paths can be a bit slippery.
Near Abereiddy Beach, you will find the Blue Lagoon. Not quite as famous as its namesake in Iceland, this Blue Lagoon is a swimming hole made from an abandoned slate quarry, which often has gorgeous blue-green hues in the sunlight. Locals love to jump off of the rocky cliffs into the lagoon and you will also see tour groups coasteering here and along the coast. If you like adventure, there are a number of coasteering and sea kayaking companies that offer tours in St Davids. Personally, jumping off of cliffs into the sea seems like one of the more terrifying things to do but others love it.
If you like to get out on the water but not in the water, Voyages of Discovery offers boat tours to Ramsey Island or Skomer Island (where you can see puffins in season). On these boat tours you can often spy Atlantic grey seals, harbor porpoises, and many varieties of seabirds.
It is hard to visit St Davids and not be left wanting more. I'm already thinking about a future walking trip back to the Pembrokeshire Coast!
Day 6: Drive to Caernarfon or Conwy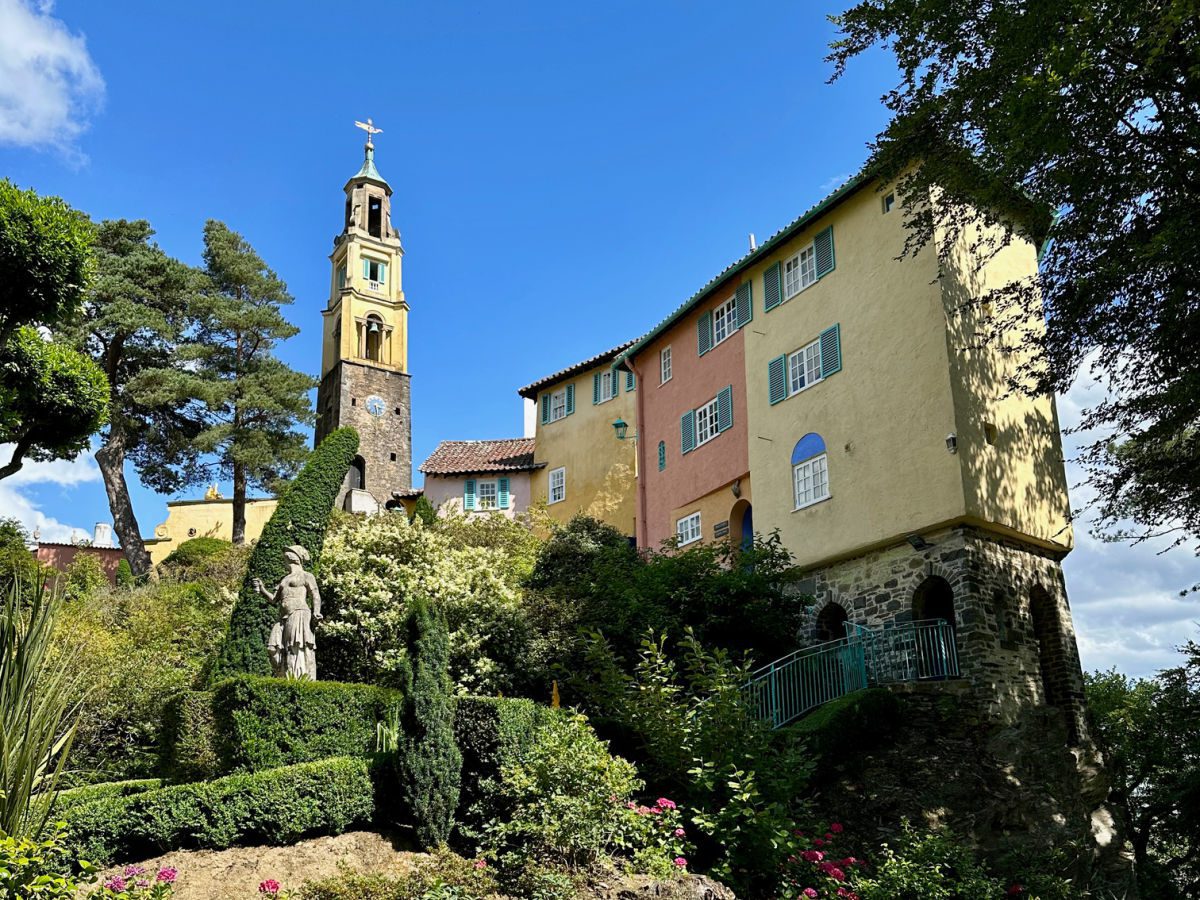 From St Davids, it is a four-hour drive to Caernarfon on the North Wales Coast and you will drive through many beautiful coastal towns along the way. It is only another 30 minutes from Caernarfon to Conwy, but if you have time I'd highly suggest adding a day in Northern Wales because there is so much to see and do. If you are looking for a stop along the way, the towns of New Quay or Aberystwyth are both cute towns with plenty of places to eat.
Another option closer to Caernarfon is the touristy town of Portmeirion. Portmeirion was created by Welsh architect Clough Williams-Ellis to showcase various forms of architecture and demonstrate how a beautiful place could be enhanced by buildings. It is really a bit of a tourist attraction, as you need to pay for a day pass to access the town and walk around the shops and gardens. There are a few restaurants on site as well.
Personally, I liked Caernarfon better because of its cheerful shopping streets and the colorful Caernarfon Harbor. But most of all, the I loved the Caernarfon Castle. The Castle is a medieval fortress that was built by Edward I in the 13th century and is one of the better castles to visit in Wales. It is set on the banks of the River Seiont and you can get great views of the castle from just across the river.
In Caernarfon, you can also visit Bar Bach, which is the smallest bar in Wales, if you enjoy visiting those "smallest" or "largest" types of attractions. There are plenty of restaurants and cute shopping streets in Caernarfon as well. For great views of the town, take a boat tour with Menai Strait Cruises for views of the Caernarfon Castle, the Snowdonia mountain range, and the Isle of Anglesey.
Ideally, I would suggest that you spend one night in Caernarfon and one night in Conwy, if you don't mind moving around a bit. It will save you a bit of driving but the towns are only about 30 minutes apart so it is ok if you would rather just stick to one spot.
Where to Stay: Plas Dinas Country House and its Gunroom Restaurant have both received numerous awards. Find other options below:
Day 7: Conwy
While it is only a 30 minute drive from Caernarfon to Conwy, you will want to take a large part of your day to explore either Snowdonia National Park or Anglesey Island. Located off the northwest corner of Wales, Anglesey Island is a historic and beautiful spot to visit with plenty to see and explore. Two spots I wouldn't miss would be a quick stop at Llanfairpwllgwyngyllgogerychwyrndrobwllllantysiliogogogoch. Yes that is the town with the longest name in the United Kingdom. It used to be shorter but was changed to attract more train travelers and it has worked. You can stop by the train station for a photo opportunity and a wander through the shop there. If you are wondering what it translates to, it means "Saint Mary's Church in the hollow of the white hazel near a rapid whirlpool and the Church of St. Tysilio of the red cave."
The next spot to visit is Llanddwyn Island. Llanddwyn Beach is popular with kite surfers, so as you can imagine, it is quite windy, but this wide and long sand beach is also beautiful. From there, you can walk out to Llanddwyn Island. Note that I said ISLAND. When we visited we thought it was a peninsula and didn't pay attention to the tides. Luckily we left when we did and only had to wade through knee deep water to get back to the mainland but the tide was coming in fast and many people were still on the island. If you want to walk out to the tip and see the lighthouse and Celtic cross, you need to pay attention to the tide tables (which are not well signed.)
The island is truly picturesque and also home to a ruined church which was once home to Saint Dwynwen, the Welsh patron saint of lovers from the 5th century A.D. It is easy to spend at least half a day in this area (pack a picnic!) However, if you want to take a full day on Anglesey Island, you can also visit Beaumaris Castle, which was the last great castle built, but never completed, under Edward I in the 13th century. Also, if you don't mind heights and a bit of a hike, the South Stack Lighthouse can be reached using 400 steps in the cliffside and a bridge high above the roaring waves. Once there, you can get epic views and do some bird watching, as this area is home to colonies of guillemots and razorbills, and sometimes puffins.
While there is plenty to do in Anglesey or Snowdonia, be sure to leave time to walk around the cute town of Conwy. Conwy is home to another 13th century castle built by King Edward I. Conwy Castle is very well preserved for a 700+ year old castle, and contains the most intact set of medieval royal apartments in Wales. In addition to touring the castle, you can also walk along the medieval walls for the city for views of the castle and the harbor.
The town itself is charming, with boutiques, a handful of restaurants, and more than its share of bakeries specializing in giant merengues. Another not-to-be-missed place to see in Conwy is the smallest house in Great Britain.
Where to Stay: We were hosted at The Erskine Arms, which has a fabulous location right in town. This small inn offers nicely appointed rooms and a great restaurant and bar. The only drawback is that there isn't a lift so either request a lower floor room or pack light! Find more places to stay in Conwy:
Additional Day in Caernarfon or Conwy
If you have an additional day or two, I'd highly recommend spending some time in Snowdonia National Park. The park is home to over 100 lakes, nine mountain ranges, nearly 1,500 miles of trails, and Wales' tallest mountain, Mount Snowdon. The park is popular with hikers and rock climbers. If you just have one day, I'd suggest pre-booking tickets to ride the Snowdon Mountain Railway to the summit of Mount Snowdon. Just keep in mind that tickets sell out about one week or more in advance during the summer season.
Snowdonia is a perfect spot for adventurers, with hiking, mountain biking, rock climbing, wild swimming, paddle boarding, and zip lining. At Zip World, you will find the fastest zip line in the world, where you can soar over Penrhyn Quarry at speeds of up to and over 100 mph. Another heart-pounding option is gorge walking, which really is more climbing, scrambling, jumping, swimming, and wading through gorges on a fun adventure.
If you just want to drive through the park, be sure to stop in the cute villages of Beddgelert and Betws-y-Coed for food and bathroom breaks, as you won't find many facilities elsewhere. There also aren't many scenic pull offs throughout the park, so you may want to plan ahead if you want to take any hikes to get out and enjoy the park.
Day 8: Return to Cardiff
On your final day of your Wales road trip, it is time to head back to Cardiff, unless you choose to depart from Manchester Airport instead. The drive takes about 4.5 hours, but I'd recommend making a stop about three hours in at Hay-on-Wye. Now Hay-on-Wye bills itself as the World's First Book Town. This is a must visit for any bibliophile. There are over 20 bookstores in this cute little town, specializing in all sorts of books from new releases, second-hand, specific genres, children's books, and more.
If you need a place to eat, the Cosy Cafe in Hay-on-Wye offers a great selection of crepes, salads, sandwiches, and sweets.
Once you arrive in Cardiff, you can plan a late departure or stay one more night before departing Wales. If you don't have this much time, you can adjust this itinerary to meet your interests and time available. But whatever you do, don't overlook Wales!
Getting to Wales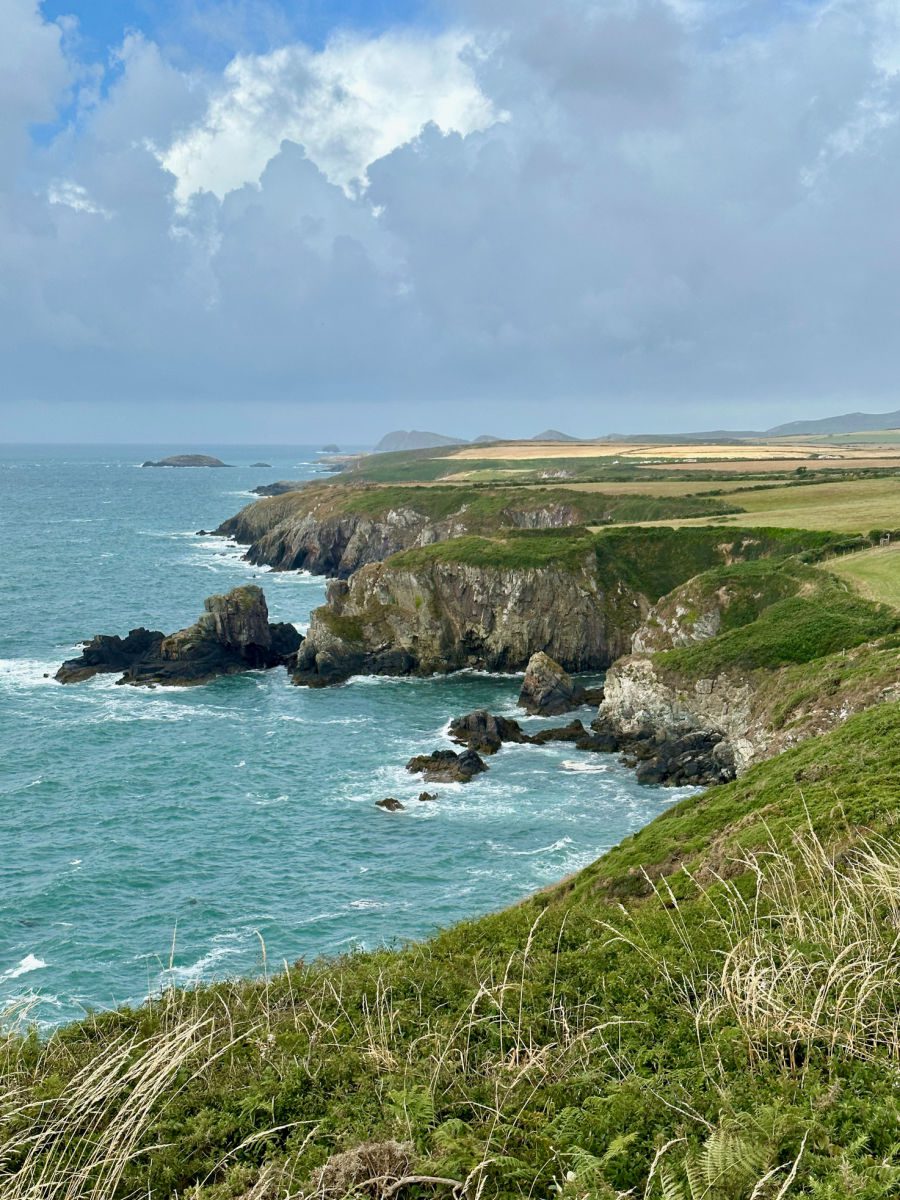 Note: This post contains affiliate links. If you click a link and make a purchase, I may receive a small commission at no cost to you. All opinions are my own based on my personal experience with these products.
It makes sense to start and end in Cardiff, the capital of Wales, as it is the easiest city to get to from international destinations. Cardiff Airport offers daily direct flights from many European cities in the summer, including Paris, Amsterdam, Belfast, Dublin, and Edinburgh, as well as flights from eight other countries.
From the United States, it is possible to get a connecting flight through one of these cities, such as through Dublin on Aer Lingus. However, one of the easiest and most affordable ways may be to fly into London Heathrow and take the Heathrow Express to Paddington Station. From there, it is only about two hours by train to the Cardiff Central train station and there are over two dozen train options per day. Alternatively, you can also fly into Manchester Airport and start this road trip in North Wales (Conwy) instead.
I subscribe to Going to get alerts about flight deals and you can set your destination cities to London or Cardiff.
Once you have arrived in Wales, you are going to need to rent a car. I'd recommend getting one as small as will fit your luggage to make it easier to manage some of the narrow roads and spending a bit extra for an automatic transmission (unless you are very comfortable driving stick!) Just remember, in Wales they drive on the left! I use AutoEurope to search for the best car rental rates.
When is the Best Time to Plan a Wales Road Trip?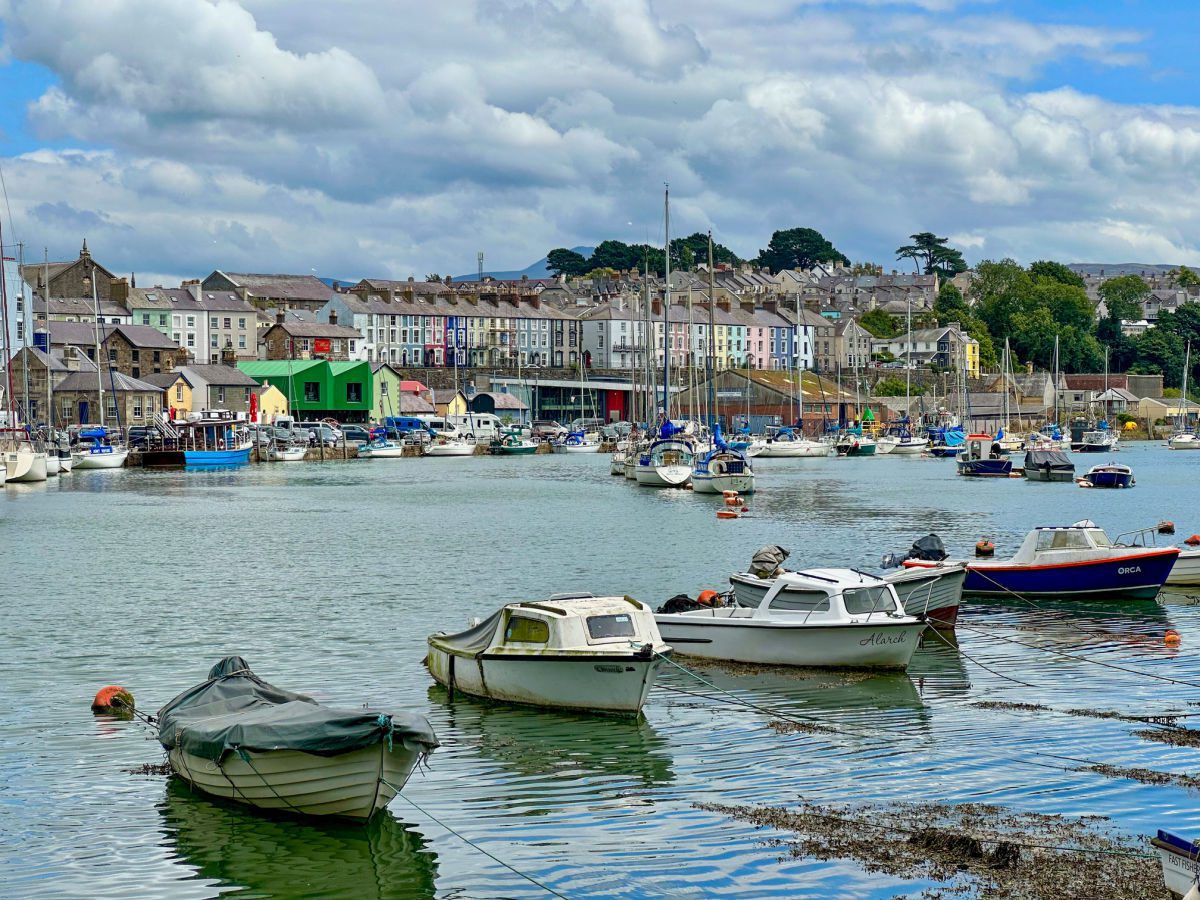 Summer is high season in Wales, but that hardly means anything when you think about the typical crowds in Europe's more popular tourist destinations. It is still the ideal time to plan a Wales road trip, as you will find more restaurants and lodging open. Just keep in mind that while there aren't throngs of people, there also aren't the same number of hotel rooms to accommodate crowds. You should plan to make your hotel reservations two or months in advance to find the best availability. Also, make dinner reservations in advance since many towns, outside of Cardiff, have only a handful of options to choose from.
Shoulders seasons from March to May or September through November can also be a nice time to visit Wales, but you may find more limited availability and weather will be more likely to make an impact on your plans.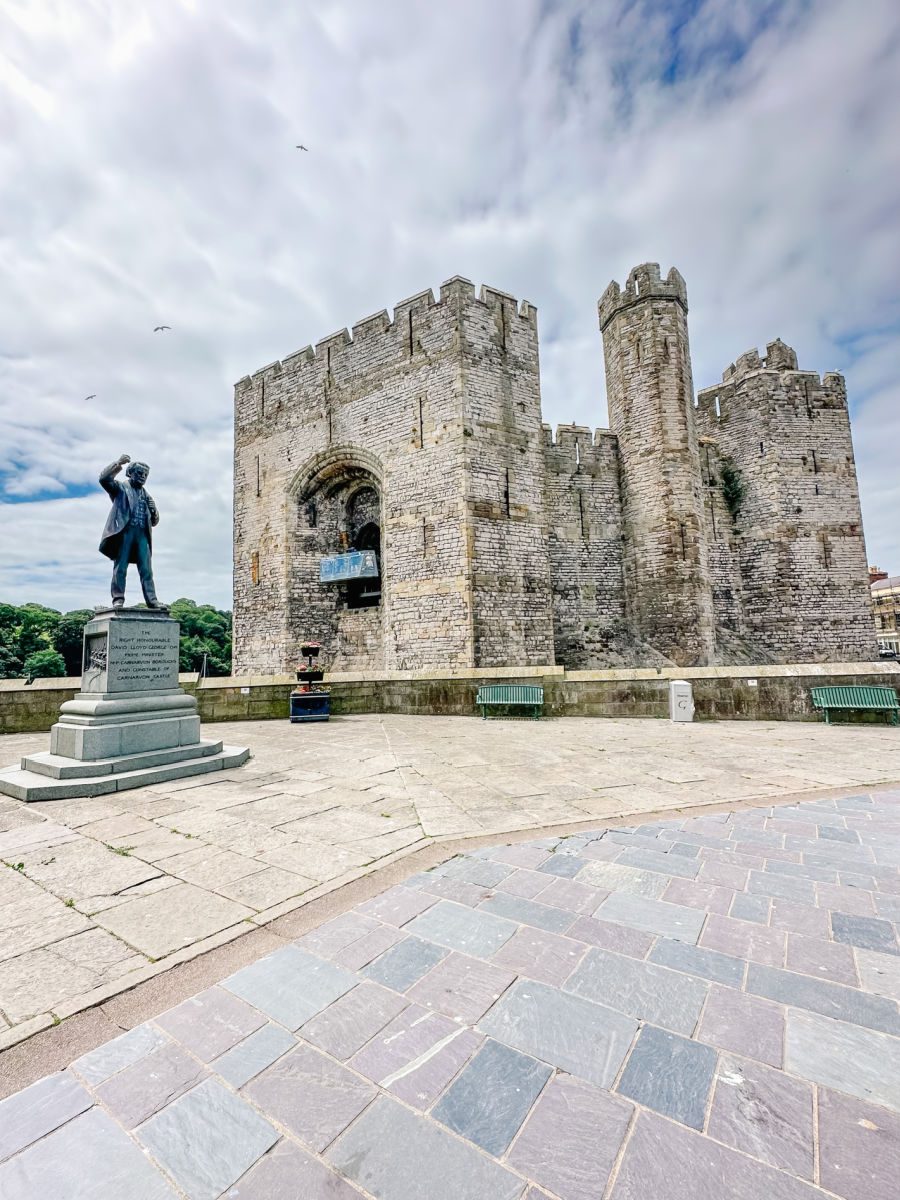 Tips for Planning a Wales Road Trip
Remember that in Wales, they drive on the left. Make sure you have a driver that is comfortable driving on the left side of the road.
Rent a car that is the smallest you can manage that will still fit your luggage. Keep in mind that car rental companies show how many suitcases will fit but they often refer to carry-on size bags or just slightly larger.
Splurge for an automatic unless you are comfortable driving stick (keep in mind that the gear shift will be on the opposite side that you are used to.)
Road signs in Wales are bilingual, featuring both Welsh and English. Don't even try to read the Welsh!
Roads can be quite narrow and at times, reduce down to a one-way track. Keep an eye out for oncoming cars and use the designated pullouts to make room for two-way traffic. Overall, the roads are a bit easier to navigate than in Scotland or Ireland.
Make your hotel reservations at least two months in advance as inventory can get quite limited.
Keep in mind that many inns and bed and breakfasts do not have a lift and some will not have air conditioning. It helps to pack light and plan ahead.
Make dinner reservations in advance when staying in small towns, as there are very few restaurants available. This is especially true when visiting early in the week when many establishments may be closed.
Most restaurants and shops accept credit cards and can take contactless payments. That said, it still helps to carry a small amount of local currency (British pounds).
When getting gas, you will usually need to pump your gas first and then pay inside. Just note your pump number when you go inside to pay.
Car parks typically charge for parking and you can either pay at a machine using a credit card or use a parking app. Take a picture of your plate number because you will either need to enter your plate number or put the ticket receipt in your window to show you have paid.
Parking tickets are costly so don't skip this step!
Wales also uses speed cameras so watch your speed, especially when driving through small towns. Not only will you get a ticket in the mail, but you will also get a fee charged from your car rental company.
Fun Facts about Wales
Wales has 641 castles, making it the "Castle Capital of the World." Some notable ones include Caernarfon Castle, Conwy Castle, and Cardiff Castle.
The Wales Coastal Path spans 870 miles of Welsh coastline.
Wales is one of a few countries in the world to have a continuous coastal path stretching it's entire length.
Wales has more Blue Flag beaches per mile than anywhere else in the UK.
The Welsh language, known as "Cymraeg," is one of the oldest languages in Europe and the government has instituted programs to ensure children learn Welsh to keep the language alive.
The red dragon, which features on the Welsh flag, has been a symbol of Wales for centuries, symbolizing strength and bravery.
Cardiff is the youngest capital city in Europe. It became the official capital only in 1955.
The Welsh are famous for their love of singing. Eisteddfodau, traditional music and poetry festivals, are held regularly throughout the country.
St. David's Day, celebrated on March 1st, is the national day of Wales, honoring the patron saint of Wales, Saint David.
Wales has a strong association with the legend of King Arthur. It is believed that Arthur's legendary sword, Excalibur, was forged in a Welsh lake.
Visiting the United Kingdom? Read more: