The West Coast of the United States holds many hidden gems that make perfect romantic getaway destinations. From rugged coastlines and sandy beaches to lush vineyards and charming small towns, there's plenty of inspiration to get you started planning just the romantic west coast getaway you need.
Whether your desires move you towards classic, world-famous destinations or toward the more secluded and unique spots known only to a relatively small number of travelers, you'll find the perfect place to reconnect and strengthen your bond.
Romantic West Coast Getaways
Here are 13 romantic getaway destinations along the West Coast of the U.S. to spice up your love life, rekindle a flame, or just share some special time together. Our recommendations are complete with suggestions for places to stay, where to eat, and fun things to do for just the two of you!
Note: This post contains affiliate links. If you click a link and make a purchase, I may receive a small commission at no cost to you. All opinions are my own based on my personal experience with these products.
Walla Walla, Washington
From breathtaking beauty and an array of outdoor adventures to award-winning wineries and culture, Walla Walla has a lot to offer in the way of a romantic getaway. This is Washington State's wine country after all! There are quirky vintage stores and luxurious boutiques to explore, cozy cafes and art galleries to check out as well as busy tasting rooms and bustling restaurants.
Aside from 120 mostly family-owned wineries, there is plenty of outdoor fun to enjoy including hiking, mountain biking, rafting, and canoeing in the surrounding mountains and rivers.
Where to Stay
The Inn at Blackberry Creek: A vintage farmhouse with four private and unique guest rooms, this inn will have you feeling as if you've stepped back in time! Although the guest rooms contain revitalized historic pieces, they also include modern amenities. Secluded yet only a quick drive to downtown, there's plenty of lush landscape where you can leave the outside world behind.
The Barn B&B: This is no ordinary bed & breakfast! Seven spacious suites await, each with a view of the Blue Mountains and a private Zen Garden complete with an outdoor hot water shower. It's a short drive from downtown Walla Walla but far enough away to forget civilization is nearby making it the perfect adults only, wine country retreat.
Cameo Heights Mansion: This distinctive French-style country resort features seven spacious suites with private baths, spa tubs, fireplaces, veranda views, and sumptuous dining. Overlooking the peaceful Walla Walla River, the resort presides over a lush 400-acre orchard and vineyard, making it a secluded romantic retreat.
Where to Eat
The Marc Restaurant: combines gourmet cuisine with premier, award-winning wines. Order the Chef's Daily Butcher Board and let the professionals prepare an unforgettable meal for the two of you!
Saffron Mediterranean Kitchen: Take your beloved out for traditional Moroccan Fattee crafted with organic chicken, house-made bread, freshly grated ginger, basmati rice, garlic yogurt, and seasonal vegetables.
Brasserie Four: This East Main Street restaurant is a staple for authentic French cuisine. The buttery escargots are highly recommended. Don't miss out on the bœuf bourguignon, a braised beef simmered in red wine with an array of assorted fresh vegetables and spices.
Must-Do Activities
Walla Walla Vintners: Family owned and operated, visit for free wine tastings, gorgeous vineyard views, and special events throughout the year.
The Touring Company will take you on a private wine tour. Picture this, spending the day working your way through a personalized itinerary of wineries tailored to your style and likes from the comfort of Mercedes-Benz van! Doesn't that sound fun?
Seabrook, Washington
Located along the Olympic Peninsula, this hidden gem of the Pacific Northwest has been appreciated by locals but little-known by outsiders. There's a good reason for that. After establishing bases here during World War II, the U.S. Navy and Air Force intentionally took the area off the map.
This advantage works for romance seekers. Quaint and cozy, Seabrook is reviving the history of the area as a coastal destination, while managing to maintain its small-town spirit.
Where to Stay
Stay in a Seabrook Cottage: Quirky, quaint, and just plain adorable, a cottage rental can offer an escape with your sweetheart that includes ocean views, a fireplace cuddle, and a short walk to the beach.
Ocean Crest Resort: This resort has offered year-round lodging for over a half a century. With an onsite spa and restaurant as well as a unique setting, in a forest by the sea, your romantic getaway is off to great start from the moment you arrive.
Where to Eat
Sea Gate Restaurant & Lounge: This chill and casual spot is a fun place to hang out, play pool, and even serenade each other with a little karaoke while noshing on some hand-dipped fish and chips.
Stowaway Wine Bar: Picture this — kicking back by a firepit and breathing in the ocean air while you share a charcuterie board and a bottle of vino with your sweetie. Doesn't that sound heavenly?
Frontager's Pizza: Enjoy classic Italian-American fare like focaccia, calzone, and stromboli, or pizza crafted from fine local ingredients. Trying to limit your carbs? No worries! The salads are amazing and packed with greens!
Must-Do Activities
Hike the Hoh Rain Forest: This lush, green canopy is one of the finest remaining examples of temperate rainforests in the country. Mosses and ferns blanket the surfaces adding another layer of enchantment to the rainforest.
Visit the Olympic National Park and Forest: The southern edge of the park can be accessed in about an hour from Seabrook. Lake Quinalt will be closest stop. Aside from stunning scenery, this area has a waterfall trail to enjoy, along with six champion conifer trees that are the largest living specimens of their species, which reside in the Valley of the Giants.
Sol du Hoc Hot Springs: Take a soak! Located in the heart of Olympic National Park, the spring water comes from rain and melting snow, which seeps through cracks in the sedimentary rocks where it mingles with gasses coming from cooling volcanic rocks. The mineralized spring waters then rise to the surface along a larger crack or fissure. While none of those details sound romantic I assure you the experience will be!
Langley on Whidbey Island, Washington
Miles of pristine shoreline along the Saratoga Passage and thousands of acres of wooded trails make Langley an excellent place for reconnecting with your love. Look out for the endangered Southern Resident orca, relax on the beaches around town, enjoy cuisine created from locally sourced ingredients and freshly-caught seafood straight from the Salish Sea or sip fine wine and watch the world go by. There are plenty of ways for your romantic getaway to unfold in this stunningly beautiful place.
Where to Stay
The Saratoga Inn offers a selection of ocean view rooms and suites, some with a deck and a gas fireplace. Guests also enjoy views of the Cascade Mountains and Saratoga Passage from their private rooms.
Inn at Langley: Every room in this inn comes with a view of the water. There's also plenty of outdoor seating from which to enjoy the sweeping views of Saratoga Bay. The town of Langley is a one-minute walk away and it has plenty of great eateries to enjoy.
Country Cottage of Langley: Enjoy a romantic getaway in one of six serene private cottages. Relax by the fireplace or in your own Jacuzzi admiring views of the Puget Sound and the Cascade Mountains. Each cottage has its own private deck entrance.
Where to Eat
Prima Bistro is a French-inspired bistro using as much locally-sourced product as possible. The establishment has a full cocktail bar, outstanding wine list, and a menu that changes with the seasons. Enjoy outdoor seating on the deck if the weather permits.
Saltwater Fish House & Oyster Bar offers fish and chips, lobster rolls, crab cakes, mussels, clams, and a great oyster selection, and that's just for starters! There's also a full bar, 10 beers on tap and the promise of a little rock n' roll and a lot of fun!
Must-Do Activities
Visit the Chocolate Flower Farm Shop: Pick up delicious fudge, tea, and chocolate-inspired items such as candles and an edible chocolate garden seed kit.
Whidbey Island Kayaking: Take a kayak tour around the Langley Marina. Get a primer on the basics of proper paddling or head out on a sea life safari in one of the most biodiverse ecosystems in the world.
The Earth Sanctuary: A peaceful sculpture garden, nature reserve, and retreat center with two miles of nature trails, three bird-filled ponds and a variety of sacred spaces, connecting with your partner will be a simple task during a hike here. Don't miss the labyrinth!
Hood River, Oregon
Home to the cascading waterfalls of the Columbia River Gorge, the Hood River is surrounded by bountiful fruit orchards and jaw-dropping natural scenery. The winds that rush down the valley and the Columbia River Gorge create perfect conditions for windsurfing and kite surfing, as well as other adrenaline-inducing adventures making it a great romantic getaway for adventurous outdoorsy couples.
Where to Stay
Columbia Cliff Villas: Located 200 feet above the mighty Columbia River, you and your partner will enjoy panoramic views of mountains, forests, valleys, cliffs, and local windsurfing beaches — views previously only known by the eagles that fly through the area. These spacious villas offer complete privacy and serenity.
Westcliff Lodge: Watch the sunrise with your love, enoy a sunset picnic while the sun drops down on the stunning cliffs, or take a romantic walk on the aptly named Sunset Trail. The Westcliff Lodge has an epic Columbia River view with a front-row seat for enjoying romantic moments.
Where to Eat
Stonehedge Gardens: This secluded upscale American bistro is in a converted farmhouse with a patio surrounded by trees. It's a family-owned business dedicated to providing honest goods and services, sourcing from local farms and ranches whenever possible.
Romuls: This upscale-casual eatery is known for serving up the authentic Old-World tastes of Italy with traditional dishes such as pasta covered in slow-cooked Bolognese sauce, eggplant parmigiana, and veal piccata.
Must-Do Activities
Northwest Rafting Company offers half day trips in the Wind River, the White Salmon River and the Columbia Gorge for beginner and expert paddlers.
Mt. Hood Scenic Railroad: For spectacular views of Mt. Hood, hop aboard the railroad and take an unforgettable journey through the scenic valleys of the Columbia River Gorge.
Astoria, Oregon
Once a fur trading post, beautifully scenic Astoria is the oldest American settlement in the Rocky Mountains. Surrounded by waterfalls and tall evergreen trees, Astoria makes for a delightful and somewhat playful romantic getaway. There are white sandy beaches to wander while holding hands and gorgeous Pacific Ocean views to admire.
Adventurous couples may opt to go kayaking or fish for salmon in the mighty Columbia River. Don't miss a visit to the famous "Goonies" set, which put Astoria on the map as a filmmaking destination.
Where to Stay
The Cannery Pier Hotel & Spa is a historic riverfront hotel offering stunning views and plush accommodations, each room has a fireplace and a private balcony. Did I mention that it is built 600 feet into the Columbia River?
Hotel Elliot Astoria: This beautifully restored boutique hotel is set against the dramatic backdrop of the Columbia River and Astoria-Megler Bridge. It's known for a signature blend of Victorian ambiance and modern elegance.
Where to Eat
The Bridgewater Bistro: Enjoy some of the best views of the river while dining on delicious regional cuisine in an indoor and outdoor setting.
Fulio's Restaurant: Satisfy any craving for Italian food or Mediterranean cuisine right here! Enjoy coastal favorites like the Crab Pesto Linguine or the Ciopponi. If seafood isn't your thing, its no problem! There's an array of steak as well as pasta dishes that include sausage or chicken.
Astoria Coffeehouse and Bistro: By day this place is a bustling European-style coffeehouse. By night, it's an intimate bistro offering neo-regional cuisine. No matter what time of day it is though, all meats and other ingredients are locally produced and everything right down to the ketchup is made from scratch.
Must-Do Activities
Downtown Astoria: This bustling area is filled with shops, restaurants, galleries, and the occasional "Wanted" sign for Mama Fratelli (of The Goonies fame).
Visit Goonies filming locations: If you were a fan of the 1980's film the Goonies, then you'll be excited to know that many of its filming locations are in Astoria – including the County Jail (now the Oregon Film Museum), the Goonies House as well as Data's and Mouth's houses.
Fort Stevens State Park: A nearly 20-minute drive from Astoria, this park is home to one of nation's largest public campgrounds. It also marks the site of a military installation with the mission to guard the mouth of the Columbia River. Today it's a 4,300-acre park offering a variety of outdoor recreation adventures.
The Dalles, Oregon
Known as the eastern gateway to the Columbia Gorge National Scenic Area and the end of the Oregon Trail, The Dalles not only boasts magnificent scenery but also a plethora of outdoor adventures including kayaking, white water rafting, windsurfing, fly fishing, hunting, hiking, cycling, and skiing in the winter.
For those interested in a more relaxed experience, explore the many museums, murals, and art centers about town such as the Fort Dalles Museum and Columbia Gorge Discovery Center, or check out the second largest Auguste Rodin collection on the West Coast at the Dalles Art Center.
Where to Stay
The Celilo Inn: Located on a bluff above the Dalles Dam, this lovely inn has an outdoor pool and scenic views of the Columbia River Gorge.
R&R Guest House: Stay in a private turn-of-the-century classic home which has been updated to today's standards and expectations. The result is a unique blend of classic charm and contemporary finish.
Where to Eat
Baldwin Saloon: Get a little history with your meal in this vintage tavern anchored by a mahogany bar from the early 1900s.
The Hi-Way House: Located along historic US Highway 30, this place, which is known for Prime steaks and seafood, has been serving up a nostalgic dining experience for 80 years.
Must-Do Activities
Take a self-guided tour of the Dalles Murals: Discover vibrant homages to Native Americans who resided in the area, as well as the Lewis and Clark Expedition which passed through during their journey from St. Louis to the Pacific Ocean. There are more than a dozen murals honoring the pioneers who forged a new life at the end of the Oregon Trail.
Go fishing on the Columbia River: If you're a couple who likes to troll plugs with a light rod then you're in luck, you can book a fishing charter to spend the day fishing on the breathtaking Columbia River!
Go river rafting: There are a number of guides that can take the two of you on a fun river adventure and they are only a short drive away, including River Drifters and Blue Sky Outfitters.
Cannon Beach, Oregon
Miles of secluded beaches, sand dunes, lighthouses, and forests not only make Cannon Beach an enchanting destination but one that easily gives way to romance. After all, does anything sound more intimate than a quintessential seaside village nestled along the Pacific Coast?
From Haystack Rock to the Hug Point Waterfall, this lovely north coast town boasts a selection of art galleries, cozy restaurants, and little boutiques.
Where to Stay
The Inn at Cannon Beach: Picture this — you holding hands with your love as you spend an afternoon in the sun lazing in Adirondack chairs. How about building a bonfire on the beach with a basket of s'more makings in one hand and a thermos of steamy cocoa in the other? These are just a couple of options for making romantic memories at this lovely inn.
Stephanie Inn: This premiere oceanfront hotel is a popular destination for couples because of amenities like Jacuzzi suites, where its possible to take a bubble bath for two or the option to book a side-by-side massage at the resort's exclusive spa. Each room features a gas fireplace and lanterns for late night walks on the beach.
Where to Eat
Newmans at 988: Enjoy a romantic dinner combining the flavors of the Pacific Northwest with French Italian cuisine with a focus on the Piedmont and Genoa areas of Italy. With white tablecloths and fresh roses on each table, this is the perfect spot for celebrating your relationship.
Castaways Global Cuisine & Wine Bar: This family-owned restaurant serves Cajun-Creole fare as well as French and Caribbean dishes in a quaint and cozy atmosphere that is not only great for a romantic evening out but also for future travel planning to the destinations from which the night's menu originated.
Must-Do Activities
Watch a cooking dinner show at EVOO Cannon Beach Cooking School or sign up for one of their hands-on cooking classes.
Explore Hug Point State Recreational Site: Who better to take to such an appropriately named spot that your one and only? There's a beautiful waterfall right there on the beach! It's not the only thing to see though, you will find caves to explore carved out by the waves, sandstones cliffs, and colorful tide pools.
Hike to Devil's Cauldron: Looking down into this cove from the overlook is a stunning sight! Bordered by towering cliffs that jut into the ocean, the waves crash into the cliffs giving the illusion of — well, I'm sure you guessed it — a cauldron.
Healdsburg, California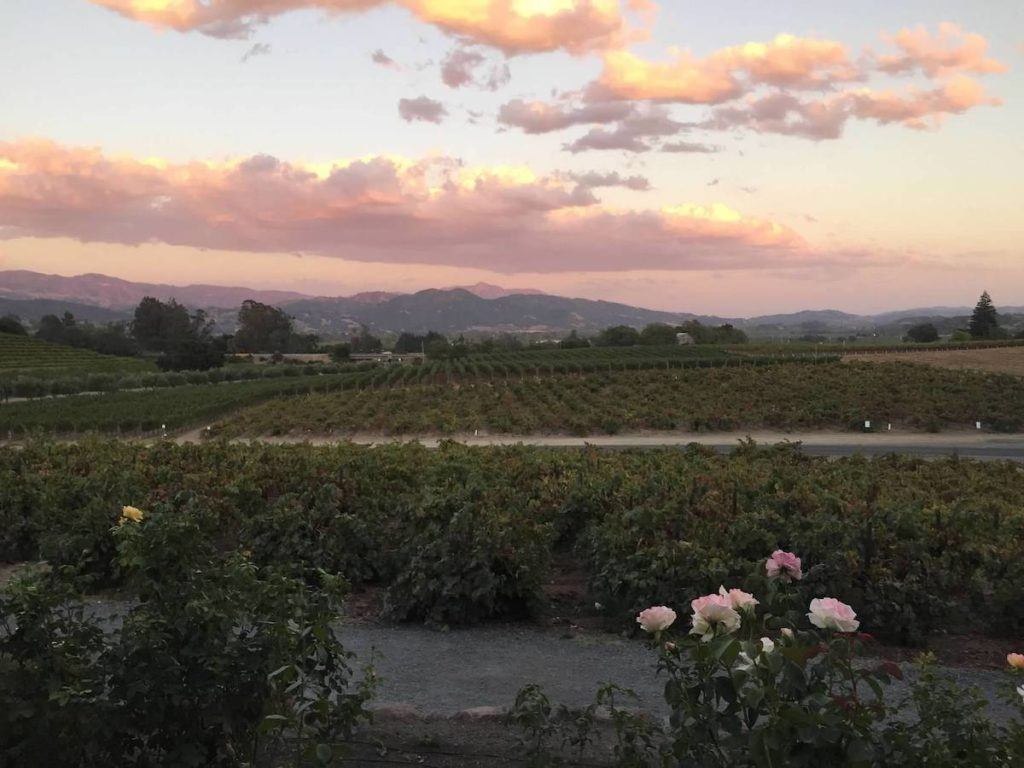 Embraced by the rolling vineyards of world-renowned wine-growing estates, Healdsburg is no run-of-the-mill bucolic small town. The place has a pleasantly surprising grasp on the finer things in life. From award-winning restaurants to beautiful art and sculpture and quaint antique shops, Healdsburg offers an array of fun things to explore.
This upscale town is quieter than Napa or Santa Rosa, and makes for a relaxing wine country getaway.
Where to Stay
Bella Luna Inn: Quaint, small, and private, this inn includes lush gardens and a heated pool as well as the convenience of being a short walk from the town center, Healdsburg Plaza.
Healdsburg Inn on the Plaza is another solid, charming choice for those looking to be within walking distance of town events like summer concerts, antique fairs, or tree lightings.
Where to Eat
Barndiva: Given the name, it likely won't surprise anyone that this farm-to-fork eatery is housed in a colorful and vibrant barnlike surrounding. The spacious garden patio is the perfect spot to, "eat the view," as diners are encouraged to do. The staff here hopes visitors will be nourished by everything they see and interact with at this restaurant.
Vallette: Founded by two brothers, this cozy eatery provides a canvas for Sonoma County farmers, winemakers, and artisans to showcase their craft. The result is a true tasting of the area from charcuterie and local cheese to organic greens, locally-raised meats, and fresh fish. Even the French pressed coffee is local.
Must-Do Activities
Wine Country Walking Tours partner with local wineries and gourmet food artisans to offer a guided wine and food pairing walking tour of charming downtown Healdsburg. It's a wine and foodie's dream come true!
Francis Ford Coppola Winery: As one would expect with any location bearing the Coppola name, this winery is a little wine country and a little Hollywood. Check out the Godfather desk as well as other memorabilia from Coppola films while enjoying a refreshing glass of Sofia Rose. Dine at the fabulous Rustic restaurant. During the summer, the pool scene at this winery can't be beat!
Napa Valley, California
From its world-class wineries and Michelin-starred restaurants to scenic beauty and luxurious accommodations, Napa offers plenty of ingredients for romance. Its posh setting makes it a popular weekend getaway for Northern California city dwellers, so try to visit in the off-season or mid-week for a bit more peace and quiet. Although, wine country during harvest is a special experience!
Where to Stay
Auberge du Soleil: Inspired by the South of France but infused with a California soul, is how this resort describes itself. It's easy to see why once you lay eyes on this luxurious adults-only resort nestled amid 33-acres of heritage olive and oak trees.
The Archer Hotel: Located in downtown Napa, this chic and sophisticated hotel is a short walk from romantic dining experiences, unique boutiques, and wine tasting rooms. Enjoy a sweeping view of the city of Napa from the hotel's Sky & Vine Rooftop Bar.
Where to Eat
Angèle: Located in the historic Hatt Building along the Napa River, this chic little bistro serves French country cuisine complemented by wine and spirits that celebrate the best of French and American wine country.
The French Laundry: If you scored a reservation at the French Laundry, you've pulled off quite a coup! They are highly sought after and hard to get at this Michelin three-star restaurant.
The Oxbow Public Market: Whether you dine on the deck overlooking the Napa River or pick up picnic provisions and head up valley, the Oxbow offers a wide variety of food vendors and artisan cafes to satisfy both of you.
Must-do Activities
Hot Air Ballooning: You will have to rise at the crack of dawn for this activity, but the scenic flight will be worth it! After touchdown, the pilot and passengers toast the adventure with a glass of sparkling wine.
Take a Mud Bath: Dr. Wilkinson's Hot Springs Resort recharges couples using a blend of a secret family recipe and Calistoga's famous warm mineral water.
Schramsberg Vineyards: The second oldest winery in Napa Valley, this vineyard offers tastings of its sparkling wines and tours by candlelight in its historic caves. Does it get anymore romantic than that?
San Francisco, California
Yes, the little cable cars do seem to climb halfway to the stars here as the song suggests. As they go, they pass rows of charming old Victorian homes in diverse hilly neighborhoods. Top that with the twinkling lights of the Golden Gate or the Bay Bridge lights, and you have yourself an enchanting mix for a romantic weekend.
With interesting neighborhoods to explore, top-notch restaurants, and unique cultural experiences, San Francisco is perfect for those looking for an urban romantic getaway.
Where to Stay
The Lodge at the Presidio: This chic and cozy accommodation is the city's closest hotel to the Golden Gate Bridge. In fact, you can enjoy a view of it over some wine while cuddled under a blanket around the firepit on the lodge patio.
Hotel Zelos: If urban energy is what you seek in a romantic escape, then this is the place to book a room. Located in the historic Pacific Building in San Francisco's SoMA District, the two of you will be in the hub of shopping, dining, and entertainment — and just steps away from the city's iconic Union Square.
Lodge at Cavallo Point: Located at the foot of the Golden Gate Bridge, this luxury hotel offers both easy access to downtown San Francisco and solitude when you're ready to leave the urban landscape behind. This is because it sits in the stunning Golden Gate National Recreation Area on the Marin side of the bay.
Where to Eat
Foreign Cinema: This romantic twist on "dinner and a movie," has been a San Francisco favorite for 20 years. Enjoy California-Mediterranean fare while a subtitled film is projected on the backwall of restaurant's intimate courtyard which is a glow with twinkling string lights. Don't worry about being outdoors in the cool city climate, the courtyard is equipped with heat lamps.
Top of the Mark : This iconic San Francisco spot can be found on the 19th floor of the elegant Mark Hopkins Hotel. Enjoy each other over tapas, charcuterie and more than 100 signature martinis while taking in the 360-degree views of the city. This spot has been a favorite of locals and tourists alike for eight decades.
The Tonga Room & Hurricane Bar : Located at the Fairmont San Francisco, this classic location will have you believing you've turned up on some far-flung South Seas Island. Not only does it offer Polynesian-fusion cuisine but also the live music stylings of the Island Groove Band! Take your love for a spin around the thatch-covered barge dance floor on the lagoon. Just watch out for the periodic tropical rainstorms complete with thunder and lightning! (I'm not kidding!)
Must-Do Activities
Go Boating on Stow Lake: Located in the heart of Golden Gate Park, this man-made lake is great place to rent a tandem pedal boat or a canoe. Enjoy views of the waterfall on Strawberry Hill, an island in the middle of the lake or steer towards secluded spots around the arched bridge to steal a kiss.
Picnic in the Presidio: You can hire companies like Soiree by the Bay and About Us Events to style luxury picnic settings that can include throw pillows, string lights, tables, teepees and more. There are instances where you may still need to provide the picnic but, you will show up to a stunning location like bluffs near the Presido's Crissy Field to a cozy romantic set up where you will feast in style and comfort!
Take a San Francisco Love Tour: While you're celebrating your love, why not also celebrate some San Francisco love? Hop aboard a classic 1960's and 70's VW-hippie bus for a two-hour tour of places to love in the City by the Bay! These beautifully restored buses are an homage to San Francisco hippie history. They come complete with orange shag carpet and colorful beaded curtains. They also only seat 6 people at time making for more of an intimate experience.
Big Sur, California
Located off the famous Pacific Coast Highway, Big Sur is most known for its breathtaking coastline, giant redwoods, and legendary hiking trails. It has also drawn lovers, writers, poets, and artists to its scenic beauty for ages. It's easy to see why!
If you are coming from out-of-town, I'd recommend renting a convertible and traveling down the Pacific Coast Highway, one of California's most famous road trips. Big Sur is a great home base for exploring the Central Coast and the quaint town of Carmel-by-the-Sea.
Where to Stay
Treebones Resort offers luxury glamping yurts overlooking the Pacific Ocean with panoramic views in all directions. The resort offers an array of accommodation styles including a one-of-a-kind cocoon shaped tent with a private deck and outdoor fire pit. Dine on site at the Wild Coast Restaurant & Sushi Bar or indulge in massage treatments at the resort spa.
Ragged Point Inn & Resort: Affectionately referred to as "the Gateway to Big Sur," Ragged Point sits on seventeen peaceful cliff-side acres overlooking the Pacific Ocean. Most of the 39 rooms feature magnificent ocean views, fireplaces, decks or balconies.
Ventana Big Sur: This luxurious hillside, adults-only resort is ready to make your stay as carefree as possible with a Leisure Concierge to take on planning every aspect of your stay so all you have to do is focus on each other.
Where to Eat
Big Sur Bakery and Restaurant: You will immediately feel at home in this little ranch house tucked under the area's giant trees. You'll also want to stop by again and again for the wood-fired pizza, the espresso or a colorful salad.
COAST cafe is the perfect pairing of art and nature. It offers a picnic-inspired menu sourced from California's Central Coast, stunning ocean views from a rooftop terrace, and fine art from local and award-winning artists.
Nepenthe Restaurant: Picture this, sipping wine with your sweetie while enjoying a panoramic view of the Pacific Ocean in a laid-back ambiance at this famous Pacific Coast Highway spot.
Must-do Activities
Julia Pfeiffer Burns State Park: Hike the ½ mile round-trip Waterfall Overlook Trail. The almost-flat stroll ends at an oceanfront overlook with views of McWay Falls.
San Simeon Cove: Go Sea kayaking in a natural harbor 15 minutes south of Big Sur. There is a pier stretching over the cove where most visitors spot seals, otters, and sea lions but getting into kayak gets you an unforgettable up close experience!
Santa Barbara, California
Just 90 minutes from Los Angeles, this California beach town is so picturesque that it has earned itself the moniker of the American Riviera. Santa Barbara has a Mediterranean climate as well as the ocean breezes, sunny skies, and gorgeous sunsets that make for a quintessential romantic getaway.
Santa Barbara is also a leading wine region in Southern California for all you oenophiles.
Where to Stay
Hotel Californian: Located steps from the beach and just a block or two from the best wine tasting rooms and restaurants in the area, this iconic luxury hotel is a great choice for couples who want to enjoy it all. A rooftop pool with a view of the ocean, onsite Turkish-inspired spa and two restaurants add to the appeal. (And don't worry — you can check out!)
Casa Del Mar Inn: Located near several pristine beaches, and just a half block away from Stearns Wharf, this charming inn is a collection of bungalow style rooms surrounding a courtyard that will have you and your amor believing you've landed somewhere in Spain, perfect for a romantic getaway.
The Secret Garden Inn and Cottages: A peaceful and romantic atmosphere is guaranteed in this idyllic site mainly because this jewel is hidden behind high hedges and beautiful gardens. Sounds like the perfect spot to hide from the world!
Where to Eat
Ca' Dario: A Santa Barbara favorite for over twenty years, this fine dining establishment serves up gourmet Italian food in a rustic ambiance that includes vintage wines, white tablecloths, and locally sourced ingredients.
The Lark: Named for the sleek overnight Pullman train of the Southern Pacific Railroad that serviced Santa Barbara from 1910 -1968, this establishment draws inspiration from the coastal regions of the Mediterranean Sea.
Petit Valentien offers casual French cuisine in a charming bistro setting during the week and in the evenings. The menu shifts to Ethiopian cuisine for brunch on the weekends. Enjoy delectable entrees such as pan seared duck breast, barramundi sea bass, and flatiron steak.
Must-Do Activities
Head to the Funk Zone: A busy, 12-square-block neighborhood full of tasting rooms, breweries, boutiques, shops, art galleries and restaurants. Converted warehouses and buildings decorated with murals and contemporary art pieces set the tone for the area. Don't miss out on a tasting at the fun, hip Municipal Winemakers (whose wine club is affectionately known as Club Awesome).
Hike the Urban Wine Trail : It stretches across two distinct downtown neighborhoods and features more than twenty tasting rooms. Grab some comfortable shoes, there are some seriously delicious experiences to be had on this hike!
Go Whale Watching: Take to the sea on the Condor Express, which has been seeking out Gray Whales, Humpbacks, Orcas, and more for over 30 years.
San Diego, California
San Diego is spirited, colorful, cultural, and, very importantly, summer like for much of the year. Those moderate temperatures make it a great romantic getaway destination year round. With 70 miles of pristine beaches, a thriving urban center and a dazzling array of attractions including secluded spots to enjoy some time with your sweetie, San Diego's romantic side is both surprising and fun.
Where to Stay
The Pearl Hotel: Blending mid-century style with modern, this longtime institution in the Point Loma neighborhood is the perfect setting for playful couples who enjoy a little blast from the past. The hotel's 1960's architecture and the oyster shaped pool will have you both channeling Austin Powers and exclaiming, "Yeah Baby!"
Solamar San Diego: This chic contemporary oasis is just blocks from an array of dining and nightlife options in the Gaslamp Quarter making it a great romantic getaway spot for couples looking for frivolity and respite when they're ready. This hotel features recently renovated guestrooms and a rooftop with a pool, fire pit, bar, and quite the scene on sunny days and balmy evenings.
US Grant, a Luxury Collection Hotel: This distinguished and sophisticated hotel has been welcoming guests to San Diego's Gaslamp Quarter for more than 100 years. It's the perfect accommodation for couples with a appreciation for historic and stately surroundings. It was created by Ulysses S. Grant Jr., son of President Ulysses S. Grant, who named the hotel after his father.
Where to Eat
Mister A's: This place has all of the ingredients for a romantic evening –- a cozy atmosphere, an epic view of the skyline and an upscale American menu. It's no wonder they also have bragging rights as being the site of many marriage proposals and special celebrations like romantic getaways!
The Marine Room: Enjoy a stunning sunset along with impeccable white tablecloth service at this historic spot. It has attracted celebrities and dignitaries among others since 1941. The proximity to the beach can't be beat either! The waves literally crash against the picture windows of the sunken dining room during high tide or pass calmly below giving the illusion that you're floating on the ocean.
The Prado: How does this sound…the two of you enjoying red-wine braised ribs and paella in an enchanting courtyard under twinkling lights surrounded by lush nature and the striking architecture of the historic Balboa Park? Sounds pretty romantic if you ask me!
Must-do Activities
Visit Old Town San Diego: Get a peek at the early days of San Diego with a walk through historic old town. There are many spots in that will have you feeling as if you've landed in California before it was even a state! Beautifully restored and part of the state park service, old town offers an array accessible living history experiences.
Balboa Park's gardens offer quiet places to connect with your partner. The path at the Japanese Friendship Garden meanders past bonsai displays, cherry trees, koi ponds, and flowers. For a little Spanish flair, try the Alcazar Garden. It's modeled after the gardens of Alcazar Castle in Seville, Spain, with fountains, colorful blooms, Moorish tiles, and a shaded pergola.
Take a sunset hike: Is there anything more romantic than watching the sunset with your love on a warm evening? Torrey Pines State Reserve, just 20 minutes north of La Jolla, offers several picturesque coastal hikes. Arrive by 6 or 7pm to start your hike and finish it off at one of the benches with a gorgeous view of the Pacific Ocean and the San Diego coastline.