Not every wine country girls' trip turns out like the Netflix comedy that portrayed a group of middle-age women working out their issues through a series of hilarious escapades. BUT, we do all want our girls' trips to be about quality bonding, shared experiences, and fun adventures. And a wine country girls' trip can be just that.
This past fall, I grabbed my best friend and headed out to Sonoma County's wine country for some quality girl time. We both love wine, but we are also old enough to know that if we spend an entire day vineyard hopping, not only will we have to hire a driver, but we will also be passed out by seven pm and wake with raging headaches. Because let's face it, we just can't knock it back like we used to! So we decided to mix in some fun adventures too.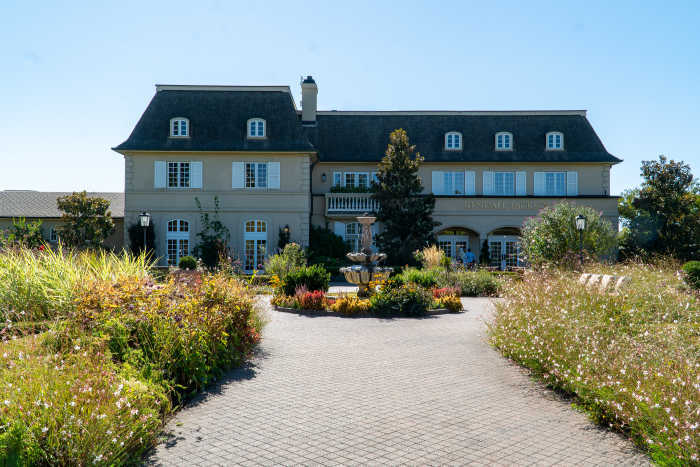 Planning a Wine Country Girl's Trip
Note: My trip was hosted by Visit Santa Rosa for editorial purposes. All opinions are my own.
We picked Sonoma County as our home base because flying into San Francisco was crazy cheap when we went in October — both from Boston and Seattle. Getting down to Paso Robles or the Central Coast would take too long from SFO for our weekend getaway, so we decided to head north.
I've been to Napa before and found it overcrowded, over priced, and a little bit pretentious if I'm being honest. In contrast, I've always found Sonoma to be more laid back and friendly, even if you are visiting with kids.
Where to Stay – Santa Rosa
We decided to stay in Santa Rosa, since it is centrally located and everywhere in the valley wouldn't be more than a 30-minute drive. Plus, the downtown offers a good variety of shops and restaurants, and a spacious town square. It is also home to the Sonoma County Fairgrounds, host to the Sonoma County Harvest Festival in early October, which we were planning to attend.
Safari West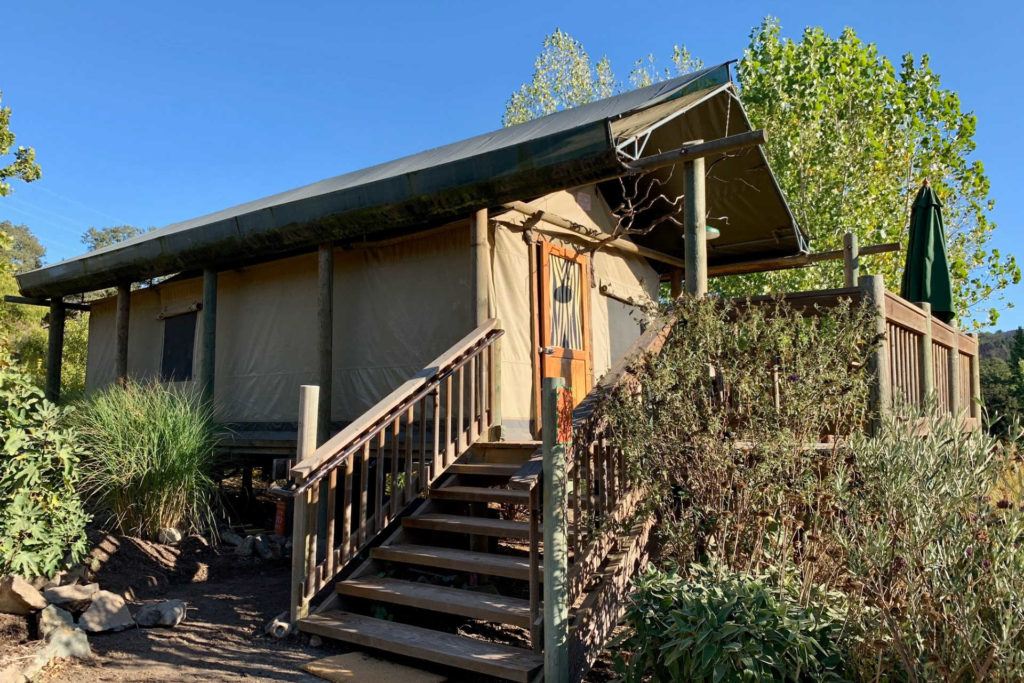 Since we both love the idea of glamping because it sounds so fun and unique, we opted to spend our first night at Safari West. Safari West is a really unique wildlife preserve and African tent camp also called the "Sonoma Serengeti."
Safari West covers 400 acres and is home to nearly 1,000 animals, including African antelopes, primates, and predators, plus a variety of avian life from around the globe.
You can visit for the day and sign up for a guided tour on a retro-fitted safari vehicle. Or, you can stay overnight in one of the custom-built tents imported from Botswana. The tents offer running water and full bathrooms, as well as electric blankets, but it can still get chilly overnight in the fall.
The tents offer a view of grazing antelope and giraffe. Twilight dining and wine-paired adventures are available, as well as dining at the onsite Savannah Café. And yes, they offer some great wines at the bar!
This was such a fun experience and an interesting twist for a more adventurous girls' trip!
Vintners Resort
One night of glamping was enough for this trip and we then switched over to the Flamingo Resort. This seemed like a great pick because it has a nice pool and spa. However, it is in desperate need of the renovation that is coming in 2020, so I would hold off visiting until after that takes place.
A better choice might be the Vintners Resort, which feels much more like "wine country." Spread across multiple buildings, this resort offers great spa and dining options.
Things to do on a Wine Country Girls' Trip
Don't worry, I will certainly get to the wine…we can't forget the wine…but I encourage you to think outside the bottle (see what I did there?) and consider adding in some hikes or fun excursions. I already mentioned the unique tours at Safari West, but here are some other ideas:
Go Ziplining in the Redwoods
If you want a little challenge or thrill, try zip lining through the treetops of California's famous redwood trees with Sonoma Canopy Tours. This two-and-a-half hour course includes seven zip lines, two short suspension bridges, a spiral staircase and "rappel" to the forest floor.
I've zip lined all over and I have to say that Sonoma Canopy Tours was one of the best because of the Redwoods and the extra features. The most fun was the 1500 foot zip where you go up to 40 mph! Rappeling off platform at the end sounds a little scary, but once you relax and lean back, the rest is easy!
Hike Among the Redwoods
If you are looking for your moment of zen, try a hike among the peaceful and towering redwoods at Armstrong Redwoods State Nature Reserve. There are a variety of short and longer trails, including the one-mile Pioneer Nature Trail that passes by the Armstrong Tree, which is thought to be over 1,400 years old.
Before your hike, you can stop for lunch and a tour/champagne tasting at Korbel Winery and the tasty on-site deli. After your hike, continue out to the coast or down to Bodega Bay.
Spa it Up
I mentioned the spas at the Vintner's Inn and Flamingo Resort, but there are plenty of other day spa options. If you want a full day experience, try the Osmosis Day Spa Sanctuary, which offers a unique healing environment that provides spa services in resonance with nature to sustain your body, mind, and spirit. Its Japanese gardens and Cedar bath are perfect for those seeking relaxation and mindfulness.
Shop and Explore
The small towns in this region, including Sonoma, Healdsburg, Windsor, and the city of Santa Rosa also offer opportunities to shop, sip, and explore.
Downtown Sonoma is a laid-back, old-world town center that combines Western charm with wine country sophistication. The lovely Sonoma plaza is surrounded by galleries, restaurants, shops, tasting rooms and historic buildings — a perfect place for exploring and relaxing. Be sure to sample cheeses at the Sonoma Cheese Factory and pop into Bump Cellars for some wine tasting.
Similarly, downtown Santa Rosa offers cute boutiques, along with restaurants like the Russian River Brewing Company and Perch + Plow.
Nearby Windsor is another cute spot to walk around, do some wine tasting at various tasting rooms, and grab lunch. If you are a dog lover, don't miss the Mutt Lynch tasting room. This wine shop / dog-lovers boutique welcomes dogs and their humans, although its the dogs that get the complimentary tasting plate of dog biscuits. But don't worry, the wine is also delicious.
Go Wine [Beer, or Spirits] Tasting
See, I told you I would get to the wine! Of course your trip needs to include some wine tasting, but surprisingly, Santa Rosa and the surrounding area is also home to an eclectic array of handcrafted spirits and world-renowned microbrews. Plus, if you have a taste for gin, vodka, or whiskey, they have that too.
But if wine is what you are after, there are more than 400 wineries open to the public, there is something to taste for every palate.
Korbel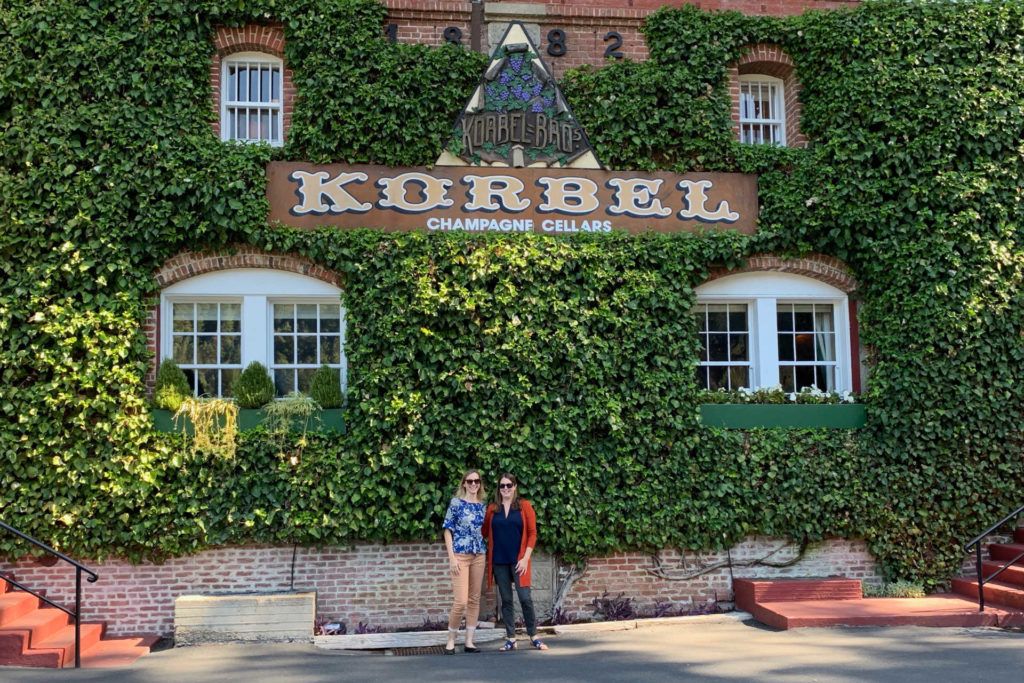 If you have champagne tastes, you can head up to Korbel and join one of their free tours, followed by a tasting. This is also a great spot to grab lunch at the cafe/deli, which offers a large outdoor shaded deck to enjoy your meal.
Kendall Jackson Wine Estate
If you want to kick your wine tasting experience up a notch, Kendall Jackson offers wine and cheese tastings, as well as full wine tasting meals. Just make sure you reserve in advance!
St. Francis Winery & Vineyards
If you are looking for a traditional tasting experience with amazing wine and a beautiful tasting room, my favorite is St. Francis. Of course, with 400 wineries to choose from you can find yourselves going back again and again to try more.
Wine not? Make it an annual wine country girlfriend getaway.
Looking for more girlfriend getaway ideas?