If you are looking for a weekend getaway in the Finger Lakes, Hammondsport offers small town charm at the base of Keuka Lake. Whether you are outdoor enthusiasts, history buffs, wine lovers looking to explore the Keuka Wine Trail, or just need some time to unwind, you will find plenty of things to do in Hammondsport, New York.
The Finger Lakes make a perfect year-round romantic getaway destination and also a great spot for a girls' trip. With eleven lakes, over 100 wineries and vineyards, and three separate wine trails, you can see why I keep returning to this region again and again. I've explored the Seneca Lake Wine Trail, had a girlfriend getaway to Ithaca and the Cayuga Lake Wine Trail, and taken my daughter to Corning and Hammondsport in the summer.
This fall I returned to Hammondsport to catch Keuka Lake at its peak fall foliage and explore more of this beautiful area. See for yourself why I keep returning to Hammondsport for the wine, views, food, and small town charm!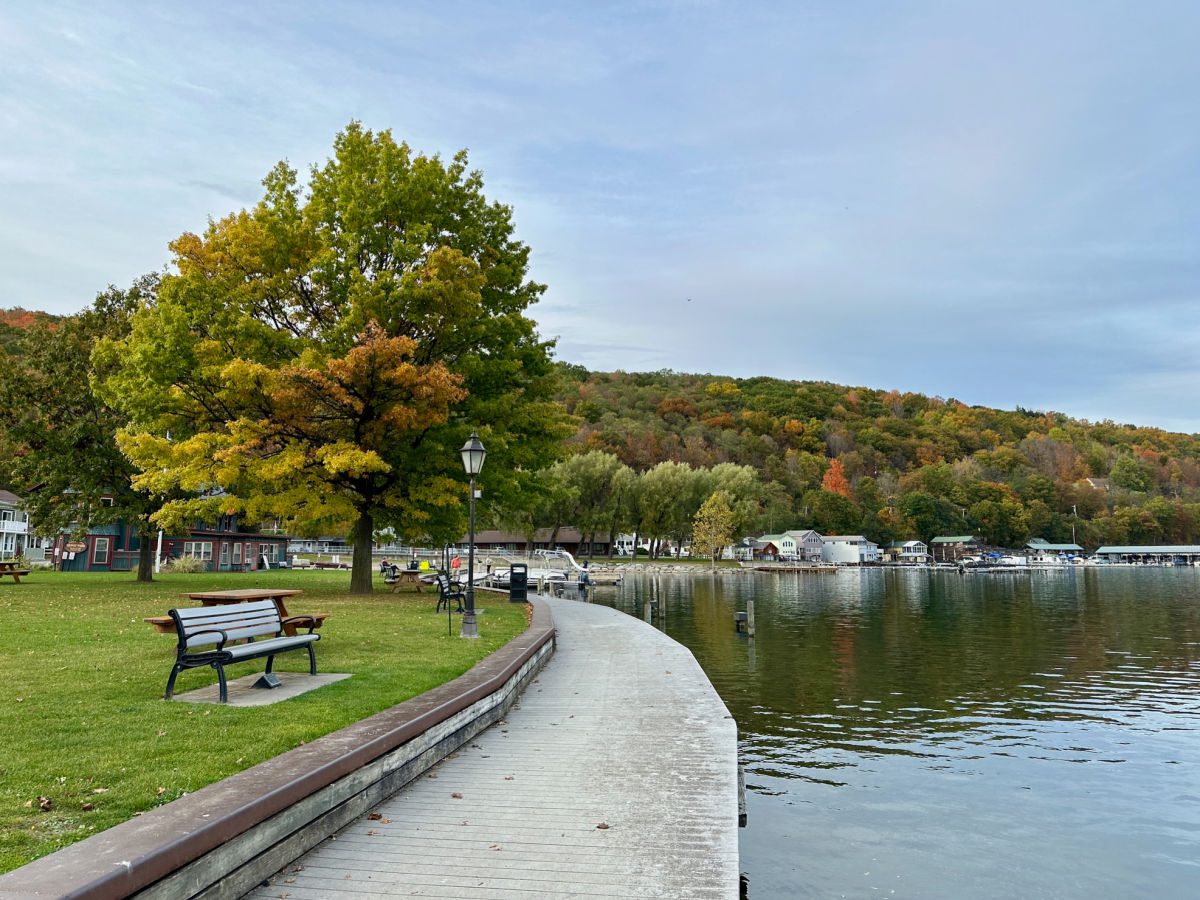 Things to do in Hammondsport
Note: My visit was hosted by Explore Steuben. Some activities, meals, and accommodations were provided for purposes of review. All opinions are my own.
Whether you visit in sun, rain, or snow, you will find plenty of things to do in Hammondsport, NY including outdoor adventures, lake activities, museums, shopping, tastings, and more. If you just visit for a weekend, you won't have time to try everything on this list, so here are my top picks:
Museum: Corning Museum of Glass
Outdoor activity: Horseback riding at Mountain Rose Farm or paddle boarding on Keuka Lake
Wine tasting: Living Roots Wine and Co.
Food & wine experience: 1886 at Dr. Frank's
Snack: Coffee & pastry at Vern's Cafe
Adventure: Glider ride
Eat Lunch with a View at Bully Hill Vineyards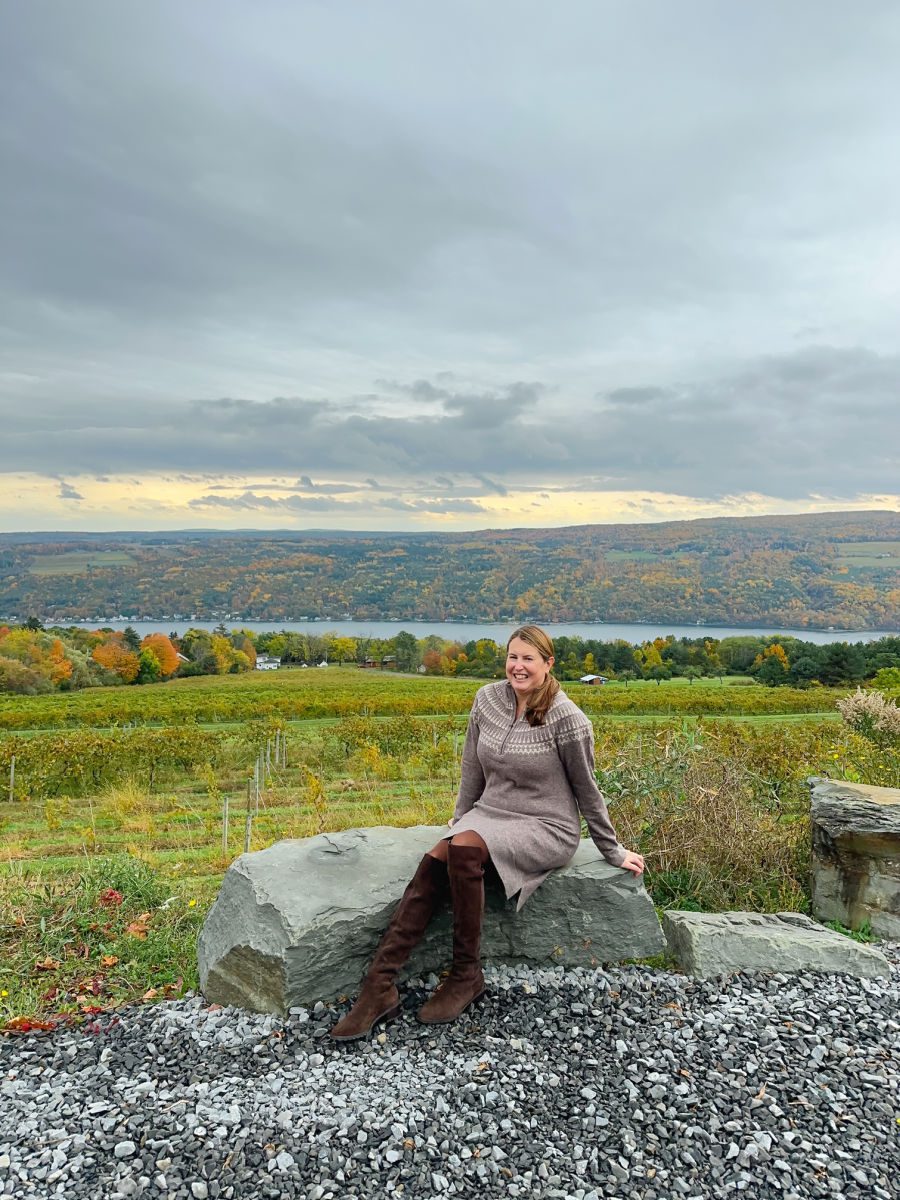 Bully Hill Vineyards has a tumultuous 100-year history, located on the same plot of land where founder Walter S. Taylor's grandfather first began the famous Taylor Wine Company in the late 1800s. That company was later bought by Coca-Cola and there was quite a contentious relationship, which eventually led Walter Taylor to start Bully Hill Vineyards, because he was not one to be bullied by big companies. You can explore the company and local wine making history in the museum on site, as well as enjoy Taylor's personal artwork, which is filled with societal observations, in the art gallery.
While you can enjoy a tasting as well at Bully Hill Vineyards, I'd encourage you to book a lunch reservation at the restaurant and order a glass to go with your meal. Taylor's wife runs a scratch kitchen that serves up seasonal specialties made in-house and delicious house-smoked barbecue, all with a stunning view of Keuka Lake. Order at the counter and then enjoy the view from the indoor restaurant or outside patio while you wait for your food to arrive.
Bully Hill Vineyards is located at 8843 Greyton H. Taylor Memorial Drive, Hammondsport, NY
Browse the Shops in Downtown Hammondsport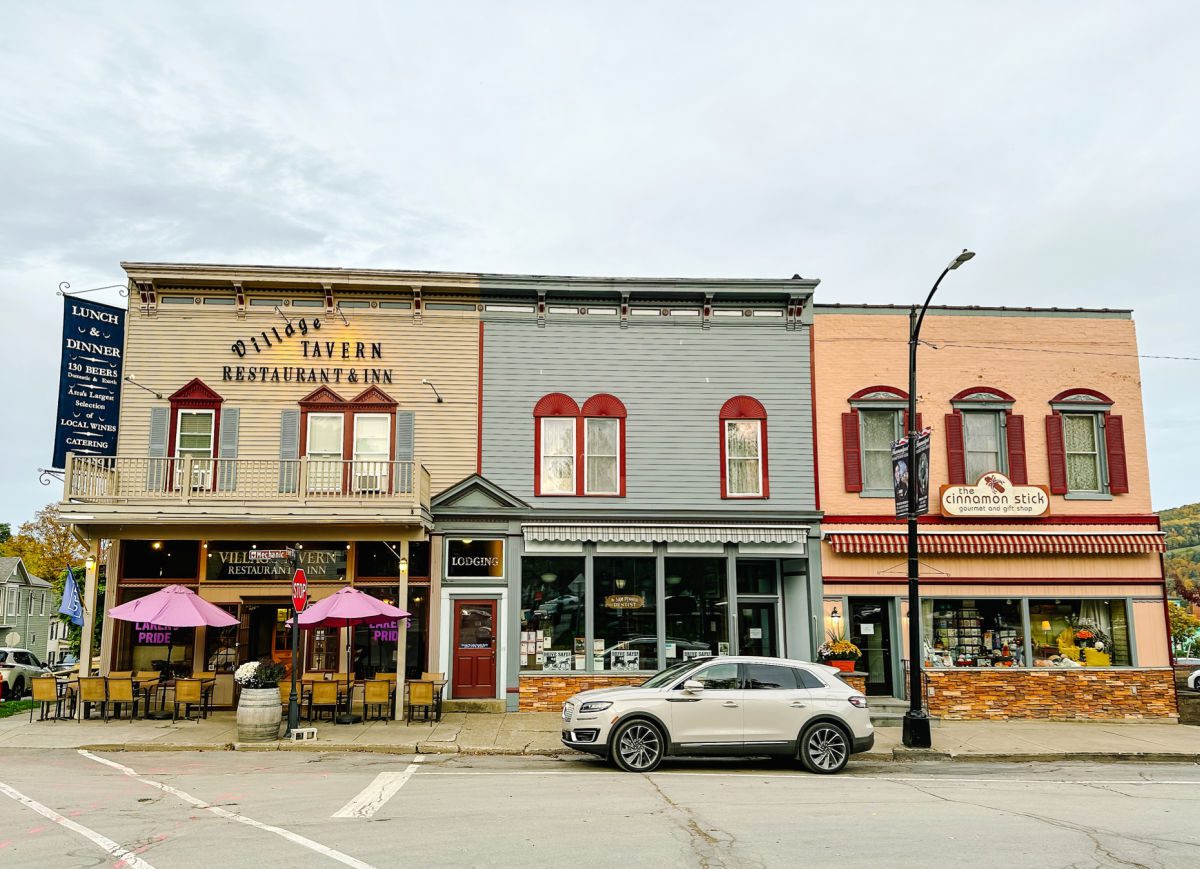 Downtown Hammondsport looks like a scene from the Gilmore Girls, with a town square gazebo that makes you think you are in Stars Hollow. The square is surrounded by historic buildings and the leafy side streets lead down to Depot Park at the southern tip of Keuka Lake.
All around the Village Square you will find restaurants, cafes, and boutiques. If you are looking for local gifts, Cinnamon Stick and Mersur are both cute local shops with many locally-made products. You will also find antique shops and art galleries around town.
Go Horseback Riding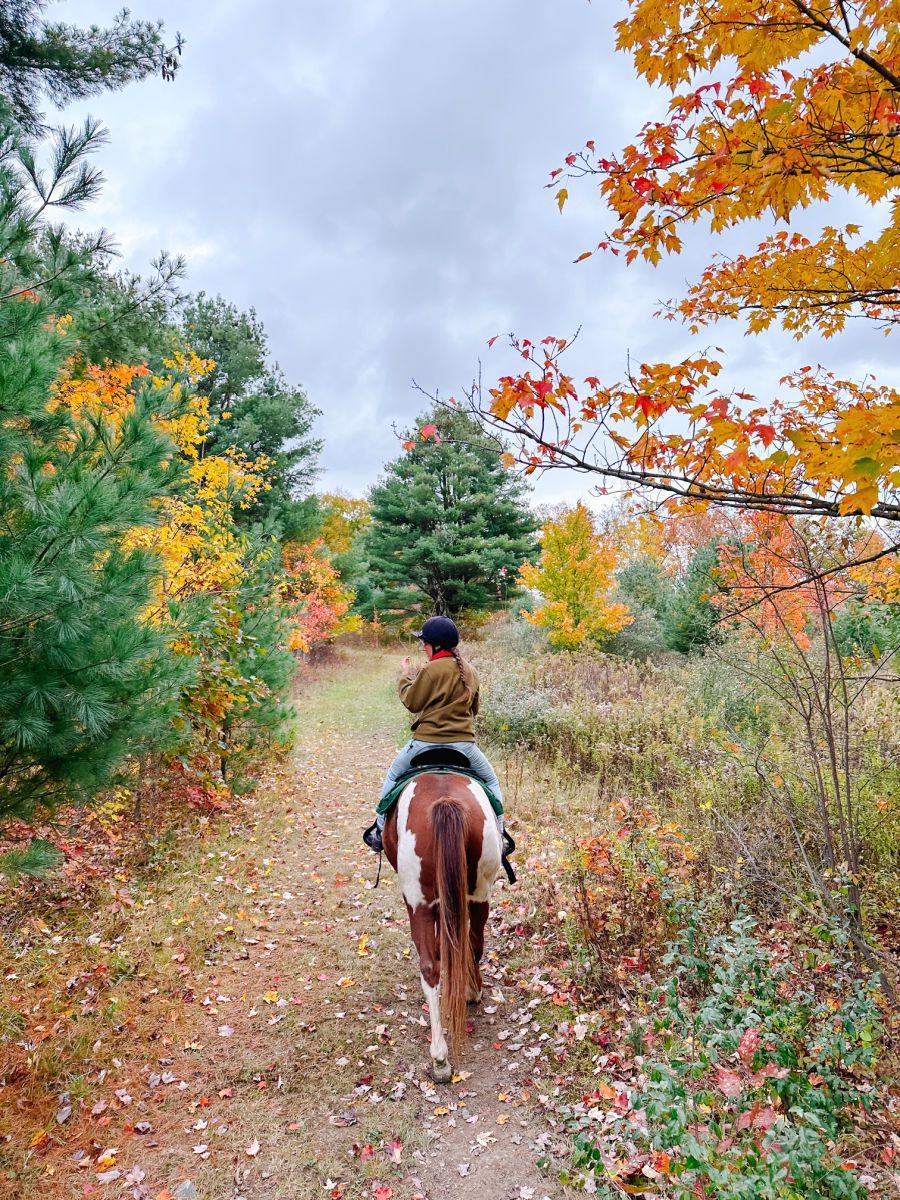 Located on the top of Mount Washington just 15 minutes from downtown Hammondsport, the 92-acre Mountain Rose Horse Farm is a beautiful spot to enjoy nature and connect with their calm and majestic horses. I always find getting out in nature and spending time with animals is a great antidote to our connected lives, and it does wonders for our mental health.
Mountain Rose Horse Farm and owned and operated by two sisters, who grew up riding and spent many seasons working as wranglers at ranches and hunting lodges out west before making their dreams come true by purchasing their own farm. Today, they offer beginner and advanced trail rides, pony rides for children, and riding lessons through the meadows and woods of their farm.
Mountain Rose Horse Farm is located at 7417 Vellie Road, Savona, New York
Fill Up on Pastries at Vern's Cafe
After decades spent as a pastry chef in restaurants across the country, Chef Vern Puglisi opened Vern's Cafe in Village Square in 2022. This patisserie offers humongous (and delicious) croissants, cinnamon rolls, and decadent desserts featuring locally-sourced and seasonal ingredients. It is the perfect spot in town for a light breakfast or coffee and a snack to fuel your day.
Vern's Cafe is located at 49 Shethar Street, Hammondsport, NY
Check out Hammondsport's Craft Beer Scene
The Finger Lakes may be known for wine, but in recent years, dozens of craft breweries, distilleries, and cideries have cropped up as well. Right in Hammondsport you will find the Brewery of Broken Dreams and Finger Lakes Beer Company, both of which serve up a mix of ales, IPAs, porters, stouts, and other styles. Keuka Brewing Company, Steuben Brewing Company, and Keg & Barrel Brewing Company are also only a short drive away on Keuka Lake.
Get Ice Cream at Crooked Lake Ice Cream Company
Crooked Lake Ice Cream Company has been a Hammondsport icon for nearly 100 years, offering the "coolest ice cream" in what has been called America's Coolest Small Town. Formerly known as "the grape vine and the sugar bowl", this ice cream shop also serves up breakfast and lunch with classic 50s diner favorites that pay homage to hometown heroes like the "Fastest Man on Earth" (named after Glenn Curtiss) breakfast special.
Crooked Lake Ice Cream Company is located at 35 Shethar Street, Hammondsport, NY
Swim in Keuka Lake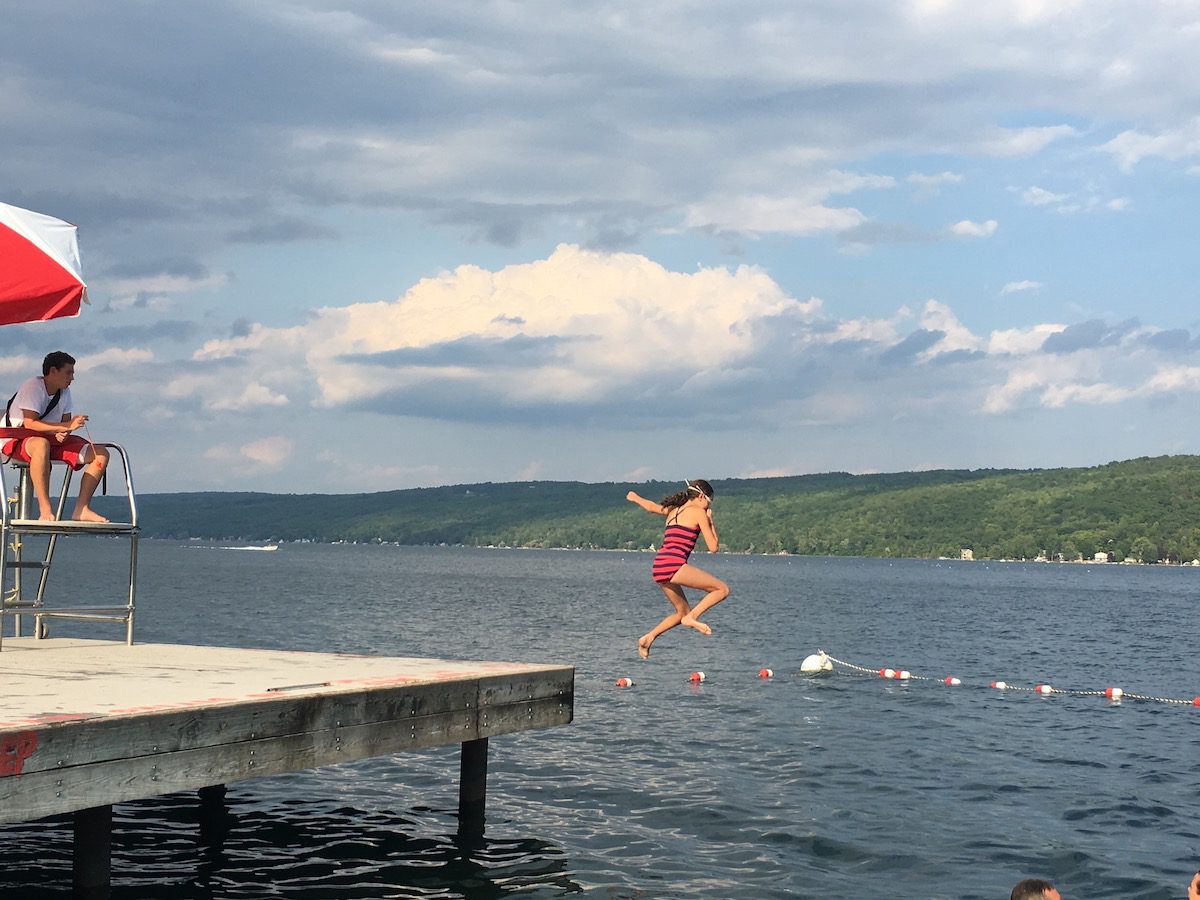 Unlike the other Finger Lakes, Keuka Lake has a unique Y-shape, giving it its nickname of "Crooked Lake." At over 19 miles long, on average 3/4 mile wide, and 101 feet deep, there is a lot of lake to explore. The good news is, if you are visiting in the summer, it is also the warmest of the three large Finger Lakes.
If you are looking to take a dip, Depot Park in Hammondsport offers life-guard services in the summer and you will love jumping off the town dock. Nearby, Champlin Beach also has supervised life guard swimming from the shoreline, along with picnic tables and kayak and paddle board rentals.
You can also get in the water from the swimming beach at Keuka Lake State Park in Branchport (entry fee required), or the Red Jacket Park in Penn Yan with a sandy beach, playground, and picnic tables.
Tour the Pleasant Valley Wine Company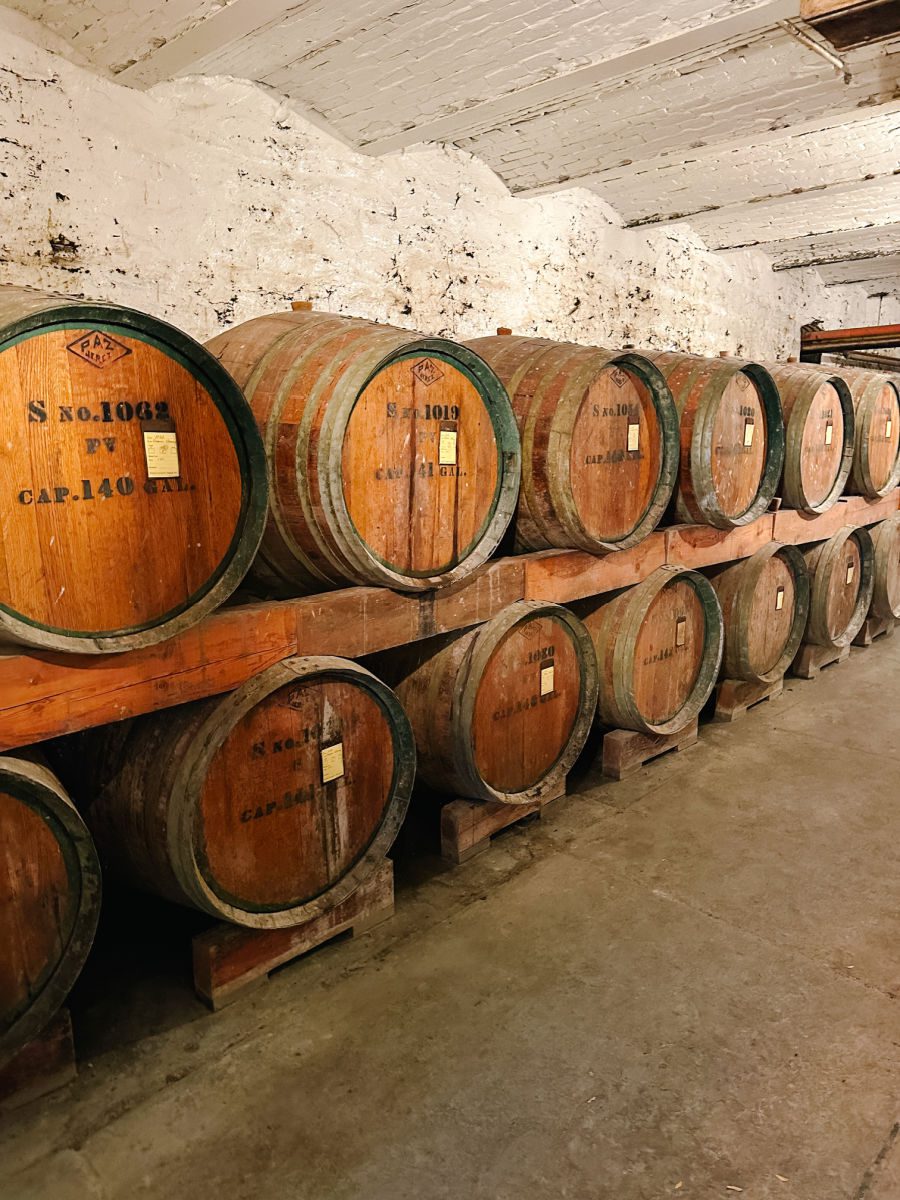 Pleasant Valley Wine Company is the oldest winery in the Finger Lakes region. Established in 1860, the winery holds the designation of U.S. Bonded Winery No. 1 and still maintains a 14 million gallon capacity. Known for its sparkling and white wines under the Great Western wine brand, the company also produces a lot of private label wines, along with sherries, ports, and a number of sweet wines, pressing up to 400 tons of grapes a day for 2.5 months of the year.
You can stop into the winery for a tasting, or join a tour ($5.00 fee) of its eight stone buildings listed on the National Register of Historic Places and still in use for production today. The visitor center also has free exhibits that tell the history of the company and wine making in the region.
Pleasant Valley Wine Company is located at 8260 Pleasant Valley Road, Hammondsport, NY
Visit the FLX Boating Museum
Located just next door to the Pleasant Valley Wine Company, the Finger Lakes Boating Museum is a volunteer-operated non-profit that focuses on educating about and preserving the boat building heritage of the Finger Lakes. Spread across multiple buildings that were previously part of the Pleasant Valley Wine Company, the FLX Boating Museum is a must for classic boat enthusiasts.
Visitors can learn about the history of boat building, see many of the classic boats that have plied the waters of the Finger Lakes, visit a workshop with restoration and boat building in process, and learn about the history of boating on the Finger Lakes. There are even interactive exhibits for kids and workshops for groups.
The Finger Lakes Boating Museum is located at 8231 Pleasant Valley Road, Hammondsport, NY
Dine Around Hammondsport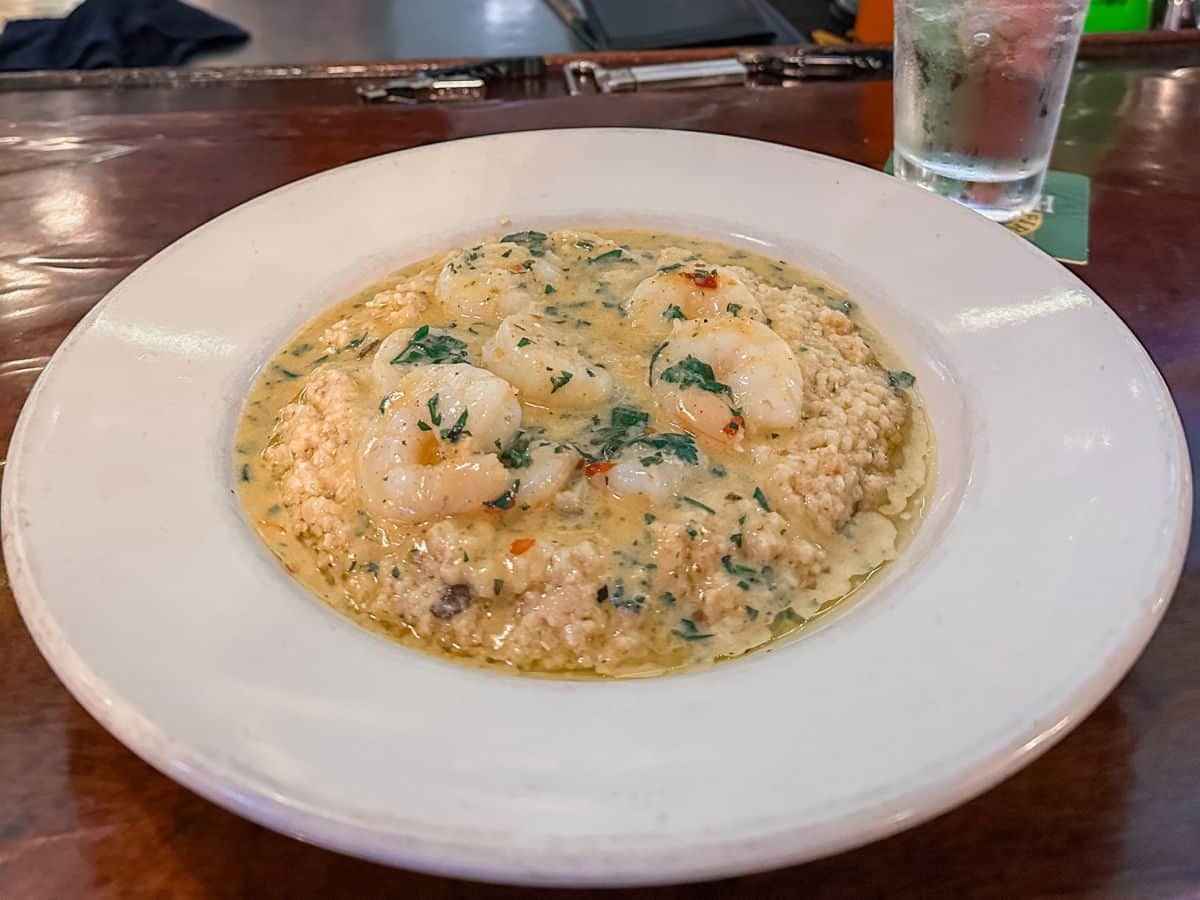 Hammondsport offers a number of restaurants right in the downtown Village Square from casual pizza (Wise Guys Pizzeria) or burgers (Burgers & Beer) to farm-to-table dining at The Park Inn. For more casual, tavern-style dining you can try the Village Tavern for delicious New Orleans-style cuisine or the indoor and outdoor dining at the Timber Stone Grill. Just be sure to make reservations in advance because for a small town, these places fill up fast, especially on the weekends.
If you prefer lakeside dining, try Snug Harbor Restaurant, The Switzerland Inn, Lakeside Restaurant & Tavern, or The Waterfront. Just keep in mind that some of these are open seasonally or have limited hours in the off-season.
Try Paddleboarding or Kayaking
The best way to enjoy Keuka Lake is on the water. If you are feeling energetic, Keuka Watersports offers boat, jet ski, stand-up paddle board, and kayak rentals, as well as private pontoon boat cruises from Champlin Beach in Hammondsport. You can try paddling from Hammondsport to Penn Yan, which is about 20 miles, or from Hammondsport to Branchport, which is about 14 miles. If you aren't that ambitious, you can enjoy poking around the coves and nooks and crannies of the coastline close to town.
Sample Local Spirits
There are five distilleries on Keuka Lake, producing hand-crafted, premium small batch spirits including gin, whisky, bourbon, rum, and vodka. Near Hammondsport, you can visit the tasting rooms at Krookid Leyk Distilling and Krooked Tusker Distillery for tours and tastings.
Learn about Early Aviation at the Glenn H. Curtiss Museum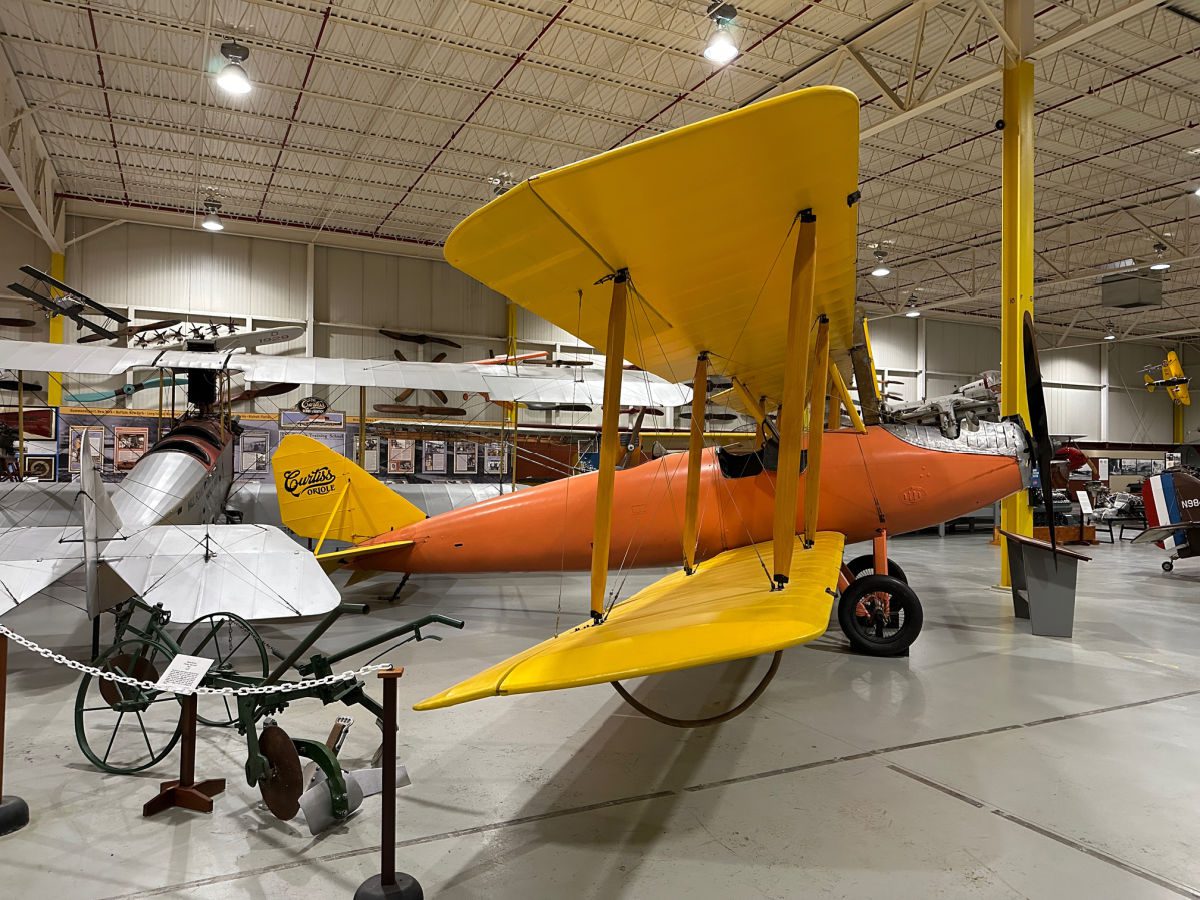 Glenn H. Curtiss was a Hammondsport native and an inventor, engineer, and pioneer in early aviation. While we have all heard of the Wright Brothers, Curtiss (a nemesis of the Wright Brothers) had just as large of an impact on the early days of commercial aviation. He started off by working on bicycles and motorcycles, setting a land speed record on an experimental V8 motorcycle in 1907, giving him the title of "The Fastest Man in the World."
He joined with other inventors and engineers of the time to work on airplanes and ended up patenting planes that were purchased by the U.S. government for use during World War I. The Glenn H. Curtiss Aviation Museum is located less than five minutes from downtown Hammondsport and houses a priceless collection of early aviation planes, along with classic cars, his motorcycles and bicycles, and a 75-seat theater that shows an hour long documentary about Curtiss' life and accomplishments. Plan to spend about two hours exploring the museum.
The Glenn H. Curtiss Museum is located at 8419 NY-54, Hammondsport, NY
Take a Boat Tour of Keuka Lake
The Finger Lakes Boating Museum offers seasonal boat tours of Keuka Lake on boat the Pat II. Named after builder George M. "Pat" Comstock, The Pat II is a 39' launch that was built in 1924. She first served as a tour boat in the Thousand Islands from 1924 to 1955 and then moved to Skaneateles Lake and served as a tour boat and US Postal Service delivery boat on the historic Star Route 13 until 1991.
She has been lovingly restored by skilled volunteers at the FLX Boating Museum and now offers one to one-and-one-half-hour boat tours for up to 16 passengers on Keuka Lake. OnKeuka! also offers private and public boat excursions on Keuka Lake from April through October.
Try Glassblowing at the Corning Museum of Glass
The Corning Museum of Glass is a world-class museum showcasing the history of glass and glassmaking, with a contemporary wing with incredible works for glass art in a stunning setting. When I first visited, I expected a museum about the history of Corningware, which frankly, sounded a little boring. But I assure you, this museum is far from boring.
Located in the town of Corning, about 45-minutes from Hammondsport, it is well-worth the drive and you can spend as much time as you like because the ticket is good for two days (and kids/teens get in free!) In addition to the Museum, you can watch a hot glass demo in the Hot Shop or book a glassmaking session (be sure to book in advance.)
After visiting the museum, leave time to walk around the downtown Gaffer district and have lunch at either FLX Provisions, a wine shop serving light bites, or Poppleton Bakery & Cafe.
Hike to a Waterfall
There are over 100 waterfalls in the Finger Lakes region, ranging from small cascades to towering falls. Near Keuka Lake, the most popular spots to go hiking and enjoy stunning waterfalls are in Letchworth State Park or Stony Brook State Park. Letchworth State Park is an hour drive west of Hammondsport and is home to the renowned "Grand Canyon of the East." This large park has 66 miles of hiking trails, many scenic waterfalls, cliffs, and even river rafting.
Stony Brook State Park is a bit closer, only 40 minutes from Hammondsport, and offers three hiking trails either along the towering cliffs or through the park's beautiful gorge. The park's gorge trail begins at North Entrance and passes by three major waterfalls. Both state parks require an entrance fee and can get quite crowded on weekends so it pays to get there early.
Attend the Wine Country Classic Boat Show
If you really enjoy classic boats, plan a visit in July during the Wine Country Classic Boat Show. This event brings together classic boat owners for a boat show and series of events including a water skiing exhibition and boat parade.
Go for a Glider Ride
With such a rich aviation history, it is no wonder that the Finger Lakes has also become the Soaring Capital of America. You can take a 15-20 minute glider ride at Harris Hill in Elmira with FAA-certified pilots. Rides are offered on weekends from 10:00 a.m. to 6:00 p.m. through late October and weekdays through Labor Day. All rides are weather permitting and on a first-come, first-served basis.
I have to admit that I was excited about this until I climbed into the tiny two-seater glider, sitting in the front with the pilot behind me. Then I was a bit terrified and didn't let go of my seat harness until I was safely back on the ground (versus my daughter who gave me a wave and thumbs up when she landed!)
Visit During Wings and Wheels of Hammondsport
If you are interested in classic and exotic cars and seaplanes, plan to visit Hammondsport during September to attend the weekend Wings and Wheels of Hammondsport event, sponsored by the Glenn H. Curtiss Museum. The event includes a car show, Kid Zone, and 30-minute scenic seaplane rides.
Enjoy The Days of Incandescence
If you would rather visit during spooky season, visit Corning in late October for The Days of Incandescence. The Days of Incandescence is a three-day event inspired by the actual history and mystery behind Corning's role in making the special glass bulbs for Thomas Edison's incandescent lamp and, as a result, it's role in helping spread light across the world.
The event includes guided walking tours, live music, a libations crawl, a cemetery tour, ghost hunt, Jack-o-lantern contest, and more.
Keuka Lake Wine Trail
While the above are all fun things to do in Hammondsport that don't involve wine tasting, not many people visit Keuka Lake without stopping at least a couple of wineries. There are 17 wineries in Steuben County along Keuka Lake. The region is known for its Cabernet Franc, Riesling, and sparkling wines, along with less-known varietals and proprietary blends, often grown with input from the innovators at Cornell University.
You won't be able to visit them all in just one weekend, but you can always try a few! You may want to look into purchasing the Keuka Lake Wine Trail Tasting Passport, which can be redeemed for tasting flights and additional discounts at member wineries, which include Heron Hill Winery, Hunt Country Vineyards, Keuka Spring Vineyards, Vineyard View Winery, and Weis Vineyards.
A few notable tasting experiences include:
Food & Wine Pairing at 1886 at Dr. Frank's
Dr. Konstantin Frank is a winemaking pioneer responsible for the vinifera revolution that changed the course of winemaking in the Finger Lakes back in 1958. A visit to Dr. Frank's is a must for any first-time visitors to the Keuka Lake wine region, and my first stop on my previous visit.
However, if you want a more elevated experience, I'd suggest booking a reservation for the 1886 Food and Wine Experience. On my return visit I was able to take part in this tour and tasting experience, which takes place just next door to the main winery. The experience starts with a blind, black glass tasting, just to get your taste buds warmed up. From there, the group is given a guided tour through the vineyard and wine cellar, to see where and how the sparkling wine is processed.
The experience concludes back in the stone farmhouse with a food and wine pairing experience of four wines and small dishes prepared with seasonal ingredients. This is a great outing to share with a group of friends or for couples that are food and wine lovers.
Dr. Konstantin Frank Winery is located at 9749 Middle Road, Hammondsport, New York 14840
Living Roots Wine and Co.
One of the newer tasting rooms near Hammondsport, Living Roots Wine and Co. at Shale Creek Vineyards offers gorgeous views of Keuka Lake in a modern setting with a large tasting bar, lounge area with a fireplace, and an outdoor patio with a fire pit. Living Roots is run by a couple that combines wine making family traditions from South Australia and upstate New York. Co-owner Seb Hardy hails from a wine making family that has worked with wines in the Adelaide Hills since 1850. In 2014, he and his wife and co-owner Colleen met while working the harvest at Hardy Tintara's Winery in Australia.
Now they split their time between Australia, where they produce reds, Rochester, where they produce rich whites, and now, the vineyard in Hammondsport. This is one of the few wineries in where you can taste Australian and Italian-style reds, in addition to some of the varieties that the Finger Lakes is known for.
Living Roots Wine and Co. is located at 8560 Co. Rd. 87, Hammondsport, NY
Weis Vineyards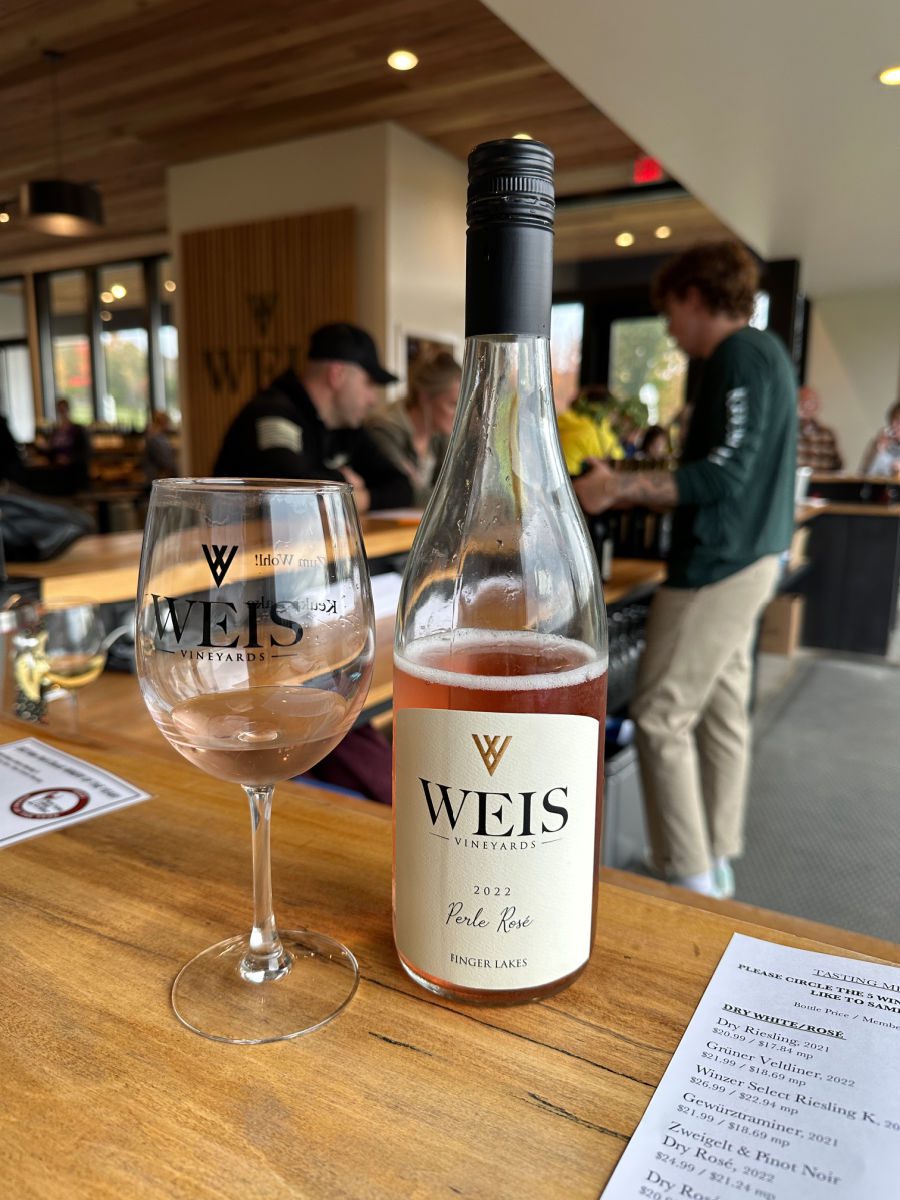 Weis Vineyards is a boutique winery that was named New York State Winery of the Year in 2022. The winery is run by a husband and wife team. Hans Peter is a native of Zell Mosel in Germany and Ashlee is a Hammondsport native. The winery uses German winemaking traditions from Peter's family to create award-winning, handcrafted wines including delicious dry Rieslings, Rosés, and bubbly, along with dry Reds.
Weis Vineyards is located at 10014 Day Road, Hammondsport, NY
Ravines Wine Cellars
Ravines is another favorite of mine, with tasting rooms in Geneva and Keuka Lake. Since opening in 2001, Ravines has consistently gained national awards, high scores and international accolades. Morten, the Founder of Ravines, pioneered the dry, mineral-tinged Riesling style that has since become the flagship Finger Lakes wine.
Today, Ravines owns 130 acres of prime estate vineyards, operates two tasting rooms year-round and holds many wine & food pairing events at the tasting room in Geneva.
Ravines Tasting Room in Keuka Lake is located at 14630 State Route 54, Hammondsport, NY
Where to Stay in Hammondsport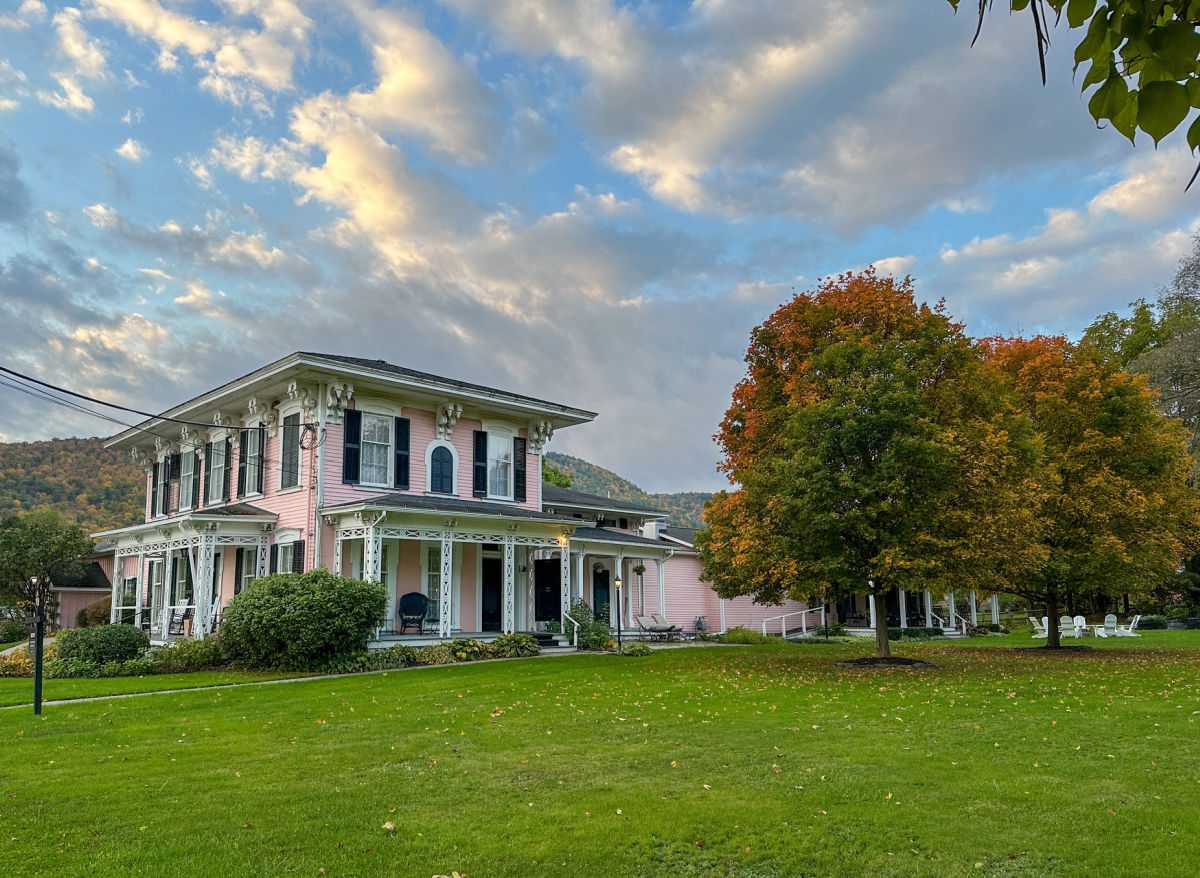 Hammondsport has accommodations options of all types, from charming bed and breakfasts to family-friendly chain hotels, to affordable vacation rentals. On my first visit, we stayed in a vacation rental home within walking distance to Keuka Lake. The last time, I stayed at the cute Pleasant Valley Inn, which is about a five to 10 minute drive from downtown, just up the street from the Best Western Plus.
If you prefer to stay in town, there are other bed and breakfasts such as the Historic Champlin House B&B. A short drive away, the Mountain Rose Horse Farm also offers vacation rentals on its beautiful property.
Find more places to stay in Hammondsport:
Visiting the Finger Lakes? You may also be interested in…