With more than 100 wineries in the Finger Lakes in New York, choosing where to go wine tasting can be a bit like throwing a dart blindfolded and hoping you hit a bullseye. Unlike other regions like Sonoma, the wineries in the Finger Lakes don't have the same national presence and name recognition to draw in visitors. But what many do have are beautiful views from the hilltops over the lakes — especially our picks for the best wineries on Seneca Lake. And we all know that wine tasting is not just about the wine, it is also about the tasting experience.
Your first step in building your wine-tasting getaway itinerary is choosing a lake to focus on for your trip. After all, you don't want to spend more time in the car than necessary. Since Seneca Lake is in the center of the Finger Lakes, it makes sense to start there. There are many wineries near Watkins Glen, a lovely town at the southern tip of Seneca Lake, on the Seneca Lake Wine Trail. From there, you also have easy access to the eastern side of Keuka Lake or the western side of Cayuga Lake. If you prefer Cayuga Lake, check out my article on a weekend in Ithaca.
Next, stop into your local wine shop and ask for recommendations on their favorite Finger Lakes wine. Keep in mind that many wineries sell a large portion of their production through their tasting rooms and have limited distribution — so just because they aren't well known, doesn't mean they aren't excellent wines.
And, if you love scenic views and are looking for a fun wine-tasting experience, visit one of our picks for the best wineries on Seneca Lake. And since a trip to this region is not just about the wine, also check out my list of the best things to do in the Finger Lakes.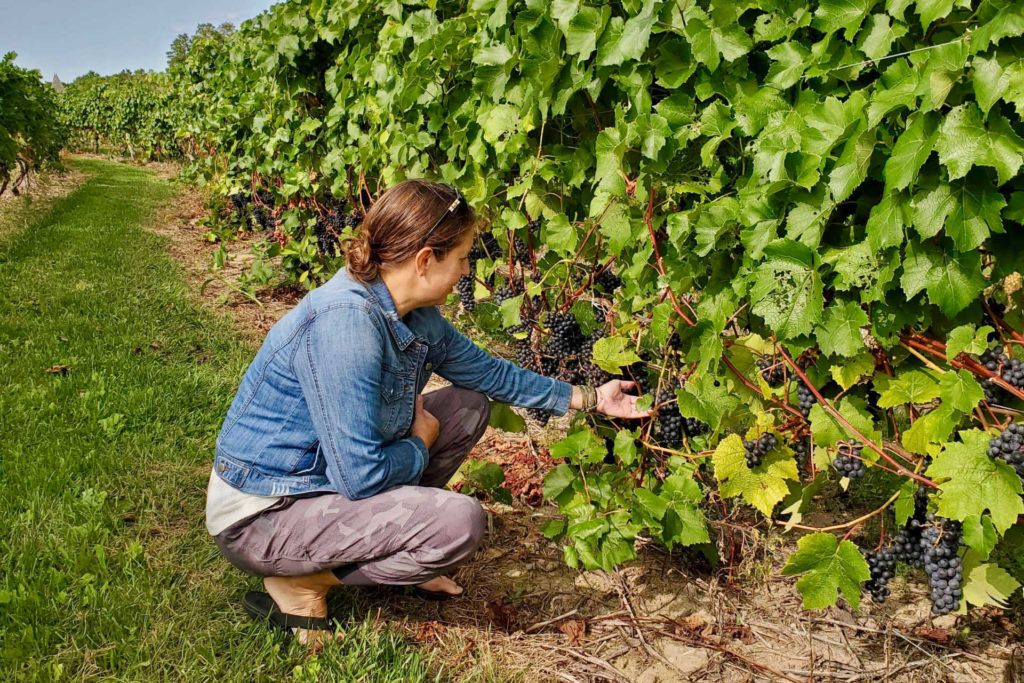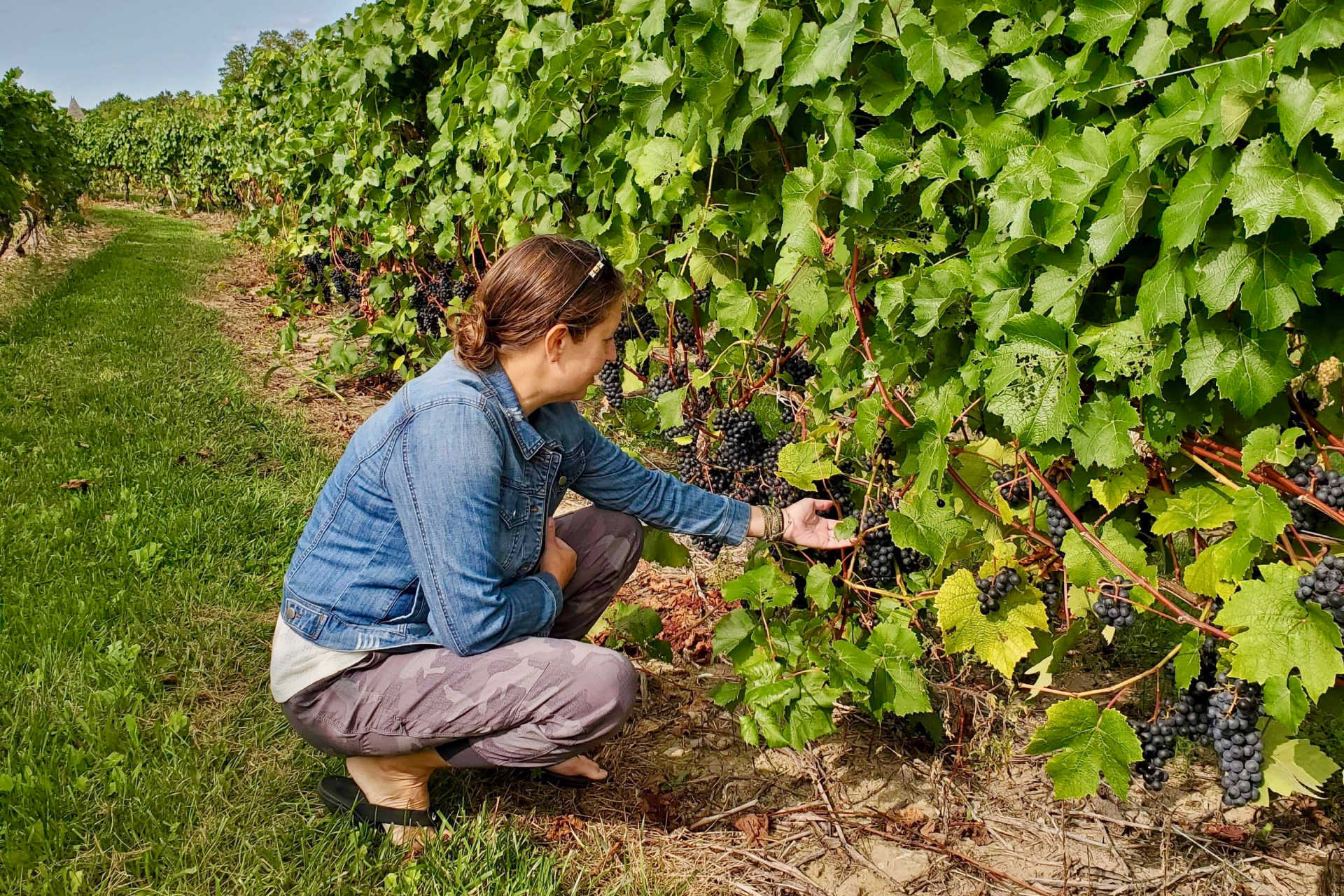 Best Wineries on Seneca Lake
The Finger Lakes is one of the top wine regions in the northeast. Unlike the Niagara region, which is known for its ice wine, the Finger Lakes are most well known for dry Rieslings.
While that may be the signature varietal, most Finger Lakes wineries will offer a selection of whites and reds, including some surprisingly good dry red wines. Tastings typically include at least five options and some wineries offer a selection, while others pour their tastings from a pre-selection depending on if you choose a "sweet" or "dry" tasting option.
It helps to plan ahead to see if any wineries you plan on visiting require reservations or suggest appointments to guarantee you a spot in the tasting room.
Lamoreaux Landing Wine Cellars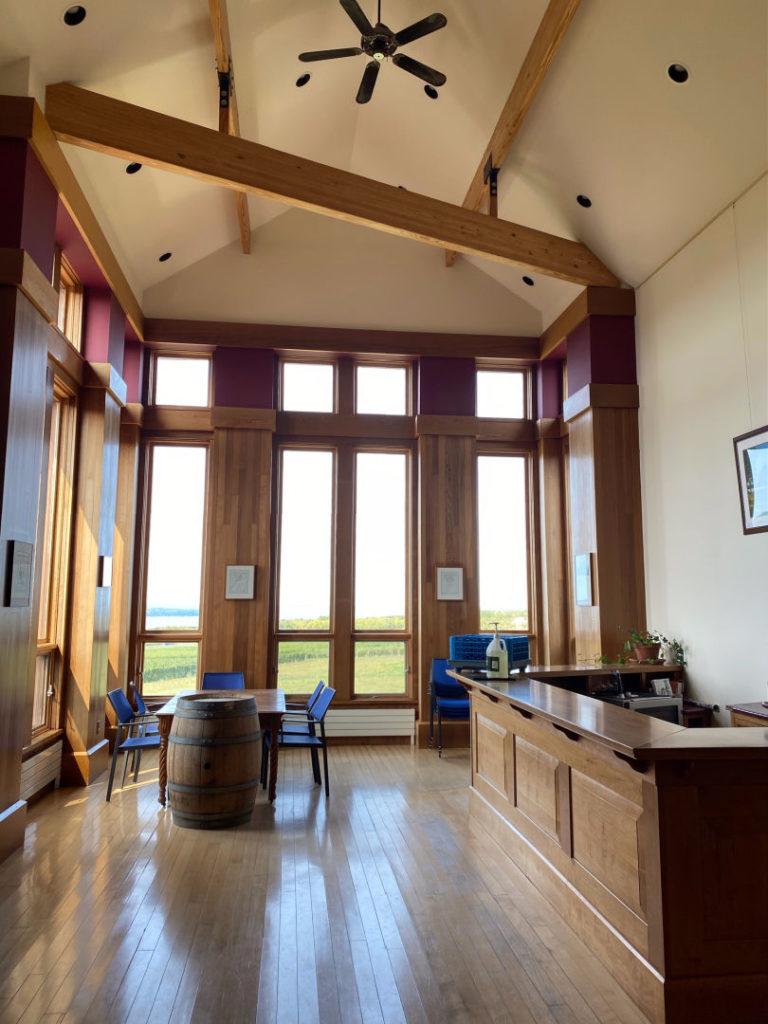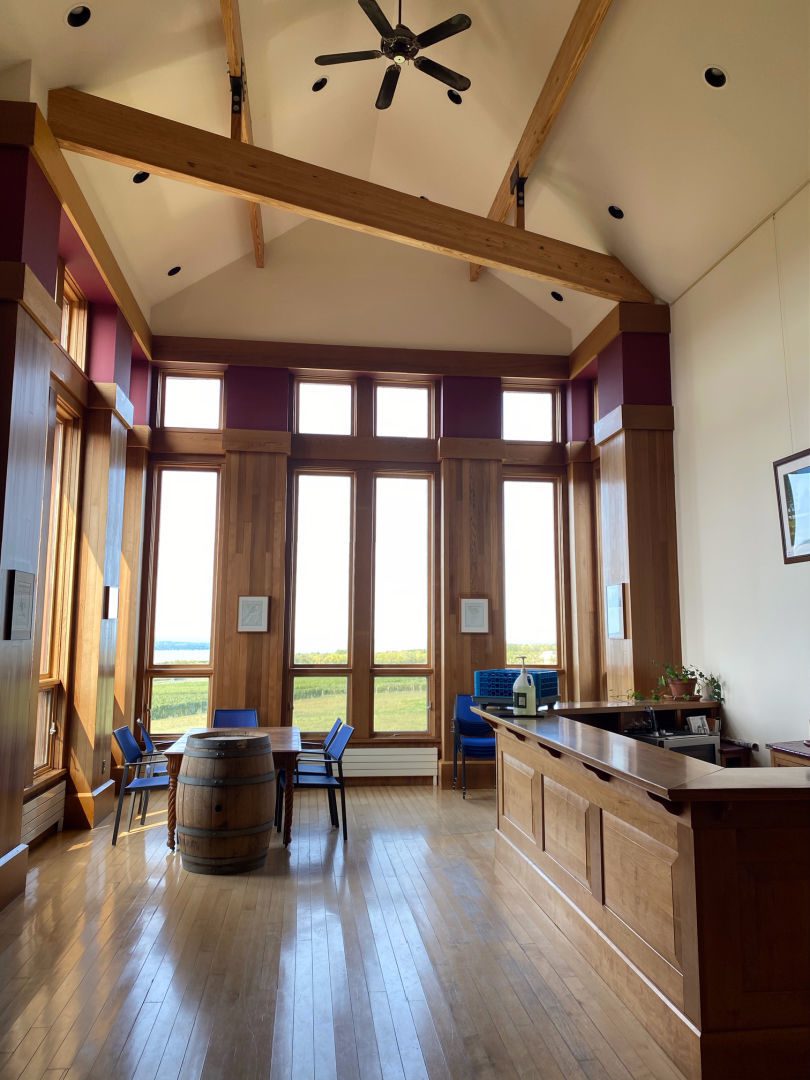 Located on the east side of Seneca Lake, Lamoreaux Landing offers tastings of four of their estate wines with a vintner in their outdoor tasting area on the East Lawn, with sweeping views of the vines down to the lake. When open, the indoor tasting room is also quite stunning, with floor-to-ceiling windows that maximize the view.
Instead of selecting a pre-set tasting menu, Lamoreaux Landing allows you to select which wines you wish to try in a guided tasting. The interactivity with a knowledgeable vintner, paired with my favorite dry red wines of the trip and the fabulous view make Lamoreaux Landing my top pick for wineries on Seneca Lake.
Lamoreaux Landing produces over 90 wines, many of which have received a 90+ point rating from Wine Spectator, Wine Enthusiast, or Wine & Spirits. For my tasting, they started off with a "welcome pour" of the Riesling Cuvée. I then tried three of their Rieslings, each from a different vineyard with slightly different flavor profiles. The Yellow Dog vineyard has notes of citrus with a mineral mouthfeel, while the Round Rock vineyard is more fruit-forward with notes of grapefruit, and stone fruit and paired with light minerality. They also offered up a taste of the Red Oak Vineyard, a staff favorite, as a comparison, which offers hints of clementine and lemon curd, with a smooth finish.
My next selection was the 2017 dry Gewürztraminer, which got 90 points from Wine Enthusiast. My final selection was the 2018 T23 unoaked Cabernet Franc, which I really enjoyed. But when they offered up a new taste of the 2019 vintage, that was the bottle that came home with me.
Lamoreaux Landing is located at 9224 NY-414, Lodi NY 14860.
Chateau LaFayette Reneau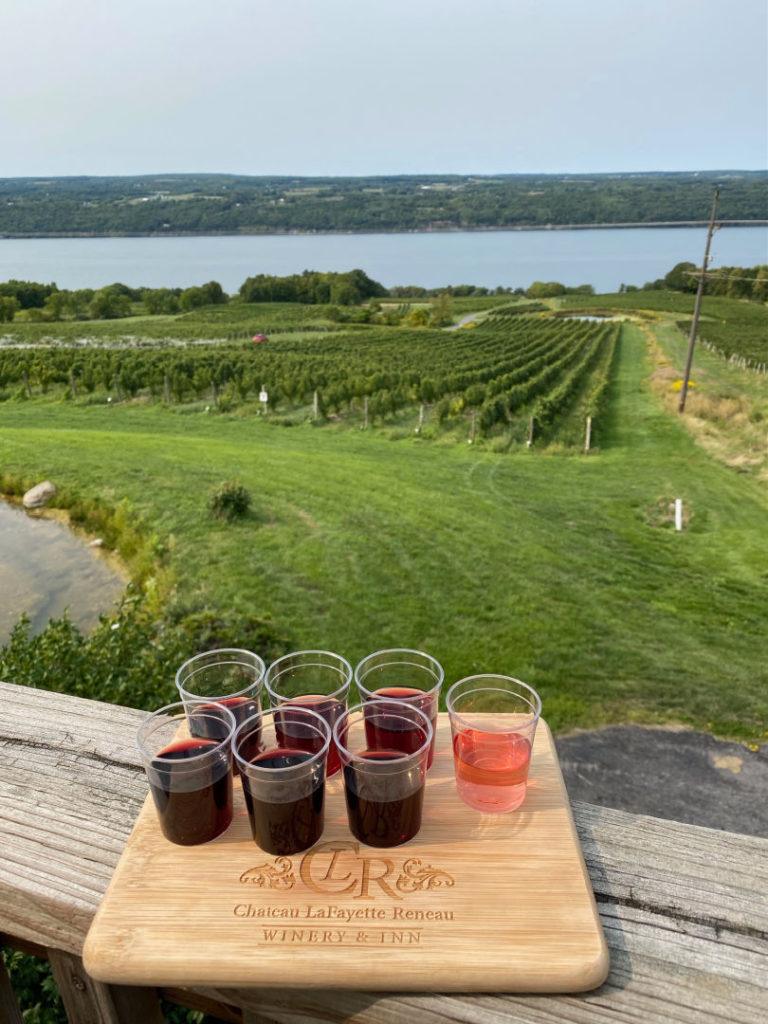 Chateau LaFayette Reneau has produced estate-grown vinifera wines for 35 years on their 110-acre estate. Their wines consistently win awards like the highly acclaimed Governor's Cup Awards and five Jefferson Cups.
Chateau LaFayette Reneau offers a tasting room with a back deck that overlooks the vineyard and Seneca Lake, with an awning to offer up shade from the sun. They offer flights of five wines including white wine, red wine, semi-dry wine, and sweet wine flights. I picked the Red Wine Flight, which featured a Cuvée Rouge, 2017 Pinot Noir, 2017 Cabernet Franc, 2016 Syrah, 2016 Cabernet Sauvignon, and the 2014 Owner's Reserve Cabernet Sauvignon.
Chateau LaFayette Reneau is located at 5081 State Route 414, Hector, NY 14841.
Lakewood Vineyards
I visited Lakewood Vineyards for a winery tour and tasting as part of a press trip and loved hearing about this family-run winery. They grow 14 grape varietals on 80 acres of vineyards overlooking Seneca Lake. In addition to an indoor tasting room and shop, Lakewood Vineyards has a beautiful covered patio with multiple tasting tables, as well as outdoor picnic tables to enjoy a glass of wine on the lawn before a stroll down towards the lake.
As with many other wineries, Lakewood offers two flights. One includes dry and semi-dry whites and reds, while the other includes semi-sweet and sweet wines. Since I prefer dry, I chose option A of the dry and semi-dry wines. I was surprised by how much I enjoyed the 2018 Chardonnay. While aged in oak, I didn't find it too oaky and it had a nice amount of creamy, butteriness without being overdone.
Lakewood Vineyards is located at 4024 NY State Route 14, Watkins Glen, New York 14891.
Glenora Wine Cellars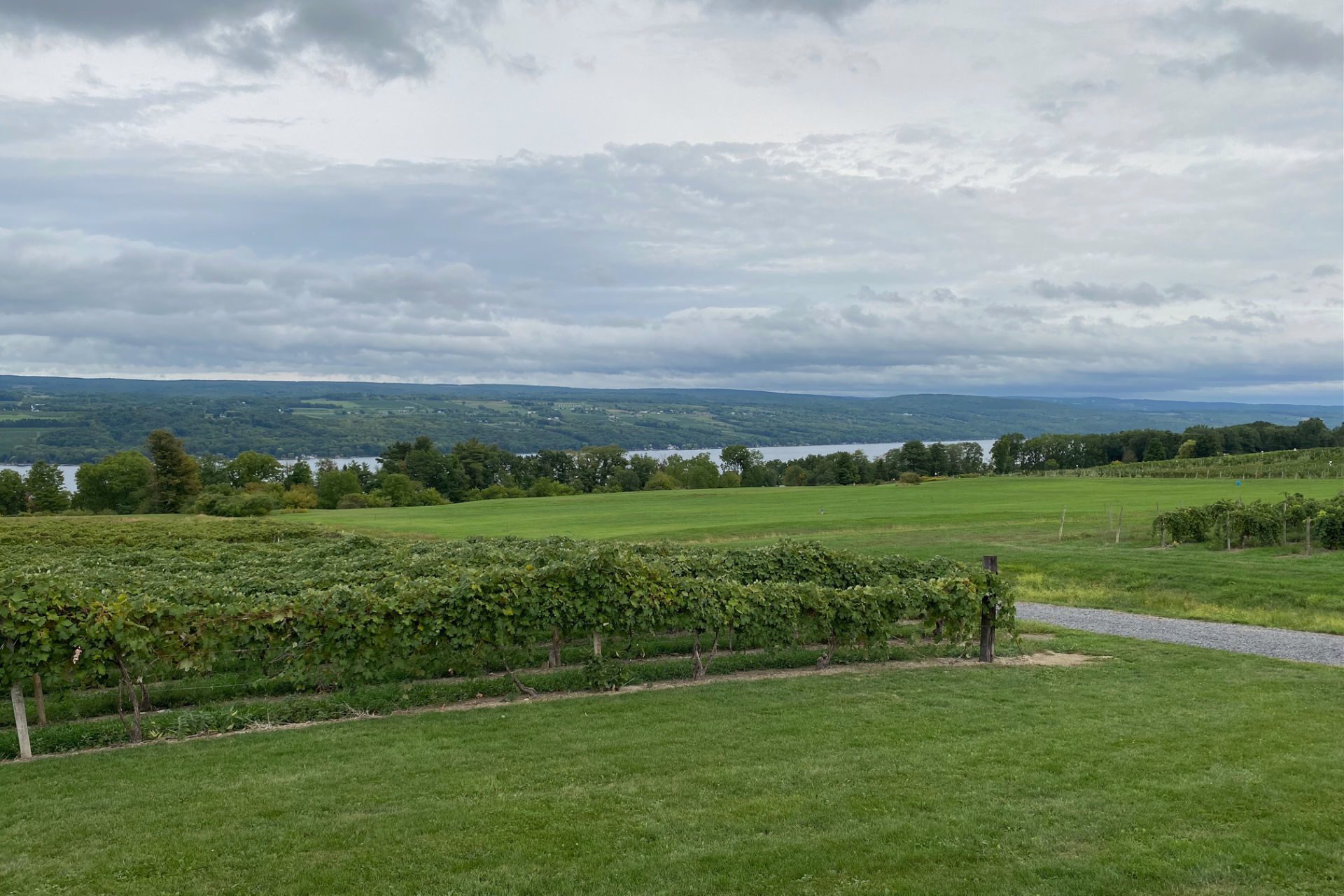 Just up the road from Lakewood on the west side of the lake, Glenora Wine Cellars also offers beautiful views from its lakefront location. You can even stay on property at their Inn if you have ever dreamed of staying in a vineyard.
Here the tasting room isn't as impressive, but you can always just get a glass to try and enjoy it on the lawn to soak in the view. At Glenora, you also choose between a dry/semi-dry tasting flight or a sweet/semi-sweet option. The Dry menu included a 2013 Brut, 2019 unoaked Chardonnay, a 2019 Seyval Blanc, 2019 Dry Rosé, a 2017 Cabernet Sauvignon, and a 2017 Meritage.
Glenora offers tastings and tours, including chocolate and wine pairings. You can also enjoy farm-to-table cuisine at Veraisons Restaurant.
Glenora Wine Cellars is located at 5435 State Route 14, Dundee, New York, 14837.
Other Considerations
Not every winery offers a lakefront view, but that doesn't mean they aren't worth visiting. A few to mention on Seneca Lake include: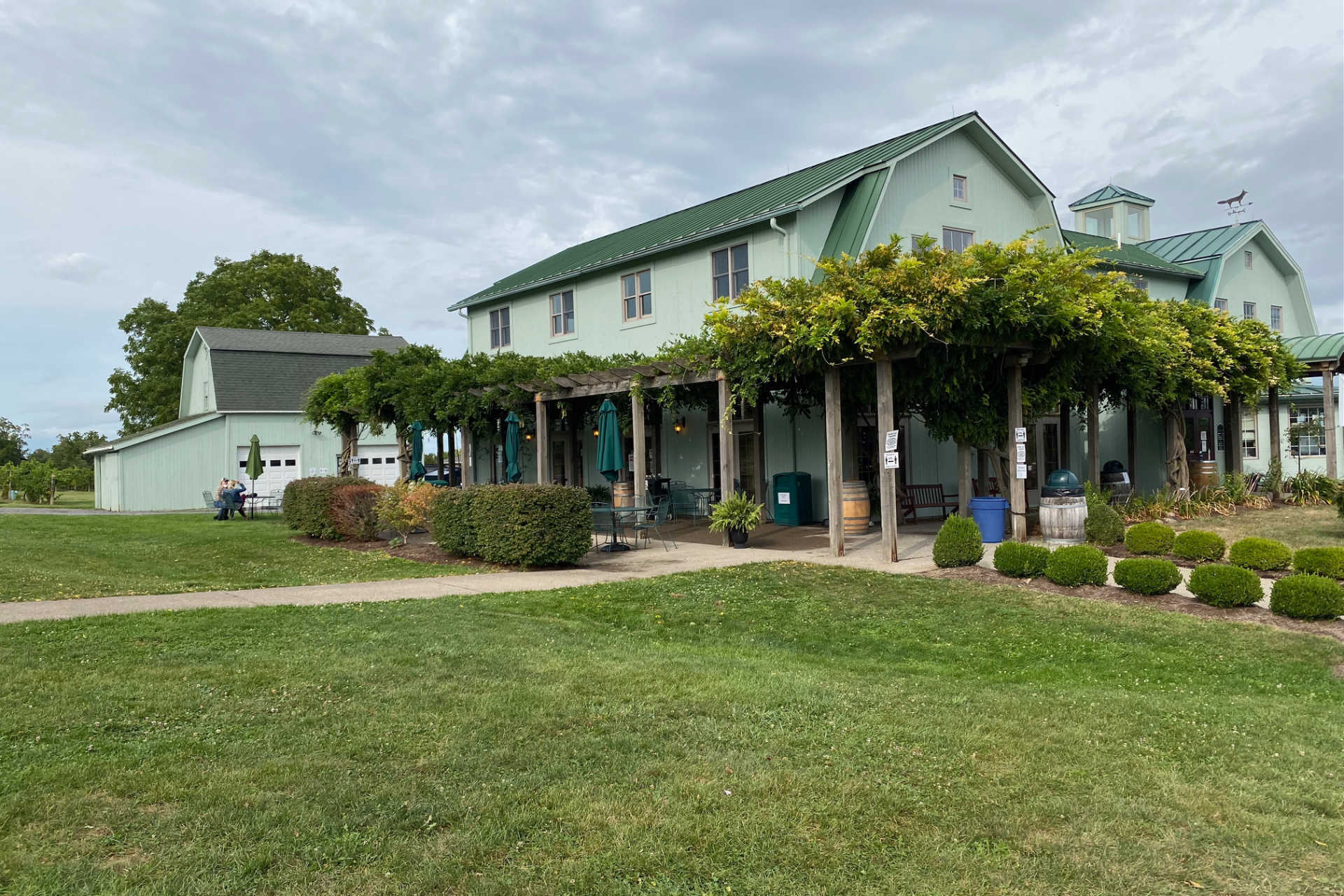 Prejean Winery — this family-run winery has a very friendly and knowledgeable staff, making for a very pleasant wine-tasting experience. It is the kind of place where you get into discussions about wine and winemaking and that leads you to new discoveries. I was a fan of the Dry Gewürztraminer and brought a bottle home to pair with Asian dishes.
Fox Run Vineyards — Fox Run is another family-run winery, but the tasting staff might be a bit hit or miss. I actually think the better choice here is to get a glass of wine and cheese board at the cafe and sit in their beautiful garden to relax and enjoy.
Magnus Ridge Winery — Magnus Ridge has a beautiful tasting room in a Chateau-like setting. I enjoyed the Lemberger, which was a new varietal for me and therefore a bottle I had to bring home.
If you want to do a lot of wine tasting but don't want to risk driving the narrow and winding lakeside roads afterward, you may want to hire a driver. Main Street Drivers offers wine tours starting at $35.00 per hour!
Where to Stay in Watkins Glen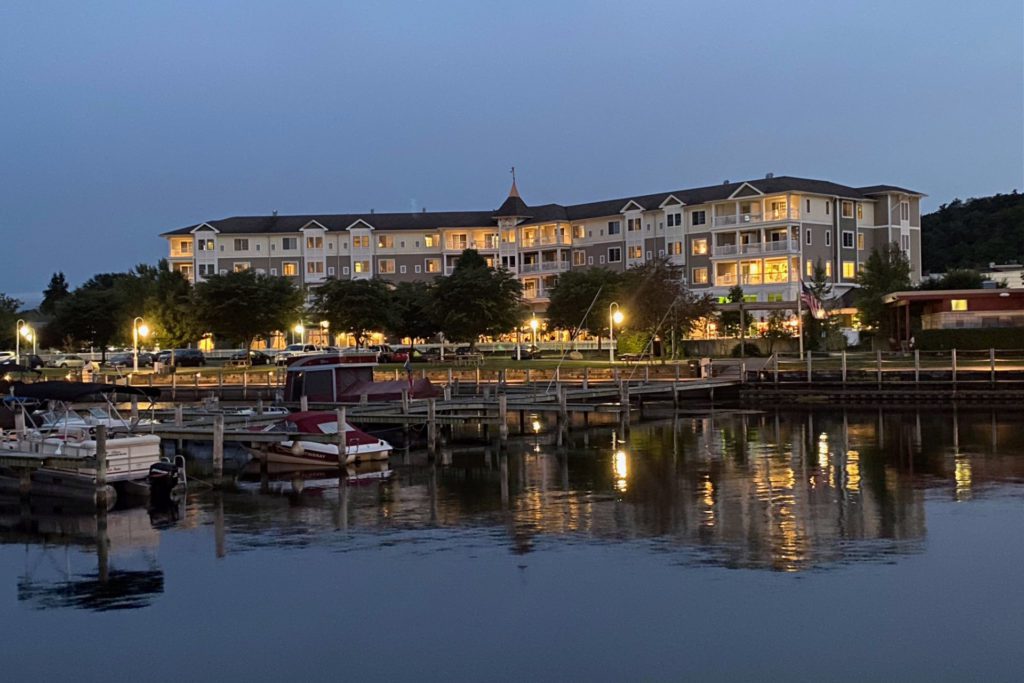 If you are looking for convenience, views, and an upscale hotel, check into the Watkins Glen Harbor Hotel. I was recently hosted for a two-night stay as part of an Empire State press trip (of course all opinions are my own) and it was absolutely lovely.
The hotel is located on a lakeside marina, just steps from the Seneca Lake Pier where sightseeing boats depart. Boaters can also dock in the marina and stay at the hotel or eat at the restaurant. The Watkins Glen Harbor Hotel is also right in the heart of downtown Watkins Glen, making it easy to stroll through the charming downtown and peek into the shops and restaurants. You can even walk about 5 minutes to Watkins Glen State Park, which avoids trying to find parking in their space-limited lots.
The Watkins Glen Harbor Hotel was named the "Best Waterfront Hotel in the Nation" by USA Today back in 2016, and today is the area's only AAA Four Diamond property. I found the room very welcoming and spacious, although I wish I had requested a lakefront view.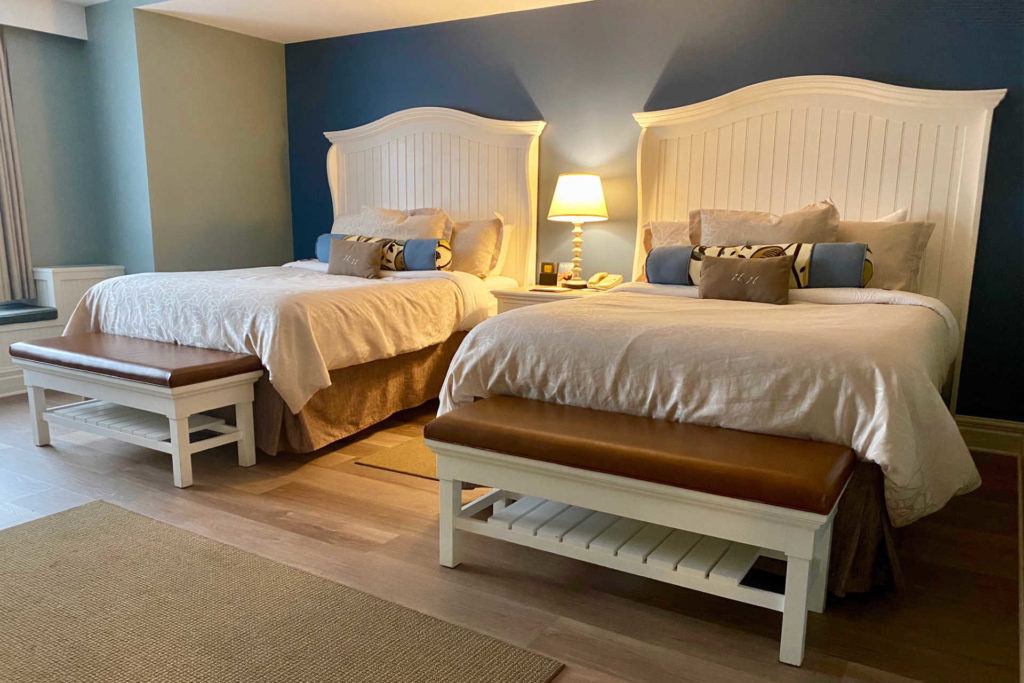 The rooms are decorated with wood floors and soothing colors, giving it a comfortable waterfront feel without being kitschy. The beds were so comfy I had a hard time getting up, especially after a hike through Watkins Glen State Park the previous day! The hotel uses pillow-topped mattresses with 310-thread count linens and loads of pillows.
I especially appreciated the little touches like conveniently located outlets, a nice-sized fridge to store my wine and cheese purchases, complimentary coffee and tea on each floor, and a cozy robe to snuggle into after a soak in the giant whirlpool tub in my bathroom. The only thing that could have been improved was providing complimentary bottled water.
Dining outdoors at the Blue Pointe Grille was perfect for late summer. For me, the highlights were breakfast (they cook a perfect piece of bacon) and the delicious desserts. After dinner, it is fun to enjoy a cocktail by the fire pit on the patio.