Plan a weekend in wine country and discover the best of Paso Robles from its wine, food, wildflowers, and art in this easy-to-replicate Paso Robles itinerary.
If you love wine and haven't been to Paso Robles yet, it is time to change that! Paso Robles in Central California is a region known for its Cabs, but at its heart, it is a laid-back agricultural and cowboy town filled with surfers, farmers, and innovative and environmentally-conscious winemakers. This close-knit wine community is very approachable for casual wine drinkers through oenophiles, unlike some of the more frequently visited (and shall I say snootier?) wine regions in Northern California.
I first visited Paso Robles a few years ago on a California coast road trip. I felt like I stumbled upon a lush wine-lovers wonderland with rolling green hills, seemingly endless acres of vineyards, and an unpretentious wine culture. After returning recently, I found it has only gotten better during the intervening years with Michelin-star restaurants, a vibrant downtown, and a stunning immersive art installation. Yet it has maintained its low-key vibe that appeals to those who appreciate good wine versus a "wine scene."
It's not fancy. Not everyone looks like a wannabe influencer. And you are likely to still encounter the winemaker or owner in the tasting room and have a real conversation to learn about their wine, and not just be another glass in a line to waiting for the next pour.
Ready to book a wine country weekend? This Paso Robles itinerary will help you plan the perfect trip with tips on where to stay, where to eat, and amazing wine.
Getting to Paso Robles
One of the things that keeps Paso Robles from getting overrun with tourists is that it is a little further from the big cities, but getting there isn't really as hard as you might think. Paso Robles is located in the northern part of San Luis Obispo Country in Central California, about 3.5 hours from either San Francisco or Los Angeles.
If you are flying in, San Luis Obispo (SBP) is the closest airport, located about 30 minutes from downtown Paso. Alaska Airlines, American Airlines, and United all offer service into San Luis Obispo with direct flights to eight cities and connections to many others.
It is also possible to take the train to Paso Robles. Amtrak's Pacific Surfliner train travels from San Diego to San Luis Obispo and then connects to Paso Robles via the Amtrak Thruway Bus. Or, you can take the Amtrak Coast Starlight train, which runs from Los Angeles to Seattle, straight to the Paso Robles train station.
Getting to Paso Robles by car is also very simple as it is located just off Highway 101 and Route 46. If you are staying in downtown Paso Robles, you don't need a car as ride-share services are available, as are plenty of wine tour companies.
About Paso Robles
Paso Robles, whose full name is El Paso de Robles, is pronounced Paso Robe-uls and not the expected Spanish pronunciation of Robe-lays. Also known simply as "Paso", this area has a history that goes back thousands of years to when the Salinan people lived there and called the area "the Springs" because of the curative hot springs located in the area. In the 1700s, the Spanish colonizers arrived and established a mission system.
Paso Robles was part of the El Camino Real, a network of missions that ran from San Diego to San Francisco. The Mission San Miguel was built in 1797, and the area became a significant stopover point for travelers and missionaries. In the mid-1800s, the rediscovery of the hot springs brought a new wave of visitors to the area. Hotels and resorts were built, and the town became a popular destination for wealthy tourists.
The agricultural industry also flourished and Paso Robles grew to be called "Almond City" as it possessed the world's largest concentration of almond orchards. The area's Mediterranean-like climate and fertile soil made it ideal for growing grapes, almonds, and other crops. Today, Paso Robles embraces its rich history and strives to maintain its agricultural roots.
What Wines Is Paso Robles Known For?
The Paso Robles AVA (American Viticultural Area) is made up of 11 sub-AVAs, leading to a wide range of varietals being grown in the region and much experimentation among winemakers. Overall, Paso Robles Wine Country encompasses more than 40,000 vineyard acres and the most widely planted varieties are Cabernet Sauvignon, Merlot, Zinfandel, Syrah, and Chardonnay.
You will also find many other reds such as Petite Syrah, Cabernet Franc, Grenache, Mourvèdre, and Petit Verdot, along with whites including Chardonnay and Chenin Blanc.
While the region is best known for its Cabernet Sauvignon, Merlot, and Bordeaux blends, you will also find winemakers producing Rhone, Alsatian, and even Spanish-style wines.
How Much Time Should You Spend in Paso Robles?
A long weekend is the perfect amount of time to spend in Paso Robles. With over 300 wineries and 140+ tasting rooms to visit, you can obviously spend much longer, but unless you are a sommelier, all that wine is going to start to blend together after a while. You are better off combining your wine tasting with other things to do in Paso Robles and making return trips when you want to experience additional wineries.
What is the Best Time to Visit Paso Robles?
The busiest time to visit Paso Robles is in the summer months from June to August. A better time to visit might be either the spring during the wildflower season or the fall during the wine harvest from September through November. Depending on the rainfall, the wildflowers bloom from March through late April or early May. During this time, the hills and meadows surrounding Paso Robles are transformed into a sea of vibrant colors, with wildflowers such as poppies, lupines, and mustard in full bloom.
The annual Harvest Wine Weekend festival takes place in October and is a popular event that features wine tastings, food pairings, and live music. You may also want to attend the Paso Robles Wine Fest, which takes place in May and is a three-day event that showcases the area's best wineries, chefs, and local artisans. The Paso Robles Olive and Lavender Festival also takes place in May in downtown Paso Robles.
If you are visiting with your family, the California Mid-State Fair is held in July and features live entertainment, carnival rides, and agricultural exhibits. But really, you can visit Paso Robles year-round as generally, the weather is mild and pleasant, with average temperatures ranging from the mid-50s to mid-80s Fahrenheit. Just be sure to pack layers for chilly mornings and evenings but warm days.
3-Day Paso Robles Itinerary
Note: My recent trip was hosted by Travel Paso as part of a press trip, all opinions are my own. See my disclosure page for more details on hosted travel.
I recommend that you plan a long weekend in Paso and put together an ideal 3-day Paso Robles itinerary. You may be tempted to squeeze a lot of wine tasting into your weekend, but try to stick to only two, or three at most, per day so that your palate doesn't get overwhelmed.
Day 1 – Arrival & Downtown Paso Robles
Since your first day will be a travel day, I'd suggest concentrating your exploration in downtown Paso Robles on this day before setting off to explore the area by car (or bike or wine tour.)
Lunch at Finca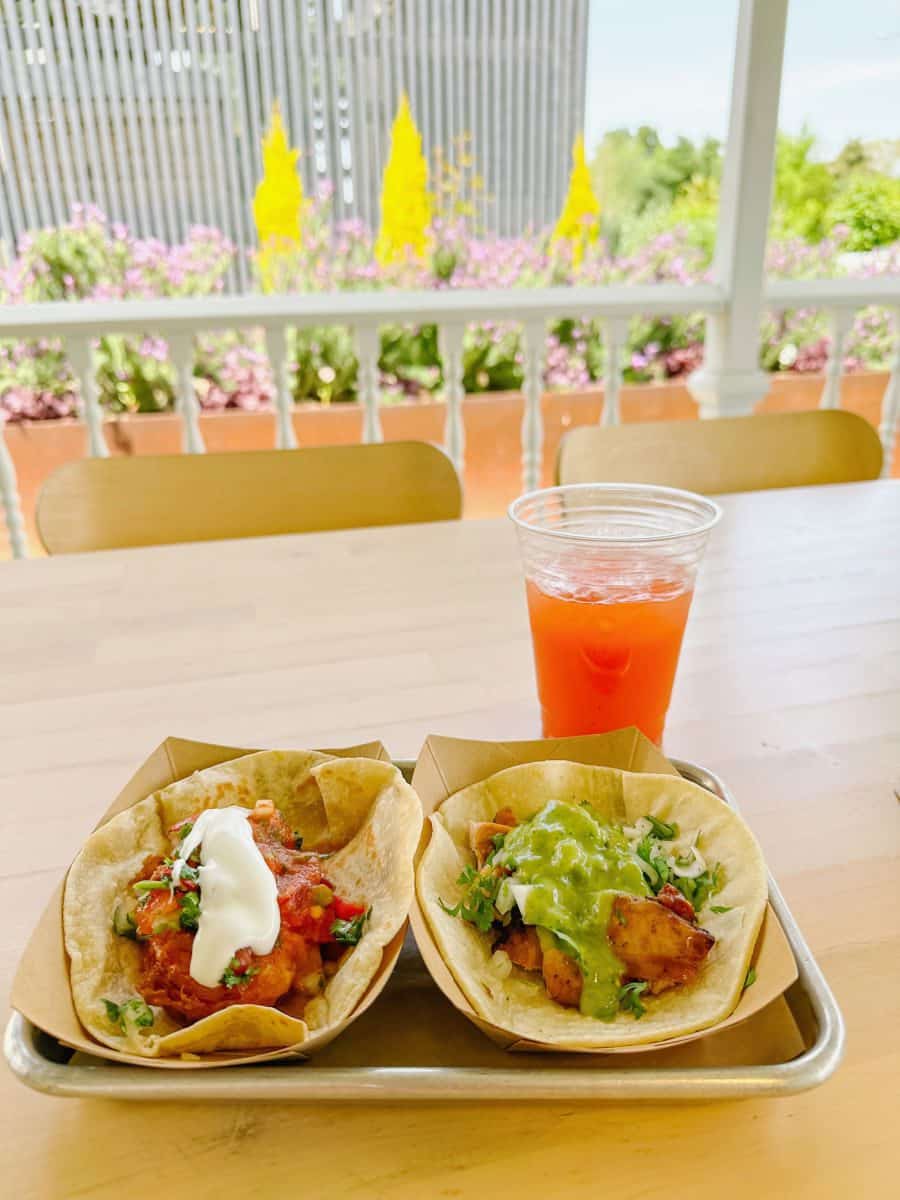 If you arrive by lunch, head straight to Finca, a casual Baja and Sonora-style Mexican restaurant with an emphasis on wood-grilled seafood and carne asada. It is about a 10-minute walk from the center of town and it is located in a historic farmhouse with a beautiful wrap-around porch to enjoy outdoor dining. Finca is from the owners of La Taquiza, a Michelin Guide-listed, Napa-based Mexican restaurant.
The food is simple, yet delicious and the setting is relaxed where you order at the counter and seat yourself. I found both the baja fish and carne asada tacos excellent choices.
Downtown Paso Robles
There are over 20 wine-tasting rooms in downtown Paso Robles so if you are ready to start sipping your way through town, there is no shortage of options. A few of the more popular tasting rooms include Justin (of course), Copia, LXV, Calipaso, and Serial Wines. Some tasting rooms do require an appointment or reservation, so it helps to plan ahead. Others are available for walk-in tastings.
Beyond wine tasting, downtown Paso Robles has grown to offer a wide array of restaurants, cocktail bars, coffee shops, boutiques, and even live music venues. Town centers around the verdant square, home to the Paso Robles History Museum and a gathering place for events, picnics, and afternoon strolls. When it comes to shopping, the General Store Paso Robles offers local goods for the home and pantry. I also had to rein in my credit card when browsing through the beautifully-curated Ambiance boutique for women.
When you need an afternoon snack, a required stop is at Brown Butter Cookie Company, just off the square, for a sweet and salty taste that you won't regret, despite the calories (my favorite was the Lemon Sugar.) You can also try Negranti Creamery, which offers ice cream made from sheep's milk, which is a welcome treat for those who are lactose-intolerant like me.
Sunset Drinks at The Piccolo Rooftop
To finish out your first day in Paso Robles, head to the Tetto Rooftop Bar at the top of The Piccolo Hotel, the only rooftop bar in town. Scope out a table in the corner for beautiful sunset views over Paso and craft cocktails that use some locally-distilled spirits (and you thought Paso was just a wine town, right?)
Dinner at Thomas Hill Organics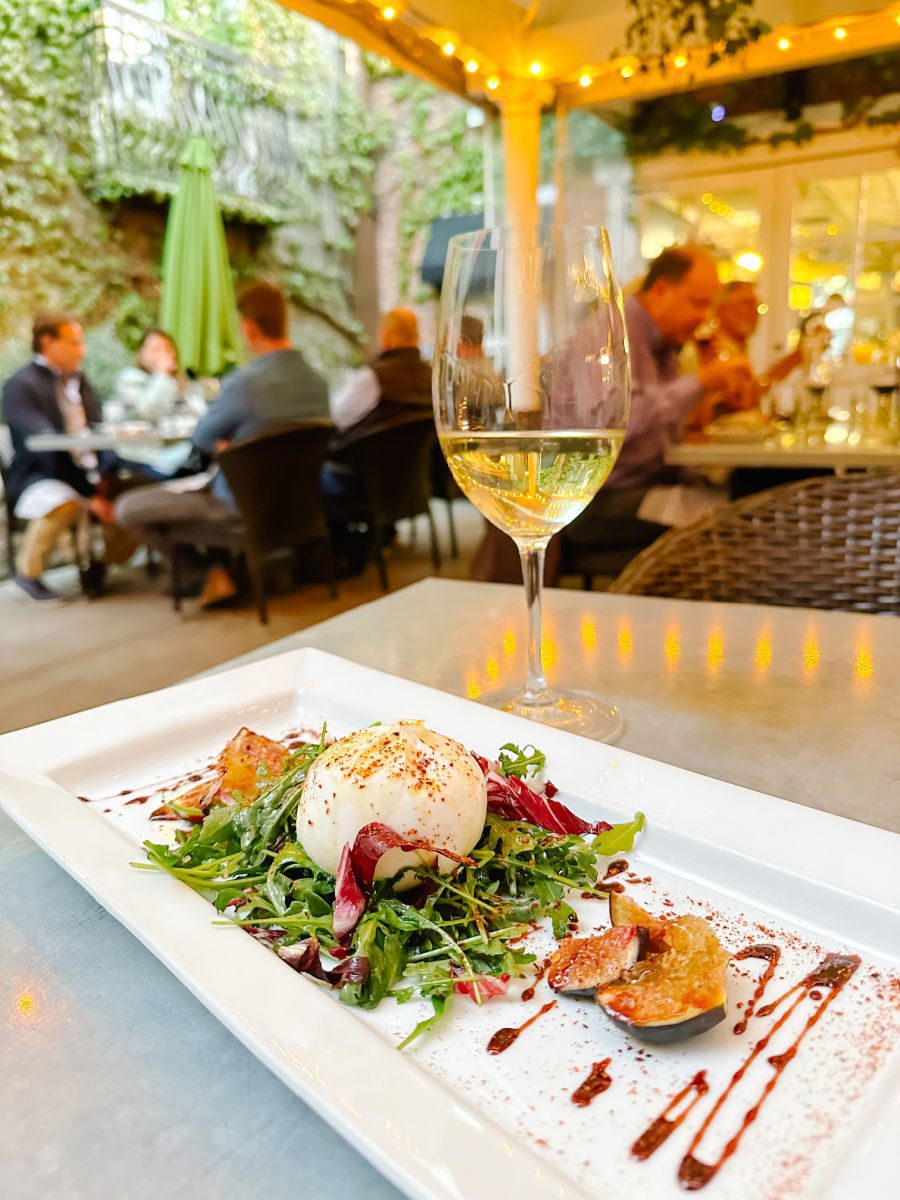 Dinner at Thomas Hill Organics Restaurant and Wine Bar is the perfect way to cap off your first night in Paso Robles. This farm-to-table restaurant has a beautiful back patio and everything is superb with creative, organic cuisine that complements the wines from the Central Coast.
The menu is an interesting mix of cuisines and, at the suggestion of the table next to me, I ordered the shrimp and grits and was very happy with my choice. However, the burrata starter was an absolutely perfect dish. Served with figs, honeycomb, and a pomegranate reduction, it was flawlessly balanced and entirely satisfying.
Day 2 – Wine Tasting
On day two, you will want to start your Paso Robles wine-tasting adventure in earnest. If you plan on doing a lot of tasting and don't have a designated driver, you may want to consider booking a driver or taking a private or group wine tour. During my visit, we had a driver from Breakaway Tours who was lovely. There are plenty of wine tour companies to choose from ranging from jeeps to bikes, and even motorcycle sidecars.
Light Breakfast at Paso Market Walk
If you are going wine tasting, you want to make sure you start off with something in your belly! The Paso Market Walk, located right next to Finca, is a local food hall and mixed development space with a couple of good options for a light breakfast. Joebella Coffee Roasters is where the javaphiles need to go. They offer organic specialty coffee roasted locally in many tasty blends. They also serve oatmeal and a veggie-heavy breakfast burrito.
Just Baked offers beautiful pastries, cakes, and specialty sweets at this "dessert boutique" but at breakfast, it is all about the scones, muffins, and croissants. Don't worry if you aren't stuffed, you will want to save room for an amazing lunch!
Morning walking tour of Downtown Paso Robles
Unless you really want to hit it hard on the wine tasting, I'd suggest starting off your morning with a short walking tour of Downtown Paso Robles to learn its history, see important landmarks, and get the tea from a local on where to dine and drink around town. Erik from Paso Robles Tour Company has a true passion for history and spends his free time at the Historical Society digging into the past to share the best stories and factoids with clients.
In addition to walking history tours, they also offer craft brewery tours and ebike tours that end at a winery with suggestions on where to go next, along with ebike rentals from the Paso Market Walk.
Lunch and Wine Tasting at Daou Vineyards
When it comes to wine tasting, I'm going to suggest that you set the bar high by starting off at the stunning Daou Vineyards. Make reservations for wine tasting and lunch outside to enjoy the phenomenal views. Wine tasting at Daou is everything that you hope for in a wine experience. The wines are sublime, the views are incredible, the staff is vivacious, approachable, and knowledgable, and the food is absolutely scrumptious.
Daou Vineyards was started by Lebanese immigrant brothers Georges and Daniel Daou with a determination to make the best wines in the world and a desire to make their father proud. Their fierce family bonds can be found in the wines, many of which are named for family members, such as the Soul of a Lion, named for their father. The brothers have accomplished these goals with much-lauded wines including the 100-point Patrimony.
These are wines just calling out to be enjoyed with food and, just like everything that the Daou brothers touch, the food at Daou Vineyards is outstanding. Many visitors will opt for one of the elaborate charcuterie boards to go with their wine, but I'd encourage you to explore the menu a bit deeper. I was lucky to visit with a group and get to share many of the fresh, locally-sourced offerings prepared by their talented and in-demand chef.
Afternoon Wine Tasting at Tablas Creek Vineyard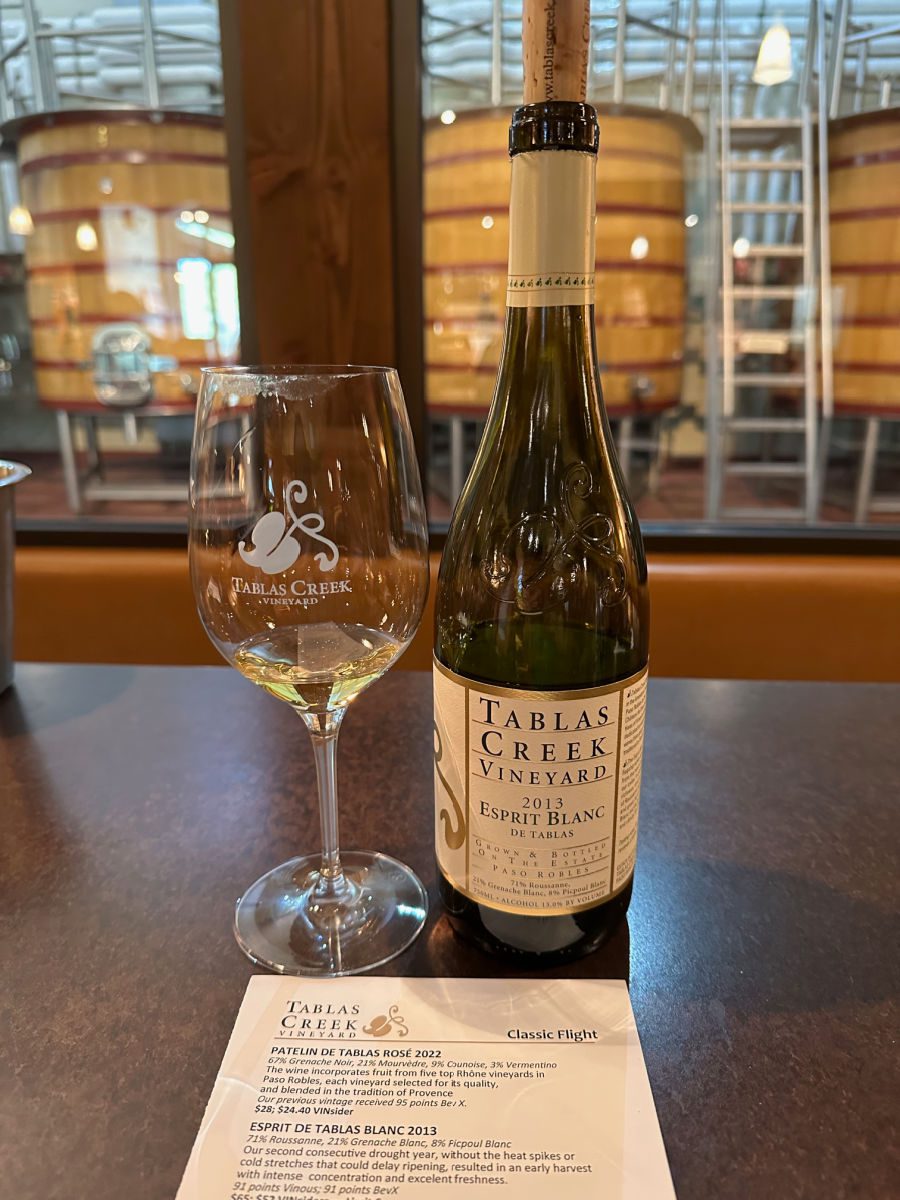 It is kind of hard to top the whole tasting experience at Daou, so for your next stop, I'd suggest something entirely different. Tablas Creek Vineyard also has a beautiful property, lovely tasting room and staff, and terrific wine, but they have a very different approach. Tablas Creek is one of the most sustainable wineries in the world and the first to receive the coveted International Regenerative Organic certification, making the vineyards look a little less manicured and a little more rustic.
The vineyard actually maintains a whole herd of sheep (and a full-time shepherd) that is used to "weed" the vineyards and provide natural fertilizer. If you take a tour, you may also walk past the paddocks with the winery's alpacas and herding dogs.
Tablas Creek is also an innovator in that they were the first to bring Rhone grapes to Paso. Founded in 1989 by the Perrin Family of Chateau Beaucastel in Chateauneuf-du-Pape, France, and the Haas Family of Vineyard Brands in the Adelaida District west of Paso Robles, the property has a similar shallow, rocky limestone soil and Mediterranean climate as the Rhône Valley. The vineyard maintains a wide range of varietals including Mourvédre, Grenache Noir, Syrah, Counoise, Roussanne, Viognier, Marsanne, Grenache Blanc, Picpoul Blanc, Cinsaut, Terret Noir, Muscardin, Vaccarese, Picardan, Clairette Blanche, and Bourboulenc.
Guests can book a table on the shaded patio or at the lovely indoor tasting bar two to three weeks in advance if you plan on visiting on the weekend. The friendly and knowledgeable staff will walk you through your choice of red, white, or mixed wine tastings. There is also a nicely-curated gift shop and you can even pick up some fresh lamb.
Dinner at inBloom or Il Cortile
There are many fabulous restaurants in downtown Paso Robles and if you make a reservation enough months in advance, you may even be able to score a place at the 12-seat, one Michelin star, Six Test Kitchen in Tin City for a 14-course tasting menu of hyperlocal, seasonal ingredients. But don't worry, if that isn't an option, you have many other fabulous choices including either inBloom or Il Cortile.
inBloom is a veggie-forward, Michelin-listed restaurant in the Paso Market Walk. The menu features beautifully crafted and presented dishes using produce from local farms. Using Tock, you can also reserve a table for the Chef's Tasting menu, featuring a six-course menu.
If you are in the mood for Italian fine dining, choose Il Cortile instead. Run by Chef Santos MacDonal and his wife, Carole, Il Cortile Ristorante features incredibly delicate housemade pasta, creamy polenta, braised osso bucco, grilled lamb, and fresh seafood. In addition to a lovely interior, the restaurant features a cozy courtyard (hence the name) to enjoy outdoor dining in Paso's temperate climate.
After Dinner Drinks at Alchemist Garden
If you have room for a nightcap, head across the square to Alchemist Garden, featuring craft cocktails, light bites, or hearty plates in a setting draped in greenery for a garden-like feel. If you prefer something more intimate and are really into cocktails, book an experience at The Remedy, a small, lounge sister space to Alchemist Garden. With its leather chairs and bookshelves, you will feel transported to a Harry Potter-like setting, putting you in the mood to experiment with potions as you are led on a molecular gastronomy journey of fine spirits.
Day 3 – Farms, Wine, and Lights!
On your last day to offer, be sure to experience some more of what Paso has to offer beyond wine, including many farms, 14 distilleries, a dozen breweries, and multiple cideries.
Breakfast at Amstrdm
Amstrdm is a local coffee house and piano bar that opened in Downtown Paso Robles during COVID and has been met with great success and love from the community. Started by a practicing professional pianist and musical composer for movies, they brought live music to the community by purchasing a piano and inviting local and famous artists to perform. Word spread and he has since opened Libretto, a jazz club around the corner, but you can still experience a musical brunch at Amstrdm on Sundays.
You don't need to be a music lover though to appreciate the local vibes and delicious breakfast sandwiches served up at Amstrdm that are guaranteed to fill you up to start your day.
Morning Olive Oil Tasting at Kiler Ridge Olive Oil
Start off your day with a little agritourism in support of Paso's agricultural history and modern-day local farmers. I'd suggest booking an olive oil tasting at Kiler Ridge, but you could also visit a lavender farm, pick pumpkins, and more, depending on when you visit.
Kiler Ridge Olive Farm is a family-owned and operated farm up on a hillside overlooking the gorgeous valley below. The family produces high-quality California extra virgin olive oil. When I first visited an olive oil farm in Mesa, Arizona, I learned that much of the extra virgin olive oil (EVOO) that we consume in the USA isn't actually extra virgin olive oil because only California regulates who can use that branding (and unfortunately that only applies to California producers.) But once you taste the difference, if you know you know.
Make a reservation for a tasting on the patio and you will enjoy both a selection of olive oils that are grown, picked, milled, and bottled on-site and a stunning view, all while learning how to truly appreciate a good olive oil. Maybe I shouldn't spoil the surprise, but the tasting ends with some EVOO drizzled on top of a scoop of vanilla ice cream topped with Himalayan salt — try it, you will be delighted!
Of course, there is also an opportunity to purchase your favorites to take home, as well as other products made from olive oil and olive wood.
Lunch at Etto in Tin City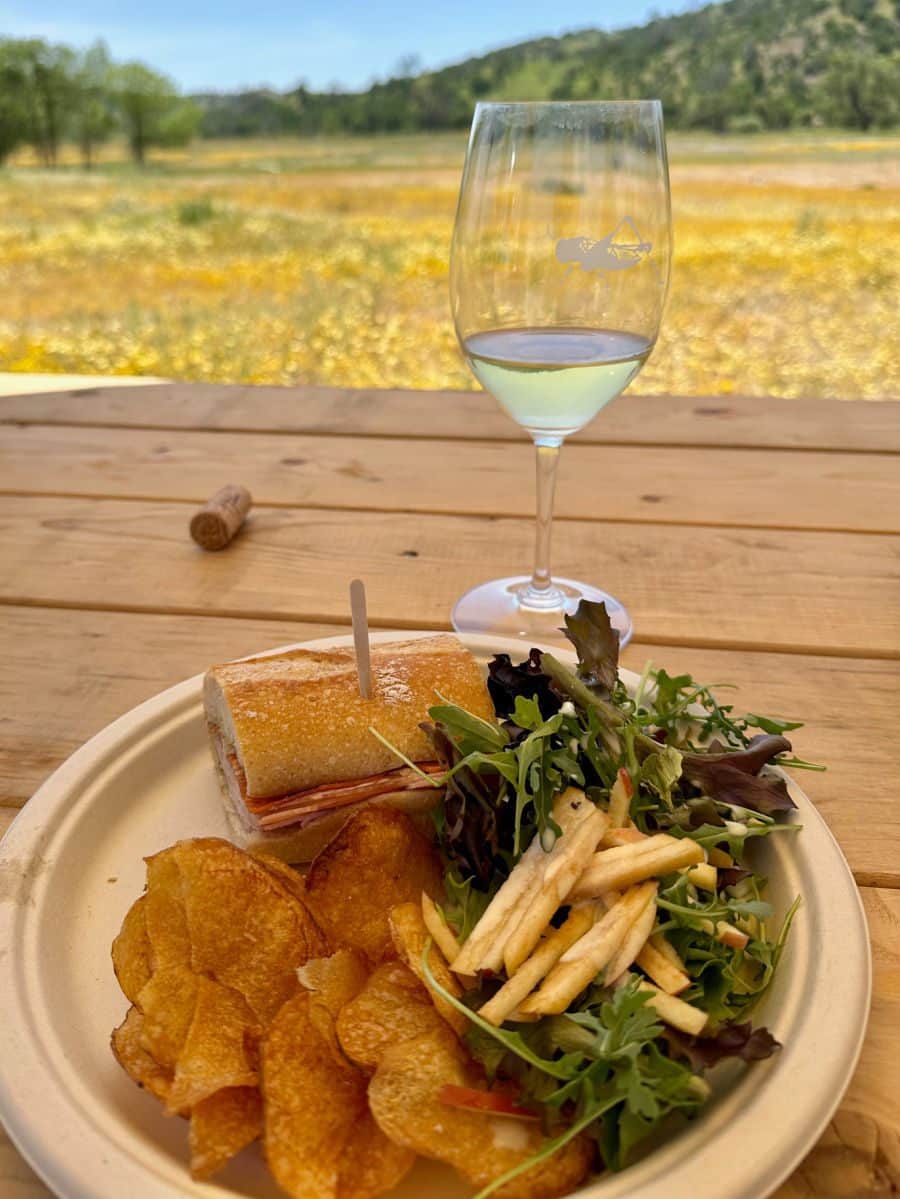 After your tasting, head over to Tin City, where you can enjoy more wine tasting, along with ciders, and beers, and get some lunch. Tin City is a small, walkable warehouse district of modern tin industrial-style buildings housing restaurants and eateries, wineries, and a brewery/cidery in a fun, approachable setting.
Etto Pasta is a local pasta maker that uses organic grains with bronze dyes and a rougher texture for a satisfying bite and better sauce delivery. In Tin City, you can shop at the Etto Market or enjoy a meal at Etto Pasta Bar, where they serve lunch from Thursday through Monday. We also enjoyed delicious sandwiches from Etto Market on a vineyard picnic.
Wine, Beer, or Cider Tasting at Tin City
Tin City is home to BarrelHouse Brewery, Tin City Cider, and Wine Shine Distillery, with plenty of lawn games to enjoy between tastings. You will also often find a rotating selection of the region's best food trucks, serving fare such as fish tacos, wood-fired flatbreads, and Paso Robles-style cowboy barbecue.
You can also find nearly 20 small-production wineries including the award-winning ONX, Levo, Desparada, Field Recordings, Brian Benson Cellars, and Giornata.
Early Dinner at Hatch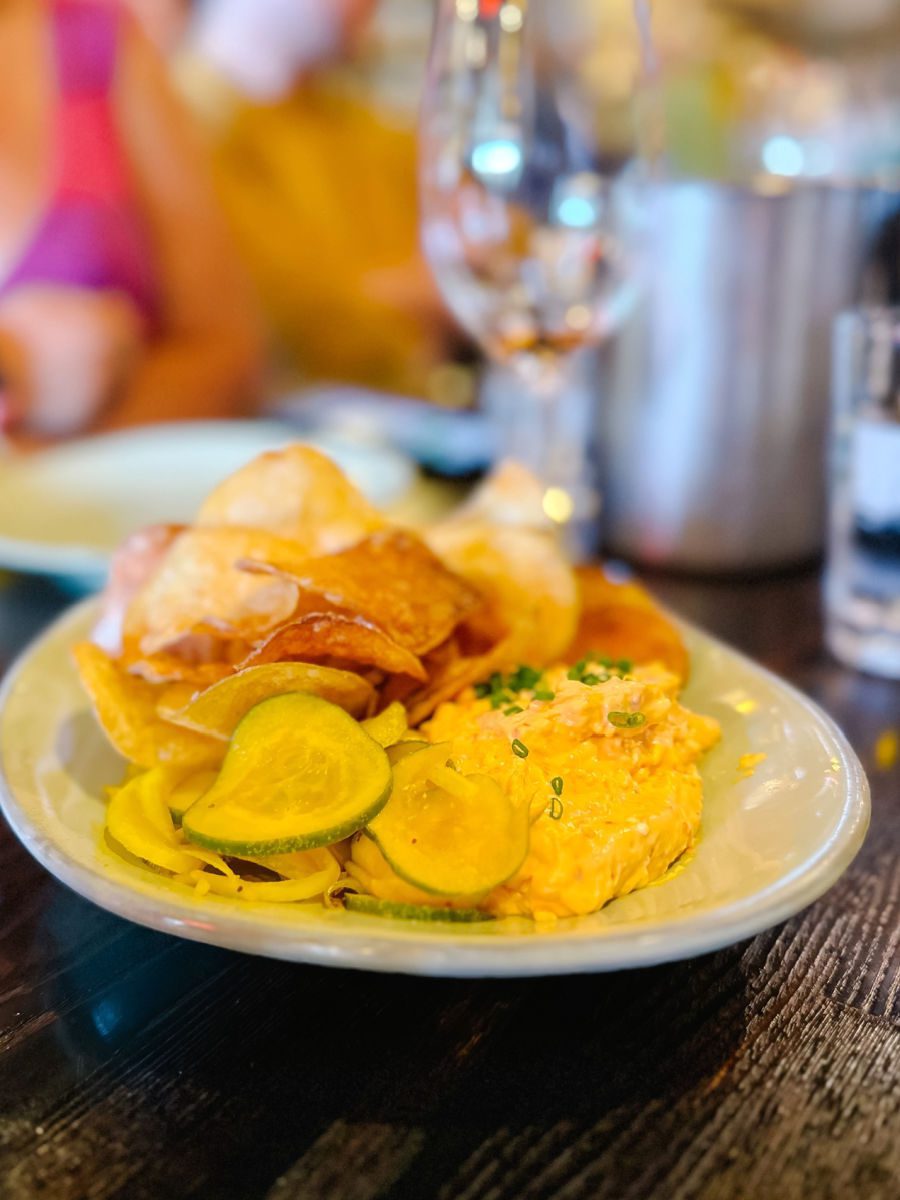 Plan on an early dinner, so that you can arrive at your next destination, Sensorio, just before sunset. After a couple of nights of fine dining, you may be in the mood for something more casual and The Hatch rotisserie is the perfect choice. Serving up comfort food with a southern twist, The Hatch is known for family-style portions and either its fried or roast chicken.
The exposed brick walls and indoor/outdoor patio spaces make a perfect setting for a fun, but casual dinner or cocktails, where you can rub elbows with local brewers, winemakers, and hospitality staff.
Sunset and Evening at Light at Sensorio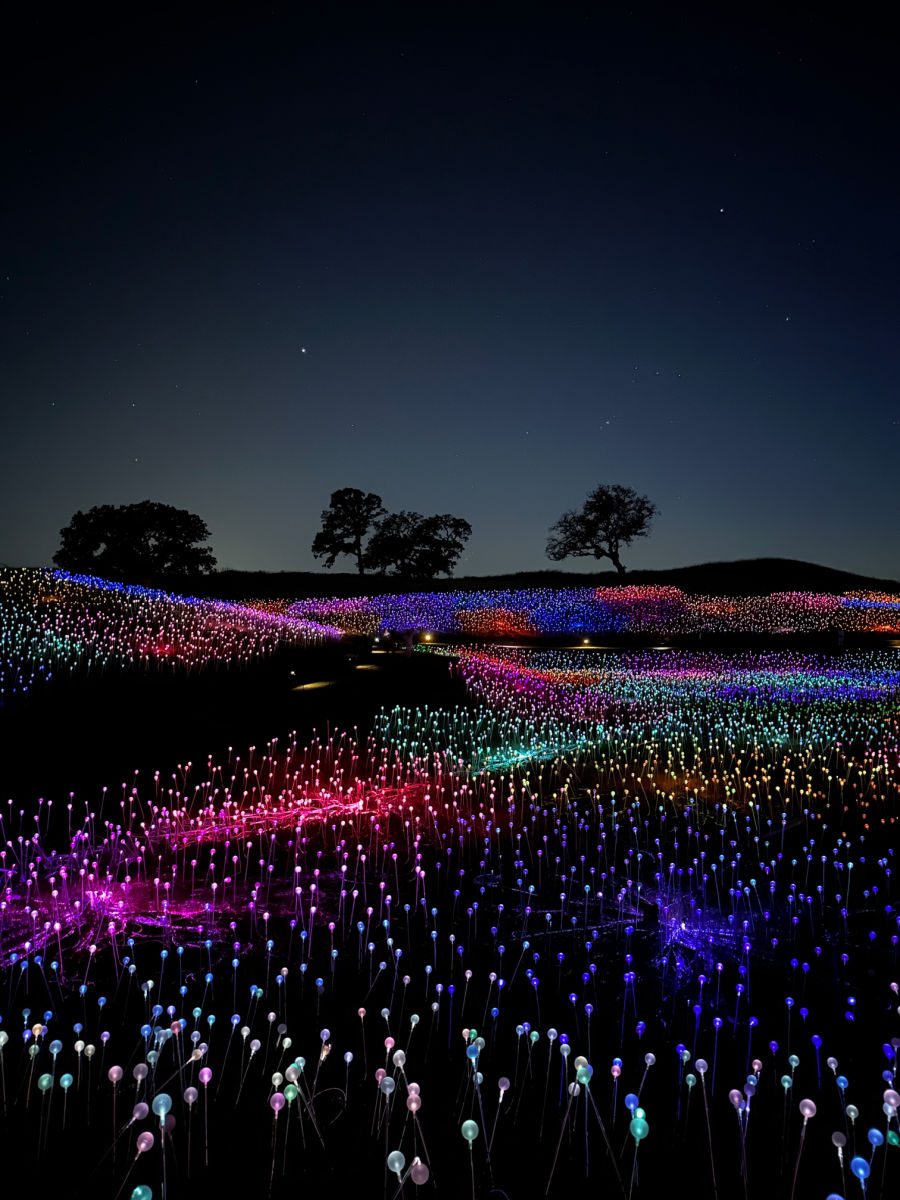 Light at Sensorio is an immersive permanent art exhibit featuring two installations by critically-acclaimed artist Bruce Munro. The first that you will encounter is Field of Light, which is a multi-acre, walk-through experience, which is the largest of Munro's in the world. This installation uses over 100,000 stemmed spheres, which are lit by fiber optics that gently illuminate the field like "blooms" and morph to change colors to create an ever-changing display.
As you walk through Field of Light, you can also explore the adjacent Light Towers exhibit, which pays tribute to Paso Robles' wine country with 69 towers that are constructed of more than 17,000 wine bottles and lit from within using fiber optics and accompanied by a musical score for a full sensory experience. The exhibits are powered by solar light and create an experience unlike another.
I'd highly recommend arriving before sunset and enjoying a drink, grabbing a bite at a food truck, or purchasing an entrance to the terrace that overlooks the display and offers its own bar and charcuterie option. If you begin your stroll through the Field of Light just before the sun sets, you can appreciate its transformation as the colors really begin to pop in the darkness.
The paved path is an easy stroll, gently lit with markers along the way. However, you will want to take care if anyone in your party has mobility or vision issues. Plan to spend about an hour or more exploring and enjoying the installation from every angle. Don't forget to also bring a jacket for cool evenings and some bug spray against the mosquitos.
I can tell you about Sensorio, but you won't fully appreciate it until you see it for yourself. In person is best, but hopefully, this helps demonstrate the sensory experience of Sensorio:
Sensorio is a perfect way to end your time in Paso Robles with a "wow" experience!
If you Have More Time in Paso Robles
While that wraps up your Paso Robles itinerary for a long weekend getaway, if you have more time, there is still plenty to do in Paso including:
Hot Springs
The curative waters of natural hot springs were one of the first things to draw tourists to Paso Robles and there are still places where you can enjoy a thermal soak today. River Oaks Hot Springs Spa offers artisan thermal mineral springs and an open-air spa with beautiful views. You can enjoy a flight of local wine while sitting in a semi-private mineral tub with a vineyard view or choose from an array of spa services.
For a more authentic feel, Franklin Hot Springs is more of a rustic pool where locals will grab some beers and head to for a soak after a long day of work.
Hot Air Balloon Rides
What better way to celebrate an occasion or add a bucket list activity to your Paso Robles itinerary than with a hot air balloon ride over the vineyards? I've enjoyed hot air balloon flights in Spain and in Scottsdale, Arizona and both were such peaceful and awe-inspiring experiences.
Balloons Over Paso offers early morning flights that take off just as the sun rises and last for an hour, making this the perfect way to start your day in wine country. Flights end with a champagne toast and breakfast treats and are available from May through November (based on appropriate weather).
Horseback Riding
Another fun way to traverse a vineyard is on horseback! Central Coast Trail Rides offers guided horseback riding experiences through vineyards and areas with stunning mountain views by partnering with local wineries, private ranches, and local state land.
Take a Day Trip to the Coast
Downtown Paso Robles is only 20 miles from coastal Highway 1 and all of the amazing sights along that iconic road trip. In 45 minutes, you can reach Hearst Castle and then Elephant Seal Beach. You are also only 40 minutes from Moonstone Beach in Cambria and 45 minutes to Morro Bay or Avila Beach.
Where to Stay in Paso Robles
Paso Robles offers many fun options including vacation rentals, vineyard resorts, RV parks, and historic properties like the Paso Robles Inn. I'd highly recommend staying in Downtown Paso Robles, to make it easy to walk to dinner and drinks. I recently had a chance to stay at The Piccolo boutique hotel and loved everything about this 24-room property.
From the minute you walk in the door, you know you are in wine country. The hotel has an actual champagne vending machine in the lobby and a wine bar where guests are offered a welcome pour. The large courtyard offers comfortable seating areas with a mural backdrop that makes it feel like a welcoming garden space.
Upstairs, the rooms are large with an exposed brick wall, romantic chandelier, and rose gold throw blanket that makes you crave a nice glass of rosé. The large bathroom with a walk-in shower is tucked behind a sliding door, offering space and privacy.
The room is always equipped with a wine fridge (of course), coffee maker, and one of the most surprising amenities that I've seen — a full-size clothing steamer. A light breakfast of fruit, pastries, and juice is delivered each morning in a take-out box hanging from your door.
When not relaxing in the room or chilling out in front of the fireplace downstairs, guests can also enjoy a cocktail at Tetto, the hotel's (and Paso's only) rooftop bar.
Where to Find Wildflowers in Paso Robles
Every spring, the wildflowers bloom around Paso Robles including baby blue eyes, goldfields, mustard, owl's clover, California poppies, tidy tips, and purple vetch. Some of the best views are off Shell Creek Road. Starting in Creston, head south toward Route 58, all along the way there are plenty of pull-off points to take in the super bloom. The folks at Avenalas Ranch are kind enough to let visitors stop and enjoy the wildflowers on their property. Just remember to be courteous to others and try to leave no trace by not trampling flowers and taking any trash home with you.