Editor's Note: This article was written in partnership with Tempe Tourism. All opinions are my own.
Unless you know someone that graduated from Arizona State University, you may have never heard of Tempe (pronounced Tem-pee), Arizona. Most of us on the east coast just think of the Phoenix metro area as one sprawling city, but in reality Tempe is a destination in its own right. More than a college town, this vibrant, Phoenix-adjacent city is jam-packed with both active and relaxing things to do in Tempe – making it a perfect spot for a girls' trip.
Of course when you say "Arizona girls' trip", most people will automatically think of the spa resorts in Scottsdale or Tucson, or hiking up in Sedona or the Grand Canyon. But let me tell you what Tempe has that those destinations don't.
First, Tempe is more affordable. You can find rooms at the Tempe Mission Palms Hotel during high season for under $200 a night. The Hyatt Regency Scottsdale for the same night? $450+. Second, there is such a variety of things to do. Whether your gal pals want to relax at a pool with a scenic view, or stay active (or be like me and enjoy a bit of both), Tempe has something for everyone.
Lastly, Tempe is so easy to get to. Just 10 minutes from Phoenix Sky Harbor International Airport, which offers direct flights to 117 domestic destinations and 23 international cities, you don't need to spend a whole day traveling just for a girls' weekend getaway. And the walkable downtown also keeps costs down for a budget-conscious crowd.
Fun Things to do in Tempe, AZ
I recently visited Tempe with my friend Kim from Stuffed Suitcase (yes, she is my favorite travel buddy so she pops up on my girls' trips a lot!) and we had the best time eating, playing, and relaxing during our three days in Tempe.
So now that I've convinced you that Tempe makes a great destination for a girlfriend getaway, let's dive into the active and fun things to do in Tempe.
Hike "A" Mountain
You really shouldn't leave Tempe without a sunrise or sunset hike up to the top of Hayden Butte, also known as "A" Mountain because of the large, colorful A on the top of the mountain. If you visit in late November, you might find some local ASU students camping out up there to protect their precious A from being repainted in the colors of rival University of Arizona Wildcats before the big football game.
Hiking to the top doesn't take too long, only about 15-20 minutes, but it is steep and gives you a good cardio workout. It is easy to find the trail off Mill Avenue, especially if you are staying at the Tempe Mission Palms, which has trail access from the back parking lot. The first bit of the hike is on pavement, but towards the top, it switches to a rocky dirt trail and concrete steps leading to the summit.
You will want to wear a decent pair of sneakers, as the rocks can get a bit slippy on the way down and the trail is dusty. There are also warning signs to watch out for snakes and other critters, but the trail is so well-trafficked that I doubt it is a huge concern. Just make sure you start out early so you can be at the top when the sun rises or sets. The colors are absolutely spectacular!
Kayak or Paddleboard on Tempe Town Lake
It is a bit of a surprise to see a lake in the middle of the desert, but Tempe Town Lake offers so much in the way of outdoor activity. This man-made lake is shaped more like a river, with running/biking paths on either side and both pedestrian-only and car bridges connecting the two parts of the city. Not only is this a recreational area, but new apartments and living/working/entertainment complexes have sprouted up on either side, creating some prime real estate in Tempe, attracting businesses and young urbanites.
Tempe Beach Park is the launching pad for many lake activities. Boat Rentals of America operates a kiosk in the park that rents out kayaks, paddleboards, swan-shaped pedal boats, and even electric-powered donut boats that are perfect for groups! If you don't want to get out on the water, you can also rent surrey bikes to cruise along the lakefront bike paths with your gang.
I love to kayak, so my friend Kim and I decided to spend a late afternoon (when the sun wasn't as strong) kayaking around Tempe Town Lake. Depending on how far you want to kayak, you can rent for one or two hours (I think one is plenty). Sometimes "city" kayaking can be a bit boring, so I was really surprised by the number of waterfowl we saw out on the water, including a blue heron. You can also see ducks, osprey, California pelicans, and even bald eagles. Apparently, there are also jackrabbits and beavers around, but we didn't see any of those. We were probably too distracted trying to guess which airlines' planes were coming in for a landing overhead.
Take an (e) Bike Ride
Depending on where you are staying, you can also rent kayaks, paddleboards, and even river tubes from Northshore WaterSport Rentals on the other side of the river across from the university campus. We took a walk over and decided to try out e-bikes instead, as this was a new adventure for me.
Even though Tempe is fairly flat, e-bikes make getting around town so much easier! They are a lot of fun once you get used to this new way to bike, and this gave us a chance to explore some of Tempe's 218 miles of bike paths and bike lanes. In 2019, Tempe was named a Gold-Level Bicycle Friendly Community by the League of American Bicyclists and over four percent of Tempe residents bike to work, so you won't be the only ones biking through the streets of downtown.
If biking isn't your thing, there are some scooter rentals available throughout the city too.
Play Games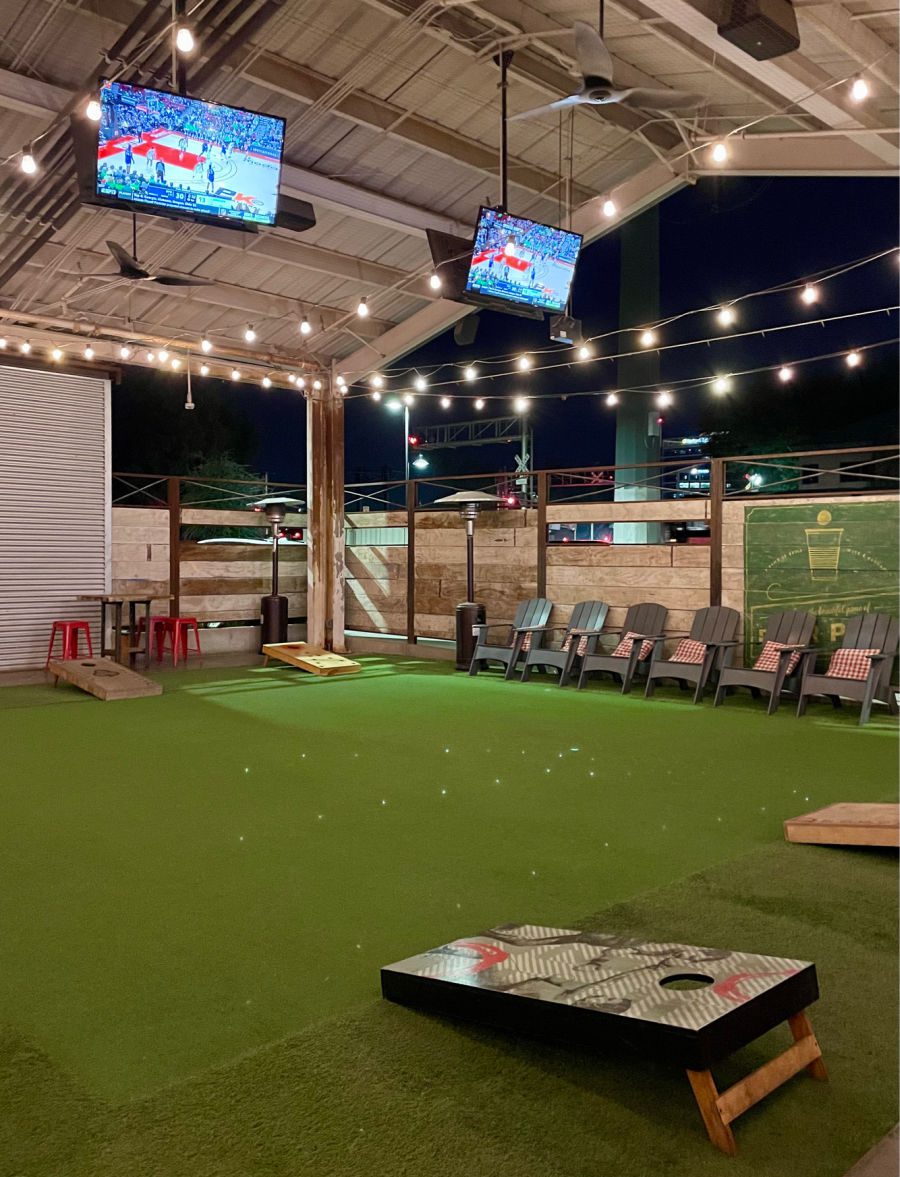 When it comes to entertainment, it helps to be in a college town because you can always find fun and unique venues for hanging out, especially when you are with a group of friends. Culinary Dropout is a popular restaurant and hangout in Tempe where, not only can you eat and drink, but you can also play. With a large warehouse-like space, Culinary Dropout has ping pong tables and cornhole, along with live music some nights.
For something a little quieter, stop into Snakes & Lattes Tempe, which has a catalog of over 1,000 retro and new games to play. It is a perfect place to try something new (oh, and they have yummy food and drinks too.)
See a Baseball Game
I visited in November so I missed out on the Cactus League baseball spring training, but the last time my friend Kim was in Tempe she was able to enjoy a few of the games. From late February to late March, the Cactus League has over 15 Major League Baseball teams playing over 200 games in 10 stadiums.

The Los Angeles Angels call Tempe home and play in the Tempe Diablo Stadium. Nearby Mesa also has two stadiums, the HoHoKam Stadium, home to the Oakland Athletics, and Sloan Park, home to the Chicago Cubs. You can also see games in nearby Phoenix or Scottsdale.
If your friends are sports fans, plan a visit in March during spring training, just be sure to book early! And if you aren't visiting during spring training, see if you can get tickets to a Sun Devils game at ASU and get into the D1 school spirit.
Explore the Mesa Fresh Foodie Trail
If you have some extra time and have rented a car for your trip, you may also want to plan a day trip to nearby Mesa, Arizona, home to the Fresh Foodie Trail. Mesa is the third-largest city in Arizona by size, although downtown Mesa is compact and charming. Driving through Mesa you will come across the state's largest citrus and olive groves, along with peach orchards and other farms, making it a great agritourism destination.
We started out exploring the Fresh Foodie Trail at Jalapeño Bucks, a barbeque and home-made salsa stand in the middle of a citrus grove. Get there early and grab a picnic table because locals line up to enjoy some fresh BBQ (the brisket is amazing) and five kinds of salsa (available by the pint or quart.)
Our next stop was at the Queen Creek Olive Mill. Located on 100 acres with over 9,000 olive trees of 16 different varieties, Queen Creek Olive Mill is the brainchild of former Detroit residents Perry and Brenda Rea. Today, they have turned their olive grove into a tourist destination, offering tours, a shop, and restaurant. Of course everything on the menu features Queen Creek olive oil (including the cupcakes) and it is delicious! Queen Creek Olive Mill is a great spot for a tour followed by a relaxing lunch under the trees. Just leave room in your bag because you will want to bring some of their infused oils or spa products home with you!
We finished off our trail exploration in Downtown Mesa, with a tasting flight at veteran-owned Cider Corps and a stroll along Main Street to peek into the boutiques and take pictures by the murals. If you want to stay in Mesa longer, you should book one of the adorable refurbished Airstream glamping trailers at the Cozy Peach at Schnepf Farms.
Relaxing Things to do in Tempe, AZ
If all that activity tires you out, or you just want to relax on your Tempe girl's weekend, don't fret, they've got you covered for downtime too.
Chill out at a Rooftop Pool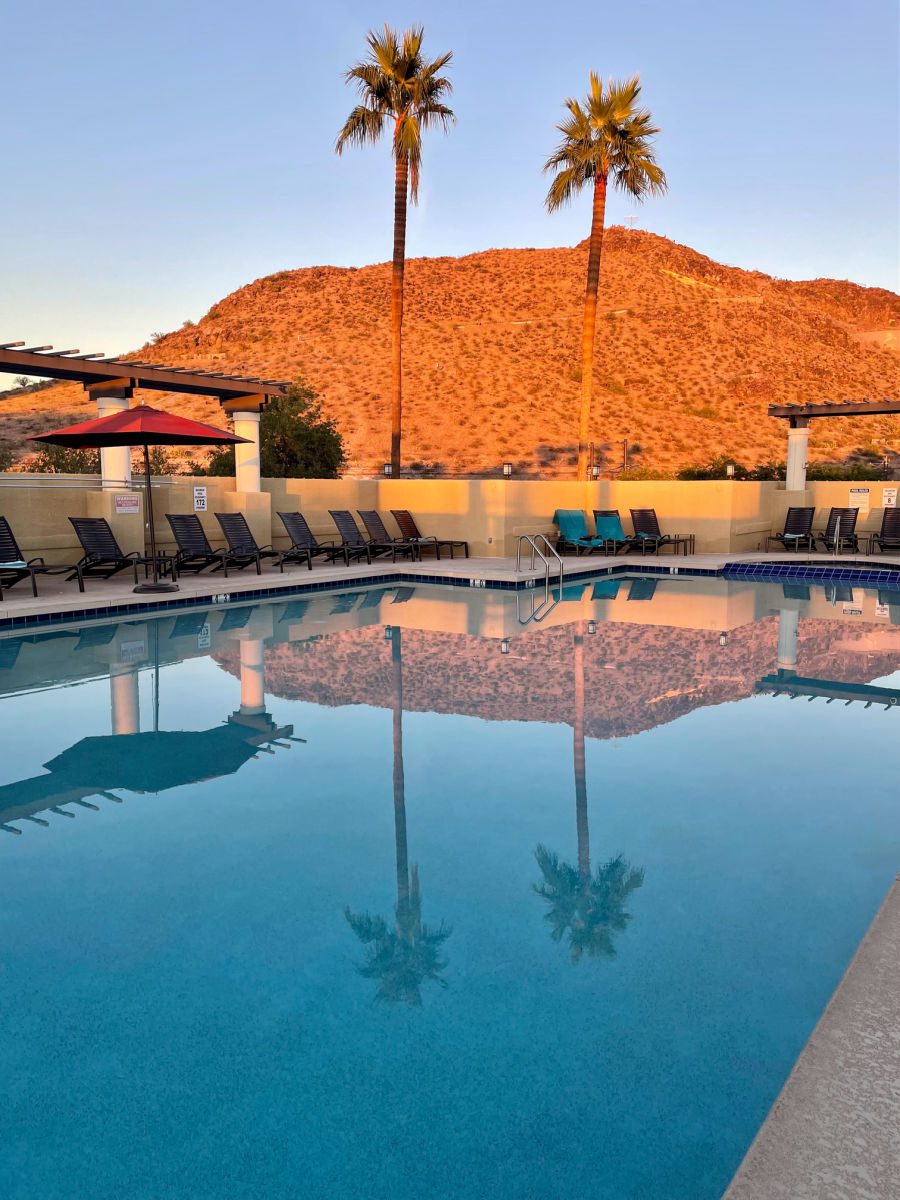 I wanted to visit Tempe when the temperatures were dropping in the Northeast so that I could enjoy some of that beautiful Arizona sunshine, so lazing around by a pool and gazing up at palm trees was definitely on the agenda for this Tempe girls' trip. Luckily, there are a number of options for pool time in Tempe, including some with pretty sick rooftop views.
We stayed at the Tempe Mission Palms Hotel and Conference Center, which technically has a rooftop pool, although it is only on the second floor. But you don't need to be up high to get a view, because the pool at the Tempe Mission Palms offers a great view of "A" Mountain and is a perfect place to relax.
However, if you are looking for something on the trendier side, you will want to stay at either the Westin Tempe or the Canopy by Hilton Tempe Downtown. The Westin Tempe just opened in August of 2021 and it has the tallest rooftop lounge and bar in the East Valley. The small pool is for guests only, but anyone can visit the Skyskill Rooftop Lounge for drinks (perfect for sunset!). Similarly, Canopy by Hilton Tempe Downtown offers a rooftop pool for guests. However, you can secure day passes to the pool through ResortPass to the Canopy starting at $35 per person.
Go Shopping at Tempe Marketplace
Hop in your car or grab an Uber and head to Tempe Marketplace for shopping and entertainment. The District entertainment area in Tempe Marketplace has outdoor music and events and outdoor seating featuring fireplaces and water features. Tempe Marketplace is home to over 100 shops and restaurants and hosts 300 events a year. This can be a great spot to spend an afternoon, starting with lunch at Barrio Queen or Thirsty Lion, followed by pedicures at 7 Day Nails and shopping at Creations Boutique.
Explore Downtown Tempe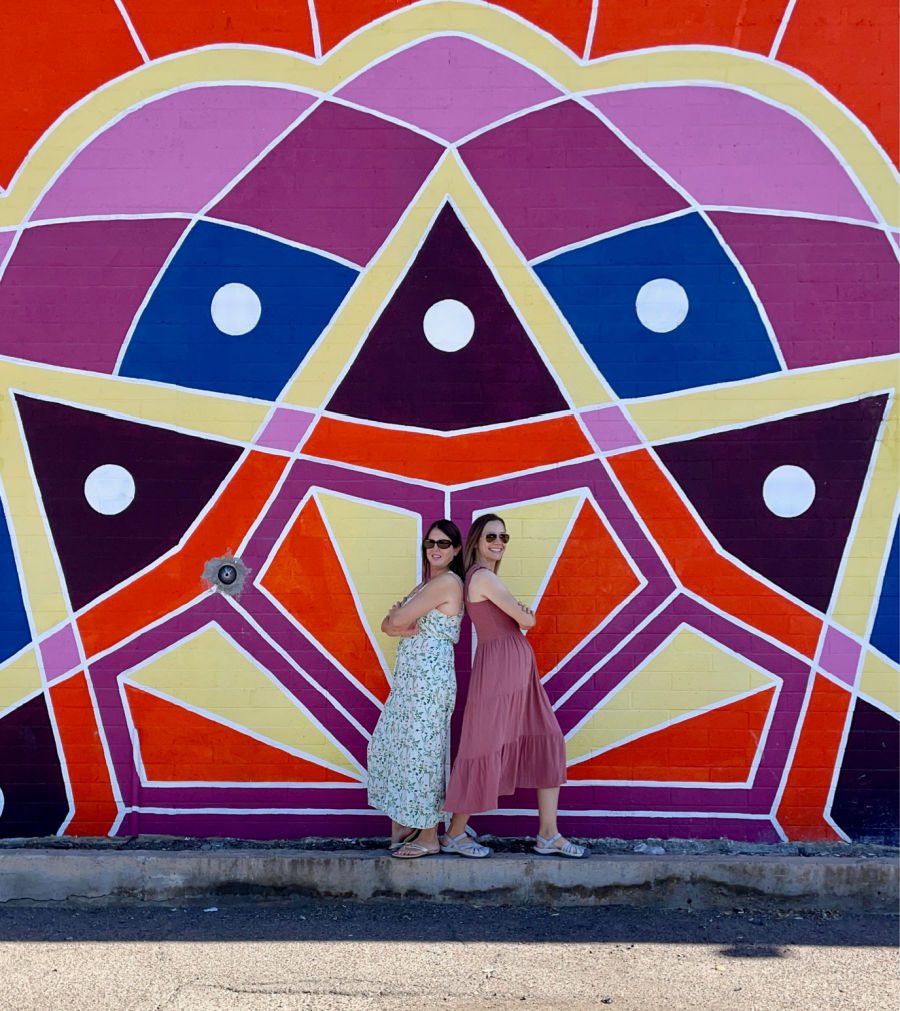 If you would rather stick to walking around the downtown area of Tempe, you will find plenty of coffee shops, juice bars, restaurants, and boutiques to occupy your time. Plus, you may want to snap some pictures with your friends in front of one of Tempe's many murals.
Check out shops like Lotions & Potions, The Shoe Mill, and Henna Shoppe Tempe, then enjoy the $5 wine specials before 5 pm at Postino Annex.
Enjoy Outdoor Dining & Drinks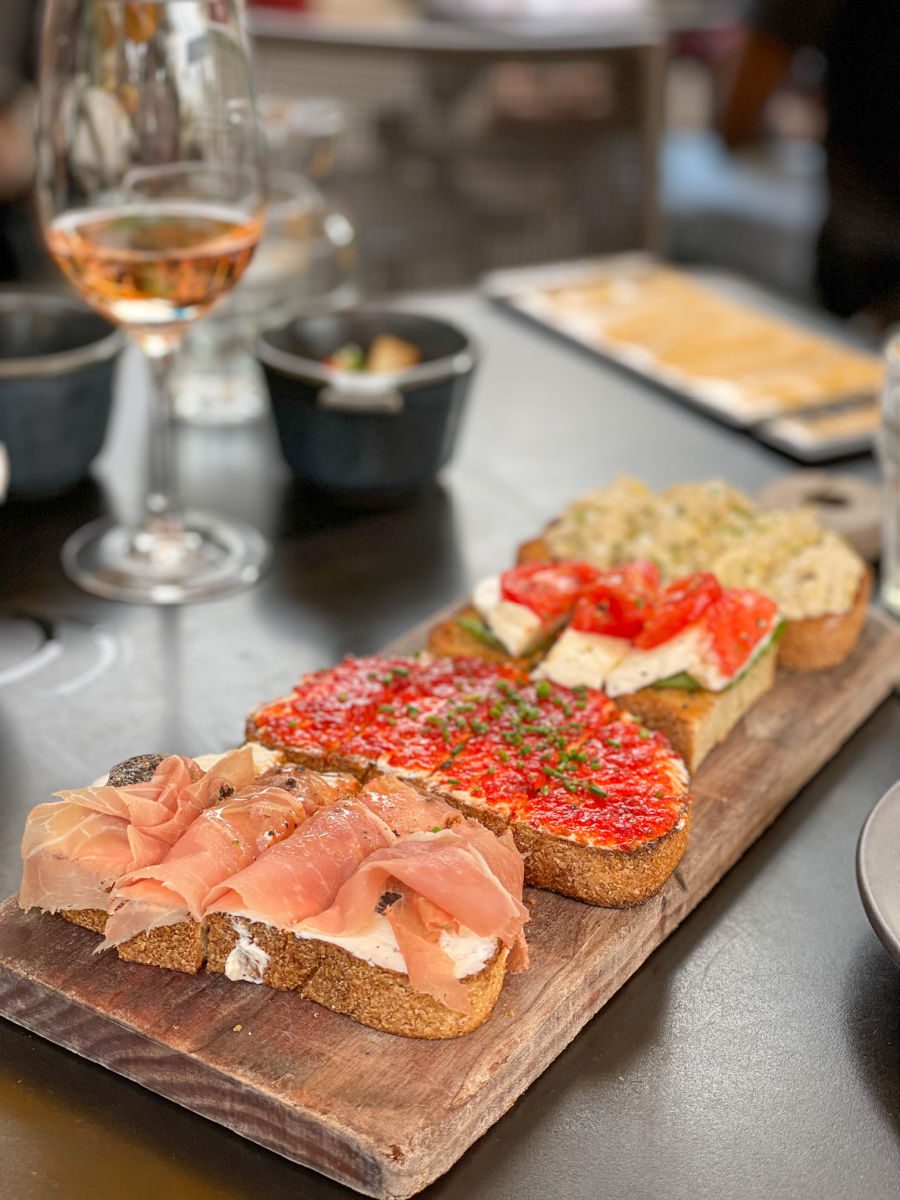 Speaking of outdoor patio dining, one of my favorite parts of visiting Tempe in the fall through spring is getting to eat outside, when I know at home I'd be bundled up and under a heater. But don't worry, if it does get chilly, Tempe restaurants also have patio heaters!
In Tempe, the outdoor dining scene is on point! Shaded, covered, heated, or sunny, you can enjoy the warm Arizona weather while indulging in some excellent food options. See below for my recommendations on where to eat in Tempe.
Walk through the ASU Tempe Campus
Even if your college days are a distant memory, a walk through the Arizona State University Tempe campus will bring back memories of the good old days. Since the campus is very integrated with downtown Tempe, it is easy to walk through campus and appreciate the architecture, especially the Frank Lloyd Wright designed ASU Gammage performing arts center. You may even want to take in a show while you are there.
Some other campus highlights include Sun Devil Stadium, Palm Walk (which is lined with 100 date palm trees), Old Main, the "secret garden" behind Dixie Gammage Hall, and James Turrell's "Air Apparent," which is an artistic interpretation of Native American Hohokam shade ramadas and pit houses, which is especially dramatic and sunrise and sunset. And, if you like museums (I told you there was something for everyone right?), check out the ASU Art Museum or the ASU Gallery of Scientific Exploration.
Visit the Desert Botanical Garden
While technically in Phoenix, the Desert Botanical Garden is right across the Salt River from Downtown Tempe near Papago Park and if you haven't been yet, try to squeeze in a visit. The Desert Botanical Garden is a great place to get acquainted with desert life and take in a special exhibit such as Chihuly in the Desert by Dale Chihuly on display December 3, 2021 – June 19, 2022. The Desert Botanical Garden is home to thousands of species of cactus, trees and flowers spread across 55 acres.
Getting to Tempe
As I mentioned earlier, getting to Tempe is easy with some many affordable, direct flights to Phoenix Sky Harbor International Airport. Once you arrive at the airport, Tempe is only a 10-minute Uber ride away, or you can hop on the SkyTrain to the Valley Metro Rail and get into downtown Tempe for only $2.00.
The Valley Metro Rail is a 28.2-mile light rail line that runs from northwest Phoenix through Tempe to east Mesa. Once in Tempe, it is easy to get around using public transportation, bikes, ride shares, or simply walking. You will only need a car rental if you plan on doing some day trip excursions or don't feel comfortable using rideshare services.
Where to Stay in Tempe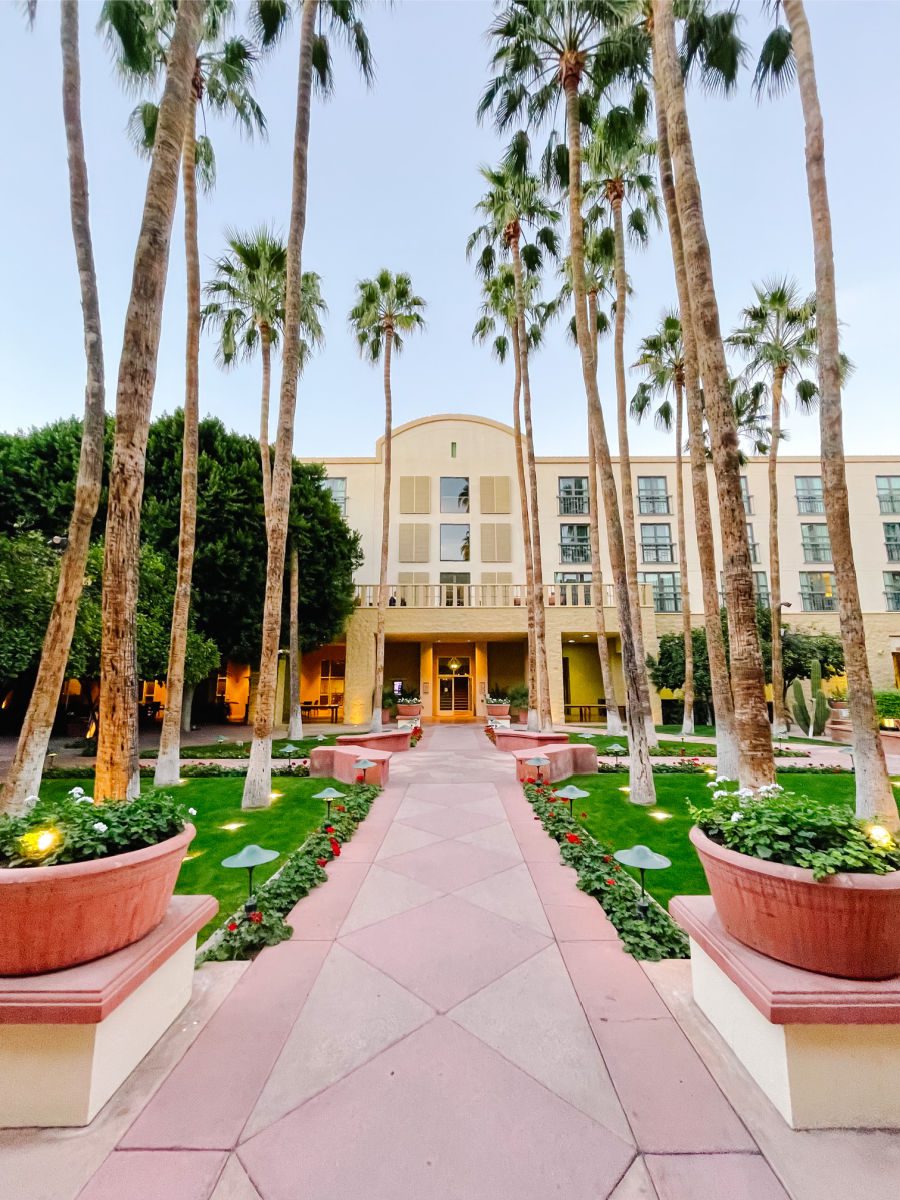 The hotel inventory in Tempe is really expanding, especially in the upscale market with properties from Westin, Canopy by Hilton, and soon, Omni Hotels. You can also find some good options for college visits, like the Vīb Best Western Tempe and, one of my favorite chains in college towns, the Graduate Tempe.
We enjoyed our stay at the well-located Tempe Mission Palms Hotel. A Tempe classic, you walk out the door of this hotel and you are steps away from just about everything. "A" Mountain is right behind the hotel, Tempe Beach Park is a five-to-ten minute walk, campus is just a few minutes away, and you have more restaurants and bars at your doorstep than you can fit into your trip.
While the rooms are a little dated compared to the bright, new Westin, the rooms at the Tempe Mission Palms are very spacious, especially if you splurge for a junior suite. The staff was also friendly and helpful, not something you can find everywhere right now! And I've already mentioned how much we enjoyed sitting by the pool and soaking in the hot tub while enjoying the view and sunset.
Best Places to Eat in Tempe
When you visit Tempe, the one meal you don't want to skip is breakfast! As a college town, Tempe has an excellent selection of breakfast places, many of which have a fun, retro vibe but feature local specialties. Some not to miss include:
Daily Jam – known for having the best waffles, Daily Jam is around the corner from the Tempe Mission Palms and serves up breakfast, lunch, and brunch with made-from-scratch dishes, hand-crafted breakfast cocktails, and a full range of coffee drinks. I give two thumbs up to the red velvet waffles.
Morning Squeeze – located near Pedal Haus Brewery, Morning Squeeze is a mix between retro diner and cool outdoor lounge. You can choose from healthy options like avocado toast, a variety of eggs benny options, or local breakfast burritos and tacos. If you order your potatoes and bacon extra crispy, you are going to be a happy camper.
Snooze, an A.M. Eatery – located in a former ASU art studio, Snooze has some of the best pancakes you will ever have and is my favorite breakfast spot. I also love their unique spin on old favorites, like the breakfast pot pie.
One thing you will do a lot of in Tempe is eat and whether you want casual dining or fine dining, you will find what you are looking for. Some recommendations for lunch or dinner include:
When to Visit Tempe
You can enjoy your time in Tempe no matter when you visit, but unless you love the heat or just want to sit by the pool, you may want to avoid the summer's hottest months. Hotels will be busiest during the prime snowbird and spring training season from late December through April.
It also helps to check the Tempe event calendar to see what else is going on as Tempe is host to many special events, like the Ironman race in November, Super Bowl 2023, and don't forget it will be busy during popular ASU Sun Devil's football games, college graduation/move in times, or parents' weekend too.
So, are you ready to plan a girls' trip to sunny Tempe yet?