The Grand Canyon State is littered with stunning properties and if you are looking for the best Arizona resorts for girlfriend getaways, the choices can be overwhelming. If your girl squad is all about hiking and yoga, head to Sedona or the Grand Canyon. If urban college-town vibes are more your thing, check out Tempe or Tucson.
But if you are looking for a destination that has something for everyone…look no further than Scottsdale. Situated just outside of Phoenix and minutes from the Sky Harbor International Airport, Scottsdale offers luxury resorts with indulgent spas, an array of fun outdoor adventures, designer and boutique shopping, food of every flavor, craft cocktail bars, and even a wine trail!
Even within Scottsdale, there are many flavors of Arizona resorts for girlfriends. There are options for those that want to chill by the pool, selections for girlfriends that want to get pampered at the spa, resorts for golfers that want to hit the links, and retro hotels for those looking for a hip, youthful vibe.
So grab your best girlfriends for some quality time and seek out the sunny days, gorgeous views, outdoor pools, and palm trees of Scottsdale for a memorable girls' weekend.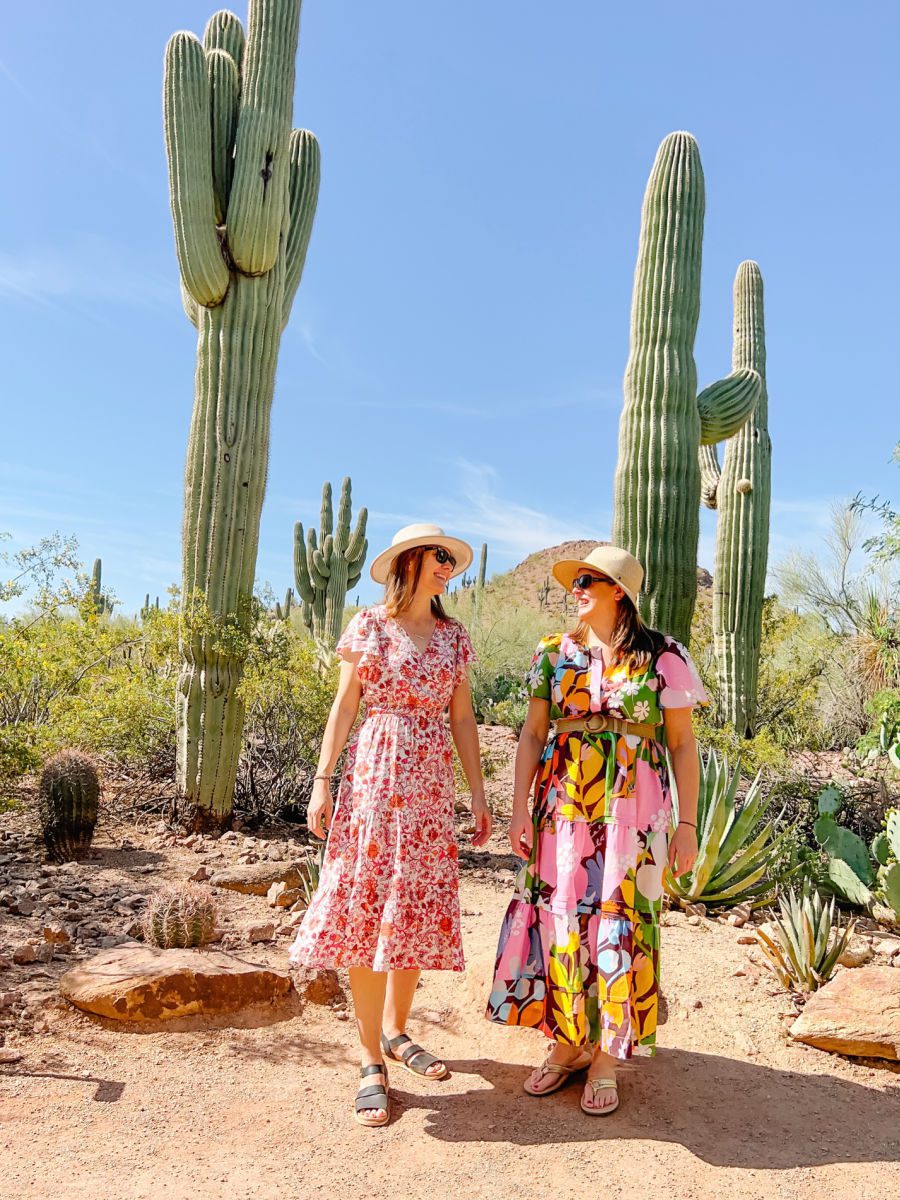 Best Scottsdale Arizona Resorts for a Girlfriend Getaway
Note: This post is written in partnership with Destination Scottsdale. All opinions are my own. This post contains affiliate links. If you click a link and make a purchase, I may receive a small commission. You can read our full disclosure policy here.
Here are my picks for the best Arizona resort for girlfriends in Scottsdale, from ones that I have stayed at personally:
The Phoenician Scottsdale (for pool and spa fans)
Looking for amazing pools, great food, and one of the best spas for your Scottsdale girls' trip? The Phoenician Scottsdale is what you are looking for. This sprawling 645-room resort offers enough amenities on the property that you won't ever need to leave if you are on a short trip, but luckily enough, if you want to, it is also just a short 15-minute drive to Old Town Scottsdale and 20 minutes from the Phoenix Sky Harbor International airport.
The wings of the main resort spread wide to hug the multi-tiered hotel pool area, drawing your eye to the centerpiece, a lower pool with a Mother-of-Pearl inlay on the bottom. Those tiles were imported from Italy for over $1 million, adding to the opulence of the grounds. The middle-tier adult pool is ringed with cabanas for rent, while the larger, family pools offer generous seating and easy access to the Kalio Kabobery pool bar, where pool attendants quickly address your every need.
From the minute you arrive, high-touch service is evident, creating a luxury environment from the valet to the friendly servers at the lobby bar, to the person delivering pitchers of fresh ice water to your pool lounger. While the rooms might feel a bit like they are part of a business, convention hotel (partially because they are — the Phoenician hosts many corporate events), the rooms are generously spacious, including the giant bathroom with a soaking tub and separate walk-in shower. Daily housekeeping and evening turn-down service are luxuries on the verge of extinction, but still in practice at The Phoenician, adding a sweet perk to your girlfriend's getaway.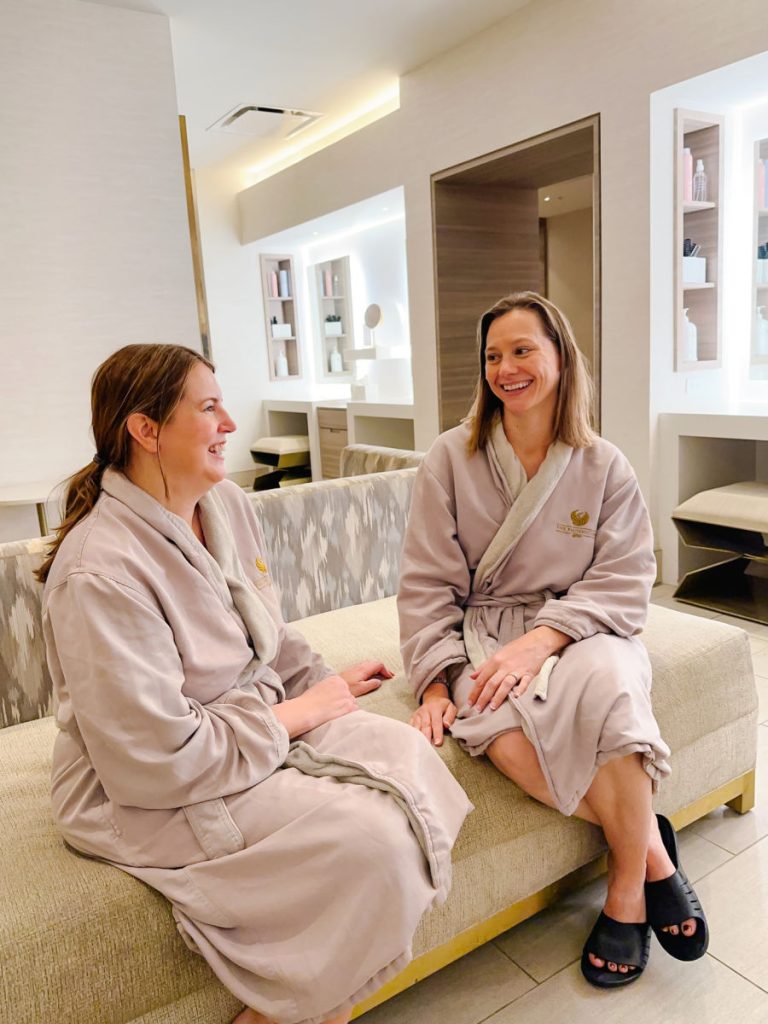 And while The Phoenician offers a Cactus Garden, a beautiful Athletic club with a game room, a 24-hour state-of-the-art fitness room, tennis, pickleball, and half-court basketball courts, plus an 18-hole golf course, the real gem is the Phoenician Spa. Spend a day enjoying the full spa experience, starting with a hot-and-cold hydrotherapy ritual with a steam, sauna, cold shower, and hot tub, followed by a massage, facial, wrap, or scrub.
After your spa treatments, take time to unwind in the co-ed relaxation area before heading up to the rooftop pool for the rest of the day. Here you can rent a private cabana or sunbathe while sipping fróse cocktails and digging into some of the delicious food, served bento box-style. Finish up at the Drybar for a fresh blowout before dinner.
Speaking of food, The Phoenician has multiple dining options on-site, from the signature J&G Steakhouse, to the seasonally-inspired Mowry & Cotton. Just keep in mind that you need to book spa appointments, restaurant reservations, and tee times a few weeks in advance during busy times.
Mountain Shadows Resort (for golfers and boutique hotel fans)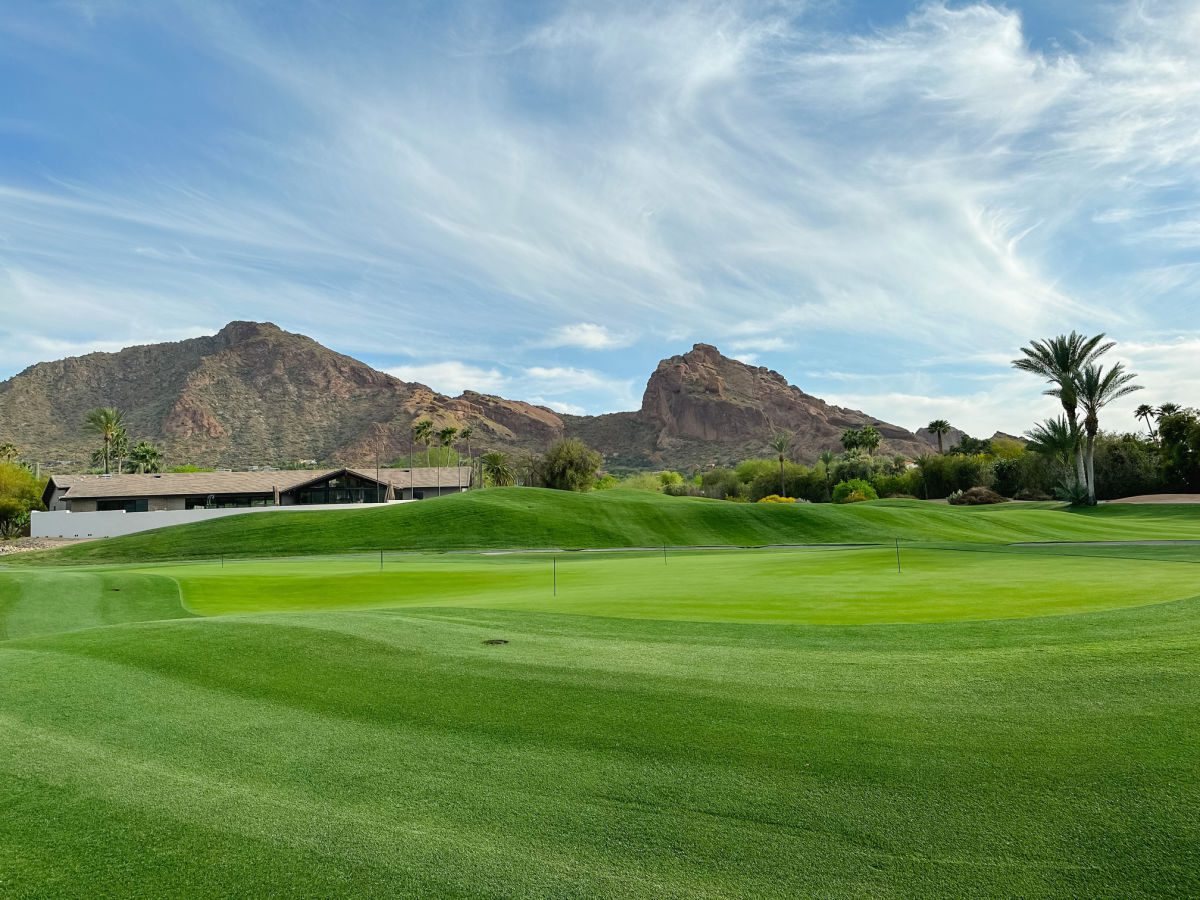 Resting at the base of Camelback Mountain in the heart of Paradise Valley, Mountain Shadows Resort is a luxury boutique property that has received numerous awards as one of the best resorts in the Southwest. Smaller than the mega resorts like The Phoenician, Mountain Shadows offers both guest rooms and residences with multiple bedrooms and full kitchens.
While further from downtown Phoenix and Old Town Scottsdale, Mountain Shadows is especially popular with experienced golfers. Camelback Mountain makes a perfect backdrop to the resort's scenic, 18-hole, par 3 golf course that offers fun and fast rounds, giving your friend group plenty of time in the rest of the day to relax. The original 1961 course was designed by Arthur Jack Snyder, and was later redesigned by his mentee, Forrest Richardson, offering challenging greens, rugged slopes, and distinct holes.
After a morning on the course or out on the trails (pro tip: don't attempt hiking Camelback without some real training, guidance, and tons of water), you can relax at two sparkling, 75-foot beautiful pools connected by an over-water walkway and lined with private cabanas. The resort offers a large outdoor seating area with firepits that spill out from the popular bar. There is also a large indoor seating area, called The Living Room, which makes a great place to gather with friends.
The on-site restaurant, Hearth '61 offers very friendly service with a small, but beautifully prepared menu. Complimentary coffee is served in the morning at Rusty's at the Short Course, and the resort offers a free bottle refill station (a personal favorite amenity), along with an ice water dispenser in the lobby available throughout the day.
Mountain Shadows offers both king and double queen rooms with a modern, industrial design and an open-plan concept. There are curtains separating the bathroom and bedroom areas, but the glass-enclosed shower might be a little exposed if you are sharing rooms, but at least the double queen rooms have frosted glass for a bit of privacy.
This resort is popular for girl groups that want a mix of indoor and outdoor gathering spaces in a contemporary and scenic, yet more intimate setting.
Hyatt Regency Scottsdale Resort & Spa at Gainey Ranch (for foodies and spa fans)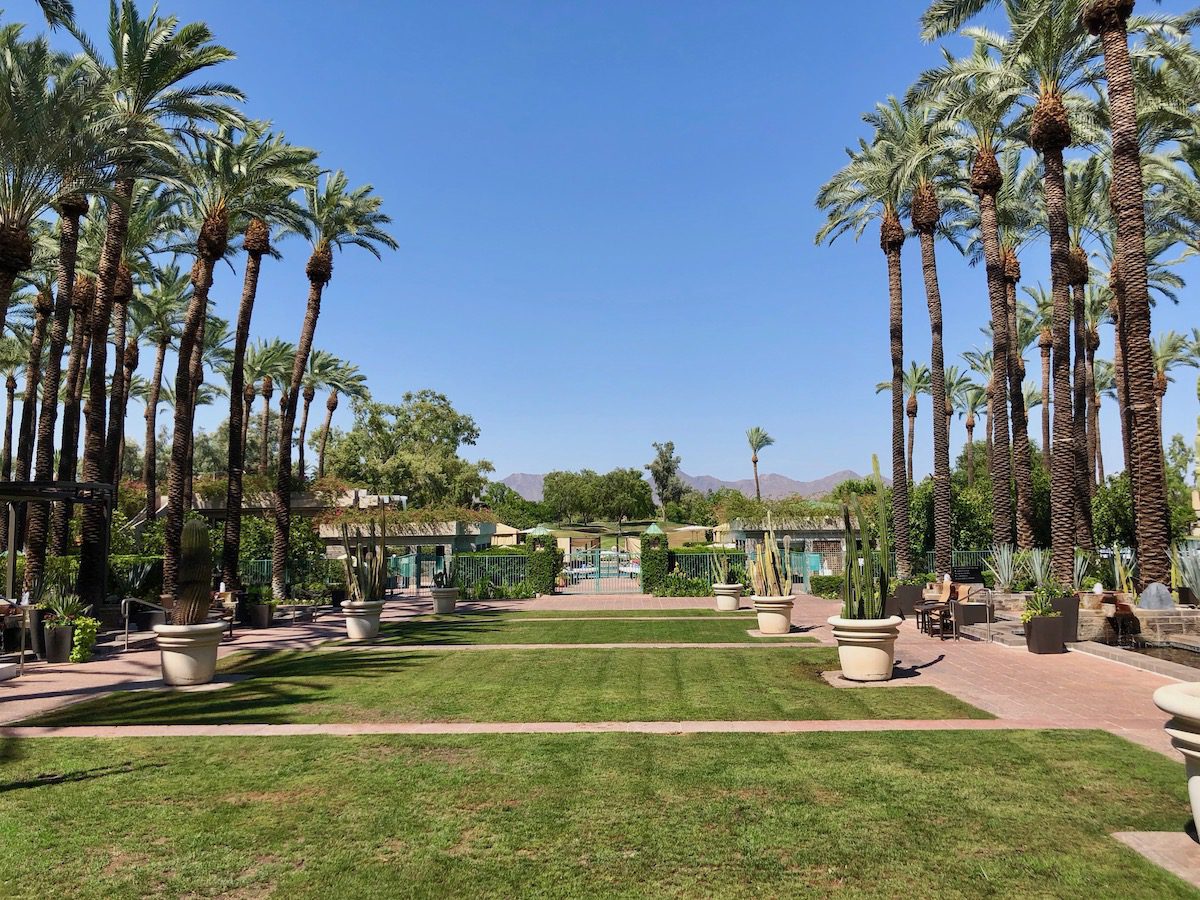 While the Hyatt Regency Scottsdale is also family-friendly, this resort also has a beautiful pool complex and a fabulous spa that makes it a great choice for a girls' weekend. Unfortunately, those pools will soon be closed for renovation in June 2023, but keep this resort on your shortlist for 2024 when it will be better than ever. This is a sprawling resort with 493 rooms and suites and a 2.5-acre pool complex, along with four tennis courts, and miles of biking and jogging trails.
If you love food, the hotel also has five restaurants including Japanese, Italian, and Southwest cuisine. I'm not sure if it is still available, but when I visited, SWB, the hotel's Southwestern restaurant offered a chef's tasting dinner with a tequila and wine pairing. Sitting at the bar in front of the kitchen at the chef's table made this a great dining experience to share with your girlfriends.
Another highlight of the Hyatt Regency Scottsdale is the Spa Avania. I've seen a lot of great hotel spas, and Spa Avania definitely deserves to be on that list. This is definitely the type of spa where you want to book a treatment (or two or three) and plan on spending the entire day there relaxing.
Spa Avania has 19 treatment rooms, including three for couples, and five garden-side treatment rooms with private entrances. The women's and men's locker rooms both feature relaxation rooms, a steam room, a dry sauna, and outdoor hot and cold plunge pools. Even the showers are a treat, with 10 shower heads for a full-body experience. Before or after your treatments, you can also enjoy a mineral pool, available to spa guests only, and an outdoor relaxation area. Drinks and food are served outside so you really won't want to leave!
I totally fell in love with the Himalayan Salt Room. They provide an iPad and headphones with music or guided meditation to pass the time. They say that a salt cave is good for your respiratory system, as it draws out irritants such as toxins and allergens and reduces inflammation. I followed up my 30 minutes in the Salt Room with a Citrus Drench Wrap, which was a combination of body scrub and wrap that left my skin glowing and ultra-soft.
Like The Phoenician, the rooms at the Hyatt are quite large, but I'm glad to hear they are getting an update. This is definitely a good choice for larger groups that want to spread out and enjoy their time pursuing their own form of relaxation, but still come together for dinner, drinks, or spa/pool time. It can be a bit too large for those that crave a more intimate experience though.
Hotel Adeline, Scottsdale, a Tribute Portfolio Hotel (for cocktail lovers and retro vibes)
Hotel Adeline Scottsdale is a Tribute Portfolio Hotel by Marriott and a great choice for those looking for a lively, youthful vibe. This retro motel turned hip hotspot includes a speakeasy whiskey bar (with a secret entrance) and a happening pool scene, especially during the DJ-fueled summer pool series.
The hotel features 213 rooms, many of which overlook the central courtyard pool. The pool offers private cabanas available for rent and non-guests can purchase day passes, so you may want to claim your lounger early. The Freestyle Pool Bar offers light bites, drinks, and even bottle service.
Hotel Adeline is pet-friendly too if any of your friends can't be parted with their little companions. There is a casual restaurant on site, but you are also within walking distance to Postino, a great wine bar with happy hour specials, and Scottsdale Fashion Square, with plenty of other eateries and where you can shop to your heart's delight. It is also only a five-minute drive to Old Town Scottsdale.
Looking for more ideas in the Scottsdale area?
You may also want to consider:
Things to do on a Girlfriend Getaway to Scottsdale, Arizona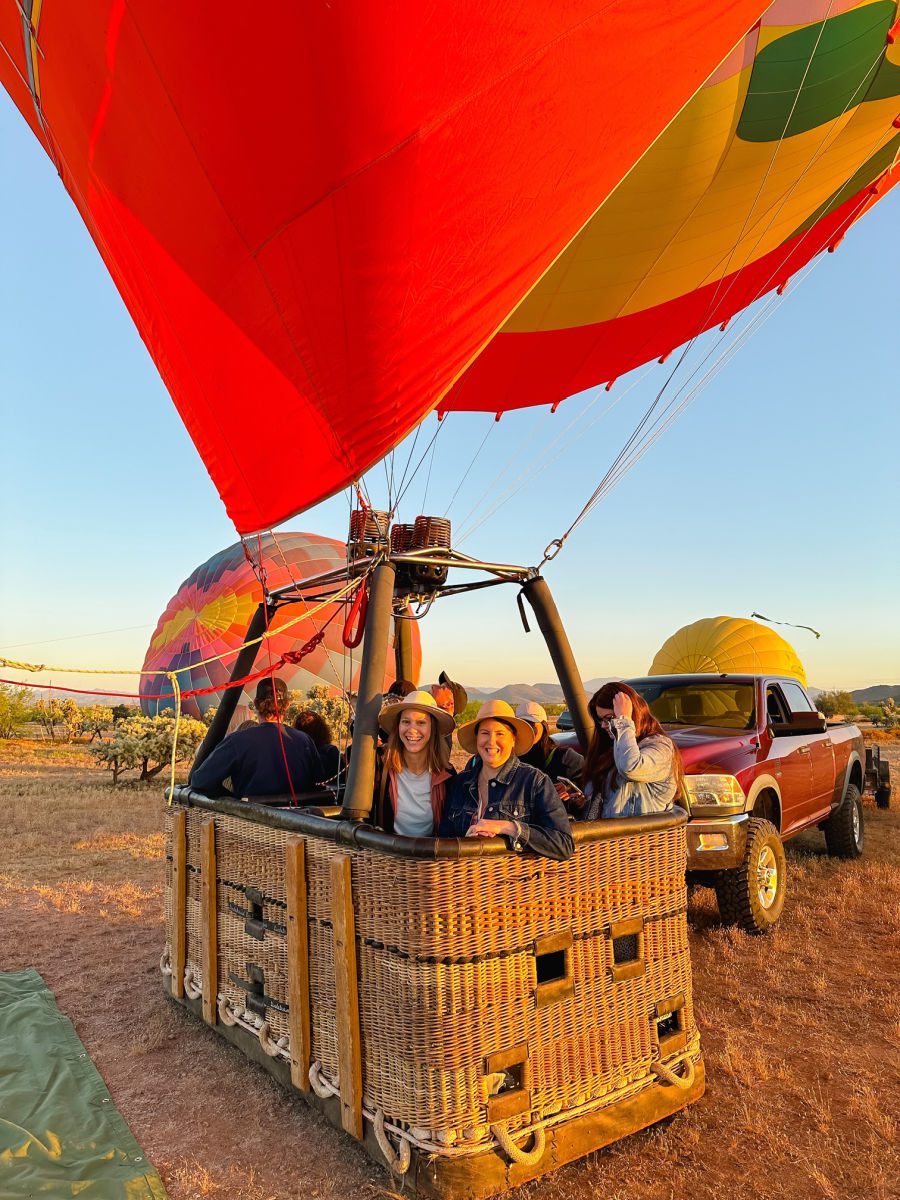 If you are wondering what to do while on a Scottsdale girl's weekend with your best friends, see my full itinerary (coming soon), but here is just a sample:
Take a hot air balloon ride with Hot Air Expeditions
Go horseback riding at MacDonald's Ranch
Take a hike in the Sonoran Desert at the McDowell Sonoran Preserve
Go shopping at the Scottsdale Fashion Square
Stroll through the historic district of Old Town Scottsdale
Check out the immersive art at Wonderspaces
Learn about cowboy and Native American culture at Western Spirit: Scottsdale's Museum of the West
Appreciate Frank Lloyd Wright's architectural genius at Taliesin West
Go wine tasting along the tasting rooms on the Scottsdale Wine Trail, like Carlson Creek, AZ Stronghold, or LDV Winery, or enjoy happy hour with your friend group at Postino
Embrace Scottsdale's brunch culture at restaurants like Hash Kitchen
Eat excellent southwestern food at places like Diego Pops, The Mission, and Old Town Tortilla Factory
Want more girlfriend getaway ideas?