Wondering where to go on your next Southern California girls' trip? I get it, there are so many fabulous Southern California beach towns to choose from, in addition to fun cities and fabulous hotels. But if you enjoy sunshine, beaches, and great food, plus you are looking for a destination that is affordable, accessible, and a little off-the-beaten-path, I would encourage you to check out Oceanside, California.
Oceanside is one of my picks for unique girls' weekend getaways, and after spending three days in Oceanside recently with one of my besties, I honestly can't wait to return and soak up more of that California sunshine!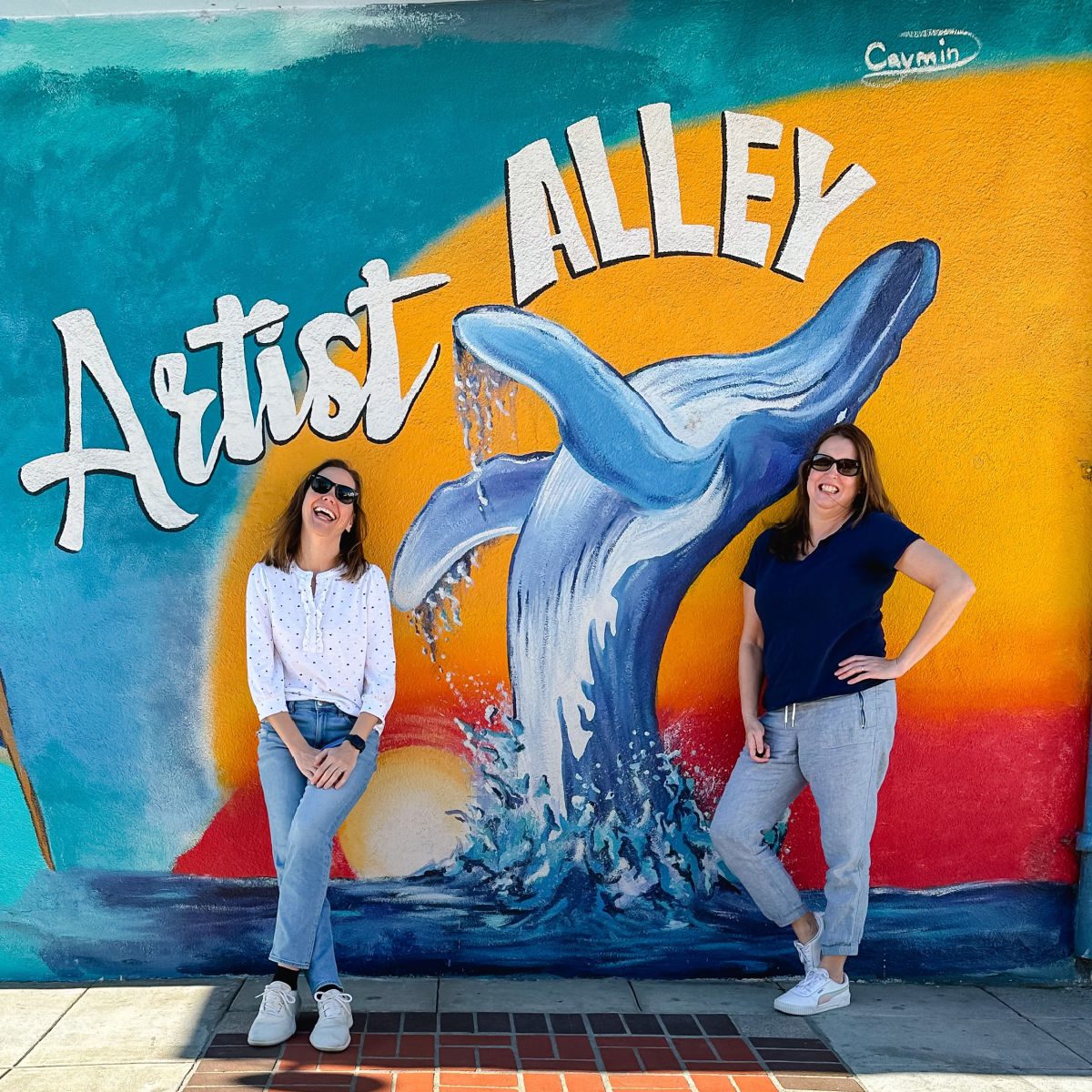 Two decades ago, Oceanside was a working-class town that mostly attracted those willing to deal with the long commute to San Diego or military personnel wanting to enjoy free time away from nearby Camp Pendleton. At that time, downtown O'side, as locals now call it, could get a little rough and tumble.
You would never know that when visiting now. Today, thanks in large part to the highly-successful Sunset Market that helped transform the town, Oceanside, California is a perfect spot for a low-key girls' trip or weekend getaway.
Reasons to Plan a Southern California Girls' Trip to Oceanside
Editor's Note: Tamara's trip was hosted by Visit Oceanside, including accommodations, activities, and some meals. All opinions are her own. This article contains affiliate links. If you click a link and make a purchase, we may receive a small commission.
If you don't live in the San Diego area, Oceanside may not have been on your radar. However, I love discovering smaller, less obvious destinations for girlfriends or romantic getaways. For me, Oceanside ticks so many boxes when it comes to atmosphere, cost, location, activities, and, very importantly, food! O'side is a vibe and from the time I arrived, I knew I was going to have a great time.
If you need more convincing, here are some reasons to pick Oceanside for your next Southern California girls' getaway.
Amazing Sunsets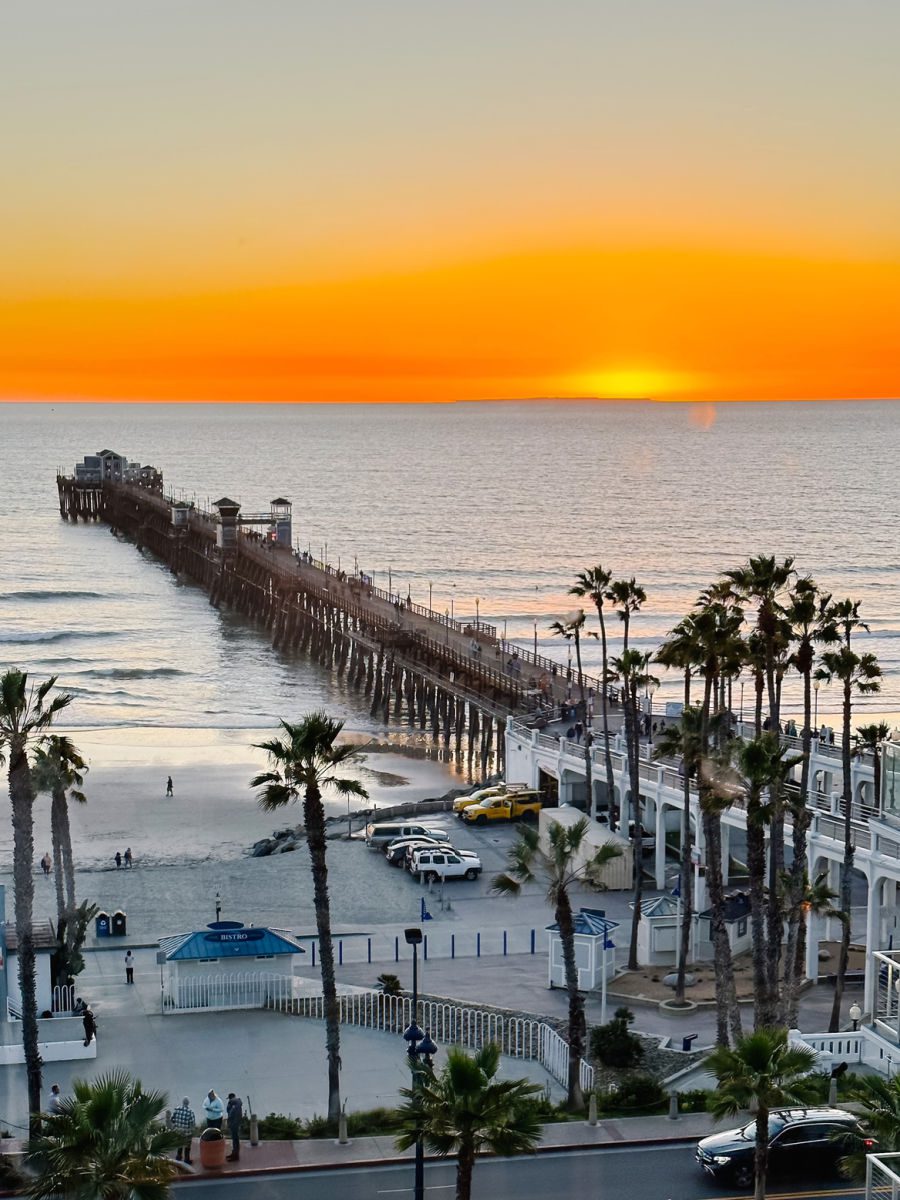 Southern California just kills it when it comes to amazing sunsets. You get that beautiful glow, silhouetted palm trees, and that soft haze in the distance that turns the coast into a picture postcard. In Oceanside, you have nothing blocking these fabulous views and there are more than enough places to get a fabulous view.
The best place to catch a California sunset is from the Oceanside Pier, which is the longest wooden pier on the Pacific Coast. Arrive about 15 to 20 minutes before the sun dips below the horizon to walk out to the end of the pier. You can watch the surfers waiting for their last waves before darkness draws them home. Laugh with the children frolicking on the beach and running from the waves. Enjoy people-watching along the pier. Then watch and see if you see that green flash as the sun says goodbye for the day.
My favorite part of a sunset is the 15-20 minutes after the sun sets, when you still have the beautiful ombre colors creating a glow in the sky that reflects on the buildings back on shore. You can also enjoy a beautiful sunset view from the rooftop bar at the Mission Pacific Hotel. You should make a reservation if you want a prime view, or be sure to arrive early to score a table.
The rooftop Cococabana at The Brick Hotel also offers pretty sunset views, although slightly obstructed by other hotels you still see the beautiful glow. This Caribbean-styled cocktail bar also offers light bites and Taco Tuesday specials!
Dolphins Galore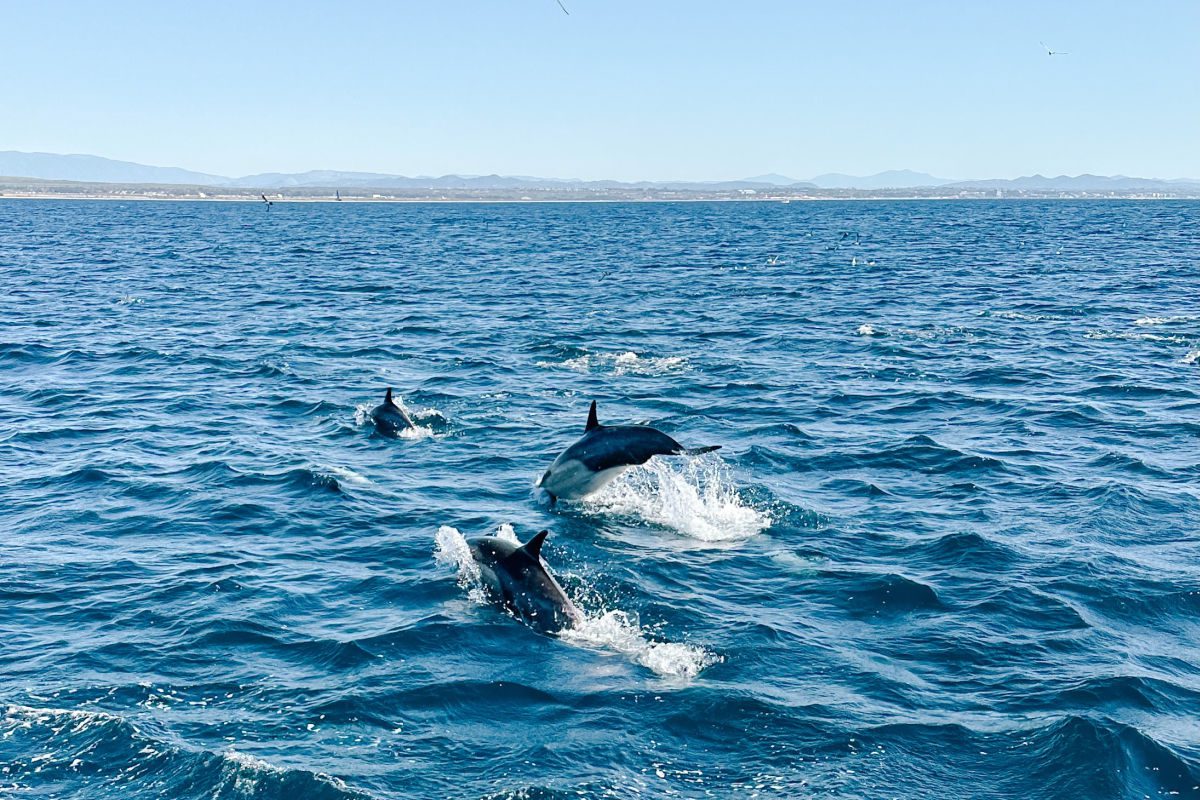 It may surprise you to hear that one of the most incredible wildlife encounters I've ever had was on a whale-watching and dolphin cruise from Oceanside Harbor. When I headed out on a whale-watching cruise with Oceanside Adventures, I'd hoped to maybe see some different whales than I might find off the waters of New England, especially the Pacific Gray Whale. While we didn't spy any whales on that particular trip, I was absolutely blown away by the thousands (yes, literally thousands!) of dolphins we encountered.
The waters off Southern California are home to more than one million Common Dolphins, as well as other varieties, which is more than you will find anywhere else in the U.S. combined. It isn't unusual to encounter pods with a few hundred dolphins, but we ran across a megapod of dolphins, which had well over 1,000 dolphins. Not far into our trip, you could see what looked like whitecaps and as we got closer, it seemed like the sea was boiling it was just absolutely churning with dolphins jumping and swimming everywhere.
For anyone that admires dolphins, this was an amazing experience. I'm pretty sure you couldn't wipe the smile from my face. Instead of fighting others at the rail for that one chance glimpse of a dolphin, you saw dolphins everywhere you looked. Truly fantastic for wildlife lovers!
Delicious Food & Drinks
One of the things that I loved the most about Oceanside was the variety of dining options. Some California beach towns are so upscale and offer plenty of fine dining and pricey choices, but Oceanside is more diverse, and you can see it in the food options. Not only will you find everything from Hawaiian fusion to amazing tacos, but you can also find a good fit for your budget, from Michelin-recognized hotel dining to family-friendly fast casual. But, the downtown is not littered with chain restaurants and coffee shops. Instead, there are many local options that give O'side its unique vibe.
In addition to O'sides many "flip flop dining" establishments, Oceanside is also home to wine tasting rooms, craft breweries, cool cocktail bars, and local coffee or tea shops. If you are visiting, you need to sign up for the O'Side Sips. When you "check in" and various destinations, you can receive discounts on beverages and if you collect enough check-ins, you will also be eligible to receive some prizes.
Great brunch spots are definitely a thing in Oceanside too, which is a must for any Southern California girls' trip! A few spots I'd recommend are:
Toasted Gastrobrunch – serves up a delicious brunch with specialties like stuffed French toast and yummy egg bennies! Don't miss the brunch cocktails too. Pro tip – if visiting on the weekend, you can join the Waitlist on Yelp!
Piper at The Seabird Resort – Piper at the beautiful Seabird Resort offers breakfast/brunch and dinner featuring California coastal cuisine. Reservations are available through the website or Seven Rooms.
Petite Madeline Bakery and Bistro – for a casual breakfast or delicious snack, stop by Petite Madeline. They have the most delicious buttery, flaky croissants.
The Switchboard – this small restaurant is located in the historic The Fin Hotel, which served as a communication center during World War II and you can still see the switchboards that gave the restaurant its name. Offering Hawaiian fusion cuisine, you may want to stop by for lunch since they don't take reservations and the space is fairly small.
Craft Coast Beer & Tacos – this brewery and taco stand offers hand-made tacos and delicious, authentic al pastor pork, along with other tasty toppings.
Some other local recommendations include Swami's Café Oceanside, The Lab Collaborative, Flying Pig Pub & Kitchen, Dija Mara, and Heritage Barbecue
Whatever you do, don't miss out on trying the tasty, layered donuts from Parlor Doughnuts.
If you are planning a weekend getaway to Oceanside, California, I would encourage you to arrive early in time for the Sunset Market that takes place every Thursday evening from 5 to 9 pm, for 51 weeks of the year. The Sunset Market brings in about 100 curated food vendors with foods from around the world, along with nearly 100 retail stands as well.
This is a fun social mingling event with live music performances and children's activities. It is amazing that the festival draws 6,000-9,000 people each week. There are a few new vendors every week so there is always something new to try.
Great Hotels & Vacation Rentals
Oceanside has some great accommodations options for a girls' trip. There are plenty of vacation rentals, if you like to share a house and get to cook and hang out in the living areas together. We stayed in the heart of downtown at the newly opened The Brick Hotel. This 10-room hotel is located in a historic building dating back to 1888. With beautiful light and retro California decor, the rooms are spacious and lovely. With a rooftop bar and adjoining cocktail bar and craft brewery, you are in the heart of the action. Just pack your earplugs and a sleep mask if you aren't a night owl.
For an upscale stay, the Mission Pacific Hotel received the #1 Hotel in San Diego by Condé Nast Traveler's Readers' Choice Award in 2022. This property has a gorgeous rooftop pool and bar, a Michelin Guide-recognized restaurant Valle, and a beachfront cafe.
For those that want to utilize points, The Seabird Resort by Hyatt is a perfect choice. This bright and modern beachfront property features a renowned luxury spa and on-site dining at Piper. There are plenty of other options too including the Club Wyndham Oceanside Pier Resort and The Fin Hotel by Hilton.
Easy Access
Located 38 miles north of San Diego and 100 miles south of Los Angeles, Oceanside is easy to get to from anywhere in the United States. Pick a direct flight to either of those two cities and then hop on the Amtrak Pacific Surfliner train, which stops right in downtown Oceanside, for a car-free and carefree vacation getaway. Not having to deal with SoCal traffic, especially around LA, is a huge plus! It gives you more time to enjoy the destination, versus on the highway.
If you do drive, Oceanside is located just minutes off Interstate 5 and the historic Coast Highway 101.
Beautiful Weather
Year-round temperatures in Oceanside average a beautiful 72 degrees. You can enjoy 3.5 miles of palm-tree-lined beaches by walking or riding a bike along the beachside Strand path. On average, there are 266 sunny days per year in Oceanside. The warmest month is August, but even then the average temperature is a pleasant 76 degrees.
Choice Waves
Oceanside faces southwest and is known for having the best swell windows year-round, attracting surfers from around the world. In fact, the USA Surfing team often practices off the beach near Oceanside Harbor due to its epic waves. Surfers also enjoy catching the waves near the Oceanside Pier or Buccaneer Beach. Oceanside beaches also host many professional and amateur surfing contests.
You don't need to be a surfer to appreciate Oceanside's surf culture. The California Surf Museum, located downtown, is a perfect introduction to the history of surfing and some popular local figures. Here you can see some of the original wood plank surfboards and the most famous exhibit, Bethany Hamilton's surf-bitten board from 2003.
You can even take surfing lessons with Oceanside Surf School!
More Things to do in Oceanside on a Girls' Trip
If that isn't enough to convince you to plan a Southern California girls' weekend to Oceanside, here are a few more fun things to do in Oceanside to fill your days:
Rooftop yoga – the Mission Pacific Hotel offers morning rooftop yoga, which is free for guests and available for a fee to others that pre-register. This is a perfect way to start off your day!
Rent bikes – or share a surrey and bike along the oceanfront Strand path. Bike rentals are available in front of the pier from Wheel Fun Rentals. If you are more ambitious, has other popular bike routes including the 9-mile San Luis Rey Bike Trail and the 44-mile Coastal Rail Trail that runs from Oceanside to San Diego.
Skydiving – try skydiving with Go Jump Oceanside, the only coastal skydiving operation in Southern California.
Helicopter tours – Waverider Helicopter Tours offers a birds-eye view of nearby beaches, flower fields, and local landmarks.
Paddleboarding or kayaking – you can rent kayaks or paddleboards at Boats for Rent in the Oceanside Harbor.
Top Gun House – the house that was featured in the original Top Gun movie as the home of Charlie, played by Kelly McGillis, is now home to a hand-pie shop, High Pie, in the completely renovated Top Gun House in front of the Mission Pacific Hotel.
Oceanside Museum of Art – this cultural gem located downtown offers carefully curated exhibits with everything from landscape painting to modern art.
Street art – check out the local murals and street art along Artist's Alley and throughout town.
Farmer's Market – explore the local farmer's market every Thursday morning.
Local shopping – Rising Co is a cooperative retail shop featuring local designers including Rais Case leather goods, Tremont Collective features the flagship store for fashion label Brixton, and the SeaHive Marketplace, which is a fun co-op style market in South Oceanside.
Anyone that loves a relaxed beach town with great food and fun things to do will enjoy a girls' trip to Oceanside, California.