When I told my husband I was visiting Moncton, New Brunswick on my Atlantic Canada road trip, he asked what I was going to do there as the only thing he knew about Moncton was that it was the home of the New York Islanders hockey training camp. Since it was summer and I'm not a hockey fan (can I admit that and still go to Canada?), I assured him that there were plenty of fun things to do in Moncton that didn't involve hockey.
As I explored Moncton and the surrounding area over the next few days, I realized that this would make a great girls' trip destination for those that live in Eastern Canada or the Northeastern United States. If you have been following my travels, you will know that I love to find unique girls' trip destinations. If you love wine or beer, unique cultural experiences, thrilling adventures, uncrowded beaches, and, best of all, affordable getaways — keep reading!!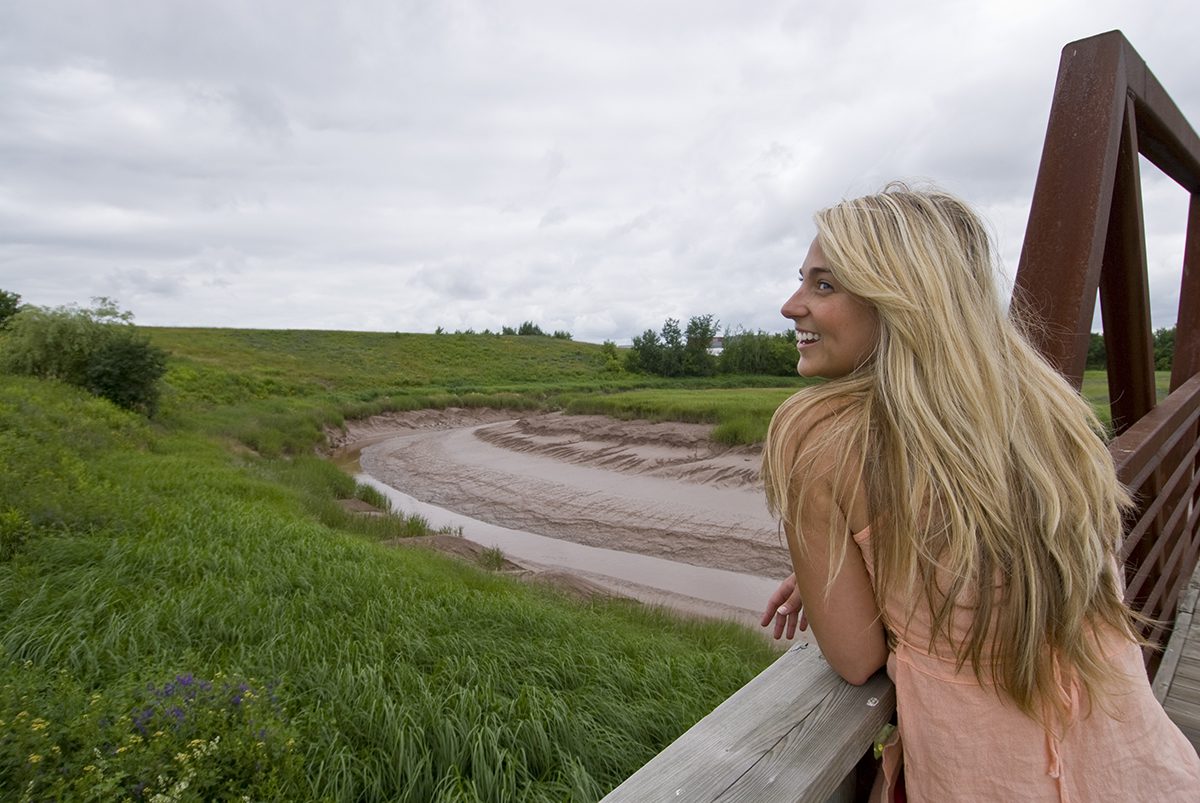 Getting to Moncton
Moncton is located in Southeastern New Brunswick, a seven-hour drive from Quebec City and about eight hours from Boston. If you aren't up for a road trip with your girlfriends, you can also fly into the Greater Moncton Roméo LeBlanc International Airport (YQM).
Things to do in Moncton
Note: My trip was hosted by Tourism New Brunswick for research purposes, all opinions are my own.
Moncton is one of those destinations that offers a nice blend of relaxation, culture, and adventure. If you are working with a limited budget, Moncton hotels are also very affordable compared to the U.S. or bigger cities. Plus, if you are traveling from the U.S., the exchange rate really benefits Americans currently and makes food and activities quite affordable too. This is just a sample of the fun things to do in Moncton.
1. Go Wine Tasting at Magnetic Hill Winery
If you are surprised that you can find wineries in New Brunswick, you aren't alone. Winemaking, at least beyond fruit wine, is a fairly new industry in New Brunswick and winemakers are starting to get the hang of what grapes grow best in this region and the best way for them to express their flavors.
Of the 19 wineries in New Brunswick, Magnetic Hill Winery is the largest. Located just 15 minutes outside of downtown Moncton, this family-run winery is located on an 1867 estate beside Magnetic Hill. Winemaker Zach Everett, son of the owners, got a calling for the family business while traveling the world and picking grapes in Germany. Since, he has introduced new varietals, won numerous awards, and developed new wine styles, including oak barrel-aged reds and traditional method sparkling wines.
Magnetic Hill Winery currently offers a beautiful two-story tasting room and sun-drenched patio with views of the valley. Visitors can book a table to enjoy a tasting flight, nibble on a charcuterie board, or join a group tour of the winery. There are options that everyone can enjoy, from fun and fruity sweet wines, to dry traditional wines, and even sparkling wines (including one made from strawberries!)
2. Relax at the Usva Spa Nordik
Just next to the Magnetic Hill Winery, you will find the Usva Spa Nordik, and visiting these two attractions together makes for a great day with time to relax in the morning and sip wine in the afternoon. This wellness bubble is so relaxing that it is hard to believe that a family-friendly waterpark and zoo are just a stone's throw away.
The Nordic spa experience starts with a thermal rotation alternating between hot and cold, followed by a period of rest. Usva offers both a hot sauna and steam room, with a cold plunge pool or bucket baths to cool off. There is also a warm pool, with plenty of relaxing nooks and swinging hammock areas to deepen the relaxation.
The Spa has a small cafe offering drinks, energy bars, and small snacks, but the options are limited unless you order food ahead of time so you may want to save your appetite for the charcuterie board at the winery next door. Keep in mind that towels are provided and robes are available for rent, so you may want to bring your own robe and slippers/slides.
3. Visit a Local Brewery
Even if you didn't realize that New Brunswick had wineries, it probably won't surprise you to learn that there are also 50 craft breweries in New Brunswick, with quite a few right in Moncton. Some popular options include the Pumphouse Brewery, Tide and Boar Brewery, Tire Shack Brewing, CAVOK Brewing (which also has a taproom at the beach!), and Happy Craft Brewing.
4. Enjoy Ballet by the Ocean
One of the things that initially drew me to New Brunswick as a travel destination was the wealth of unique experiences offered within the Province. On my visit, I got to experience one of these by attending Ballet by the Ocean by the Atlantic Ballet. Where else can you watch world-class ballet while enjoying a gourmet meal overlooking the ocean?
Ballet by the Ocean is only offered Wednesdays and Saturdays in July and Saturday afternoons in September, but don't miss this one-of-a-kind event if you can fit it within your travel schedule. Born from the trials of the pandemic, Ballet by the Ocean is just one example of the creative innovations that have turned into, what we hope, is an ongoing sought-after experience.
The Atlantic Ballet company performs original choreography by Igor Dobrovolskiy, which was inspired by and created especially for the location. The dancers perform on an outdoor stage on preserved wetlands, with a backdrop of the beautiful southeast shores of New Brunswick.
Throughout the performance, volunteers serve a four-course gourmet meal from a local chef using locally-sourced ingredients. The meal is accompanied by wine pairings from Magnetic Hill Winery. The event has such a wonderful feeling of community and warmth that when you leave you will feel lucky to have been given the opportunity to participate.
5. Hit the Beach
Moncton is within a 20 to 30-minute drive to a number of beautiful beaches along the Northumberland Strait, which features the warmest waters on the East Coast north of the Carolinas. The calm, clear waters are lined with wide, soft, sandy beaches. And the best part? They aren't crowded even in the heat of summer!
For convenience to town and restaurants, choose Parlee Beach in Shediac (the lobster capital of the world.) For a taste of the Acadian coast, head up to Cap Pelé and Aboiteau Beach. This beach has received a Blue Flag certification since 2018 for its accessibility, cleanliness, and safety. You will also find a restaurant serving delicious seafood and even a craft beer taproom.
If you would rather take a beach walk than lay in the sun, take a drive to La Dune de Bouctouche, one of the few remaining sand dunes on the northeast coast of North America. You can either walk along the beach or explore the dunes via a wide boardwalk that runs along Bouctouche Bay.
6. Eat Lobster
New Brunswick is the largest exporter of canned lobster and the second largest exporter of live lobsters in the world, so eating lobster, and learning how to eat all the lobster the Acadien way, is a must when in Moncton. As I mentioned earlier, nearby Shediac is the self-proclaimed "Lobster Capital of the World" and the perfect place to try lobster.
For a good time with lots of laughs and great lobster to eat, sign up for a Lobster Tales cruise with Shediac Bay Cruises. Captain Ron is the host of this signature experience and his energetic personality and playbook of jokes make this an unforgettable two-and-a-half hours. Ron is a retired lobster boat captain and all jokes aside, his passion for education around conservation and ethical fishing also comes through. Best of all, he shows guests how to easily break down and eat lobster, including many parts that I had previously just tossed aside.
Book the Lobster Tales Cruise — trust me, you won't regret it!
7. Take Photos by Murals
There are 51 art murals on buildings throughout Moncton and the region. Through the work of Festival Inspire, locals and artists from around the world have created masterpieces that have transformed Moncton into a spectacular outdoor art gallery.
If your friends like Instagram, or you just want some fun mementos from your weekend away, grab a map and take a self-guided walking tour and capture some fun photos in front. Just don't forget to tag and credit the artists if you share on the 'gram.
8. Try Acadian Food
New Brunswick is the only bilingual province in Canada, so you will hear plenty of French on your visit. But listen carefully and you will also hear Acadian, as New Brunswick is also home to the largest Acadian community in Canada. While you are there, take the time to learn a little more about the Acadian culture by trying some authentic Acadian food.
While you are in Shediac or Parlee Beach, stop into Le Acadien Menu. This nondescript restaurant serves up authentic cuisine and won't mind explaining the menu options. Split a few options among friends as the portions are large and very heavy. Try the Poutine Rapée, beignets (not at all like the beignets in New Orleans), and Pâté au Poisson (fish cakes.)
9. Surf the Tidal Bore
Twice a day, the Bay of Fundy tides – the highest tides in the world – cause the placid Petitcodiac River to roll back upstream in one wave. Surfers come from around the world to surf this wave, not because it is high, but because of how long you can ride it!
Even if surfing isn't your thing, you can still enjoy watching this phenomenon roll on in.
10. Take a Day Trip
Moncton is called the Hub City for a reason. Its location is well-positioned for day trips around the region. I already talked about visits to the beach and nearby Shediac, but if you are willing to drive a little further, there are other adventures to be had.
The famous Hopewell Rocks Provincial Park is under 40 minutes away and is the perfect spot to witness the full power of the Bay of Fundy's tides. I would encourage you to plan a day trip from Moncton and stay long enough to see the Flowerpot Rocks and the rest of the coastline at both low tide and high tide.
For thrill-seekers, a day trip to Cape Enrage, an hour south of Moncton, is the way to go. Cape Enrage is a beautiful spot on the Bay of Fundy coast, with incredible cliffs and the oldest lighthouse on mainland New Brunswick. At low tide, you can spend time exploring the photogenic coastline or taking a fossil tour. But the real thrills come from ziplining or cliff rappelling.
Where to Stay in Moncton
Note: This post contains affiliate links. If you click a link and make a purchase, I may receive a small commission at no cost to you. All opinions are my own based on my personal experience with these products.
The Delta Hotels by Marriott Beausejour offers a convenient location downtown is walking distance to many restaurants, breweries, and attractions. The hotel offers an in-house spa, two restaurants, a 24-hour fitness center, and an indoor saltwater pool with a waterslide. Best of all, you can redeem Marriott Bonvoy points!
Other options include the Crowne Plaza Hotel, Chateau Moncton by Wyndham, and the Residence Inn by Marriott.
Note: the featured image at the top of this article is courtesy of Tourism Moncton and David Corkum.