Lake Como's clear, blue waters and breathtaking views of the Alps' foothills have long attracted the rich and famous to Italy's deepest lake. Today, the stunning villas that perch on the shores of Lago di Como are home to celebrity A-listers, wealthy executives, and luxury hotels. While tens of thousands of tourists pack the picturesque lake towns in the summer seeking their small slice of elegance, if you visit Lake Como in October, you can experience Lake Como as it was meant to be enjoyed.
Lake Como is located in Lombardy, in Northern Italy, home to the Lakes Region, which includes Lakes Maggiore, Lugano, Como, Iseo, and Garda. We spent two nights in Lake Como in October, after a decadent five days in Piedmont eating truffles and drinking wine. While I would love to stay longer, vacation time and budget didn't allow for it, although it was the perfect amount of time to experience Lake Como's mid-lake highlights.
If you are wondering, "when is the best time to visit Lake Como?", I'm going to pitch you on visiting Lake Como in October. I'll also tell you how to get there, where to stay, and tips for visiting Lake Como.
3 Reasons to Visit Lake Como in October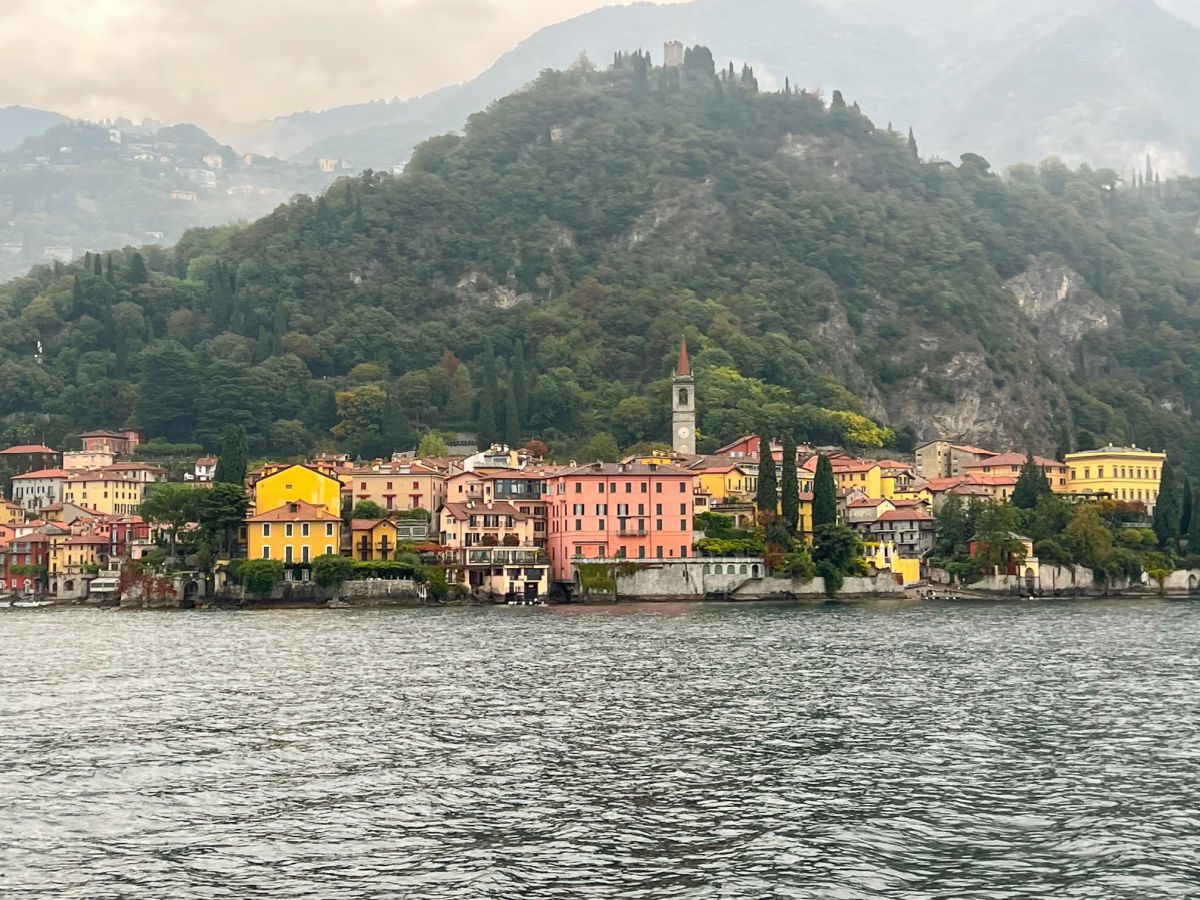 Note: This post contains affiliate links. If you click a link and make a purchase, I may receive a small commission at no cost to you. All opinions are my own based on my personal experience with these products.
1. Avoid the crowds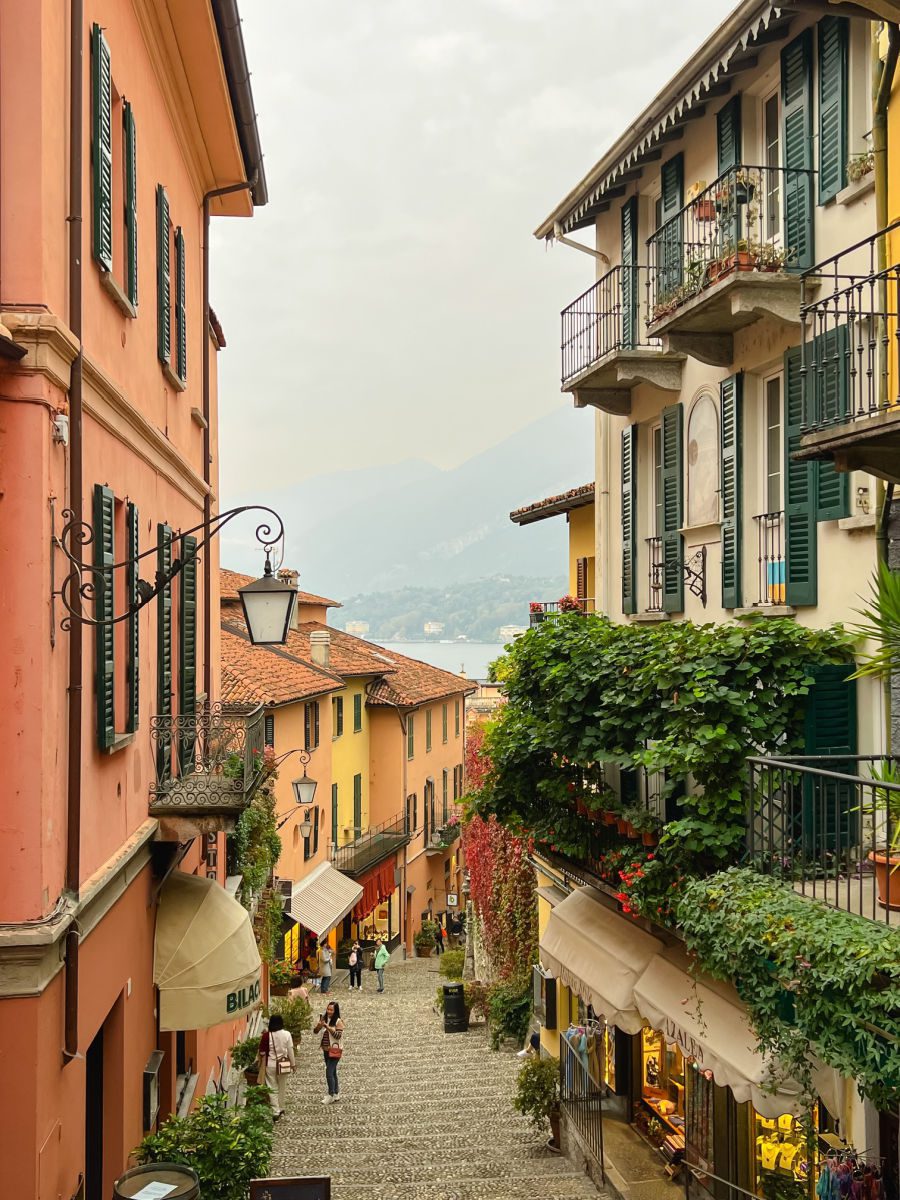 Like Venice and the Cinque Terre, Lake Como has become one of those places in Italy that are overtouristed. Sadly, you can see the impacts of overtourism and climate change everywhere you look around Lake Como. The water levels in the lake are becoming dangerously low and the trees that line the foothills around the lake are exceedingly dry and dying. Acknowledging these impacts, which are exacerbated by the thousands of motor boats crisscrossing the lake and cars snaking up the banks and hillsides, really takes the shine off of the destination.
While these impacts may make you think twice about whether or not you want to visit at all, I would at least encourage you to visit Lake Como in October to minimize these impacts during the high season. We were told that in the summer, over 10,000 people a day visit the town of Bellagio. It makes me think about the throngs of tourists in Santorini, Greece. After spending a lovely day enjoying the scenic, upscale town of Bellagio, I would be horrified to try to navigate those narrow streets with thousands of other people.
A popular activity in Lake Como is to rent a boat for the day and many companies will rent to inexperienced boaters without requiring a boating license. On our trip, we took a private boat tour around the lake, and our captain, who used to race speed boats, told us some horror stories about boat traffic on the lake in the summer. Let's just say that inexperienced boaters plus alcohol do not make for a safe situation. It is a good reason to stick to the public ferry boats, take a boat tour with an experienced captain, or hire a private water taxi.
If the thought of sharing these beautiful towns and waterways with tens of thousands of other people doesn't sound fun to you, then just avoid the summer. Visit Lake Como in October. You may not spend a ton of time sunbathing but you will enjoy your time a lot more.
2. Weather in Lake Como in October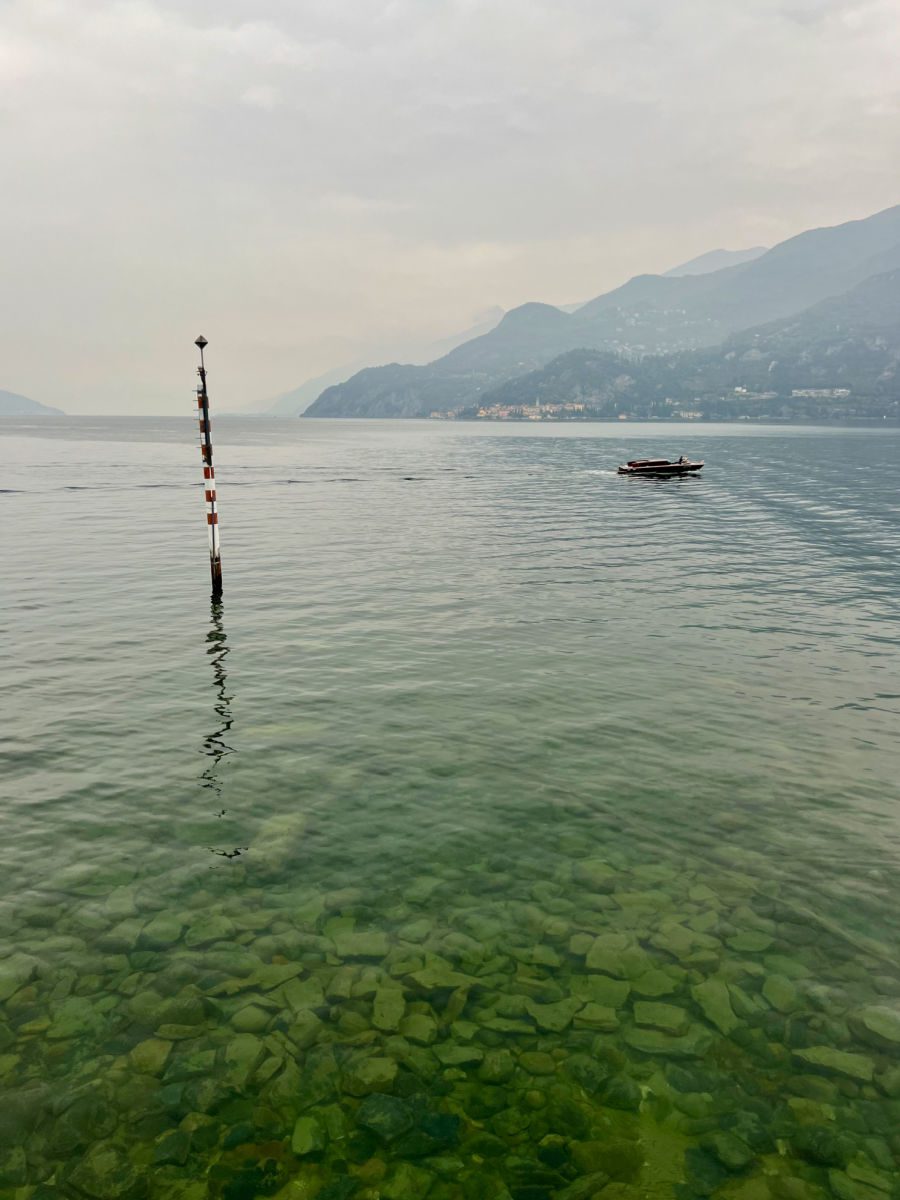 One of the impacts of climate change is that the shoulder seasons in Europe are getting longer. I've spent two weeks in Europe during October for the last couple of years and both were "unusually" warm, but I think these unusually warm fall days are going to become more and more usual. Historically, the average high temperature in Lake Como in October is 62 degrees Fahrenheit, with an average low of 53, with about eight days of rain.
During our visit, our days were a bit overcast, with a mist on the mountains that largely hid the majestic peaks. However, earlier that week it was bright and sunny and you can typically see sunny days in Lake Como until November. We did have one day of rain, which varied from a light mist to a steady rain. When I visited Lake Garda later that week, on my way to Verona, it was very warm and sunny, showing off the glacial blue waters of the lake.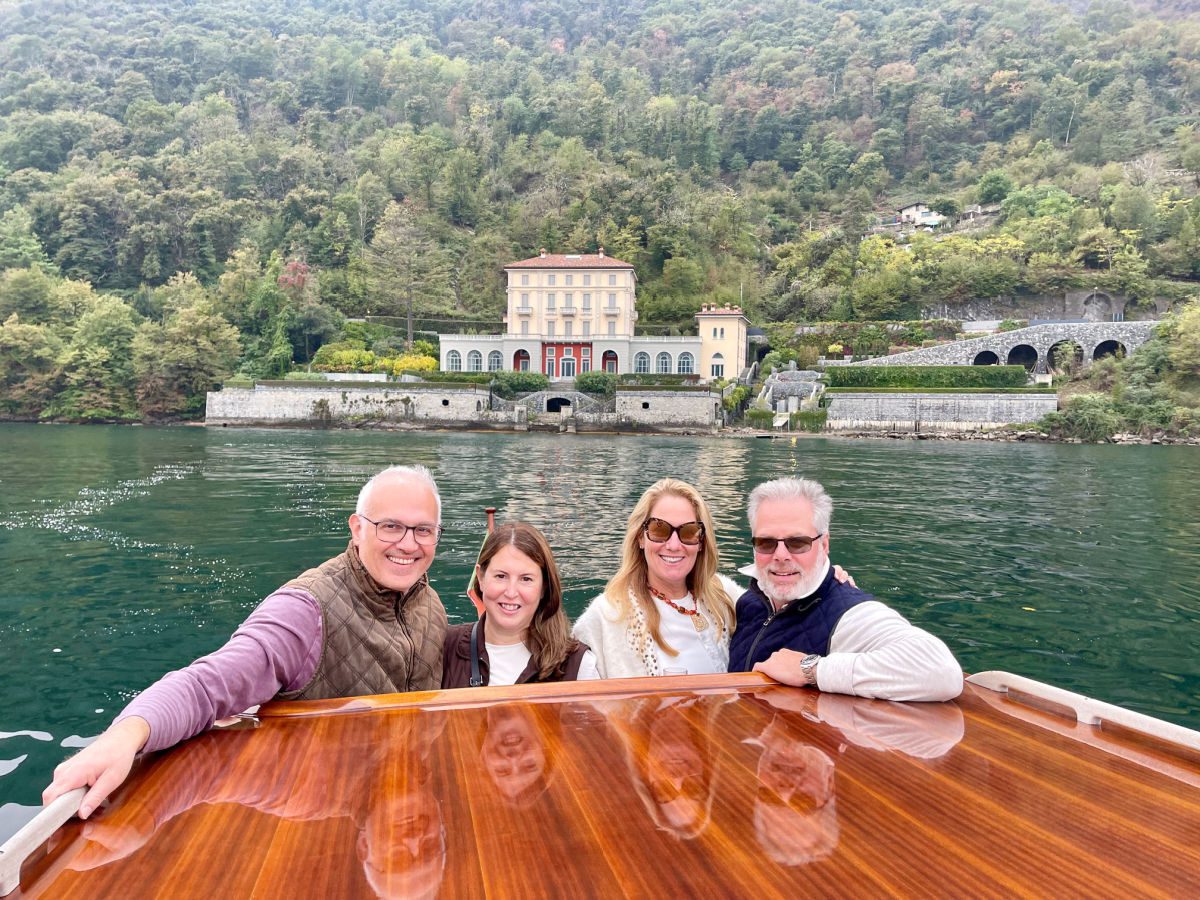 While the weather in Lake Como in October may not be ideal for long days by the pool, it is perfect for exploring the towns, villas, and gardens that rim the lake. Keep in mind that most hotels will also have heated pools and some even offer indoor pools and spas to enjoy on cooler or rainy days.
Obviously, Lake Como is quite large and surrounded by mountains, so it can experience the impacts of a rough weather day. However, when we visited, my boating friends described the water of Lake Como as "like glass", making for a very smooth boat tour. Even when it was raining, the slight chop didn't bother me on the ferry or water taxi, and I tend to experience motion sickness on boats.
3. Lower Prices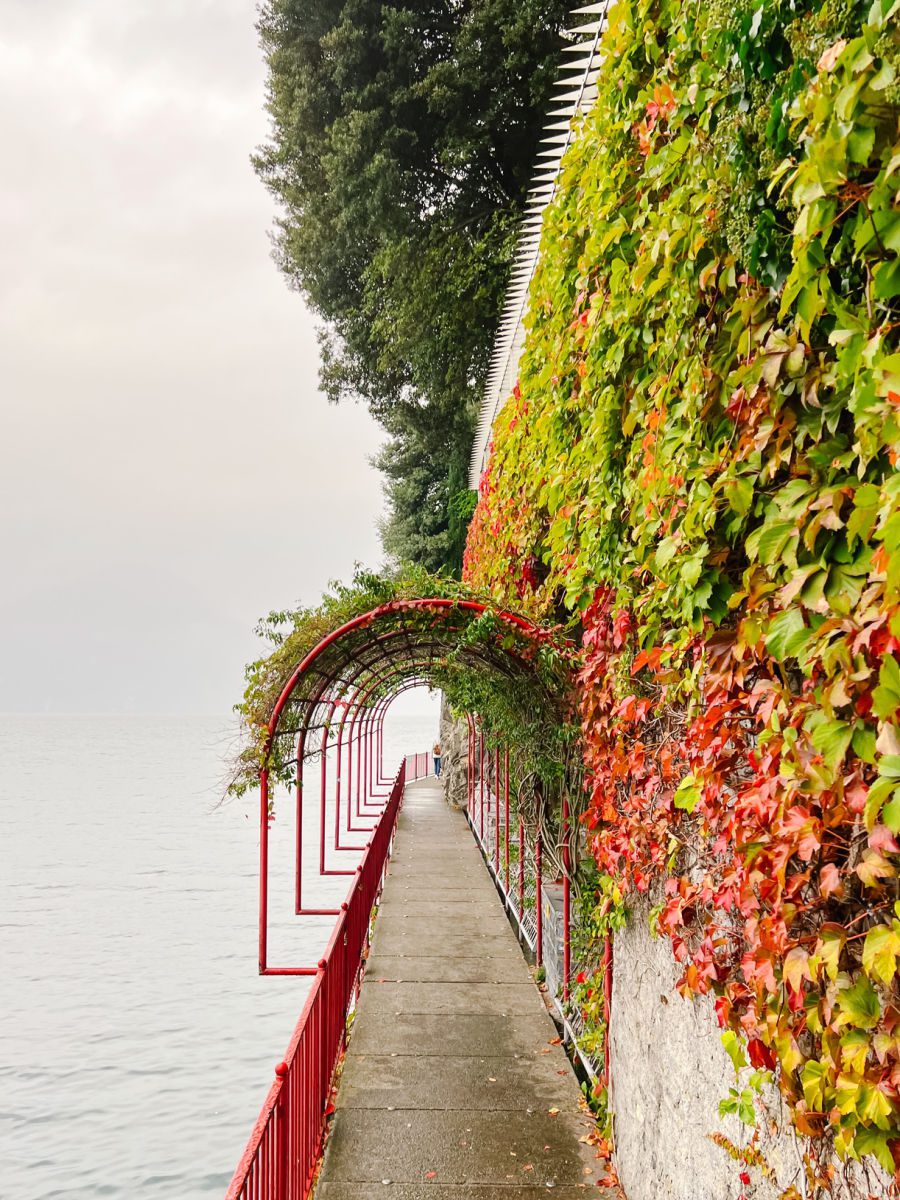 Hotels on Lake Como are not cheap. There are some luxury properties that you can't even look at without being prepared to spend over $2,000 a night. Expect the prices in the summer, even for vacation rentals, to be at a premium. You will save significantly if you visit Lake Como in October.
For example, we stayed at the luxurious Grand Hotel Tremezzo, which is located right on the lake in the town of Tremezzo. This well-known property starts around 1,500 euros in July for a park view room. However, that same room is "only" 900 euros in October.
Note: keep an eye out for deals. Prices vary and have continued to rise, but we stayed in a lake-view room in October for under 900 euros per night using an iPrefer rate that included breakfast (this was a big splurge hotel for us and one of the reasons we only stayed 2 nights!) You can also get additional perks or resort credit by booking through American Express Fine Hotels & Resorts with a Platinum Amex or using a Virtuoso travel agent (I can refer you to one if you need.)
Where to Stay in Lake Como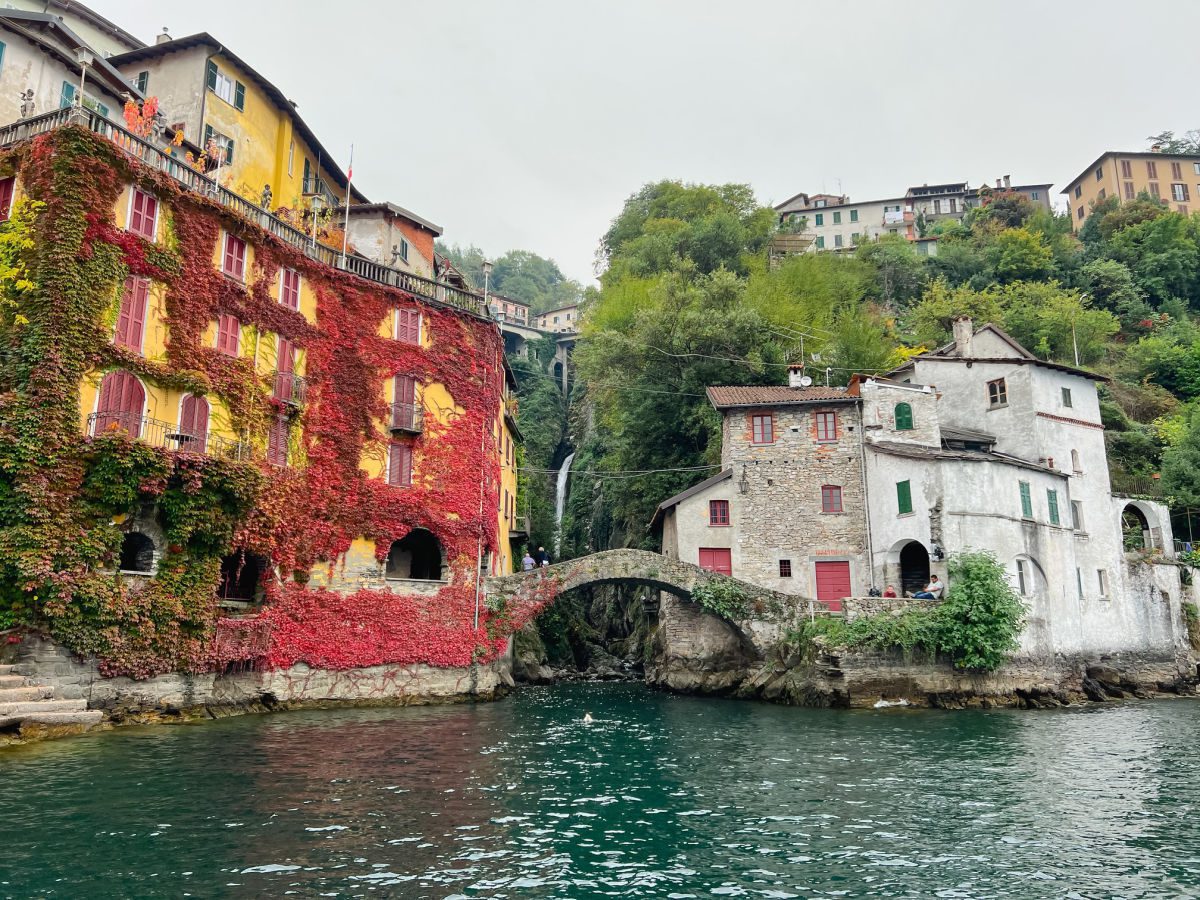 Shaped like an inverted Y, Lake Como is about 29 miles long and 2.5 miles wide. The bulk of the tourists will be found around the mid-lake region, in the towns of Tremezzo on the west bank, Varenna on the east bank, and Bellagio at the point of the Y where the two "legs" of the lake converge. Many visitors will also stay in the town of Como at the southern point of the lake. If you are truly looking to avoid crowds, head further north towards the Swiss border.
However, if you have limited time in the region, it is easiest to stay in that mid-lake area and take advantage of passenger ferries to visit other towns along the lake. Where you stay will also depend on your preferred method of transportation. For example, if you want to travel by train and not have to drive around the lake, you will probably want to stay in either Como or Varenna.
If you are considering a vacation rental, be sure to read the descriptions closely and look at the locations that are in town if you are not planning on having a car. Many rentals will be located in the hills above the towns and while the walk into town may not be far, it may be quite steep on narrow, winding roads without sidewalks.
As I mentioned, we stayed at the Grand Hotel Tremezzo, which was recently named one of the Top Hotels in the World by Conde Nast Traveler. Some other great options include:
Search for Lake Como Hotels & Rentals
Grand Hotel Tremezzo Review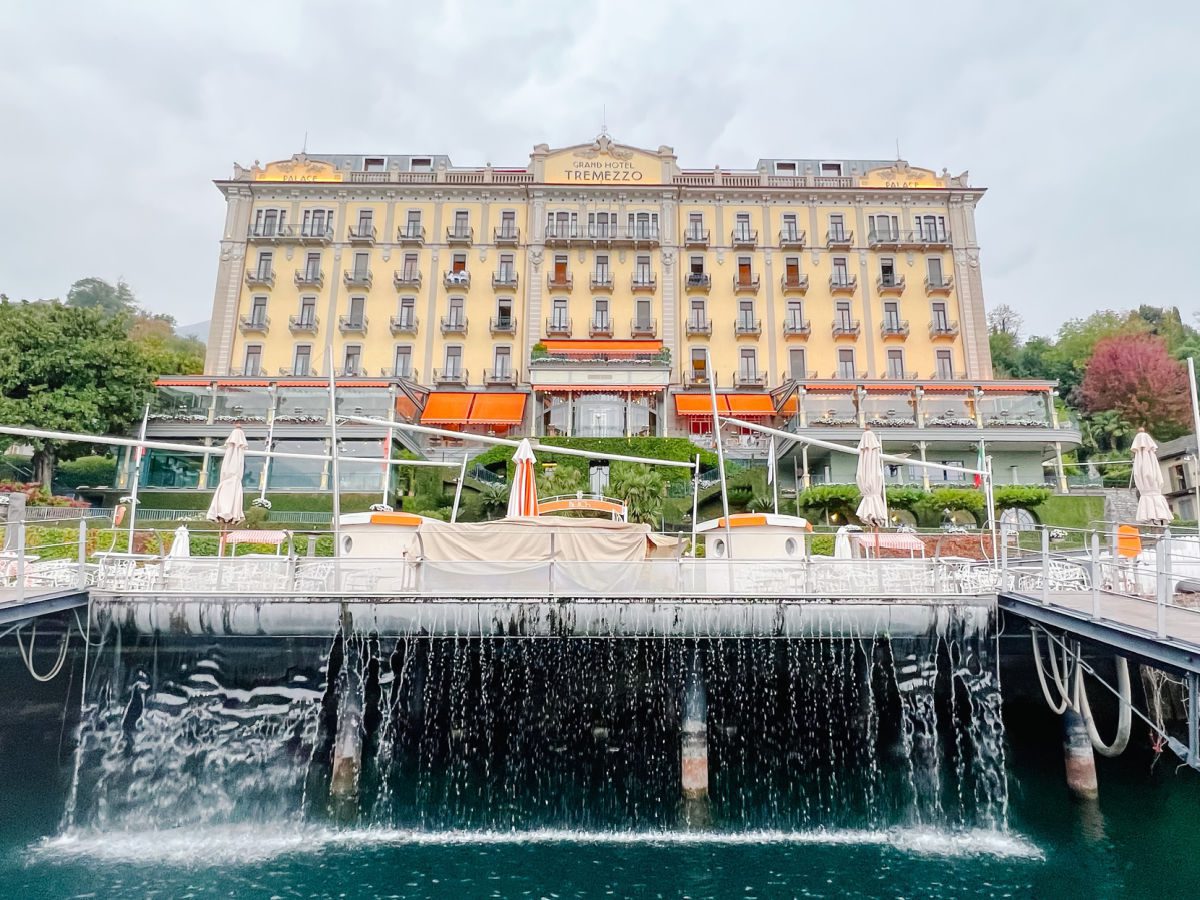 If you are looking for a truly luxurious hotel for a memorable stay in Lake Como, the Grand Hotel Tremezzo fits the bill. This beautiful, high-service hotel is located directly on the lake in the town of Tremezzo, within walking distance to the famous Villa Carlotta and the ferry port.
The hotel has a private dock, "floating" pool in the lake, a small manmade beach, and a seafood restaurant and beach bar on the lake. Just across the street stands the majestic hotel, offering lake view rooms and rooftop suits. The hotel also offers heated indoor and outdoor pools, a full spa, and four dining establishments.
We stayed in a lake view prestige room, which was not large but extremely elegant. In addition to a spacious bathroom, the room also had a small sitting area and a small balcony overlooking the lake from across the street. The room featured many not-often-seen amenities like Dyson hairdryers, high-quality bath products including bath salts, and remote control shades.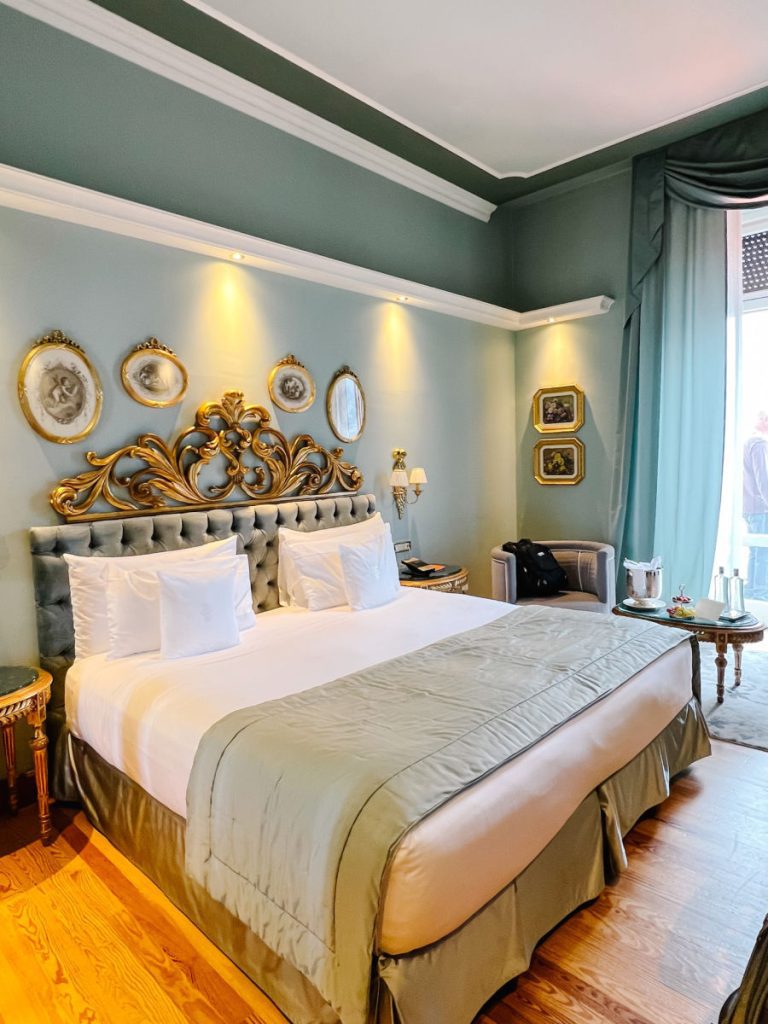 The food at Grand Hotel Tremezzo was outstanding. It is well-worth booking a rate that includes breakfast, as it is one of the best hotel breakfasts I've ever seen. A full salon is dedicated to table after table of meats, cheeses, fruit, pastries, shellfish, lox, hot breakfast items, and cold salads. In addition, you can order freshly prepared omelettes, waffles, and crepes.
Dinners were also fabulous, although certainly pricey! For fine dining, La Terrazza maintains the great Gualtiero Marchesi's legacy. The dishes are conceptual, elegant, and refined and seating is either outdoors on the covered terrace or indoors in one of the beautiful, high-ceilinged parlors. For more casual pasta, cheese, meats, and local specialties, try L'Escale trattoria and wine bar.
Getting to Lake Como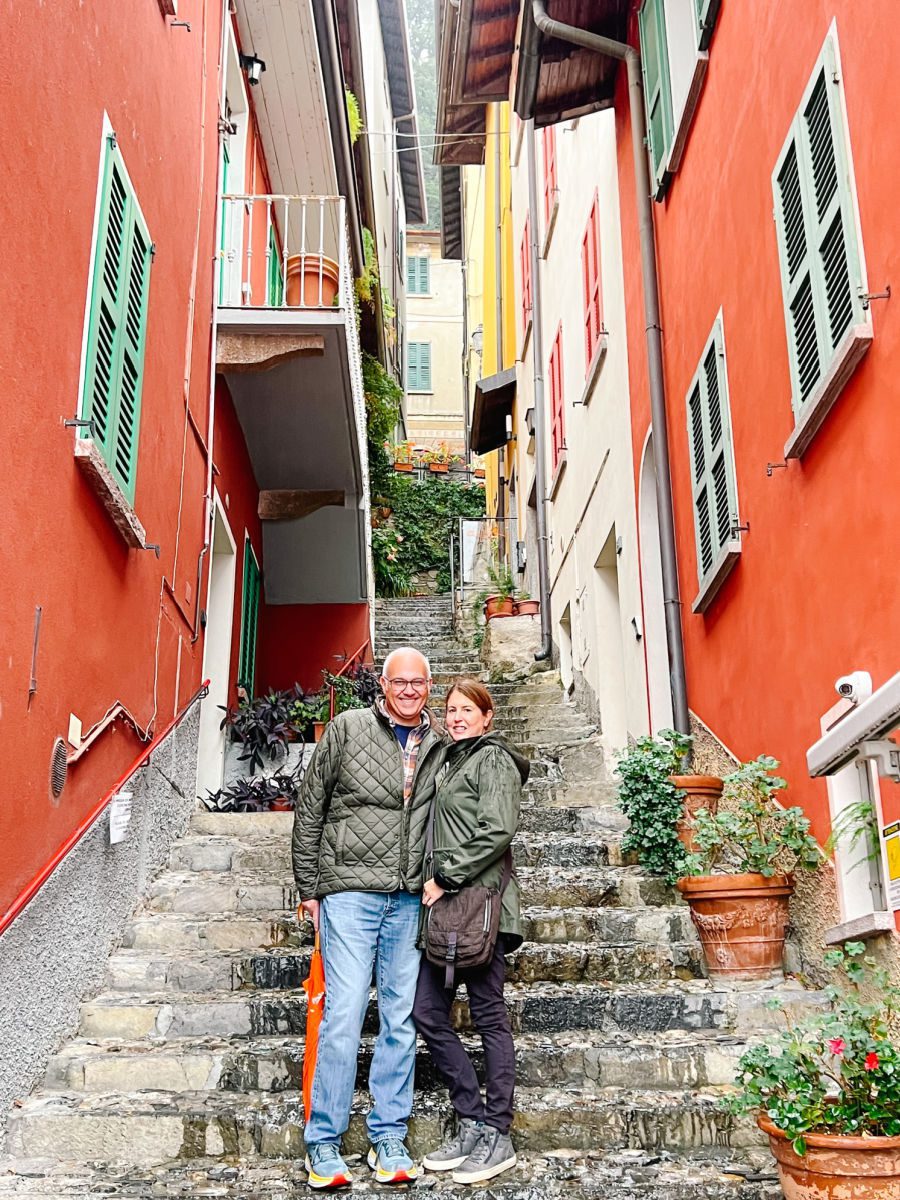 The nearest international airport to Lake Como is Milan Malpensa. You can easily spend two days in Milan before or after visiting Lake Como, or make it part of a larger Northern Italy itinerary.
You can take a train from Milan to the town of Como, on the southwestern portion of the lake in under one hour. From there, you can get to other towns on the lake either by train, bus, or ferry. You can also take a train from Milan to Varenna, on the eastern side of the lake. You can book train tickets on Trenitalia or Rail Europe.
If you choose to rent a car (I use Auto Europe to find the best rates), you can drive from Milan Malpensa to Como in 40 minutes, or up to Tremezzo in just over an hour. Just keep in mind that if you are driving along the lake, the roads are very narrow and you will need to pass bikers, walkers, joggers, and wide delivery trucks. If you visit in the summer, it might take double the time to get around.
Even if you drive to your hotel (this is what we did), you may want to leave your car comfortably parked and get around by foot, ferry, or bus from there. The public ferries are easy to navigate to hop around the lake.
The public ferries are operated by Navigazione Laghi and operates year round (except the southern branch, which only operates in the summer) and has fewer options during the low season. The ferries in the central area operate between the towns of Bellagio, Varenna, Menaggio, and Cadenabbia with a car ferry. During high season, there are also passenger only ferries that connect Bellagio, Varenna, Tremezzina, and Bellano.
When traveling by ferry, you will want to check the schedule and show up early to purchase your ticket and line up. Make sure to check the sign to ensure you are in the line for the correct ferry. Lines typically form 10-20 minutes before the ferry is scheduled to depart. If you prefer to save time and operate on your own schedule, you can also use a private water taxi service such as Taxi Boat Varenna, we used them for one day and the service was terrific on beautiful wooden boats that offered free WiFi, charging, and comfortable indoor seating.
Tips for Visiting Lake Como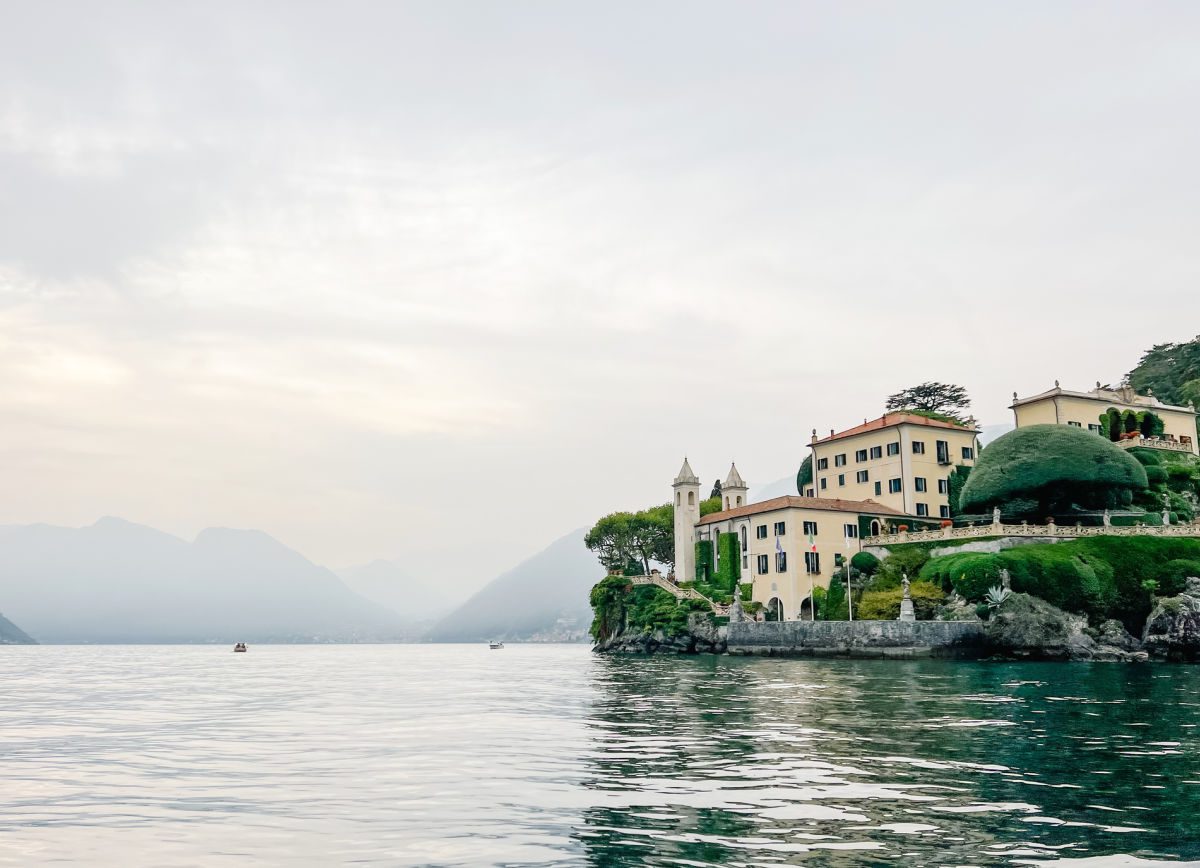 Look for accommodations within easy walking distance to a town with either a ferry port, train station, or bus stop to easily get around the lake. Keep in mind to map all listings to see if they are up steep hills, even if within a short walking distance.
If staying at a luxury hotel, see if you can get additional perks such as a $100 spa or dining credit or complimentary early check-in or late check-out (based on availability), or upgrades if available. These can be obtained by booking Amex Fine Hotels and Resorts or Virtuoso travel agents for participating hotels.
Be very careful when driving around Lake Como, as there are many bikes and joggers along the narrow roads.
Book a private boat tour through Grand Hotel Tremezzo, if staying there, for a tour of the lake and celebrity villas (such as George Clooney, Mick Jagger, and others.)
When taking the ferry you can buy one-way or round-trip tickets, or full day passes, depending on where you want to go. Pay attention to the ferry schedule times so that you don't get stranded. If you plan on visiting another town for dinner, you may need to hire a private water taxi.
Plan on only visiting 1-2 towns per day to allow enough time to fully explore the town and the popular attractions.
Bellagio is elegant and beautiful, with designer boutiques, restaurants, and hotels. When visiting Bellagio, be sure to see Villa Melzi gardens, La Punta Park, and the charming streets in town.
Varenna is colorful and pretty, making it one of the most charming towns on the lake. The boutiques are more affordable (and a bit more touristy) than Bellagio. You will want to walk along the harbor and the Walk of Lovers scenic path, visit the gardens at Villa Monastero, or hike up to Vezio Castle.
Tremezzo is lacking the same charming small-town feel of Bellagio or Varenna, but the main attraction outside of Grand Hotel Tremezzo is Villa Carlotta, with a beautiful botanical garden and historic villa. If you have time while in town, enjoy a beautiful lunch with a view at Al Veluu on the hill above town.
Visit Villa Balbianello in Lenno, which was the setting for scenes between Anakin and Padma in Star Wars Episode II – Attack of the Clones. It also appeared in 007 Casino Royale as the hospital where Bond recuperated. Villa Erba was also featured with George Clooney in Ocean's Twelve.
See the waterfall in the small town of Nesso.
Visiting Italy? Read more: