Piedmont, Italy doesn't get the same attention as regions like Tuscany, but as the birthplace of the Slow Food Movement, this region in Northwest Italy should be on every foodie's bucket list. From sipping big Barolos in medieval villages to truffle hunting in the forest, there are many things to do in Piedmont that will delight the palate and fill the stomach.
Partially obscured by the hazy morning mist, the rolling hills of Piedmont have a well-warranted mystical quality. It is that famous fog that makes this land so fertile. In fact, the Nebbiolo grapes that are the core of every Barolo, Barbaresco, and Nebbiolo wine are named after the Italian word for fog, or "nebbia."
It is also this mist, combined with the snow that covers the ground in the winter around hazelnut, oak, beech, birch, and pine trees, which leads to the natural creation of the delicacy that first drew me to Piedmont — the elusive white truffle or Tartufo Bianco. Unlike black truffles, which can be cultivated, white truffles only grow naturally and it takes a seasoned truffle hunter and their well-trained dog to sniff it out.
My obsession with white truffles goes back nearly two decades, and I have been known to walk into the finer restaurants in New York in the winter, raise my ultra-sensitive nose in the air, and declare, "I smell truffles." Since my husband has always joked that I should try my nose at truffle hunting, a visit to the land of white truffle was in order.
Our entire 5 days in Piedmont came to fruition because of one special event — the Alba White Truffle Festival, which takes place each year from early October through early December each year in the city of Alba. With a desire to experience this region during prime truffle season, my husband and I reached out to our fellow foodie friends and invited them to join us for five days of drinking wine, eating truffles, and exploring this beautiful region and its food.
For everyone that appreciates a fine wine paired with a delicious plate of pasta or perfectly cooked risotto, Piedmont needs to go on your travel wish list. Like Tuscany, you will find a checkerboard of vineyards covering gentling rolling hills and an array of delightfully-authentic Medieval hilltop towns. What we didn't find, even when visiting in prime truffle season, were crowds.
Getting to experience Piedmont's bounty, surrounded by Italians and a smattering of sophisticated tourists, made this trip a 10 out of 10. Well, that and my meticulously planned Piedmont itinerary. If you would like to enjoy this region through slow travel and delicious food, follow this 5-day itinerary for the very best things to do in Piedmont for foodies.
Read on because I will introduce you to this region, tell you how to get there, where to stay, what to eat, and how to plan your trip with a day-by-day breakdown that will have you reaching for your passport — and your stretchy pants.
About Piedmont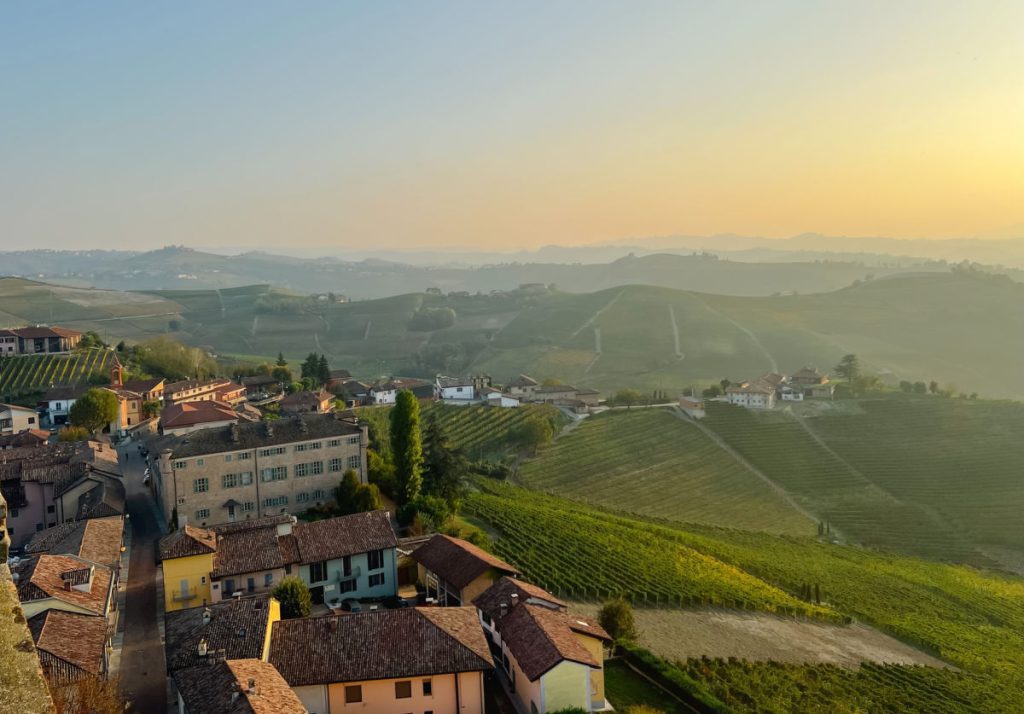 Piedmont, or Piemonte as the region is known in Italy, is located in Northwestern Italy, bordering both France and Switzerland, at the foot of the Alps. Piemonte comes from the Italy words "pied" and "mont" meaning "foot" and "hill." Turin is the largest city in Piedmont, although Milan is in the bordering region of Lombardy is just an hour away.
Piedmont is the second-largest region in Italy, behind Sicily, and the most popular areas to visit are the Langhe, Roero, and Monferrato provinces of Piemonte. The region is famous for wine, truffles, and hazelnuts, but is also home to Fiat, Martini & Rossi (remember those Asti Spumante commercials from the 80s?), and Ferrero-Rocher, which has a huge factory just outside of Alba.
The Langhe, Roero, and Monferrato hill districts were listed as UNESCO World Heritage Sites in 2014 for the beauty and historical meaning of the landscape. In addition to the wine regions, Piedmont is home to mountain ski resorts and lake districts, including Lago d' Orta (Lake Orta) and Lake Maggiore, which borders Piedmont and Lombardy. The mountains are probably the most famous for hosting the 2006 Winter Olympics in Turin.
Getting to Piedmont
Note: This post contains affiliate links. If you click a link and make a purchase, I may receive a small commission at no cost to you.
To get to Piedmont, you can fly from many cities in Europe including Rome, London, Paris, Madrid, and Munich to Torino Caselle or Torino Sandro Pertini (TRN) international airport in Turin. If you are visiting from the United States, you may have better flight options into Milan, either direct from Newark or New York's JFK airports or connecting in Europe on major airlines. However, if you can find a cheap flight to Europe and then use a budget airline, flying into Turin will score a better deal.
By train, you can also reach many cities in Piedmont, including Alba, Asti, and Turin. It is about 1 hour from Milan, 2.5 hours from Bologna, three hours from Florence, and 4.5 hours from Rome. However you arrive in Piedmont, you will want to rent a car during your stay so that you have the freedom to explore. I usually use Auto Europe to compare rates and book rental cars when traveling in Europe.
Where to Stay in Piedmont
When I first started looking for where to stay in Piedmont, I centered my search on the area around Alba, since what I knew from the start was that we wanted to attend the Alba White Truffle Festival. While we may have saved ourselves a little driving if we had focused on the area around Barbaresco, I found one of my favorite hotels of all time at the La Villa Hotel in the province of Mombaruzzo.
This property looked perfect online and it ended up exceeding my expectations, which was a relief since as the travel planner of our group they had a lot of trust in me and I was nervous trying somewhere that I hadn't read about elsewhere. I love boutique properties with a lot of character and great service and La Villa Hotel is exactly that.
Owned and operated by a British ex-pat, Nicola was the consummate tireless hostess whose charm trickled down through her attentive staff who remembered your favorite cocktail in the evening and your preferred breakfast choices in the morning. The hotel has 15 rooms, each with its own character and simple style that blends vintage and modern in a beautiful farmhouse villa decor.
For a boutique hotel, La Villa Hotel has everything you need for a comfortable stay including a pool overlooking the vineyards, a new spa, a full-service restaurant, and lovely indoor and outdoor public spaces to relax or enjoy the property. We loved everything about our stay from the service to the food to the decor and the amenities.
It was also surprisingly affordable for such a luxurious stay and truly one place that I would love to return to. Later in our trip, we stayed at one of the top 20 hotels in the world in Lake Como, which was triple the price and offered ultimate luxury, but I honestly loved La Villa Hotel better. It has the warmth and intimacy that can't be replicated in larger hotels.
I can't recommend it enough and if you go, please tell Nicola that I say hi!
Looking for other accommodation options in Piemonte?
Must Try Foods in Piedmont
One thing I love about Italy is how each region has its own distinct food specialties and as a destination known for its food, Piemontese dishes are outstanding. There are many dishes that you will find on menus throughout your stay, and if not, you are doing it wrong. A few must-try Piemontese foods are:
Bagna Cauda – when my friend described this as anchovy paste I quickly turned up my nose but once they convinced me to try some freshly made bagna cauda at the White Truffle Festival, I changed my tune. Translating to a "hot bath" for dipping vegetables, bagna cauda is a warm spread made from anchovies and garlic, heavy on the garlic. Served warm and fresh it is delicious. Walking around Alba we saw various stalls with their "Keep Calm and Bagna Cauda On" t-shirts and wares on display.
Risotto – Piedmont, along the Po River Valley, is one of the largest rice producers in Italy, particularly the carnaroli or arborio rice used in risotto. You will find risotto on most menus in Piemonte. Often it is topped with shaved white truffle. In nearby Milan you will find risotto Milanese, which is made with saffron.
White truffles – white truffles are perhaps the most famous food product from Piemonte. White truffle season is from September to January. Truffles are priced by kilogram so many restaurants will list the cost of a dish plus a supplement based on how much truffle you want on top. Others will have an inclusive price. Truffle can be found on risotto, pasta, eggs, and just about everything else. Black truffles are also available during the summer from May through September.
Hazelnuts – these tree nuts are another Piemontese food product. Hazelnuts are harvested in August and used to make baked products like cookies and cakes, and they are also roasted with salt, spice, sugar, and cinnamon. Hazelnuts are also made into spreads and butter like Nutella. However, while Nutella is 13 percent hazelnuts and the rest palm oil, many of the hazelnut spreads made by small producers locally are 55 percent hazelnuts and you can taste the difference!
Tajarin pasta – in Southern Italy, the pasta is made with durum flour or semolina flour, but in Northern Italy, the pasta is made from soft 00 flour. One of the most popular pasta dishes on Piedmontese menus is tajarin, which is a long, thin pasta made with egg yolks to give it that nice yellow color. It is sometimes served with a meat ragu but is often served with butter and sage or butter and white truffle.
Agnolotti del plin – agnolotti del plin are veal-stuffed pockets made by making a plin, or "pinch" that gives the pasta a shape similar to tortellini. These are typically served with butter and sage or truffles.
Vitello Tonnato – this meat dish is thinly-sliced veal topped with creamy, mayonnaise-like tuna sauce with capers, which is usually served cold as an appetizer.
Beef tartare – another dish that you will see on many menus is Piemontese beef or veal tartare seasoned with olive oil, lemon, salt, and pepper (and sometimes topped with truffles.) My friend Tracy was a huge fan and even if you aren't a fan of raw or cured meats, you should taste it at least once because it is incredibly tender.
Brasato al Barolo – this is a slow-cooked, braised beef cooked in Barolo wine that you will find at many local trattorias.
Bra sausage – this is a raw veal sausage that is often served as an appetizer. It was hard to conceive that this was safe to eat but it is a common dish, they say just to avoid ones that are bright red or pink.
Cheese – Piedmont is also a famous cheese-making region with varieties such as Castelmagno, Toma, and Rosso di Lago, among others.
Wine – of course, Piedmont is best known for its incredible wines. The most famous are Barolo, Barbaresco, Nebbiolo, Dolcetto, Roero Arneis (a white wine that was a great discovery for us), Gavi, and Moscato d'Asti.
Things to do in Piedmont, Italy: 5-Day Itinerary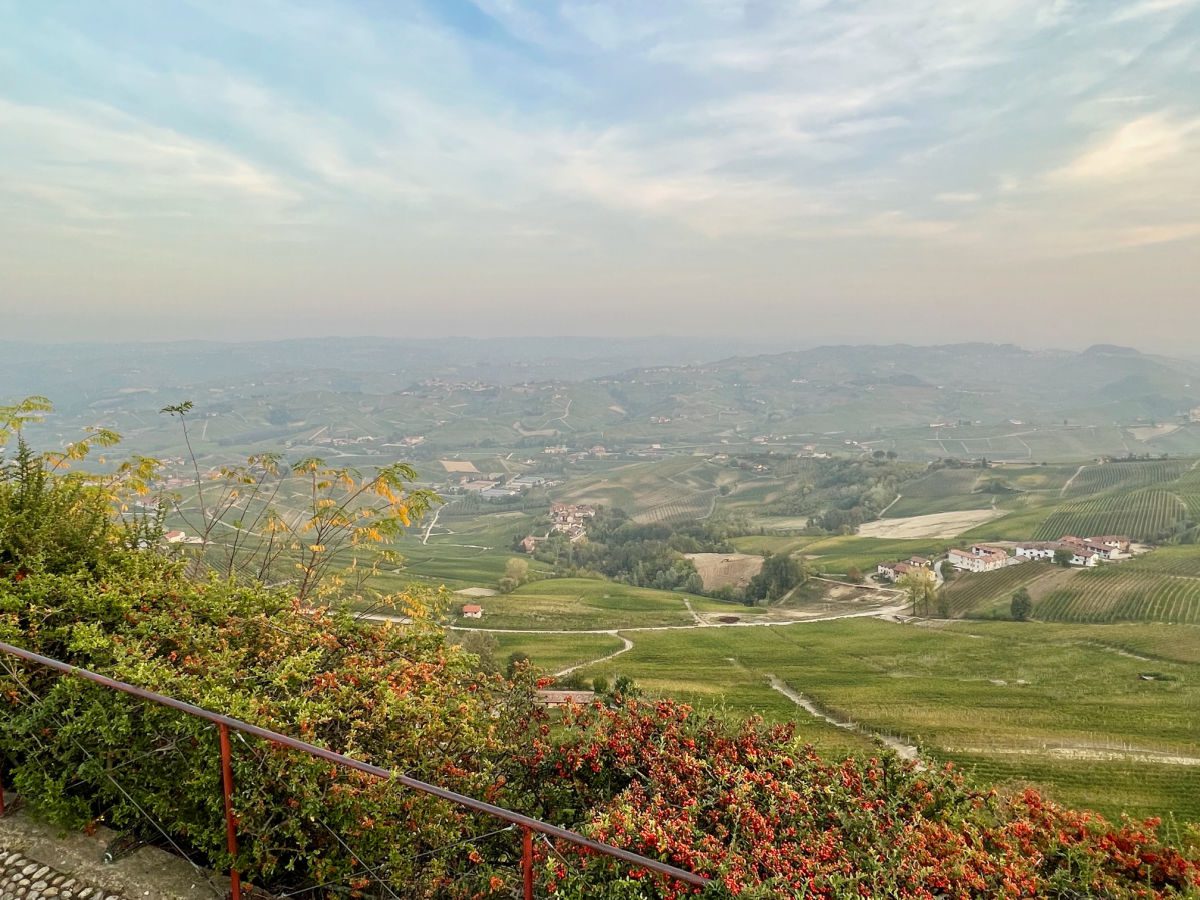 To have the best foodie experiences in Piemonte on your slow food journey through Italy, follow this 5-day Piedmont itinerary. I have included some of the best things to do in Piedmont such as attending the Alba White Truffle Fair, taking a wine tour, going truffle hunting, visiting medieval towns, enjoying fine dining, and visiting a hazelnut farm.
Since I have a reputation as a travel planner and my friends were joining us to take advantage of my planning skills, I worked hard to make sure that everything on our trip went smoothly by putting together this very detailed Piedmont itinerary. Just like Hannibal on the "A-Team", I love it when a plan comes together and this was our best trip to date.
If you are ready to eat and drink your way through Piedmont, follow this itinerary. Keep in mind that we visited in mid-October, during the White Truffle Festival in Alba. This Piedmont itinerary is ideal for a fall visit but could be adapted for other parts of the year, you just won't be able to take part in the Festival or go white truffle hunting.
Day 1 Piedmont Itinerary – Arrive in Italy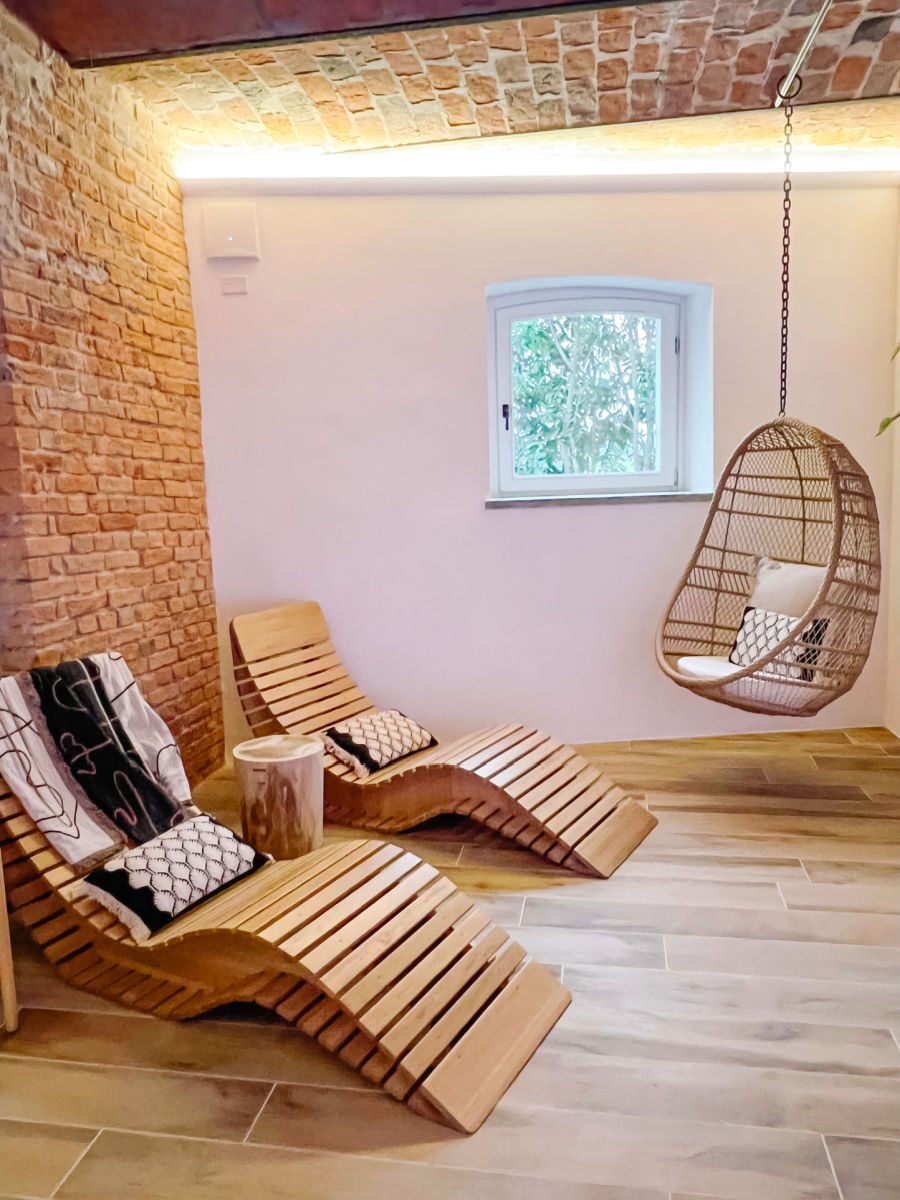 Your first day in Piedmont is going to be a travel day. Whether you are traveling from another region of Italy or you are flying into Italy this morning, you will need to plan on travel time and time to settle in. If you are flying from the United States, you will likely be arriving in Milan or Turin.
If you take my advice and stay at La Villa Hotel, it is approximately an hour and 40-minute drive from Milan Malpensa airport to Mombaruzzo, or one hour and 35 minutes from Turin airport. To overcome jetlag, spend some time enjoying the property by taking a walk, relaxing by the pool, or booking a massage at the spa.
On our first day, we both enjoyed couples' massages and then shared a welcome bottle of Prosecco and antipasti in the courtyard before having a lovely dinner (and our first truffles) at the hotel's on-site restaurant.
Day 2 Piedmont Itinerary – Alba White Truffle Fair
We arrived on a Saturday and chose to spend our first full day in Piedmont at the Alba White Truffle Fair because most of the special events take place on the weekend. Tickets for the Fair go on sale in August and you need to purchase timed-entry tickets in advance. I would also highly recommend researching any special events you might want to attend when planning your trip and purchasing tickets to these events well in advance, as they do sell out fairly quickly. These events can include wine tastings, cooking demonstrations, and other instructional seminars.
On weekends throughout the festival, the town of Alba also hosts complementary events such as a donkey Palio race or historical re-enactments during the Boroughs Bacchanal. We were lucky enough to visit during the weekend of the Boroughs Bacchanal, with various games and activities taking place in each neighborhood in Alba.
It is approximately a 45-minute drive to the Alba International White Truffle Fair from La Villa Hotel. The Festival itself is located on the festival grounds in the center of Alba. It is easiest to park at the train station and follow the crowds to Piazza Michele Ferrero and then walk through town to the festival. This makes parking easy to find and directions easy to follow while avoiding driving through the thickest of crowds.
The official Alba International White Truffle Fair is in the center of town, at Mercato Mondiale del Tartufo Bianco d'Alba Alba Ingresso da Piazza Falcone, and you need a paid ticket to enter. However, there are street food vendors and markets set up throughout town that anyone can enjoy. Locals sell food products and handicrafts and there was a large food and clothing market set up on the other side of town.
When purchasing tickets to the Fair, you can purchase just an entrance ticket or add on a wine tasting. If you get the wine tasting, you will be given a glass with an around-the-neck holder and vouchers for two tastings. There is one bar set up for these official wine tastings. However, there are other producers there that will also be happy to offer you a taste of their wines.
The fairgrounds are fairly small and it only takes a couple of hours to fully explore and taste the various products. You will find truffle hunters, hazelnut farms, bakeries, cheesemakers, sausage producers, and other food products for sale and sample. Everything is delicious and it is tempting to make a lot of purchases. Just keep in mind that truffles will only last for a few days and must be kept moist and cool (they will provide instructions). Purchase what you want to enjoy while you are in Italy, but don't go crazy as you don't want products to go bad and you have to pay attention to what products you are allowed to bring home.
In addition to the products for sale and to sample, you can purchase food tastings that feature truffles, such as pasta with truffles and eggs with truffles. However, instead of eating our lunch at the Fair, we booked a reservation at Enoclub. It was nice to sit down to a fabulous meal with excellent service after spending time sampling, but not overdoing it, at the Fair. We debated trying the three Michelin-starred Piazza Duomo restaurant in Alba, but couldn't justify the expense and honestly, we were very happy with the excellent but less pretentious Enoclub.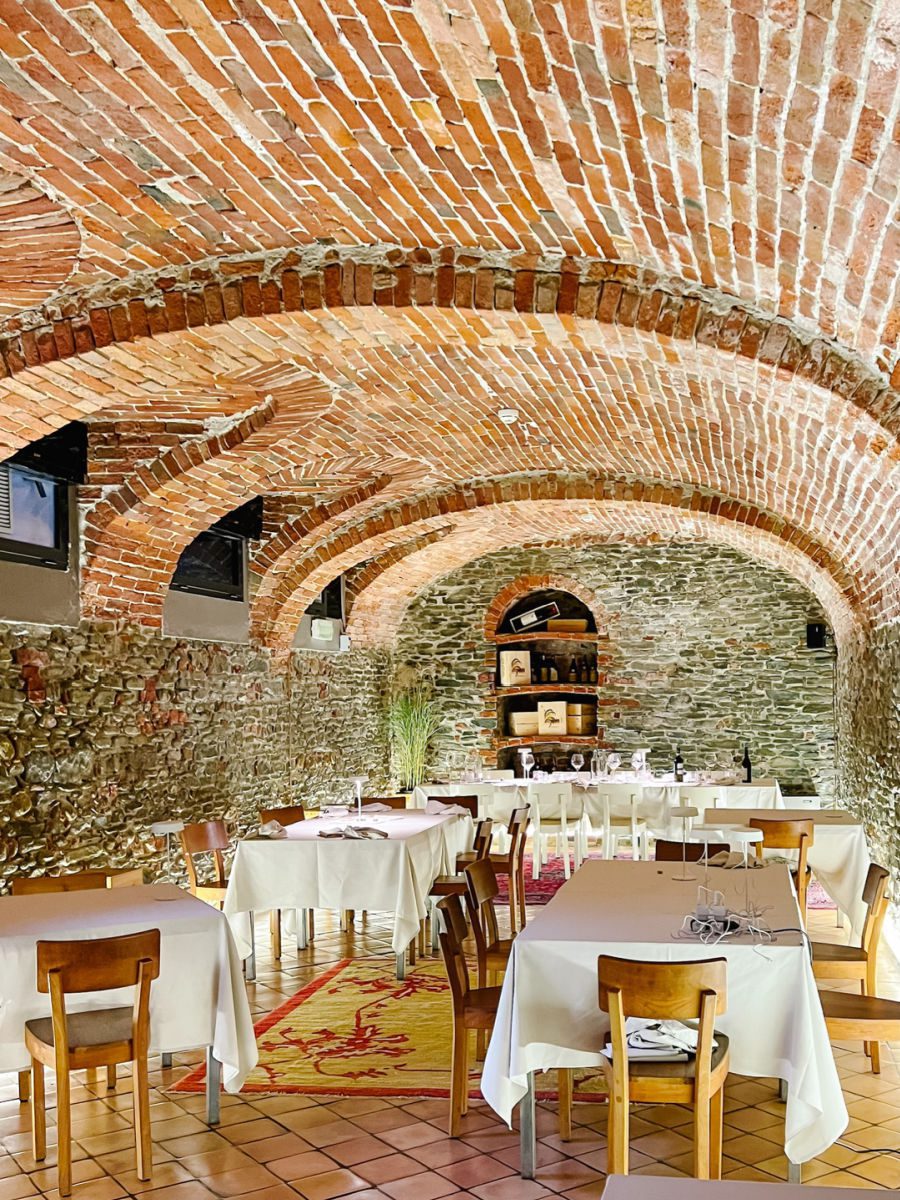 After an immensely satisfying meal, we took the afternoon to enjoy the Boroughs Bacchanal. In each neighborhood, there are actors dressed in period costumes running ancient games, demonstrating crafts or handicrafts, and participating in dances and songs to recreate the medieval atmosphere in Alba. Each small neighborhood also sells traditional foods or wine. These family-friendly events offer a fun way to feel like a local.
In the evening, you may want to sign up for a cooking demonstration at the Fair from a local chef. There is a fee and reservations must be made in advance. Try to look for one that is offered in both Italian and English. Once the dish is prepared, you are served a sample and then can request to add truffles to your dish for a supplemental fee.
It is possible to return to the Fair on additional days if you would want to join more wine tastings, cooking demonstrations, or special chef's dinners throughout the region, but you really don't need more than one day in Alba at the White Truffle Fair. It is a good idea to visit the White Truffle Fair early in your visit and pick up business cards from the vendors at the Fair as you may want to visit some of the wineries or farms later in your stay, or order products to ship home.
Day 3 Piedmont Itinerary – Truffle Hunting
By your third day in Piedmont, you have tasted truffles. Now it is time to learn more about how they grow and how they are collected. It is time to have your own Stanley Tucci moment (but hopefully with more success) and go on a truffle hunt. Sadly, truffle hunting has become more challenging in recent years. Climate change has resulted in less snow in the winter, which is needed for white truffles to grow.
So while truffles have become more scarce, competition has become more intense. There was an article in the New York Times recently talking about how truffle hunters are poisoning dogs to eliminate competition. It was horrifying to read so if you are going to go on a truffle hunt, make sure you choose someone reputable and ethical (who also doesn't plant truffles for you to "find").
During our trip, the hotel arranged for us to do a truffle hunt with Gianfranco Calvi from Magia del Tartufo, just a few miles up the road in Mombaruzzo. Gianfranco and his dog Bill led us to his fenced property in the valley, where Bill quickly was on the hunt for truffles. We learned about how and why truffles grow, when they are harvested, and what it takes to be a truffle hunter.
Watching Bill at work, the excitement grew to a peak as he rapidly started digging and Gianfranco quickly pulled him back before he could claw up the truffle. In our hour-and-a-half session, Bill and Gianfranco found three small truffles. The aroma, even of the earth around the truffle, is so powerful it isn't hard to understand how a well-trained dog can smell these precious tubers even under a meter of dirt.
If you want, you can arrange to have a light snack and tasting with Gianfranco in his small hunting shack, and he is more than happy to sell you any truffles you might find at a fair market price that is much less than what you would find at the Truffle Fair. The cost of the truffle hunt was 65 euros per person. Make sure you wear shoes that can get a little muddy, or the hotel will lend you some wellies for the hunt.
While truffle hunting isn't strenuous, just the whiff of truffles is going to make you hungry. On this day, it is time for a very special lunch. It is a 45-minute drive to Ristorante La Ciau Del Tornavento in Treiso in the heart of the Langhe region. Carved into a tuff hill, this Michelin-star-rated hotel boosts a wine cellar with more than 60,000 bottles from 450 winemakers.
The dining room features floor-to-ceiling windows that open up onto a grassy patio that overlooks the valley, creating an indoor-outdoor dining space. It is the perfect place for lunch on a beautiful fall day. While the food is exceptional, the service and the menu are not pretentious or too dear. Relaxing over a lovely lunch followed by a visit to the wine cellar and a stroll through town is a wonderful way to while away the afternoon.
If you think you can handle more wine, you can pre-book a classic tasting at Tenute Cisa Asinari Dei Marchesi di Gresy at Martinenga in Barbaresco, just a 10-minute drive from the restaurant. However, chances are you have had enough to drink and instead, drive approximately 20 minutes to the charming village of Neive.
Nestled among rolling hills and vineyards, this Medieval town is one of the most charming in Italy with its cobblestone streets and picturesque plazas. In town, you can see the Castle of Neive and the Church of Santa Maria Maddalena, as well as visit the Museum of Wine Culture.
There are many local shops and enotecas to try regional wines and I would recommend enjoying a glass of wine and an appertivo on the patio of the Enoteca al Nido Della Cinciallegra while watching the locals go by. After a large lunch, this will be all you likely need for dinner.
Day 4 Piedmont Itinerary – Wine Tour
Now that you have had your fill of truffles (well, maybe not!), it is time to explore and get a better understanding of Piedmont's wines. The best way to do this is through a wine tour. While we have taken wine tours in France, Portugal, and Tuscany, our day with Simon from Piedmont Food and Wine Tours was one of the best.
Simon is another British ex-pat that has been living and working in Piedmont for over 15 years and he has developed close relationships with many smaller wine producers that don't typically offer public wine tours and tastings. Piedmont Food and Wine offers a number of different tours and we signed up for the Barbaresco and Barolo tour, although he also offers cooking classes, truffle hunting, and even a Piedmont cheese, chocolate, and hazelnut tour.
We learned so much about the wines of the region from Simon during our visit to two wine producers and a tasting at the Barbaresco wine cooperative. He even helped us arrange to have the wine we purchased shipped home! This full-day tour also included stops in a small village for lunch at a trattoria (lunch is not included in the price of the tour) and Barbaresco.
Our first stop was at the family-run Aurelio Settimo in La Morra. After a tour through the estate vineyards, we went inside for a private tasting. We couldn't resist shipping home a half-case of the Barolo DOCG 2017 Rocche dell'Annunziata.
For lunch, we stopped in the small town of Castiglione Falletto for lunch and time to walk through town. Next, we had another tasting at the lovely Prunotto Winery. We finished in Barbaresco with time to climb the tower and watch the sun begin to set over the valley before Simon dropped us back at the hotel.
After such a busy day, we didn't want to venture too far for dinner so, at the recommendation of Nicola and Simon, we drove 15 minutes away to dinner at Bardon del Belbo in San Marzano Oliveto. This place is very popular with locals for its meat dishes, so you will want a reservation.
Day 5 Piedmont Itinerary – Hazelnut Farm
On your last day in Piedmont, it is time to learn more about another one of the region's top agricultural products, the hazelnut (or nocciola). You can arrange a guided visit to the Cascina Barroero hazelnut farm. The drive takes about one hour from the hotel and the farm is located up a mountain, so be sure to follow the directions and not Google Maps or you will end up on a narrow mountain road with hairpin turns. As you might guess, that is where we ended up, positive that we had lost our way and resulting in some hilarity and lots of white knuckles.
At the Cascina Barroero hazelnut farm, you will take a guided tour that lasts one hour and covers the hazelnut fields, farm, shelling room, and bakery. We learned a lot about hazelnuts, including that trees take up to 10 years to be fully productive, but they live about 70 years. Hazelnuts are harvested from August through September when the nuts fall from the trees and are then vacuumed up. Like truffles, snow is important in the growth of hazelnuts. It is really interesting to see the methods that farmers are using to organically grow hazelnuts (like using pheromones to attract stink bugs that could damage trees) and recycle the shells by burning them like pellets to heat water and use them for mulch.
After visiting the family bakery, which creates products that are sold to restaurants and even distributed worldwide the tour finishes with a tasting. You can either arrange for a tasting with a lunch of foods featuring hazelnuts or a tasting of nuts and bakery items (this is what we did.)
We were able to taste various flavors of hazelnuts including salted roasted, spiced, sugar, and cinnamon-covered hazelnuts. There were also pastry products including cakes, biscuits, chocolate, and creams. The cost is 15 euros per person and includes also water and coffee.
If you have time, you can stop in the small town of Monforte d'Alba (a 30-minute drive from the farm) and walk around to see the natural amphitheater, Oratory of Sant'Agostino and San Bonifacio, and the Castello di Monforte Palazzo Scarampi.
This was in our plan but since our misadventures on the road made us run late, we drove straight to the town of Serralunga d'Alba. This hilltop town is very charming and home to Vinoteca Centro Storico, which is recommended in Food & Wine as one of the best wine bars in Piedmont. This tiny restaurant is jam-packed for lunch (reservations are required) and while the food is simple, the wine list is extensive. If you get a chance to talk to the owner, you may even get to try something that is not on the official list.
After lunch, I'd recommend booking a wine tasting and tour at Ceretto Monsordo Bernardina Estate, which is a 15-minute drive from Serralunga d'Alba (but don't be late because these are group tastings.) If the price of the tasting doesn't give it away, the investment into the art and design-forward tasting room (and the fact that they also own the Piazza Duomo restaurant in Alba) will clue you in that this is a very upscale tasting experience.
The wines are pricey but worth it, although I will admit I was not a fan of the sparkling or the Roero Arneis (despite really falling in love with the new-to-me Roero Arneis from another vineyard.) To taste the really good stuff, book the pricier Cru Tasting.
At this point, I hope you have a designated driver, but it is time for a wine break with a visit to La Morra village. The Belvedere di La Morra viewpoint is one of the prettiest spots in Piedmont and the town is equally charming. There are enotecas on every corner, or so it seems, and you can visit sites such as the Torre Campanaria di La Morra and Parrocchia San Martino church.
If you would like to have dinner in town, try Bovio. Otherwise, it is just a 15-minute drive to Fontanafredda. This winery and resort complex is tough to miss with the giant (and somewhat tacky) bunch of grapes at the entrance. But inside you will find multiple restaurants, a hotel, and a tasting room (which is open until 6:30 pm without appointments.)
We chose to have dinner here at Guido Ristorante (another Food and Wine recommendation), which was the most elegant meal of the trip, with high-touch service in an elegant ballroom setting. It is perfect to end your time in Piedmont with another foodie experience.
There are always more towns, more wine, more food, and other great things to do in Piedmont, but we will have to save those for a return trip. Meanwhile, this is one of the memory books that will not be soon forgotten! After our 5 days in Piedmont, we spent two days in Lake Como in October.
Frequently Asked Questions
Is Piedmont worth visiting?
Absolutely! Anyone that loves great food and wine will enjoy visiting Piedmont. The landscape is reminiscent of Tuscany, with rolling hills, medieval hilltop towns, and vineyards. However, it isn't as crowded or expensive as Tuscany. In addition, the Piedmont fog lends the landscape a mystical quality that creates an atmosphere perfect for the grapes, truffles, and hazelnuts that make this region famous.
What is Piedmont known for?
Piedmont is known for its mountain ski towns, lake regions, and fertile wine regions. When it comes to food, the region is most well known for its white truffles, hazelnuts, and wines such as Barolo, Barbaresco, and Nebbiolo.
When should I go to Piedmont?
There are reasons to visit Piedmont at various times of the year. Visit in the winter if you want to ski the Olympic trails. Summer is a perfect time to enjoy the lake regions. However, I think the best time to visit Piedmont is in the fall from September through December during white truffle season. You will be able to experience the cuisine at its height and enjoy foodie experiences such as the Alba White Truffle Fair, which runs from October into December in the city of Alba.