Every good road trip deserves a soundtrack. The music playing in my head as I rolled along these scenic drives in Maine was "Wind of Change," by the Scorpions. How did a rock ballad from a 90s-era hair band end up in my head while meandering down Maine's scenic byways?
At the start of my drive I listened to a podcast by the same name that investigates whether or not Wind of Change was written by the CIA as part of Cold War propaganda (look it up, it is a fascinating listen!) But the haunting whistle of the opening intro stuck with me throughout this road trip, even as I was taking pictures of lighthouses or hiking through quiet forests.
These scenic drives in Maine will take you far away from the typical summer crowds and away from the pinging of the cell phone to provide an opportunity to refresh and renew along the backroads of Maine as you listen to the soundtrack in your own head.
Scenic Drives in Maine
Whether you take a day trip or plan a multi-day scenic Maine road trip, here are three scenic drives in Maine that will get you off the beaten path and into some of the lesser-visited parts of Maine that are even more beautiful due to the lack of crowds:
Katahdin Woods & Waters National Scenic Byway
Bold Coast National Scenic Byway
Schoodic National Scenic Byway
Whether you are taking a solo road trip, traveling with kids, or road tripping with your friends or significant other, Maine scenic byways have something to offer.
Katahdin Woods & Waters National Scenic Byway
Note: This post is part of a paid partnership with Downeast Acadia Regional Tourism and The Maine Highlands to promote these new National Scenic Byways. All opinions are my own and I'm glad I had the opportunity to experience these treasures.
The Katahdin Woods & Waters National Scenic Byway begins at the southern entrance to Baxter State Park and winds along 89 miles, passing near Millinocket Lake and over to the lumber town of Patten, following along Route 11 and the shores of the Penobscot River. The byway ends at the Matagamon gate at the northern entrance to Baxter.
This may seem like taking the long route around the park, but the drive on the gravel road through the park can take three to four hours too, so you might as well take the long way.
This is prime moose watching country and ideal for those that want to explore by foot or paddle, in addition to road tripping by car. It is also the homeland of the Wabanaki people (collectively the people of the Penobscot, Passamaquoddy, Micmac, Maliseet and Abenaki nations), overseen by Mt. Katahdin, the home to Pamola, the Storm God and Protector of Ktaadn.
You can make the entire drive in about two-and-a-half hours, but you will probably want to take a few days to explore and enjoy outdoor adventures along the way. The name kind of gives it away, but the drive winds through forests and along the banks of the Penobscot River (the longest river in Maine). What might surprise you is when the drive switches over from woods and water to pastoral farmland, where you may pass a horse and buggy driven by a member of the large Amish community in this area.
Like most scenic drives in Maine, it is best if you take your time and enjoy the slower pace and take in the sights along the way. Just make sure you are gassed up and have your provisions handy before heading out. The town of Millinocket has a grocery store, gas station, and a couple of fast food stops like Subway and McDonalds, otherwise look for local hangouts along the way to grab food such as Flatlanders BBQ, Debbie's Deli, or Craig's Clam Shack in Patten.
Places to Stop and Things to do on the Katahdin Woods & Waters National Scenic Byway
There is plenty to do along the Byway, from boating, camping, hiking, canoeing or kayaking, wildlife watching, ATVing (or snowmobiling in the winter), and cultural attractions. Ideally you should plan on spending a minimum of four to five days in the Maine Highlands, depending on how much you want to do.
Start off by spending two or more nights near Millinocket at the New England Outdoor Center (NEOC) on the banks of Millinocket Lake. NEOC offers a wide range of cabins and lodges on property, along with a restaurant and plenty of activities. From here you can explore the southern section of Baxter State Park, Millinocket Lake, and the Penobscot River.
Follow up a stay at NEOC with two or more nights at a cabin in Shin Pond Village near Patten. Shin Pond Village offers cabins, lake houses, and RV sites, along with a full service restaurant, snack bar, general store, gas, and ATV or snowmobile rentals.
From this location, you can enjoy nearby hikes, explore the northern section of Baxter State Park, access the miles of ATV trails, and visit Katahdin Woods & Waters National Monument.
Another option would be to camp overnight at Katahdin Woods & Waters National Monument for a night between these two destinations. Just keep in mind that campsites and services are extremely limited and are available on a first-come, first-served basis. This itinerary will allow you to explore the Scenic Byway and enjoy the nearby outdoor activities without taking long drives covering the same ground over and over.
Drive the Golden Road
The Golden Road is an 89-mile logging road that stretches from Millinocket up to the Canadian border. With 65 miles of unpaved, gravel road, this road was constructed by the Great Northern Paper Company to bring raw materials to its paper mills in Millinocket.
Today, it is used by tourists and locals alike looking to spot a moose or bear in the wild. The best times to drive are close to dawn or dusk, but do take care, especially when visibility is limited.
Take a Moose Tour
If finding a moose in the wild is on your bucket list, one of the best ways to check that item off is by taking a moose or wildlife tour. New England Outdoors Center offers boat or van-based wildlife tours in the early mornings or evenings. I took an evening boat tour and our small group boarded the pontoon boat at the lodge and crossed over Millinocket Lake.
We spent a couple of hours trolling in and out of the various coves and streams that feed into the lake, as that is often where moose come to eat the grasses at the water's edge. After coming across many beaver, loon, and ducks, we spied a female moose, or cow, in the distance. We watched for a bit as she continued to eat while keeping an eye on our boat. As we finally turned back toward the lodge, we spotted another moose right on the water's edge.
Throughout my trip, I also saw moose in Katahdin Woods & Waters National Monument and Baxter State Park during my scenic drives.
Kayak or Canoe on Millinocket Lake
Millinocket Lake is dotted with boulders and small islands, with Mt. Katahdin looming above. It covers nearly 9,000 acres and you can paddle for 10 miles and still not see it all. You do need to pay attention to the weather and stick close to shore when the weather is iffy or the lake gets too choppy, but it is easy to spend a few hours or a day out on the water. NEOC offers canoes, kayaks, and paddle boards for guests to use to explore.
Go White Water Rafting
NEOC also offers white water rafting and float trips along the Penobscot River, the longest in Maine. The Penobscot has over 11 named rapids, ranging from Class I through V, offering both challenging and relaxing outings, depending on your preference.
There are half-day family-friendly float trips on the Lower Penobscot River, as well as Class II-V full-day adventures on the Upper River. You can raft through Ripogenus Gorge and spot native Maine wildlife such as eagles and moose.
Star Gaze in Katahdin Woods & Waters National Monument
Katahdin Woods & Waters was designated a National Monument in 2016. The park is slowly being developed to include backcountry campsites, scenic overlooks, and hiking trails. Right now, it is ideal for those that really want to get off the beaten track into some pristine wilderness.
The lower part of the park has a 17-mile loop road, but it is very rough gravel so making the trip can take a couple of hours, even with a 4-wheel drive, high-clearance car. The park is also an International Dark Sky Sanctuary, so it would be ideal to camp overnight in the park to truly appreciate the star gazing opportunities without having to navigate the rough roads at night.
Dark Sky Maine and the Friends of Katahdin Woods & Waters also offer star parties and star gazing events throughout the year, providing telescopes that enable guests to view planets and even galaxies.
Get Off-road
The Patten ATV Club offers 100+ miles of well-maintained side-by-side trails that travel through the towns of Patten, Mount Chase, Moro, Hersey, Crystal and Stacyville. Shin Pond Village also runs an ATV club and rents two or four-seater Polaris side by sides.
These vehicles are fully equipped with GPS trackers and navigation. The team at Shin Pond Village will provide a map of the trails, walk you through where to go, and outfit you for your adventure! The local ATV clubs do a great job maintaining these trails and, in addition to on-board navigation, you will also find trail maps at many crossroads to help guide your way.
Take a Hike
There are no shortages of great hiking spots, from epic hikes in Baxter State Park to remote treks through Katahdin Woods & Waters National Monument. However, if you are looking for something easier but with a big reward, take a short hike in to Shin Pond Falls. You can find the trailhead just north of Mount Chase.
If you visit the South Branch section of Baxter State Park from the northern Matagamon Gate, you will find a less than one-mile easy hike to South Branch Falls, as well as a slightly steeper 3-mile hike to The Ledges overlook. The Park Rangers at Baxter State Park are very good at helping you find a good fit and planning your day.
In addition to these adventures, you can enjoy swimming at Ledge Falls, Abol Pond, Togue Pond Beach, Dwelley Pond, the public beach at Lower Shin Pond and the public beach at Medway Recreation Complex. If you prefer cultural attractions to outdoor adventures, plan for stops at the Patten Lumbermen's Museum, the Antique Snowmobile Museum near Millinocket, or the Ambajejus Boom House, which was used by river drivers during the logging process.
Schoodic National Scenic Byway
If coastal views are what you are looking for, there is a Maine Scenic Byway for that also. Two in fact! The Schoodic National Scenic Byway runs for 29 miles along the coast from Waukeag, just east of Ellsworth and Mount Desert Island near Bar Harbor, down to Schoodic Point, in the only mainland section of Acadia National Park. The Byway then wraps around to the town of Prospect Harbor.
Places to Stop on the Schoodic National Scenic Byway
You can make the drive in an hour-and-a-half, but you are going to want to stop at many scenic overlooks, quaint harbor villages, and historic sights along the way. When traveling with kids, seven of the official stops along the Schoodic National Scenic Byway offer Kid's Quest activities that engage children in the region's history, ecology and culture.
Tidal Falls Preserve
The Frenchman Bay Conservancy operates that Tidal Falls Preserve in Hancock, Maine, just before the beginning of the Schoodic National Scenic Byway. Here kids (and adults) can see gravity's effects to create a rare reversing falls. The best time to see it is two hours before or after low tide. Tidal Falls Preserve is also a great spot for a picnic or to see wildlife.
Waukeag Station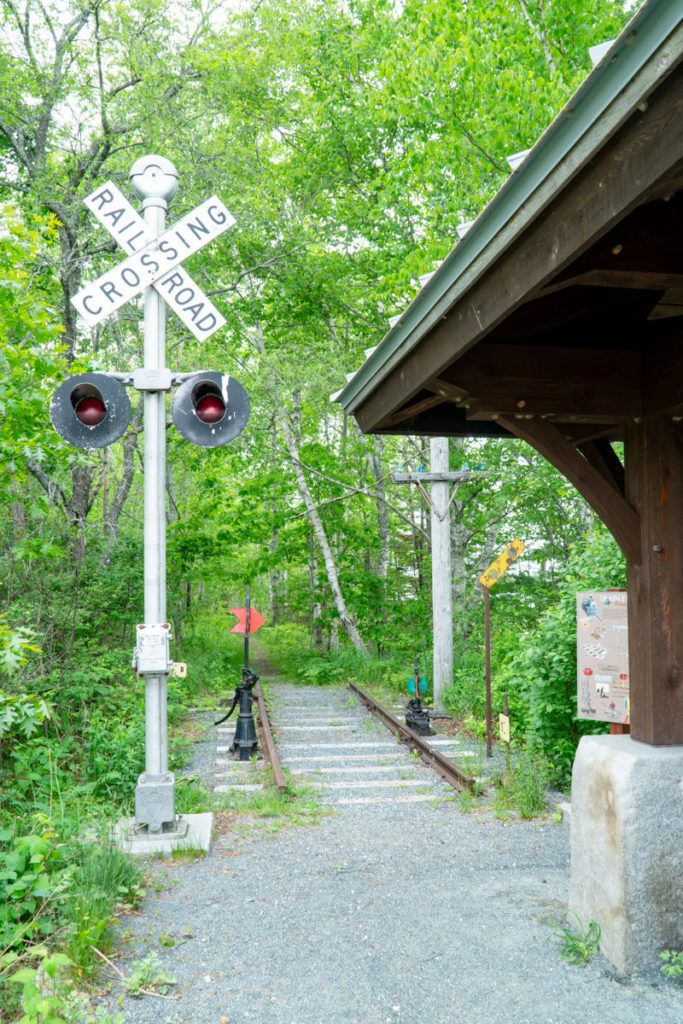 The Taunton Bay Gateway is where you can take a picture of the sign for the Schoodic National Scenic Byway and children and train lovers will enjoy the Kid's Quest stop at Waukeag Station. This railroad exhibit has railroad tracks, a station shelter, a working RR crossing sign, and several interpretive signs about the railroad and Taunton Bay wildlife.
Gordon's Wharf
Just across the bridge over Taunton Bay is another historic learning stop along the scenic byway at historic Gordon's Wharf. The Schoodic area is known for its granite quarries and the Kid's Quest exhibit features different types of granite blocks and educational exhibits. To learn more about working with stone, visit Granite Art Garden in Sullivan and schedule a granite carving demonstration and tour.
Frenchman's Bay Scenic Overlook
As you turn south on Route 186 towards Winter Harbor, you will soon see a scenic pullout on the right that overlooks Frenchman's Bay towards Bar Harbor and Cadillac Mountain. This is also a good spot to pick up a picnic at Dunbar's General Store next to the scenic overlook that you can enjoy at the Long Cove Rest Area a little further down the road.
Winter Harbor
The small fishing village of Winter Harbor is a great stopping point along the Schoodic National Scenic Byway. You will find art galleries, small shops, and a smattering of restaurants like Salt Box and Chase's Restaurant.
If you are looking to stay overnight, I'd highly recommend one of the cottages at MainStay Cottages and RV Park. The cottages are located right on the water with a beautiful view of the harbor and an easy walk into town.
Grindstone Point
Pass through the village of Winter Harbor and turn onto Grindstone Avenue. Continue along past the yacht club and the large houses in Grindstone Neck to the tip of the peninsula and the small beach and scenic overlook at Grindstone Point.
Schoodic Section of Acadia National Park
Once you enter the Schoodic Section of Acadia National Park, there is enough to do to spend a day or two exploring in and around the park. Some of the highlights include picnicking at Frazer Point, watching the waves crash on the rocks at Schoodic Point, and climbing Schoodic Mountain. There are plenty of scenic pullouts to stop and enjoy views of the rocky coast.
Prospect Harbor
From the Prospect Harbor Town Pier you can catch a great view of the Prospect Harbor Lighthouse (which isn't open to the public.) The view is especially good at sunset when the light reflects off the boats in the harbor. You can also take a peek at the Big Jim the Fisherman from Maine Fair Trade Lobster.
In addition to these stops, there are plenty of other things to do near Acadia National Park if you are staying in the area.
Corea Fishing Village
A little off the Schoodic National Scenic Byway is the small fishing village of Corea. The view of the lobster boats bobbing in the harbor and the pier stacked high with lobster traps, ropes, and buoys are quintessential Maine coast. If you visit in the summer, be sure to stop by for Lunch on the Wharf for a delicious lobster roll with a perfect waterfront view.
Bold Coast National Scenic Byway
The Bold Coast National Scenic Byway, one of the newest of Maine's nationally-designated scenic byways, stretches for 125 miles through the Downeast region from the town of Milbridge all the way to the Canadian border and the town of Lubec, and then curves up to Eastport around Cobscook Bay.
The Bold Coast National Scenic Byway passes by wild blueberry barrens that present as fields of blue in August and bright crimson in autumn, as well as farms, tidal marshes, historic downtowns, and charming fishing villages. You can even see the nation's first sunrise at the red and white candy-striped lighthouse at West Quoddy Head in Lubec.
Places to Stop on the Bold Coast National Scenic Byway
You will probably want to take two to four days to explore Maine's Bold Coast along the Bold Coast National Scenic Byway. If you are starting out from the Schoodic Peninsula, try spending a night in Milbridge or one to two nights in Machias. In Machias, I'd recommend the Inn at Schoppee Farm, which has a handful of rooms decorated in modern farmhouse style and located right on the river and the Down East Sunrise Trail, which is used for biking, hiking, ATVing, and snowmobiling.
Next, stay a night or two in Lubec, the easternmost town in the United States. Cohill's Inn has a perfect location in downtown Lubec. The town itself is quite charming and when the Canadian border is open, you can also visit Campobello Island, home to the summer house of the Roosevelts. From Lubec you can take Highway 1 up and around Cobscook Bay to Eastport for the last section of the Bold Coast National Scenic Byway.
Milbridge
There are many places to take walks or hikes and enjoy the outdoors in and around the town of Milbridge. Right in town, Milbridge Commons is a beautiful town park with a community garden and views of the water. It is a perfect spot to stretch your legs.
For a longer walk or hike, visit the Petit Manan/ Maine Coastal Islands National Wildlife Refuge and take a hike on the Hollingsworth Trail. This trail covers both woodlands and rocky coast, with a view of the Petit Manan Lighthouse. I'd highly recommend organizing a guided hike or paddle with Hazel from Maine Outdoor School. An excellent outdoor educator, Hazel can fill you in on the local plants and wildlife and talk to you about the environment and geology.
For more sweeping views, take the 1.2 mile trail up to the top of Pigeon Hill off Pigeon Hill Road. It only has a 317 foot elevation, but on a clear day you can see all the way over to Acadia National Park.
Pick up a picnic lunch from The Meadows Take Out and head down to McClellan Park. Follow the trail out to the rocks overlooking the bay for the best picnic views around. You can easily spend the afternoon hanging out on the rocks and soaking in the view.
Another great option in Milbridge on a nice day is to take a puffin viewing cruise with Robertson Sea Tours and Adventures. This two-and-a-half hour cruise brings you around Petit Manan Island, part of the national wildlife refuge and home to Petit Manan Lighthouse. The island is a sanctuary for hundreds of seabirds including the Atlantic Puffin from mid-May through mid-August. You may also spy Common, Artic, and Roseate Terns; Razorbills; Black Guillemots; Common Eiders; Leach's Storm-petrel; and Laughing, Herring, & Black-back Gulls.
Cherryfield
The historic town of Cherryfield calls itself "The Blueberry Capital of the World," and is home to Wyman's of Maine. You can explore the small downtown or take a walk along the Narraguagus River. The Cherryfield Historical Society also provides a downloadable walking tour to explore the downtown with its antique and gift shops, along with spots for picnicking and fishing along the river.
Columbia Falls
Driving along the Bold Coast National Scenic Byway, it is hard to miss the giant blueberry-shaped buildings of Wild Blueberry Land. It wasn't open when I visited, but usually you can pick up baked goods and other blueberry-themed gifts and foods, which come fresh from the shopkeepers' farm. If you visit in late August (cancelled for 2021), you may be there during the annual Machias Wild Blueberry Festival.
In Columbia Falls you can also find the Wreaths Across America Museum, known for its annual donation of wreaths to Arlington National Cemetery. The Downeast Salmon Federation is also a stop on the Downeast Fisheries Trail, offering information and education about wild Atlantic Salmon and host of the annual Smelt Fry in the spring.
Jonesport
Jonesport is a traditional fishing village and you can watch the fishermen work in the small cove off Hopkins Beach or from the public boat launch near the historical society. From Jonesport, you can cross the bridge to Beals Island, another fishing community, and Great Wass Island beyond.
Great Wass Island Preserve has a 4.5 mile trail through forest and wetlands. These trails provide spectacular cliff-top views over the islands of Eastern Bay. The island juts out further into the Atlantic than any other land mass in Eastern Maine.
Machias
On your way to Machias, you may want to stop in Jonesboro at the Hatch Knoll Farm for fresh goat cheese and related-products. Hatch Knoll even offers glamping opportunities on property. For a little rest and relaxation, spend an afternoon at Roque Bluffs State Park with hiking trails, a picnic area and freshwater pond, and a beach for swimming.
Machias is famous for its role in the Revolutionary War, as it was the site of the first naval battle of the War, the Battle of the Margaretta. Machias is one of the larger towns in the Downeast region, home to the University of Maine at Machias, along with shopping, lodging, and dining establishments, such as Helen's and Bluebird Ranch Restaurant.
If you are spending time in town, you can also take a guided tour with a town historian, or follow a self-guided historic audio tour. For more outdoor adventure, Machias offers easy access to the Downeast Sunrise multi-use trail.
Lubec
From Machias to Lubec, follow the Bold Coast National Scenic Byway along Route 191 to Cutler. There are a lot of public lands around Cutler for hiking and birding or wildlife viewing including the Western Head Preserve, which has views of the coastline and the Little River Lighthouse.
The Cutler Coast Public Preserve Land trails follow steep cliffs with stunning classic Bold Coast views, while the Bog Brook Cove Preserve is home to wildlife including black bear, bobcat, and fisher cats.
Before heading into town, drive out to the West Quoddy Head Lighthouse. Of course, some like to arrive here for sunrise to see the first rays of light hitting the United States, so that is definitely an option if you are staying overnight in Lubec. This red and white striped lighthouse is picture perfect and there is a short hiking trail on site.
Downtown you will find a working waterfront, as well as retail shops, restaurants, lodging, museums and galleries. Lubec Brewing Company serves up local food and craft beer, while Cohill's Pub is known for its craft cocktails.
One stop that can't be missed is a visit to Monica's Chocolates, just outside of town. She makes everything, including all the ingredients, in house and this award-winning chocolate is well worth the stop.
You can also explore more of the Bold Coast landscape at the Downeast Coastal Conservancy, Cobscook Shores, Hamilton Cove Preserve, and Mowry Beach.
Visiting Maine? You may also be interested in…