With the wind whipping my hair around my face, I sat back on my deck cushion on the Schooner Heritage and watched sailboats flying by as the Rockland Breakwater Lighthouse faded into the distance and we headed out into Penobscot Bay. My friend Michelle and I were embarking on a three-day, four-night cruise aboard the Schooner Heritage, one of nine ships in the Maine Windjammer Association.
Living in Rhode Island, I've had plenty of opportunities to sail in Newport, but those were always short half-day trips or hour-long excursions. A whole vacation dedicated to sailing in Maine was an entirely different experience.
The Maine Windjammers operate 3 to 6-night cruises aboard classic schooners, five of which have been designated as National Historic Landmarks, giving passengers a chance to see the beautiful Maine coastline from the water and get to see what it is like to live on a sailing vessel.
I'm not much of a big ship cruiser, but I love Maine and I love boats, so I was all in to try a new type of travel adventure this summer aboard a Maine Windjammer Cruise.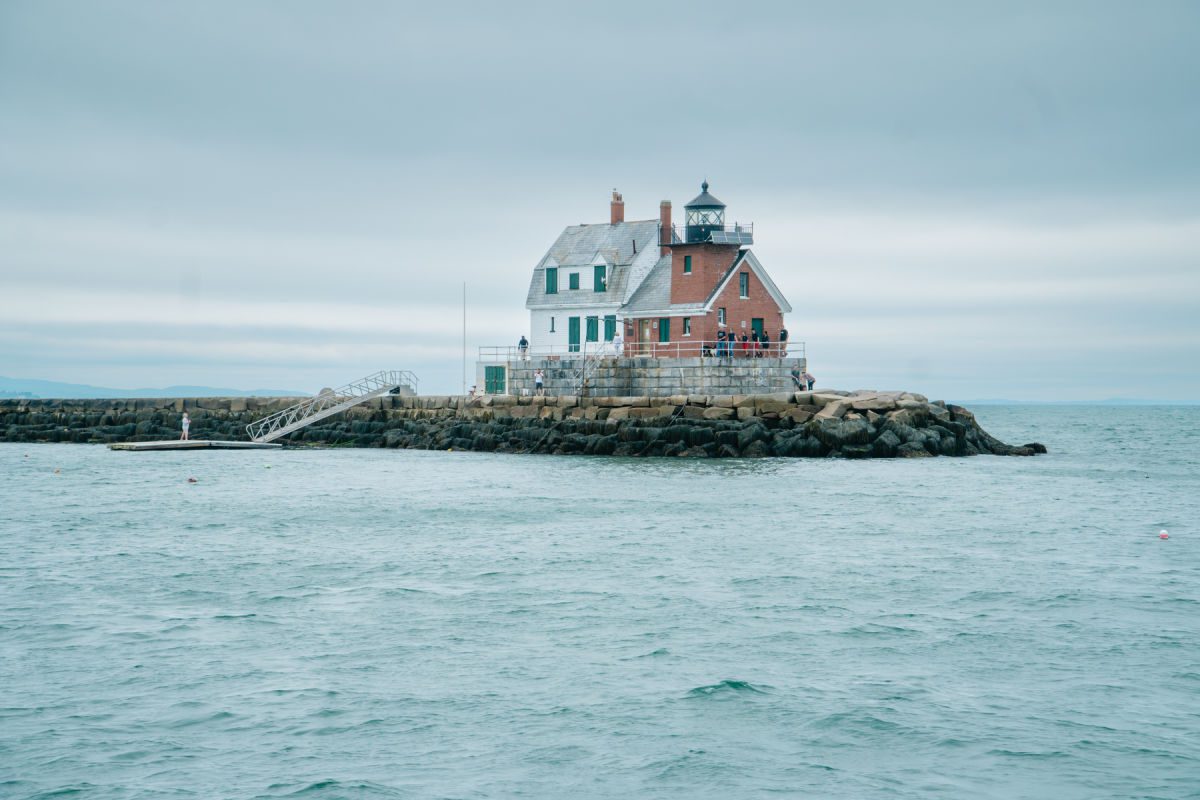 Sailing in Maine on the Schooner Heritage
My trip was hosted by the Maine Windjammer Association and the Schooner Heritage for the purposes of this review. All opinions are my own.
The Maine Windjammer Association is an industry association comprised of individually owned and operated windjammers. Each Windjammer is slightly different, with different amenities or sizes, but all follow roughly the same itinerary — which is no itinerary at all!
Windjammers sail wherever the wind blows them. Or, wherever the captain wants them to go to avoid bad weather and provide the best experience for guests on board. One quintessential experience that all windjammers provide is a traditional New England lobster bake on a beach at some point throughout the trip. Otherwise, the days are dictated by the rhythms of the ship and the steady stream of meals and snacks served by the crew.
Schooner Heritage Review
I set sail on a Sunday in August aboard one of Schooner Heritage's many themed cruises, with hopes of catching the Perseid Meteor showers at night. Other themed cruises include a full moon photography cruise, Windjammer Days, the 4th of July Great Schooner Race, and a chance to also explore Acadia, among others. Spoiler alert: during our four nights on board I didn't see any shooting stars as the skies were cloudy, but that was a nice break from the recent heat wave so it seemed like a fair trade off.
Our three days on the Schooner Heritage were a fun and unique travel experience, unlike any other type of "cruise" or vacation. Since I'm not a boat owner, I jump at any opportunity to get out on the water and loved getting to see lighthouses and Maine's gorgeous coast from the water. The Penobscot Bay is dotted with islands, so we were always within sight of land, yet we still got to see seals, porpoises, osprey, cormorants, and plenty of fish jumping in the water.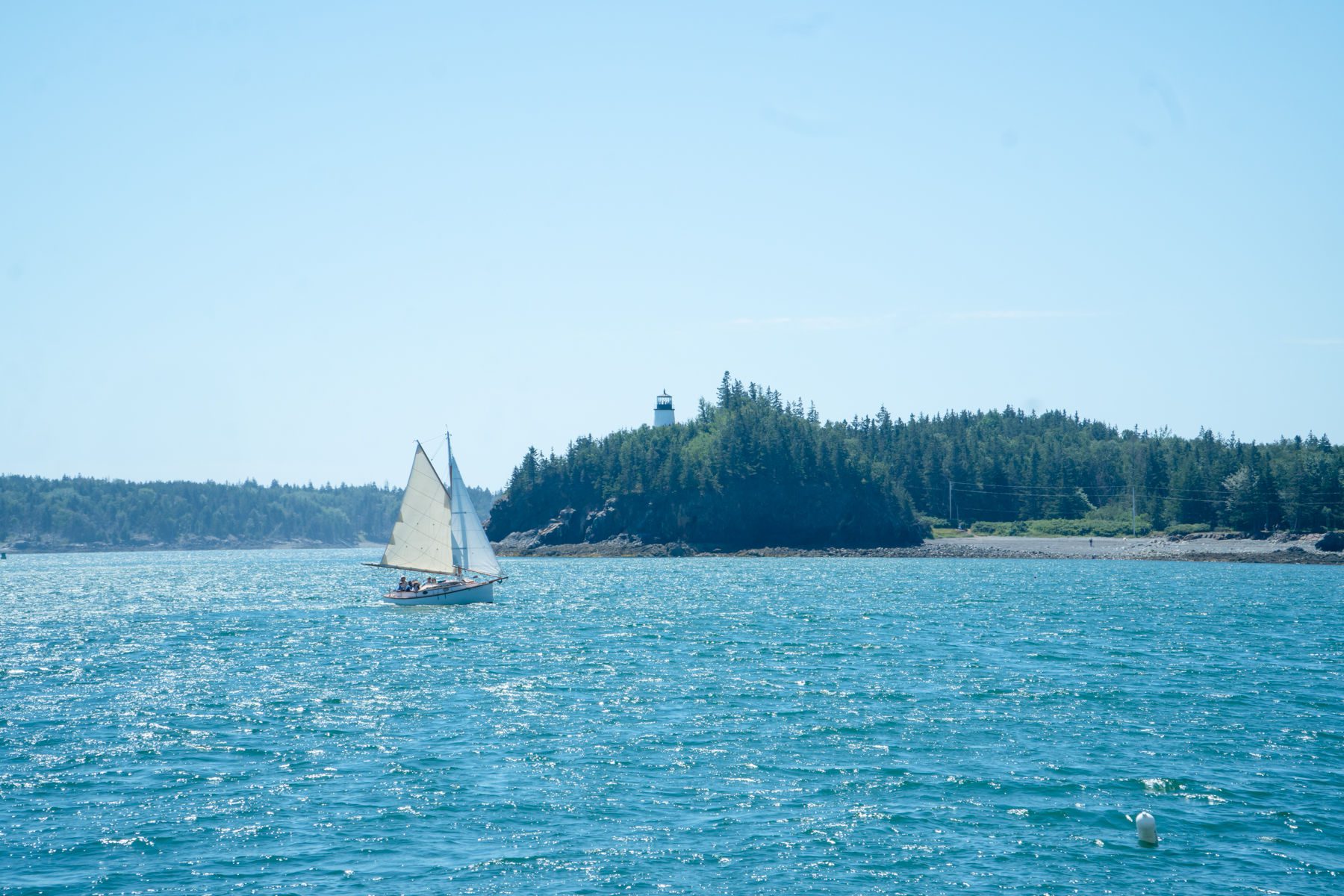 On our sailing we had a mix of return guests, some of which had been on 10 previous sailings, and newbies. Most passengers were in the 55+ range, although there was one family with a teen and young adult. Over the course of the three days at sea, it was nice to make new connections and get to know our fellow passengers and learn a bit about their interesting lives, careers, and previous travels.
By the end of the trip, the group felt like one big family as being on this type of trip together creates unique bonds. This tends to happen when you see each other in the morning when you are still wiping sleep from your eyes and stumbling to the bathroom, when you share in joint work, after you have broken bread together, and sung songs in harmony by lantern light.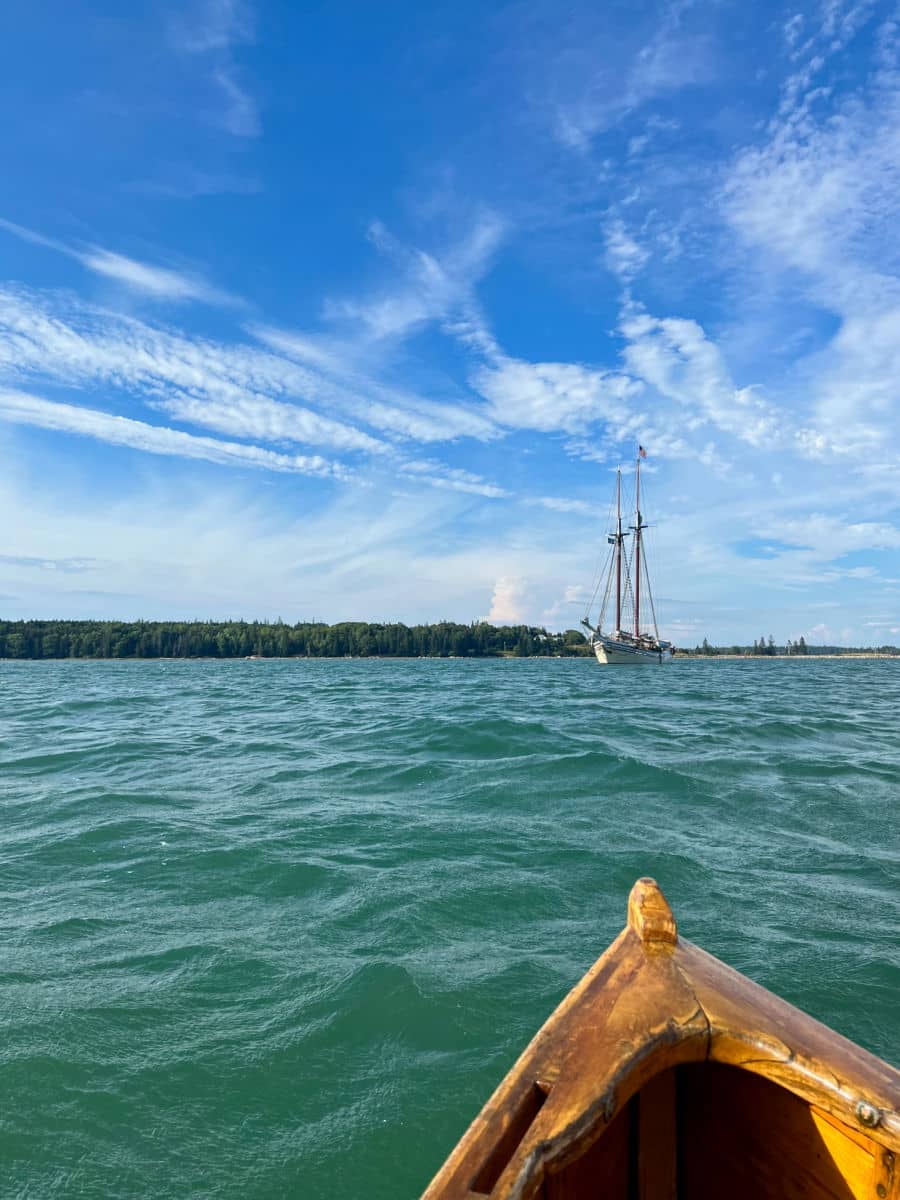 About the Schooner Heritage
The Schooner Heritage is one of the newer ships in the Maine Windjammer fleet. Built in 1983 by Doug and Linda Lee, the Heritage is a modern classic that was purpose-built for passenger travel. The Schooner Heritage can hold up to 30 passengers, plus a crew of eight.
The Heritage is 95 feet long, 24 feet wide, and 165 tons of solid oak. The size means that seasickness is rarely a problem and there are solid high rails all around the deck to keep passengers secure.
Schooner Heritage is a true sailing vessel, operating on wind power with no inboard engine. It does carry a yawl boat with an engine that can push the Schooner to catch the wind. Heritage also carries along a small sailboat and a single rowboat, which can be used by guests when at anchor, along with a larger rowboat used to transfer guests where there isn't a dock.
In 2020, the Heritage's original owners and designers passed her stewardship along to Captain Sean Grimes and Captain Ben Welzenbach after more than four decades of windjamming. Both Sean and Ben worked on board the Heritage before taking over her helm and they have maintained the Heritage's beloved traditions.
Accommodations
On board, there are two single cabins and 14 doubles. Eight of the double cabins have upper and lower bunks and six have double beds. To say the cabins are cozy is a bit of an understatement. The cabins are tiny and quite basic, with narrow beds, perhaps a couple of shelves, and a small space under the bed for storage. Don't expect to unpack, but rather you will live out of the a small duffel bag so be sure to pack light!
Sheets, pillows, and towels are provided, along with warm wool blankets for cool nights. However, I'd recommend bringing an extra beach towel, especially if you plan on going for a swim. If you shower every day, the towels don't dry out well in the cabins.
There is also not a lot of space to move around. If you are sharing a cabin, really only one person can stand and get dressed at one time. In addition to the beds, there is a small sink with hot and cold running water and a small medicine cabinet for storage.
The cabins have an outlet for charging but no WiFi so it is best to plan on disconnecting during your sailing. From time to time you may get cell reception but for the most part, you will be offline. There is a light over the sink and small reading lights over the beds, but sadly no fan so if you are traveling in the heat of summer, you will want to pack a small fan for air circulation.
You may have noticed that I didn't mention an en-suite bathroom and that is because only two of the cabins have a private toilet. Everyone else shares three marine head bathrooms on the main deck. These toilets do not have sinks but are stocked with sanitizer, wipes, and toilet paper. The idea of a cabin with a private bathroom sounds very appealing but I heard from those in such a cabin that you want to limit how much you use it as the odor lingers.
In addition, one of these bathrooms also has a marine shower. This is basically similar to a kitchen hose where you hold down the handle to turn on and off the water. It is good for a refreshing rinse once a day (between the hours of 9 am and 9 pm), but don't plan on any extensive grooming. By the end of the sail, everyone will be a bit scruffy and unwashed but by then you know each other well enough that it doesn't matter.
Public Spaces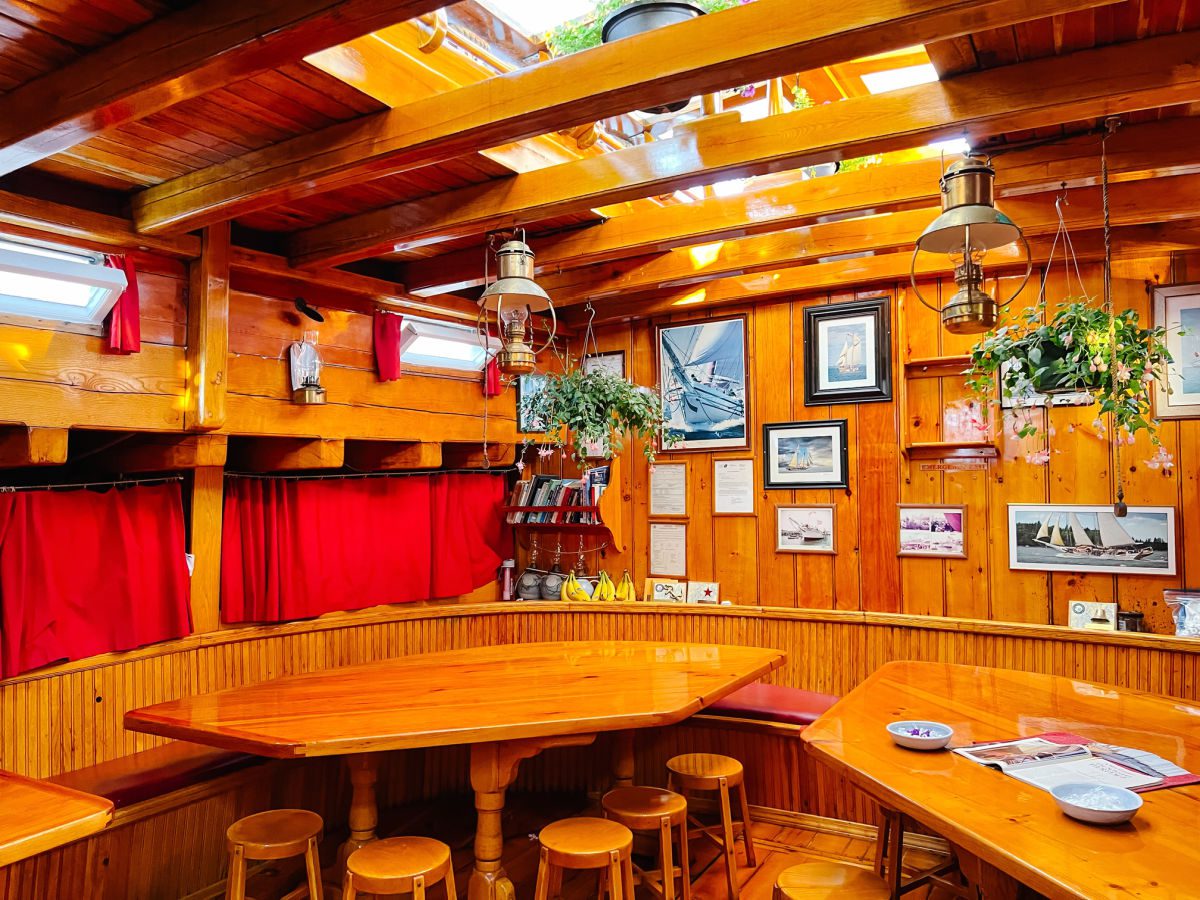 Luckily this is not the type of cruise where you want to spend a lot of time below decks anyway. Most people come onboard to experience the thrill of sailing and get a chance to be a part of the action. Your days are spent on deck or in the welcoming galley.
The wood in the galley gleams from the light streaming in from the skylights overhead, with hanging plants adding a touch of hominess to this gathering place for guests. There are proper stairs that lead down to the galley and passenger compartments, although it is still recommended for guests to go down the stairs backwards, as you work a ladder, for safety.
The galley is where everyone gathers for breakfast and dinner around communal tables. This space can also be used throughout the day and evening and there are games and books for guest use.
However, most guests choose to mingle and socialize on deck. There are plenty of folding camp chairs to set up and move around as you make the rounds in conversation. There are also deck cushions that can be used to sit on the compartment roofs (or even as a bed to sleep under the stairs if you desire.)
Food on the Schooner Heritage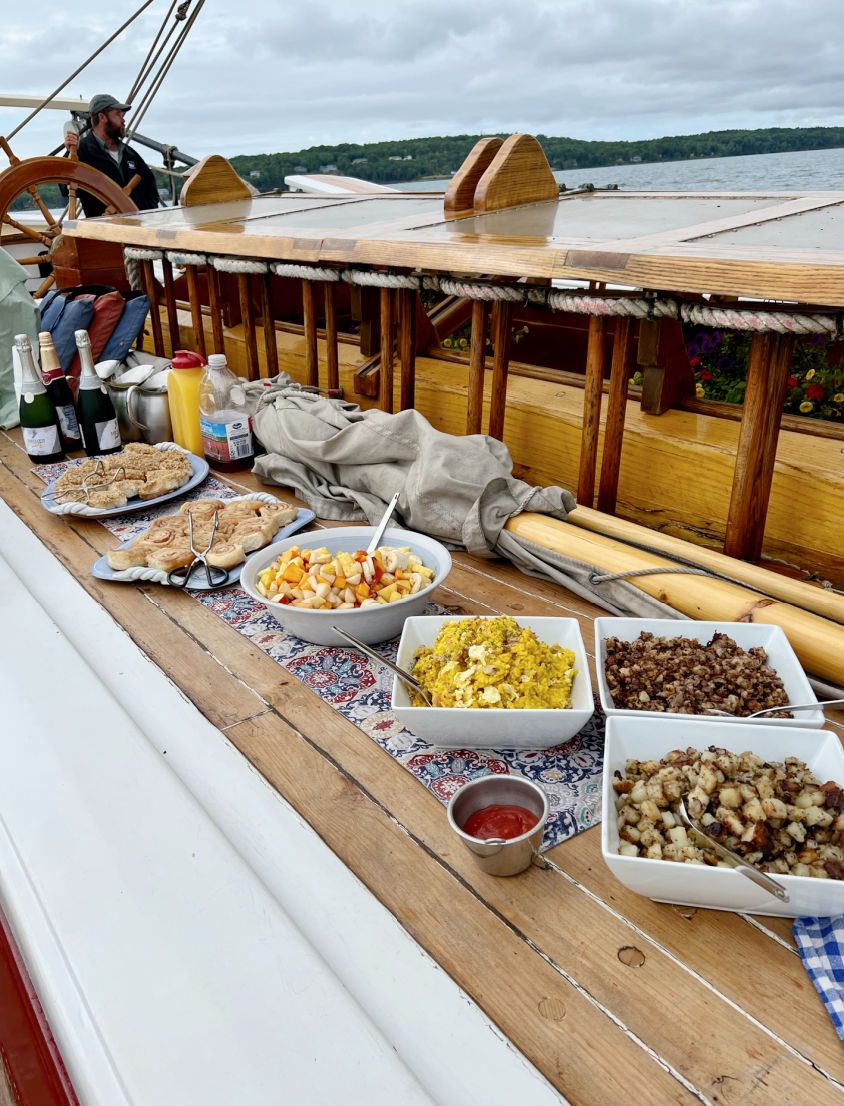 So much of life on board the Schooner Heritage, and I would posit all windjammers, revolves around meals and snacks. The Chef (Captain Sean) and the galley crew prepare all of the meals on the Heritage's wood-burning stove. How they turn out such delicious food on a wood-burning stove in a teeny, tiny space I have no idea. Especially when they are laboring over that hot stove in the heat of summer! But they do it and do it well.
All meals are prepared on board using locally-sourced ingredients and often feature some of the foods Maine is famous for, like wild blueberries and maple syrup. The day starts with coffee and tea at 6:30 am for those that are already up and at 'em. A full breakfast follows in the galley at 8:00 am and you might have frittatas, pancakes, sausage, or oatmeal with all the toppings. There is also usually fresh fruit and the crew does a good job accommodating those with gluten sensitivities or vegetarians.
Lunch is typically served on deck and consists of hearty soups and chowders, freshly baked bread, and usually an option for make-your-own peanut butter and jelly (or Fluff) sandwiches. Lunch is followed by a passed tray of freshly-baked cookies.
After the Heritage anchors for the night, the Chef whips up some savory hors d'oeuvres or charcuterie for cocktail hour (the Heritage is BYOB and there are two large ice chests for guests to store their beverages.)
Dinner is typically served somewhere between 6:00-7:00 pm, depending on when you drop anchor. Our dinners were very tasty and included chicken picatta with pasta and vegetables, pulled pork tacos and Spanish rice, and roasted pork loin. After you have time to digest and socialize, dessert is served on deck and might be strawberry shortcake, ginger spice cake with ice cream, or some other delicious confection.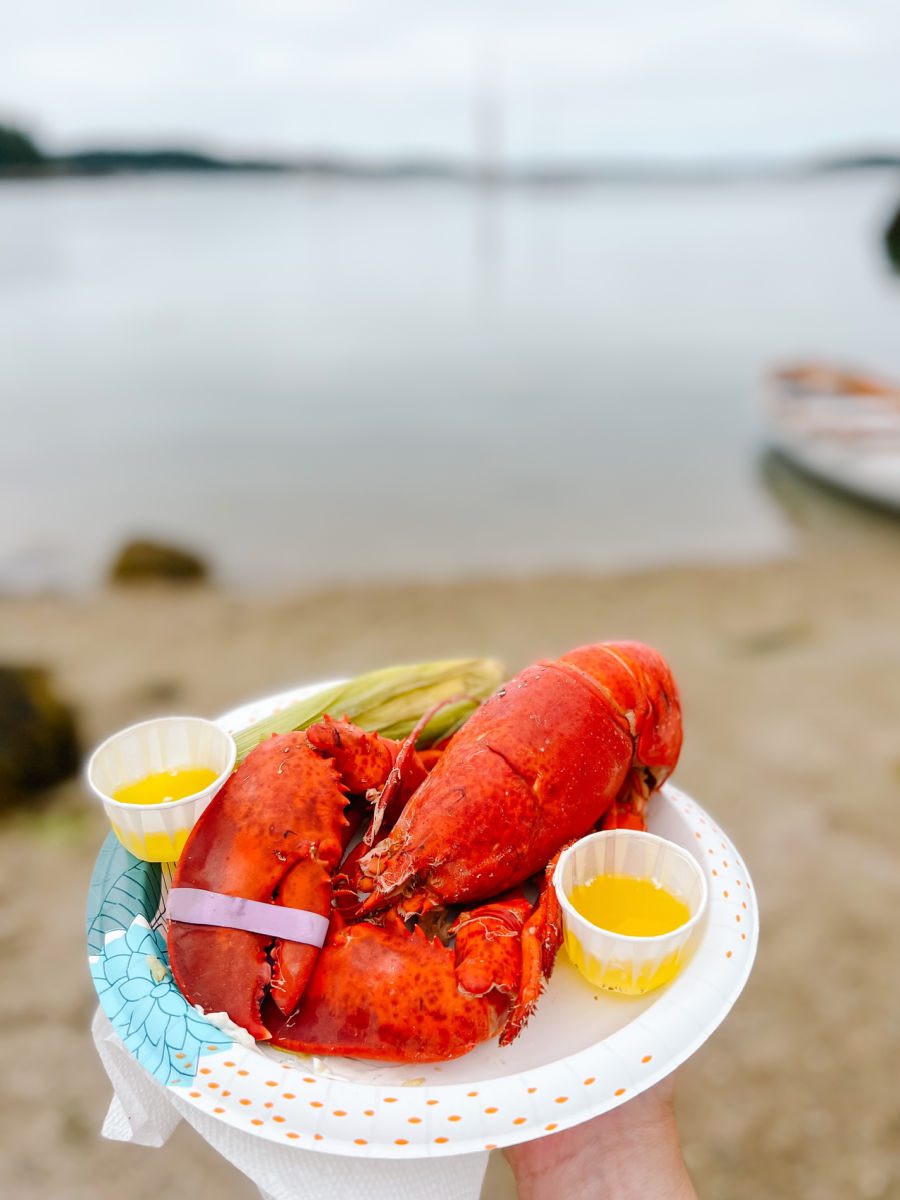 Of course, the trip highlight is the all-you-can-eat lobster bake! At some point during the cruise, the Heritage will pull up at a deserted island beach and row ashore to set up a traditional New England lobster bake of soft-shell lobsters, corn on the cob, hot dogs, hamburgers, watermelon, and finished off with s'mores. This is a great opportunity to stretch your legs and explore the beach and coastline while the food is prepared.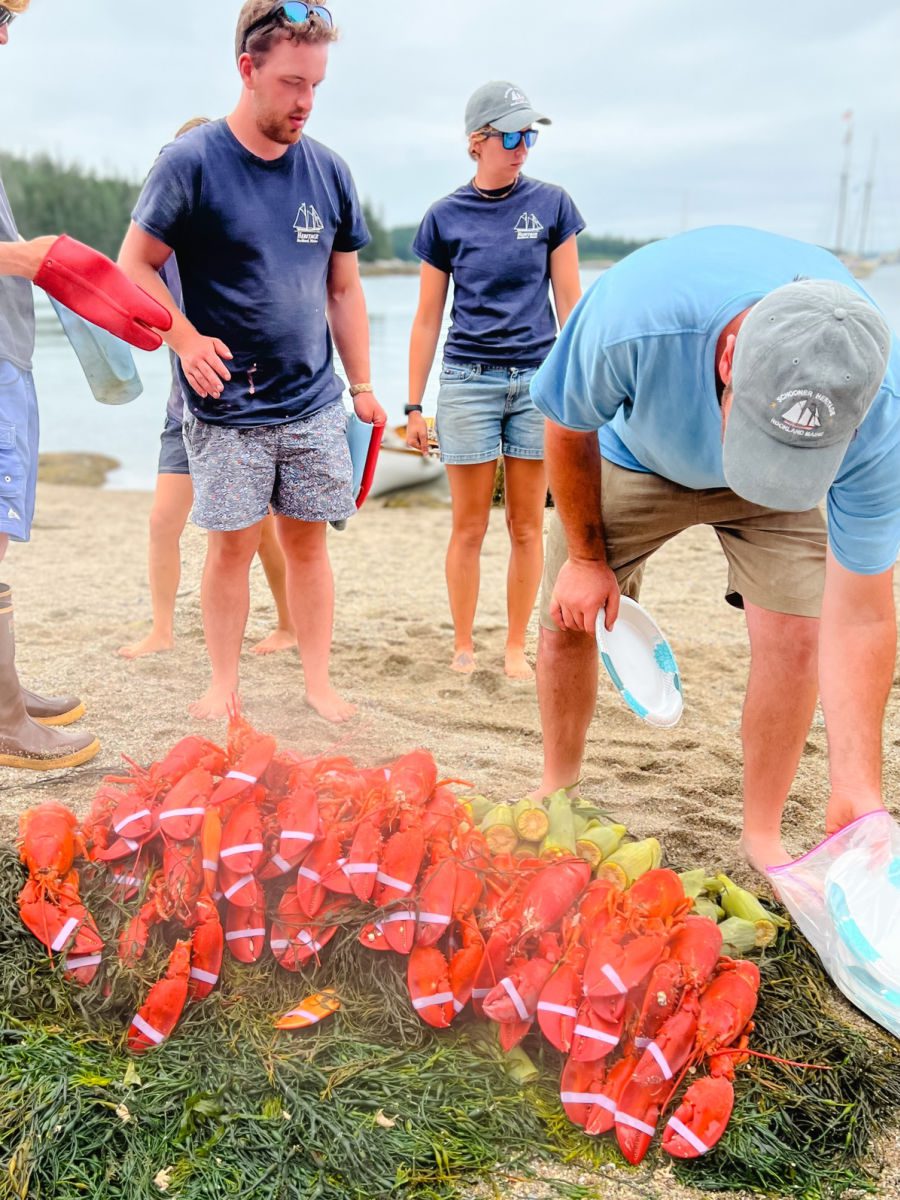 There really isn't anything quite like cracking open the shell of a fresh lobster while sitting on a private beach in Maine and watching the waves!
Daily Activities
While your typical cruise is jam-packed with activities from dawn to dusk with everything from Bingo to live performances, life aboard the Schooner Heritage is much more low-key. That is not to say it isn't busy. Something is always going on as sails are raised, lowered, tacked, and folded. Guests are welcome to participate as much as they desire, or just watch the action.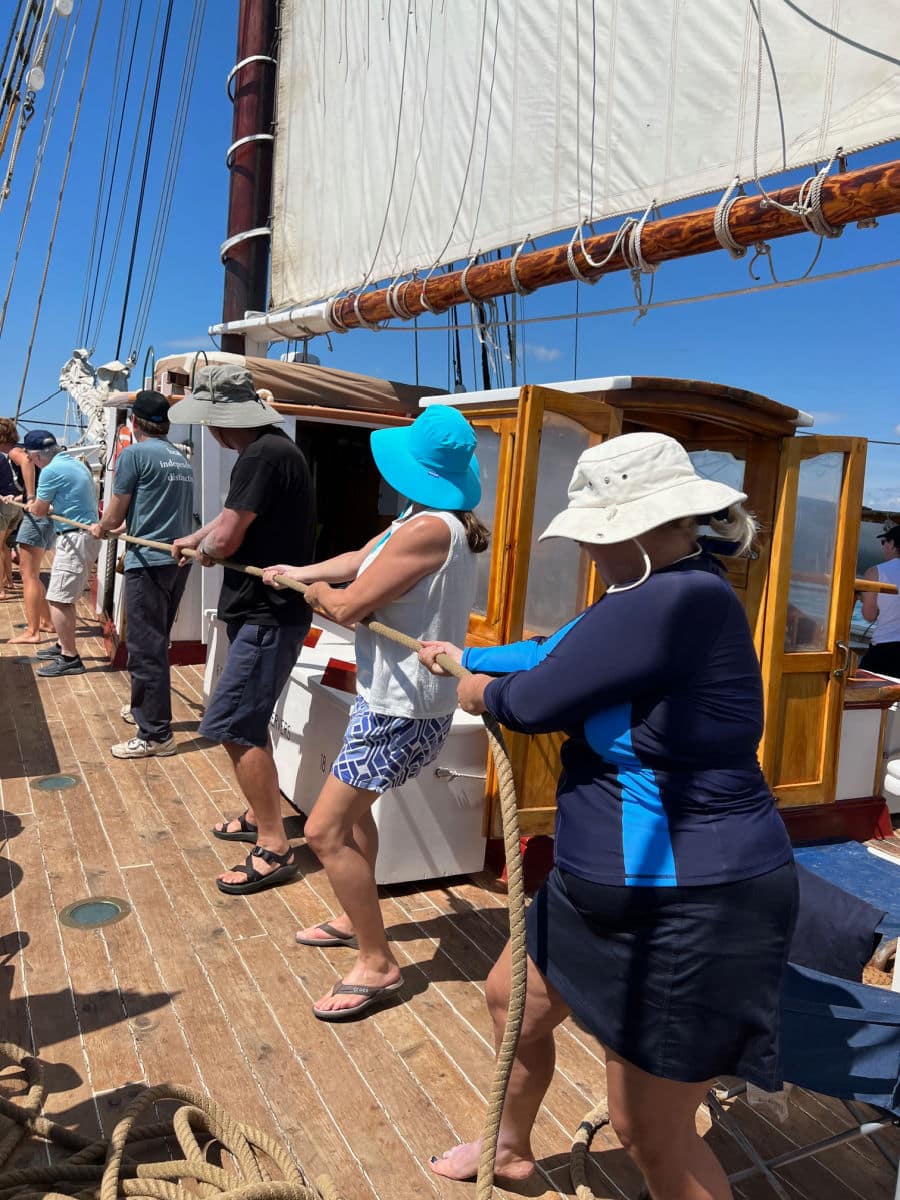 You can chat with the captain about the course and check the location and route on the map. You can even take a turn at the wheel! Your day is really what you make of it. There were times when my introverted self needed a little recharge and I would find a quiet spot on deck to read or watch the scenery. Other times I would jump into conversation with my fellow passengers or ask the captains questions to learn more about sailing and the local geography, history, and marine life.
After the first day you get used to the rhythms of the ship and the tasks involved in sailing. My friend Michelle loved helping fold the sails when they came down. I liked to help with the lines. By the end of the trip, the shouts of "Peak, Throat, Walk to Me, Drop the Line, etc." were second nature. Not that I'm prepared to learn to sail anytime soon, but at least I knew more than when I left.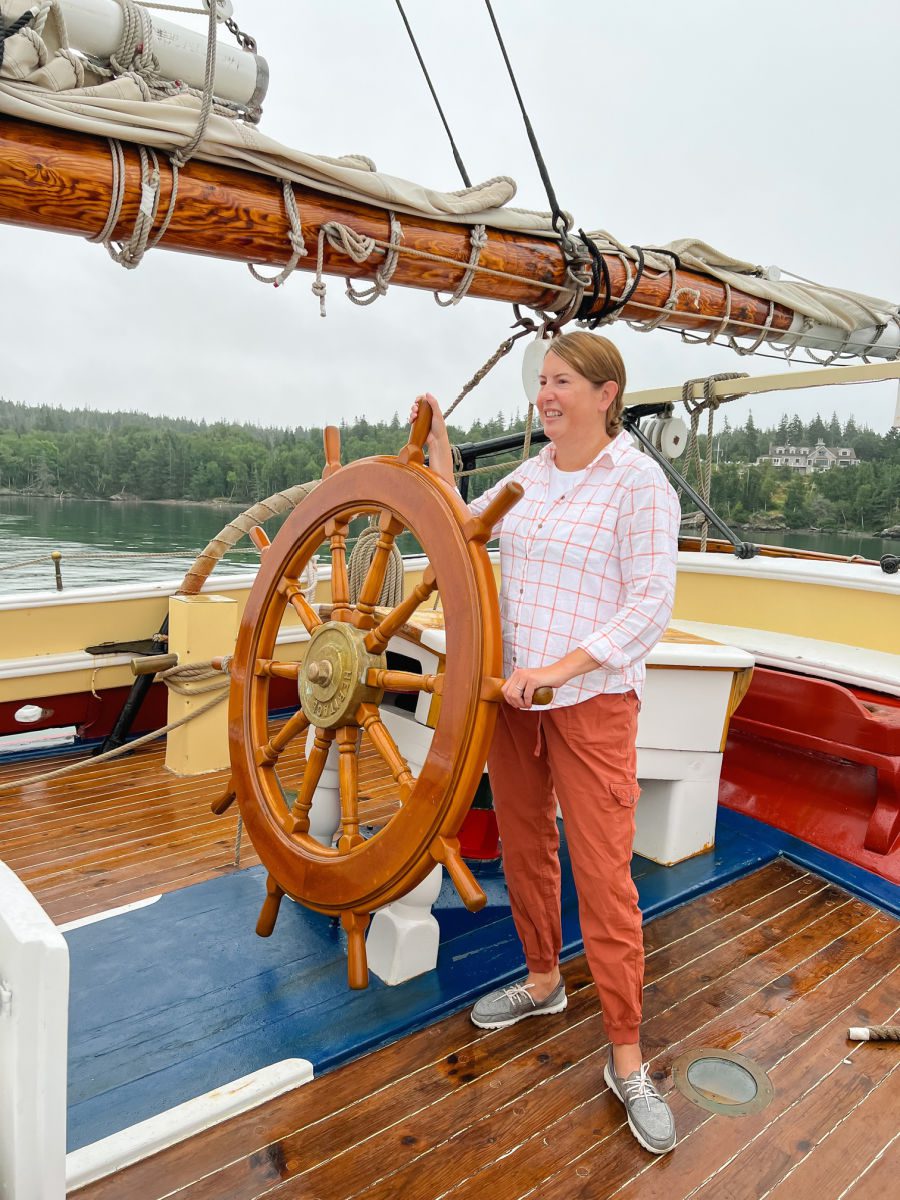 After the anchor is dropped, guests are welcome to jump overboard for a swim (don't worry, they will lower a ladder to help you climb back up). Just don't be surprised when that water is still chilly! You can also take the small row boat out for a little excursion or, if you are lucky, a crew member will take some passengers out for a sail on the smaller sailboat (this is a great way to get some pictures of the Schooner from the water.)
This is also a good time to take a quick shower or enjoy a beverage while socializing. Things tend to quiet down pretty quickly after dinner as people tend to head off to bed by 10 pm for quiet hour. However, at least one night Captains Ben and Sean will treat you to a sing-a-long with their two guitars. This is a really special experience.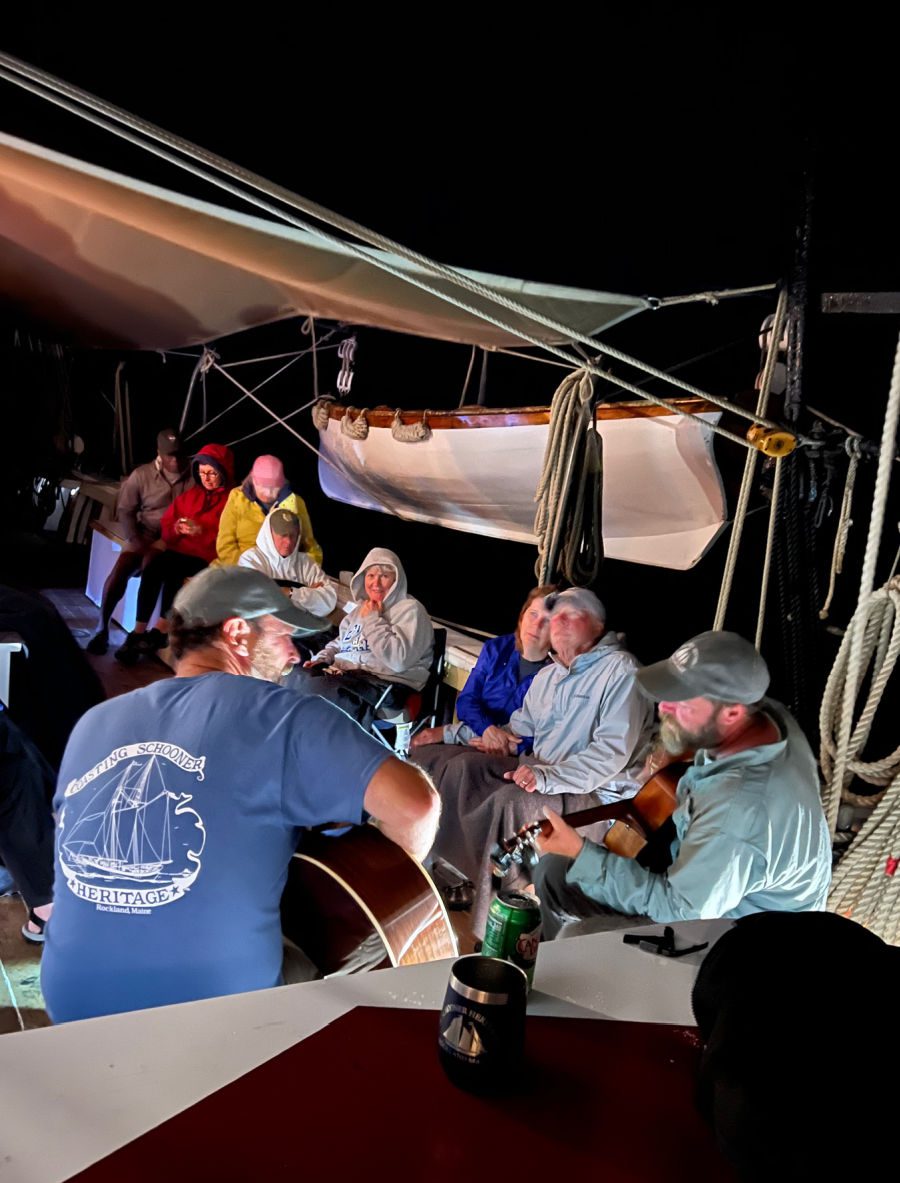 The quiet of being out on the water at night with only lanterns scattered around the deck and the stars overhead is magical and another highlight of a windjammer experience that you just can't get anywhere else.
Things to Know About Maine Windjammer Cruises
I've written a whole blog post on my sister site about reason why or why not to book a Maine Windjammer Cruise. However, here are some quick things to know:
The Schooner Heritage is docked in Rockland, Maine at the North End Shipyard. There is free parking just steps from the gangplank. You will board between 6 and 8 pm, but dinner that night is on your own. I'd recommend Primo for farm-to-table dining or Claw's for casual seafood.
If you have more time in Rockland, I have recommendations on things to do in Rockland and I'd highly recommend a stay at the 250 Main Hotel.
The first night is spent at dock and then you will set sail the following morning after breakfast. This gives you chance to run into town for anything you may have forgotten.
You return to dock by noon on the last day, leaving time to drive/fly home or continue your time in Maine (I have many suggestions on things to do near Acadia, Boothbay Harbor, or scenic drives in Maine.)
Sailings are three to six nights from early June through late September.
Prices range from $780-$1265 per person (for 2022), depending on the length of the cruise and time of the year.
Windjammer cruises are best for adventurous travelers that like meeting new people and are looking for an interactive vacation.
Windjammers are great for solo travelers looking to interact with others, friend groups, or even couples, although I wouldn't exactly position it as a romantic getaway since there isn't a lot of privacy.
What to Pack for Sailing in Maine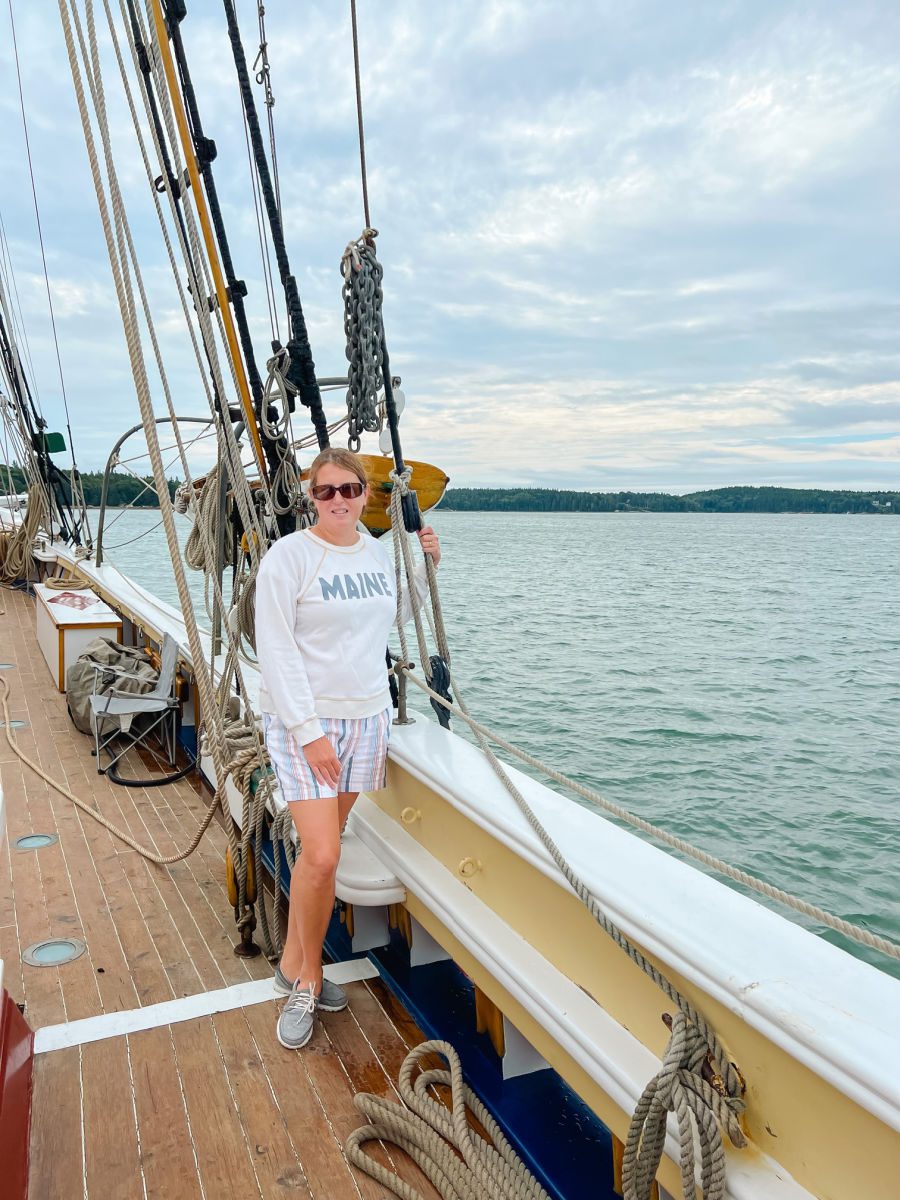 The most important advice I have about packing for a Maine Windjammer Cruise is to pack light! Storage is very limited and there really isn't a need to pretty up. Stick to the basics, bring layers, and be comfortable.
Don't forget to bring:
2 pairs of comfortable shorts (ideally hiking or exercise shorts)
2-3 t shirts (moisture wicking are great)
1 hiking shirt or long sleeve shirt to layer
1 sweatshirt
1 raincoat / water resistant shell
1-2 pairs of hiking pants or jeans (one of each would be ideal)
Non-skid boat shoes or sneakers
Water shoes / water socks without openings in the side for getting out of the rowboat and onto the beach
Shower shoes/flip flops
Breathable PJs that aren't too revealing for middle of the night trips to the bathroom
Sunhat with a strap
Sunglasses
Small tote/string bag to bring onto the beach
Sunscreen and bug spray
Moisturizer / lip balm
A good book
Camera & charger
Extra beach towel
Portable, battery-operated fan
Reusable water bottle
Ear plugs
If you are sailing in Maine on a windjammer, it isn't about the activities or the accommodations, it is really about the experience and the adventure. You really can't compare this type of trip with any other sort of cruise you may have experienced or imagined.
More questions? Leave a comment or drop me a line and I'll be happy to try to help answer them or put you in touch with someone who can.