As wine lovers, my husband and I had toyed with taking a Bordeaux river cruise for a few years before finally making the leap and booking a journey on the AmaDolce from AmaWaterways. It is no secret that I'm not a huge fan of mega cruise ships since I love spending more time in a destination, don't love crowds, don't enjoy being around over drinkers, and really appreciate good food. So while the concept of a much smaller river cruise held a lot of appeal, we had a lot of questions before our trip, such as:
What would the age demographic be like?
Would we connect with fellow passengers?
Would it feel crowded?
Would there be enough to do?
Would we have enough time in each destination?
Would the food be any good? What about the wine?
What is included?
Are there a lot of extra fees?
Would it be worth the price?
If you have wondered the same or more, keep reading because I'm going to give you the full scoop on what you need to know and what to expect onboard the Taste of Bordeaux river cruise from AmaWaterways. I was hosted by AmaWaterways for this experience so that I could share my honest thoughts and review with my readers, all opinions are my own.
If you are interested in learning more about any of AmaWaterways' journeys, please request more information through my referral link. Note that I may receive a small commission if you book through my link and I thank you for your support.
Request more information about any of AmaWaterways ships or itineraries.
To answer these questions, I'm going to walk you through our experience and cover the cabin accommodations, on-board facilities, dining, crew, excursions, our itinerary, and more.
What is a Bordeaux River Cruise and Why Choose One?
A Bordeaux river cruise operates on the Garonne and Dordogne Rivers, which branch off of the Gironde Estuary near the city of Bordeaux, in the Nouvelle-Aquitaine region in southwestern France. The Dordogne River is considered the "right bank" of the region, and where you will find wines that are more predominantly Merlot blends and the famous town of Saint-Émilion, and the Garonne is the "left bank", which is more Cabernet Sauvignon forward, with the famous Medoc appellation.
If you are staying in the city of Bordeaux, there are many short sightseeing and dinner cruises that operate on the river, but I'm talking about a multi-day Bordeaux river cruise on a ship built for river cruising. There are a number of river cruise companies that operate out of Bordeaux, but we chose AmaWaterways because they have a reputation of being one of the best in the industry and having good food.
While river cruises are popular throughout Europe, especially along the scenic Rhine and Danube Rivers, we chose the Taste of Bordeaux river cruise because we love learning about wine through our travel. My husband is studying for his WSET Level 3 certification, and experiencing the wine first hand is useful and it helps me learn more as well! In fact, we have planned other trips around wine including one to the Languedoc region of France, Piedmont in Italy, and Tuscany. And, I had just wrapped up an amazing barge cruise through Burgundy, France!
If you are looking for beautiful scenery and castles along the river banks and stops in large cities, I'll be honest with you and tell you that you might prefer one of AmaWaterway's other European itineraries. The Garonne and Dordogne Rivers are the color of chocolate milk, due to the strong tides stirring up the river bottom, and the river banks can be a bit bland, with the exception of some vineyards and a few chateaux in the distance. The primary reason to choose a Bordeaux river cruise is to get to taste the wines of Bordeaux and experience a few of the region's chateaux and small villages.
You do not need to be a wine connoisseur to enjoy a Bordeaux river cruise. Actually, if you are truly a passionate enthusiast you may prefer to visit the region by land and arrange tastings and tours at the Chateaux of your choosing. However, I do believe you should have an appreciation of wine and a desire to do some wine tasting, otherwise you are better off selecting a different itinerary (in my opinion.) A Bordeaux river cruise is a great introduction to the wines of this region.
What is the Age Demographic on a Bordeaux River Cruise?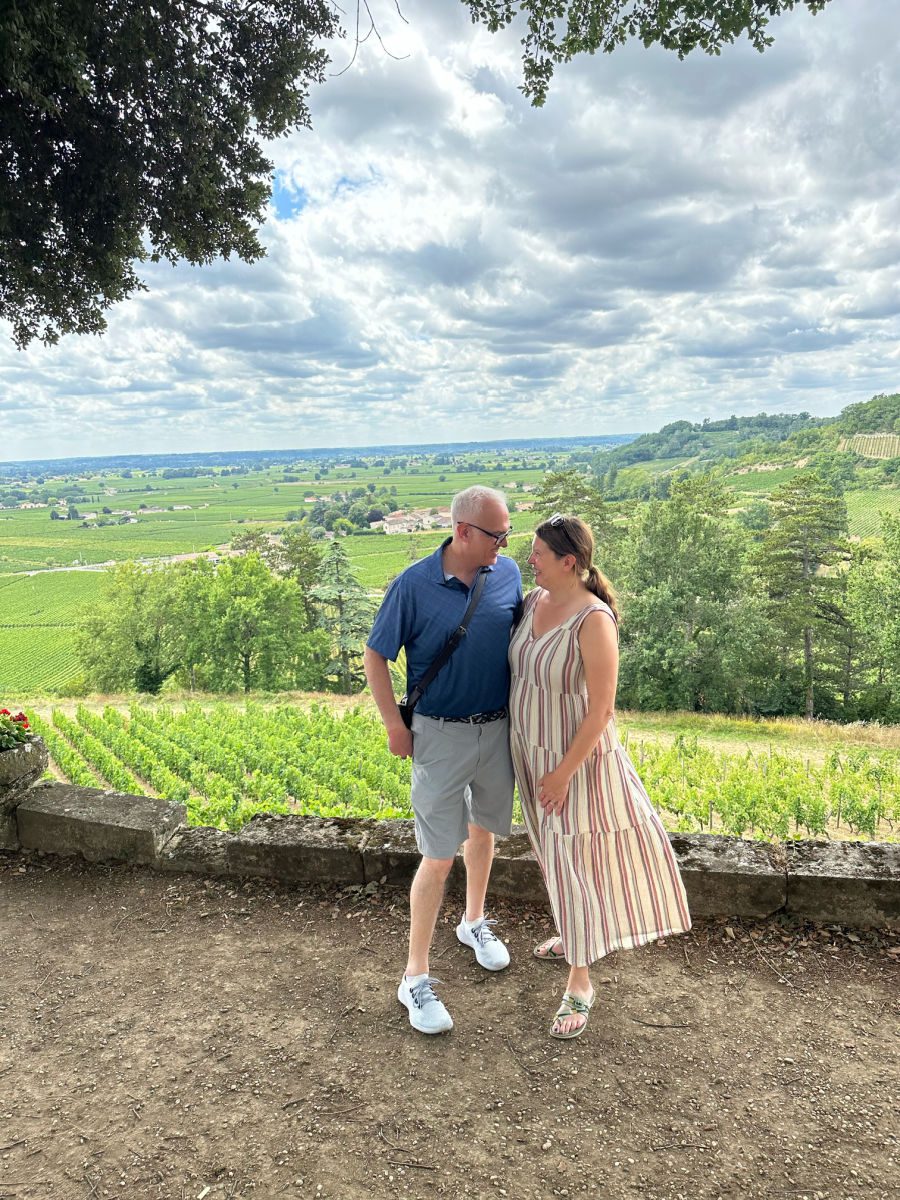 I'm going to address the elephant in the room right away because this is often the number one concern I hear from people in my age bracket (50s) and younger when it comes to river cruising. And, from the other perspective, my in-laws are very interested in a river cruise and want to know if it is suitable for their mobility so I'm going to try to be as clear and honest with my perceptions as possible, noting that this was my first and only (so far) river cruise experience.
The AmaDolce has a capacity of 144 passengers but on our cruise, there were only 63 passengers onboard. Of those, I would estimate that the majority were over 60 years old. There were at least two couples in their 30s and 40s and there were some adult children traveling with their parents as part of a multigenerational group. I know that AmaWaterways does offer some cruises that have family-friendly cabins and excursions, so if you are traveling with kids, I would ask for more information on those.
Most of the passengers were very fit and active. In fact, the bike tours were almost always the most popular excursions each day, with people biking eight to 17 kilometers. AmaWaterways also offered alternative excursions at each stop for those they called "gentle walkers", meaning that there was very little walking involved. They also offered trekking poles on board to take on excursions to help with stability, as well as canes that offer folding knee rests.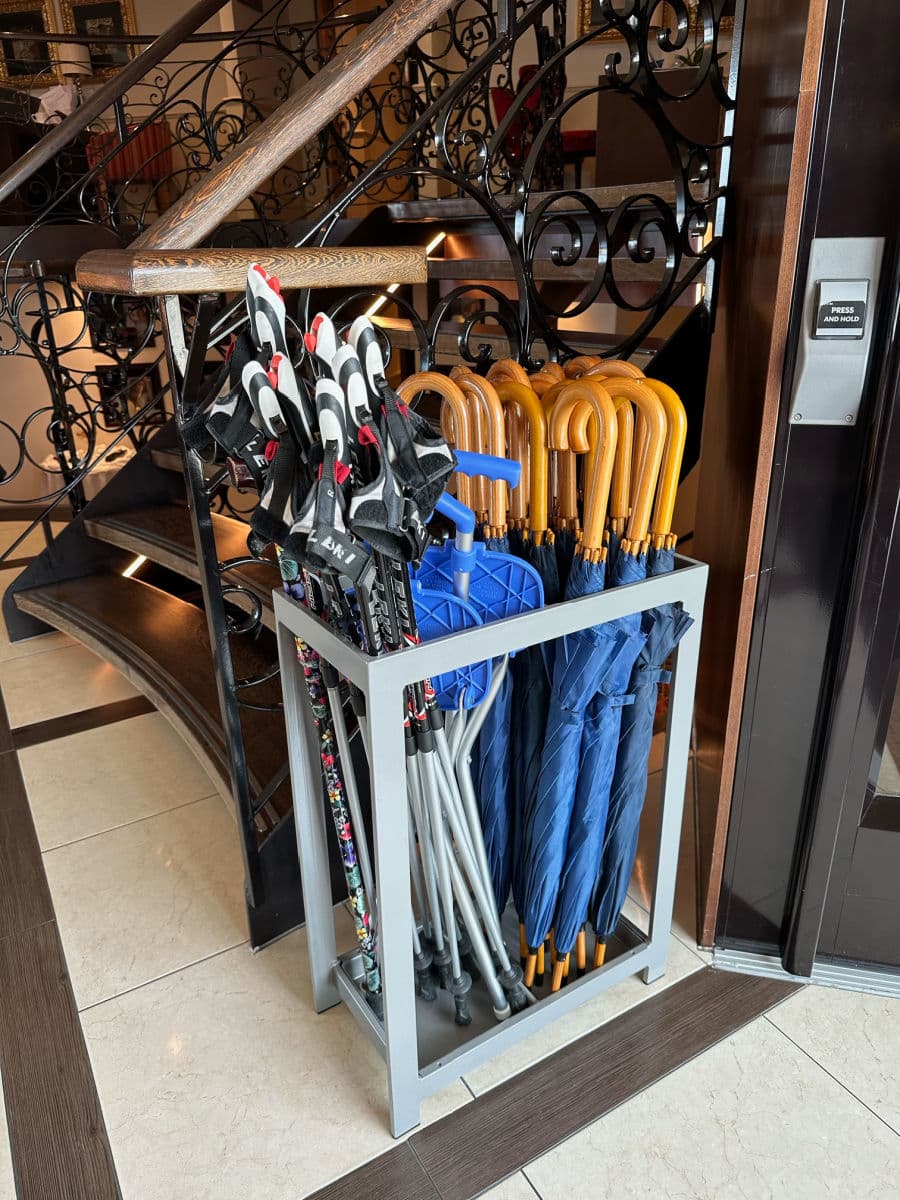 On the AmaDolce, there was an elevator that could be used between decks, but the cabins and decks were not really designed for those in wheelchairs. Getting on an off the ship would also be problematic for those with mobility issues. I advised my in-laws, who have trouble walking too much or navigating steps of any kind, that this probably wouldn't be the best choice for them. However, I heard stories on board of 90+ year olds joining in on the bike tours. So everyone needs to make these decisions for themselves.
Is a Bordeaux River Cruise Good for Solo Travelers?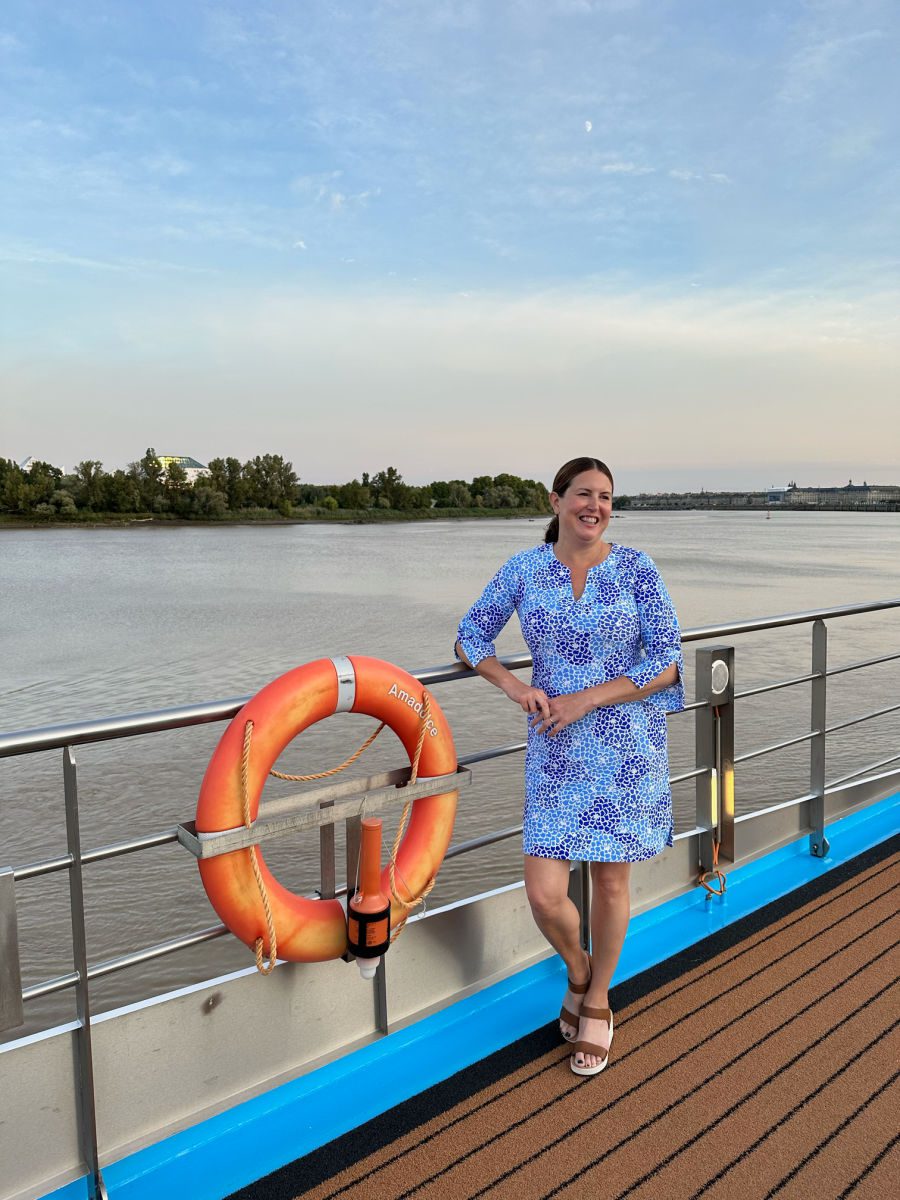 The tough thing about cruising is that pricing is usually per person, based on double occupancy of a cabin. Like most cruise lines and many tour companies, AmaWaterways charges an additional "solo traveler supplement" on top of the per person price if you aren't sharing a cabin with anyone. That's a bit of a bummer for solo travelers, but, I'd encourage you to keep an eye out for sales as they will often offer discounts on the solo traveler supplement throughout the year, plus early booking discounts are available for future sailings. Reach out to AmaWaterways for more information and current pricing.
Request more information about any of AmaWaterways ships or itineraries.
If you can swallow the price tag as a solo traveler, I think you will still enjoy your cruise if you are social. While many of the passengers are couples, or part of family groups, we also encountered sisters traveling together and all sorts of passenger combinations. At meals, you have a choice of eating on your own or joining another table. We often started chatting with others during the "Sip and Sail" pre-dinner cocktail hour and then ended up sitting with them at dinner. You will only be alone if you want to be.
The excursions were also small enough to enjoy being part of a small group and not lost in a crowd. We say many instances where a couple or group split up and chose different excursions and someone would be on their own, but easily integrated into the rest of the group. On a ship this size, people soon look familiar and you make multiple connections throughout the week.
AmaWaterways AmaDolce Overview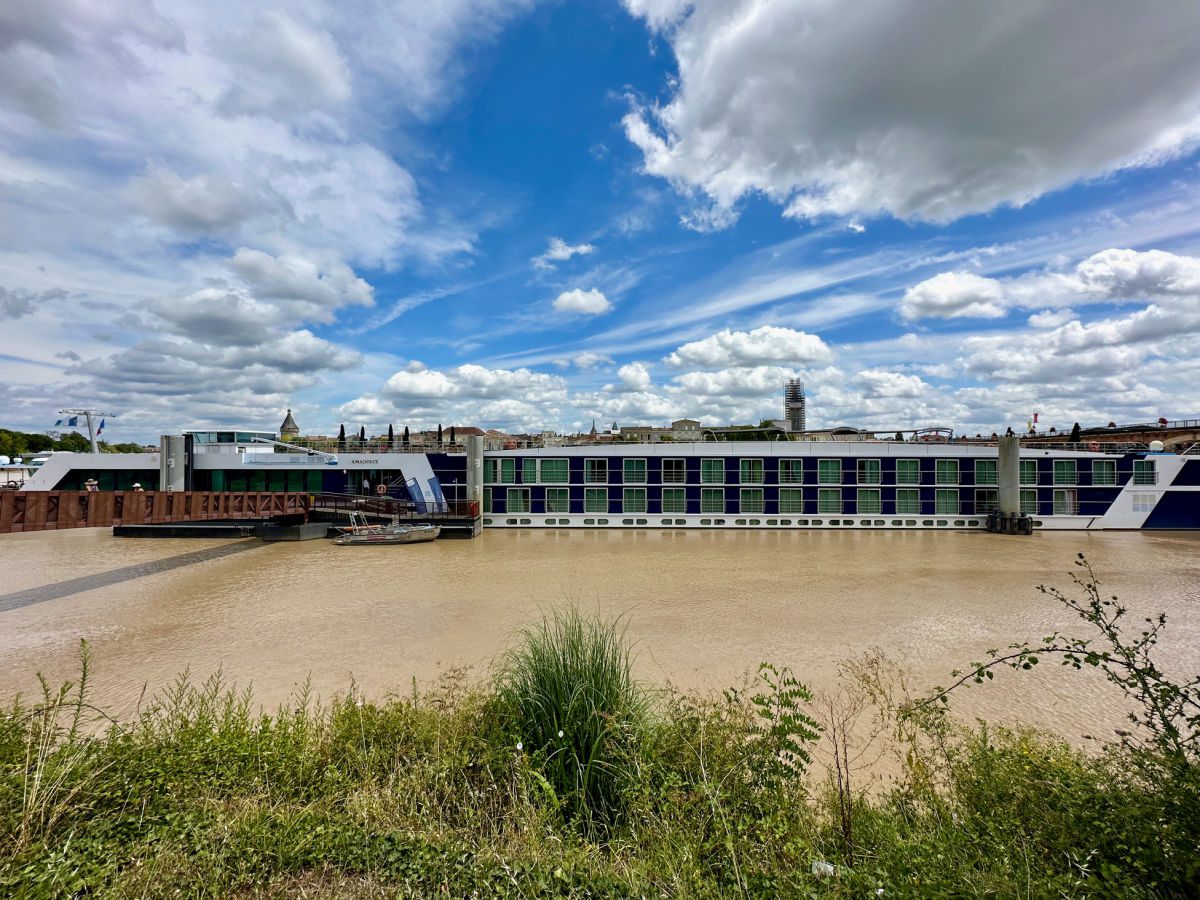 The AmaWaterways Taste of Bordeaux river cruise itinerary is onboard the AmaDolce, which can hold up to 144 passengers. As I mentioned previously, our sailing in July was less than half full, so we never felt crowded on board. I don't know if that is typical or not, but we always had a choice of seats in the dining room, lounge, or on deck.
Each of the excursions, which I will go through later in this article, consisted of fairly small groups, ranging from seven people up to about 20 for one of the larger bike tours. We certainly never felt overwhelmed by people and it was very easy to get away for some private downtime on the ship. At the same time, it was nice to make some new friends to share meals, drinks, or activities with throughout the week.
I definitely got the impression that the people on board the Bordeaux river cruise were generally very friendly and happy to chat with strangers. And while there was plenty of wine, there were only a couple of people that overindulged. It was generally a group that were early to bed and early to rise, with minimal hallway noise after 10:00 pm, when the evening entertainment ended, or definitely none after midnight, when the bar in the lounge closed.
Cabin Overview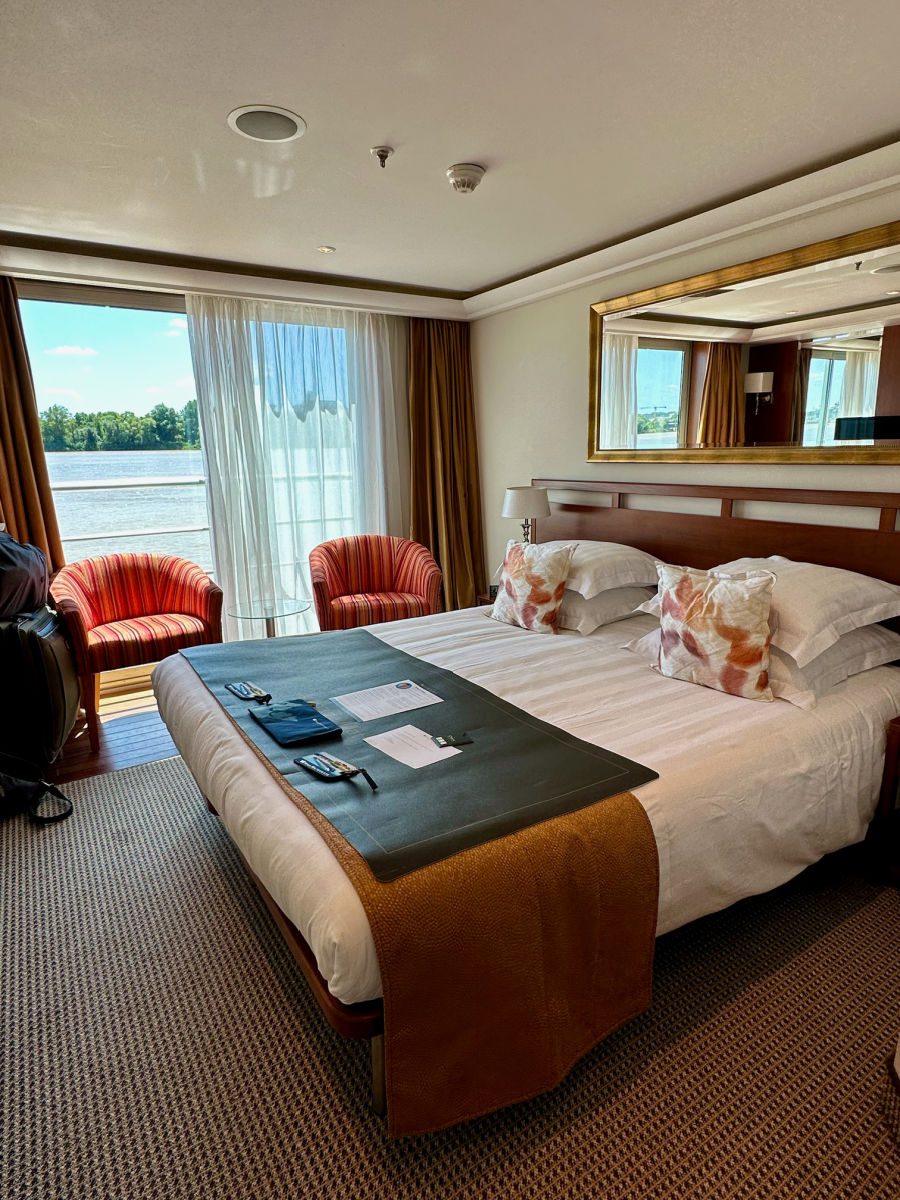 After coming straight from a barge cruise, which has tight cabin configurations, I wasn't sure quite what to expect of our cabin on board the AmaDolce, but I was pleasantly surprised. The cabins onboard the AmaDolce are about 170 square feet, which sounds small for a hotel room but it pretty standard for a cruise ship.
We were on the Cello deck in cabin 208, which is a category B stateroom on the middle deck. If you are looking for more space, there are also three suites on board that are 255 square feet and offer a sitting area with a table and a larger bathroom with a bathtub and separate shower.
Our stateroom offered all the standard features including a queen bed, sliding doors to a French balcony (really just a railing to look out and get fresh air), and a small bathroom. I was very impressed with the amount of storage in the room, which included one closet for hanging clothes and another with shelves. There were also drawers in the desk and a sliding drawer or trundle under one side of the bed. Each nightstand also had a small drawer and a shelf.
Once you unpacked, there was room to store suitcases under the bed to tuck them out of the way. The room was also equipped with a laptop-sized safe, robes and slippers, umbrellas, and extra blankets. You had the choice of having your bed made European style with just a fitted sheet and duvet, or American style with a top sheet and blanket and/or duvet. After sweating my way around Europe under a duvet or freezing while sleeping uncovered, I was personally thrilled to have my top sheet again.
The room also offered a flat screen television, which showed you the activities of the day, cameras from the ship, and had complimentary on-demand movies and entertainment. I really enjoyed just hanging out in our room one night and watching a movie. After a month in Europe, it had been too long since I'd had a "Netflix and chill" kind of night. The ship also offered free WiFi, which was generally fairly good except in the evenings when everyone jumped online.
In addition to the desk chair, there were also two arm chairs in front of the French balcony doors, so you don't always need to sit on the bed. The room also came equipped with a hair dryer and complimentary water, which was replenished daily. I also found it easy to refill my water bottle in the lounge whenever I needed.
The bathroom was compact, as you would expect, but it offered more storage options than many hotel bathrooms these days. There was a mirrored medicine cabinet with two shelves and then two more shelves in the cabinet underneath the sink. The only thing it could have used was another hook for drying towels. Housekeeping refreshed the room twice a day and typically I hate to ask for my towel to be replaced every day but I often needed it because it stayed damp otherwise.
The highlight of the bathroom was the shower, which offered multiple settings and excellent water pressure. If you are large it would be a tight squeeze in the shower but the snugness reminded me not to linger or use too much water. The bathroom was also equipped with refillable shampoo, conditioner, body wash, and lotion.
See my full cabin tour on Instagram Reels:
Onboard Facilities
A river cruise ship is never going to compete with the large megaships when it comes to onboard facilities and entertainment, and that is okay with me. The beauty of river cruising is that you spend more time in your destination. In fact, sailing times can be quite short and often the ship is repositioned every night so you have a full day and evening to enjoy port, if you so desire.
However, there is still plenty to do on board and I'll walk you through all the primary facilities on board:
Sundeck
The top sundeck is the place to go to watch the scenery go by as you are cruising, to relax in the afternoon, or to catch a sunset or star gaze in the evening. There are rows of deck chairs with ottomans lined up under a sun awning for those that want to read, relax, or maybe nap. There are also small clusters of tables and chairs in the open section of the sundeck, where you can gather with friends.
The back of the ship is a designated smoking area and just in front of that is a section set aside for corn hole and a small putting green. A walking track also circles the deck and there are designated exercise walking times. The onboard fitness instructor offers various exercise classes and dance classes on the sundeck throughout the cruise. There is also a large lawn-sized chessboard.
Towards the front of the ship, there is an area with cushioned lounge seating (although you may need to dig the cushions out of the storage chests yourself), along with a six to eight person hot tub. There are chests nearby with fresh towels if you choose to use the hot tub (and you can also wear your robe from your cabin.) The hot tub didn't tend to get a lot of use so it wasn't hard to find a time to enjoy it on our own.
Keep in mind that you could bring drinks up on deck, but there weren't typically servers attending the sundeck.
Fitness Room and Sauna
On the third deck, right below the sundeck, there was a small fitness room, which included a dry sauna. The gym had a treadmill, two stationary bikes, free weights, and yoga mats that you could bring upstairs to the sundeck. Since biking was such a popular excursion, the fitness room was never crowded. However, if you prefer to bike on land, the crew will happily get bikes down for you to explore on your own, even if you haven't joined an official bike tour excursion.
Library
Right next to the cruise manager's desk, off the entry atrium, there is a small library. The library has a selection of books and games that can be borrowed and enjoyed on board.
Lounge
The lounge offers comfortable indoor and outdoor seating, as well as a full bar. This is where the passengers gather in the evening for the nightly "Sip & Sail" event featuring a complimentary cocktail of the day to listen to a presentation about what to expect the next day. The lounge is also open for bistro dining for lunch or dinner, featuring a subset of the main dining room menu. You can also find a small breakfast buffet in the lounge if you miss breakfast in the main dining room, which was perfect for late risers!
After dinner, local musicians, of varying quality, came on board to perform in the lounge. While beer and wine is complimentary during meals and the evening cocktail hour, there is a charge for drinks after dinner or at off hours. It actually took me until almost the end of the cruise to realize there was a charge because there was always so much wine served with dinner that I never needed anything more if we did stop in to enjoy the entertainment or conversation with new friends.
Main Dining Room
The main dining room on the lower deck is where breakfast, lunch, and dinner are served. Meals are offered at a specific time, but you don't need to show up exactly on time. For example, if lunch is served at 12:30, you just need to get there with time enough for them to serve before they close or before you need to get to your next excursion.
Likewise, there is not any assigned seating in the dining room. I really appreciated getting to move around and eat with different people each night, or pick a table for two if we wanted some time alone. The servers in the main dining room and the crew throughout the ship were extremely attentive, friendly, and cheerful.
Chef's Table Restaurant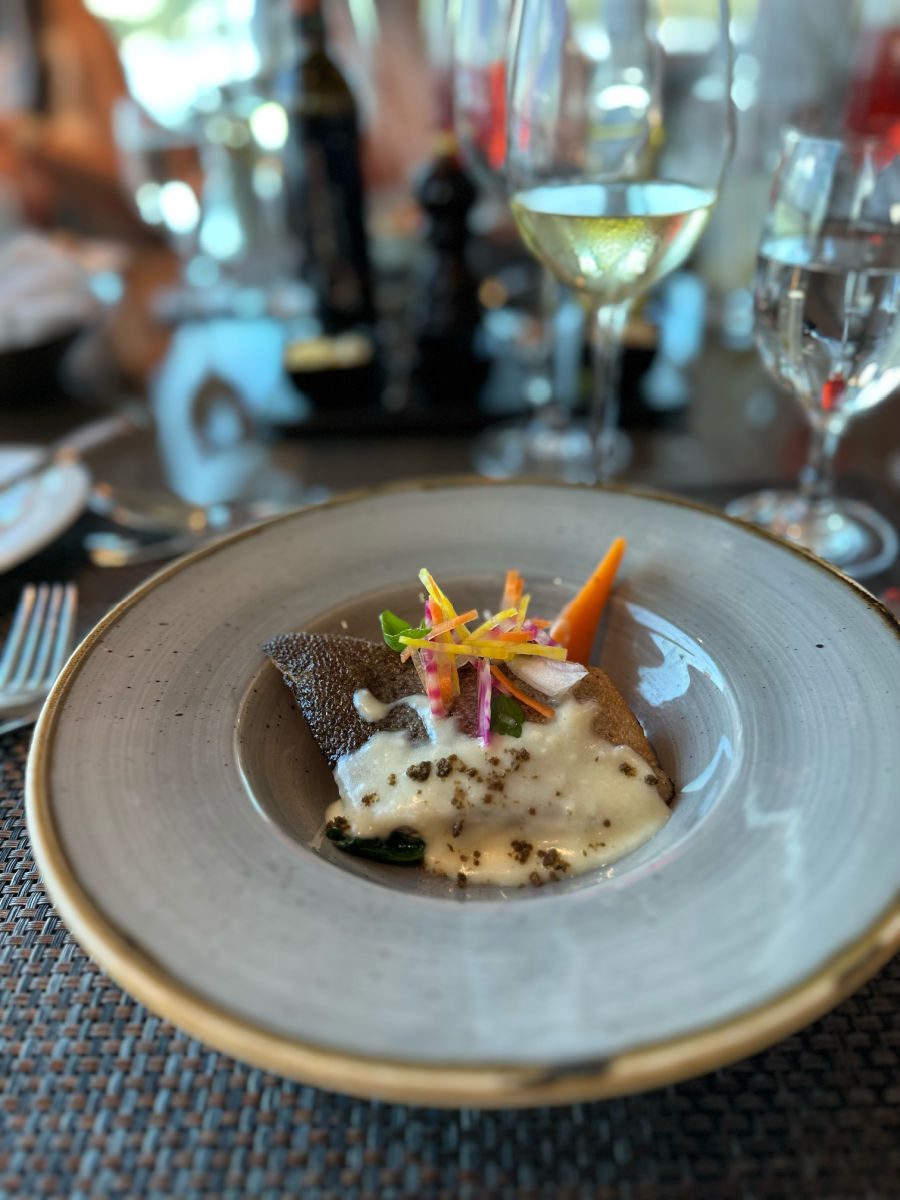 At the back of the ship on the top deck, there is a small restaurant set aside for the Chef's Table experience. This is a complimentary offering for all guests once per cruise, but you do need to sign up for it within the first day or two as there is limited space each night. This restaurant offers a seven-course chef's tasting menu, which is different from the main dining room but it is the same each night so you don't need to worry about having a different experience depending on when you dine.
See my Instagram Reel about our dinner at the Chef's Table:
Food & Wine on Board the AmaDolce
I'm going to preface this section by saying that my husband and I are foodies. We enjoy fine dining but even more, we enjoy when fresh, local ingredients can be made to shine. It doesn't need to be fancy, but we like it to be great quality and well-prepared. So we can be a bit picky or critical when it comes to talking about food and if that isn't you, take what I say with a grain of salt.
I've talked to a lot of people that have done a fair number of river cruises, and many of them said that AmaWaterways offers the best food. So going in, I had high expectations. First of all, we were in France, a country known for its exceptional cuisine. Second, we were on a cruise titled the "Taste of Bordeaux", which had me expecting a French-trained chef focused on local dishes.
While there were many French-style dishes on the menu throughout the week, this cruise was not a "French food experience". For that, try a barge cruise (seriously!) That's not to say the food was bad, but it wasn't "amazing" (in my mind). It wasn't quite what I was anticipating, and that is on me, so I'd rather set you off with the right expectations. You need to remember that you are still on a cruise that needs to feed 65-144 people three meals a day in a short period of time.
All that aside, you will NOT go hungry on an AmaWaterways cruise. In fact, I think I offended the waitstaff by not ordering all four courses for lunch and dinner. But I just couldn't eat all that food! Breakfast was my favorite meal, with a buffet of pastries, breads, cereals, yogurt, and fruit as well as a hot dish. You could also get an omelette or eggs made to order, often by the always-smiling hotel manager.
Lunch and dinner would typically start with a salad, which always had fresh greens and vegetables. This would be followed by a soup course, which I typically skipped because it was often cream-based, but my husband enjoyed them. This was followed up by an entree/appetizer plus main at dinner or just the main course for lunch. The meals were rounded out with a selection of cheese and/or a dessert.
For the main course, there were typically one or two options, with at least one vegetarian option. If none of those were to your liking, there were also some "always available" options like hamburgers, pizza, steak, caesar salad with chicken, or pasta. It was very easy to pick and choose and be quite satisfied. The meals were also paired with local, or at least French, wines. While they weren't the top, top quality, they were usually quite good, although sometimes served a bit warm and needed chilling.
My only other picky complaint, beyond my too-high expectations, was the butter. I just adore a good French butter with that little bit of sea salt on top to spread on my baguette when I'm in France and sadly, the main dining room just served a commercial grade whipped butter. On our last day we had lunch in Bordeaux at Avant Comptoir du Palais and they served the most amazing French butter with silvers of sea salt throughout and we were in heaven. The bread became just a vessel for more butter.
But hey, at least you know I am honest in my reviews, right?
Bordeaux River Cruise Itinerary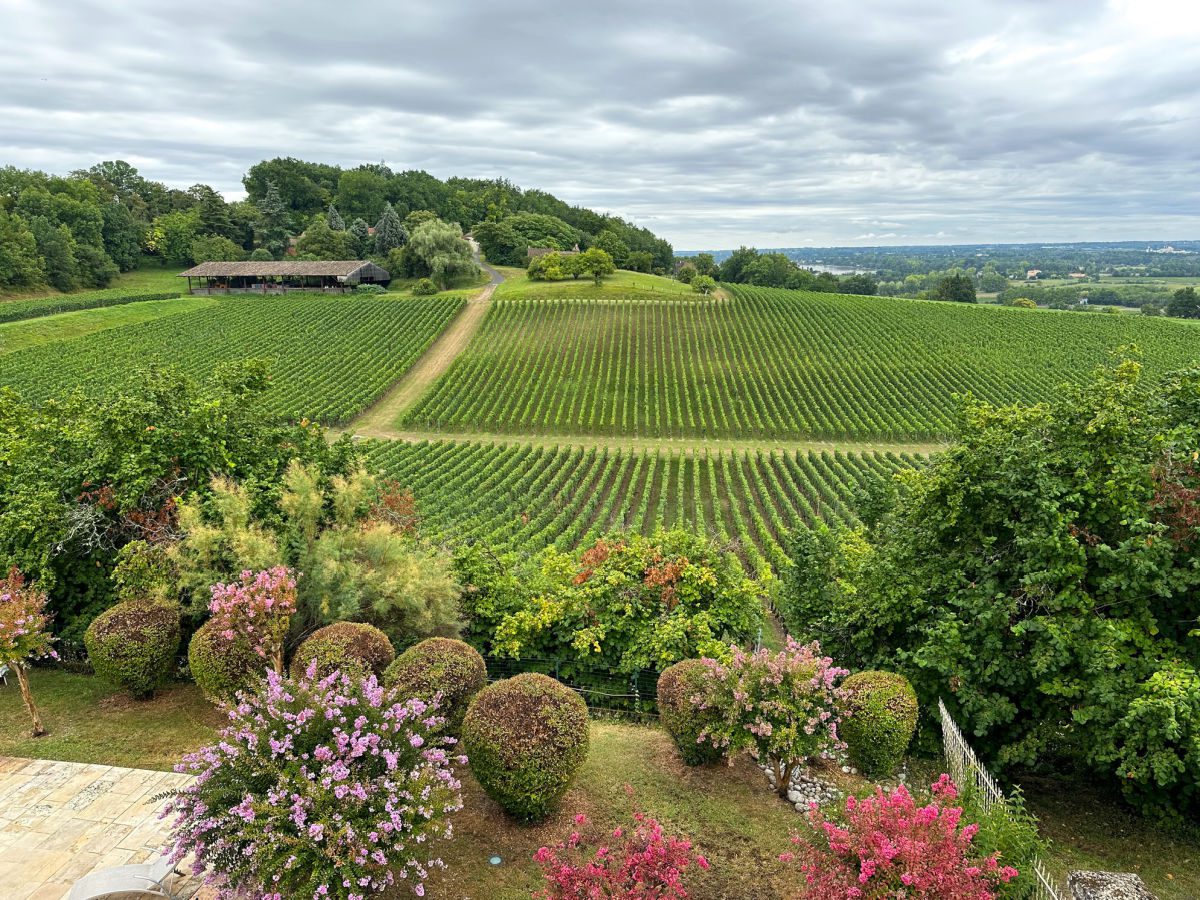 The Taste of Bordeaux river cruise from AmaWaterways starts and leaves from Bordeaux. Even though you have your arrival day and the last day of the cruise to explore the city, I'd highly recommend spending a few extra days because there are so many things to do in Bordeaux. The cruise is a seven night trip and ours boarded on a Thursday afternoon and ended the following Thursday morning.
Getting to Bordeaux is fairly easy. If you are flying from the United States or from outside of France, you can connect through Charles de Gaulle airport in Paris and AmaWaterways will pick you up at the Bordeaux airport. Alternatively, if you are already in France, it is only a two hour train ride from Paris' Gare Montparnasse to Bordeaux St Jean train station. You can either arrange a transfer from AmaWaterways or take the very affordable city trams to the Chartrons stop right near the dock.
Each AmaWaterways cruise includes all shore excursions, so you don't need to worry about extra costs. There is typically one excursion per day, either in the morning or afternoon, although sometimes there may be two offered. You can pick from two or three choices for each excursion and the selections can be made via the AmaWaterways mobile app in the month leading up to the cruise. Since our cruise was only half-full, we also didn't have any trouble switching our excursions as long as we gave 48-hours notice.
The AmaWaterways mobile app is a useful tool throughout the cruise because it is also where you can find the cruise itinerary and the Daily Cruiser. This is similar to the paper newsletter that would be left in your cabin each day, but saves on paper. It lists all the activities and events, as well as meal times and excursion times.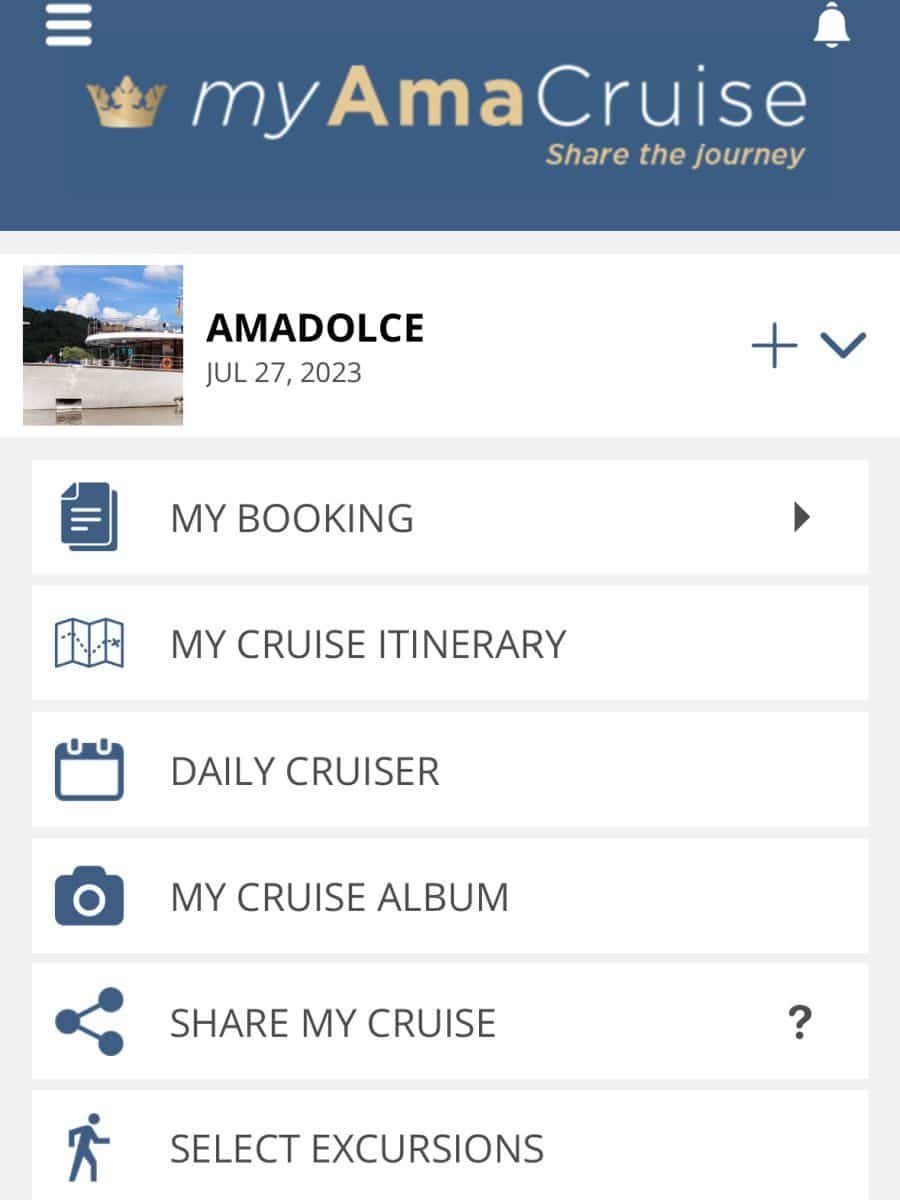 The excursions offered were a mix of bike tours, walking tours, wine tastings, and specific attraction entrance tickets. On the app, each excursion listing gives a full description as well as an activity and difficulty level to help you decide on what to do.
While my husband is a Peloton guy, I don't love biking as much so I only took one bike tour (he took two) and because we love wine, we opted into many of the wine tastings. We also chose the more active walking tours, versus the "gentle walkers" and took some time in Bordeaux to explore on our own.
Day 1 – Bordeaux
The Taste of Bordeaux river cruise leaves from the city of Bordeaux. Since I was already in France, I spent a few days in Bordeaux exploring the city prior to the cruise, which I highly recommend. However, my husband flew in that day. I was able to drop off my bags after noon and have a light lunch in the lounge until the room was ready. Once the room was ready and my husband arrived, we headed out into town so that I could show him around.
We returned to the ship in time for dinner, where we were invited to dine at the Captain's table. After dinner we enjoyed time on the sundeck, trying our hand at corn hole and the putting green. Since Glenn was jet lagged, we called it an early night, excited for our first excursion the next day.
Day 2 – Saint Émilion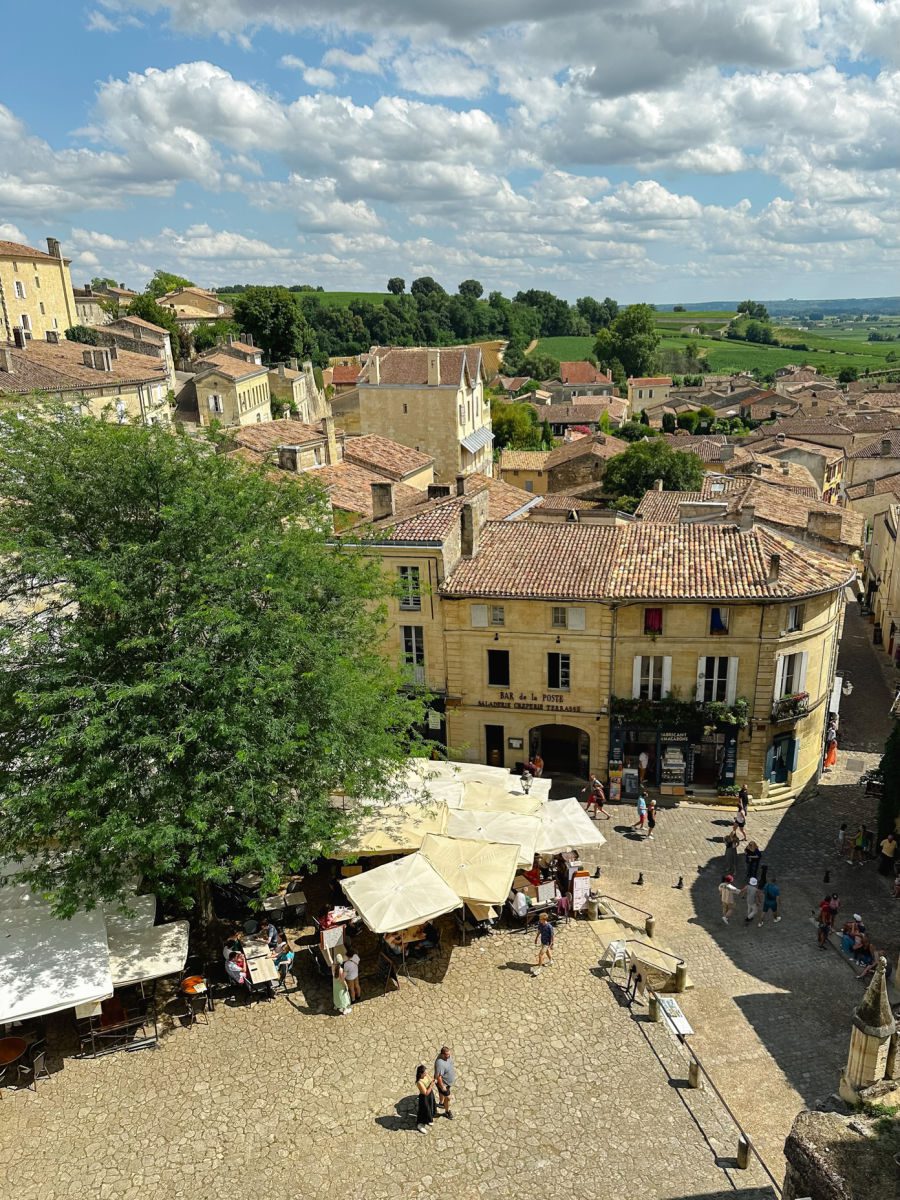 The ship tayed in Bordeaux overnight and on the morning of the second day we cruised to our first port of Libourne on the Dordogne River. After lunch, we headed out on our excursions. There was an option to bike to a vineyard for a tasting and then get a ride back to the ship, tour a Chateau, or have a walking tour of Saint Émilion with free time after.
We chose the excursion that included a walking tour of Saint Émilion and a wine tasting at Chateau de Pressac, a Grand Cru Classé winemaker. After a short tour of the cellars and the beautiful property, we had an abbreviated wine tasting. Our group then took a driving tour through the Saint Émilion and Pomerol appellations before arriving at the small village of Saint Émilion, a UNESCO World Heritage Site.
The walking tour included the underground monuments such as the monolithic church. We also had free time in town to shop or explore the steep, narrow cobblestone streets. Of course, we ended up in one of the other many, many wine shops that line the streets for another wine tasting and had a great conversation with the staff to learn even more about the region and the vineyards they represented.
See my Instagram Reel overview of Day 2:
Day 3 – Libourne
Note: This post contains affiliate links. If you click a link and make a purchase, I may receive a small commission at no cost to you. All opinions are my own based on my personal experience with these products.
The morning of day three was spent exploring Libourne and the nearby wine region of Fronsac. I had originally signed us up for a French market tour and walking tour of Libourne, but when I was debating my choice, Maddy, our fabulous cruise manager suggested that we could easily explore Libourne on our own. So we opted to take a wine tasting tour of Fronsac at Chateau de la Riviere and I'm so glad we did!
Our tour started with a walk through some of the five miles of limestone tunnels under the property that are currently used as wine cellars and event space. When the Chateau was overtaken by the Germans during World War II, the owners sealed off most of the tunnels to protect the wine cellar but also to hide local Jewish families. They left just enough open to fool the Germans and it is a wonderful story of rebellion.
We finished our tasting with a selection of their reds and one rosé, paired with some delicious local cheese. I didn't want to pay to ship home, but we did purchase a couple of bottles to drink later on our trip and one made it home in our suitcase. It is a shame to not buy more but when the wine is included on board, it just doesn't pay. I still need to invest in one of those awesome wine suitcases for our future wine travels!
When we got back to the AmaDolce, we still had time to walk into town and explore on our own. The town of Libourne is small enough that you don't really guide and since we weren't visiting on a day when there was an outdoor open market, we only would have seen the indoor marketplace anyway (which we walked through on our own, just missed the tastings we may have done on a tour.)
That afternoon, we sailed to the town of Blaye, so Glenn and I took the time to enjoy the ship facilities. First we chilled out in the hot tub and then Glenn hit the gym while I detoxed in the sauna. After a nice rest, we had dinner on board and checked out the evening entertainment of local musicians.
See my Instagram Reel overview of Day 3:
Day 4 – Blaye
On the next day, I decided to finally give the bike tour a try since there was a morning tour that was only about eight miles in total. We started off with a bike ride through the 17th-century Citadel, which is a UNESCO World Heritage Site. The largest of its kind in Europe, the Citadel was built by the famous engineer Sébastien Vauban under the reign of Louis XIV.
We then continued our bike tour through vineyards and past crumbling old chateaux, before returning to the ship on the bike path. The bike ride had a few hills and bumps on the dirt roads through the vineyards, but there were plenty of stops along the way to catch your breath.
Later that afternoon, Glenn took on a much longer and more challenging bike ride from Blaye to the town of Bourg, but I decided to stay on board and take the easy way there. Once in Bourg, the entire ship was invited to a wine celebration in town featuring local entertainers and tastings from many small wine producers. Like I said, not a day went by without some sort of wine tasting!
They also offered a walking tour of Bourg, but since the town was small, we decided to explore on our own so that Glenn had time to shower and rest a bit after his long ride.
See my Instagram Reel overview of Day 4:
Day 5 – Medoc
Overnight, we sailed back to Bordeaux since our docking spot near Medoc was taken over by a children's summer camp. On a river cruise, you do need to be a bit flexible with the itinerary as they may make adjustments to accommodate for water levels and incoming tides. We then took a coach bus on a bit of a long ride (around an hour) to Château Gruaud Larose in Medoc on the left bank of Bordeaux for a tasting of Grand Cru wines.
I should mention that most of our excursions, outside of the bike tours or walking tours that left from the ship, started with a luxury coach ride. While the coaches are large, we often only had 6-15 people on our excursions, so it wasn't like those giant tour groups following the umbrella-carrying guides. For the walking tours, they did provide what they call "Quiet Voxes" in each stateroom, along with a wired earpiece. These were used to allow everyone to easily hear the guide. Luckily our groups were small enough and our hearing good enough that we rarely needed them.
We also had the same few English-speaking local guides throughout the trip, depending on what excursion you pick. The guides were friendly, funny, and informative — no complaints about any of the staff we encountered on our AmaWaterways cruise.
Château Gruaud Larose is one of the largest producers in Medoc and the visit started with a climb up the tower that overlooks the vineyards, followed by a visit through the wine cellars and production areas. We finished up with a fabulous tasting — it was easy to see why their wines are pricey (as are most in Medoc.) Following the tasting, we drove past some of the other famous wine estates in the region including Château Latour, Château Mouton Rothschild, Château Lafite Rothschild and Château Pichon Longueville. I wish we could have gotten out to take pictures at more or had other tastings, but that is something you can do easier if you are self-driving.
That evening we enjoyed a fabulous dinner at the Chef's Table restaurant, paired with lots of terrific wines. We moved the party over to the lounge to enjoy that evening's fun entertainment, which was a one-man show of classic rock tunes.
See my Instagram Reels overview of Day 5:
Day 6 – Cadillac
Overnight, we sailed to the town of Cadillac. In the morning, we boarded the coach to visit the impressive Castle of Roquetaillade. This amazingly preserved masterpiece of medieval military architecture has been owned by the same noble family for 700 years. Alternatively, we could have gone wine tasting to the Sauternes wine region, but since neither of us are fans of sweet wines, we chose the castle instead.
After returning to town, we had a guided walking tour of the town of Cadillac and Chateau de Cadillac, which was built in 1599 by the Duke of Epernon, a favorite of Henry III, and contains special rooms for the King and Queen. The castle was later transformed into a jail for women from 1820 to 1952 and you can visit the grim cells on the top floor as well, which is quite a contrast to the grandeur below.
There was then a little time to explore the small town of Cadillac, but I admit that there isn't a lot else to see in Cadillac, Bourg, or Blaye. Unlike Libourne or certainly Bordeaux, the shopping and sights are fairly limited. We needed to get back on board though because the ship needed to leave dock in time for the tidal bore. Between June and October, the tidal bore is a strong wave that happens at the change of low tide to high tide. On a good day, surfers can ride the tidal bore for quite some distance. While it isn't a tall wave, it is strong so the river boat captains need to plan and maneuver around it.
See my Instagram Reel overview for Day 6:
Day 7 – Bordeaux
On the last full day of our Bordeaux river cruise, it was finally time to explore the capital of the wine world, Bordeaux, which is also a UNESCO World Heritage Site and classified as a "City of Art and History." The morning offered a choice between a bike tour or a walking tour and both ended with a visit to the indoor Les Halles de Bacalan market for a tasting of local specialties. I was a little nervous about biking through the city, especially after staying there for a few days previously and observing the aggressive bike culture.
However, our walking tour was a little disappointing as half of it was a coach tour through the city and the walking portion didn't see many of the sites. I'm sure this was to minimize how far people had to walk, but I was really happy to have explored on my own because we only saw the best sites out of the window of the bus. If I was to do it again, I'd either take the bike tour or just explore on my own using the tram system and walking around.
Since I loved the city so much, we decided to skip lunch on the ship and spend more time in the city on our own. In the afternoon, there were two excursions to chose from. Either a visit to the immersive and interactive Bordeaux Wine Museum, housed in an awe-inspiring building, or enjoy a spectacular sound and interactive art exhibit at Les Bassins des Lumières, a World War II era submarine station. I thought the Cité du Vin would be the better option for wine lovers, so I actually visited Les Bassins des Lumières earlier in the week.
The Cité du Vin is a very impressive incorporation of technology to educate about wine and various wine regions around the world but to be honest, I found it a little overwhelming. I think I would have preferred something that had a more cohesive timeline or story telling. It was also very crowded (pre-purchasing tickets is recommended), likely because there was a large ocean liner in port as well. We only spent about an hour going through the exhibits before we headed up to the top observatory for a wine tasting with a view (this is a separate fee but included in our ticket.)
On the flip side, I absolutely LOVED the interactive art exhibit at Les Bassins des Lumieres. When I visited, it was a Dali and Gaudi exhibit set primarily to the sounds of Pink Floyd. I loved the way the music reverberated through the concrete building and the digital art projections reflected in the water below. Personally, I'd recommend this excursion over the Cité du Vin but not everyone felt the same.
The day ended with a special festive Captain's Dinner, where everyone got a little more dressed up for the evening. After dinner, the AmaDolce headed out on the river for a special illumination cruise to see the lights of Bordeaux at night. It was a lovely end to our Bordeaux river cruise!
The next morning, it was time to leave the AmaDolce but we weren't quite ready to leave France! Glenn and I took the train down the coast to the seaside resort town of Biarritz for a few days. We had a wonderful time aboard the AmaDolce and I would love to try another river cruise one day. Perhaps the Christmas Markets cruise, the Grand Danube, or maybe even a Nile River cruise.
See my Instagram Reel overview of Day 7:
How Much Does a Bordeaux River Cruise Cost?
The seven-night Taste of Bordeaux cruise on AmaWaterways currently starts at $2500 to $4300 per person, depending on the time of year and what discounts and specials are currently available. Unlike some big ship cruises, an AmaWaterways cruise includes all shore excursions, WiFi, and beer, wine, and soft drinks during meals and happy hour, as well as signature cocktails during the evening Sip and Sail events.
Gratuities and port fees are not included. Recommended gratuities are $50 per person for the cruise manager and $50-100 per person for the rest of the crew (combined.) It is also recommended that you tip tour guides 2€ and coach drivers 1€ for each excursion.
To get a quote, please contact AmaWaterways.
Request more information about any of AmaWaterways ships or itineraries.
What to Wear on a River Cruise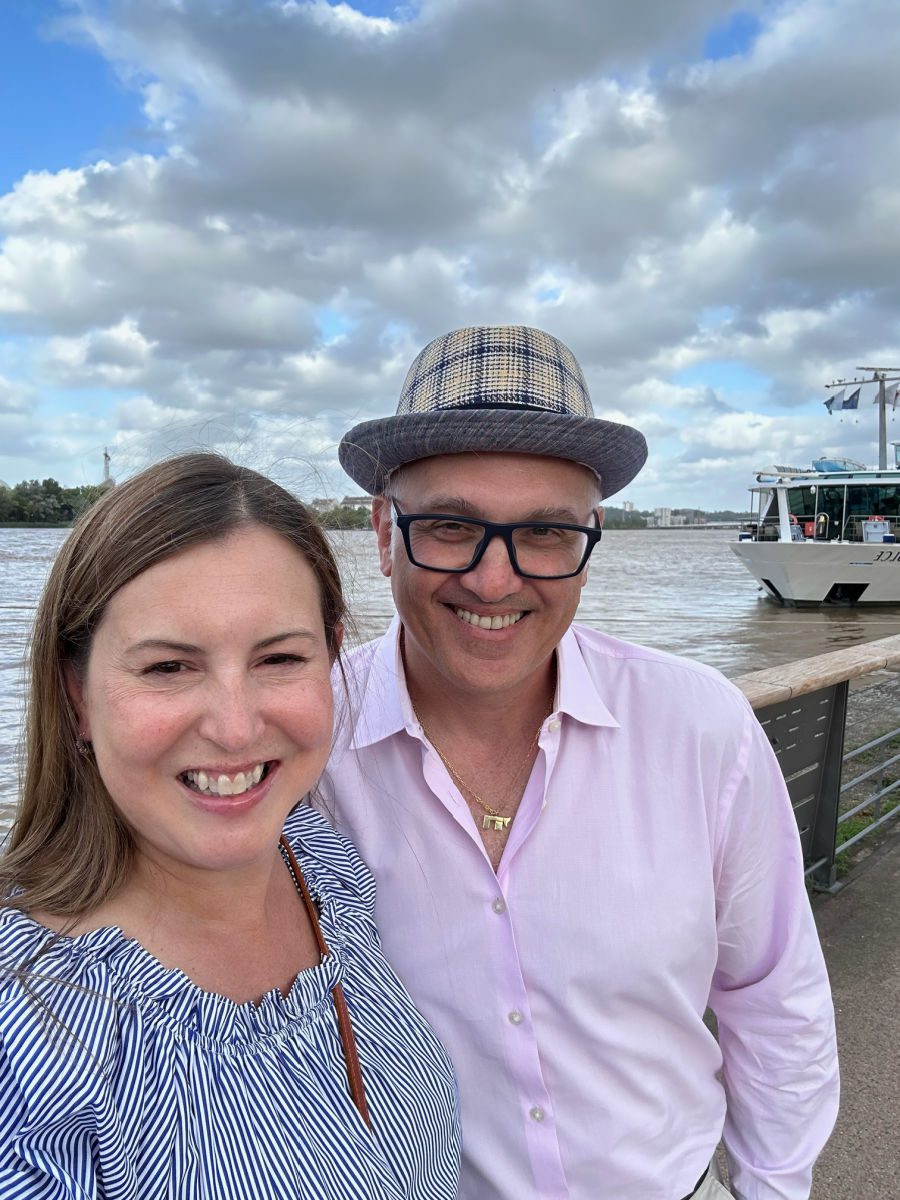 If you are wondering what to wear on a river cruise, I have put together a complete printable packing list for river cruises. However, there are a few things that I would recommend:
Comfortable, athletic clothing for bike tours
Sundresses or short-sleeve button up or golf shirts and shorts for wine tastings and walking tours
Comfortable walking shoes that are suitable for cobblestones
Fresh dresses, skirts, pants, and button-up or golf shirts for dinner
One dressier outfit for the Captain's dinner
A light jacket for evenings on the deck
A sunhat or ball cap to protect from the sun during the day
A bathing suit for the hot tub or sauna
Interested in Cruising?