So you are getting ready to leave on a European river cruise? Congratulations! You are in for a vacation of your dreams. Whether you are cruising with AmaWaterways, taking a Viking river cruise, or traveling with one of the many other river cruise companies, your river cruise packing checklist is going to be about the same. After my recent Bordeaux river cruise with AmaWaterways, I put together this printable packing list for a river cruise to make the last minute preparation before you walk out the door just a little easier.
I'm going to tell you what to wear on a European river cruise, all those little extras to bring along, what to leave at home and how to to pack for your river cruise. To top it off, you can download the printable packing list PDF to make sure you don't forget a thing!
What to Expect on a River Cruise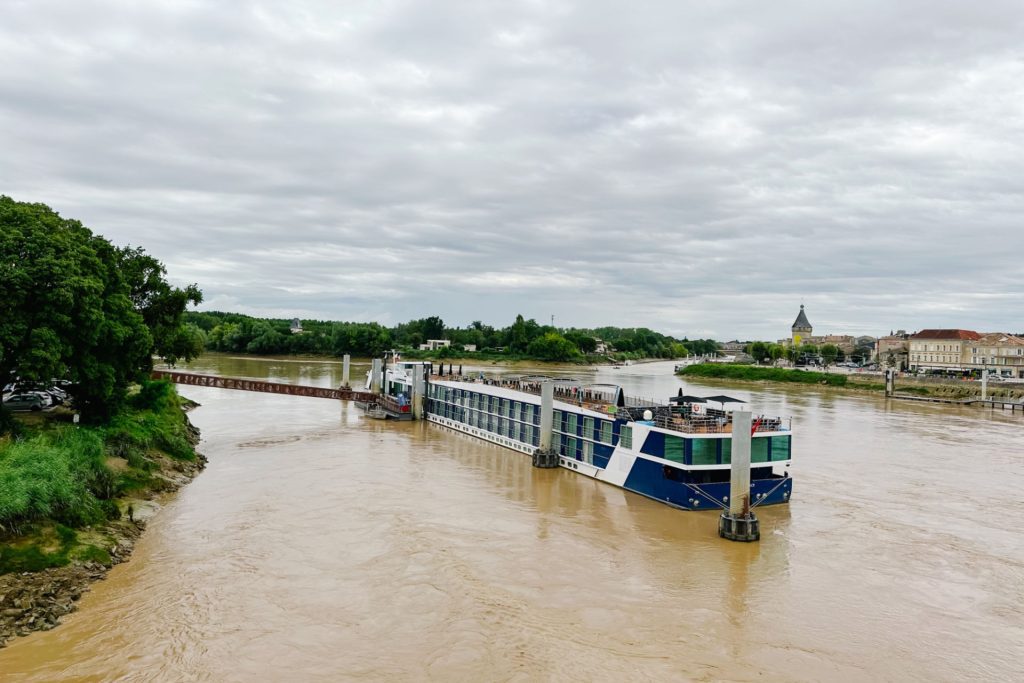 Note: My river cruise was hosted by AmaWaterways, all opinions are my own. If you click my referral link and book a cruise, I may receive a small commission. I thank you for your support.
If you are curious what to expect onboard a river cruise, be sure to read my full article about our river cruise with AmaWaterways. In this post I walk you through the cabin, onboard facilities, food, and shore excursions. When it comes to packing, I learned that a river cruise is much different from a barge cruise. On a barge cruise the attire is more casual and space is at a premium, so packing light is essential.
On the contrary, a river cruise is a bit more sophisticated in dress and there is more storage in the stateroom, along with room to store your luggage under the bed, which allows you to put more on your river cruise packing list.
Request more information about any of AmaWaterways ships or itineraries.
What to Wear on a European River Cruise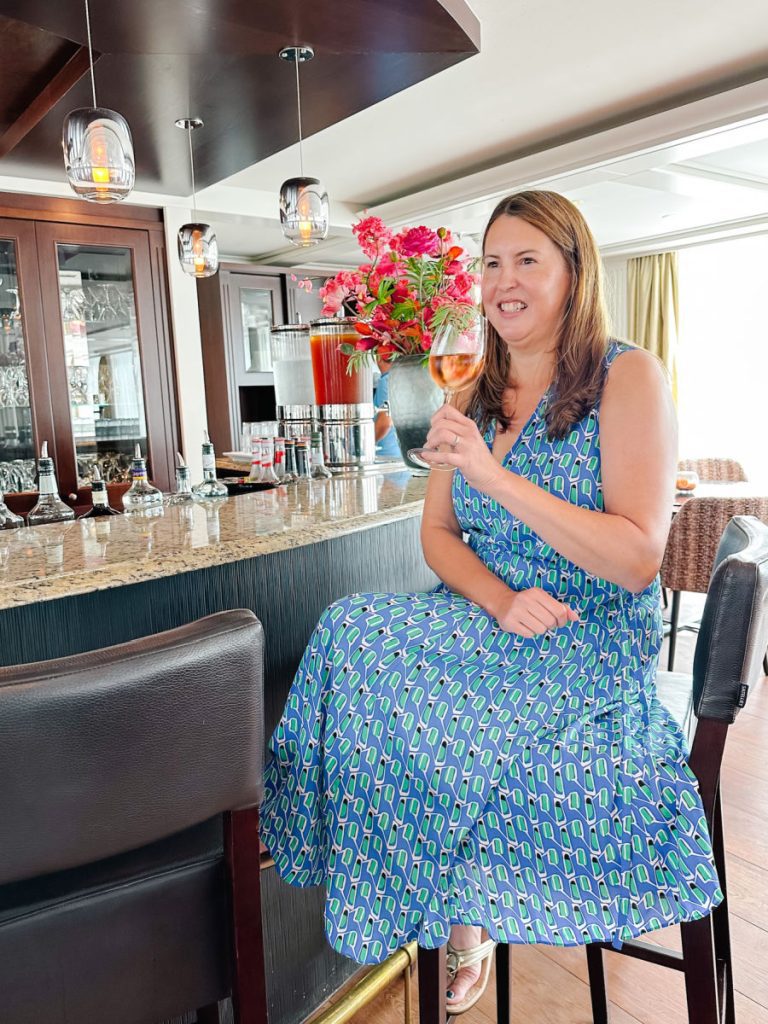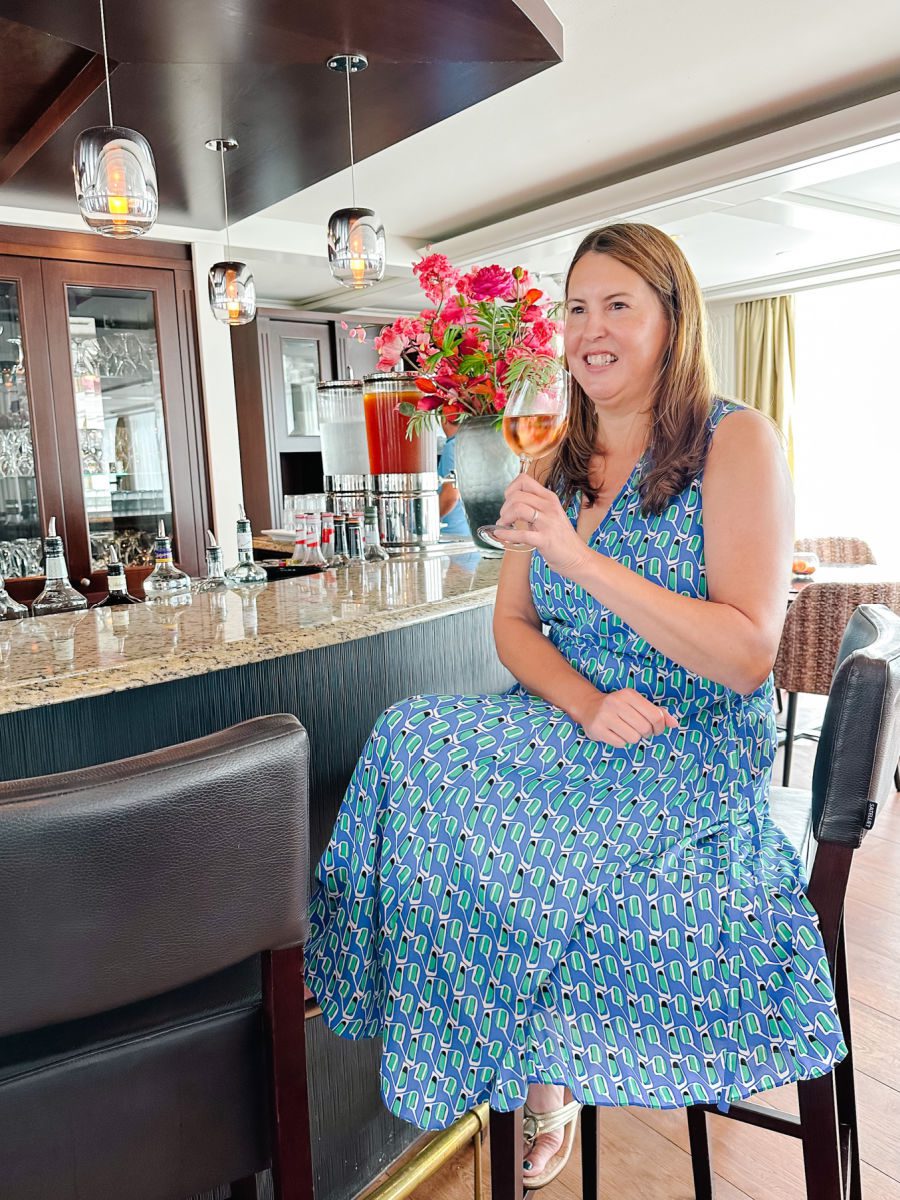 Note: This post contains affiliate links. If you click a link and make a purchase, I may receive a small commission at no cost to you. All opinions are my own based on my personal experience with these products.
My river cruise with AmaWaterways was during late July and early August. We got very lucky with pleasant weather. It was warm but not overly hot and the evenings were quite mild, not hot and sticky. But if you are taking a river cruise in the summer, especially in Southern Europe, you need to keep in mind that Europe has been experiencing quite strong heat waves in the summer due to climate change.
Luckily, the river cruise staterooms are equipped with personally-controlled air conditioning units and the ship is kept at a very comfortable temperature, as are the tour busses. Your guides will also work hard to keep people in the shade or inside, where the heat is not oppressive. Even still, you will want to be prepared with summery clothing.
If your river cruise is in Northern Europe, you may experience chillier temperatures or rain, especially in the spring and early summer. While no weather app is precise, especially when you are packing a week out, I'd recommend checking Accuweather or another app to see what weather is predicted during your cruise and packing to accommodate at least 5 degree range above and below the predictions.
On our AmaWaterways cruise, most passengers tended to dress nicely, with a European sophistication. This translated into sundresses for the ladies for many excursions and a nice golf shirt or button-up linen shirt with a nice pair of shorts for the guys. Some women opted for athletic dresses or skirts instead. There is no particular dress code, so you should dress as you feel comfortable, but if you are looking to fit in, that is what you can expect.
I would suggest linen dresses, jumpsuits, or skirts, lightweight cotton or silk fabrics, cute skorts/skirts with light blouses, and travel athleisure from companies like Prana, Athleta, or Lululemon. Some of my favorite brands for fashionable sundresses and evening outfits include Aventura, Boden, Marine Layer, Amour Vert, Sable to Sailor, and Lily Pulitzer.
---
I've put together some ideas that you can shop for your river cruise packing list below:

---
For more active outings, such as the bike tours, people typically wore bike shorts or athletic shorts and athletic shirts or cotton t-shirts. On our AmaWaterways river cruise, most people showered and changed before dinner. Sometimes this just meant a clean outfit (that they might wear the next day), but often it meant a nice dress for women and a pair of trousers and a linen shirt or other button up shirt for men.
There were a few days were I kept on the same sundress throughout the day. The last night of the cruise is also usually a Captain's Dinner. For that evening, they suggest that everyone dress as if they were going to a fine dining restaurant. On our cruise, people also got dressed a little nicer when they had dinner at the special Chef's Tasting restaurant.
While I have not yet taken a European river cruise in the winter, a Christmas markets cruise is on my travel wishlist and I know it is a very popular option. If you are traveling in the winter, you need to remember that Europe in December can be damp and cold. You need to be prepared with heavier clothing and extra layers. In addition, be sure to bring along a warm jacket, waterproof layer, hat, scarf, and gloves. I'd recommend insulated shoes and wool socks as well.
Shoulder seasons will also require creative layering, with a mix of smart jackets or sweaters. Just keep in mind that I've been in Europe during the last two Octobers and it was unseasonably warm still in both Italy and Portugal.
European River Cruise Packing Checklist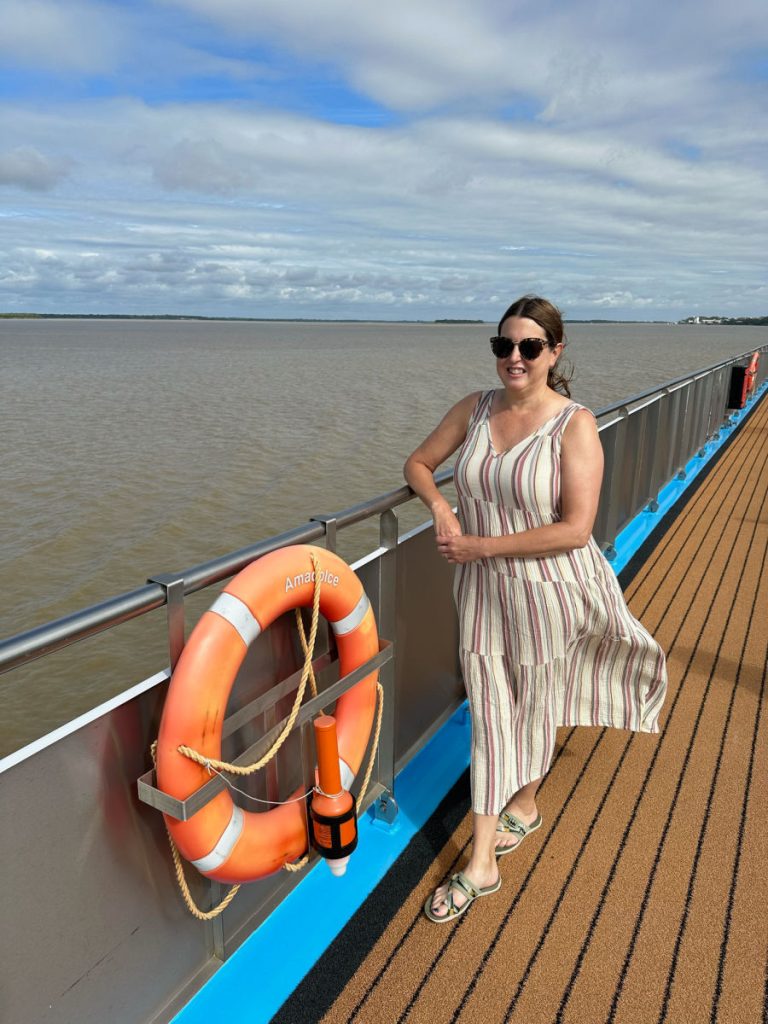 Clothing
I'm going to preface this by saying that I prefer having a new outfit each day and only rewear things occasionally. If you travel with a capsule wardrobe or don't mind reusing certain items, you can certainly pack even lighter. This is also based on a one-week river cruise, although some itineraries are longer.
8 pairs of underwear
3-4 bras (if needed)
4-8 pairs of socks (depending on your outfits and if you wash them in the sink.) My favorite no show socks are from Ondo because they actually stay put.
Comfortable closed-toe shoes and/or athletic shoes that work well when walking on cobblestones. I love my white fashion sneakers from KURU Footwear, which have options for all sorts of heel and foot pain issues). You will want sneakers if you are doing some of the many bike tours offered on river cruises.
Walking sandals (summer) such as Merrell, KURU, Sorel, or others
Fashion sandals for evening (women, optional)
Fashion sneakers or loafers for evening (men, optional)
Swimsuit (for the hot tub, pool, or sauna)
Pajamas
Athletic clothing including bike shorts and sweat-wicking t-shirt for bike tours
Light sweater or sweatshirt for cooler evenings (AmaWaterways provided beautiful shawls for all the women on our river cruise)
1 nicer outfit for the Captain's Dinner — typically a button-up shirt (long or short-sleeved) for men with slacks and a dress or skirt/pants and nice top for women (no need for a sports jacket or tie but you can bring one if you like)
Sunhat and/or ball cap (AmaWaterways provided each cabin with a ball cap on our river cruise). I'd suggest bringing a packable sunhat (summer)
Lightweight raincoat or poncho for rainy days
Daywear for cruise excursions: (summer)

3 pairs of shorts
4-8 t-shirts or golf shirts
1 pair of paints
OR, 5-6 sundresses

Daywear for cruise excursions: (winter)

3 pairs of trousers / hiking pants / jeans
4-6 long sleeve shirts (t-shirts, button up, flannel shirts)
1 sweater
1 sweatshirt

3-4 dinner outfits (fresh shirt or fresh dress / dinner outfit)
Travel outfit
Winter gear for Christmas market or cold-weather river cruises:

Down jacket
knit hat
warm gloves
scarf
handwarmers
Toiletries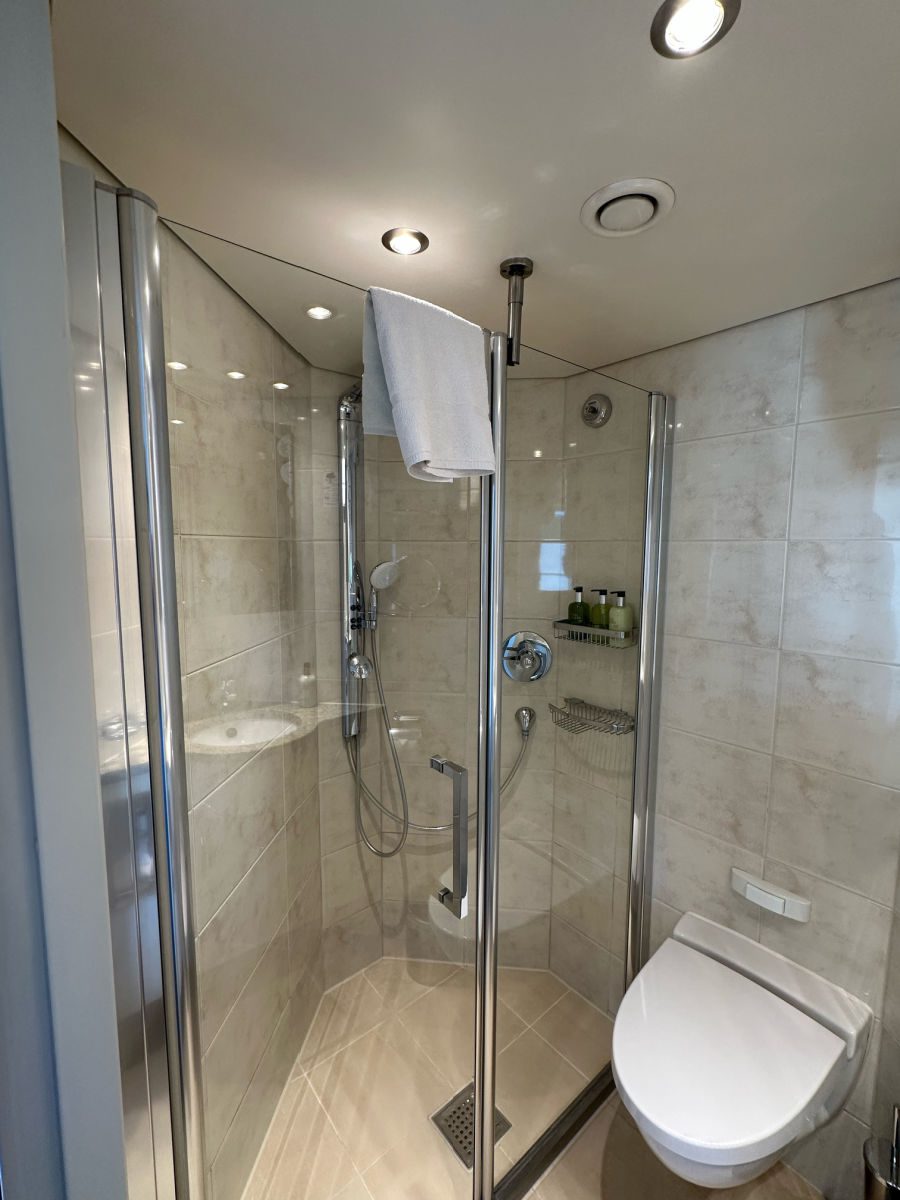 On our river cruise on the AmaDolce by AmaWaterways, they supplied full-size, refillable bottles of shampoo, conditioner, body wash, and body lotion. This made it much easier to pack light. However, there are still a few items you don't want to forget:
Prescription medicine – be sure to bring along a supply for a few days longer than the length of your trip and carry it in your personal item so that it doesn't get lost
Over-the-counter medicine – there is not a nurse or doctor on board the boat and depending on your itinerary, some of your ports may be small towns that don't have an easily accessible pharmacy so I would encourage you to bring any over the counter medicines you might need including pain killers, cold medicine, antacids, bandages, etc.
Sunscreen – if you are taking a river cruise in the summer, you will need to bring a good sunscreen. I love the LaRoche Posay Anthelios fluid sunscreen
Toothbrush and toothpaste
Hairbrush
Hairties for those with long hair
Lip balm and hand creme (especially for winter river cruises)
Deodorant
Shaving supplies
Nail kit and tweezers
Cotton swaps
Feminine hygiene (if needed)
Contact lens and solution (if needed)
Eye drops
Make up (if desired)
Hair styling products
Bug spray – personally we did not have any issues with bugs during our Bordeaux river cruise, but I brought some along just in case
Documents and Cabin Extras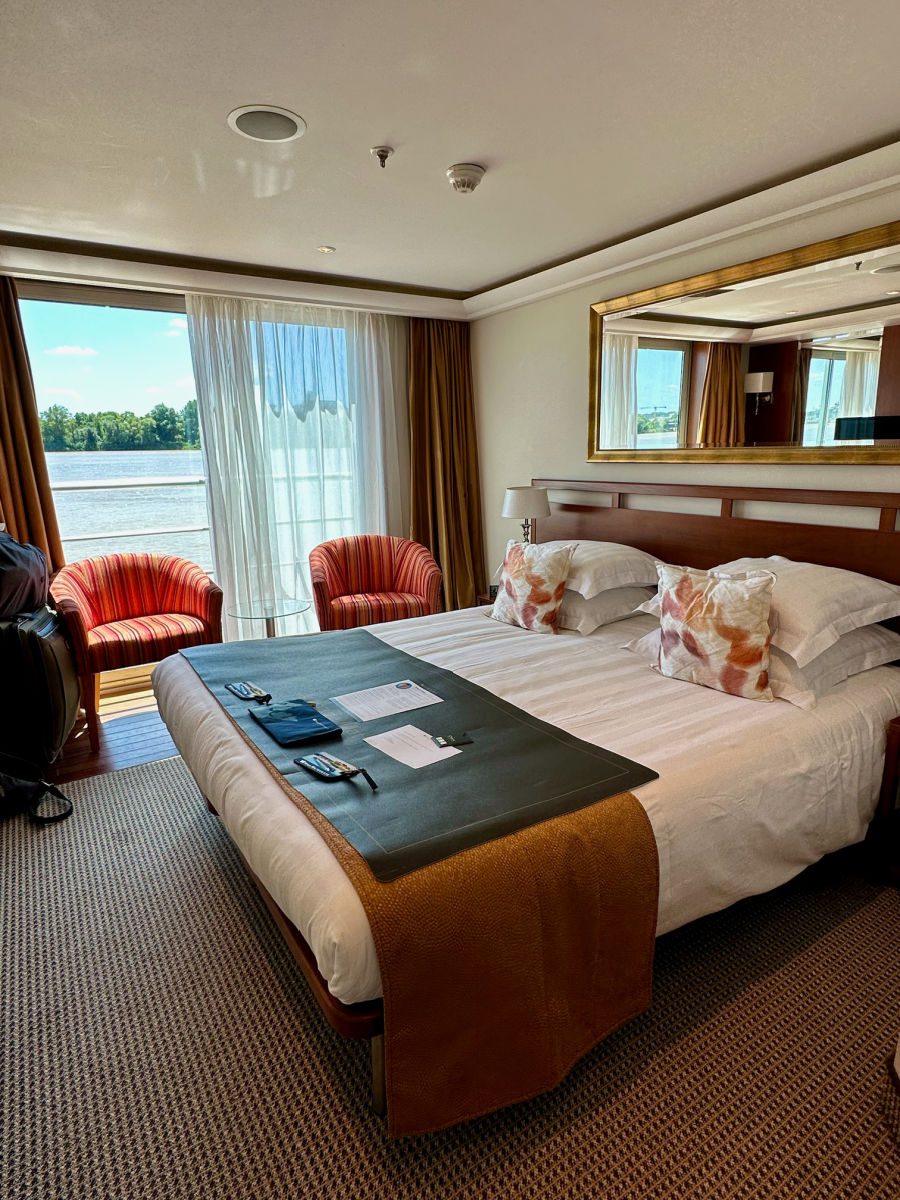 Some of these suggestions may seem like no brainers, but others are more specific to a river cruise vacation so please look through this section closely.
Valid passport. Make sure that your passport is valid for at least six months from your date arrival as that is the typical standard within most of Europe
Any required health forms
Airport or train transfer confirmation with meeting place and cruise contact information
Copies of all of your airline confirmations and train tickets (also download applicable mobile applications and save boarding passes or tickets to your mobile wallet is possible)
Download the river cruise company mobile application and set up an account prior to departure (Note: AmaWaterways allows you to select your cruise excursions through the mobile application up to one month in advance of your cruise)
Credit cards that don't charge international transaction fees. It helps to have a card that has a chip and supports tap to pay. This will be used for any shopping you do in town and for your final bill onboard. If asked, always select to do the transaction in local currency when making a credit card transaction
Small amount of local currency and your ATM card. You can order this advance from your local bank or currency exchange or take it out at an ATM when you arrive in the country. Avoid using the currency exchanges in the airport as you will not get the best exchange rate
Try to get small change in the local currency, with a selection of 2€ and 1€ euro coins to tip tour guides and drivers
Downy Wrinkle Releaser travel size — trust me! Due to fire hazards, there are not any irons or ironing boards in the cabins. This can lead to wrinkled clothing, especially if you use compression bags. The cruise line will offer a laundry service, but is that really something you want to pay for? It is best to use some wrinkle releaser and let the clothing hang for a bit
Travel clothesline – in a cruise cabin of any sort, space is a premium. There are not many towel racks or other areas to hang clothing to dry if you have a wet swimsuit, want to wash something in the sink, or have towels that need to dry. It helps to bring along a travel clothesline that can stick to anything
Febreze travel size — on a boat, the bedding and clothing can get a bit damp and at the end of the week it can start to feel a bit musty. It helps to spray some Febreze to refresh the products. It can also be useful if you want to rewear clothing throughout the week
A belt bag, fanny pack, or other secure day pack for city excursions. For longer excursions, it helps to have a bag large enough to hold a refillable water bottle, your wallet, listening device, sunscreen, and other necessities. Personally, I love the options from Travelon or PacSafe for travel, as both brands offer features such as locking zippers, reinforced straps, and an RFID-safe pocket. When you are on a walking tour listening to your tour guide, it can be a prime target for pickpockets so it is always better to be safe than sorry
Phone case with strap – I love my Bandolier case because it makes it so easy to keep my phone handy to take pictures, but there are plenty of other inexpensive cases and lanyards too
Refillable water bottle – AmaWaterways replaced our bottled water in our room each day, but to minimize waste, I would recommend bringing along a refillable water bottle. These are easy to refill in the dining room, lounge, or gym
SinkSuds travel size laundry detergent. If you want to pack light, it helps to be able to wash a few things out during the course of the cruise and SinkSuds lets you easily wash clothing in your cabin sink
Ear plugs – see also my note below about using noise-cancelling Sleep Buds instead but at least bring along a set of foam ear plugs
Laundry bag – the only laundry bag provided by the cruise line is the small one for using the paid laundry service. I'd recommend bringing along your own travel laundry bag to help keep your dirty things separate from your clean clothes and keep the small space of the cabin organized
Hat clip – I recently purchased the Klipsta hat clip and it made so much easier to travel with my sunhat without having to fold or crush it in my bag. I also used it when we went out on cruise excursions, clipping my hat onto my daybag just in case I needed it (which in the summer I often did!)
Electronics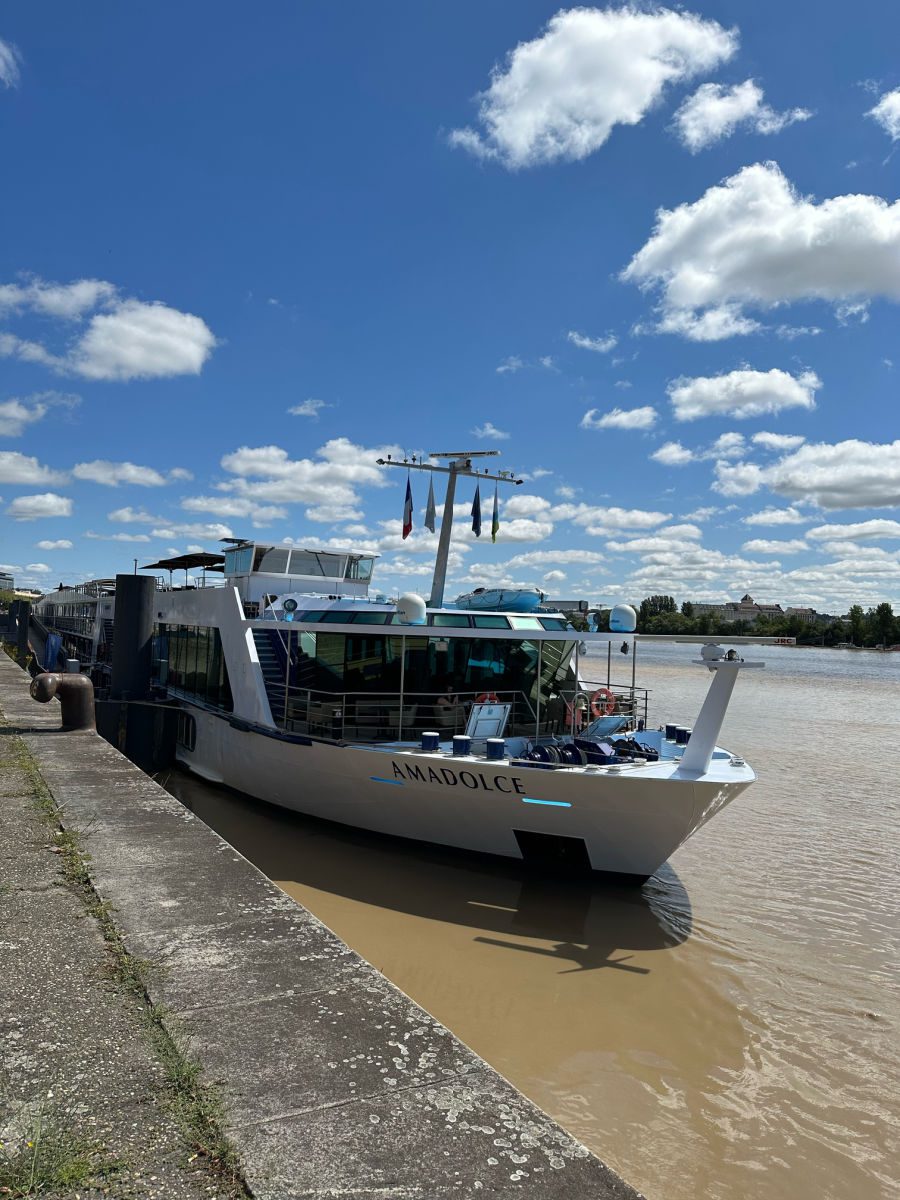 A European river cruise is meant for relaxing and exploring so don't worry about taking along too many electronics or too much camera gear, but here are a few essentials to bring along.
Smart phone and charging cords – if you have a newer model with a good camera, that may be all you need!
International travel adaptor. The EU uses two-pin plugs and the UK uses three-pin plugs so you will either need to research the electrical requirements based on where you are going or travel with a universal travel adapter (especially one that has USB and USB-C ports for device charging)
Travel extension cord – since the outlets in river cruise cabins are often below the nightstand, making it a bit tricky to get to if you need to swap out cords. I'd suggest getting a travel extension cord with travel adapters that offer multiple plugs and ports.
Battery pack – taking photos and videos can drain your battery fast, so if you are taking a longer shore excursion, it is smart to bring along a back up battery charger
Sleep Buds – these have been a lifesaver to me on my travels. Even though the river cruise cabins can be well-insulated, you still might hear hallway noise, announcements, or toilets flushing in adjoining cabins. If you are a light sleeper, or travel with a snorer, I highly recommend Sleep Buds or a white noise machine
If you do travel with a camera, be sure to bring along your charger, extra batteries, a battery charger, and extra SD memory cards.
Tablet or Kindle/eReader
Things to Leave at Home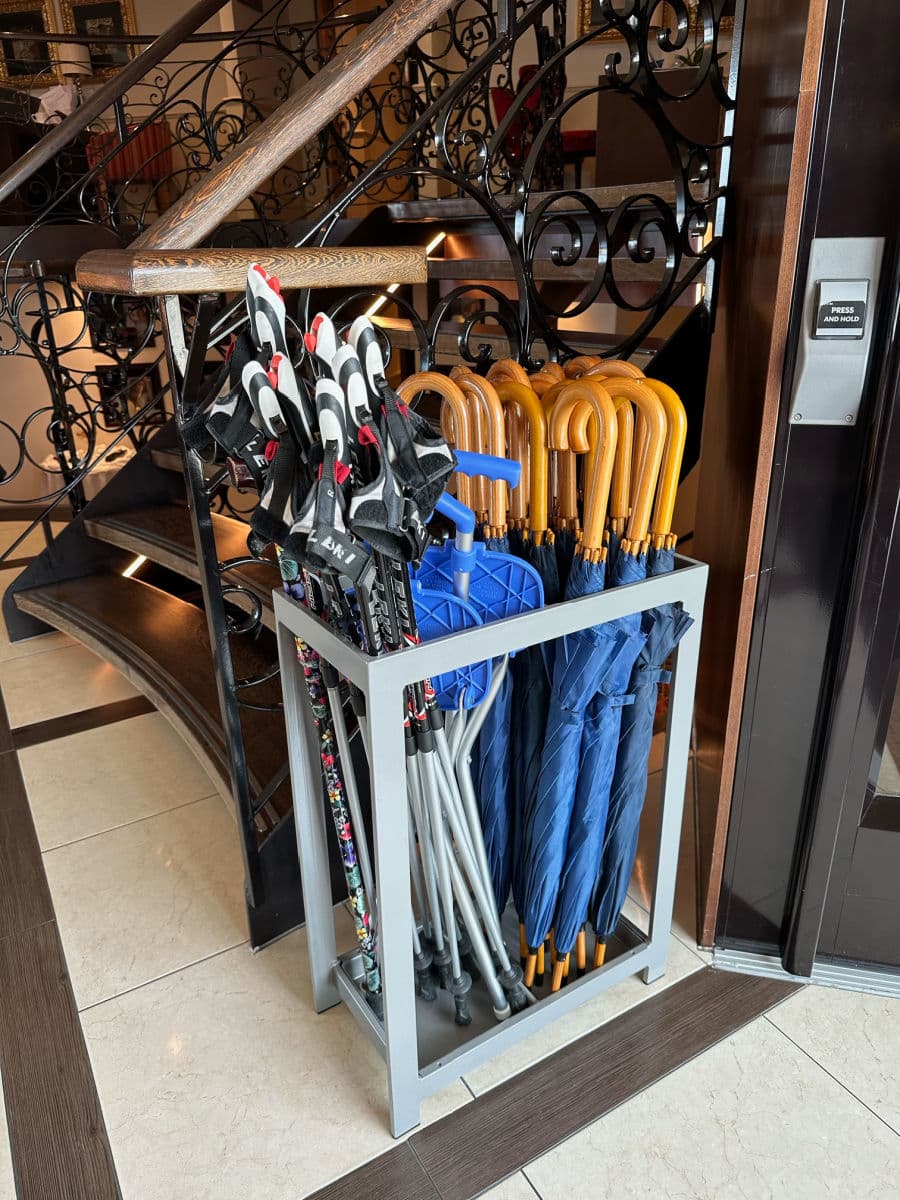 Heating implements are a fire hazard and not allowed on board so there is no need to bring your:
Curling iron
Straightening iron
Travel steamer
Travel iron
Other things you will not need include:
Formalwear – the Captain's Dinner on the last night is fancy but not formal. There is no need for cocktail dresses, gowns, ties, suits, or even sports coats.
Umbrellas – I can't promise it won't rain, because during the course of a week there is always a strong possibility that will. However, the cruise ship will provide large umbrellas for your use on board (at least AmaWaterways sure did!)
Alcohol – bringing your own isn't allowed and on AmaWaterways, all beer and wine is included with meals and during the cocktail hour (along with the signature cocktail of the day!)
What Type of Luggage Should you Bring on a River Cruise?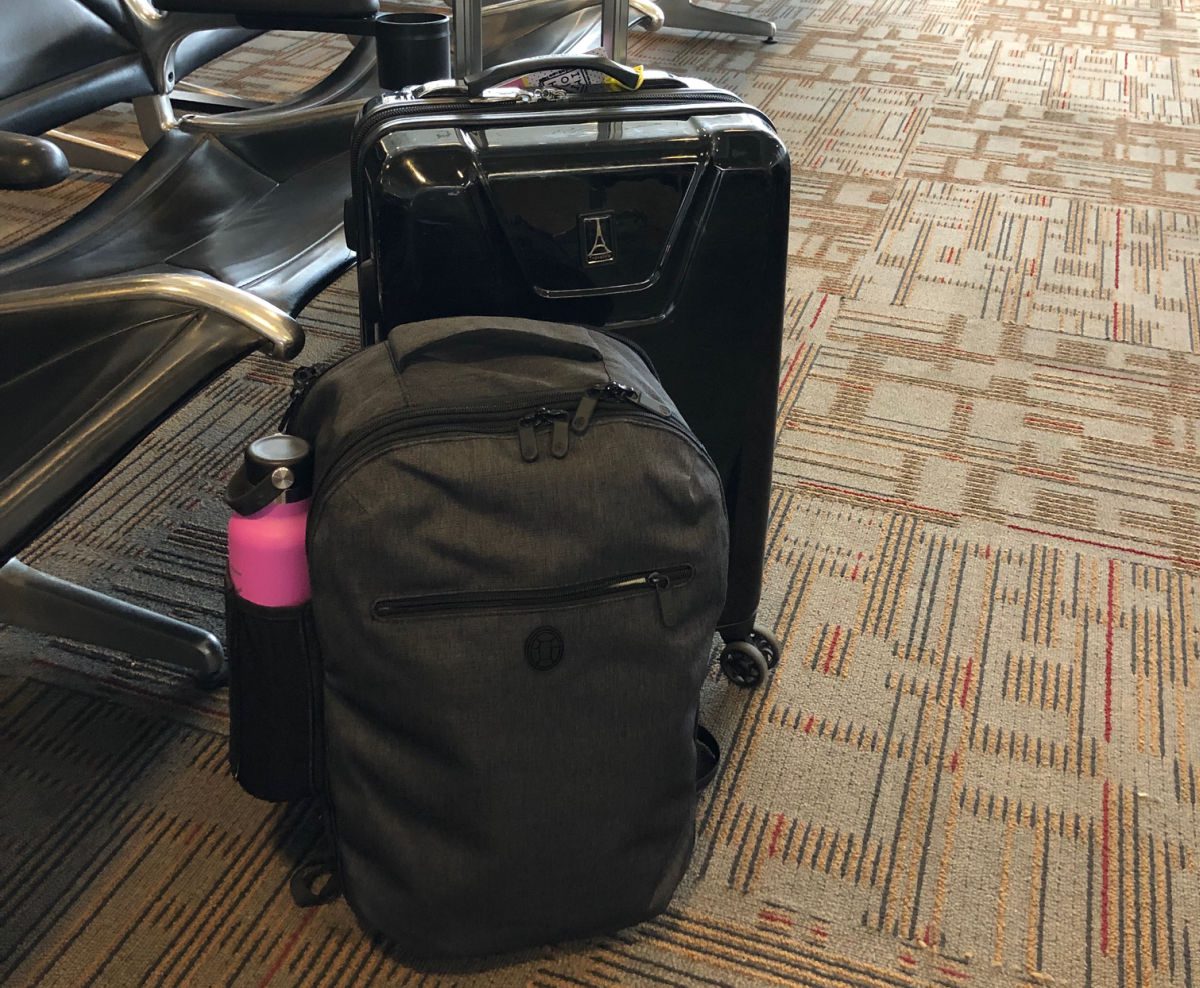 It is always helpful to pack light for a cruise, as there is limited storage. However, river cruise ships, especially AmaWaterways has done a great job in maximizing storage. But that doesn't mean you should bring the largest case available.
I'd suggest bringing a carry-on size hardcase suitcase with four-wheels if possible as this will be easiest for pulling or pushing through the airport, train station, or city streets if you are planning and pre- or post-cruise excursions. I learned the hard way how difficult it is to get a large suitcase up to the top floor of a two-story train! I love my TravelPro hard-case carry on!
If you do bring a full size, checked baggage size suitcase, I'd recommend using a soft-sided case. The full size, hard-sided cases can be a bit taller and therefore harder to fit under the bed once you have unpacked. My checked bag of choice is the TravelPro expandable spinner.
You may be tempted to bring a duffel bag, but I'd suggest something with wheels that is easy to walk with. I also recommend packing cubes, as they make it much easier to unpack. Our cabin on the AmaDolce by AmaWaterways offered more shelves than drawers so it was helpful to leave some items (like underwear, socks, etc.) in their respective packing cubes to help stay organized. I love the packing cubes from Monos Travel and Eagle Creek.
Printable Packing List: River Cruise (Downloadable PDF Checklist)
Interested in Cruising?