Girls trip, girlfriend getaway, momcation…whatever you call it, we all need it. As we get older and busier, it is easy to get caught up in the day-to-day of our lives and not make time for our important female friendships. When an invitation from Royal Caribbean popped up in my inbox recently, I jumped at the opportunity to plan a girls trip cruise.
I've planned many girls trips from wine tasting to spas to hiking and adventure, yet for some reason a girls cruise never really made it onto my radar. But the more I thought about it, the more the idea of hitting the high seas on a girls getaway cruise seemed like a great choice as a way to spend quality time with friends.
Why Plan a Girls Trip Cruise?
There are actually many reasons that a girls trip Caribbean cruise can make a perfect getaway:
Budget: a three- or four-night cruise can be surprisingly affordable, especially when it leaves from a port that is easy to get to by driving or a cheap flight
All-inclusive: because a cruise is all-inclusive with food and so much entertainment, it makes it less stressful because you don't need to worry about splitting the check when someone is ordering the lobster versus someone else getting the side salad. Everyone can know what it is going to cost going in (especially if you get a drink package) and just relax and have a good time
Something for everyone: just because you are friends, doesn't mean everyone wants to dance until dawn or watch a show, but there is so much to do on a cruise that everyone should find something to make them happy
Less stress: instead of appointing a group planner and anointing them with the responsibility of picking activities that make everyone happy (and impossible task for sure), a cruise takes the pressure of the planner. The activities are all right there, let the girls pick for themselves!
Tips for Planning a Girls Getaway Cruise
1. Picking a Cruise Ship
If you haven't cruised before, you may not realize how much the cruise ship can impact the experience. Especially on those shorter three- or four-night itineraries. Many cruise lines put their older ships on the shorter itineraries, and these can lack in amenities and dining options.
When I recently sailed on Royal Caribbean's Navigator of the Seas, we pulled into Nassau in the Bahamas and looked around at the other ships in port. They looked so sad and boring compared to the "Royal Elevated" Navigator of the Seas, which had a new pool deck and more activities then we could fit into three nights.
Look closely at the amenities, activities, and dining options for the cruise ships that you are considering, as one size does not fit all. Poll the group and see what they value most…do they want to do specialty dining or is the main dining room just fine…do they want flexible dining times or are they ok dining on a schedule…will they ride the water slides or is a pool ok…does everyone want to hit the spa or prefer fun in the sun?
2. Picking an Itinerary
While picking the right ship is critical, the itinerary and ports of call matter too! Think about how much time you want to have at sea just on the boat (keeping in mind that the pools can get pretty crowded on at sea days) versus how much you want to see and do.
Does your crowd want to schedule excursions at every port of call or are they just looking to chill on a beach for the day? If you don't really care about seeing the island or port of call, days in port can be great for enjoying the ship without the crowds.
If your group prioritizes relaxation, you may also think about choosing an itinerary that includes a stop at private island where you can sit by the beach or pool all day if you want.
Also pay attention to when the ship arrives and leaves port. If you need to be back on the boat by 3pm, that doesn't leave you much time to enjoy your port of call.
3. Think About Getting a Drink Package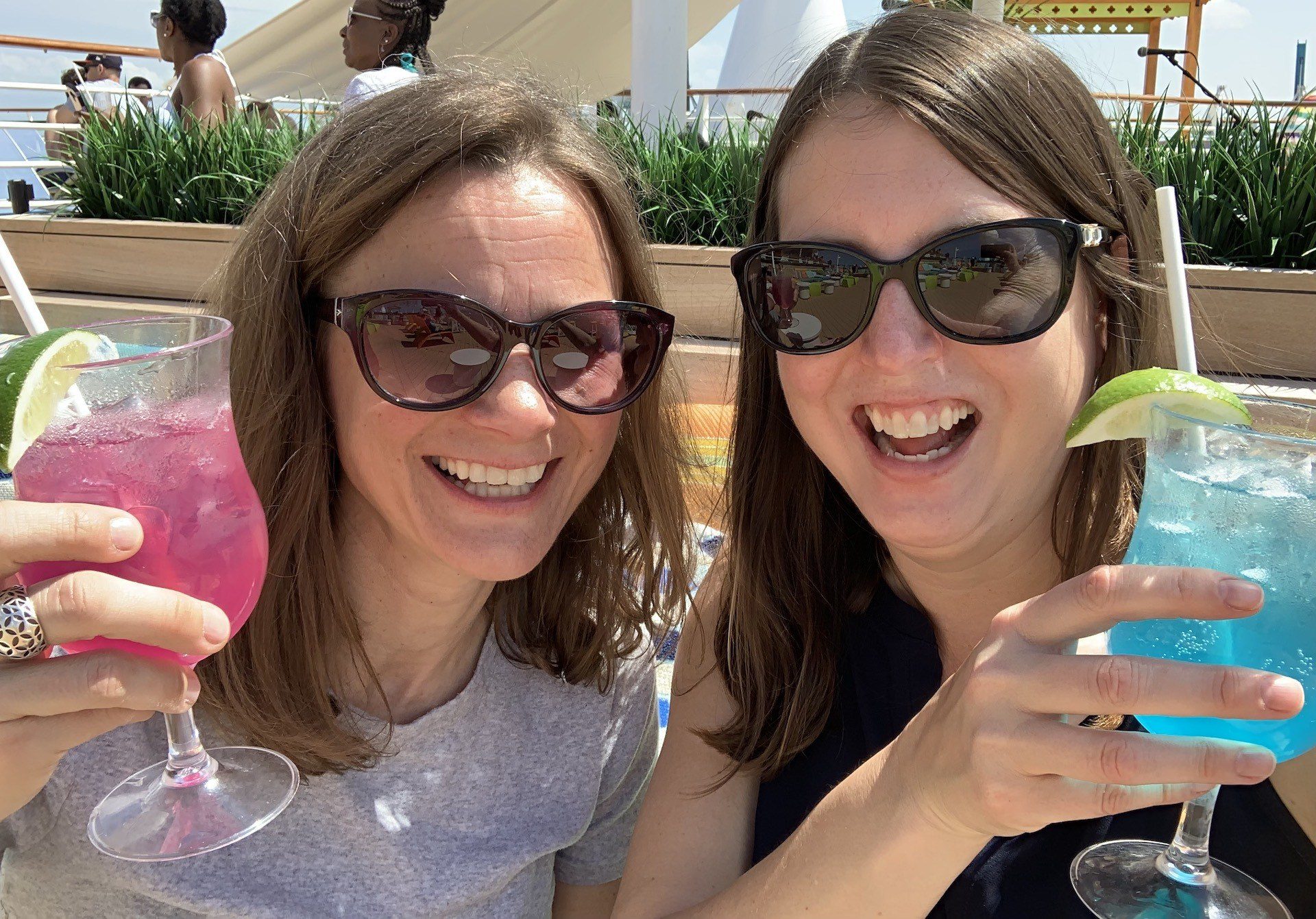 Drinks on board tend to run $13-15 a pop. If you are hanging out on the ship all day, it can be easy to have enough drinks to make investing in a drink package worth it. However, if you are going to be off-ship enjoying excursions, or you don't drink much, the drink package may not be worth the investment.
Keep in mind that if you are visiting a private island on your cruise itinerary, your drink package may extend onto the island as well.
4. Plan Specialty Dining in Advance
Many cruise lines have recognized that people want more food options, not necessarily more food. Most cruises now offer a variety of specialty dining options. You can either purchase a specialty dining plan, which includes a set number of meals at these restaurants, or you can pay a la carte.
When planning a girls cruise, if you want to keep the budget low, then skip specialty dining. However, if you are foodies, you will likely opt for the specialty dining package. With a big group you can even split up, just make sure that you have enough people doing each so that someone isn't left out in the cold.
Even if you don't opt for the specialty dining package, consider splurging on one specialty dining experience, maybe on your last night. Just keep in mind that you need to make reservations at specialty dining restaurants in advance. If you can, make them before you board, otherwise take care of reservations and any last minute dining or drink package options as soon as you arrive.
5. Coordinate Outfits
When we took our girls cruise to the Caribbean, we saw so many groups of girlfriends, bachelor and bachelorette parties, and big family groups. So many of them were dressed in coordinating outfits (all white, all black, matching t-shirts, etc.) that we felt like we missed the memo.
You don't need to go all out cheesy with sashes and custom shirts, but it can make a great group photo from the ship photographer if you coordinate your outfits one night. Also, keep in mind that many ships offer theme nights. So if you want, go crazy with your best Material Girl outfit for 80s night or grab your boots for Western night.
6. Room Situation
Cruise cabins are notoriously small. Having an outside cabin with a balcony can give you a little more space and the light from the windows makes the room seem larger. Most cruise ships have done a good job make sure there is enough storage for 2-4 people in a cabin, but the space is still a little tight.
That doesn't mean you can't share. While I wouldn't recommend putting more than two adults in the room, most ships will convert the bed into two twins. You may want to bring ear plugs if you aren't used to sharing a room.
If you get motion sick, don't book a cabin at the very back or front of the ship. Also keep in mind that high decks will feel the motion more. I like to stick to the midship cabins on a middle deck so that I'm not too exhausted running up the stairs to the pool or down to the dining options (as the elevators can get crowded.)
7. Travel Together
When you are planning a girlfriend getaway, often people are traveling from different locations. If you can, try to coordinate your arrivals so you can meet up at the airport and share a transfer to the port. Even better if you get to fly together and extend the fun of your trip through the drudgery of travel.
8. Pick a Wing-woman
Shorter cruise itineraries seem to attract a lot of groups that like to party. If you are going to stay out late hitting the bars or taking moonlight strolls on the deck, use the same common sense you would on land. Pick a wing woman and stick together, check in with each other, or use the on-board messaging to stay in touch to make sure everyone stays safe. Keep an eye on those drinks and don't leave them sitting around in the open.
Royal Caribbean Navigator of the Seas & Perfect Day at CocoCay
I was invited on a cruise as a guest of Royal Caribbean on the Navigator of the Seas so that I could review their new private island, Perfect Day at CocoCay. It was a three-night cruise leaving from Miami, with ports of call at Perfect Day at CocoCay and Nassau.
We stayed in a mid-ship suite with a balcony, cabin 7370. While parts of the ship have been renovated, with a brand-new pool deck, the cabins were still a little dated in terms of decor and a little worm. However, there was plenty of storage and the bed was comfortable so we were just fine for a three-night getaway. Plus, as you may expect, we spent more time on deck and enjoying the ship than in the cabin.
We were both shocked and delighted with all the amenities and the size of the pool deck. While I don't know how you will ever get enough pools on a cruise ship, Royal Caribbean did a great job creating plenty of space on the sun deck. On our day in Nassau, we went out early to grab lounge chairs, expecting competition to be fierce, but it didn't even get crowded until we left port and even then there were chairs to be found not too far from the pool or bar.
The colorful design of the pool deck really puts you in vacation mode and the taco bar just off the pool was a perfect spot to grab lunch without heading into the busy buffet. As much as we enjoyed the ship's amenities and specialty dining, the real highlight was our day in port at Perfect Day at CocoCay.
Royal Caribbean hit all the notes with the renovation of its private island. Half chills and half thrills, there is something for everyone. Sitting on the in-pool lounger or hanging out at the beach, you feel is if you are at a Caribbean resort. Best of all, the food is included and your drink package extends onto the island.
If you get bored, you can pay to visit the Thrills Waterpark, ride the zipline, or take a ride in a helium balloon for amazing views of the island. There are also other excursions you can take, but why leave when there is so much to do on the island?
Even if you aren't a "cruise person", a cruise can still make a good choice for a girls trip because it is just easy. As a busy mom running her own business, it sure is nice to take a break and not have to make any decisions. It is a luxury to be able to relax and spend time with a good friend or friends in a setting where everyone is there to have fun.