Winter blues make me dream about blue skies and palm trees! As much as I would love to hop down to a Caribbean island or sail away on a girls' trip cruise, Florida is much easier for a weekend getaway. A St. Augustine girls weekend getaway was just what the doctor ordered for this Vitamin D-deficient New Englander.
I wanted a destination with some history, a good food scene, and a great beach. After debating with my friend Keryn, we decided to give St. Augustine a try — quite a change from our girls' trip to Iceland! If you are in need of a sun-filled weekend getaway, let me show you how to plan a girls' trip to St. Augustine, including where to stay, where to eat, and fun things to do!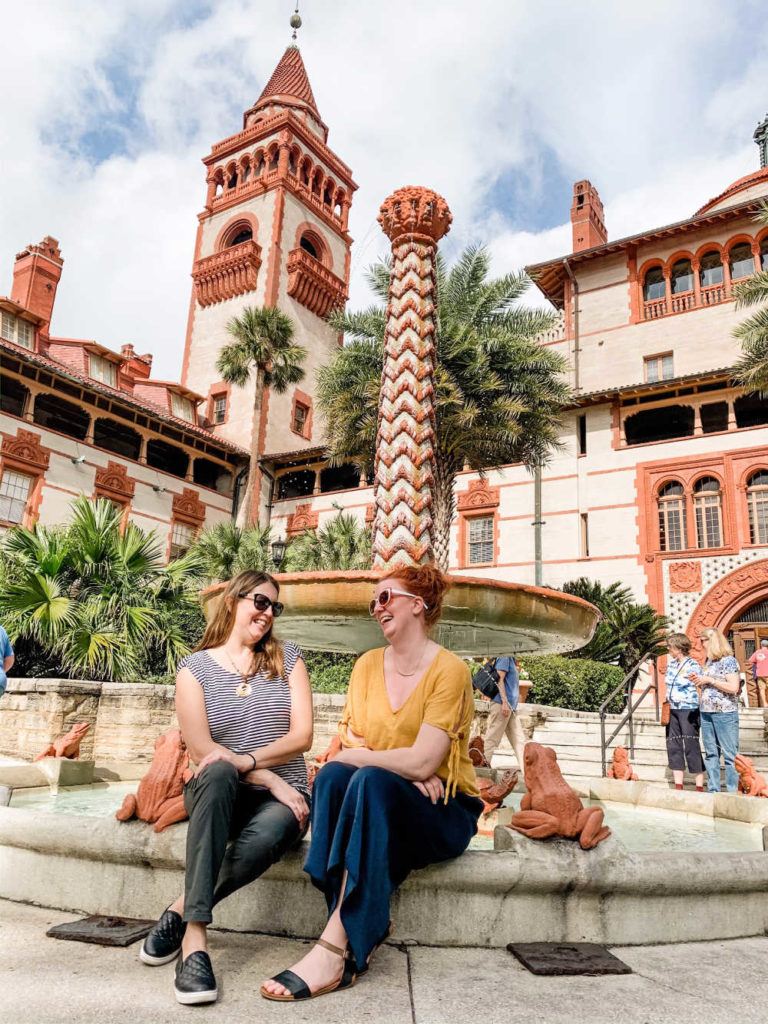 Planning a St. Augustine Girls Weekend Getaway
Note: As is common in the travel industry, my trip to St. Augustine was hosted by St Augustine, Ponte Vedra & The Beaches Visitors and Convention Bureau for editorial purposes. All opinions are my own.
In case you didn't know, St. Augustine, on Florida's northeastern "Historic Coast", is the oldest continuously-inhabited city in the United States. Founded in 1565 by Spanish explorers, this area has a long and sometimes bloody history covering everything from pirates to the Civil War to the Civil Rights movement, and it even maintains a lasting legacy from the Gilded Age.
In addition to downtown St. Augustine, Florida's Historic Coast also includes St. Augustine Beach, Ponte Vedra, Anastasia State Park Beach, Crescent Beach, Vilano Beach, and Butler Beach.
Beyond the beach, St. Augustine is ideal for a girls' trip with spas, distilleries, food tours, ghost tours, galleries and boutiques, and even sailing trips! Old downtown St. Augustine can get a little touristy and crowded, especially on the weekend, along the kitschy main shopping streets, but venture a little further and you will find plenty of charm. St. Augustine could use make a great romantic getaway.
Getting to St. Augustine
Note: This post contains affiliate links. If you click a link and make a purchase, I may receive a small commission at no cost to you.
St. Augustine likes to proclaim that you can see "international sights without international flights" because of its distinctive Spanish architecture. But don't worry, getting to St. Augustine is actually easy. Downtown St. Augustine is located about 50 minutes south of Jacksonville International Airport (JAX) and 50 minutes north of Daytona Beach airport. The Ponte Vedra beaches are even closer to Jacksonville.
If you plan on staying only in downtown Saint Augustine, you can arrange for a transfer and then stay car-free for your trip, as the restaurants and attractions downtown are quite walkable. However, if you want to split your stay between the beach and downtown, either staying in both or staying in one and visiting the other, you are going to need to rent a car.
Where to Stay in St. Augustine
If your idea of an ideal girls' trip is relaxing on a beach, chilling at the spa, and maybe fitting in a round of golf, then you should consider staying in Ponte Vedra. The ideal spot right on the beach is the Ponte Vedra Inn & Club. This AAA 5 Diamond beachfront luxury property offers an on-site spa, golf, tennis, and dining. You can also opt for the more budget-friendly Lodge & Club at Ponte Vedra Beach.
If you would rather be in the heart of everything, plan on staying in downtown St. Augustine. For a luxury stay, book a room at the Casa Monica Resort & Spa, which is an Autograph Collection property (so you can use your Marriott Bonvoy points if you have them.)
Personally I loved staying in a historic bed and breakfast at the St. Francis Inn. Dating back to 1791, this historic inn is on the Select Registry of luxury inns and each room and suite is unique. There is even a ghost story — but if that kind of thing freaks you out, avoid Lily's room.
The rooms keep with the Victorian style, but with modern comforts, some with fireplaces and/or whirlpool tubs. Keryn and I stayed across the street from the main building in the Wilson Suite, which had a separate living room and access to a balcony with a lovely porch swing and rocking chairs for enjoying our afternoon Sherry.
The hospitality at the St. Francis was exceptional. The Inn offers a hot breakfast every morning, coffee and tea throughout the day, afternoon happy hour, after-dinner homemade desserts, and even the fixings for s'mores at the courtyard fire pit in the evenings.
While everything is very walkable from the St. Francis, the Inn also offers complimentary bikes to borrow. And if you want to relax at the Inn, you can enjoy the small courtyard swimming pool or the lush four-season garden.
Find more places to stay in St. Augustine:
Things to do on a St. Augustine Girls Trip
There is certainly plenty to do in St. Augustine on a girls' trip — so much so that you'll need to pick and choose depending on what your group enjoys the most. Here are just a few ideas to get you started.
Visit a Distillery
To be honest, I had a perception of St. Augustine as a destination for retirees. I don't know why, maybe because it is such an OLD city? For whatever reason, I certainly wasn't expecting to find an active distillery and brewery scene in St. Augustine. (And by the way, St. Augustine may attract its share of retirees, but you will also find young families, couples, and groups of friends of all ages.)
I should have known better. After all, St. Augustine is named for the Patron Saint of Brews! St. Augustine has its fair share of craft beer, wine, and spirits. To get a local "taste", head to The St. Augustine Distillery for a free tour and tasting. Located in a former ice plant building, St. Augustine Distillery produces vodka, gin, rum, and bourbon, as well as beautifully merchandised cocktail mixers.
St. Augustine also has a burgeoning craft beer scene including old-recipe beers from Ancient City Brewing, Dog Rose Brewing Co., Bog Brewing Co., and Old Coast Ale's Brewery and Taproom.
Take a Food Tour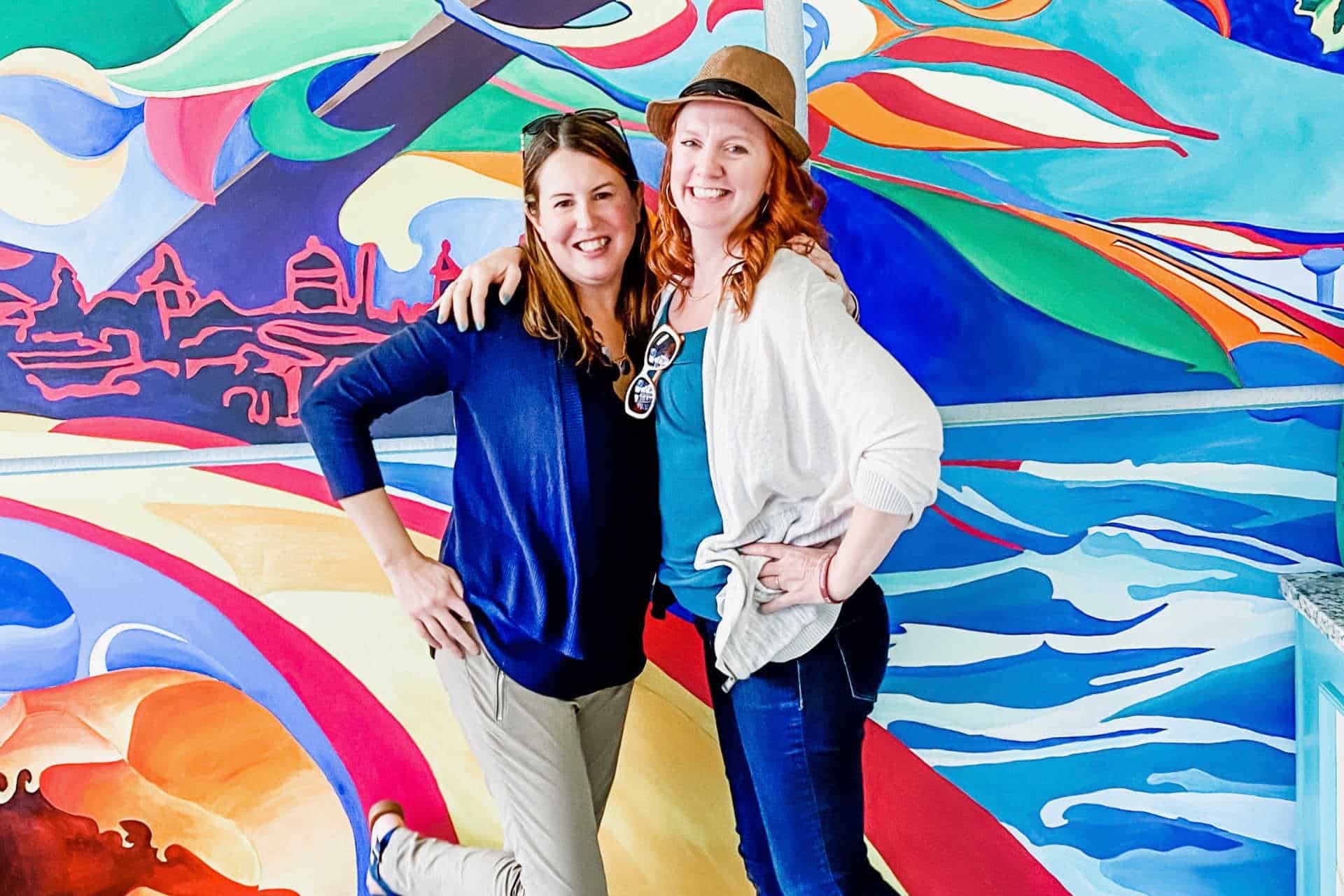 Food tours are always a great way to explore a city and The Tasting Tours in St. Augustine are no exception. The Tasting Tours offers both walking and roadster tours, from "wine and dine" to "brunch and bubbly" to a "barrels and kegs" pub crawl.
Keryn and I joined The Tasting Tours on a three-hour, "Corks and Forks" tasting tour. Never, have I ever had so much to drink on a food tour! We started off with a glass of wine and then stopped at five venues. Our tour included a small entree and wine pairing at a historic restaurant, appetizers at a cafe that used to be a swimming pool, wine and charcuterie at a local wine bar, and even flaming saganaki cheese at a local Greek favorite. We finished up with gourmet ice cream sandwiches!
Just plan ahead and go hungry, balance your wine with water, and give yourselves time to relax afterward (book a late dinner!) It may be the perfect opportunity for an afternoon nap!
Sip at the Fountain of Youth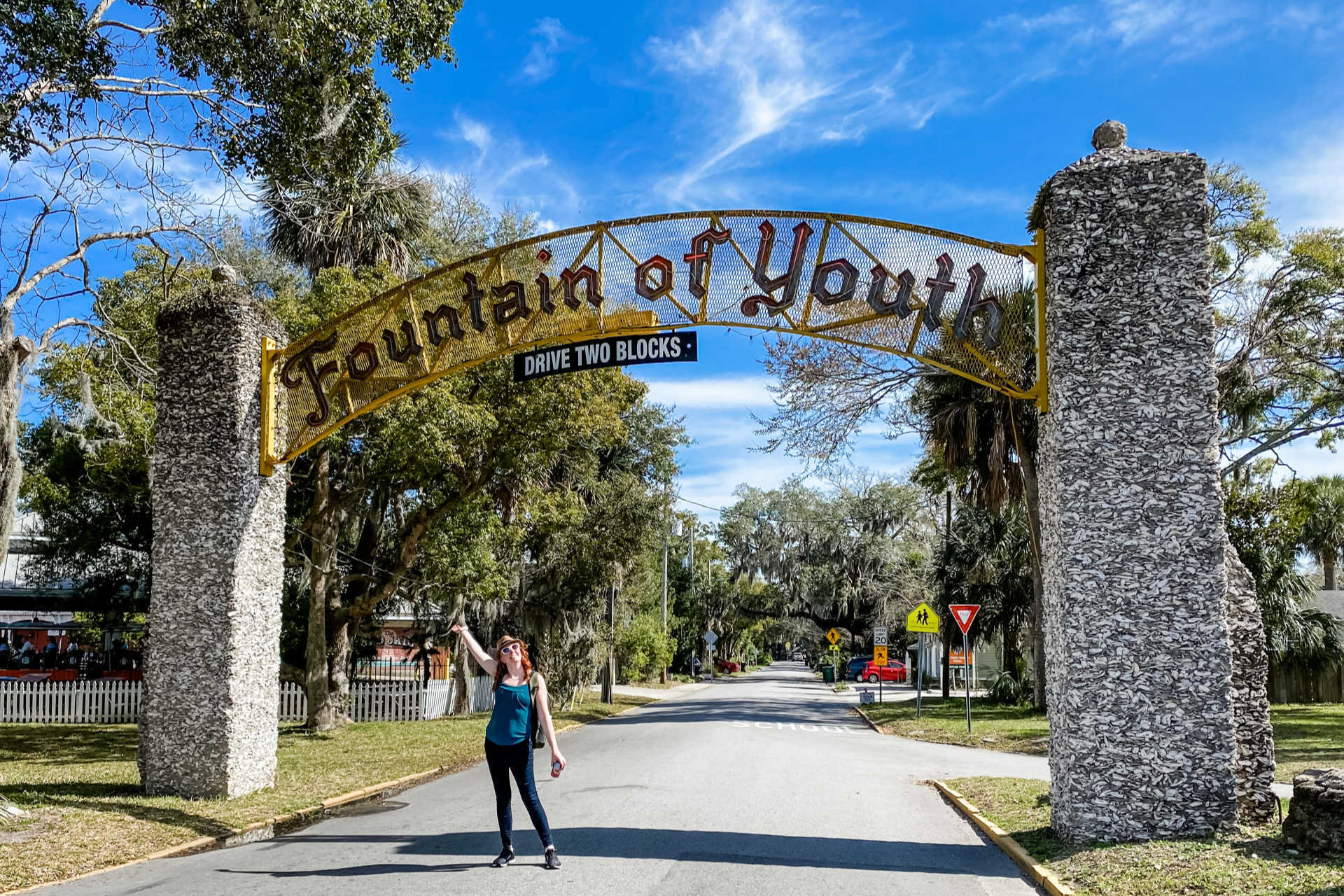 Of course, we couldn't visit St. Augustine without sipping the magical waters at the Fountain of Youth. The 15-acre Fountain of Youth Archaeological Park is known as the place where Ponce De Leon discovered the healing waters that magically maintain your youthful appearance.
Today, you can visit the park and sip from the water, plus explore the other exhibits and historical attractions. Let me fill you in on a secret — the water tastes like sulfur and I look the same today as I did before I sipped those magical waters but what the heck, worth a try right? 🙂
Take an Eco Tour
When you walk along the bay in front of Castillo de San Marcos, you may be lucky enough to spy dolphins. If that doesn't work, join an eco-tour with St. Augustine eco-tours. Whether kayaking or on a vegetable oil-fueled motor boat, you will get to explore with a practicing biologist. Eco-tours offer an excellent opportunity for birding and a chance to see dolphins and manatees.
Another option is a sunset or afternoon sail on the Schooner Freedom. St. Augustine's premier tall ship offers an excellent way to explore the coast.
Get Spooked on a Ghost Tour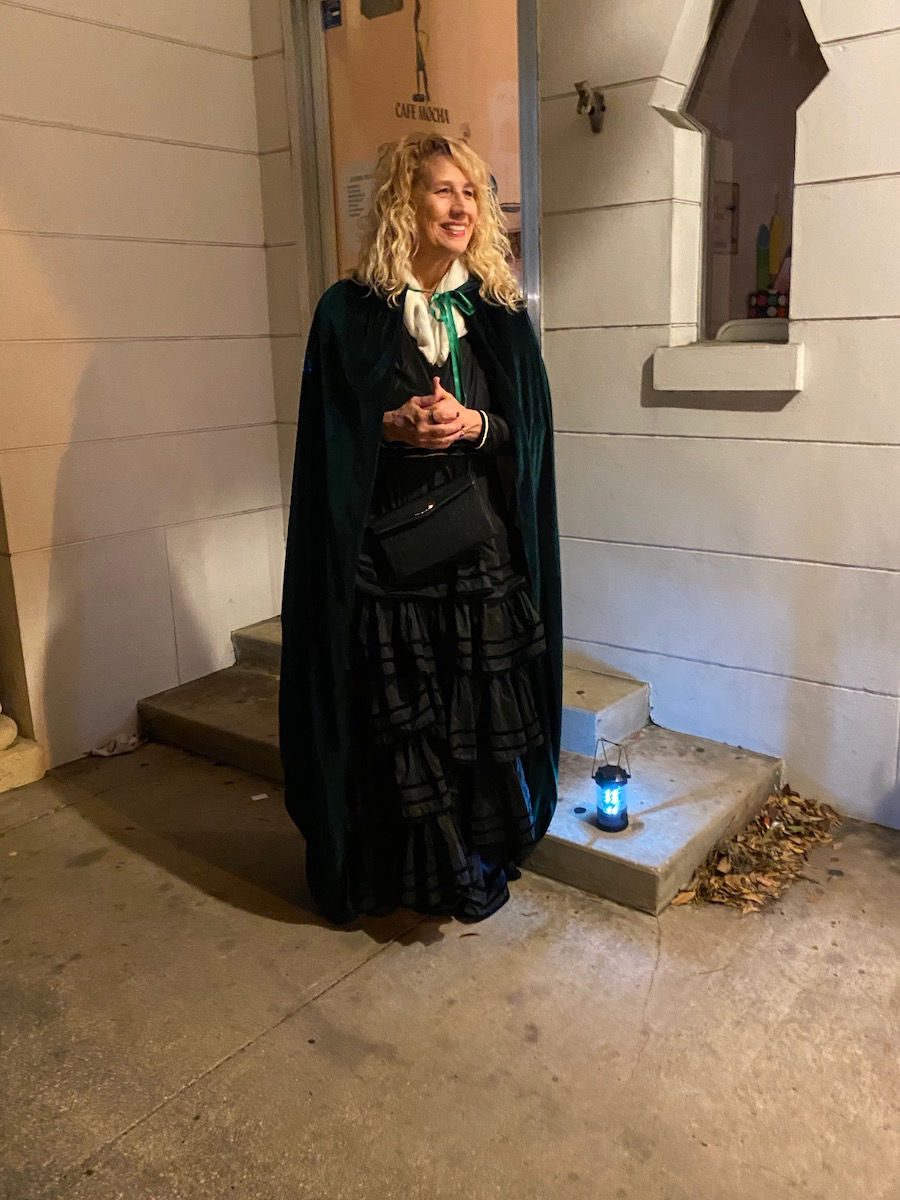 With 500 years of documented history, you can only imagine the stories that surround St. Augustine. We were both a little hesitant to go on a ghost tour since neither of us enjoy getting spooked, but our tour with St. Augustine Tours pleasantly surprised us.
The original St. Augustine ghost tour focuses on history. Yes, the tour guide is in costume, but she isn't there to scare you. Instead, she fills you in on a lot of the local history and legends. Are there really ghosts? You decide. Some claim to have caught glowing orbs or flashes of light in photos or videos.
Soak at a Spa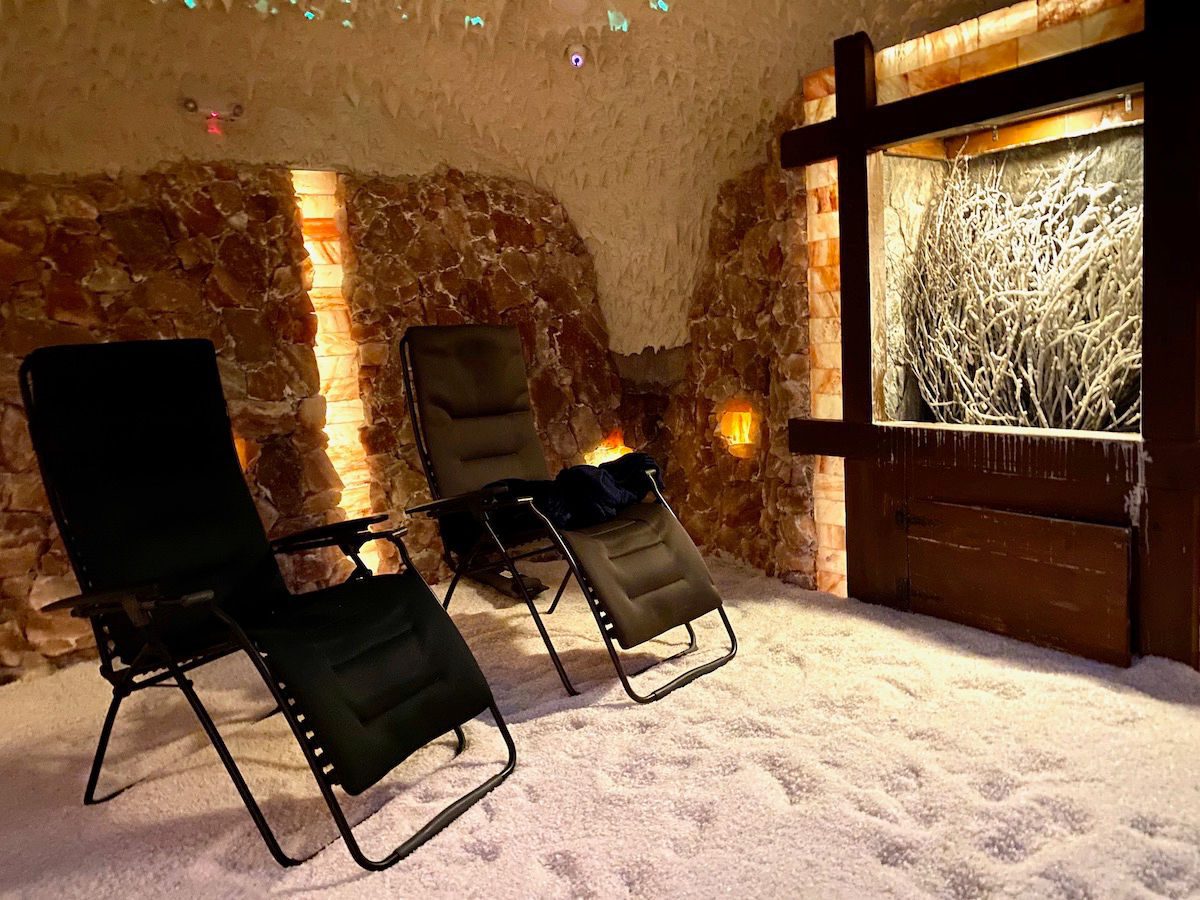 If you and your girls would enjoy a unique spa experience, book yourselves treatments at the Salt Spa St. Augustine. In addition to massages, the Salt Spa offers sensory-deprivation salt soaks, infrared sauna sessions, and a Himalayan salt cave. You can combine all three in an afternoon "Ultimate Spa Experience."
I've learned that I'm a little too Type-A for a one-hour soak, but my skin did appreciate the nourishing effects of the salt water. The Salt Cave is good for respiratory and cardiovascular health, and the relaxing environment and light therapy are great stress relievers.
Stroll Through Castillo de San Marcos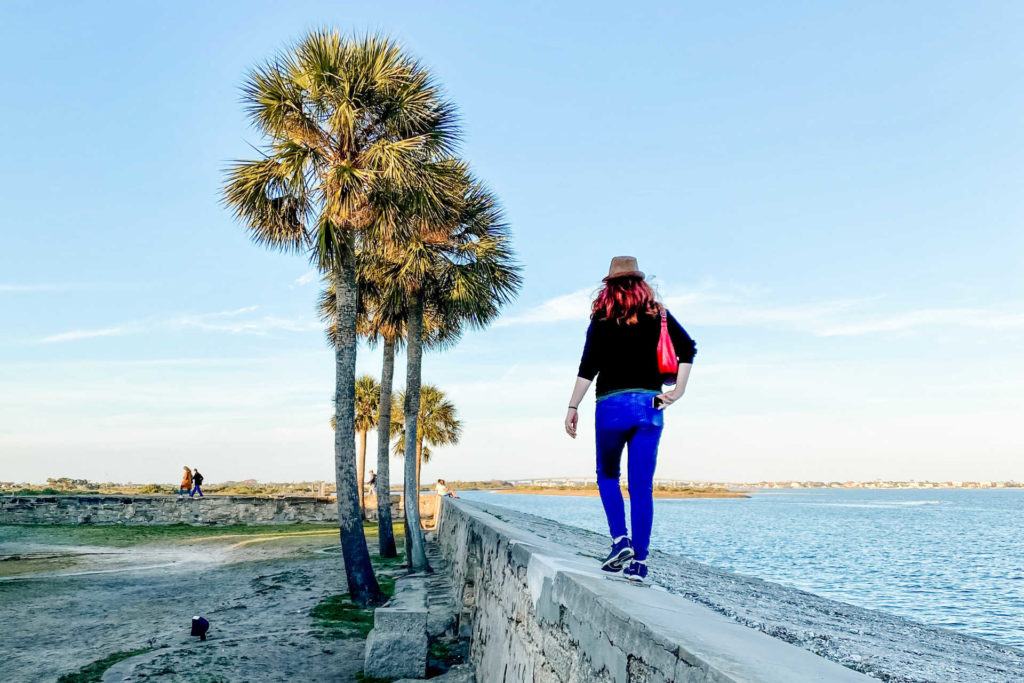 Be sure to leave yourself time to stroll through the historic district and explore some of St. Augustine's attractions. Of course, you can always hop on one of the trolley or train tours or hire a carriage too when your feet get tired.
The most famous site is the Castillo de San Marcos National Monument. This 20-acre historic site features the oldest masonry fort in the continental United States. The fort was built by the Spanish in the late 17th century to protect their strategic settlement of St. Augustine from pirate raids, hostile Native Americans, and neighboring imperial powers.
The Castillo de San Marcos was never successfully captured in battle, and it played a significant role in the defense of St. Augustine during the Spanish, British, and American colonial periods. Today, you can explore the fort's interior and climb to the top of the fort's walls for panoramic views of St. Augustine and Matanzas Bay.
Tour Flagler College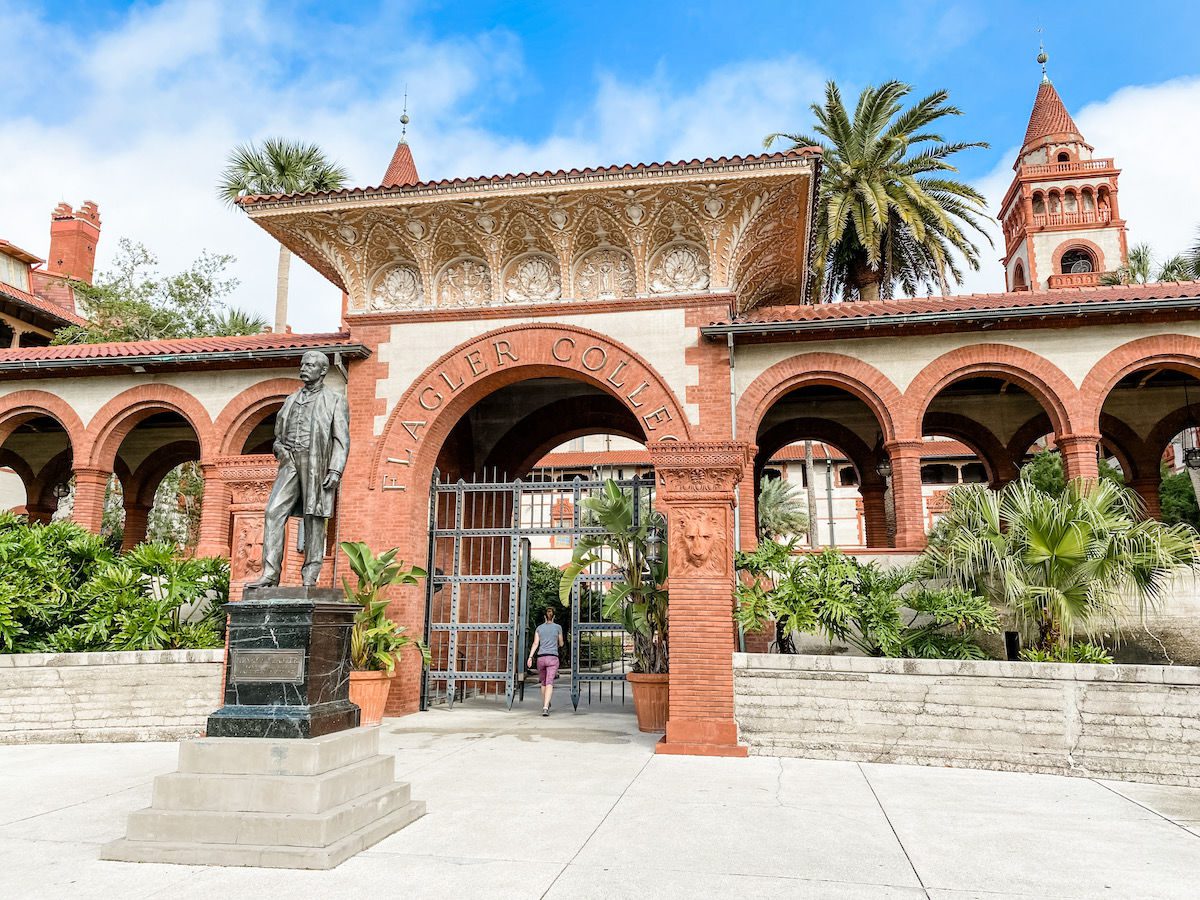 You may want to sign up for a group tour of Flagler College, formerly the Ponce de Leon luxury hotel owned by Henry Flagler, an oil tycoon. The tour will get you inside to see the priceless Tiffany chandeliers and stained-glass windows that adorn the ladies' parlor and student dining hall.
Examine the Collections at the Lightner Museum
If the Gilded Age fascinates you as it does me, you can also pop over to the Lightner Museum across the street, which was formerly the Alcazar Hotel and now houses one of the finest collections of fine and decorative 19th-century art in the country. Founded in 1948 by Chicago publisher and collector Otto C. Lightner, the collection includes furniture, paintings, sculptures, and decorative objects that Lightner amassed over his lifetime.
Go Shopping
There are plenty of historic sites to see in St. Augustine, but when you get tired and want to do a little shopping, lose yourself in the moderately-priced and beautifully curated 2 Sparrows boutique or the Plum Gallery.
Eat Amazing Seafood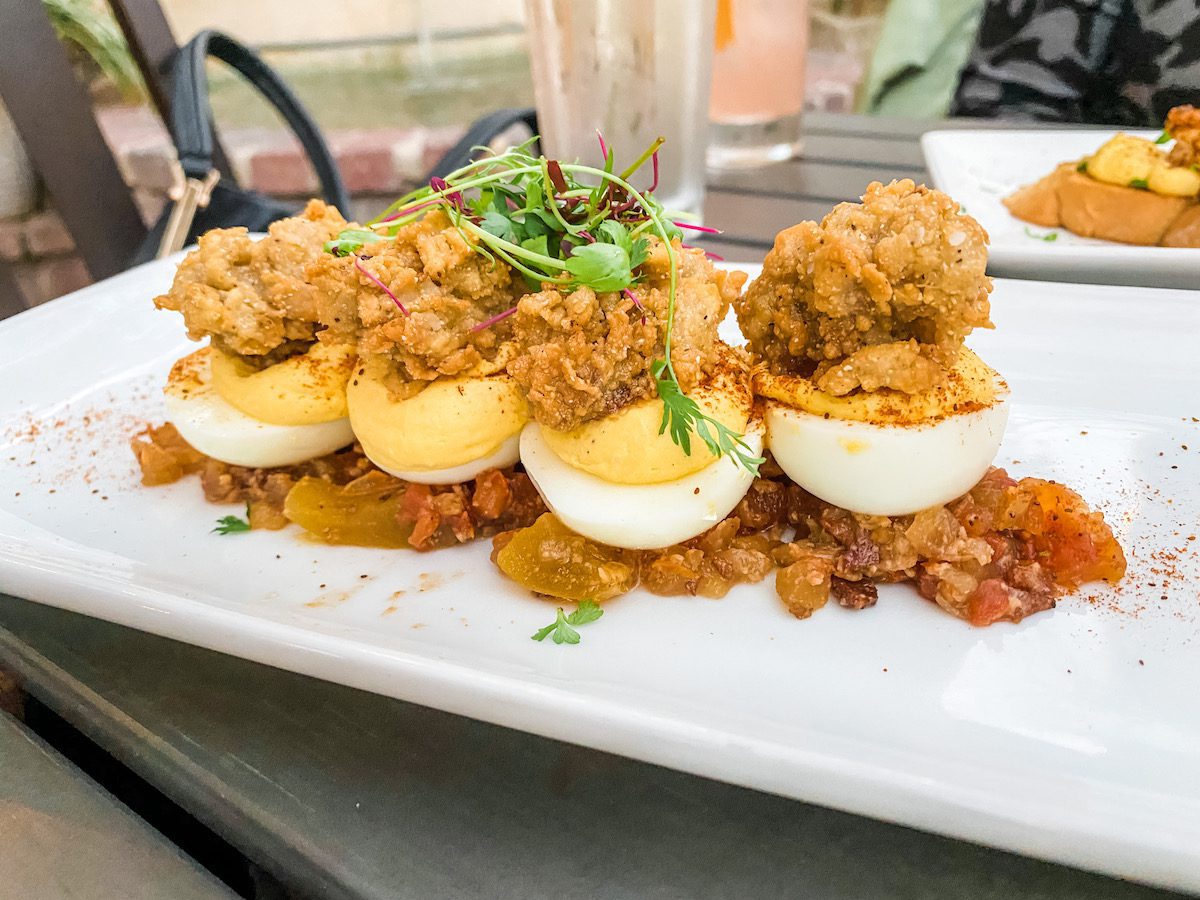 There is no shortage of fresh fish and amazing seafood in St. Augustine. You will also find Mediterranean influences, especially Greek and Minorcan. The area around St. Augustine is also known for its agriculture, supplying the local farm-to-table restaurants and giving you the freshest ingredients. I wrote about my favorite St. Augustine restaurants here.
Some of my favorites include:
Catch 27 – focuses on fresh-catch seafood and local ingredients with a southern and Creole flair.
Cafe Alcazar – This elegant eatery is situated in what was originally an indoor swimming pool when the museum was the Alcazar Hotel, one of Henry Flagler's many properties in town during the Gilded Age.
Taberna del Caballo – Located in the Colonial Quarter in Old Town, Taberna del Caballo is an 18th-century-style Spanish-inspired tavern offering a menu inspired by Spanish and Latin influences.
Looking for more girlfriend getaway ideas?