There are many reasons people choose to take a cruise instead of planning a land-based vacation, with the primary benefit being how much easier it is to plan and execute. As someone who has folders stuffed with multi-page itineraries that were meticulously planned over days and weeks to ensure a flawless trip, I get it. Hopping on my recent Bordeaux river cruise with AmaWaterways was a breeze in comparison.
But the choice between a river cruise vs ocean cruise might be a bit harder to make. Especially if you are planning a European cruise. Before I get into why you might choose one versus the other, let's understand the differences between a river cruise and ocean cruise.
River Cruise vs Ocean Cruise: What's the Difference?
I've learned recently that "cruising" can mean all kinds of things as there are all sorts of cruises, including ocean cruises, river cruises, barge cruises, sailing cruises, and adventure cruises. To understand the difference between a river cruise and ocean cruise, let's look at the five main factors to consider when evaluating if a cruise is right for you: price, size, food, amenities, and itinerary.
Price
The bottom line is that river cruises cost more. Why are river cruises more expensive than ocean cruises? Well, a lot of that comes down to the following four factors. A river cruise will typically include more in the overall cruise price, while ocean cruise lines tend to offer more a la carte, such as specialty dining, drinks, WiFi, and excursions.
Excursions are a big factor because not only do most river cruises include a choice of at least one excursion a day, but the size of the group is also smaller. So instead of paying to take a walking tour through Paris with 50 of your fellow passengers all trying to fight the crowds to follow the umbrella-toting tour guide, a walking tour from a river cruise might be as few as eight to fifteen people (and there is no extra charge.)
Prices vary, as does quality and amenities, for all types of cruises, but the average river cruise will cost about $300-400 per person, per night, based on double occupancy. For comparison sake, the average Mediterranean ocean cruise is going to be more like $60-450 per person, per night, based on double occupancy.
Once you get over the sticker shock of the initial price and starting to think about the inclusions in a river cruise vs. ocean cruise, the difference doesn't look too bad.
Size
On my recent barge cruise on the Canal du Midi, one of my fellow passengers said, "I could never go on one of the huge river cruise ships!" I'm here to tell you that in comparison with ocean liners, river cruise ships are petite. Unlike ocean cruise ships, which can range from a few hundred guests to over 7,000 passengers, river cruise ships carry between 100 and 200 guests.
The reason that river cruise ships are all about the same size is that they have all been built to sail on rivers. That means they need to go under bridges and through locks, coming to port in cities where the docks were once designed for the movement of goods, rather than people. River cruises also need to contend with changing water levels, something that has become even more challenging during Europe's recent hot and dry summers.
Food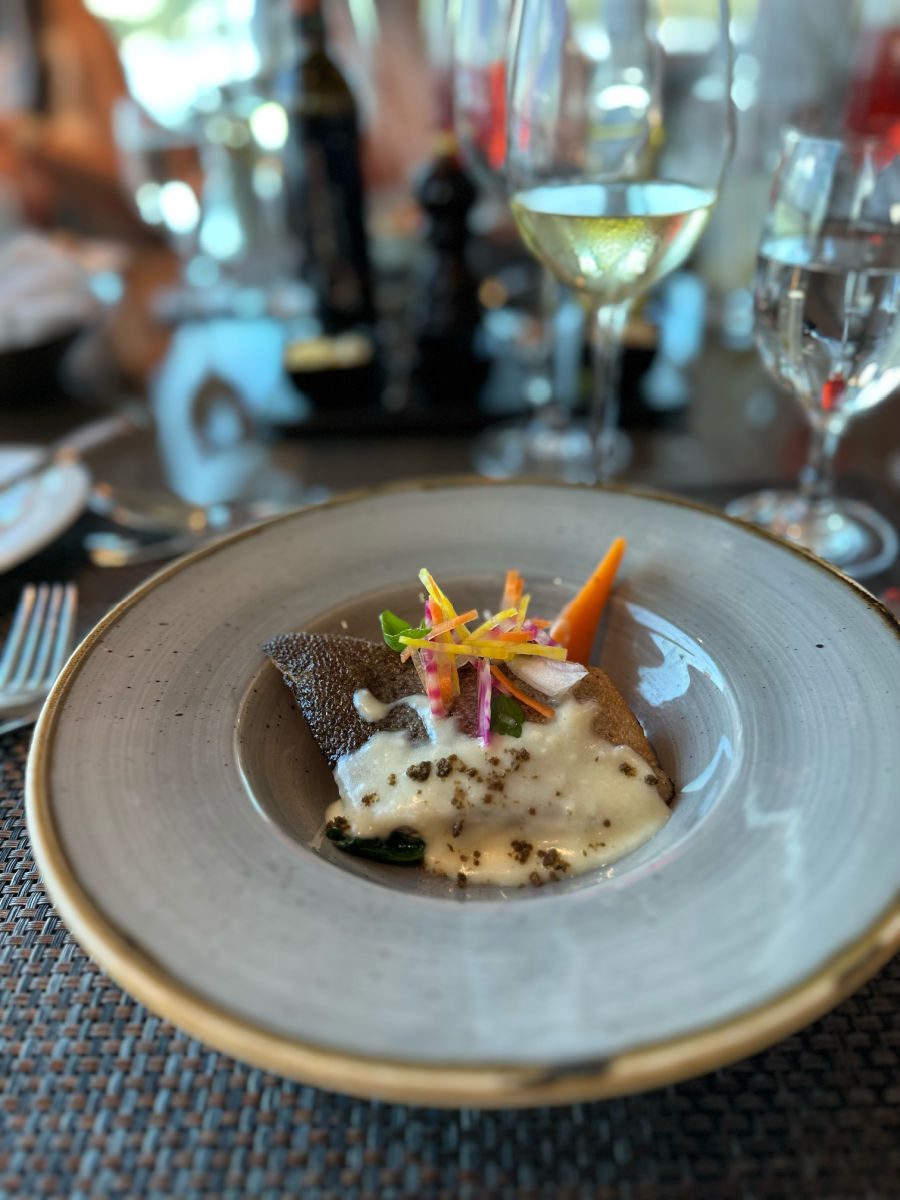 There is a general conventional wisdom that the food is better on a river cruise versus an ocean cruise because they don't need to cater hundreds or thousands of dinners at the same time. However, I'm not sure this is really true. While the food I experienced on the AmaWaterways river cruise was certainly impressive (multi-course lunches and dinners), it was probably on par with some of the specialty dining restaurants I've tried on ocean liners like Norwegian Cruise Lines.
The main difference between the food on a river cruise and that one an ocean cruise comes down to variety. On a river cruise, all the meals are served in one common dining room and there is also a lounge where you can find drinks and perhaps a light breakfast, bistro lunch menu, or late night snacks. Some river cruises, such as AmaWaterways, also have one specialty "Chef's Table" restaurant, which is included in the price but does require reservations.
Ocean cruise ships, on the other hand, will typically have multiple restaurants including a buffet, main dining room (or 3), poolside bar and grill, and an array of specialty restaurants and snack bars. This makes it nice for people who like more variety and a change of scenery. However, the drawback is that these specialty restaurants are also typically an upcharge.
Amenities and Entertainment
In the last 10 years of writing about travel, I've met many cruise enthusiasts who book a trip based on the ship and its amenities, rather than the itinerary and the places it goes. While I find that the opposite of how I approach a cruise (where my first question is still, where do we want to go?), if you find yourself in the category of someone that values the onboard amenities over the off board experience, you will probably prefer an ocean cruise.
There is just not the space for a Broadway production, climbing wall, full-scale spa, and multiple pools on a river cruise ship. A river cruise ship is typically comprised of three decks of cabins, all of which are fairly standard in size and face out (no inner cabins on a river cruise). In addition, there is a sun deck with lounge chairs and perhaps a small pool or hot tub, along with other small features like a putting green, corn hole, or a giant chess board and walking track. Instead of a large fitness center, it is more like a small room with a couple of machines and weights. Instead of a spa, there might be a room for a hairdresser or masseuse.
On a river cruise, there are no "days at sea" so you don't need the same range of entertainment. The draw is what you see off the boat. And when it comes to entertainment, there is a focus on bringing local entertainers on board for an evening of music in the lounge after dinner. But river cruises are also only worried about entertaining 150 people, not trying to meet the diverse needs of thousands.
Itinerary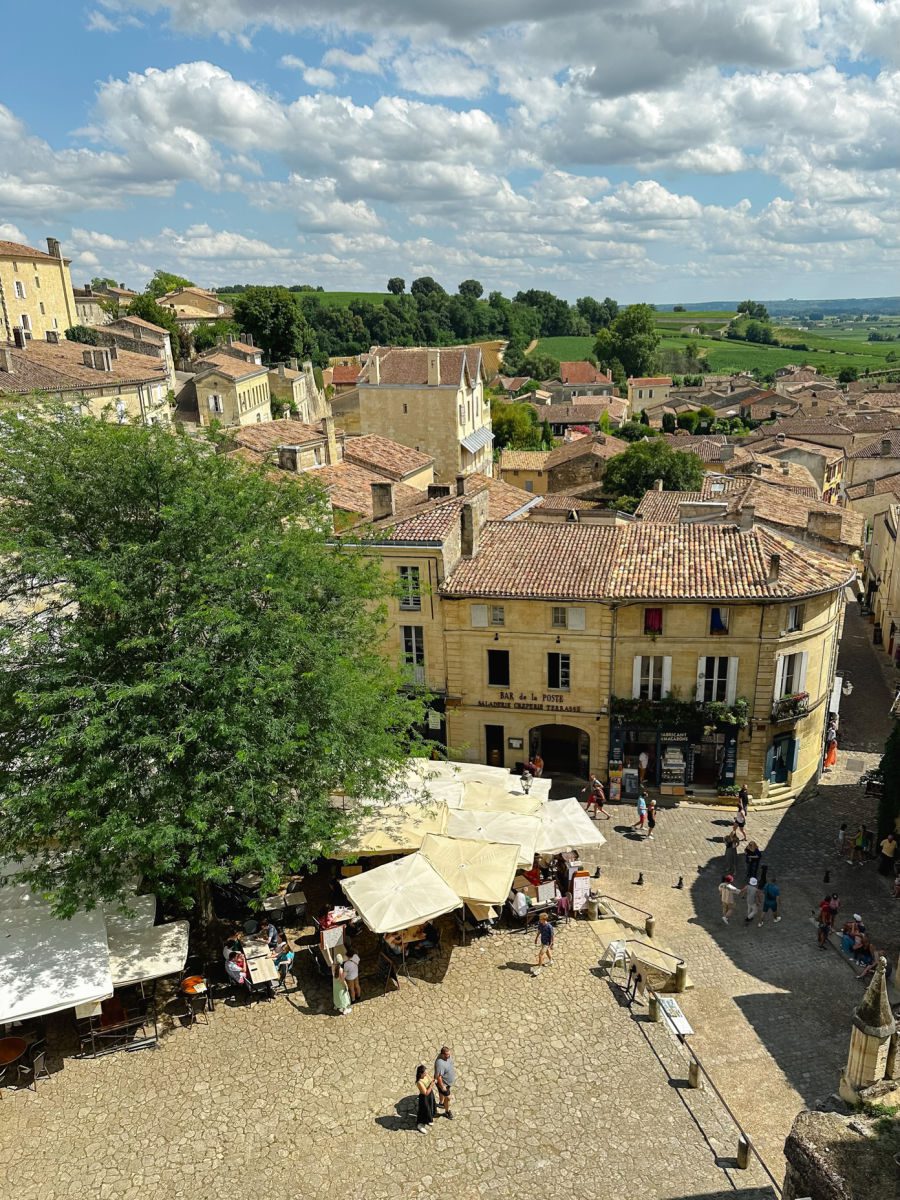 If you are comparing a European river cruise versus a European ocean cruise (the Mediterranean cruise is one of the most popular in Europe), you need to really examine the itineraries to spot the differences because both sound so exciting. Keep in mind that a river cruise can travel inland, on, well, the rivers! This gives a river cruise access to many smaller cities and towns that you are never going to reach on an ocean liner.
An ocean cruise is limited to coastal cities (think Barcelona, Venice, and the Greek Islands) and these can get very crowded when you have multiple mega ships docked in port each day, in addition to your standard swell of land visitors and day trippers. Also, the definition of "port" can be a little loose. For example, you will see Florence, Italy listed as a destination on many ocean cruise itineraries. But Google "Florence" and look at where it is on a map. Is it near the ocean? No, not really. This means there is a long bus transfer needed to get you to that destination. Many people don't even realize that cruise ships don't dock in Rome, they are in Civitavecchia, which is about 40 minutes away from Rome by express train.
A river cruise means that you get to spend more time in each destination. Often, river cruises are docked in a city until the late evening or sometimes even overnight. They are also docked much closer to the city, making it easier to get out and explore on your own if you desire.
But another benefit of a river cruise is that your excursions are organized for you. Some people may prefer to wing it on their own, but for those that don't relish the planning part of the process, a river cruise is stress free. You simply choose from a menu of offered excursions and the night before, the cruise manager will go over the details for the following day. All you need to do is show up at the time and place required.
On an ocean cruise, you can certainly book excursions through the cruise line, there is usually a whole slew of options to choose from, or you can book tours independently, as long as they fit within the time you have available. Otherwise, you can explore on your own. This all takes a bit more effort in the planning and decision process (and a bit more from the budget as well).
10 Reasons to Choose a River Cruise
Hopefully explaining the differences above will help guide you toward whether you are a river cruise or ocean cruise person (or both). But let me give you 10 reasons why I think a river cruise is a better choice, at least for a trip to Europe.
Access to smaller cities and less crowded destinations.
As I talked about before, an ocean cruise is limited to ports that can accommodate the size ship you are traveling on. For example, some small ship cruises can visit less busy ports, such as the ships that visit smaller Greek Islands while larger ships are limited to the overcrowded ports in places like Santorini and Mykonos. In these busy ports, crowds can really ruin your experience in a destination, especially when everyone is in port for the same number of limited hours.
Obviously an ocean liner can't get to cities within Europe such as Budapest, Strasbourg, or Mosel. But a river cruise certainly can. When I was on the river cruise in Bordeaux, we did see an ocean cruise ship in port in Bordeaux, but not at any of the other small towns we visited. Even though the ship in Bordeaux looked huge compared to our river cruise ship, it was small by ocean cruise standards.
You get more time in each destination.
To me, one of the biggest benefits of a river cruise is how much time you have in port. I never really feel like I've gotten to know a place unless I can walk around, especially in the evening when it is quieter. If all I have is a few hours where I'm whisked away by bus, given a tour, and shepherded back, it doesn't seem like I have a real sense of the place.
On a river cruise, you typically have the entire day. For the most part, you cruise either overnight or just for half a day. You may have until 10 pm or even 1 am to go out and explore if you so desire.
Docking right in town makes it easier to explore on your own.
On a river cruise, you don't need to worry about waiting for a tender to bring you to shore, or stand in long lines waiting for your turn to disembark. If you want to leave, simply scan your key and walk down the gangplank. I understand that in some busy cities, river cruise ships may dock next to each other if there is limited space and passengers have to cross up and over another ship to get to land. But that is still a lot easier than dealing with a big ship.
This convenience also makes it easy to come and go multiple times throughout the day. For example, on our Bordeaux cruise, we would leave for the excursion in the morning but when we returned, we often took time to either walk around our port town on our own or head out again later.
All-inclusive pricing means you don't feel nickel and dimed.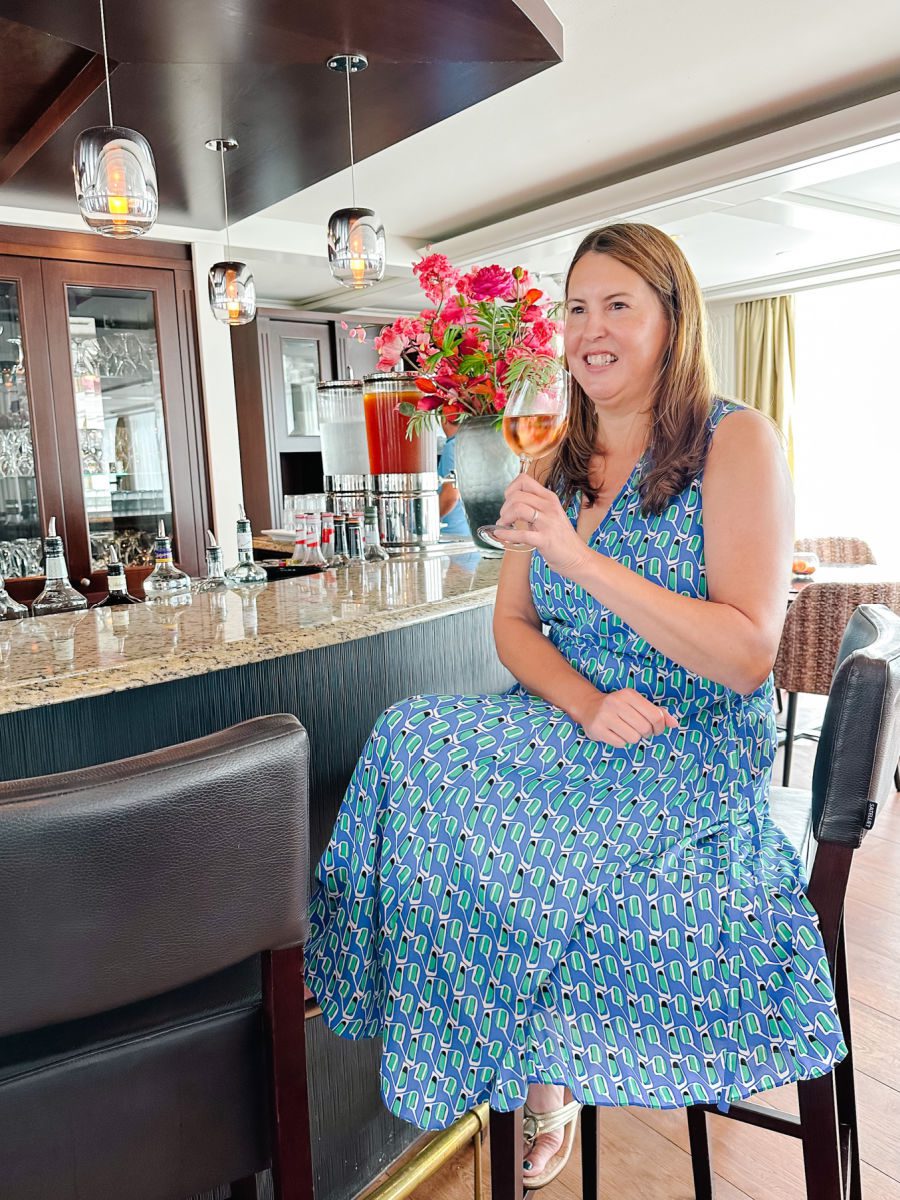 A few years ago we took an Alaska cruise on Norwegian and at first I was very excited about the "bargain" price and the access to specialty restaurants. But after a few days on board, I felt like every time I turned around there was something else that cost extra. Yet I was five days into our river cruise before I ever had to sign for an added expense, and that was only because my husband ordered a Scotch in the lounge after dinner.
On AmaWaterways, all excursions, activities, and food are included, even dining at the Chef's Table specialty restaurant. Unlimited wine and beer are included during lunch, dinner, and the sunset happy hour (along with that evening's signature cocktail.) The only other things that weren't included were gratuities.
Fewer passengers means no crowds or long waits.
I am not a crowd person. Being surrounded by tons of people kind of freaks me out and post-COVID, I also worry even more about the germs that are freely shared in confined spaces. The size of a river cruise, with no more than 150 passengers, is much more manageable to me. And on our river cruise, there are only 63 passengers, making it less than half full.
Now every sailing isn't going to be like that, but it sure was nice to have all the space we wanted on deck, in the dining room and lounge, and to have small groups for excursions. The largest excursion were around 25 people, and those were only on the bike trips (which were very popular on our cruise!)
Since there was no assigned seating in the dining room, it was also nice to be able to choose to either eat alone or join small groups of other passengers at meals.
Minimal planning required.
I typically love planning trips, but every now and then it is nice to take a break and not be the one in charge for a change. On a river cruise, everything is ultra organized. You choose from two to three available excursions each day about a month before your trip (although you can often change up to 48 hours before.) Each evening, the cruise manager walks through the schedule for the following day and the mobile app provides a detailed itinerary for mealtimes, activities, excursions, and entertainment.
You don't need to make dining reservations or reservations for shows, figure out how to get transportation into the city, or worry about a thing really. A river cruise is a very easy way to travel.
Easy embarkation and disembarkation.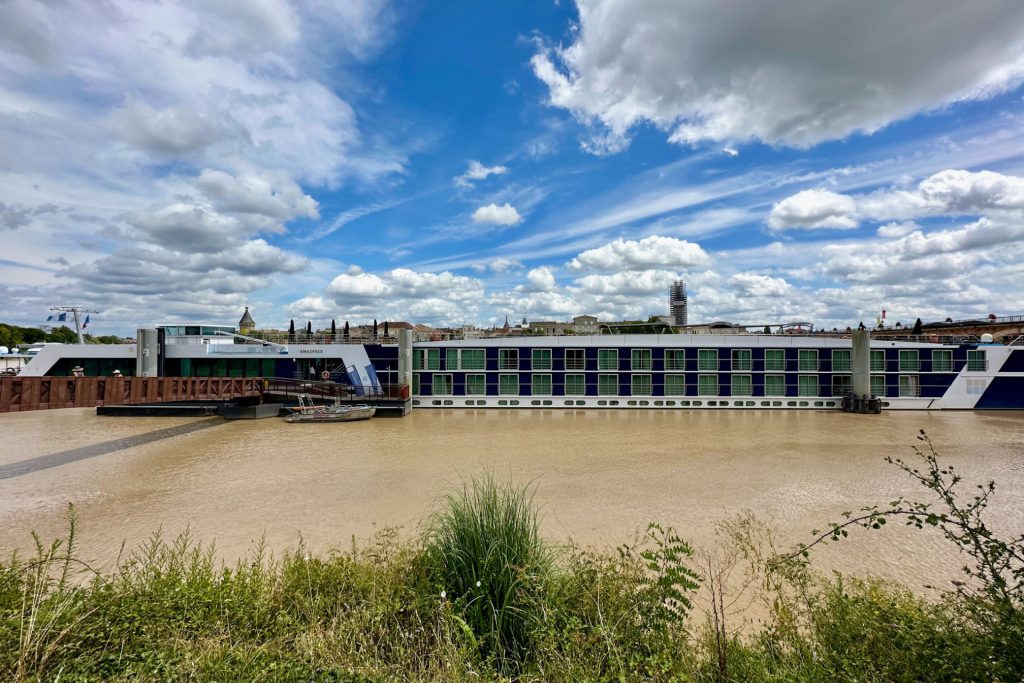 When taking a large ocean cruise, it can sometimes take hours to get through check in and embarkation at the port and even longer until the luggage arrives at the cabin. After all, processing thousands of passengers takes time!
Everything was so much easier on the river cruise. I had arrived in Bordeaux a few days before so I simply took a tram over to where to boat was docked and walked on board. I gave the crew my passport to check in at the desk and had lunch in the lounge. By the time I was done, my luggage was already in my cabin, even though I had arrived before the official check in time, and that was that. Easy peasy.
Leaving was just as simple. The crew at AmaWaterways prearranged a taxi for us and a few minutes before the set time, we went to reception to say our goodbyes and walked off the ship. The crew had already brought our bags to the taxi to the train station.
More authentic experience.
I've never liked all-inclusive resorts that serve up American food and play U.S. pop music. I like to immerse myself in the culture and get a sense of the local people. That is harder to do when you are on a cruise versus staying in a city, but it is even harder when you are on a cruise ship with thousands of other visitors.
A river cruise arranges excursions that introduce you to local culture and history. The chef tries to incorporate some local dishes into the menu. And the river cruise manager brings local entertainers on each evening for a bit of culture right on board. On our Bordeaux river cruise, one small town even hosted a local wine celebration with French singers and three local vineyards offering wine tastings.
Not a party scene.
The other thing I really don't like about large cruise ships is the number of people that are on board to take full advantage of their drinks package, especially on those short cruises to the Bahamas that are full of bachelor and bachelorette parties. Maybe European ocean cruises aren't as bad, but I still appreciated the tamer atmosphere on board the river cruise. It may have something to do with the fact that the passengers trend on the older side (we are in our 50s and there were maybe only 10 people on board that were younger than us.)
No seasickness.
I am also prone to seasickness, and had to take Dramamine on the few big ship cruises that I've taken. Luckily, that is not an issue with a river cruise. Since you are on a river, you aren't contending with large waves and storms. Even when we were moving, I honestly barely felt it. It was nice to be on board a ship for a week and not worry at all about motion sickness.
Request more information about any of AmaWaterways ships or itineraries.
3 Reasons Why a River Cruise May Not Be For You
Look, a river cruise is not going to be for everyone. If one of these three reasons speaks to you, then you may be better off with an ocean cruise (or a land-based vacation.)
You are traveling with a family.
While many river cruise lines are trying to appeal to a younger demographic, they just can't possibly offer the range of activities and amenities that you will find on a big ocean cruise. There also aren't going to be any kids clubs or teen clubs. If you are interested in taking your family on a river cruise, I'd suggest that it would be best with teens who are happy exploring during the day and entertaining themselves with the library, games, WiFi, and onboard movies in the evening.
The other option is to take a river cruise run by Adventures by Disney, which is specifically targeted toward families of tweens and teens.
You are looking for a lot of onboard entertainment and amenities.
If you are more interested in the onboard ship experience than what you are seeing and doing during the day, than once again, you would be better suited taking an ocean cruise with plenty of amenities. The river cruise is much more laid back and attracts an older crowd that is interested in the itinerary over the ship.
You have a lot of mobility issues.
The river cruise companies know that they are appealing to an older demographic and they do as much as they can to accommodate those with limited mobility issues. There are wheelchairs on board and walking sticks available to borrow. On the AmaWaterways cruise, each passenger had access to an assistive hearing device to be used on tours where it might be harder to hear a guide. And some ships offer elevators between floors.
However, you still need to be able to navigate gangplanks and many of the tours and excursions are in small European towns and cities where you will encounter cobblestones and hills. As much as there may be a "gentle walker" option for excursions, sadly it is hard to accommodate those with truly limited mobility.