It is a little under the radar, but Case Western Reserve University is a top-ranked private research university in the United States located in another under-rated place — Cleveland, Ohio. If you are heading to Cleveland with a prospective Spartan or going to visit current students, we have some tips for planning your Case Western Reserve University visit.
The Case Western Reserve University (CWRU) campus is located in Cleveland's University Circle neighborhood, which is east of downtown and near the University Heights and Shaker Heights neighborhoods. This is also the portion of Cleveland where you will find the hospitals, including the Cleveland Clinic (it is no wonder CWRU is such a good school for biology and pre-med!), and many of the city's museums and cultural institutions.
There is also a lot of green space, including the Wade Oval, which makes it a great part of town for college life. Students can enjoy the benefits of an urban setting, while also getting the advantage of nearby parks and running/walking trails. The entire area feels a bit like a little oasis between the nearby upscale suburbs and the downtown urban center.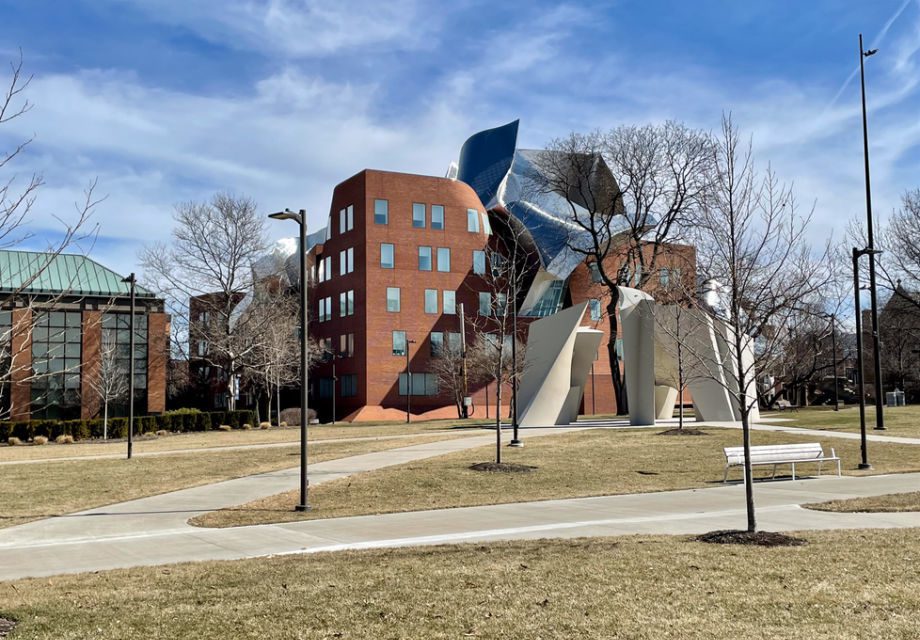 Getting to Case Western Reserve University
Case Western's location in Cleveland makes it easy to reach from major transportation hubs. The campus is just five miles east of downtown and 20 minutes from the international airport. The campus is easily connected using the Greater Cleveland Regional Transit Authority rail and bus lines, as well as local shuttles. There are even two nearby rail stations for a 45-minute train ride to the Cleveland Hopkins International Airport.
Taking a Case Western Reserve University Campus Tour
Prospective students are in a bit of a tough spot right now as the university is not currently offering in-person campus tours of classrooms or public group tours for prospective students, although that should change by May 2021. I have heard that they are offering limited tours for admitted students, but registration is required. Most high school students are going to need to start with the interactive virtual tours and information sessions offered online with admission staff to get the student perspective.
Of course a better way to get a sense of the neighborhood is with a campus visit, but you need to follow all public health guidelines. Hopefully the future experience will be different, but for now you can still visit the area and take a masked up walk through campus without a tour guide. If you do decide to do it on your own, there aren't printed campus maps, but you can use overlay of Google Maps, which can be helpful in guiding your visit.
On the north side of campus, be sure to check out the easily-identifiable Frank Geahry designed building, which is home to the Weatherhead School of Management. Other notable landmarks include the beautiful Kelvin Smith Library, the Tinkham Veale University Center (or the Tink), and the northern residential village, which is home to many first year residence halls. When we visited we weren't on an official tour so we couldn't peek inside a freshmen dorm room but I've heard they get nicer for upper classmen. The law library is another stand out on that portion of campus.
Closer to the hospitals, you will find other key academic buildings, such as the Sears think[box], which is the campus innovation center. Across the train tracks, which can transport you downtown or to the airport, you will find different styles of dorms and Greek housing.
Where to Stay Near Case Western Reserve University
Note: This post contains affiliate links. If you click a link and make a purchase, I may receive a small commission at no cost to you. All opinions are my own based on my personal experience with these products.
This post is written in partnership with Destination Cleveland, who provided complimentary accommodations and entrance to attractions in exchange for editorial consideration.
Since you will want to get a sense of the campus and surrounding neighborhood, it makes sense to stay as close to campus as possible. The two prime spots are the Courtyard Marriott University Circle, and the more historic Glidden House, which is located right near the north residential community. This historical mansion was built in 1910 and today is a full-service boutique hotel with a small selection of suites for families.
We opted for the Courtyard Marriott (loyal Bonvoy members that we are!), which is located right across from the hospitals and smack dab in the center of campus. From that location you can easily explore all areas of campus on foot. The hotel offers valet parking, a 24-hour fitness center, and plenty of options for visiting families including extended rooms with two queen beds or one-bedroom King suites.
Where to Eat Near Case Western Reserve University
One of the questions I see asked most frequently on the CWRU Parent Chat for Prospective Parents Facebook Group, is where to eat near campus. One of the things that my daughter liked most about this campus was how integrated it is with the surrounding city. There is no shortage of places to eat, especially quick pick up places that are ideal for students including sushi, ramen, sandwiches, tacos, fried chicken, Mitchell's ice cream and the somewhat ubiquitous (at least in college towns) Insomnia Cookies. And from what I understand, some even accept "swipes" from student meal cards.
If you are looking for a nice place to take your student for a good meal when you visit — or just a nice parent's night out dinner date — I would highly recommend French brasserie L'Albatros. Set in an old carriage house right on campus, L'Albatros is much more positive than the name implies. It has a romantic setting with a cozy fireplace in the back and a large patio for warm-weather outdoor dining. The service is exceptional and the food is quite good — I'm sure better than most campus dining halls.
Many students and visitors will also want to make the 10-minute walk over to Little Italy. Those who hail from cities with large, famous Little Italy neighborhoods (like NYC and Boston), may be a bit disappointed by the offerings, but the festive atmosphere and cobblestone streets have a certain charm. One of the more popular choices is Mia Bella.
You will probably want to foot the bill because it isn't cheap, but if you go to Mia Bella I would recommend trying one of the special pastas. The saganaki shrimp was also quite tasty, although not exactly a traditional Italian dish. In Little Italy, you may also want to try The Tavern, Corbo's and Presti's Bakery.
For lunch, the locals strongly recommend Luna Bakery & Cafe in nearby Cleveland Heights. For something a little different, try Zhug for Middle eastern mezze, or Aladdin's for traditional Lebanese.
Students also like to hang out at the Coventry Street neighborhood, which has shops, restaurants and music venues. For breakfast on Coventry Street, try the Inn on Coventry for basic diner food, or Tommy's, which is a bit of a Cleveland institution.
Things to do Near Case Western Reserve University
Museums in University Circle
As I mentioned previously, the surrounding area around campus is filled with museums, 550 acres of green space, and some of the city's eclectic neighborhoods. Within walking distance you can visit the Cleveland Museum of Art, the Cleveland Botanical Garden, the Cleveland Museum of Natural History, or the Museum of Contemporary Art Cleveland. And the good news is that your student gets free admission!
Further afield you can visit the Cleveland Metroparks Zoo, home to 3,000 animals, or the Greater Cleveland Aquarium. I've also heard that the Great Lakes Science Center is fun for kids.
Live Performances
If you would like to see a performance, the Cleveland Orchestra performs at Severance Hall, adjacent to campus. You can also enjoy African-American theater at Karamu House, indie concerts at the Beachland Ballroom, and Friday-night polka-rock in Gordon Square. Campus is also just a short bus ride away from Playhouse Square, the country's largest performing arts center outside of New York City.
Rock and Roll Hall of Fame
Of course, if music is your thing, you can't visit Cleveland without going to the Rock and Roll Hall of Fame. Just a 20 minute car ride from campus, this iconic attraction covers the history of rock and roll from its inception, its many influences and genres, all the way up to present day. It is chock full of memorabilia and video clips of live performances.
Visiting right now doesn't give you quite the full experience, as many of the interactive exhibits and performance venues are closed temporarily. However, visiting without the crowds and under the museum's strict protocols was actually quite enjoyable! For now, you need to purchase timed-entry tickets before you go and expect temperature checks, one-way traffic, and social distancing guidelines to be the norm (along with masks of course!)
Shopping
On Saturday mornings, Clevelander's go shopping at the West Side Market. You can also find boutiques in the surrounding neighborhoods in Coventry, Shaker Square, and Cedar-Lee
Sports
If the Spartans aren't playing ball when you are in town, you can opt for a professional sports game instead. Cleveland is home to the Cavaliers basketball team, Browns football, and the Indians baseball, all of which play downtown. And each year during commencement, the Cleveland Marathon runs through the city (be sure to book your hotel room early!)
Get Outside
If you want to explore beyond the Wade Oval and campus-adjacent greenway, head to Cleveland Metroparks, which cover more than 21,000 acres and feature hundreds of miles of trails.
And don't forget — Lake Erie is RIGHT THERE for plenty of water sports and fun on the lake.
For more things to do in Cleveland, be sure to check out my friend Amanda's Cleveland Traveler website.
Visiting other colleges?
Check out recommendations for planning campus visits to: