Admit it, when I say Buffalo, New York all you think of is its infamous Buffalo wings or maybe the Buffalo Bills football team, right? Or cold winters with the "lake effect" piling up mountains of snow? That's what I thought of too, until recently. I had never dreamed of planning a girls' weekend in Buffalo. I mean, what could there possibly be to do there?
That changed when I met with a representative from Visit Buffalo Niagara's tourism board. He started telling me all about the unique foods in Buffalo, the revitalized waterfront, the craft beer scene, and how young people were moving back to Buffalo. My ears perked up. I live in a place with some quirky foods and a great riverfront revitalization story. Plus, I'm a sucker for small cities and hidden gems that surprise and delight you. (See my list of unique girlfriend getaway destinations!) So I said, sign me up…I need to see this for myself.
Luckily a friend from New Jersey was able to meet me and we had a great girls' trip in Buffalo catching up and making new memories while exploring the Queen City. Granted, visiting in August is going to vary greatly from taking the trip in the middle of winter, but I think summer and fall are perfect for a girl's trip to Buffalo.
Note: Our trip was hosted by Visit Buffalo & Niagara Tourism. We received complimentary accommodations, activities, and reimbursement for some meals. All opinions are my own.
Getting to Buffalo
Buffalo is about a six-hour drive from New York City and seven hours from Boston. If you aren't up for a road trip, American, Delta, United, Frontier, JetBlue, and Southwest all offer non-stop flights from a total of over 20 cities across the United States.
Once you arrive, you will likely want a car to get around the city, unless you want to rely on rideshare services. You can also take a bus from the airport to downtown and there is a single light rail line that runs the length of Main Street through the city, which you can use to get around.
If you want to turn a visit into a bigger road trip, Buffalo is only 30 minutes from Niagara Falls. You can also eat your way through Western New York on the Upstate Eats Trail, with stops in Rochester, Syracuse, and Binghampton. A few days in the Finger Lakes can also be a wonderful pairing with an urban adventure in Buffalo (see my tips for the best wineries on Seneca Lake.)
Where to Stay in Buffalo
We were hosted at the Buffalo Marriott at LeCom Harborcenter. This was a great location in the Canalside District of Buffalo and our room had gorgeous views of the Buffalo River. We could walk along the riverfront and enjoy the free entertainment and atmosphere, from river cruises to outdoor yoga classes, to water bike rentals.
The Buffalo Marriot Harborcenter is also connected to the hockey stadium, which would make it a great place to stay if you are in town to see a game, and within walking distance to the Sahlen Stadium, where the Buffalo Bisons minor league baseball team plays. If you are ambitious, it is also only a 20-minute walk to the RiverWorks entertainment district.
Our room was spacious and equipped with modern furnishings, including an up-to-date bathroom with a large walk-in shower. A highlight of the Marriott is the seventh-floor lobby and restaurant bar. It offers beautiful views and an upscale setting that bridges the gap between leisure luxury and business hotel.
With a Club-level room, we also had access to the club lounge, which was always fully stocked with soft drinks, water, coffee, and a large variety of snacks and fruit and breakfast items like cereal and yogurt. Of course, for a quick coffee and sweet fix, there is a Tim Horton's location on the ground floor.
What to do in Buffalo
We were pleasantly surprised by the wide variety of things to do in Buffalo on a girl's trip. There is enough to keep everyone engaged and interested, especially if you enjoying eating, drinking, and learning about local history. Some of our favorite things to do in Buffalo include:
RiverWorks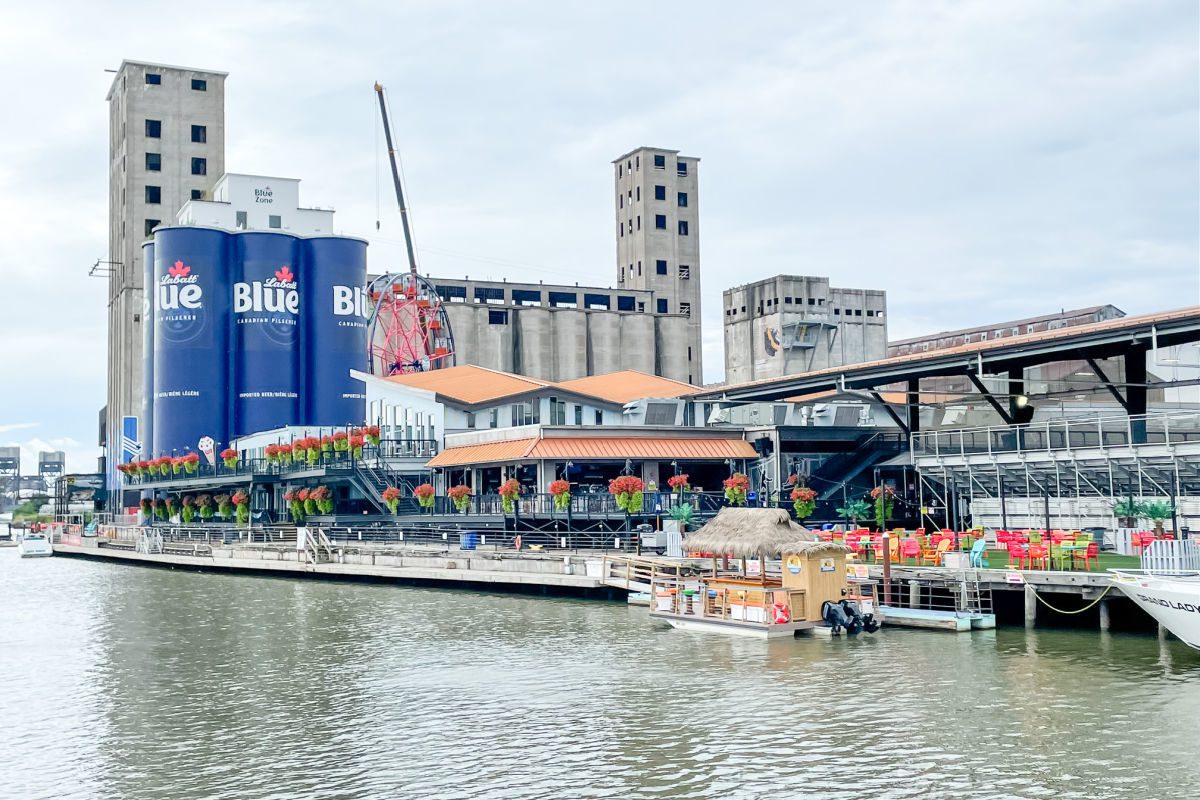 RiverWorks is the city's latest waterfront destination, with boating, sports, music, food, and entertainment on the banks of the Buffalo River. They are continuing to build out all the entertainment options, including adding a Ferris Wheel and offering ziplining between the historic grain silos.
Currently, there is still plenty to do, with indoor ice rinks (or roller rinks in the summer that are home to the local women's roller derby team) for hockey and curling. There is also an indoor ropes adventure course and a large entertainment venue. While the Labatt's brand dominates the skyline at RiverWorks, the bottom of the abandoned grain elevator is home to RiverWorks Brewing Co.
If you are looking for food, drinks, and entertainment, make a reservation at The Ward restaurant at RiverWorks. With tons of seating indoors and outdoors, this is a perfect spot for river view dining. If you go, don't miss out on ordering the Buffalo chicken dip — it is delicious and we still want to get the recipe. There is even a floating tiki bar that you will see making its way up and down the river!
Canalside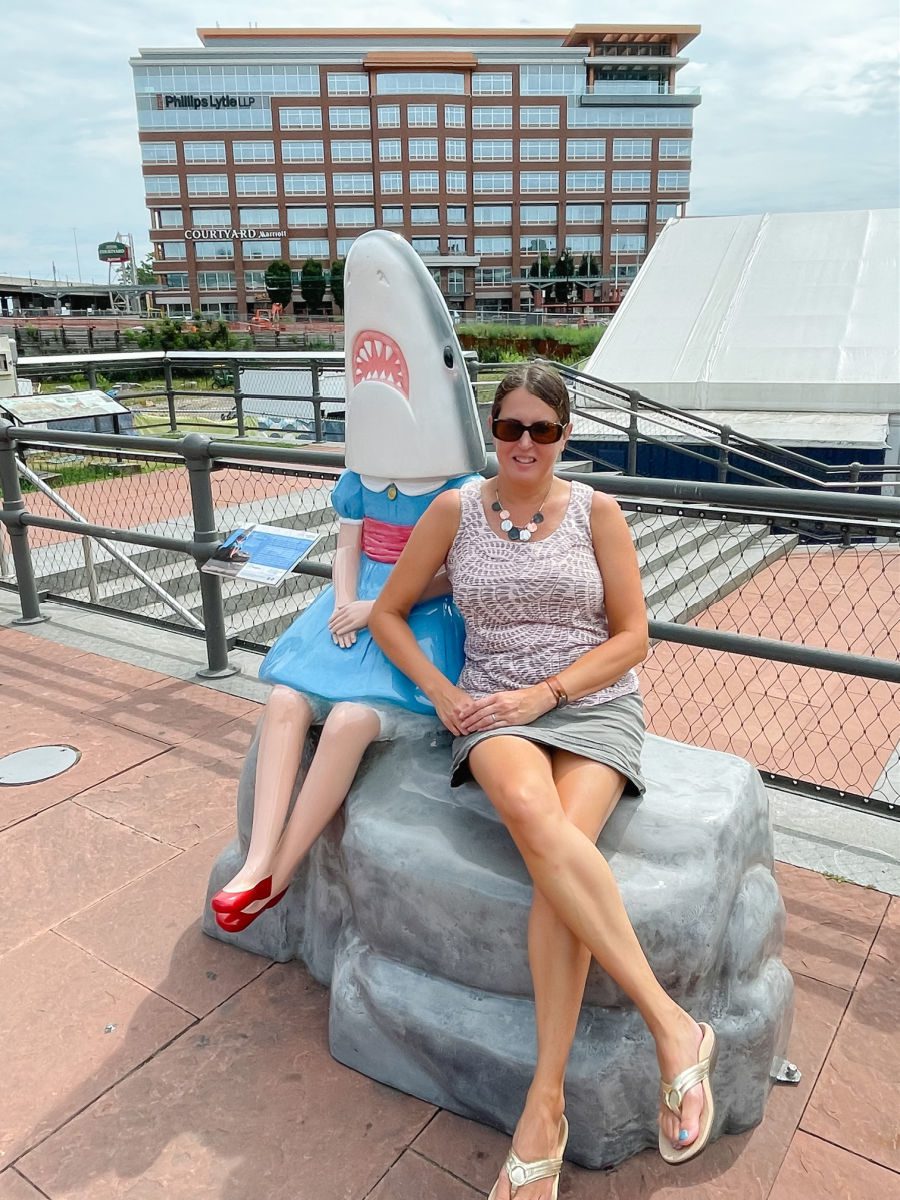 As I mentioned, the Canalside district on the Buffalo River is also home to plenty of things to do. This is where river and lake tours depart, and you can rent water bikes, kayaks, and paddleboards by the hour. There are waterfront restaurants, ice cream shacks, a beer garden, a carousel, and a large lawn, which is a venue for entertainment and outdoor activities.
Further along the riverfront, you will encounter the Buffalo and Erie County Naval and Park, which is home to four decommissioned Naval vessels that served in a variety of military conflicts. Walk all the way along the waterfront to where the river meets Lake Erie at the Erie Basin Marina and spy Buffalo Main Light.
Nearby, you can walk by the Buffalo Childrens' Museum for selfies with the Shark Girl statue, created by artist Casey Riordan. Now that will be a photo to help you remember your trip!
Buffalo River History Tours
You shouldn't leave Buffalo without learning more about its history as a critical agricultural distribution hub. You will not find a larger collection of grain silos in any one place anywhere else in the world. In fact, grain product manufacturing is still an important part of the Buffalo economy. You can't travel the riverfront without inhaling the sweet aroma of Cheerios, which are manufactured at the large General Mills facility.
A great way to learn this history and get to see these silos from the river is on a 90-minute river cruise with Buffalo River History Tours. Although if a narrated cruise sounds dull, you can always choose the Cocktail Cruise instead!
Explore Buffalo Walking Tours
Another great way to get a sense of the city from informed and passionate locals is on a walking tour with Explore Buffalo. There are plenty of options to choose from, including architecture tours and on-location tours of the grain silos at Silo City (p.s. while you are there — be sure to enjoy a cocktail and, if you are lucky, some live music at Duende in Silo City!)
You can tailor tours to your interests with options for sports history, women's history, the Gilded Age, and even crime in the Queen City tours.
Selfies with Murals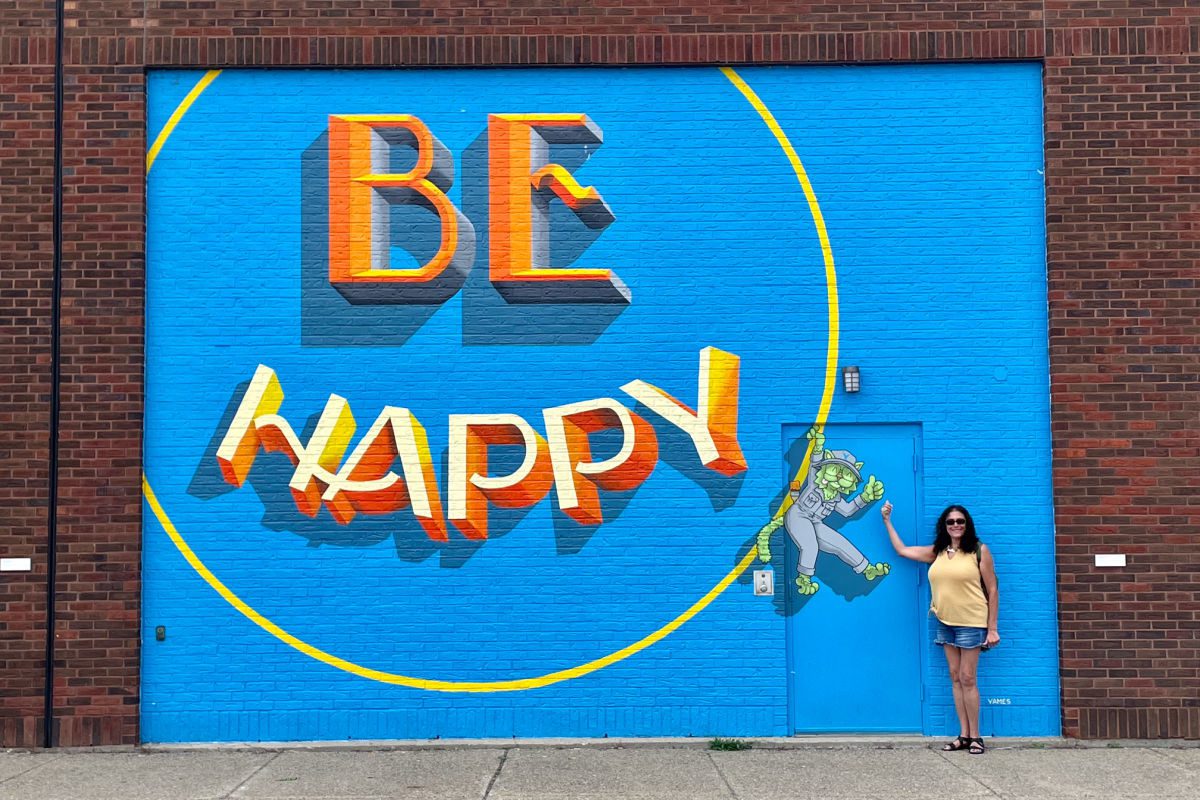 Thanks in part to the Albright-Knox Art Gallery's public art initiative, the historic buildings and storefronts in Buffalo are awash in color. You can always tell a city's vibe by its street art and murals (or lack thereof) and let me tell you that when it comes to public art, Buffalo is hopping.
Much of the public art is clustered around certain neighborhoods, which can make a fun way to explore the city and walk off some of the foods you will be indulging in as well! There is a large collection of murals along Hertel Avenue, which is also home to some delicious tacos and nachos at Lloyd Taco Factory and creative soft-serve ice cream at Churn.
You will find more in Downtown Buffalo and along Cobblestone Commons. Street art appreciation is always a fun girl's trip activity, especially if you can wrangle a stranger into taking your picture together.
Frank Lloyd Wright's Martin House
If you enjoy architecture and history, book a tour of Frank Lloyd Wright's Martin House. It gives you some insight into early 1900's history and opulence, but even more fascinating, you get a peek into the mind of one of our country's most recognized and lauded architects. This quintessential Prairie-style home is one of the great achievements of his storied career.
Darwin D. Martin grew up poor, but became a self-made millionaire and a prominent executive with the Larkin Soap Company. In an effort to establish himself and bring his remaining family closer together, he commissioned his friend Frank Lloyd Wright to build the masterpiece that is now a National Historic Landmark.
Throughout the tour, you can see where Wright's strong design sensibilities surpassed the practical to create something visionary, if not always too comfortable (check out the 5′ 7″ bed for example.) Ninety-minute and two-hour tours are available to explore the inside of the home and carriage house.
Brewery Hop
Back in the day, downtown Buffalo was home to over 8,000 drinking establishments and 85 brothels. Well, Buffalo has changed a lot since the early 1900s, but Buffalonians still love their beer. Unlike what they drank back then, brewmasters in Buffalo have stepped up their game, with over 35 craft breweries and five distilleries in town.
Today, you can enjoy a mix of beers along one of Buffalo's Ale Trails. There are only so many that you can try in one weekend, but I would strongly recommend Resurgence Brewing. The beer, atmosphere, and service were all terrific there. I also liked the vibe at Big Ditch Brewing, but didn't enjoy the beer as much, although I only tried a small sample.
Of course, if you are going to be drinking and exploring Buffalo, you are going to want to try some of the city's most famous foods as well.
Must-Try Foods in Buffalo
Buffalo wings aren't the only game in town when it comes to must-try foods in Buffalo. A few you will want to sample during your trip include:
Red hots – "hots" stands are popular throughout the Upstate Eats Trail. These traditional hot dog restaurants offer regular "red" dogs and some also offer white hots. Each place specializes its offering with toppings like meat sauce, onions, and more. At Ted's Hot Dogs, the toppings include their famous hot sauce (which has a nice kick!), cheese, pickles, onions, and "the works."
Beef on Weck – this sliced roast beef is served up warm on a kummelweck roll, which is crusted with caraway seeds and kosher salt. The beef is typically topped with au jus and horseradish. You can find great examples of beef on weck at Schwabl's and Charlie the Butcher.
Loganberry soda – a loganberry is a cross between a blackberry and red raspberry and has a semi-sweet but tart flavor. Loganberry drink or soda is popular in Western New York, particularly Buffalo.
Sponge candy – I expected sponge candy to be soft and chewy, like a marshmallow, but in actuality it is a crunchy, lightly-toasted toffee covered in chocolate and it is ubiquitous in Buffalo. For an old-fashioned ice cream shop and candy store setting, pick some up at Parkside Candy.
Buffalo wings – you can get a plethora of flavors of Buffalo wings at the Anchor Bar, which first developed this popular pub food. But if you want to seek out your favorite, check out the Buffalo Wing Trail.
Are you ready to plan a girlfriend getaway to Buffalo? I say grab some friends that like to eat (and drink), pack some Tums just in case, and get ready for some fun in the Queen City.