In the heart of sunny South Florida's Gold Coast in Hollywood, you'll find resort royalty, The Diplomat Beach Resort. This iconic hotel is the perfect year-round escape to recharge and make memories. Following a recent $100 million renovation, Hilton Worldwide rebranded The Diplomat Beach Resort as the crown jewel in its Curio Collection of upscale hotels.
During its storied history, this landmark hotel has attracted United States presidents and celebrities. And in more recent years, this resort often hosts one of the two college football teams competing in the Orange Bowl. We bumped into the Michigan Wolverines during our stay.
With award-winning dining options, a full-service spa and wellness center, family-friendly activities, gorgeous beachside and poolside amenities, expertly designed rooms and suites, and plenty of opportunities for romance, The Diplomat is the ideal home base for couples, girls' trips, and reunions of all types.
Top 10 Reasons to Love Florida's Diplomat Beach Resort
Disclaimer: I was provided with a small Food and Beverage credit and a complimentary Cabana. All opinions expressed are my own.
1. Location, location, location.
Less than a half hour from both the Miami and Fort Lauderdale airports, you'll be sipping piña coladas by the pool minutes after arriving in town. The Diplomat lies nestled in a relatively quiet area of South Florida, enabling you to relax and rejuvenate while still being close to all the buzzy hotspots.
This stretch of Florida's famed Gold Coast has it all—proximity to restaurants, entertainment, culture, nature, shopping, gambling, and so much more. Centrally located in Hollywood, this hotel is in the perfect spot for those who want to day-trip to Florida's famed locales like South Beach, Coconut Grove, Brickell Avenue, Wynnewood, and Las Olas.
For those who crave retail therapy, the luxurious Bal Harbour Shops and the top-rated Aventura Mall (my family's favorite South Florida mall) are within a short car ride. You can also use this as a kick off point for a Florida Keys road trip!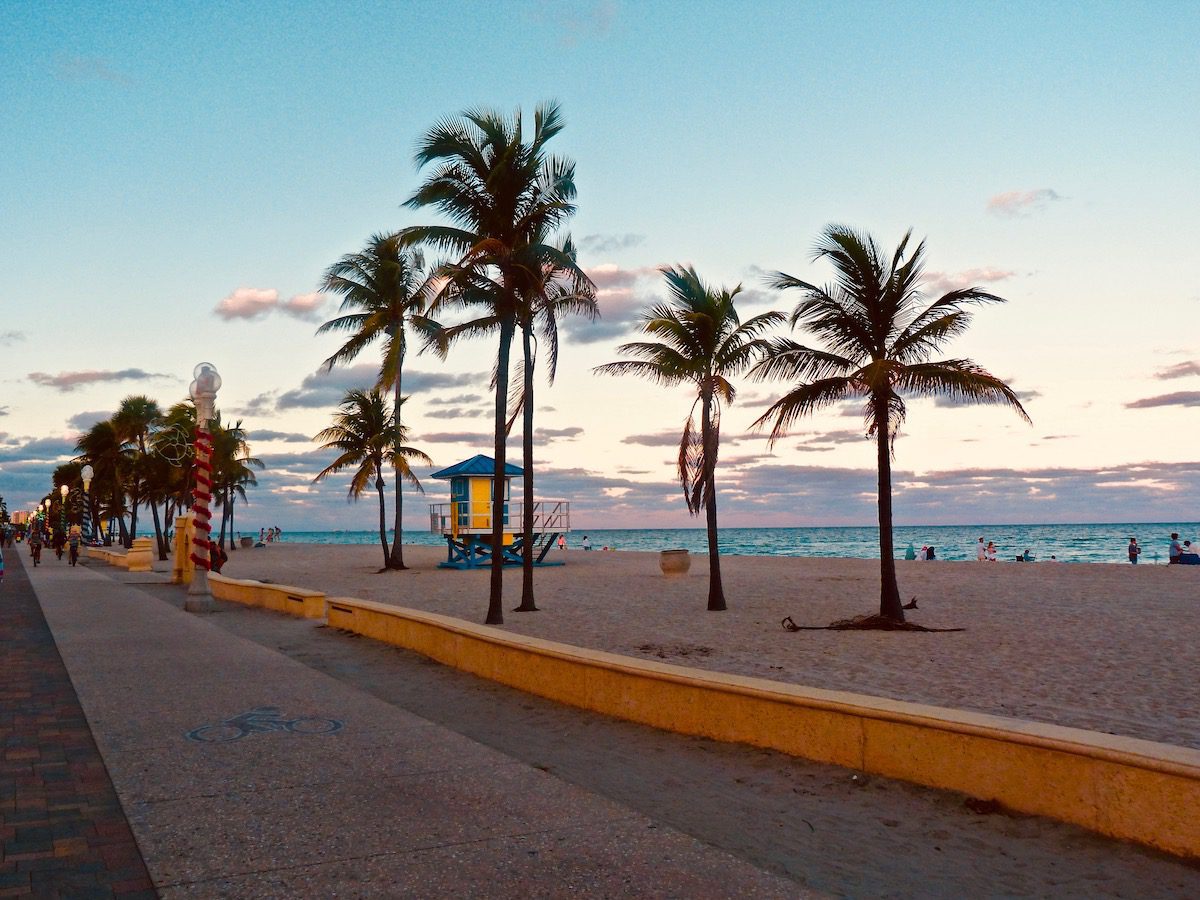 2. You'll Dig the Beach Scene
What a view! This resort fronts a 50,000-square-foot private beach on the Atlantic Ocean. Relish all this stretch of South Florida beach offers. Spend the day basking in the sun on a chaise lounge or take a break from the heat on a covered daybed. For those who prefer getting wet, ride a kayak or paddle boat, hop on a jet ski, or bop along the waves on a fun banana boat. A nice perk, the resort offers guests one free hour per day of kayak/paddle board rentals.
INSIDER TIP: Looking to check out more of the local beach scene? My gang particularly enjoyed walking from the hotel to the famed Hollywood Boardwalk, an oceanfront promenade suited for biking, skating, jogging, and taking a stroll. This strip is lined with cafes, bars, ice cream parlors, and beachy stores.
3. Poolside Paradise
Whether you chill out alongside the upper-level infinity pool or wade through the massive 240-foot Sparkling Lagoon pools below, both options offer gorgeous oceanside views. The lush verdant tropical landscaping provides plenty of shady spots by the pool. Poolside you'll find complimentary towel service and abundant food and drink service.
4. Check out the Cabana Life
Elevate your stay by renting a Trina Turk™ designed poolside cabana or casitas. Cabanas include a private mini-living room space decked out with various amenities such as a 50" flat-screen television, fan, couch, and a SMEG® retro-styled Mini-refrigerator, complete with chilled water bottles. Cabanas also include two chaise lounges with umbrellas.
Our family enjoyed our cabana time—taking comfortable breaks from the sun to play card games, watch the big football bowl games, and nap (yes, all four of us did!). The cabanas and upper-deck casitas come with extra attention from the poolside restaurant waitstaff, making it super easy to order cold beverages and tasty meals.
INSIDER TIP: If the cabana life interests your crew, reserve this popular option. As a hotel guest you are entitled to a 10% cabana discount.
5 . Delight your Tastebuds
A huge perk of The Diplomat is the wide variety of top-notch, on-site dining options. From award-winning restaurants led by celebrity chefs to kid-friendly casual spots, you are sure to find something for everyone in your traveling party.
Celebrate at Executive Chef Rashaad Abdool's Diplomat Prime Steakhouse, a boutique restaurant and lounge featuring a creative menu, including its own dry-aged steaks and local seafood dishes. The intimate dining room, which conjures up the 1950's vibe of the hotel's early days, is anchored by a spectacular towering bar. Make it a night to remember by ordering a craft cocktail or bottle of wine from the expansive collection.
Check out breakfast at Point Royal, Food Network Chef Geoffrey Zakarian's tropical decor, and coastal-inspired American restaurant and bar. Whether you prefer a hearty steak and eggs dish or something lighter like avocado toast or Greek yogurt parfait, you will surely find what you desire to kickstart your day.
Our crew became daily groupies of our "lunch with a view" while feasting at Playa, the resort's beachfront and poolside nuevo Latino cafe, rum and tequila bar. We loved scooping tasty tortilla chips into bowls of tropical guacamole. Other menu highlights include grilled fish tacos, tuna ceviche, creative sandwiches, juicy burgers, and fresh juice-based cocktails.
When you're looking for a quick drink (including wine or beer) or snack, check out The Canteen in the hotel lobby. We were impressed with the high-quality gourmet treats. And another daily staple during our stay—Counterpoint—offers a combination dine-in and grab-n-go coffee shop, bakery, and bistro, perfect for breakfast, lunch, and sweets. We also maximized our time outside by taking advantage of Counterpoint's convenient mobile ordering option.
Be on the lookout for the reopening of Chef Michael Shulson's uber-sexy and award-winning Monkitail and Nokku karaoke bar. We toured the space during renovations and cannot wait to return to visit the Diplomat Beach Resort when Monkitail opens!
If you decide to dine off-site, this resort is located within minutes of restaurants at every price point, from casual take-out to fine dining. Our favorite local restaurants during our stay included Tiki Tiki (eclectic menu with a fun outdoor vibe), BurgerFi (cheap quality burgers and heaps of fries), and Taverna Opa (fresh seafood and Greek specialties on the Intracoastal).
INSIDER TIP: Honors Diamond guests receive a generous complimentary daily breakfast credit which can be used at Point Royal for breakfast or several other locations.
6. Seek Zen or Stay Fit
The Diplomat offers a full-service wellness spa, a variety of exercise classes, and an amped-up gym. Be sure to inquire about the most updated services available since some have been suspended due to COVID-19. While Studio Yoga has not yet resumed, the super popular Group Fitness HIIT exercise classes provide a fabulous hybrid blending both indoor and outdoor exercises. And for the fitness junkies in your crew, their hearts will start pumping when they learn of the 24-hour access to the resort's main fitness center. The pages-long spa menu features facials, scrubs, pedicures, manicures, massages, waxing, wraps, and more.
INSIDER TIP: Take advantage of free classes! Hotel guests may attend one group fitness exercise class per day for free.
7. Kids Can be Kids
If you take the kids, they can let loose in this resort's fabulous Oceanfront Dip + Slide water play area, also called the Kids Splash Zone. With water slides, a humongous drench bucket, and sprinklers, this colorful area will cool off your little ones and keep them entertained. Another massive plus for families with kids in tow is all the beach toys available to build sand castles and moats! The beach also has bean bag toss games.
INSIDER TIP: Look out for the grand reopening of Candy & Cones, the resort's penny candy and soda fountain counter. Parents will enjoy the old-school feel. Kids (and kids at heart) will love this colorful gem with freshly churned on-site ice creams.
8. Romance your Sweetheart
Reconnect with your main squeeze. This slice of paradise invites you to fire up some sparks between you two as a couple.
Pick your pleasure: indulge in a relaxing couples massage, hold hands on long walks along the shoreline, get sweaty working out together, cuddle on the couches around fire pits, or toast each other at the Diplomat Prime Steakhouse at your own intimate table. And if you're craving an entertaining night out, just ten minutes away, you can shop, dine, gamble, and tempt lady luck at the racetrack at the Villages at Gulfstream Park.
Yet with all these romantic options, your favorite moments may just be lounging in your guestroom or cuddling on the balcony watching the sunset.
9. A Room with a (Spectacular) View
You get a view, you get a view, you get a view! You get the picture—every single room in the resort serves up a gorgeous floor-to-ceiling view. The Diplomat offers up various one-of-a-kind views of the Intracoastal, the ocean, and the city.
We spent many hours sitting on our balcony relaxing, taking photos (especially with our teenage daughters), and admiring the sunset. We appreciated the attention to detail in our room's recently renovated modern design and carefully curated color palettes coordinated to bring out nature's hues and tones. From the bathroom to the balcony, we loved the beachy vibe and sun-filled spaces. To elevate your vacation, consider booking a suite with sweeping vistas and even more space to luxuriate.
INSIDER TIP: Rooms at The Diplomat tend to be significantly larger than those found in South Beach. And with smart TVs in every room, you can binge your favorite shows during downtime.
10. The Diplomat Has it All
To have a fabulous vacation at the Diplomat Beach Resort, there is no need to leave the property…and no need to rent a car. If you're seeking a hassle-free vacation, The Diplomat delivers. A full-service spa, modern gyms with energizing classes, highly-acclaimed restaurants, a dreamy beach, and poolside scene, kid-centric activities, and much, much more. And if there is something more you need or crave, The Hollywood Boardwalk, oodles of restaurants, and a grocery and liquor store are all within walking distance or a quick Uber ride away.
INSIDER TIP: Looking for a great place to meet new people or hang out with your friends? Saddle up to The Hotel Bar, which offers seating both inside and outside the hotel. We adored sitting outside under the stars poolside while sharing a bottle of wine and a bucket of beer.
The bottom line…the Diplomat Beach Resort lived up to the hype! We are already making plans to return to this little slice of paradise.