Could anyone else really use some time with friends to laugh, chill out, and forget about real life for a while? How great would it be to curl up on the couch with your best girlfriends and watch a nice, lighthearted romantic comedy or "chick flick"? Wouldn't it be even better if it was on a girls' trip to the filming location?
Choose your favorite movie and then use it as an inspiration to plan a girls' trip to one of these movie locations.
Movie Locations Perfect for a Girls' Trip
Note: This post contains affiliate links. If you click a link and make a purchase, I may receive a small commission at no cost to you. All opinions are my own based on my personal experience with these products.
* Movie streaming availability is subject to change.
Nights in Rodanthe – The Outer Banks, NC
Nights in Rodanthe, a popular book by Nicholas Sparks and film based on the book, was set in Rodanthe on the uppermost tip of Hatteras Island. Fans will enjoy exploring sights from the movie, but also soaking up the relaxing beach vibes of Hatteras Island in the Outer Banks.
Chill out of the Cape Hatteras National Seashore, take a tour of Bodie Island Lighthouse, and capture pictures at the Inn at Rodanthe and the Rodanthe Pier. You can currently rent out The Inn at Rodanthe, but if that is out of your budget, there are many beach houses in the Outer Banks perfect for a girl's trip.
Where to watch: Nights in Rodanthe is currently on HBO Max
Twilight – Forks, WA
I recently rewatched the Twilight Series with my teen daughter and was a little embarrassed. I forgot how bad the acting was — so much dramatic sighing and lip biting! Yet I still have a sweet spot for this series (go Team Jacob!), and the little town of Forks, Washington on the Olympic Peninsula is a great spot for a girl's trip for nature lovers.
Of course you can take a Twilight tour of Forks, but you may want to spend most of your time hiking and exploring in Olympic National Park or walking the beach in La Push (just don't jump off any cliffs!)
My friend Kim has a great Olympic National Park itinerary on her website. Woodland Inns offers cute and cozy cabins that can be perfect for a girls' trip, whether you want to share or each get your own cabin.
Where to watch: Twilight movies are currently streaming on Amazon Prime
Dawson's Creek – Wilmington NC
The historic town of Wilmington, North Carolina has been used for many television and movie locations and is referred to as "Hollywood East." The fictional town of Capeside may have been based in Massachusetts, but 128 episodes of Dawson's Creek were actually filmed in and around Wilmington. In fact, you can still have a meal at Dockside Restaurant, which was where outdoor Icehouse scenes were shot.
You can take a self-guided Dawson's Creek tour or One Tree Hill tour, explore historic downtown by carriage, take a stroll on the Riverwalk, enjoy the views at nearby Arlie Gardens, or spend some time at the beach. A stay at the Blockade Runner hotel in nearby Wrightsville Beach is perfect for a girl's trip.
A Walk to Remember and Divine Secrets of Ya-Ya Sisterhood were also filmed in Wilmington, so you can turn your getaway into a movie marathon weekend in between activities.
Where to watch: Dawson's Creek is currently streaming on Netflix
The Notebook – Charleston, SC
The book The Notebook, by Nicholas Sparks, was based in the real town of New Bern, North Carolina. But when the page was transferred to film, they decided to locate it in the fictional town of Seabrook, South Carolina. However, the movie was actually filmed largely in and around Charleston, South Carolina.
King Street in Charleston was featured in many scenes and the town of Seabrook was actually filmed in nearby Mount Pleasant. Of course there is much to do on a girl's trip to Charleston from historic downtown tours, fantastic dining, and nearby beaches and outdoor activities. The Vendue, Charleston's Art Hotel, and The Mills House both make great spots to settle in on a girl's trip.
Where to watch: The Notebook is currently streaming on Netflix
Steel Magnolias – Natchitoches, LA
Located in central Louisiana, Natchitoches is well known for the filming of Steel Magnolias, and it is also called the "City of Lights" from mid-November though the New Year. The world-famous Natchitoches Christmas Festival is always held on the first Saturday in December.
Movie fans can take a self-guided driving tour to see many of the filming sites such as Lemee House (Ouiser's House), Front Street, Beau Jardin Gardens (shown in the Easter egg scene), the Riverbank (used for the Christmas Festival scene), and St. Augustine Catholic Church where Shelby got married. For a complete experience, you can even book a room in the Steel Magnolias B&B, which was M'Lynn and Drum's house in the movie. There is even a Shelby Room with the original pink bathtub!
On a girl's trip to Natchitoches, you and your friends can also enjoy the charming 33-block Landmark district. You may also enjoy a paddleboat cruise on the Cane River Queen or a horse and carriage tour through the downtown.
Outdoor enthusiasts can experience the natural resources of the Cane River region by hiking and biking in the Kisatchie National Forest, and exploring the trails and byways connected to the Cane River National Heritage Area.
Where to watch: Steel Magnolias is currently streaming on Amazon Prime
Pretty Woman – Beverly Hills, CA
It's Hollywood baby, anything can happen! Book at stay at the Beverly Wilshire hotel (even if you can't afford the penthouse) and go through your own transformation to a Pretty Woman on a shopping and spa girl's trip to Beverly Hills.
You will want to shop on the Rodeo Drive and spend an obscene amount of money (or not, but hopefully the saleswomen will be polite). Take a stroll down Hollywood Boulevard and sample some escargot (just hold on to those slippery little suckers.) Of course nearby you can hike up to the Hollywood sign, check out Griffith Observatory, or hit the beach.
Where to watch: You can rent Pretty Woman on Apple or Amazon Prime
The Perfect Storm – Gloucester, MA
The Perfect Storm may not be your typical girl's movie, but who wouldn't mind staring at George Clooney for a couple of hours? Just an hour north of Boston, the seafaring town of Gloucester can make a fun girl's trip.
Take a whale watching cruise, spend some time exploring the artist colony on Rocky Neck, take a food tour, relax on Good Harbor Beach, or drive along the coast to Rockport for some shopping. You can also check out the fishing boats from the Nat Geo show Wicked Tuna. Book a room at the Beauport Hotel Gloucester for your getaway.
Where to watch: The Perfect Storm is currently available on HBO Max
Midnight in the Garden of Good & Evil – Savannah, GA
Between reading Midnight in the Garden of Good and Evil and watching Forrest Gump, I fell in love with the fountains and squares of Savannah long before I had a chance to visit. This southern city is perfect for a girl's trip.
In addition to strolling through the squares dripping in Spanish moss and visiting historic homes, your friends will enjoy the fantastic food scene in Savannah. Start with brunch at The Collins Quarter, then hop on a trolley tour to explore the city. Explore the country's only Prohibition Museum, finishing with a cocktail in the speakeasy, before hitting the party scene on River Street at night. To relax, head out to nearby Tybee Island and hit the beach.
There are plenty of places to stay downtown, but Forsyth Park Inn and The Bohemian Hotel Savannah Waterfront, with its rooftop bar, are perfect for a girl's trip.
Where to watch: Midnight in the Garden of Good and Evil is available for rent on Amazon Prime and iTunes.
Hocus Pocus – Salem, MA
The fun and witchy comedy of Hocus Pocus was filmed in and around Salem and Marblehead, Massachusetts. An apt location for the movie setting given the town's macabre history from the Salem Witch Trials. There are many filming sites to explore around town, along with many museums from the Salem Witch Museum to the well-curated Peabody Essex Museum.
Of course Salem is not all about witches. This historic seaside town has a beautiful waterfront and is home to the historic Friendship of Salem sailing vessel and the House of the Seven Gables. The Hotel Salem makes a great home base for a girls trip.
Where to watch: Hocus Pocus is currently available on Disney +
Wine Country – Calistoga, CA
Who couldn't use a girl's trip to wine country? I've written about a trip I took with my best friend to Santa Rosa and Sonoma last year. But the actual movie Wine Country was filmed in Napa Valley, with many scenes in the town of Calistoga.
If you want to recreate the movie (at least the good parts), book your stay at the Andaz Napa (where the cast stayed) and plan some wine tasting at Artesa, Baldacci Family Vineyards, and Quintessa Vineyards. Of course there are hundreds of other choices nearby, along with biking tours, hot air ballooning, and other fun adventures.
Where to watch: Wine Country is currently available on Netflix
Dirty Dancing – Lake Lure, NC
The movie Dirty Dancing was set in a resort in the Castkills, but it was filmed further south. Parts like the "lift" scene were filmed at the Mountain Lake Lodge in Southwest Virginia, while others were filmed in Lake Lure in North Carolina.
This Carolina town even hosts an annual Dirty Dancing festival. Of course there is more to do in Lake Lure than dancing. Outdoor enthusiasts will enjoy time on the lake, hiking in the woods, mountain biking, rock climbing, kayaking, water skiing, or swimming. The 1927 Lake Lure Inn and Spa is a perfect spot for friends to gather.
Where to watch: Dirty Dancing is currently available on Hulu, HBO Max, and Amazon Prime
My Best Friend's Wedding – Chicago, IL
My Best Friend's Wedding, starring Julia Roberts, Cameron Diaz, and Dermot Mulroney, was filmed at numerous locations around Chicago. You can easily combine visiting filming locations with a little sightseeing in three days in Chicago. You can stay at Conrad Hilton or the Drake Hotel, both featured in the movie.
Start with an architecture river cruise around the Loop (feel free to break into song!) and maybe do a little shopping at Macy's State Street. While you are in town, shop Chicago's Magnificent Mile, take photos at The Bean (officially known as the Cloud Gate), and recreate some scenes from Ferris Bueller's Day Off at the Art Institute of Chicago and the Skydeck Chicago at Willis Tower (formerly the Sears Tower.)
Where to watch: My Best Friend's Wedding is currently available on Netflix and Hulu
Sleepless in Seattle – Seattle, WA
It may have been 25 years since the debut of Sleepless in Seattle but who doesn't still have a soft spot for that movie? Start off with a tour of Argosy Cruises to see the houseboats around Lake Union that were the inspiration for Sam and Jonah's house in the movie. Of course you also have to check out the fishmongers and flower vendors a Pike's Place Market. I'd also highly recommend a food tour while you are at it.
You can explore some of the other filming locations around town, such as the Athenian Seafood Restaurant (see the stool where Tom Hanks sat), Alki Beach, Gas Works Park, and the Dahlia Lounge. If you are in Seattle, you should go to the top of the renovated Space Needle (pretend it is the Empire State Building and you are meeting your lover there). Nearby don't miss the beautiful Chihuly Garden and Glass museum and the infinitely cool Museum of Pop Culture.
The Alexis Royal Sonesta Seattle makes a great spot for a girl's trip, although the Westin Seattle has a fitness center with Peloton bikes if your girls like a good workout before hitting the town.
Where to watch: Sleepless in Seattle is currently available on Netflix
Sex in the City – New York, NY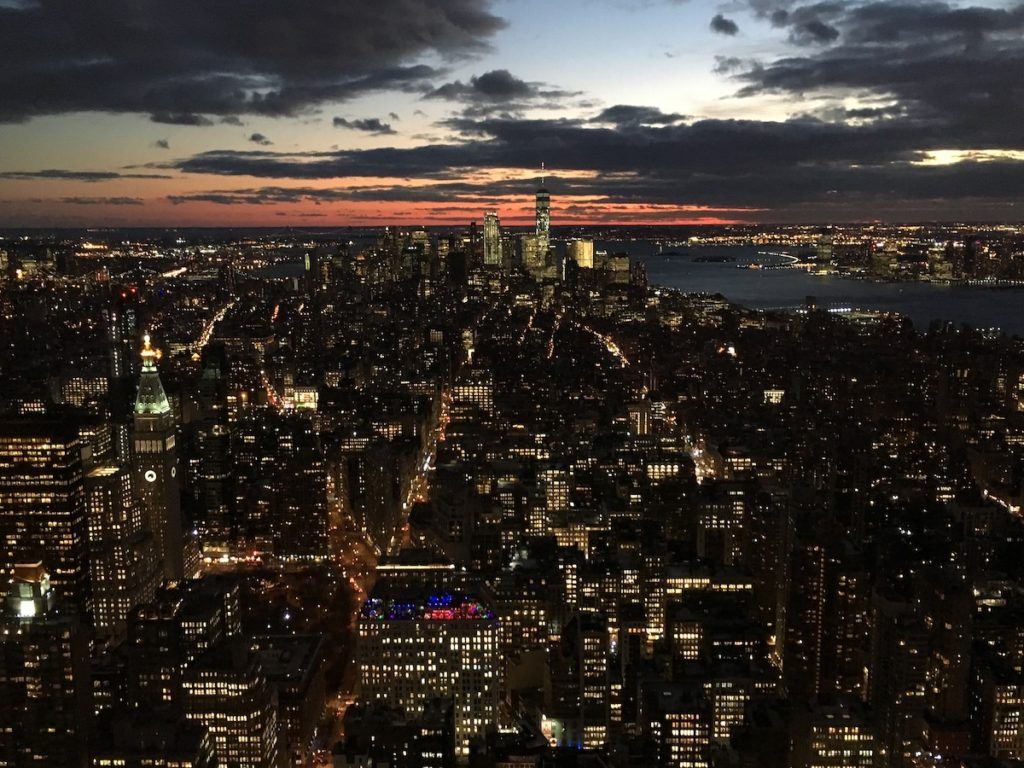 If you really want to embrace your inner Carrie (or Samantha, Charlotte or Miranda), head to NYC and avoid all the touristy things that the women from Sex and the City would scoff at. If you really love the show, you probably want to jump on board a Sex and the City tour with OnLocation Tours.
Of course you should also walk across the Brooklyn Bridge, go shopping at Barneys, try on shoes at Manolo Blahnik, explore Carrie's neighborhood on Perry Street in the West Village, get cupcakes at Magnolia Bakery, and wear the most fabulous clothes in your closet to check out New York's trendiest bars. But don't miss a visit to the New York Public Library, the scene of Carrie's almost nuptials.
Bunk down at the Gansevoort Meatpacking, Samantha's old neighborhood.
Where to watch: Sex in the City is currently available on HBO Max
Girls Trip – New Orleans, LA
Whether you are heading to New Orleans for ESSENCE Fest or just a girlfriend getaway, you can revisit some of the scenes from the hilarious Girls Trip. First, settle in at The Roosevelt Hotel or the Hotel Monteleone.
When you are ready to hit the town, head to the French Quarter and the rollicking Bourbon Street for a Hand Grenade cocktail at Tropical Isle. Catch some music at House of Blues or club Maison before trying your luck at Harrah's Casino.
Of course if you prefer a more subdued girl's trip to NOLA, try a cooking class or food tour. Line up for breakfast at Mother's and eat your weight in beignets at Cafe du Monde.
Where to watch: Girls Trip is currently available for rent on Amazon and iTunes
Thelma and Louise – Southwest Road Trip
Let's start off by saying that the plan would NOT be for your Thelma and Louise inspired road trip to end in such a tragic and dramatic fashion. But the southwest does inspire an epic road trip and the thought of Thelma and Louise can be quite liberating. So if you want to plan your own Southwest road trip, I would start off in Santa Fe, New Mexico, then head north into Colorado to Unaweep Canyon, the place where Louise calls the FBI.
Then drive west to Moab, Utah. The sandstone landscapes of the La Sal Mountains were used as a backdrop in the movie, and from here you can explore Arches and Canyonlands National Parks. Next, head south through Monument Valley, which features the dramatic southwest landscape depicted in the movie poster. Take it from me that this landscape is especially stunning at sunset.
Thelma and Louise "finished" at the Grand Canyon (although the police chase was actually filmed near Cisco and the final scene was shot at Dead Horse Point State Park, both in Utah.) Don't approach the edge — just enjoy the views. You may want to finish your southwest road trip in Las Vegas, which is considerably more fun than the way the movie ended.
Where to watch: Thelma and Louise is currently available on Amazon Prime